Orange picking is the perfect way to celebrate Florida's sunny disposition. Oranges grow plentifully in this cheery state, and picking them is popular for visitors and locals.
Whether you turn your oranges into juice or intend to enjoy this fruit just as it is, Florida is the perfect place to pick them.
Fortunately, you won't have to look far to find the grove suited to your citrus needs. Here are 12 of the best spots for orange picking in Florida.
Ridge Island Groves
The charming Ridge Island Groves is located at 6000 Old Polk City Road in Haines City. This adorable family establishment has been in operation since 1992.
If you visit the store, you can browse produce easily. Or head out to the fields to pick your own. Call ahead to ask about picking season, and make sure to try freshly squeezed juice during your trip.
In addition to delicious fruit, they also offer honey and marmalade. If you don't have a chance to visit in person, they ship to most places in the US, so you can enjoy Florida's favorite fruit wherever you are.
Vo-lasalle Farms, Inc.
DeLeon Springs, Florida, is a town just south of the heart Island conservation area. At 601 Johnson Lake Road is the beautiful Vo-LaSalle Farms, Inc.
You can enjoy so much more than just orange picking at this incredible grove. There are also a variety of other fruits and vegetables. Browse the store and stock up on local honey, dressings, and jellies during your visit.
Stop and enjoy the animals that call this farm home and take in Florida's gorgeous landscape. Make sure to come after mid-October, as this location is not open in the summer.
Dooley Groves
Located on the west coast at 1651 Stephens Road in Ruskin, Florida, is Dooley Groves. This adorable, well-stocked shop is a fruit picker's dream.
At this location, you will have your choice of all your favorite citrus. This location prides itself on its wide variety of navel oranges, grapefruit, and more. Other guests rave about the delicious fruit and goodies created at this venue.
Dooley Groves also has gorgeously packaged baskets filled with treats. Choose from a variety of citrus options, chocolates, and jellies. A specialty pack from this grove makes an excellent gift.
Showcase of Citrus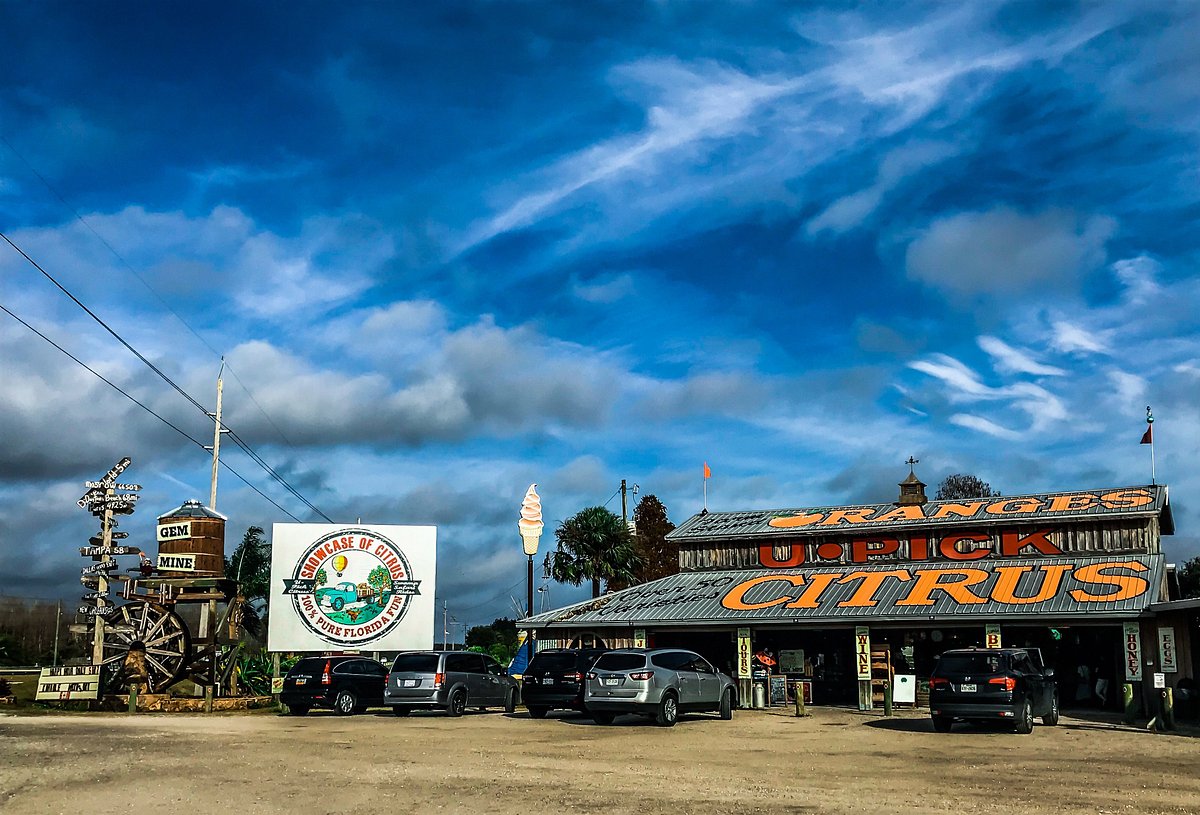 For an exciting afternoon in the Florida sun, you'll want to visit 5010 US 27 in Clermont, Florida. This address is home to Showcase of Citrus.
There is little you can't do at this location. When you're not picking your citrus, you can take a monster truck tour or explore the gem mine.
Make sure to stop and get to know the local farm animals during your trip. This is an ideal location for private tours, field trips, and even weddings.
Stop by the store to pick out salsa or a souvenir. Then, fuel up for more fun! Enjoy beer, wine, and mimosas along with delectable baked goods.
Bekemeyer Family Farm
Winter Garden is located centrally in Florida, and 1055 East Story Road is where you'll find Bekemeyer Family Farm. This bustling area is perfect for an afternoon treat with family or friends.
In the fields grows everything from citrus to sunflowers. Come late in the season to enjoy fruits like peaches. Consider adopting a potted plant or take home a bottle of honey to hold you over between picking seasons.
If you are looking for a gorgeous Florida experience, this farm will not disappoint.
Pappy's Patch U-Pick Strawberries
At 501 Florida Avenue in Oviedo, you can enjoy a day picking at Pappy's Patch U-Pick Strawberries. Situated just south of Lake Jessup, this farm's main feature is not citrus, but it is worth a trip.
Although oranges are grown here seasonally, the star of the show is strawberries. Who doesn't love a bright red juicy strawberry? That's precisely what you will get at Pappy's Patch. Families will have a great time admiring the neat rows and easy-to-pick berries.
Plus, this farm offers their fresh-picked strawberries at only $3.50 per pound, so this is a visit that will be good for your pocketbook. Come early because the berries go fast!
Mixon Fruit Farms
There is plenty of fun at 2525 27th Street E., Bradenton. Mixon Fruit Farms features plenty of activities, tours, and even a café.
Field trips, birthday parties, and weddings are all held at this charming location. Guests can enjoy the Mixon's Orange Blossom Express tram tours featuring a stop at the wildlife rescue.
While you won't be able to pick your own oranges, you can tour where they come from and take home a selection from the marketplace.
Enjoy wine, fresh juice, and sweet treats at this location. So grab a bite and book a tour for an afternoon of making memories.
Butrico Groves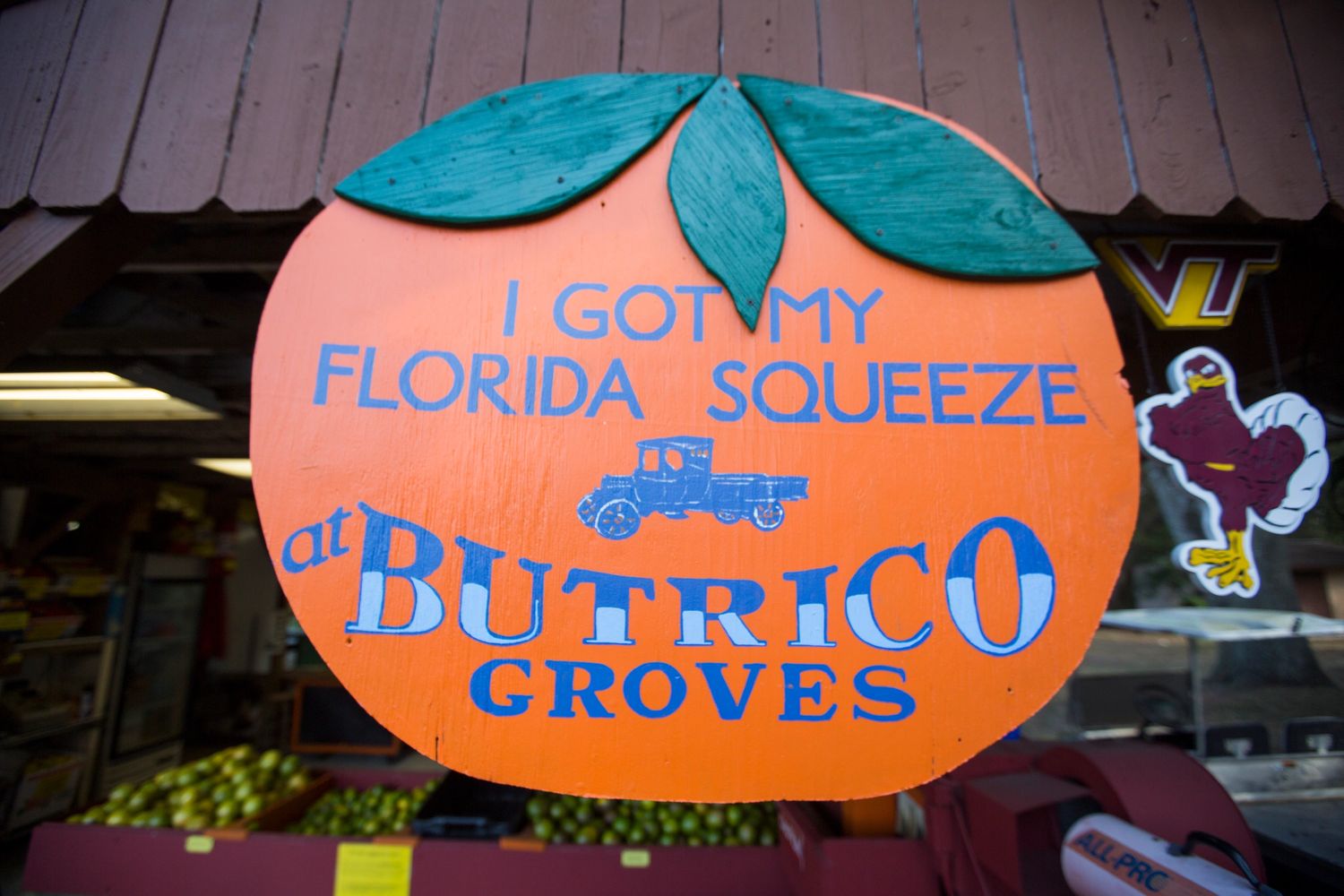 Mims is a coastal town on the west side of Florida, and 6065 Magnolia Street is home to Butrico Groves.
This grove specializes in Indian River navel oranges and other seasonal citrus. This grove is committed to naturally grown fruits, and guests agree it's some of the best around.
Stop by to visit this grove and enjoy fruit right off the tree. Don't forget a tour of the packing shed, and make sure to take some of the delicious produce home with you.
Stop by for a friendly atmosphere and beautiful scenery. This is a must-visit for anyone in the Indian River Basin area.
Joshua Citrus Inc.
Arcadia is a city in Florida sitting right in cowboy country. A bit out of the way, you'll find at 4135 County Road 760 is Joshua Citrus Inc. This cute family establishment started with a single tree over one hundred years ago.
Today, you can enjoy everything from oranges, grapefruit, and tangerines to jams and jellies. There are also baskets available that make excellent gifts. Then, when you get home, try out one of their famous recipes found on their website.
During your visit, tour the groves, and enjoy some fresh-squeezed juice. Or ask about the soft-serve ice cream that will please everyone in your party. Get to know where these delicious fruits come from and the history of the family that planted them. Your family will love a trip to this little paradise.
Al's Family Farms Citrus
Fort Pierce is home to Al's Family Farms Citrus at 2001 North Kings Highway. This cute location is conveniently located in the Indian River Citrus District.
During your visit, you will be able to tour the wet line and packinghouse. Your tour guide will teach you all about how your fruit gets to your home, and you will be able to try some fresh-picked produce. Make sure you also sample the juice. After your tour, pick from various fruits, nuts, candies, and even hand cream.
Make sure to check out the OJ Corral and walk through the citrus observation grove. An afternoon at this family farm will undoubtedly leave you with plenty of good memories.
Countryside Citrus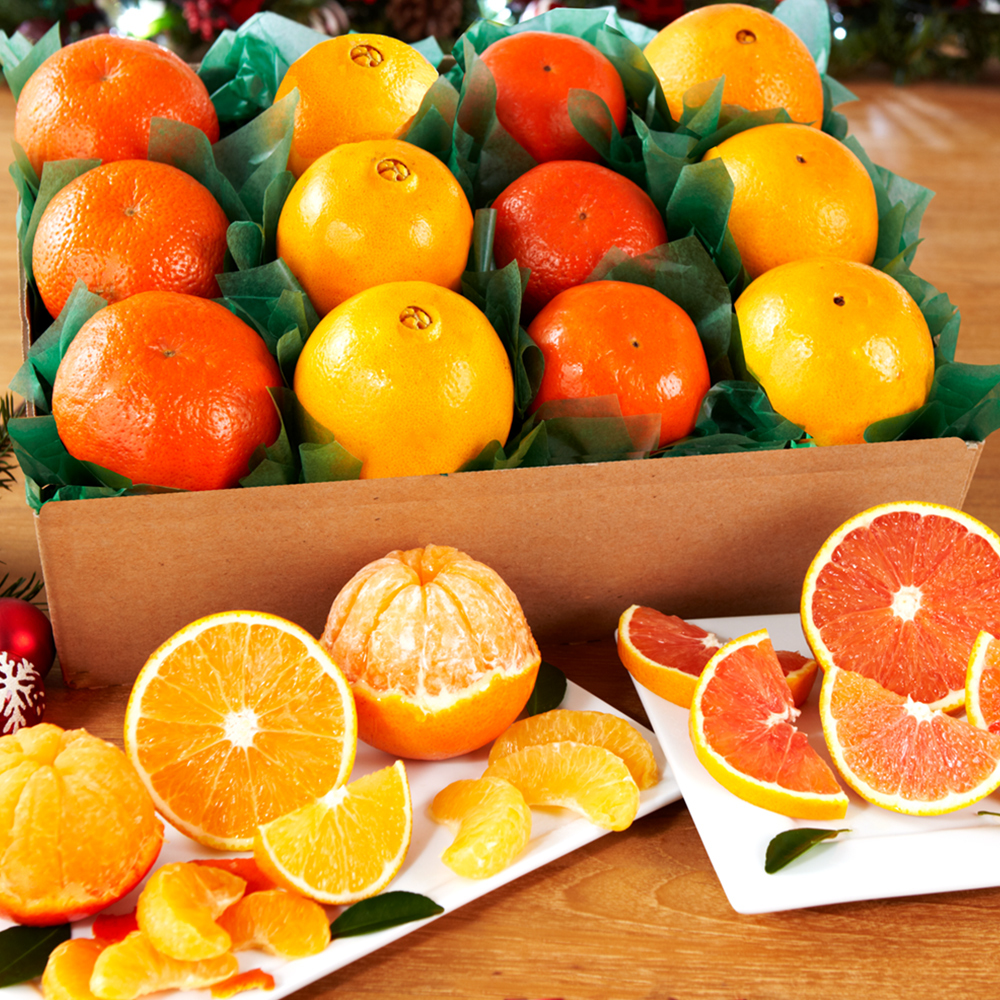 Countryside Citrus family farms can be found in Vero Beach, Florida, at 6325 81st Street. This family-operated Facility offers plenty of citrus fruits and farm activities for you to enjoy.
Although you cannot pick your own navels here, you can pick your own strawberries and flowers. All of the produce Is available to buy At the store and online. But if you're really craving an experience with Florida's famous oranges, be sure to stop by during the Indian river citrus festival.
For the less picky, come to the farm for the fall festival and corn maze. Or plan a birthday party or field trip. There is fun to be had by guests of all ages.
Graham Farms
Umatilla, Florida, is a city located in northern lake county. At 14803 Lake Yale Road, you can enjoy Graham Farms.
Offering in-season picking, the best time to get oranges here is in December. But if you don't make it for citrus, you can also pick peaches between April and May.
This gorgeous location is also an excellent venue for events, such as weddings, parties, and photo ops. Beautiful flowers bloom at different points of the year, giving you plenty of opportunities to capture the magic.
Stop by Graham Farms to take advantage of all the excellent amenities they provide. You won't be disappointed.
Things To Consider Before Going Orange Picking
Orange picking is an excellent activity for people of all ages and backgrounds. Fresh air and sunshine are as refreshing as a day at the spa. However, before you go orange picking, you will want to consider a few things while planning your trip.
Timing
Orange picking in Florida happens mainly between November and early June. This is the wettest season, making it the most bountiful time for harvesting. In fact, many groves and farms do not offer tours or picking during the off-season. Try to plan your trip during the winter months.
Gear
You shouldn't need much to pick oranges, but you won't want to make a rookie mistake By forgetting something important. Picking oranges can be done by hand, but some produce might need special tools.
Do some research and find out what is grown at each location. Chances are, any tools you need for picking will be provided, but it's wise to be on the safe side and call. Make sure to bring a basket, bag, or box for transporting your treasures home.
You will also want to keep in mind that it isn't called "Sunny Florida" for nothing. Wide-brimmed hats, sunscreen, and water bottles should all be included in your gear.
Safety
There isn't likely to be much danger on your trip, but it's important to keep safety in mind, especially if you're traveling with children.
Florida is home to many species of animals and insects. Familiarize yourself with Florida's many-legged residents and consider getting to know the local foliage as well. Doing these things can help you avoid any potential encounters with dangerous creatures.
It's also wise to remember that farms, orchards, and groves are places for work that use heavy machinery. Stay within appropriate guest areas and don't wander into unmarked fields or buildings. Doing so risks harm to yourself, equipment, and crops.
Orange Picking Is the Ultimate Florida Activity
Whether you're looking for delicious fruit or just some fun in the sun, orange picking in Florida is ideal entertainment.
Florida is known for its wide variety of citrus fruits, and everywhere from Tampa to Orlando offers a selection nearby. Picking a grove is easy, with so many locations to choose from.
Don't wait, and start planning your orange picking adventure today!
More about our TFVG Author