Florida with kids is nothing short of amazing. But the Keys are something else entirely…
The white-sand beaches. Crystal clear water. Blue skies as far as the eye can see. There are so many reasons to love a Florida Keys vacation.
But is a family vacation in the keys a smart choice?
While much of southern Florida is associated with a younger (and sometimes raucous) crowd, the keys represent some of the best family fun that Florida has to offer.
Whether you're hoping to spend your days at the beach or relaxing by the pool with a cocktail in hand, the Florida Keys has something for everyone, especially those who want something a little different, and somewhat more relaxing, than Florida's water park resorts or campgrounds.
Read on as we cover everything you need to know about enjoying fun in the sun here with your family.
We'll also take a closer look at all the best Florida Keys resorts for families.
6 Reasons Why the Florida Keys is Perfect for Families
Still on the fence about whether the Florida Keys are right for you? Here are just a few of the reasons why the Florida Keys' family resorts could be perfect for your next vacation.
Unbeatable Fishing
The Florida Keys offer some of the best fishing in the U.S., and the waters here are home to an incredible array of different species, from smaller fish that the whole family can have fun catching to once-in-a-lifetime trophy fish.
Fishing the Keys is one of the best ways to spend time with the family here, and whether you charter a boat or fish from shore, it's sure to be an amazing afternoon you'll remember for a lifetime.
Snorkeling and Scuba Diving
The abundance of sea life coupled with pristine water makes the Florida Keys an excellent destination for snorkeling and scuba diving. The Keys are also home to the country's only coral reef, and it's the third-largest in the world. Beyond the reef, there are also several shipwreck sites to explore.
If your family loves getting into the water, there are plenty of different shops that offer snorkeling and scuba diving for the whole gang.
The Wildlife
The abundant wildlife throughout the area is one of the best parts of visiting the Keys with your family. The best part is you can enjoy so much of it without ever going out of your way.
Take, for example, the famous chickens of Key West. Visitors are often surprised to learn about the wild chickens that inhabit the Keys and their rich history in the region, and you're sure to spot at least a few on your trip.
The Keys are home to unique attractions like the Marathon Turtle Hospital and Dolphin Research Center, and visitors can also enjoy everything from wild birds to butterflies to dolphins and much more.
Fine Dining Made Easy
Key West is a coastal retreat with a laid-back atmosphere and a long-standing food culture. The restaurants are unfussy and perfect for everyone in the family to enjoy, but the food is truly amazing.
Seafood lovers are sure to find plenty to love here in Key West, like the Famous Key West Pink Shrimp, which are prized for their sweetness. A slice of Key Lime Pie is also a practical requirement to cap off a delicious meal.
Key West's Storied History
For a fun and educational way to spend some time in the Keys, you can explore tons of different historic locations in Key West. This region was a favorite summer retreat for President Truman, and you can tour the Little White House. Many famous writers and poets also called Key West their home, including Robert Frost, Ernest Hemmingway, and Tennessee Williams.
Bahia Honda State Park
One of the best ways to spend a day with the family in the world is a day (or more) at Bahia Honda State Park. This picturesque park offers a sandy beachfront and warm water that stretches to the horizon. In the distance, visitors can take in the famous Henry Flagler Florida Keys Overseas Railway, which has since transformed into a highway.
This bridge connected the park to northern Florida, and it helped make Bahia Honda State Park a family-friendly destination that anyone can enjoy. There are two campgrounds within the park for families interested in spending the night in the park.
What Part of Florida Keys is Best for Families?
The biggest advantage of a vacation in the Florida Keys is that the entire stretch is family-friendly. There's practically no way to go wrong when planning a vacation here, and you can find something for everyone in the family no matter where you end up.
The entire stretch of archipelagos is only 113 miles long, so it's entirely possible to take in all the Keys on a single vacation. All the Keys are connected by a single scenic highway, and driving through the Keys is an attraction all by itself.
Key Largo vs. Key West for Families
Many families wonder whether Key Largo or Key West is the best choice for their trip. These two areas are at the northern and southernmost parts of the Keys, and most families choose to visit one over the other if they don't plan on covering the whole area on a single trip.
Depending on what your family enjoys, you may find one area to be more appealing than the other.
Key Largo is one of the northernmost keys, and it's only an hour's drive from Miami. This Key is quiet and relaxed while offering some of the best aquatic attractions in the region. Here, you'll find John Pennekamp Coral Reef State Park, along with some of the best water sports in the region, including fishing, snorkeling, boating, and more.
Nearby Islamorada provides even more opportunities to enjoy the water, and it's known as the sportfishing capital of the world.
Meanwhile, Key West is the furthest point south in the country, a mere 90 miles from Cuba. While Key Largo is more quiet and relaxed, Key West is more upbeat, with a vibrant nightlife culture.
During the day, Key West provides tons of excellent attractions for your family to enjoy. Take in the residences of Ernest Hemmingway or President Truman, or visit the Mel Fisher Maritime Heritage Society Museum, which houses an enormous collection of 17th-century gold and silver treasures that were recovered from shipwrecks in the area.
Key West is also home to a vibrant community of locals, known proudly as "conchs." The town proper is an eclectic mix of shops that make Key West one of the most interesting places to shop and explore in the region.
At night, Mallory Square in the center of town transforms into a veritable carnival, home to musicians, performers, street vendors, and much more.
Which Airport Should You Fly into for the Florida Keys?
Visitors to the Florida Keys can choose from several different airports to fly into when planning their trip. Depending on where you're flying from and where you'll be spending your time, you'll have no trouble finding an ideal airport.
Those staying in the Upper Keys like Key Largo or Islamorada may find that Miami International is the perfect option, especially if you're exploring the area by car. Miami International is about an hour south of Key Largo, and it offers more flights than any other airport servicing the area.
Marathon International Airport is conveniently situated in the center of the Keys, which makes it an ideal choice. Unfortunately, the airport is quite small, and it's only possible to fly into this airport from a few locations. There are also fewer airlines that service this small airport.
At the southern end of the Keys is Key West International Airport, which is the ideal option for those spending their time in the southern Keys. Key West International Airport offers service from JetBlue, Delta, United, and more, and flights are offered to this airport from around the country. Hoping to find accommodation near the airport? We've created a handy list of the best hotels near Key West International Airport (EYW) for families to make your vacation planning easier.
As a general rule, Miami International is ideal for visitors to the northern Keys, while Key West International is best if you're spending your time in the south.
13 Top Rated Florida Keys Family Resorts
So you've decided a vacation in the Florida Keys is the perfect choice for your family. Where will you stay? Below, you'll find the thirteen best Florida Keys resorts for families.
1) Isla Bella Beach Resort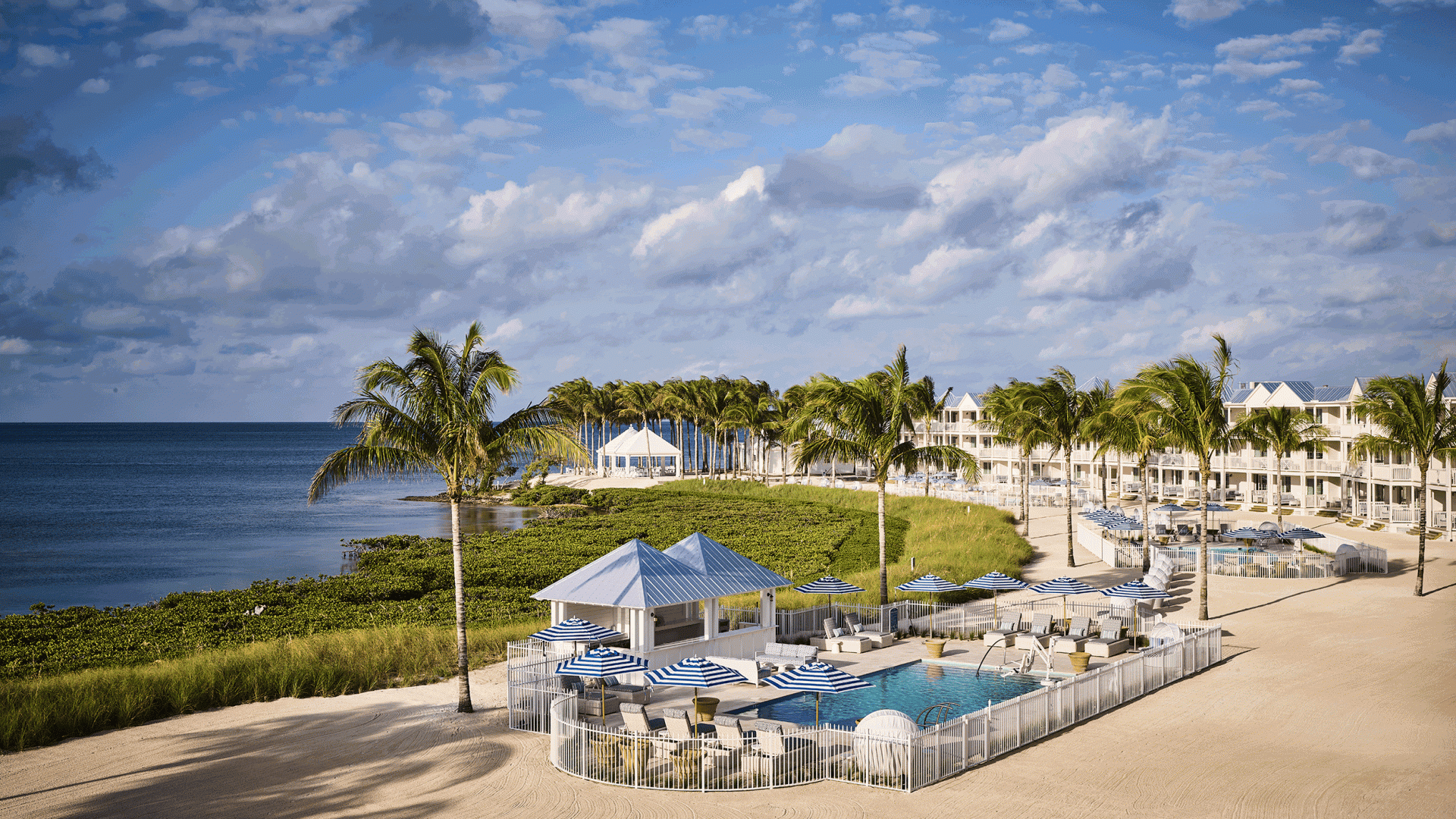 For family fun, it's nearly impossible to beat this luxury resort nestled in beautiful Marathon. The Isla Bella resort offers a mile of ocean views and a massive 24 acres of beautiful grounds to explore. The resort offers several configurations, from single rooms to large suites that are ideal for the whole family.
At the waterfront, guests can enjoy a private beach, five different swimming pools, and a vast array of different dining and entertainment options. Kids are sure to love making their own pizzas, riding complimentary kayaks, or exploring the grounds on a rental bike.
For the adults, there's a world-class spa and fitness facility and even a conference area for important business that can't wait for you to return from vacation. This four-star resort is conveniently situated near the middle of the Keys, so it's an ideal starting point for exploring everything the area has to offer.
Check out the Isla Bella Beach Resort
Find it at: 1 Knights Key Boulevard MM 47, Marathon, FL 33050
2) Southernmost Beach Resort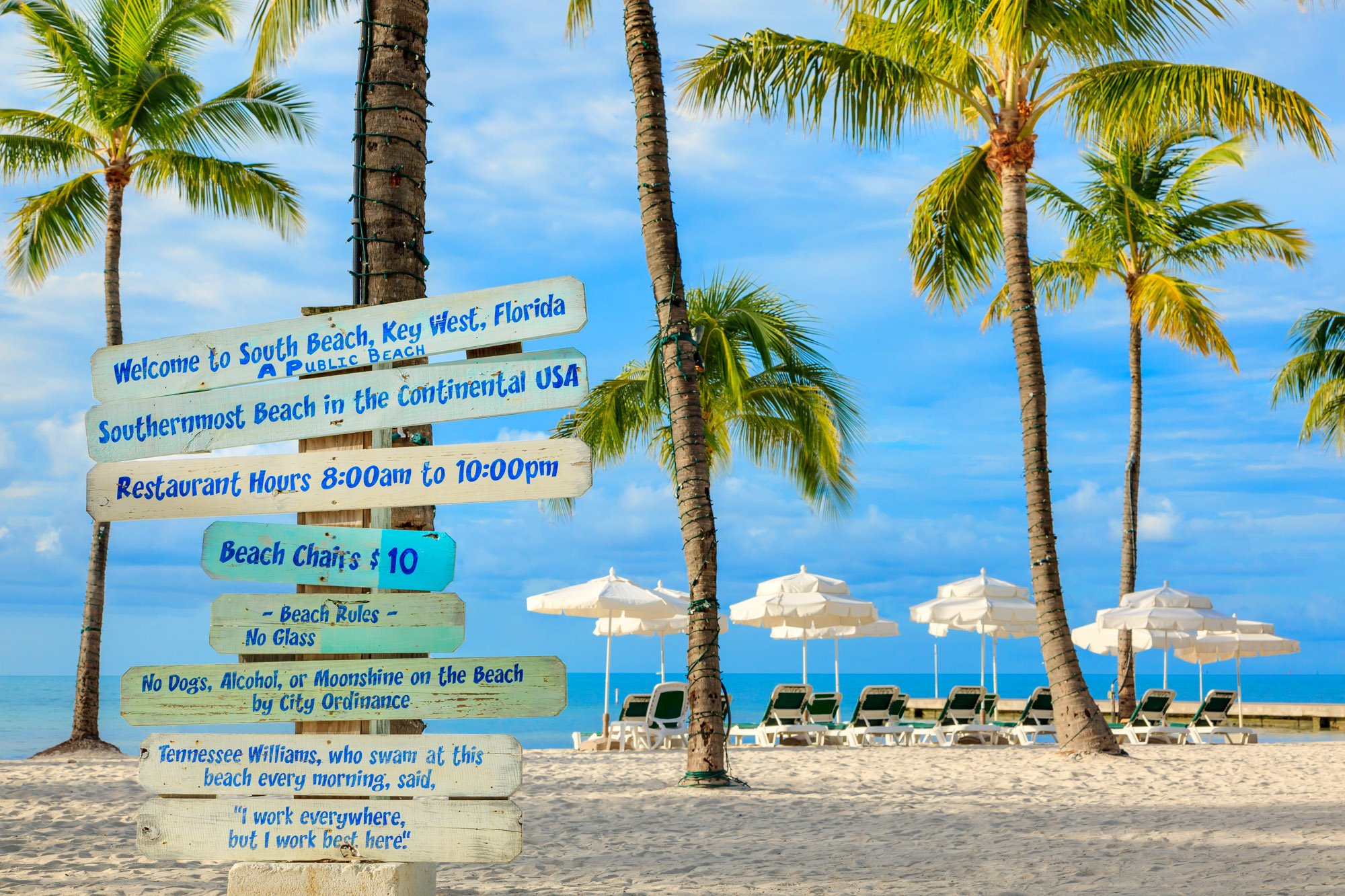 This aptly named resort resides at the southernmost point of the Keys in beautiful Key West. This resort offers the best of both worlds; a beautiful and relaxing seaside retreat that's only a short walk from lively Mallory Square and Duval Street.
At this resort, you'll feel like you're worlds away from the world you know, even when you're only a few hundred feet away from the main drag in town.
The Keys are known for their ocean views, but not their beaches, which is another reason why Southernmost on the Beach is such a popular retreat. This resort boasts one of the only private beaches in Key West, and it's fun for the entire family.
Families can spend the day swimming in the warm waters, riding a jet ski, or building a sandcastle on the pristine beach.
There's also a private fishing pier, three large swimming pools, and plenty of dining and entertainment options on-site. When it's time to hit the town, you're a five-minute walk from anything you could want to do in Key West.
Check out Southernmost Beach Resort
Find it at: 1319 Duval St, Key West, FL 33040
3) Tranquility Bay Beach House Resort
Not far from the world-famous Isla Bella Beach Resort, the Tranquility Bay Beach House is another beautiful option conveniently located in Marathon, Florida. This enchanting resort offers unbeatable sunsets, ocean views from every room, and large sun decks to relax on.
Tranquility Bay has a private beach, so you can relax while the kids swim and enjoy the water in a safe environment. There are also plenty of pools, including a private adults-only pool that's ideal for relaxing away from the kids.
At night, Tranquility Bay offers one of the most legendary sunsets in all the keys, and most rooms have a gorgeous view of the setting sun.
As for the accommodations, two and three-bedroom units are available, and each has two bathrooms, spacious living areas, and a kitchen.
Check out Tranquility Bay Beach House Resort
Find it at: 2600 Overseas Hwy, Marathon, FL 33050
4) Cheeca Lodge & Spa
An idyllic escape in sunny Islamorada, Cheeca Lodge & Spa is an ideal location for families and couples alike. This resort is quite large, offering a massive 27-acres of beachfront property for you and the kids to enjoy.
Cheeca Lodge & Spa offers a private beach, pools for the kids and adults, and a nine-hole golf course. The resort also boasts a private fishing pier with free rods and kayak rentals. The spa offers the perfect way to relax and unwind for the whole family as there are services for adults and children alike.
Find it at: 81801 Overseas Hwy, Islamorada, FL 33036
5) Hampton Inn Key Largo
If you're planning a trip around the northern Keys, Hampton Inn's Key Largo resort could be an ideal stay for you. This 3-star resort offers a host of amenities, family-friendly accommodations, and a convenient location in the heart of Key Largo.
From the resort, you can walk to the iconic John Pennekamp Coral Reef State Park in less than five minutes. On the grounds, visitors can enjoy spacious rooms with patios or balconies, a large pool, fitness and business centers, and kayak rentals. There's even a Starbucks in the resort, so you don't have to stray too far for your morning cup.
Check Out Hampton Inn Key Largo
Find it at: 102400 Overseas Hwy, Key Largo, FL 33037
6) The Islander Resort
A classic fun-in-the-sun resort that's a true Florida Keys original, the Islander offers 3-star accommodations and tons of activities for the whole family. Located in Islamorada, The Islander is centrally located near many of the finest attractions of the Keys. But, you won't need to stray from your villa at The Islander to find fun and excitement.
This resort offers a private beach, fishing, kayaking, a heated outdoor swimming pool, and on-site dining options that are perfect for the whole family or a romantic escape. Boaters are sure to love the Islander, as the resort includes dock slips for you to dock your boat or a rental after a day of fun on the water.
Find it at: 82100 Overseas Hwy, Islamorada, FL 33036
7) Sunset Key Cottages
If you're hoping for a family getaway that's a bit more private, the Sunset Key Cottages could be perfect for you. This collection of 40 luxurious cottages sits on a private island just a few minutes from Key West. You can enjoy a private getaway while still being mere minutes from the lively town square that Key West is known for.
Each cottage boasts luxury accommodations, including multiple bathrooms, up to four bedrooms, and a full kitchen. The whole family can enjoy kayaking, swimming, and fishing on the picturesque grounds of the resort. There's also a library and game room for the kids to enjoy.
For the grown-ups, there's also a full-service spa, fitness center, and tennis courts. You can enjoy a casual game of tennis or set up lessons for you or the whole family while staying at the Sunset Key Cottages.
Find it at: 245 Front St, Key West, FL 33040
8) Parrot Key Hotel & Villas
Parrot Key Hotel & Villas is a solid choice for Key West visitors who want to take in everything this bustling Key has to offer while still enjoying some peace and quiet. Parrot Key is located about three miles north of the town square, and the grounds are quiet, beautiful, and chock-full of amenities.
For the kids, there are three swimming pools to enjoy (and a fourth just for adults) and a beach area. There are also watersport rentals, including kayaks and paddleboards, that the whole family can enjoy. The resort offers one and two-bedroom accommodations as well as larger villas that accommodate up to eight guests.
Check out Parrot Key Hotel & Villas
Find it at: 2801 N Roosevelt Blvd, Key West, FL 33040
9) Hyatt Centric Key West Resort and Spa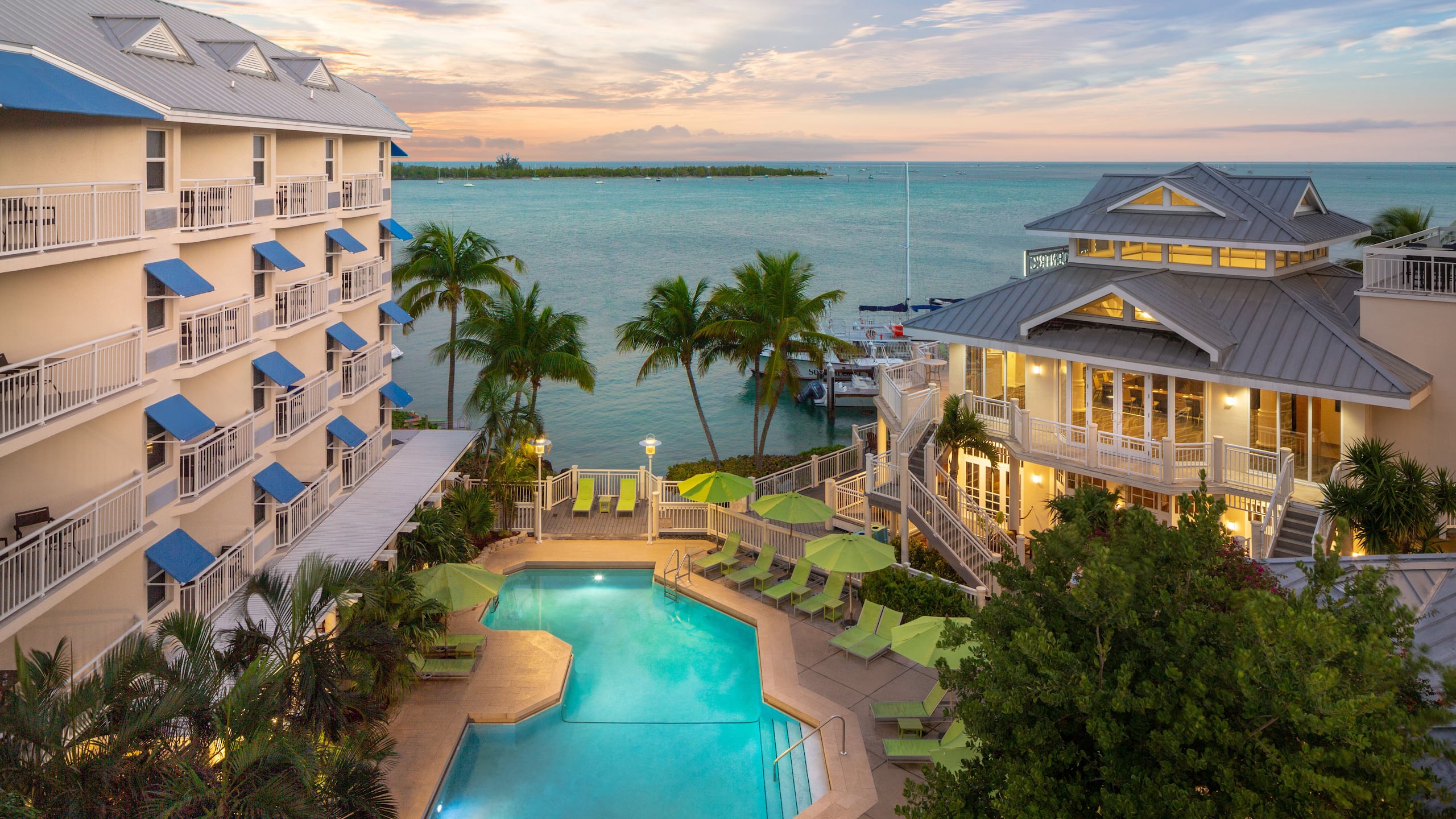 Hyatt is well known as a leading luxury vacation provider, and the Centric Key West Resort and Spa delivers everything that the Hyatt brand is known for, plus more. This resort is luxuriously appointed, and there's something for everyone to enjoy.
This 4-star resort offers a large heated swimming pool, jet ski and kayak rentals, and on-site snorkeling. There are also two delicious restaurants open all day, and both feature kid-friendly menus that the entire family can enjoy.
While the grounds are beautiful, the rooms may be the most impressive aspect of staying at this resort. Each room is large, with luxury appointments such as a private balcony. Many of the rooms provide a gorgeous ocean view, and some even allow you to bring pets along.
Check out Hyatt Centric Key West Resort and Spa
Find it at: 601 Front St, Key West, FL 33040
10) Glunz Ocean Beach Hotel & Resort
Glunz Ocean Beach Hotel & Resort is another gorgeous option for those staying in Marathon, and it's an ideal location for families hoping to explore everything the Florida Keys have to offer.
While this resort is fairly small, what it lacks in size it makes up for with its luxury amenities and attentive staff.
Glunz offers an oceanfront pool that provides gorgeous views of the crystal clear water, an expansive private pier for fishing or taking in the breathtaking sunsets that Marathon is famous for.
Single rooms are available, as well as three-bedroom villas that are perfect for larger families. Each villa includes a private bathroom for each bedroom, a fully equipped kitchen, and spacious living areas for you to enjoy with the whole family.
Check Out Glunz Ocean Beach Hotel & Resort
Find it at: 351 E Ocean Dr, Key Colony Beach, FL 33051
11) Coral Lagoon Resort Villas & Marina
If your family is looking forward to exploring the open ocean on your trip to the Keys, Coral Lagoon Resort Villas & Marina could be the perfect location for you. This resort is operated by KeysCaribbean, which maintains gorgeous resorts throughout the Keys, so they know a thing or two about a luxurious family vacation.
Coral Lagoon sits on six acres of pristine real estate just off the shore, and the villas here overlook gorgeous canals. You can rent a boat to enjoy the ocean or charter one with one of the excellent captains in the area who will be sure to put you onto the fish of a lifetime.
The conch-style villas are beautifully appointed with original artwork, large modern kitchens, and plenty of living space for the whole family. The resort is only a few minutes from Curry Hammock State Park and the Dolphin Research Center, which makes Coral Lagoon an ideal escape for visitors who want to explore the local wildlife.
Check out Coral Lagoon Resort Villas & Marina
Find it at: 12399 Overseas Hwy, Marathon, FL 33050
12) Key Largo Bay Marriott Beach Resort
This 4-star Marriott resort is the perfect seaside escape for families vacationing in Key Largo, and it's loaded with high-end amenities that you won't find at many other resorts in the Keys.
The Key Largo Bay Marriott offers a private beach and an on-site dive shop where you can arrange diving and snorkeling excursions.
There's a fantastic restaurant on-site offering plenty of kid-friendly options and a game room the kids can enjoy whenever they aren't outside. There are rooms of all sizes at this resort, including larger suites that feature expansive living areas and fully equipped kitchens.
Check out Key Largo Bay Marriott Beach Resort
Find it at: 103800 Overseas Highway, 103 8 Mm, Key Largo, FL 33037
13) Best Western Hibiscus Motel
For vacationers who care more about taking in the sights and culture of the Keys more than they care about luxury accommodations, the Best Western Hibiscus Motel is an excellent option.
Of course, this motel is still exceptionally well-appointed, and there are plenty of excellent amenities on offer here.
Visitors can enjoy the large pool and hot tub or catch some rays on the palm tree-lined sun deck. There's also free continental breakfast each morning. The Hibiscus is located a short walk to the beach and many of the historical sights that make Key West such a memorable location to visit.
Check out Best Western Hibiscus Motel
Find it at: 1313 Simonton St, Key West, FL 33040
More about our TFVG Author
A seasoned traveller, Dad, and avid sports tourist, James foundered The Family Vacation Guide to share his expert vacation experiences- especially when it comes to being a travelling family man.
Featured in Travel articles such as Travel + Leisure, TripSavvy and SFGate, you know you're reading some of the best vacation tips online.