Families planning a vacation to Walt Disney World in Florida might feel overwhelmed about how much money they'll spend on their trip and deciding where they'll stay.
Thankfully, Disney's Saratoga Springs Resort offers an immersive setting you and your family can enjoy between your adventures at Disney World's parks. Its historic aesthetic gives it a down-to-earth vibe compared to some of Disney World's other deluxe resort options.
If you're interested in staying at this resort, read on to learn everything you need to know before booking a reservation.
What Is Disney's Saratoga Springs Resort?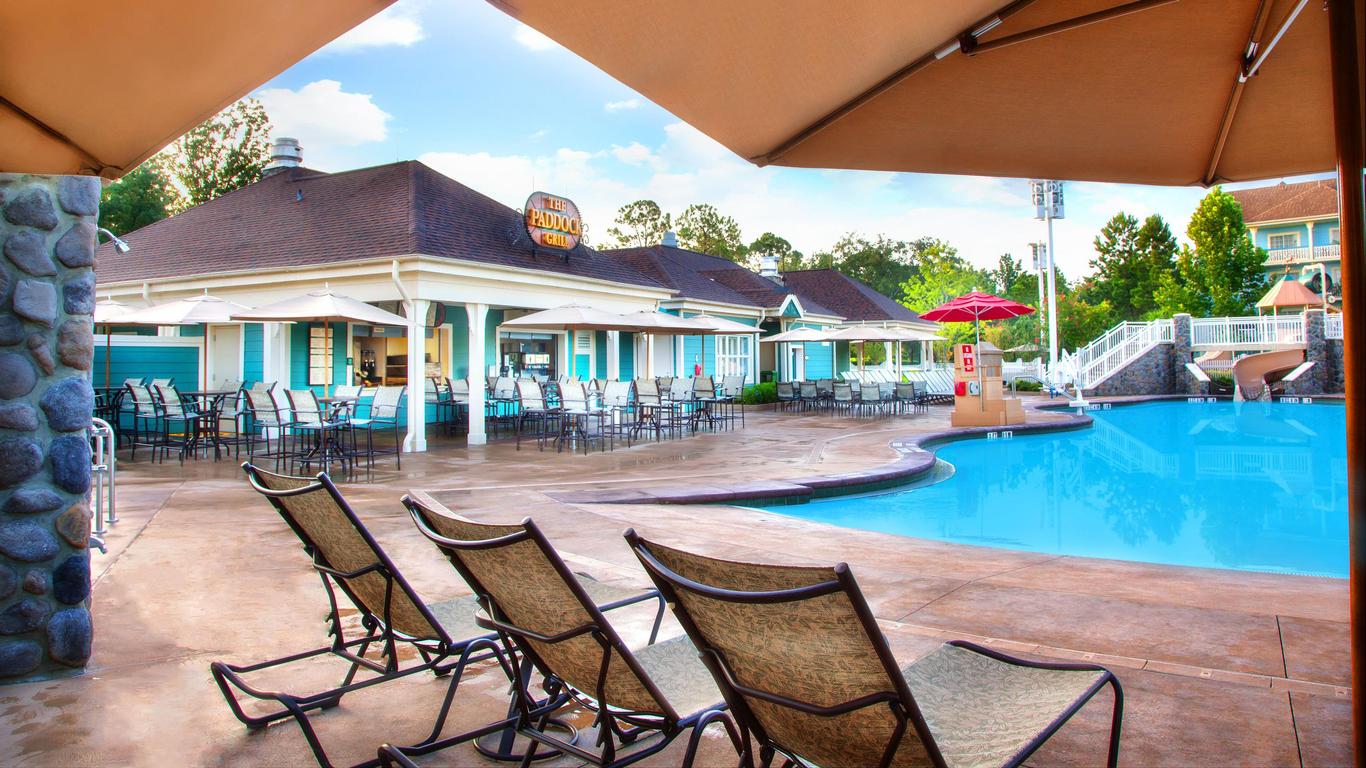 Disney's Saratoga Springs Resort is Walt Disney World's largest Disney Vacation Club Resort. You can find it within the Disney Springs Resort Area, formerly "Downtown Disney." It's also about four miles east of Epcot. First opening in May 2004, this resort spans 65 acres of land.
As you can tell from its namesake, this resort's aesthetic takes inspiration from Saratoga Springs, New York. As a result, the resort has several buildings incorporating the look of Victorian-era villas overlooking Lake Buena Vista and lush green fields, replicating the look of equestrian grounds.
It's home to a relaxing spa, several swimming pools scattered across four of its five resort sections, and plenty of recreational activities you and your family will enjoy. Check-in time for all guests at Saratoga Springs is 4 PM, while check-out is 11 AM.
Although it isn't as flashy or popular as the other Walt Disney World resorts, it's a nice option for anyone who prefers booking a resort with a more laid-back setting. Once you enter the resort's main building, The Carriage House, you'll find a relaxed lobby with portraits of horses from Disney movies placed behind its concierge desks.
Disney's Saratoga Springs Resort Rooming Accommodations
Disney's Saratoga Springs Resort has five sections where guests can book their rooms: The Grandstand, The Paddock, The Carousel, The Springs, and Congress Park. Most of these villas have one to three bedrooms, offering plenty of space for adults and children.
They also have 60 additional rooming options designated for their Treehouse Villas, giving guests 1,320 rooming options in total. They stand ten feet above the ground on beams, immersed in a wooded area near the Sassagoula River.
Most of Saratoga Springs Resort's preferred and standard villas have one king-sized bed, one or more queen-sized beds, and at least one pull-down bed, depending on your room's size preferences.
Their rooms offer lovely views of the pool areas, woodlands, courtyard, garden, and waterfront and enhance any guest's immersion before spending a day at any of the nearby theme parks.
Most rooms have a fully equipped kitchen, a flat-screen TV, an in-room safe, and free Wi-Fi. Other room amenities include:
A washer and dryer
A soaker tub
An ironing station
A dishwasher
A coffee maker
Voicemail services
One-bedroom villas can house up to five adults, while two-bedroom and three-bedroom villas can house nine to 12 adults. Their standard and preferred Deluxe Studio rooming options can accommodate up to 4 adults.
Disney's Saratoga Springs Resort Recreation
Like the other resorts at Disney World, Disney's Saratoga Springs Resort offers plenty of fun, family-friendly activities to do when you're not spending time at one of Disney's theme parks.
Pools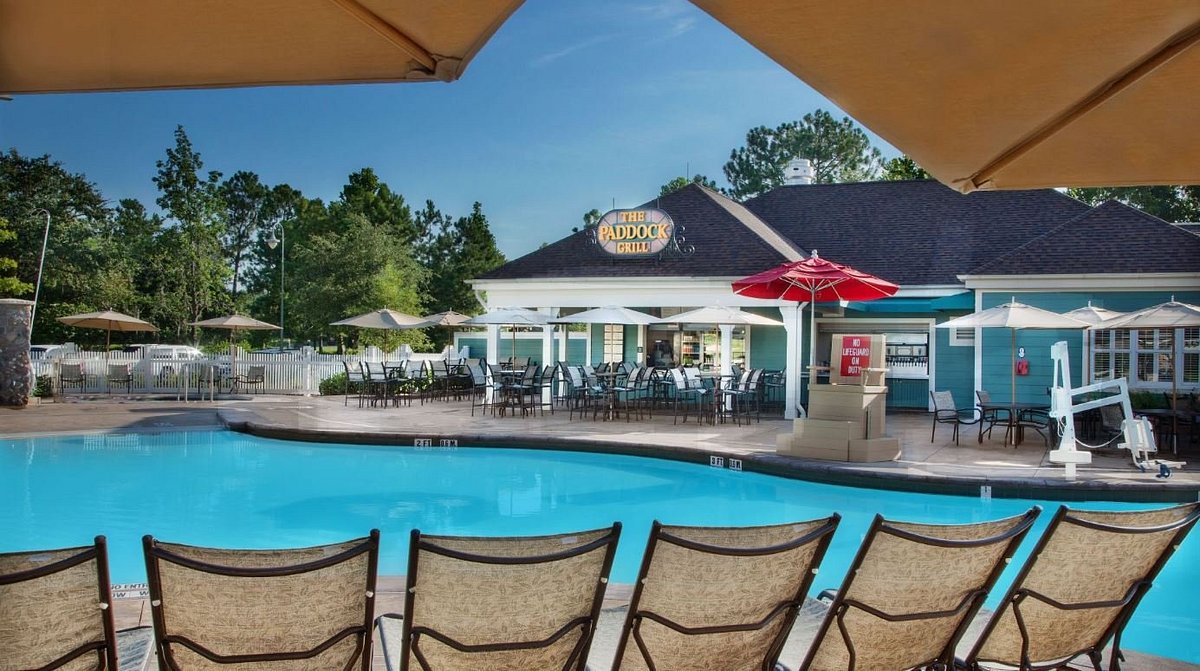 Saratoga Springs Resort has a few swimming pools you and your family can enjoy on the hottest and sunniest days.
High Rock Spring Pool
The High Rock Spring Pool incorporates the look of a lush spring, complete with waterfalls, rocks, and geysers.
It also has a Donald Duck-themed kids' splash area, a couple of whirlpool spas, and a 128-foot water slide built into the rocks for anyone craving a little excitement on a hot, beautiful day. Guests can relax on a pool chair and enjoy a nice snack or drink from the nearby pool bar.
Paddock Pool
The Paddock Pool has a 146-foot-long water slide stationed on top of a water tower and a horseshoe-shaped whirlpool. In addition, both of the main pools have smaller water slides younger guests can enjoy.
Additional Pools
You can also find three smaller leisure pools across the resort, near The Grandstand, Congress Park, and Treehouse Villa areas. The Grandstand and Congress Park pools have playgrounds for your children to explore and barbecue stations. Supervise your kids at these pools because they don't have lifeguards stationed.
All pools are open from 10 AM to 10 PM on days with good weather. However, the High Rock Spring and Paddock Pools' water slides will only be open when there's a lifeguard on duty.
Senses Spa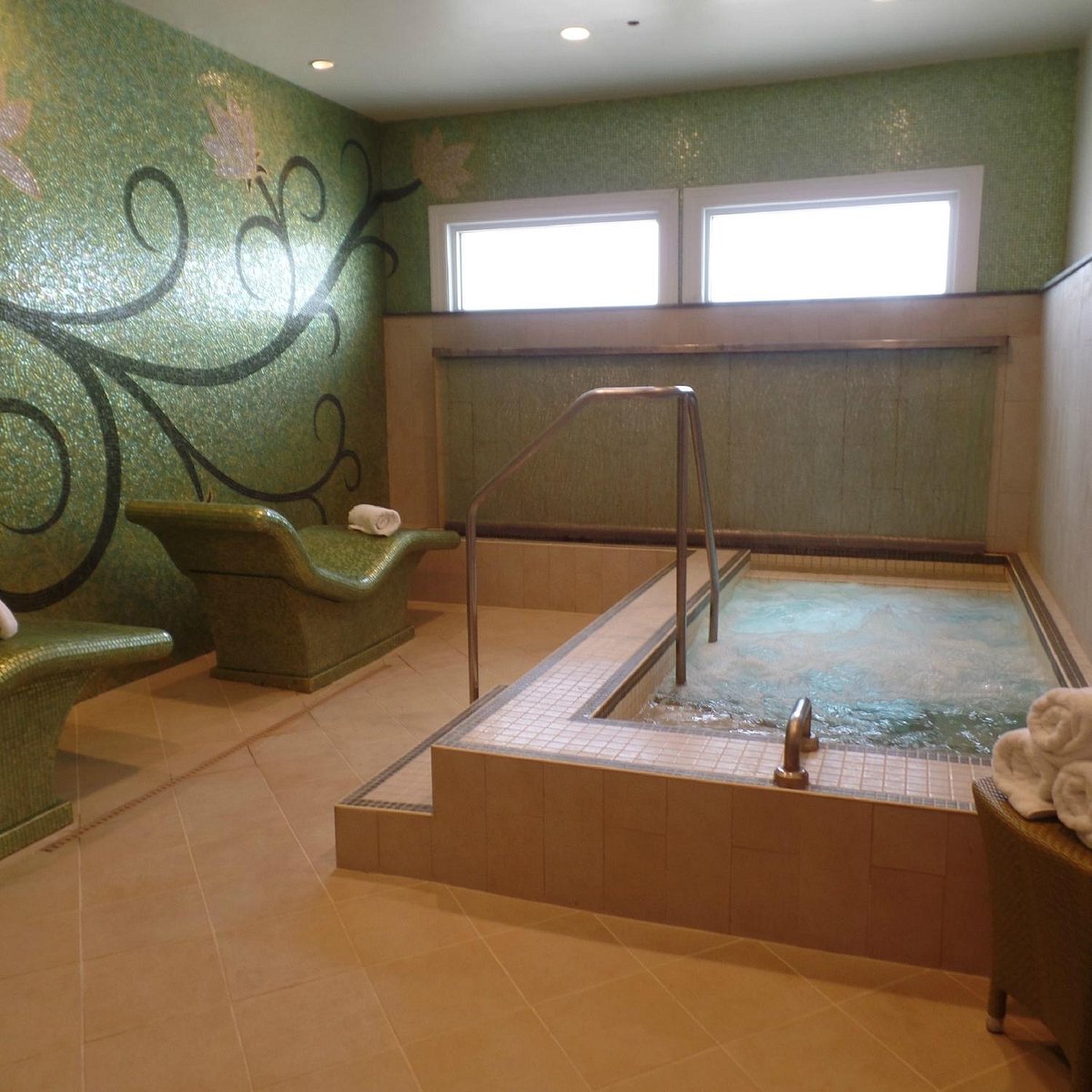 If you're looking for the perfect place to unwind after a long week, consider stopping by Senses Spa for the relaxation you deserve. It takes inspiration from 19th-century spas of upstate New York, enhancing its natural serenity, complete with tranquil music and warm lighting.
Their spa services include massage therapies, facial treatments, body therapies or wraps, a steam room, a whirlpool, manicures, and pedicures. They also offer multi-service spa packages and supervised children's spa services for kids ages four to 12.
Fitness Center
If you're looking for something else to do near the spa, you can visit the resort's 24-hour fitness center. You can use their treadmills, exercise bikes, stair climbers, elliptical machines, or free weights for your workout sessions. It's a great recreational activity if it's too rainy to go swimming.
Campfire Activities
Disney's Saratoga Springs Resort offers campfire activities every night from 6 PM to 7 PM in the DVC Courtyard. Enjoy the warm nighttime air as you roast marshmallows by the fire. It's a nice change of pace to each of the most thrilling attractions at the parks.
Movies Under the Stars
The resort's Movies Under the Stars event invites guests to stop by the DVC Courtyard to watch a complimentary, classic Disney film. They host this event on Wednesday, Friday, Saturday, and Sunday nights at 8 PM, giving guests something extra to enjoy after roasting marshmallows by the fire.
Contact the front desk if you have questions about which movies they'll play during each event to know what to expect when you get to the courtyard.
Lake Buena Vista Golf Course
One of the best ways to enjoy Saratoga Spring Resort's lush ambiance is by visiting Lake Buena Vista Golf Course. Enjoy an 18-hole game and enjoy the sights of lush woods, colorful villas, and clear lakes. You can also sign up for their driving range or take private golf lessons.
This activity is best suited for parents and older children who don't mind walking around an extensive golf course for several hours.
Jogging Trail
The best way to enjoy fresh air and exercise is by walking or running on one of Saratoga Springs Resort's jogging trails. One path is 1.44 miles long, while the other is 0.8 miles long. One of these looping paths cuts through The Paddock and The Springs areas. These trails offer great views of the resort's waterfront for an atmospheric experience.
Bike Rentals
Disney's Saratoga Springs Resort offers bike rentals for anyone interested in riding in style while exploring the resort's most popular destinations, such as its biking trails.
They offer standard and surrey bikes at the Horsing Around Recreational Rentals, near the High Rock Spring Pool. This rental hub also offers sporting equipment rentals, from basketball and shuffleboard to fishing.
Community Hall Activities
The resort's Community Hall is one of the best places to find family-friendly games and activities every family member can enjoy. It's open from 10 AM to 10 PM, seven days a week.
Enjoy a game of air hockey, foosball, or darts with your kids if you aren't in the mood to go swimming. They also have an arts and crafts station and a TV lounge.
Win, Place, or Show Arcade
The Win, Place, or Show Arcade is another great place to enjoy indoor activities before going to Disney Springs. Guests can access the arcade if they purchase a game card and recharge it with cash or a credit card.
Playground
If you stop by the Congress Park area of the resort, you can find a pastel-colored playground kids ages five to 12 can enjoy. It has two small slides, a rope ladder, a rock climbing wall, and two lower-level playhouses. The area also has a covered picnic area.
Disney's Saratoga Springs Resort Dining Options
Disney's Saratoga Springs Resort offers plenty of dining options you and your family can sample during your stay. These eateries have a casual atmosphere and are the perfect spot for a quick bite or a sit-down dinner. Each eatery's menus offer tasty and affordable entrees for you and your kids.
The Turf Club Bar & Grill
If you're looking for an on-site restaurant for a family dinner or a laid-back night at the bar, consider stopping by The Turf Club & Grill in The Springs area.
It's one of the best places to find classic American cuisine after a long day. Its indoor dining room has a warm and refined yet casual atmosphere, decorated with equestrian memorabilia, from photos of horse races to vintage riding gear. Its dim lighting and wood-paneled walls also enhance the space.
If you prefer open-air dining, you can enjoy your meal on their outdoor patio and get a lovely view of the Lake Buena Vista Golf Course.
Their dinner menu offers plenty of mouth-watering dishes, including prime rib, pan-seared salmon, and grilled pork chops. They also offer a wide selection of wine, mocktails, and cocktails to pair with your meal to enhance your night.
Their lounge serves casual fare, like pizza, fries, and burgers, if you stop by for a late-night bite. The lounge also has a pool table for anyone interested in playing a few rounds.
The Artist's Palette Restaurant
The Artist's Palette Restaurant is your best option if you prefer taking your food to go. Guests can also pick up the groceries they order if they prefer cooking food in their rooms. You can find it in The Springs area, near High Rock Spring Pool.
This restaurant is open daily from 7 AM to 11 PM and offers breakfast, lunch, and dinner options. Their menus include pizza, salads, sandwiches, Mickey-shaped waffles, and a wide assortment of desserts and pastries.
It has a casual and vibrant interior decorated with colorful hanging lights. It's a short drive away from the Buena Vista Lake Golf Course.
The Paddock Grill
If you crave poolside bites, consider stopping by The Paddock Grill for classic American fares for dinner or lunch, such as cobb salad or a fried chicken sandwich. In addition, their kid's menu offers chicken strips or burgers with a side of fries or grapes.
They serve refreshing frozen or on-the-rock cocktails you can enjoy at their tables or by the pool. Guests can purchase a refillable souvenir mug if they prefer getting a drink from the resort's self-service beverage stations.
Backstretch Pool Bar
The Backstretch Pool Bar is a poolside eatery in The Grandstand area. This bar offers non-alcoholic beverages, specialty cocktails, pizza, salted pretzels, and ice cream.
On the Rocks Pool Bar
If you crave quality cocktails and quick service during your time at the High Rock Spring Pool, stop by the On the Rocks Pool Bar. Your kids can enjoy lemonade or a smoothie if they want something to beat the heat.
Chip 'n' Dale's Café
Chip 'n' Dale's Café is a convenient snack stand near Disney's Lake Buena Vista Golf Course. It's an ideal place to stop for lunch after a game of golf. You can choose from a wide selection of deli sandwiches, wraps, and quesadillas. They also offer light breakfast, snacks, and beverages.
Disney's Saratoga Springs Resort Shopping
Are you interested in getting a souvenir during your stay at the resort? Then, consider stopping by The Artist's Palette Shop to browse their wares. Some merchandise they offer includes t-shirts, hats, puzzles, snacks, and plush toys.
Disney's Lake Buena Vista Pro Shop sells shirts and golf gear for avid golf lovers interested in taking something else home to commemorate their trip.
Disney's Saratoga Springs Resort Amenities
Like the other themed Disney World resorts, Disney's Saratoga Springs Resort offers guests plenty of standard amenities to enhance their lodging experience. These amenities include:
Laundry and dry cleaning services
Housekeeping
Complimentary Wi-Fi services
Online check-in
Mail services
Grocery delivery services
Designated smoking areas
24-hour ATM near the Front Desk
Merchandise delivery and pickup
Banking and currency exchange at the Front Desk or Lobby Concierge
Locker rentals
Disney's Saratoga Springs Resort Parking
Disney's Saratoga Springs Resort offers self-serve parking for $25 per night and valet parking for $33 per night.
Disney's Saratoga Springs Resort Transportation Services
Since Disney's Saratoga Springs Resort is one of the largest Disney resorts in the area, you can expect to find plenty of transportation services to help you traverse the resort and take you to the nearby theme parks.
Disney Bus Transportation
Saratoga Springs Resort offers on-site bus transportation services around the resort and the nearby theme parks. The on-site bus services are great for people who want to save time traveling to the resort's restaurants, pools, and service areas, including a route that transports to and from the Treehouse Villas area and the High Rock Spring Pool.
Consider talking to the front desk about the arrival time for each bus since they don't follow the exact bus schedule as some of the other resorts in the area.
Buses to the parks and Disney Springs arrive every 20 minutes, typically making their first stop at The Grandstand.
You can find one bus station in each of the five sections. Appropriately-marked buses to the Magic Kingdom, Epcot, Animal Kingdom, Hollywood Studios, and Disney Springs will take you directly to the park.
Disney Watercraft Transportation
Disney's Saratoga Springs Resort offers water taxi transportation to Disney Springs for anyone interested in enjoying waterfront sights as they traverse the most popular areas of Disney World.
The resort has two water launches on its property: one at the Treehouse Villas section of the resort, and the other in The Springs area, just a short walk from The Turf Club Bar & Grill.
Disney Minnie Vans
Another transportation service you can consider using is Disney's Minnie Vans, operated through Lyft. They operate daily from 6:30 AM to 12:30 AM and usually arrive within minutes to take you to other parts of Disney World, such as stores or restaurants at other resorts.
Unlike Disney's bus services, Minnie Vans aren't complimentary, so you'll need to consider travel fees within your vacation budget before booking your stay at Saratoga Springs Resort.
Final Thoughts
Disney's Saratoga Springs Resort is an excellent place to stay with your family if you prefer to stay somewhere with a more relaxed vibe with lovely views of the water or woods. You can find plenty of cozy lodging options suitable for families of any size.
This resort takes advantage of its upstate waterfront aesthetic, offering immersive biking and jogging trails on its large property for guests of all ages and water transportation to Disney Springs as an alternative to its walkway.
Although it's not the least expensive Disney Vacation Club Resort you can choose from, there are plenty of fun things you can enjoy if you plan your budget carefully. You can also access the parks quickly via their bus services.
More about our TFVG Author