Disney Springs is Walt Disney World's shopping, dining, and entertainment district, and no trip to the Orlando area is complete without visiting. While many guests do tons of research about the four main Disney theme parks–Magic Kingdom, EPCOT, Hollywood Studios, and Animal Kingdom–they spend less time preparing for their time in Disney Springs.
That's a mistake because there's so much to see and do there. It would be exhausting to visit all the stores and impossible to dine and drink at all the incredible eateries and bars. That's why we've compiled this article.
Below, read everything you need to know about Disney Springs, including what it is, different means of getting there, and how to navigate around it. Best of all, read a run-down of some of the best things to see and do there. That way, you can plan your visit and have just as much fun as you do in the theme parks!
What Is Disney Springs?
As stated above, Disney Springs is Walt Disney World's shopping, dining, and entertainment complex. It occupies approximately 120 acres of the company's massive land holdings in central Florida in the Orlando metropolitan area. It has over 100 stores, more than 50 places to grab a bite or a beverage, live entertainment, and more Disney magic.
Disney has maintained a shopping, dining, and entertainment area on the site for decades, though under different names and geared toward different demographics. In the 2010s, it got a complete makeover and re-branding into what it is today.
Like so much on Disney World's property, Disney Springs has a distinct theme, though it is subtler than the parks and some of the resorts. Disney Imagineers designed it to resemble old oceanside towns and cities in the Sunshine State, such as St. Augustine and Tampa.
The theme only applies to the decor and exteriors, though. As you'll see below, there's a tremendous range of shops.
Arriving at Disney Springs
If you're an experienced Disney-goer, you know that you need to devote time for transportation and arrival, no matter how you plan to get there.
Where Is Disney Springs Located?
The official address of Disney Springs is 1486 Lake Buena Vista Drive, Lake Buena Vista, FL 32830. But for people unfamiliar with a map of the region, what does that mean?
Disney Springs is located on the far east side of Walt Disney World next to Interstate-4. It's closest to Epcot of all four main theme parks, which is directly to its west. There are several ways of accessing Disney Springs and multiple entrances; more on that below.
A word of caution: the traffic around Disney Springs can get pretty gnarly. Prepare to wait in long lines of cars at lengthy stoplights, at the very least. Try to arrive before the dinner rush in the evening, when locals also flock here.
Arriving by Car and Parking
Disney Springs is easily accessible by car off major roads and intersections. The best route depends on the time of day, current traffic, and other factors. We recommend using your favorite navigation app to get you to the general area.
Once you're there, you can park in one of the surface lots or parking garages for free. Only valet parking (available near the Orange Garage, Lemon Lot, and West Side near Cirque du Soleil) costs money.
Even though there are three garages and three surface lots, finding parking at Disney Springs can still be challenging. The garages display the number of available spots when you drive by to make it a bit easier. Still, we prefer to use alternatives whenever possible. You don't want to get stuck paying for valet if you don't have to!
Resort Transportation
All of Walt Disney World's resorts provide complimentary transportation to Disney Springs, as well as to the four theme parks and two water parks. From most hotels, your only option will be to take a bus. However, if you're staying at one of the following, there are water taxis (boats):
Disney's Old Key West Resort
Disney's Port Orleans–French Quarter
Disney's Port Orleans–Riverside
Disney's Saratoga Springs Resort and Spa
Take a Taxi, Public Transportation, and More
There are other ways of getting to Walt Disney World. You can always take a cab or rideshare (Uber, Lyft). We recommend getting a flat rate on the trip rather than paying by the minute, just in case you sit in traffic near the entrance.
In terms of public transportation, the LYNX bus system runs to a stop directly nearby Disney Springs. There are bike racks and walking paths leading to the shopping complex for those nearby enough and so inclined.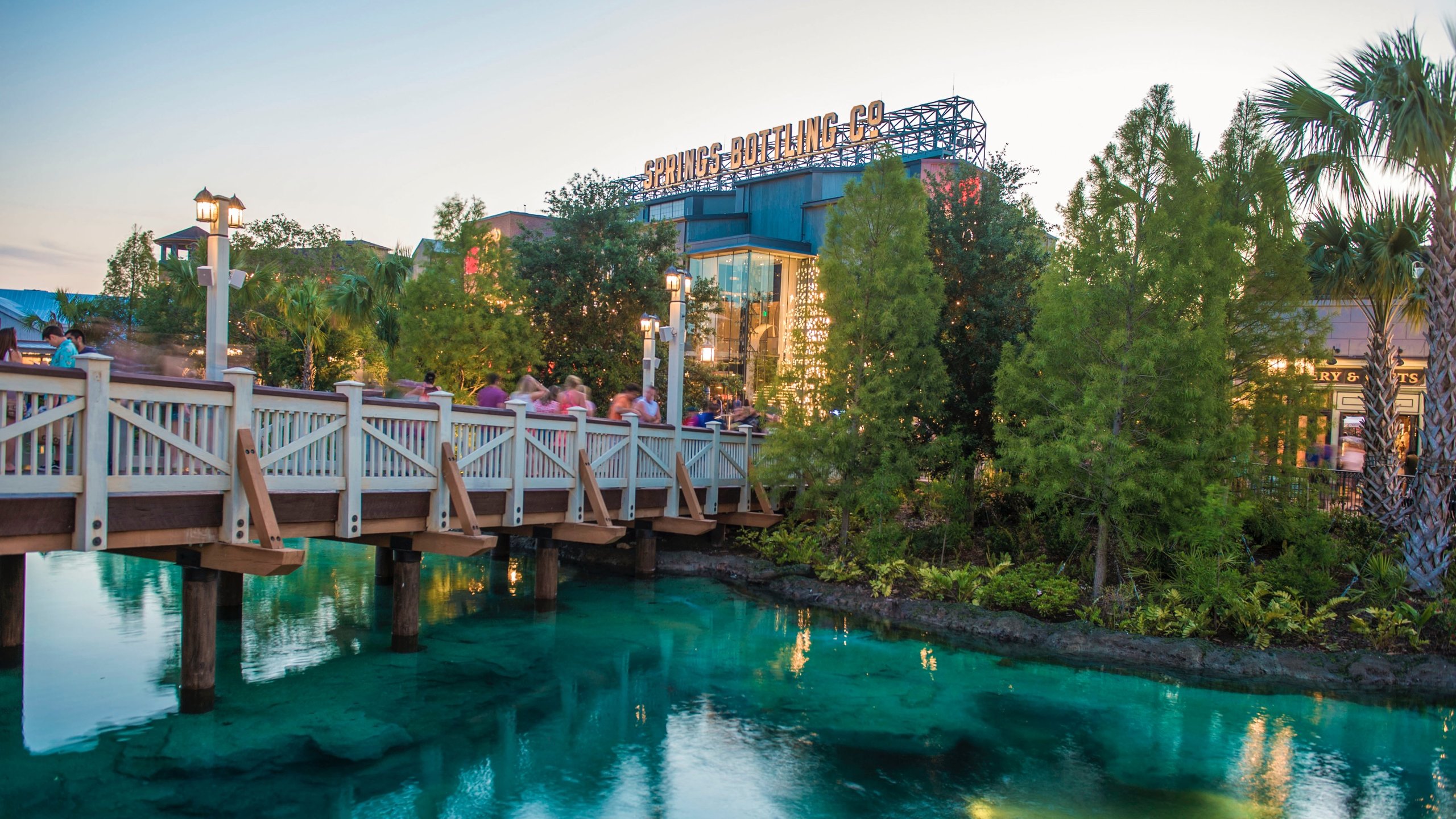 Disney Springs Hours
Disney Springs does not use the same hours every day of the week or each season of the year. Moreover, hours are subject to change. Many days, though, the hours are 10 AM until 11 PM.
Rarely will the hours be shorter than those; if anything, the complex stays open later, though never past 2 AM. Always check the website or the My Disney Experience app for hours on the day of your visit.
Disney Springs hours don't apply to all businesses in the complex. Typically, stores owned or operated by Disney adhere to these hours, although that isn't guaranteed. Other stores may set their own hours. This policy applies even more to restaurants. Some restaurants in Disney Springs are open only for dinner service, especially during the off-season.
If there's a particular outlet that you want to visit, be sure to check their hours by visiting their website. If it's a restaurant, make reservations ahead of time. Some places, like Morimoto Asia, are in high demand, and reservations can be hard to come by, so plan ahead.
Disney Springs Layout and Landmarks
It's helpful to have an idea of the layout of Disney Springs and how to navigate the district before you go. Disney Springs is separated into four main areas: The Landing, Marketplace, Town Center, and the West Side.
Each is situated on Lake Buena Vista, which connects to the resorts. The Marketplace is the district furthest to the east, where you also find the rideshare and taxi stations. The World of Disney flagship store and Advent Health Waterside Stage mark Town Centre's entrance, where the resort buses drop off.
Behind Town Center is The Landing, which is into the water. Finally, the West Side most closely resembles the old Downtown Disney. You'll find the bowling alley, movie theater, House of Blues, and Cirque du Soleil stage.
Besides the lake itself, you can use the AeroPhile hot air balloon to orient yourself in Disney Springs. It's located on the West Side close to The Landing. If it looks very far, you're likely in the Marketplace.
Shopping at Disney Springs
If you like to shop 'til you drop, then Disney Springs is the place for you. Years ago, the shopping district had far fewer stores, especially non-Disney shops. Now, there are well over 100. We'll give some overview here, but be sure to do your research and make a list of must-dos.
Most Popular Stores at Disney Springs
Far and away, the most popular store at Disney Springs is World of Disney, the world's largest Disney store. It has everything you can imagine, including limited edition merchandise.
Another very popular shop to visit is the LEGO store, also located in the Marketplace. There can sometimes be a line, but it's worth the wait. You get to browse hundreds of sets and see rare sets assembled.
Everyone loves the Marketplace Co-Op. This shop features limited edition Disney merchandise in a variety of pop-up-style stores. Much of what's sold there is being tested for broader distribution.
In terms of non-Disney stores, there are tons of trendy, well-recognized brands with stores in Disney Springs, including Vera Bradley, Columbia Sportswear, Kendra Scott, Sephora, Tommy Bahama, and many more.
Best Stores at Disney Springs for Kids
Shopping with kids can be a serious drag, but Disney Springs has plenty to keep them entertained. Besides the extras below, lots of stores will appeal to them. As you can imagine, no one does a toy store like Disney, so be sure to check out Once Upon a Toy.
If there are Marvel fans in your family, you have to check out Superhero Headquarters on the West Side for everything from the Marvel Universe. There's also a Star Wars Galactic Outpost and Trading Post if that's your kids' thing.
You've likely heard of the Build-A-Bear Workshop, which you can find around the country. In Disney Springs, there's a Build-A-Dino Workshop. It works similarly, and there are almost as many fun outfits and accessories for your new friend. If you have a mini princess in your family, there's a Bibbiddi Bobbidi Boutique inside the World of Disney store.
If you're hoping to steer clear of toy stores, check out Stance, which sells whacky socks. There are also two candy stores in Disney Springs (Goofy's Candy Co. in the Marketplace and Candy Cauldron on the West Side).
Unique Stores at Disney Springs
There are so many unique stores in Disney Springs, that you're sure to find something you love. Some people can't get enough of the holiday season. If that's you, visit Disney's Days of Christmas in the Marketplace. You can find decorations, ornaments, and everything Christmas, Hanukkah, New Year's, and more.
Another family favorite is Basin, where you can mix and make your own bath bombs. Your kids might be a little reluctant, but they'll quickly be pulled into the personalized fun.
If you want to do some good with your shopping expedition, visit the Savannah Bee Company. They're working to support honeybees and prevent extinction as these critical animals face dwindling numbers.
Finally, don't skip a trip to the Art of Disney store. You can browse stunning sketches, paintings, and other works of art based on beloved Disney characters, attractions, films, and more. It's also fun to see some of the astounding price tags on them!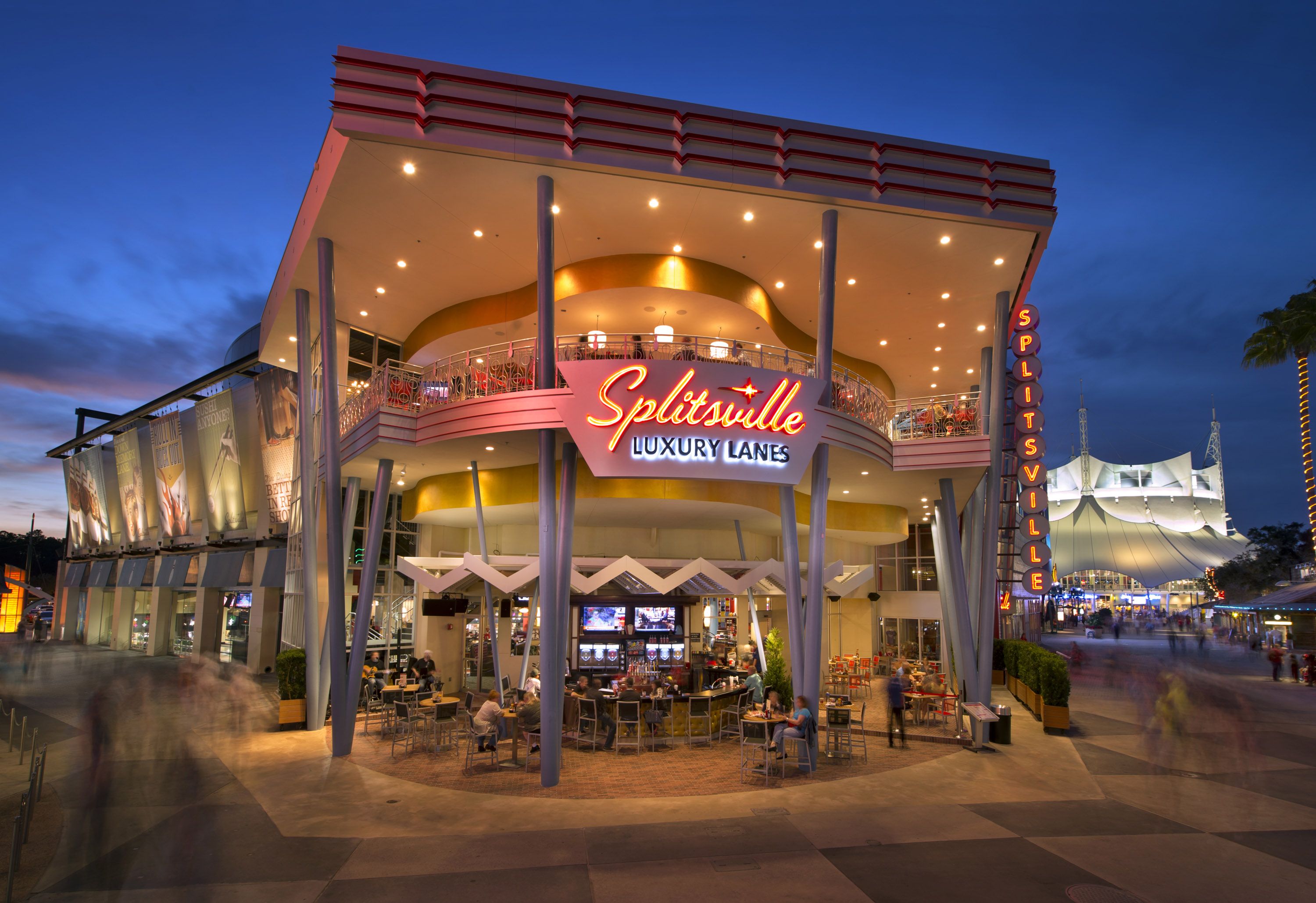 Dining at Disney Springs
When you come to Disney Springs, bring your appetite! There are so many eateries to tempt your taste buds, that it would take you weeks to try them all. Browse our lists, visit the Disney Dining website, and make reservations and plans accordingly.
Why not check out our guide to the best restaurants at Disney Springs to learn more?
Most Popular Eateries at Disney Springs
Almost everywhere is popular in Disney Springs, but there are some places where the lines are long and the tables are hard to snag.
One of those places is definitely Morimoto Asia, the restaurant of Iron Chef and Michelin-Star winner Masaharu Morimoto. They have a quick serve window with a few favorites from the menu, but it has limited hours.
The BOATHOUSE is another very trendy place to eat. Also a table service restaurant, it bridges the gap between upscale and casual. It's right on the water, and we can almost guarantee you won't have a bad meal.
There are several places to grab a sweet treat, but Gideon's Bakehouse is the most exciting by far. Long lines form just to get in and browse their selection of bakery goodies, but it's worth it.
Best Restaurants for Kids and Families
If you take Disney's transportation system, one of the first places you'll see is Rainforest Cafe, but there's somewhere even better: T-REX Cafe. The idea is similar: both restaurants are heavily themed and immersive, but this one is about dinos.
Raglan Road is another fun one for kids. They have live, family-friendly entertainment, including traditional Irish music and dancers. If your kids are done sitting still at restaurants, grab a bite at Splitsville and let them do some bowling.
Kids also love the top level of Paddlefish, which is located inside the old riverboat in Lake Buena Vista. You can see terrific views of the surrounding area and enjoy some warm Florida air. They have a kids' menu with many non-seafood options and options for vegans.
Most Romantic Restaurants at Disney Springs
Disney Springs is a terrific destination if parents and caregivers can sneak away for a little alone time.
One of the best places to eat (and drink) is Wine Bar George. Curated by one of the world's top wine experts, the wine list is beyond impressive. The staff are also knowledgeable and can help you choose. Share some wine and small plates at a tiny table for two.
The Edison is another terrific adult dining option. The performers are incredible, and the theming is immersive but in a more grown-up way.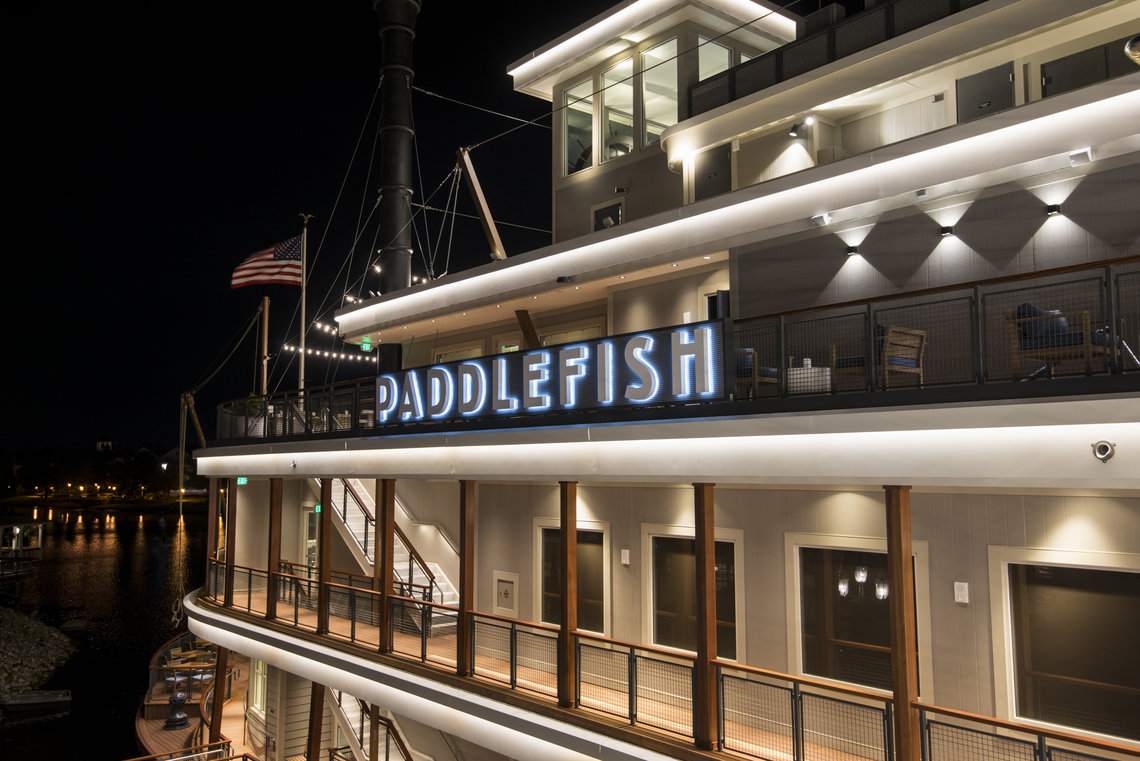 Best Snacks and Quick Eats
There are so many places to grab a quick bite to eat in Disney Springs! For something sweet, check out Vivoli il Gelato, which is the best place to get gelato outside Epcot, and one of the best outside of Italy itself. Chocolate lovers will die for The Ganachery and its cocoa treats, and Erin McKenna's Bakery is a gluten-free and vegan bakery.
If you're craving something savory, then head to the Chicken Guy. You can enjoy delicious fried chicken or chicken strips with dozens of sauce choices. Get an egg roll from the Morimoto food window if it's open.
Finally, if you need a fast meal for the family, you can't go wrong at Earl of Sandwich. Don't be intimidated by the long line since it moves quickly.
Late Night at Disney Springs
Plenty of places are open for drinks into the wee hours of the morning, but what if you need some nosh? Head to Raglan Road, Morimoto Asia, BOATHOUSE, Paddlefish, or Planet Hollywood for some sustenance.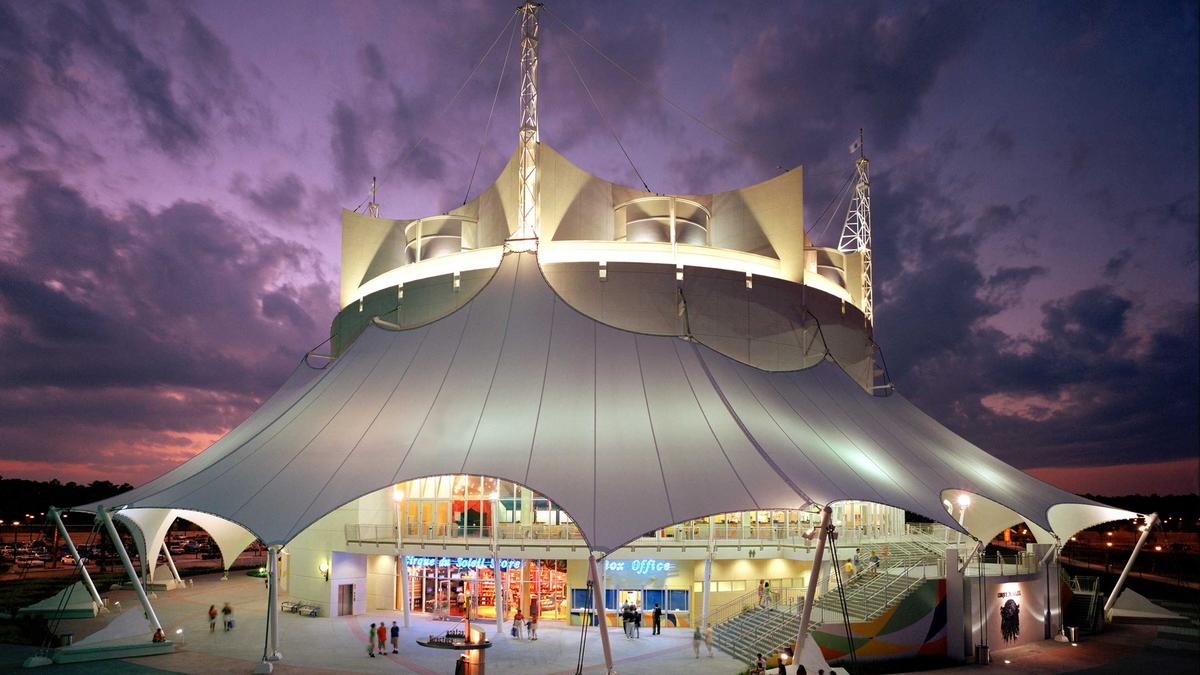 Entertainment and More at Disney Springs
Disney is wonderful about ensuring that all their guests can have a great time regardless of their preferences. This is true even at Disney Springs, where they've taken care of those of us who don't particularly enjoy shopping. There's tons of other stuff to do!
Entertainment for the Family
There's so much for families to do at Disney Springs. Some classic activities, such as Splitsville Luxury Lanes, are for bowling, games, and food. There's also a movie theater with more than 20 screens to catch the latest flick.
If you want to do something different, take your family up in the hot air balloon, AeroPhile. You can get a spectacular view of the entire property and all of central Florida, and it's enclosed and entirely safe for kids. You can also snag tickets for the new Cirque du Soleil show, "Drawn to Life," which brings to life the art of Disney animation in a way you've never experienced before.
If you head over to the Boathouse restaurant in The Landing, you can take an amphicar tour of Lake Buena Vista. These remarkable vehicles traverse both land and sea and look like floating antique autos.
Finally, there are also a couple of small rides for your kiddos. In the Marketplace area, hop on the carousel or take a ride on the Marketplace Train Express.
Live Music
Disney Springs is always hopping, and music helps it come alive. There are several places to hear live music at Disney Springs. More often than not, it's free and open to the public.
The most popular spot is the Advent Health Waterside Stage, which is a small amphitheater-style stage that hosts musical acts, theatrical and dance shows, and other performances. It's right outside the World of Disney store in the Marketplace. Check out the calendar to see who's appearing during your visit.
There are several other outdoor spots to hear and see live performers, including Exposition Park on the West Side and Riverboat Square in The Landing. Many restaurants also have live entertainment, including traditional Irish music and dancing at Raglan Road, swinging sets and trapeze artists at the Edison, and headliners at House of Blues.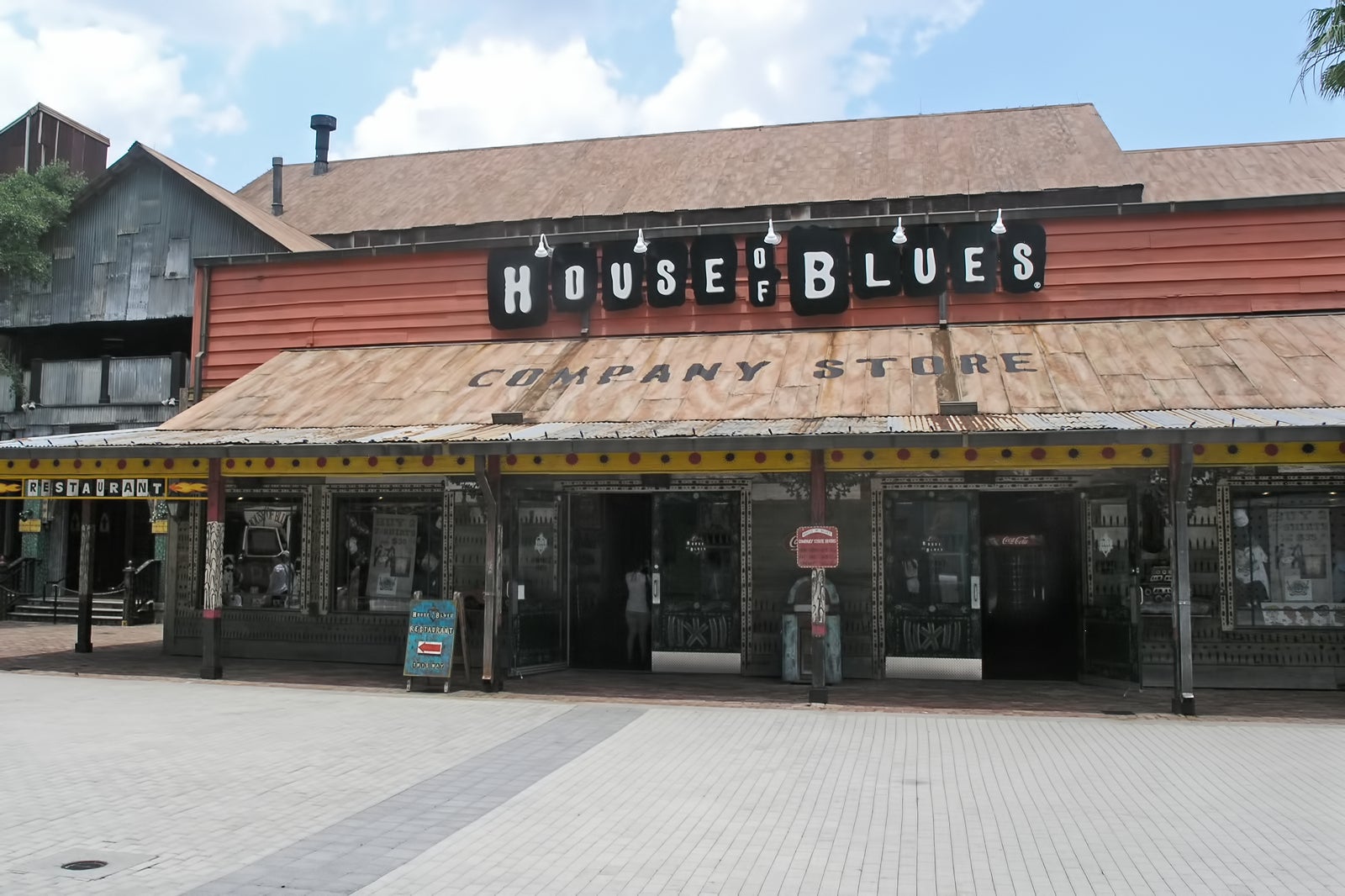 Holidays at Disney Springs
Disney goes all out for the winter holidays, and Disney Springs is no exception. Thousands of lights, miles of garlands, and trees galore adorn the facades. And since it is a very popular time of the year for shopping, most retailers get in on the fun with decorations, merchandise, and sales.
There are also several special events, including a Christmas Tree Stroll, special Christmas delicacies at some of your favorite places to eat, and much more.
Other Events
It isn't just the holiday season that sees special events tied to the time of year. Disney goes all out for fall, spring, and summer. Again, check the website and events calendar ahead of your visit and plan accordingly. Check back, as Disney adds events all the time.
Top Tips for Disney Springs
Unlike the parks and water parks, you don't need as much of a strategy for your day in Disney Springs. That being said, we highly recommend arriving before peak hours, especially if you're driving.
Pay attention to maps, and don't skip storefronts. You'll be on your feet a lot on your other days in the parks, so minimize walking on your Disney Springs day. If you want table service dining, make a reservation, but remember that Disney charges a late cancelation penalty.
Also, if you're staying at a Disney resort, take advantage of resort delivery at some of the best stores, including World of Disney. All of your purchases can be sent to your resort, where you pick them up at your leisure.
Like we said at the very top, no Walt Disney World vacation is complete without a visit to Disney Springs. It's the best place to find the perfect souvenir or do some serious shopping for something one-of-a-kind. There's an ideal store for everyone, regardless of taste, age, or other factors.
Decide with your family which stores are your must-see's, where you want to eat, and what you most want to do during your time. That way, you know what to prioritize to get the most from your Disney Springs shopping adventure.
More about our TFVG Author
A seasoned traveller, Dad, and avid sports tourist, James foundered The Family Vacation Guide to share his expert vacation experiences- especially when it comes to being a travelling family man.
Featured in Travel articles such as Travel + Leisure, TripSavvy and SFGate, you know you're reading some of the best vacation tips online.