EPCOT is the second-largest of the Disney Parks, and with so many attractions, dining locations, and experiences, you'll want to ensure you're getting the most out of your visit.
We've put together a detailed description of everything you need to know about EPCOT. We give you everything you need to know so you can decide on your must-dos and must-sees.
A Quick Intro to EPCOT
The EPCOT we know today is quite different from the place Walt Disney imagined.
EPCOT is an acronym for Experimental Prototype Community of Tomorrow.
He planned to have a well-designed and planned-out city where people worldwide worked and lived in harmony. He envisioned it as a utopia.
While EPCOT never quite achieved Walt's visions, it does retain some elements. World Showcase is a celebration of cultures and the cast members hail from around the globe. There are many attractions and exhibits devoted to plans for the future and ideas for making the world a better place. EPCOT is one of the most exciting parks at Disney and it's only going to get more exciting in the coming years. There are attractions based on Moana and Mary Poppins in the works.
EPCOT is known for its innovative rides like Spaceship Earth and its world cuisine. You can visit several "countries" in one day and learn about future technologies. While Animal Kingdom is the largest Disney park, EPCOT has the largest walking area. It's 1.3 miles around World Showcase alone. Come by in comfy shoes!
EPCOT Tickets & Reservations
It's a good idea to purchase your park tickets and make park reservations long before your vacation since parks can fill up. You'll need to purchase a ticket to EPCOT for everyone in your party who's three or older.
You can buy tickets as part of a larger ticket package or for one day at EPCOT. A base ticket will allow you in the park for one day. If you buy a Park Hopper ticket, you can go to as many parks as you'd like during the length of your tickets. The Water Park Fun and More option gives you a pass to one of Disney's water parks or other attractions for as many days as you have tickets.
You'll need park reservations in addition to your tickets. After purchasing tickets, you'll go into the My Disney Experience app and reserve a park. Fortunately, EPCOT is one of the last parks to fill up, but you should still reserve as early as possible.
Getting to EPCOT
There are quite a few ways to get to EPCOT. Your mode of transportation will depend on whether you're staying on Disney property or off-site. If you're staying on property, it will also depend on your chosen resort.
Why not check out our guide to the best hotels near EPCOT for inspiration if you've not already booked?
By Car
Whether you're staying on-site or off, you always have the option of driving to EPCOT. Resort guests pay a resort parking fee but get free standard parking at all of the parks. If you want preferred parking, you can pay the difference to upgrade.
If you're staying off-site, then you'll have to pay a parking fee. The fee varies based on the season and whether you choose standard or preferred parking.
Even if you park a far distance from EPCOT, you should be able to catch a ride on one of the parking lot trams and avoid the long walk.
By Bus
Almost all Disney resorts have a bus service that runs to EPCOT. You can also take a bus from Hollywood Studios or Animal Kingdom to EPCOT if you're park hopping.
Some off-site hotels offer a bus or shuttle service that will take you to any of the Disney parks.
By Monorail
Three resorts offer monorail service – the Grand Floridian, the Contemporary, and the Polynesian. Magic Kingdom and EPCOT are the only two parks connected to the monorail. You'll need to take the monorail to the Ticket and Transporation Center. You'll then transfer and take the monorail to EPCOT.
By Boat
If you stay in one of the following resorts, then you can get to EPCOT by boat:
BoardWalk Villas
Beach Club Villas
Yacht Club
Dolphin
Swan
Most of these hotels are also close enough that you can walk to EPCOT.
By Skyliner
The Skyliner is an aerial gondola system that runs to EPCOT and Hollywood Studios. The Skyliner travels to EPCOT from one of the following resorts:
Art of Animation
Pop Century
Caribbean Beach
Riviera
EPCOT World Showcase: An Intro
World Showcase is made up of 11 country pavilions centered around World Showcase Lagoon. The countries are:
Mexico
Norway
China
Germany
Italy
America
Japan
Morocco
France
United Kingdom
Canada
Each pavilion is designed to recreate the atmosphere of the countries. Disney brought in historical and architectural experts to make sure the areas feel as authentic as possible.
Each pavilion features shops with specialty products from the countries. Restaurants serve up authentic cuisine and you can meet characters from stories featured in the countries.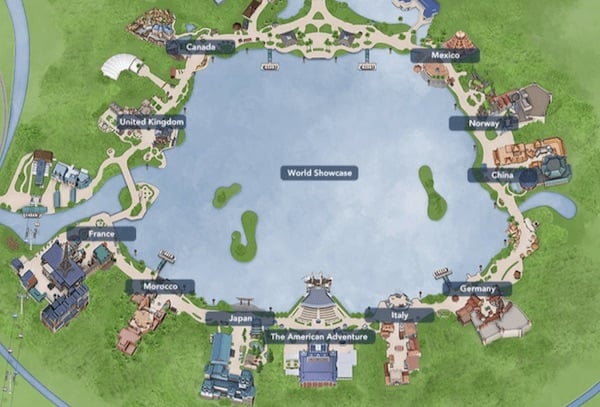 EPCOT Rides & Attractions
EPCOT has a mix of thrill rides, entertaining shows, and educational exhibits to ensure that you have a spectacular visit. The park is split into four different lands: World Celebration, World Nature, World Discovery, and World Showcase.
The entire park is situated around Crescent Lake. World Showcase is on the south side of the lake, while the other three lands are located on the north side.
EPCOT is the largest park within walking distance, so you can expect to get in quite a few steps. Some guests opt to explore World Showcase on one day and the rest of the lands on another.
Spaceship Earth
Spaceship Earth is EPCOT's iconic "golf ball" and the only of the theme park icons with a ride inside. Guests sit in an automated vehicle. As they travel to the top of the dome and back down, they'll go through the history of human advancement through animatronics and voice narration.
Disney & Pixar Short Film Festival
The film festival is a 4D attraction, meaning the films are in 3D and there will also be some interactive elements Three films are shown and film selections will vary.
Journey Into Imagination With Figment
Journey Into Imagination is a dark ride featuring Figment, a purple dragon. Guests go on an adventure where they get to experience the five senses through some fun and surprising effects.
Guardians of the Galaxy: Cosmic Rewind
Cosmic Rewind is Disney's newest coaster and is based on the hit films in the Guardians of the Galaxy franchise. It's the first Disney coaster to feature a reverse launch and is one of the world's largest indoor coasters. Guests travel through space and time to help the Guardians on a mission, all to the tune of classic rock music.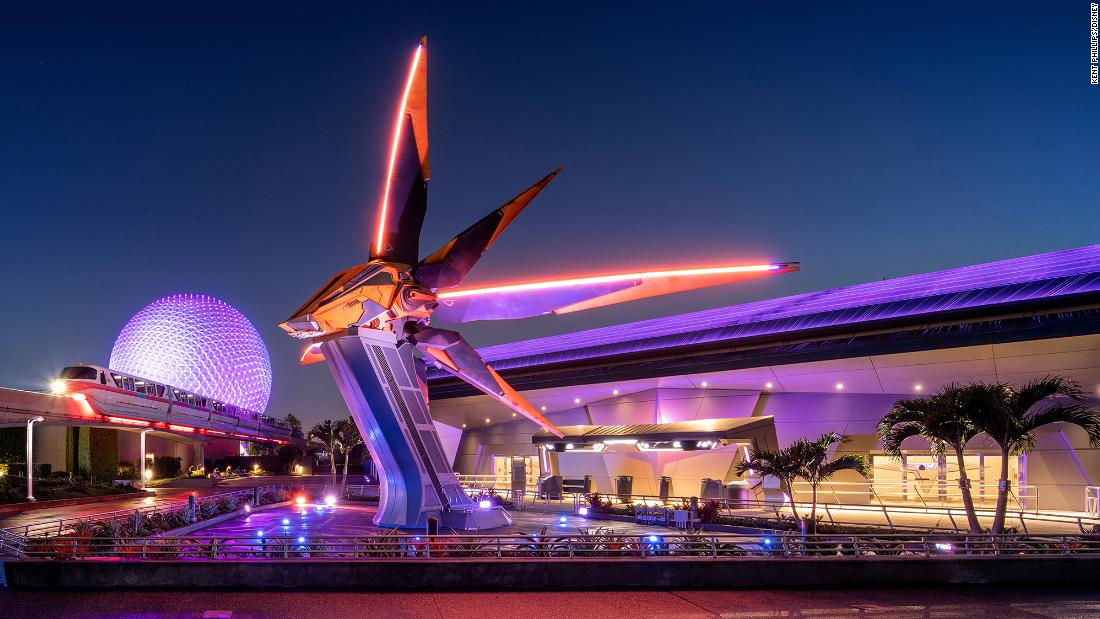 Mission: SPACE
Mission: Space sends guests on a simulated space shuttle launch. There are two versions: orange and green. The orange version is intense and uses G-forces to simulate a launch. NASA worked with Disney to help make the ride realistic.
The green version isn't as intense and doesn't involve any spinning. It's better for younger riders and those prone to motion sickness.
Test Track
On Test Track, guests learn about car safety and get to design a virtual concept car. Guests then board a car and are put through the tests real cars go through to ensure safety. The highlight of the ride is the end when the cars are launched around a circuit track during the speed test. You can reach up to 55 mph.
Awesome Planet
Awesome Planet is a ten-minute film highlighting the breathtaking beauty of many places on Earth. It's designed to give guests an appreciation for the preservation of nature and animals.
Soarin' Around the World
Soarin' combines a swinging/gliding bench along with a panoramic video for a stunning experience. You'll feel like you're flying as your soar over some of the world's most incredible locales.
Living With the Land
Living With the Land is a slow-moving boat ride through EPCOT's greenhouses. You'll learn about nature and farming while also getting to see some of Disney's innovative methods for growing some of the food served in its restaurants.
The Seas With Nemo and Friends
This continuously-loading ride puts you in a clamshell and takes you through the world of Nemo and other characters from the film. The ride is a mix of video and animatronics with a background of EPCOT's live aquarium. Kids will enjoy "finding" Nemo in each of the scenes.
Turtle Talk With Crush
Turtle Talk With Crush features everyone's favorite turtle in a unique experience where guests get to talk to him. Clever animation and voice actors allow kids to interact with Crush, making each show a unique experience.
SeaBase
SeaBase is one of the world's largest aquariums. You can see a wide variety of fish there and kids can do a scavenger hunt. Fun fact: the aquarium is so large that you could fit Spaceship Earth inside it.
Gran Fiesta Tour Starring the Three Caballeros
The Gran Fiesta Tour is a boat ride inside the Mexico pavilion. You'll join Donald Duck and his friends Panchito and José for a tour through Mexico. You'll experience silly cartoon antics while also learning about the diverse geography and culture of the country.
Frozen Ever After
Formerly Maelstrom, Frozen Ever After is the feature ride in Norway. You'll board a longboat that takes you through some of the most famous scenes from Frozen. Disney uses some of its most advanced audio animatronics on this ride.
Reflections of China
Reflections of China is a Circle-Vision 360 film. You'll stand in the center of the theater while the film plays around you. You'll get to see some of the country's most beautiful spots while also learning about its exciting history.
The American Adventure
The American Adventure is a combination show featuring film and audio-animatronics. Ben Franklin and Mark Twain guide guests through some of the most prominent moments in American history. The attraction is a feat of engineering – Ben Franklin even walks up a set of stairs.
Beauty and the Beast Sing-Along
One of two films showing in the Palais du Cinéma, the Beauty and the Beast Sing-Along invites you to join in on some of your favorite tunes from the beloved classic.
Impressions de France
Impressions de France is the other film showing in the Palais du Cinéma. The film highlights some of France's most stunning sites set to a soundtrack of famous French composers.
Remy's Ratatouille Adventure
In Remy's Ratatouille Adventure, guests "shrink" as they board rat cars and get to see what life is like for Remy. The ride is 4D and trackless, giving guests an immersive experience.
Canada Far and Wide in Circle-Vision 360
Canada Far and Wide is another Circle-Vision 360 attraction. You'll be surrounded by some of Canada's most stunning scenery during the 12-minute film.
EPCOT Fireworks & Shows
EPCOT is home to an epic nightly fireworks show and several other entertainment features.
Harmonious
EPCOT's fireworks show is a mix of fireworks, laser lights, fountains, music, and more. The show brings together cultures from around the world. It's all set to some of Disney's most famous songs from films like The Lion King, Moana, and Aladdin. The songs are in several different languages, giving you a unique perspective on familiar music.
Command Performance
The British Invasion has come to the UK pavilion. Command Performance plays 60s hits from popular UK bands.
JAMMitors
The JAMMitors are a group of "janitors" who use their equipment as percussion instruments. You can find them at various times in World Discovery.
Matsuriza
Head to the Japan pavilion to see Matsuriza, a crew of Japanese Taiko drummers. Not only is their music fantastic, but you'll also be amazed by their physical prowess.
Music of Mexico
You can see two different groups of performers in the Mexico pavilion. Mariachi Cobre plays traditional mariachi music. Marimba de las Américas plays music from all over Latin America.
Sergio
Sergio is a mime and juggler in the Italy pavilion. He's quite talented – kids will be delighted by his cool tricks.
Voices of Liberty
Located in the rotunda at the America pavilion, Voices of Liberty are an a capella group that sings classic Americana songs.
EPCOT Restaurants
EPCOT is known for its world-class restaurants. In World Showcase, native chefs from each country help design the menus. There are also some memorable character dining experiences and quick service meals to please everyone in your party.
In addition to these restaurants, you'll also find ice cream and other treat carts throughout the park. You can also purchase a refillable popcorn bucket that can be filled at any popcorn cart (even ones at other parks) for a small fee.
Types of Restaurants
There are two types of restaurants: sit-down and quick service. For sit-down meals, it's highly recommended that you get a reservation. Popular restaurants fill up quickly. You can start making reservations 60 days in advance.
Many quick-service restaurants offer mobile ordering. You can order through the My Disney Experience app and pick it up when it's ready. Mobile ordering can save a lot of wait time at restaurants.
Connections Café
Connections Café in World Discovery offers a variety of breakfast sandwiches and pastries. It also has coffee, including cold brew, to fuel your day at the park.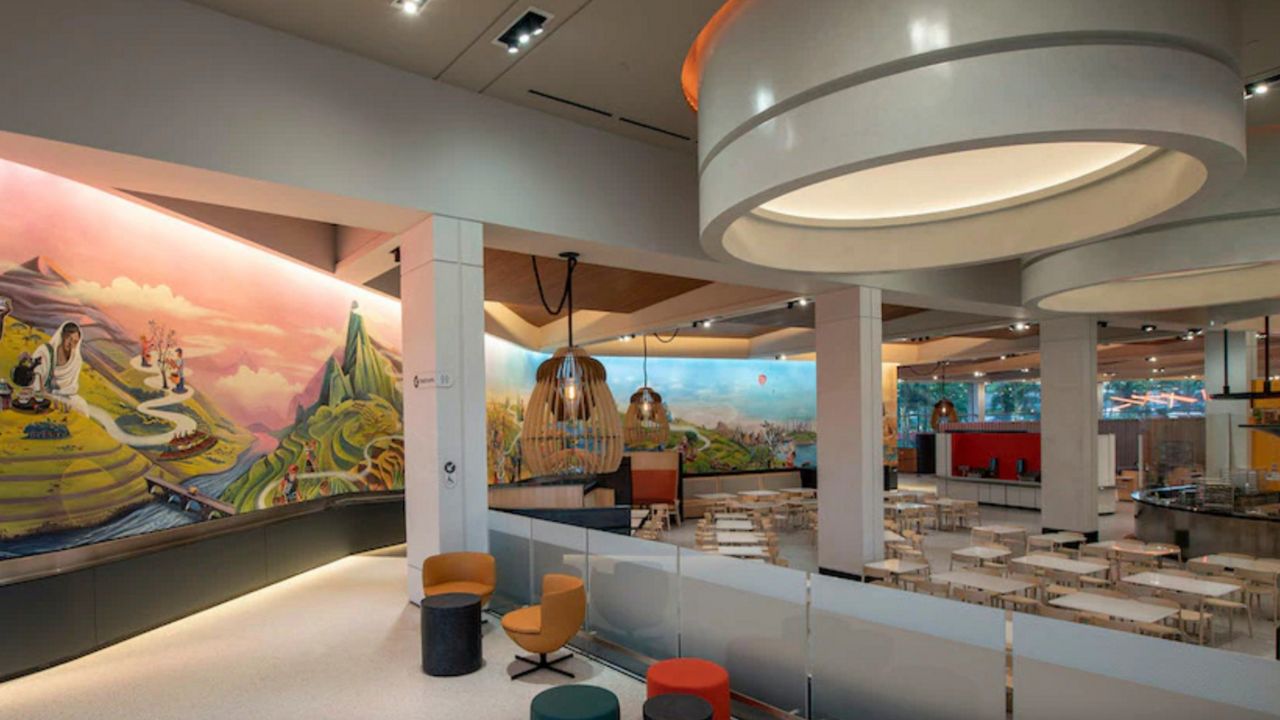 Connections Eatery
Also in World Discovery, Connections Eatery is a quick-service restaurant serving lunch and dinner. it offers elevated salads, burgers, and pizzas.
Joffrey's Coffee & Tea Company
You can find Joffrey's Coffee & Tea Company in several locations throughout the park, including World Discovery, the Canada pavilion, and right before you enter World Showcase on the Mexico side.
It serves a variety of coffees, teas, smoothies, and other beverages. You can also get a few baked goods like muffins, cookies, and donuts.
Space 220 Restaurant
Space 220 is more than just a restaurant – it's an experience. You begin by riding a "space elevator" that takes you up to a mock space station. You'll feel like you're in space and overlooking Earth while you eat.
The meal is a prix fixe meal that includes your choice of appetizer, entree, and dessert. Specialty beverages and alcohol are extra. Notable options include short ribs, filet mignon, and calamari.
Space 220 Lounge
If you can't get reservations for Space 220 or find the prices too expensive, you can have the same experience at the Space 220 Lounge. You can enjoy a drink and get an appetizer. Some of the appetizers can function as a meal, such as the chicken on a waffle.
Sunshine Seasons
Sunshine Seasons is a quick-service food court serving breakfast, lunch, and dinner. It's an option if you're looking for something other than burgers and chicken strips.
Breakfast includes wraps and grab-and-go items. There are options like rotisserie chicken, salmon, and fresh vegetable sides for lunch and dinner.
Chip 'n' Dale's Harvest Feast at Garden Grill Restaurant
The Harvest Feast is a character sit-down meal. Chip, Dale, Farmer Mickey, and sometimes Pluto will stop by your table as you eat. The meal is served family-style and is all-you-can-eat. You'll get grilled beef and chicken, several sides, and a berry shortcake dessert.
Coral Reef Restaurant
Coral Reef is located inside the aquarium so you can watch fish swim by as you dine. Entree options include prime rib, Mahi Mahi, and shrimp and grits. Be sure to try their signature dessert, the Chocolate Wave.
Refreshment Port
You'll find the refreshment port a little before you reach the Canada entrance to World Showcase. You can get traditional Canadian poutine, ice cream, and beer.
Choza de Margarita
Choza de Margarita has several types of specialty margaritas and Mexican beer. They also have small plates with options like nachos and tacos.
La Cantina de San Angel
La Cantina de San Angel is a quick-service spot in Mexico. You can get basic Mexican fare like tacos, empanadas, and nachos.
La Hacienda de San Angel
La Hacienda de San Angel serves up traditional Mexican cuisine in a romantic setting along the waterfront. You can enjoy dishes like Carne Asada and Chile Relleno, Mexican beer, and premium margaritas.
La Cava del Tequila
La Cava del Tequila is a walk-up bar where you can order specialty cocktails, wine, and beer. You can try their sweet corn on the cob if you want a quick snack. If you have some extra to spend, you can get their Supreme Tequila Flight.
San Angel Inn Restaurante
San Angel Inn has an incredible atmosphere. It's situated inside the Mexican pavilion and it feels like you're having a candlelit meal, no matter what time of day you eat. You can enjoy some traditional Mexican dishes along with specialty alcoholic beverages.
Kringla Bakeri Og Cafe
Currently the only restaurant in the Norway pavilion, Kringla Bakeri Og Cafe is a good stop for breakfast or a snack. Be sure to try their famous school bread or grab a Norwegian beer.
Nine Dragons Restaurant
For Pan-Chinese cuisine, Nine Dragons is a wonderful table service restaurant. You can enjoy entrees like duck fried rice, kung pao chicken, and shrimp in a beautiful atmosphere. Nine Dragons is known for its many lanterns and intricate glass etchings.
Lotus Blossom Café
The Lotus Blossom Café, a quick-service eatery located in the China pavilion, serves classic Chinese dishes like potstickers, Mongolian beef, and chicken fried rice.
Joy of Tea
The Joy of Tea stand in the China pavilion has a wide selection of teas for you to choose from. They also serve up bubble tea and pork egg rolls, making it a good stop for a snack.
Refreshment Outpost
The Refreshment Outpost is located between China and Germany. It's an outdoor pavilion where you can grab a hot dog and beer between country-hopping.
Biergarten Restaurant
If you've always wanted to go to Oktoberfest but never made the trip to Germany, you can celebrate Oktoberfest any time of year at Biergarten. The restaurant features a polka band and the meal is interactive.
Biergarten serves up German-inspired fare in buffet style. You'll find sausages, sauerkraut, spaetzle, and more.
Sommerfest
Sommerfest is a quick-service spot with bratwurst, sauerkraut, and German beers if you're craving German fare.
Tutto Italia Ristorante
Tutto Italia is a tranquil spot if you're looking for traditional Italian dishes in a warm, rustic atmosphere. You'll be able to find all the classics like lasagna, spaghetti and meatballs, tiramisu, and cannoli.
Via Napoli Ristorante e Pizzeria
Via Napoli is the Italy pavilion's other table service restaurant. Here you'll find cuisine from the southern region of Italy. They offer a variety of specialty pizzas along with Italian classics like chicken parmigiana.
Gelateria Toscana
No visit to the Italian pavilion is complete without a cup of gelato. Gelateria Toscana offers several flavors of gelato and sorbets along with other desserts and pastries.
Fife & Drum Tavern
If you're craving one of Disney's famous turkey legs, be sure to drop by the Fife and Drum Tavern in the American Adventure pavilion. You can also grab a classic root beer float.
Regal Eagle Smokehouse: Craft Drafts & Barbecue
The Regal Eagle Smokehouse is one of EPCOT's newest restaurants. It's located in the American Adventure pavilion and features BBQ ribs, chicken, craft beers, and wines from around the U.S.
Funnel Cake
If you want a truly American treat, be sure to try the funnel cakes in the American Adventure. You can get the classic with powdered sugar or get one of their specialties with ice cream and sauces.
Block & Hans
If craft beer is your thing, be sure to check out Block & Hans in the American Adventure section. In addition to beers from around the country, they also serve Mickey pretzels with cheese.
Kabuki Cafe
Kabuki Cafe is a stand in the Japan pavilion with a small selection of sushi. They also serve kakigōri, essentially a Japanese snow cone.
Katsura Grill
Katsura Grill is a quick-service spot in the Japan pavilion. They serve up Japanese favorites like sushi, teriyaki chicken, and ramen.
Teppan Edo
Located in the Japan pavilion, Teppan Edo is the perfect restaurant if you're in the mood for hibachi. It's a good sit-down meal and you'll get a break as your little ones are distracted by the chef.
Tokyo Dining
Tokyo Dining provides a more modern atmosphere while serving a fusion of traditional and contemporary Japanese cuisine. It's the place to go if you're looking for sushi and sashimi.
Spice Road Table
Spice Road Table is located in the Morocco pavilion. They offer dishes from around the Mediterranean. All meals are small plates, making it easy to get several and share with your party.
Les Vins des Chefs de France
This wine stand is the go-to for grabbing a glass of wine, a beer, or an alcoholic slush before watching the Harmonious fireworks show.
Chefs de France
Chefs de France is a sit-down restaurant serving up nouvelle French cuisine in a cozy, romantic setting. Options include French onion soup, ratatouille, and a selection of French wines and beers. They change their menu seasonally, but you can check the Disney site to see what they offer.
L'Artisan des Glaces
L'Artisan des Glaces is an ice cream shop in the France pavilion. They have several flavors of ice cream and sorbet, served in homemade waffle bowls/cones. They also have specialty ice cream desserts.
Les Halles Boulangerie-Patisserie
Les Halles is a must-stop in the French pavilion. They have a wide selection of French pastries and sandwiches.
Le Crêperie de Paris
Le Crêperie is a table service restaurant open for breakfast, lunch, and dinner. For savory options, they offer galettes (buckwheat crepes) with fillings like chicken, ratatouille, and other sandwich-style fillings.
For dessert, be sure to try one of their many crêpes filled with fruits, chocolate, and caramel.
Crêpes À Emporter by La Crêperie de Paris
If you want crêpes without having to do table service, you can grab one from the Crêpes À Emporter stand right outside the Crêperie. They serve up both sweet and savory crêpes.
Yorkshire County Fish Shop
The Yorkshire County Fish Shop is the place to stop in the UK pavilion for a quick-service meal of fish and chips along with an Irish lager or ale.
Rose & Crown Pub/Dining Room
The Rose & Crown is a traditional English pub. The food and atmosphere will make you feel like you're on a London street corner. You can enjoy British classics like bangers and mash, fish and chips, and shepherd's pie.
You can make reservations for either the pub or dining room. The pub will give you a more bar-like atmosphere but has a limited menu.
Le Cellier Steakhouse
Le Cellier is the only restaurant in the Canada pavilion and it's the place to go in EPCOT if you want a steak. The atmosphere is perfect, dark, and rich. Make sure to get the cheddar cheese soup – you won't regret it.
EPCOT Food & Wine Festival
EPCOT hosts a Food & Wine Festival each year from mid-July to mid-November. Different countries, some represented in The World Showcase and others, set up booths with small plates and alcohol. Guests go from country to country, sampling foods from around the world.
EPCOT Character Meets & Experiences
There are quite a few places in EPCOT to meet some of your favorite characters.
Entrance
You can find Goofy and Pluto right when you come in, near the entrance to Spaceship Earth.
World Celebration
Mickey has a character meet right outside of the Disney & Pixar Film Festival.
Joy (Inside Out) and Vanellope (Wreck-It Ralph) are in the ImageWorks building.
Disney Visa Cardmember Photo Opportunity
If you have a Disney Visa, you can meet with characters in a special spot in the World Celebration area. You can usually meet Mickey, Minnie, Pluto, and Goofy and you won't have to wait in a long line like in other character meet areas.
The Land
If you dine at the Garden Grill inside the Land, you can meet Chip, Dale, Mickey, and Pluto.
Mexico
You'll often see Minnie Mouse doing a meet and greet on the walk between World Discovery and Mexico. Once inside Mexico, you can meet Donald Duck in his Three Caballeros outfit.
Meet Anna and Elsa at Royal Sommerhus
Meeting Anna and Elsa is an experience. You get to visit them at their summer house in the Norway pavilion.
China
If you want to meet Mulan, she usually hangs out near the temple or water garden.
Germany
Snow White usually shows up near the wishing well in the Germany pavilion, making for a fantastic photo op.
Morocco
Jasmine is an indoor character meet. She's usually in the building across from Casablanca Carpets.
France
You can meet Belle from Beauty and the Beast in the France pavilion. She's usually located near the water.
Aurora from Sleeping Beauty is also in France under a covered gazebo as you're headed toward the International Gateway.
United Kingdom
Both Alice (from Alice in Wonderland) and Mary Poppins appear in the UK pavilion. Alice can be found outside her cottage near the English Tea Garden. Mary Poppins is also found in the gardens.
Winnie the Pooh sometimes appears in the UK, but you can usually only see him at a distance.
International Gateway
Daisy Duck often appears at the International Gateway.
Rare Character Meets
While most character meet and greets are scheduled daily, on occasion, you can meet characters who show up now and then. EPCOT has many training meets, so you have decent luck at finding someone rare.
Rare characters include:
Captain Hook
Genie
Max (from A Goofy Movie)
Gepetto
Jafar
Meeko
Terk
EPCOT Shops
EPCOT is known for its unique shops.
World Celebration
As you enter the park, you'll come across a pin trading shop and Coca-Cola's Club Cool. You can try soda flavors from around the world and purchase some official Coke merchandise.
The Creations shop is a large store with a variety of Disney/EPCOT souvenirs for everyone in your party. You'll find clothing, mouse ears, toys, and all of the basic souvenirs.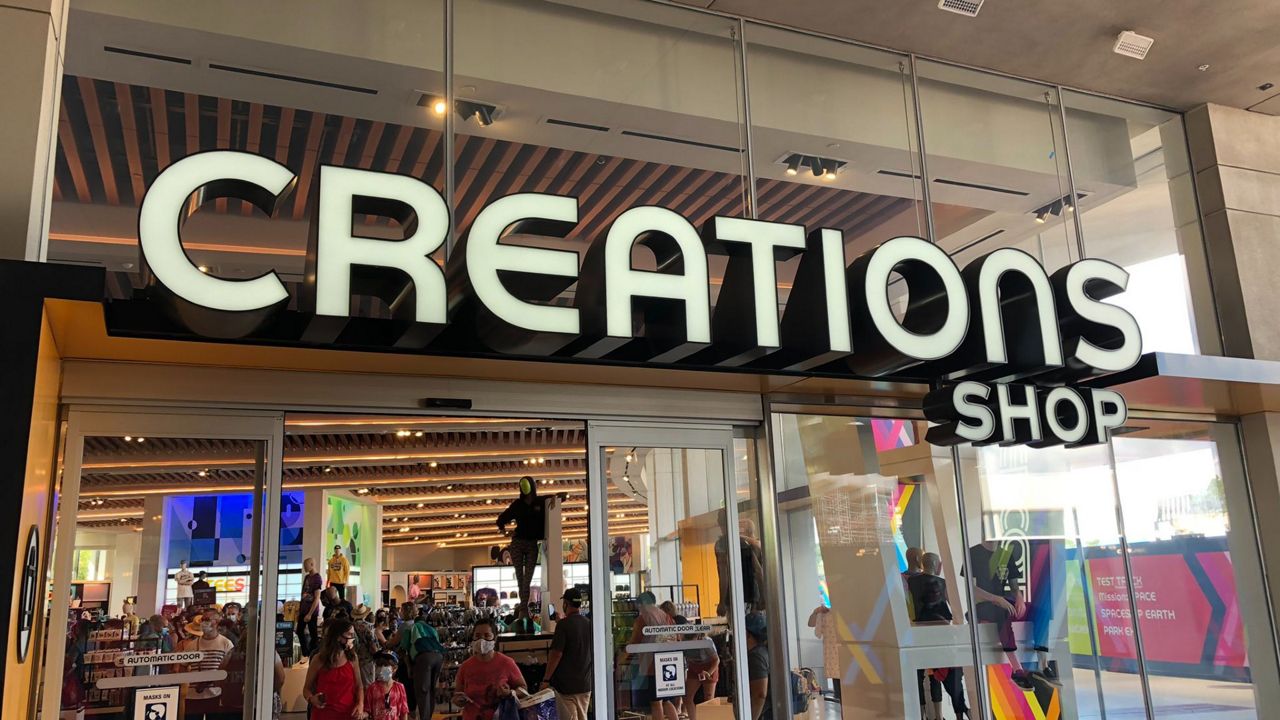 World Discovery
Treasures of Xandar is a shop connected with the Guardians of the Galaxy ride. The store features merchandise from the hit film series.
World Nature
There are small stores near the Soarin' attraction and inside the aquarium. Both feature merchandise based on their respective attractions.
World Showcase
Each pavilion contains shops themed around the countries and some of their specialties. There's a large department store in the Japan pavilion with Japanese products, a caramel store in Germany, and a perfumerie in Paris.
EPCOT: Top Tips for Enjoying Your Visit to the Park
While most of EPCOT can be covered in a day, you'll get the most out of the park if you can allocate two days. You can easily spend one day exploring the World Showcase and another exploring the rest of the park.
EPCOT is large, so you'll wear yourself out if you zigzag from attraction to attraction. Be strategic when planning your days so you don't spend the majority of your time walking back and forth. To have a fun trip, make a list of your must-dos and organize your day around those.
With its unique blend of entertainment and educational attractions, EPCOT is sure to leave you with a desire to learn more about other cultures and the future.