Disney has over 30 beautiful resorts to choose from when you're planning your getaway. Each Disney resort has its own theme and aesthetic, making your trip more magical than staying at another nearby hotel.
As you browse the Disney resort options, Disney's Yacht Club Resort needs to be on your list. This magnificent resort is in a great location with fantastic dining options, transportation to and from the parks, and plenty of entertainment choices.
If you're considering staying on Disney property during your next vacation to Orlando, Florida, here's everything you need to know about Disney's Yacht Club Resort.
Overview of the Yacht Club
Similar to Disney's Beach Club Resort, the Yacht Club captures everything you love about New England. The decor and aesthetic of the resort make you feel like you're in a prominent yacht club in New England rather than Central Florida.
The Yacht Club Resort joined in the middle with the Beach Club and opened its doors to visitors for the first time in November of 1990. The color scheme throughout the resort is shades of pastel blue and plenty of nautical decor touches.
The prime location on Crescent Lake puts you close to Disney's Hollywood Studios and EPCOT, so if you're planning on hitting one or both of those parks, you can't beat staying at this resort.
Checking In and Out of the Resort
Learning about how the check-in and out process work where you'll be staying can make you feel more prepared for your vacation. Staying at Disney's Yacht Club Resort is similar to most hotels around the United States with their check-in and out process.
Your room will likely not be ready for you until 3 PM on your arrival date. The slightly later check-in time gives the staff plenty of time to ensure the room is in the best condition for your stay. You can request an earlier check-in time when completing your booking, but that doesn't guarantee you'll get it.
As for checking out, the time is 11 AM. You can request a late check-out, but the latest they offer guests is noon, so it's not a huge difference but still an option if you're interested.
Room Types
When booking at this Disney resort, you'll notice that there are several room types you can choose from. They have standard rooms with a typical amount of space up to oversized suites built for those seeking elegance.
Here's a quick look at the different room types.
Standard View
A standard room at the Yacht Club has either one king-size bed or two queens. It has a small chair and table, bathroom, TV, and mini-fridge for you to use. These rooms are their most basic, and the views show you the parking lot, woods, or parking garage, depending on your room's floor level.
The standard view rooms might only offer you the most basic lodging in the resort, but they're still beautifully decorated and will give you a comfortable place to sleep after spending all day at the parks or one of the pools. This room sleeps up to four people comfortably.
Garden View
You can opt for a garden view if you want a prettier view than the standard view rooms. You'll get to see the beautifully landscaped courtyards that scatter the property. You'll enjoy all the same bed options and other amenities that the standard view rooms offer.
Water View
You might have guessed this already, but the water view is the same as the standard and garden view rooms, except that your window or balcony will overlook the lake or one of the beautiful pools on the property.
Two-Bedroom Suite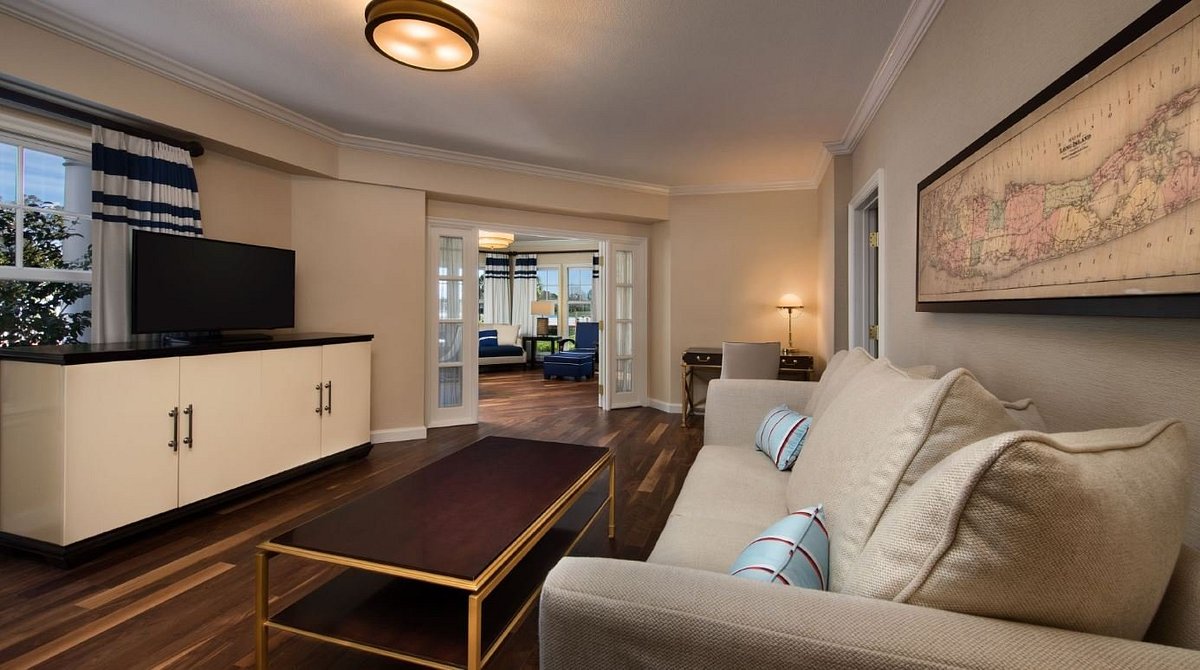 A two-bedroom suite is an excellent option if you need a little more room. These rooms have many of the features of the standard rooms, like TVs, bathrooms, and mini-fridges.
Each two-bedroom suite has two king beds and one queen sleeper sofa. They all face the lake or Stormalong bag and can sleep six people easily.
Admiral Suite
The Admiral suite is another option that can sleep up to six people. It comes with a primary bedroom with a king-sized bed and another room with two queen beds.
The bathroom is more spacious, and the water views are stunning. You'll have a decent-sized sitting area, mini-fridge, desk area, and two TVs.
Captain's Deck Suite
For a suite that can sleep six people comfortably, you can consider the Captain's Deck Suite. This suite features one king bed and two queen beds in separate rooms.
You'll have all the space with a two-bedroom suite and all the features. The main difference is the decor and only one Captain's Deck Suite.
Commodore VIP Suite
The Commodore VIP Suite is very similar to the Captain's Deck Suite. You'll have the same type and amount of beds, allowing you to sleep six people comfortably.
What sets this beautiful suite apart from the others previously mentioned is that you'll have a balcony with stunning water views.
Presidential Suite
The Presidential Suite is the second largest in the Yacht Club Resort. There are two queen beds and one king bed in this suite. Everything is mostly the same from the Commodore VIP Suite, but there's even more space for you and your other travel buddies.
They have some two-bedroom suites that connect if you want more than six people to travel with you.
Turret Suite
Finally, the most oversized suite at Disney's Yacht Club Resort is their Turret Suite. This suite sleeps up to eight comfortably, with one king bed, two queen beds, and one sleeper sofa that can sleep two adults.
This suite's size is generous and spacious, and if you're traveling with kids, you'll love how much space your family will have to move around and enjoy the different rooms of this suite.
Resort Dining
It's safe to say you'll never go hungry when you stay at Disney's Yacht Club Resort. Whether you're interested in quick service spots, market-style, or a sit-down restaurant, you'll have a lot of options here.
Ale & Compass Restaurant
One of the most popular sit-down restaurants at the Yacht Club Resort is Ale & Compass. This restaurant features delicious seafood you would see when traveling up the east coast of the United States and into New England.
People usually get lobster and eat shrimp and corn chowder here. The best part is they're open for breakfast, lunch, and dinner.
The Market at Ale & Compass
Near the Ale & Compass Restaurant and Lounge is their market. The Market at Ale & Compass is the perfect spot to stop for fast food and beverages to enjoy in your room or on the go.
They have breakfast items, sandwiches, coffee, and Disney souvenirs that you might want to browse before you head home.
Ale & Compass Lounge
Ale & Compass has a lounge worth looking at for a relaxing spot with great libations. They have snacks that are great appetizers before your dinner reservation or whenever you're feeling peckish as you sip delicious cocktails.
They have a lot of higher-end liquor, and people rave about the pomegranate margarita.
Yachtsman Steakhouse
When you want a more excellent table service restaurant for dinner, you must try Yachtsman Steakhouse. This warm and inviting steakhouse has nautical decor like the rest of the resort and features everything you would want in a steakhouse.
There are plenty of cuts of steaks, veggies, and other side dishes to go around. There are even kid-friendly options if you're traveling with kids. Most people recommend getting a reservation with this restaurant, but you can do that by calling the restaurant.
Cape May Cafe
Do you love a breakfast buffet? Then you need to try Cape May Cafe. This buffet-style restaurant features all your favorite breakfast items in the morning, like fruit, egg dishes, bacon, toast, and the world-famous Mickey and Minnie-shaped waffles.
Their dinner buffet is excellent, with plenty of shellfish and even snow crab legs for an extra fee. They also have a delicious oven-roasted chicken dish that's perfect when you're not in the mood for seafood.
Beaches & Cream Soda Shop
When you want classic beach food, you must visit the Beaches & Cream Soda Shop. This spot serves plenty of ice cream, sundaes, and other sweets that people of all ages will love. You can also grab fast food when you're not feasting on their specialty ice creams.
They have several burgers and hot dogs that are perfect for kids and picky eaters. They also have many soups, sandwiches, and other classic American menu items.
Martha's Vineyard
As a resort based on a New England yacht club, it's no surprise that Martha's Vineyard is one of the best dining options here. This restaurant features signature cocktails, a lounge, imported wines, beers, and plenty of delicious seafood.
Don't worry, though. The restaurant also has other menu items besides seafood. You'll love having a nice meal with your family here.
Crew's Cup Lounge
Crew's Cup Lounge is a great option when you're looking for a great place to lounge with an alcoholic beverage after a long day. They have a fantastic selection of beer, wine, and handcrafted cocktails to enjoy.
They have a smaller menu with small plates that pair well with all their drinks. The hours vary here, so you'll want to check online or call before arriving.
Hurricane Hanna's Waterside Bar and Grill
For the adults who love to enjoy a good frozen or tropical cocktail while they lounge in the lazy river, wade in the pool, or relax in a lounge chair, Hurricane Hanna's Waterside Bar and Grill is the spot.
This bar doesn't offer food, but the frozen piña coladas are unmatched.
Water Recreation
When you're not riding all the rides and seeing the parades at the parks, you can soak up the sun at one of the several water recreation areas at the resort.
Stormalong Bay
Stormalong Bay is a shared space between the Yacht Club and Beach Club. This three-acre water recreation area is fun for everyone. There are pools, slides, and sandy shores for you to relax in the Florida sun.
You'll love the lifesize shipwreck area, the lazy river, the hot tubs, and lounging on the elevated training deck.
Shipwreck Pool
The Shipwreck pool is for the youngest of travelers. This pool is for tiny tots because they can easily wade into the water and play without a high risk of drowning. There are lifeguards on duty at this pool and a mini water slide for the bravest of the kids.
Admiral Pool
The Admiral Pool is in a peaceful garden. It's the best for adults because it's a quieter area of the resort, and most adults come here to escape the children running around and playing.
There aren't lifeguards on duty here, so you're not likely to see any children, but you'll still want to be cautious.
Cabana Rentals
If you feel like treating yourself, you can book a cabana for the day or a few hours. You'll need to pre-book this service, but you won't regret it.
When you book a cabana, you'll enjoy amenities and services like:
A cast member serving you at the cabana
Food and drink service
A ceiling fan to keep you cool
Comfortable furniture, TV
A charging outlet
A fruit basket
A mini fridge
Fresh towels
Other Recreational Activities
Hanging out by the pool isn't the only recreational activity that the Yacht Club offers guests. You'll find volleyball and tennis courts surrounding the resort, a spa, and a fitness center too. Here are a few other recreational activities you might enjoy while staying at this Disney resort.
Movie Under the Stars
There's nothing like watching a great Disney movie under the twinkling stars. The Yacht Club Resort shows movies at nighttime at their Solarium and on their lawn by the volleyball courts.
Movie showings don't happen every night, and the movies constantly change. If you're interested in this activity, you can ask your front desk staff for a schedule.
Motorized Boat Rentals
You can rent boats and frolic around Crescent Lake. You can rent them for 30-minute intervals, and you don't need a reservation to rent them. While you don't technically need one, you might want to consider renting in advance to secure the time slot you prefer.
Fantasia Gardens Mini Golf
If you're willing to walk a short distance, you can play this 18-hole mini golf course. There are five different themes throughout the course that resemble some of your favorite Disney characters.
Amenities
Disney is known for their spectacular service, so you know the amenities here are excellent. Some of the amenities included at the resort are:
Safes in every room for small valuables
ATMs for quick cash
Turn-down service
Housekeeping
Complimentary WiFi
Voicemail service
Valet parking
Laundry and dry cleaning services
Transportation To and From the Parks
One of the best reasons to stay at one of the Disney resorts is the free transportation to and from the parks they offer guests.
You're more than welcome to drive your car to the park, but parking can get stressful. The Yacht Club Resort has three transportation options for guests to ensure a stress-free trip.
Bus Service
Disney's bus service is most people's go-to transportation method when staying at one of the several Disney resorts. There are plenty of buses that go from all the different resorts and to all the parks.
They run about an hour before the parks open until an hour after the parks close to ensure everyone can safely make it back to their resort. It's easy to look up the bus route and schedule online, or you can ask the staff at the front desk of your hotel for assistance if needed.
Skyliner
The Skyliner is a great way to travel to and from EPCOT and Disney's Hollywood Studios, as long as you're not afraid of heights. These beautiful gondolas in the sky have different themes based on your favorite Disney movies and characters.
It's not technically at the resort, but it's a short walk down the boardwalk and still an excellent transportation option when traveling to EPCOT and Hollywood Studios. Much like the buses, it operates an hour before the parks open until an hour after the parks close.
Ferry Boat
Last but not least, we have the ferry boat. Like the Skyliner, this service is not available at every Disney resort, and it doesn't go to all the parks either. It can take you to and from Hollywood Studios and EPCOT. They run every 15 to 30 minutes for the majority of the day.
Final Thoughts
Disney's Yacht Club Resort is among one of the most popular on their property. Its central location, great amenities, dining options, and atmosphere make for the perfect vacation to Walt Disney World.
Whether traveling with your partner, best friend, group of people, or family, this beautiful New England yacht club-inspired resort is the perfect place to stay for a magical Disney vacation.
More about our TFVG Author