There are few rides as iconic to Disney World as the Jungle Cruise.
The riverboat adventure has been delighting guests since Disney World's Magic Kingdom in Florida first opened up its gates back in the 1970s!
Since then, the ride has only improved– and despite having one of the longest wait times in the Magic Kingdom, guests of the park continue to visit this ride on every trip. That's thanks both to nostalgia, and the fact that no two rides are ever the same.
Now, with the release of a major motion picture inspired by the ride, new and regular visitors will be flocking to visit!
Before heading out to Magic Kingdom and hopping aboard, here's everything you need to know.
What Is Jungle Cruise?
Jungle Cruise is one of the original Magic Kingdom attractions, running since its opening in Disney World in 1971.
The real OG Jungle Cruise opened at Disneyland in the 1950s, and versions of the ride exist in all Disney theme parks worldwide.
The ride was originally inspired by a series of 1950s movies, including 'The African Queen' and the 'True Life Adventures series.
Bill Evans was tasked with creating a jungle within the park on a budget. To achieve this, he used a mix of tropical plants and plants that appeared to be tropical (but were actually local).
He even used the trick of planting orange trees upside down, making the roots look like vines!
Marc David later made significant contributions to the design in later versions, including many of the scenes, present today.
The ride's early renditions were more of an experience at first, like visiting a zoo or a botanic garden. However, over time the ride has developed into a funny, lighthearted attraction, and as a result, has increased in popularity.
A comedic script was added, the scenes became more humorous, and the guides were encouraged to have fun with the guests. You'll now find them cracking jokes with guests, showing their personalities, and ad-libbing along the way!
Audio effects have been improved and modernized, the animatronics updated, new scenes added, and the jungle has grown and expanded throughout the years.
In 2010, the jungle became a self-sustaining ecosystem, after 45 years of careful care and growth. The ride has also removed elements that were offensive to native cultures.
The Jungle Cruise story was expanded in 2015 with the opening of the Jungle Cruise-themed restaurant, Jungle Skipper Canteen.
This introduced Dr. Albert Falls as the founder of Jungle Cruise in 1911. He then handed it over to his granddaughter Alberta Falls in the 1930s, where the story of the ride takes place.
The ride is full of audio-animatronic characters– mostly jungle animals– such as ones found on an African safari. There are waterfalls, a temple to pass inside, and many other scenes along the way!
All of the scenes can be experienced from within your boat, making you feel as if you're an explorer from the thirties.
The ride is suitable for all ages and very accessible to those with disabilities. It's a smooth, slow ride, but there's never a dull moment thanks to the story unfolding around you and your skipper's commentary.
'Jungle Cruise' is the latest in a long line of movies inspired by rides at Disney theme parks, the most notable being Pirates of the Caribbean. The 2021 film starred Dwayne "The Rock" Johnson and Emily Blunt and followed the general theme of the ride.
Where Is Jungle Cruise Located?
The Magic Kingdom's Jungle Cruise is located in Adventureland.
You can find it by going to the hub and taking the first left to Adventureland. After passing shops, restaurants, and the Swiss Family Treehouse, you'll see the Magic Carpets of Aladdin.
From there, look to your left and you should see the entrance to Jungle Cruise!
Jungle Cruise Ride Experience: What to Expect
Queue
The queue has four areas that can be opened up, depending on the size of the line. The average wait time for the ride is about an hour, one of the longest at the park.
It can get pretty hot waiting in the queue on a summer's day, so beware if you have anyone in your party that may struggle with this. Don't forget your water bottle, sunscreen, and hat!
As you wait in line to enter the line, it'll feel like you're in a colonial outpost. You'll pass artifacts, photos, and tools from the theme and period of the ride to get you in the right headspace.
Your boat will pull up with your guide at the helm when it's your turn. There are 15 boats in rotation, each with its memorable name (like Wamba Wanda).
Jungle Cruise FastPass+
FastPass+ was discontinued and replaced with Disney Genie in 2021.
However, due to public outcry, it was announced in 2022 that FastPass would be coming back to the parks. At this point, it doesn't appear to have been reinstated just yet.
Currently, you can use the Disney Genie service to get you through the queues faster with Lightning Lane entrances. However, Genie+ can no longer be pre-purchased– though you can still purchase through the app when you visit the park.
For more information on Disney Genie, be sure to check out the Disney World website.
Seats
The ride has a long wooden bench on each side of the boat, so guests face each other and sit side by side.
The bench doesn't have a back, so if you lean back you'll find yourself against the slightly curved side of the boat.
Plexiglass dividers are placed between sections of the bench, allowing four or five people to fit within a section. If you have small children, you may be able to squeeze a couple more in.
Ride
Once you step onto the boat, the skipper will welcome you and you'll set sail down the river.
You'll encounter giant butterflies, Inspiration Falls, a beach shop called "Boats, Baits, and Bites", an African rock python, and a Gorilla-raided camp– all before you head down the Nile River.
In this new area, you'll find African Elephants along with many other animals. You'll pass a zebra watching a lion eat a member of its pack, and a group of lost safari goers hanging from a long pole, avoiding a black Rhino.
After passing gaters, waterfalls, and a plane crash, the boat is threatened by angry hippos. Thankfully, the skipper will frighten them off. After seeing chimps raid a ship, it's off to the next area!
There, you'll find yourself sailing into a temple damaged by an earthquake. Exotic animals like peacocks and a Bengal Tiger await! The ride will end just as you narrowly avoid being sprayed by a group of Indian Elephants.
While the ride is quite cruisy, the fun of Jungle Cruise lies with the skipper. There is a script, but most skippers will bring their own flare to the show– keeping guests laughing and the energy high.
Ride Time
The ride duration is about nine minutes long.
Jungle Skipper Canteen
After experiencing the ride, consider continuing the adventure by stopping at Jungle Skipper Canteen.
Here you can have a meal inspired by African, Latin, or Asian cuisine. Try Skipper Dan's Dan Dan Noodles, "Hardy Har Char" Siu Pork, or Panna-Connie's Congo Lime Delight.
There's an extensive kids' menu with menu items such as Junior Skip's Macaroni & Cheese, or Chef Tandaji's Crispy Chicken.
You'll also find an extensive allergy-free menu here (as is the case throughout much of the Magic Kingdom), with allergy-free choices on apps, kids' meals, entrees, and desserts.
Feeling a little parched? Choose from the selection of fun tropical cocktails, as well as their large selection of beer and wine!
Jungle Cruise Ride Accessibility
Two of the boats, Bomokandi Bertha and Wamba Wanda, have wheelchair-accessible lifts. Most wheelchairs, including motorized and some ECVs, can be accommodated by these boats.
Guests in wheelchairs can choose to board the boat without their chair if able, leaving the chair at the dock. Alternatively, they can wait until one of the accessible boats arrives.
There are days when a sign language interpreter and Disney's Handheld Devices are available.
These feature Assistive Listening, which will amplify the sound through either headphones or an induction loop. Handheld Captioning is also available on these devices, displaying on-screen text.
Disney's Handheld Devices are available for a fully-refundable $25 daily deposit at Guest Relations. Devices are on a first-come, first-served basis, and they recommend that you bring your own headphones or an induction loop for use.
All guests should take care as they step down onto the boat from the dock, as it can bob and lean slightly while boarding. The skipper or ride assistant can offer a hand if needed.
Jungle Cruise Ride Health and Safety Advisories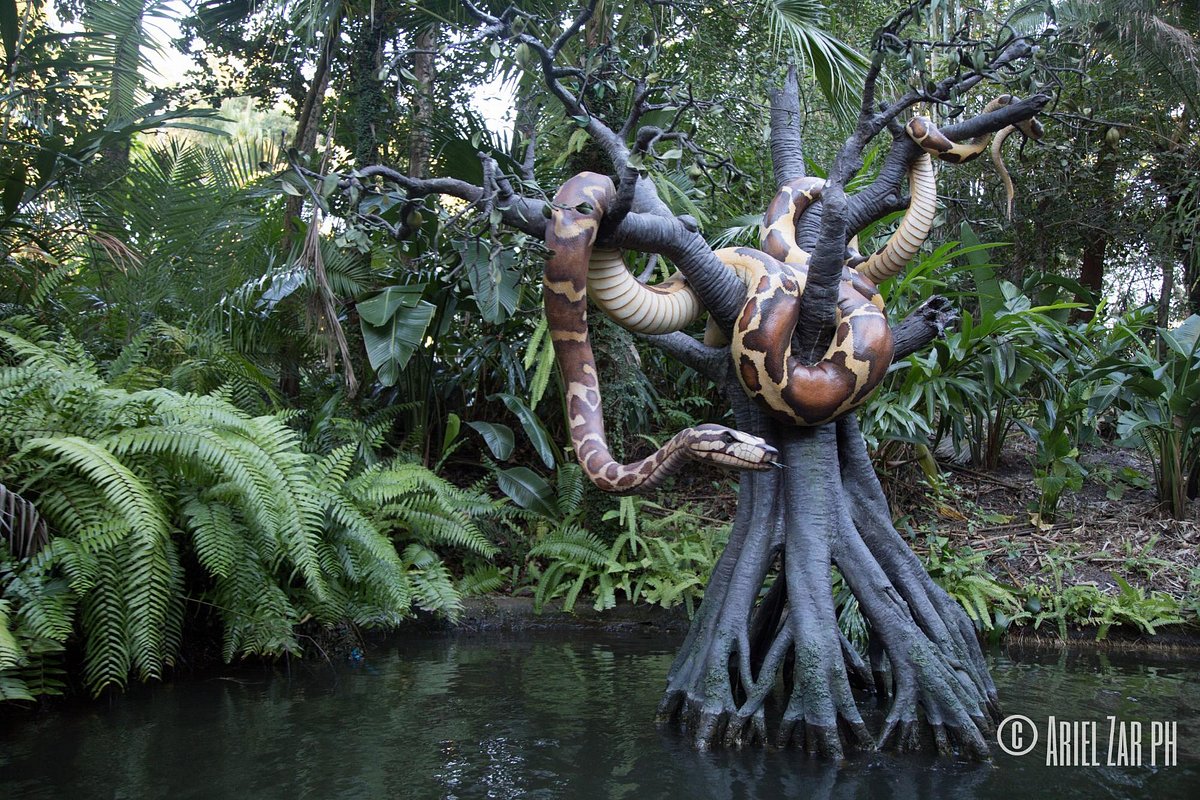 There are periods of darkness, and it's possible to get damp from the mist near the waterfalls.
There is an instance of gunfire sound effects, but guests can request that it's not played if this will trouble someone at the party.
Guests must remain seated at all times, including small children. The boat will bob some, and sea sickness is possible, but it is generally a pretty smooth ride.
Jungle Cruise Ride Age and Height Restrictions
There is no age or height restriction. Babies and toddlers can ride on their parent's laps or in strollers.
Children under the age of 7 will need to be accompanied by someone at least 14 years of age.
Jungle Cruise Weather Restrictions
Jungle Cruise closes during inclement weather, as most of the attraction takes place outdoors.
Jungle Cruise FAQs
How long is the Jungle Cruise ride at Magic Kingdom?
The entire ride lasts for just over nine minutes.
How long does the Jungle Cruise line take?
The average wait time is about one hour. It's a good idea to get to this ride as soon as the gates open to avoid a long queue.
During very hot days, the line can get uncomfortable and is best avoided if you are sensitive to this.
What do you do on the Jungle Cruise?
Guests ride along on a river boat with a skipper at the helm and explore various locations. You'll see plenty of animals up to no good, and people in plenty of trouble!
The whole experience is fun and comical and suitable for the whole family.
Is Jungle Cruise a good ride at Disney?
This ride is a classic, and it's only been made better over the years. It's great for children and toddlers, as there are no age or height restrictions.
It's a slow and steady ride, so its movement is not frightening. However, some young or sensitive children could be startled in the dark temple with snakes present, or by the gunshot sound effect.
When is the best time to ride Jungle Cruise?
Surprisingly, Jungle Cruise is a great ride at night! You can still see everything, and it looks even more realistic. Some riders report that the skippers tend to have more fun during sundown.
Christmas is another fun time to ride Jungle Cruise– or "Jingle Cruise", as it's called– as it gets a makeover for the season and a snowman attraction is added.
The script even gets a rewrite, so it's quite a different experience if you've already seen the original version!
Who is Jungle Cruise for?
Jungle Cruise is a blast for children but is also enjoyed by the young-at-heart. Some adults may find themselves rolling their eyes at their skipper's cheesy lines, but it's all part of the charm.
The Bottom Line on Jungle Cruise
The Jungle Cruise is a delightful ride for the ages of 1 to 100.
Disney has created a fully immersive experience where you can sit back, relax, and enjoy the show.
They have taken careful measures to create a living jungle, keep the ride up-to-date, make it appealing to all– and have even hired slapstick skippers to keep you laughing!
Whether it's your first or hundredth time on Jungle Cruise, it's always worth a visit.
There's no shortage of things to do when visiting the Magic Kingdom, so maybe it's time to explore Jungle Cruise and all the other rides, entertainment, and food that Disney World offers!
More about our TFVG Author