If you're spending your day at Walt Disney World's Magic Kingdom Park in Florida, one thing you won't want to miss is watching the magic unfold in the Disney Enchantment Fireworks Show over Cinderella Castle.
What if we said you could experience that alongside some delicious treats and a premium viewing location; no more waiting for an hour for a good spot, or having to stand around on tired, achy feet?
The Magic Kingdom Dessert Party offers just this — the perfect, magical ending to your day out.
Before you treat yourself to a few scrumptious delicacies, here is everything you need to know about the Magic Kingdom Dessert Party!
What Is the Magic Kingdom Dessert Party?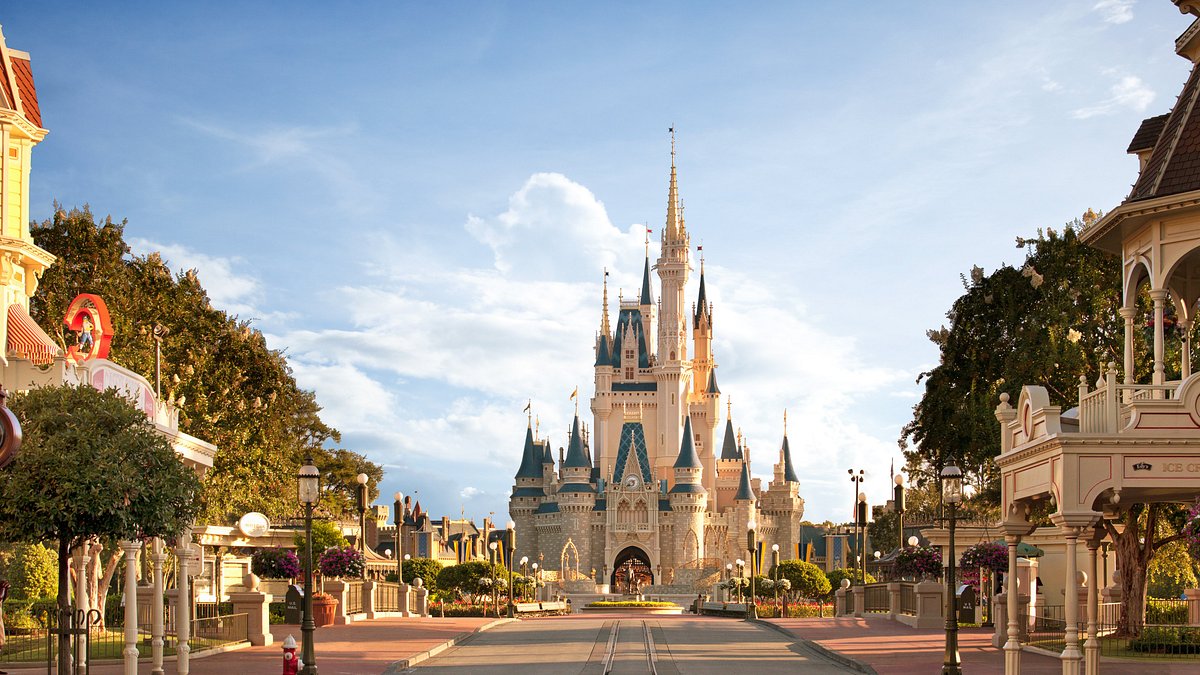 The Magic Kingdom Dessert Parties is a special ticketed event that includes a whole buffet spread of unlimited sweet treats and drinks, and a special area to view the Disney Enchantment fireworks show.
This is the perfect opportunity to recharge a bit after a long day of exploring the park while you enjoy some tasty treats and drinks.
Then, settle in and watch the breathtaking Disney Enchantment spectacular, a firework show specially made to commemorate Disney World's 50th anniversary.
Disney's fireworks are much more than just some sparks in the sky. Projections will bring Cinderella Castle to life, and you'll get to see your favorite Disney characters– all while a dazzle of colors lights up the night sky to an original score.
The Magic Kingdom Dessert Party will elevate this experience and is a perfect treat for the end of a special day out.
Where Is the Magic Kingdom Dessert Party Located?
The Magic Kingdom Dessert Party is in Magic Kingdom Park in Walt Disney World in Orlando, Florida.
To enjoy a spread of sweet treats, head to the Tomorrowland Terrace Restaurant. You'll be able to find the Tomorrowland Terrace just off Main Street, USA, nearby the Plaza Restaurant.
Depending on which Dessert Party option you choose, you may also find yourself escorted to the Plaza Garden for a special standing area to view the fireworks.
Magic Kingdom Dessert Party: Pre-Party vs. After-Party vs. Treats & Seats: What's the Difference?
When booking your Dessert Party tickets, you will have the choice between three options: Pre-Party, After-Party, and Treats & Seats.
The key differences between these options have to do with when you get to enjoy the desserts at the Tomorrowland Terrace.
Magic Kingdom 50th Fireworks Dessert Parties: Disney Enchantment Pre-Party
The Pre-Party option begins with the buffet at Tomorrowland Terrace 90 minutes before the fireworks. This will give you plenty of time to kick up your feet, enjoy some dessert, and rest before moving to watch the show.
After you've treated yourself, you'll be escorted to the Plaza Garden for a reserved space to watch the fireworks show.
While the Plaza Garden is a standing area, you'll be able to sit down on the grass before the fireworks.
The Pre-Party is perfect if you have young children, and will give you a chance to rest and recharge before watching the show.
Magic Kingdom 50th Fireworks Dessert Parties: Disney Enchantment After-Party
The After-Party option is similar to the Pre-Party experience, with the difference being that you will begin by watching the show on the Plaza Garden before you move for dessert afterward.
A big advantage to the After-Party option is that you'll be able to get the first pick at a spot on the Plaza Garden, as you'll be able to enter the area while those at the Pre-Party are still dining.
You'll also get to avoid the crowd of people leaving the park straight after the fireworks.
Because the dessert portion of the experience is after the fireworks, this option may not be ideal if you have younger children — especially if you want to avoid too much sugar before bed!
Magic Kingdom 50th Fireworks Dessert Parties: Disney Enchantment Treats & Seats
The third option, Treats & Seats, is a great opportunity to rest your tired feet after a long day of walking around the park.
The experience begins 60 minutes before Disney Enchantment starts, and you'll get to dine while you watch the shows from your seats in the restaurant.
One thing to note about the Treats & Seats option is that there is no guarantee that you will be seated around the outer edge of the terrace, which may mean that your view of the fireworks may be slightly obstructed.
What Do They Serve at the Magic Kingdom Dessert Party?
At the Magic Kingdom Dessert Party, you'll have a free flow of desserts and beverages while at Tomorrowland Terrace.
Each dessert is themed to celebrate Disneyland's 50th anniversary, and is served in small bite-sized portions. That means you can try everything — from cupcakes to crepes to mousse — and still come back for seconds (and thirds!).
The different treats offered are great for any wriggly little ones who will enjoy going up to sample from the array of dessert options.
Each night's selection may vary, but the menu in the past has included tres Leche cupcakes, chocolate silk pies, butterscotch pudding with caramel, donuts, a selection of cheeses, and chocolate-covered strawberries.
You'll also be offered a wide range of beverages, from juices to soft drinks to non-alcoholic cider.
For guests over 21, you'll also have the chance to choose from a range of wine and beer options.
Do note that you're only allowed two drinks at a time, but there is no total limit to how many drinks you have throughout your time there. Remember to drink responsibly!
Magic Kingdom Dessert Party: Know Before You Go
Reservations
We recommend that you make your reservations in advance to guarantee a spot for the experience. Disney World's advance reservations can be made up to 60 days before your trip.
If you haven't made a booking in advance, don't worry! You may still be able to make a same-day booking, depending on the day's availability.
Prices
Ticket prices for the Dessert Parties vary depending on which party option you choose.
For the Pre-Party and Post-Party, tickets are $99 per adult (ages 10 and up) and $59 per child (ages 3 to 9).
If you want to sit down and dine while watching the fireworks, the Treats & Seats option costs a bit more at $114 per adult and $69 per child.
If you have a little one who's under 3, they can enjoy this event for free!
Checking In
If you've booked a reservation for the Pre-Party or the Treats & Seats options, Disney World advises that you check in at the Tomorrowland Terrace Restaurant at the check-in time (90 minutes before Disney Enchantments for Pre-Party, and 60 minutes before for Treats & Seats and the After-Party).
Fireworks
The Disney Enchanted show is a feat you really don't want to miss, and the show times will change throughout the year, varying from between 8–9 pm.
Because the timing for the Dessert Party is based on when the show begins, the start time for these shows may vary as well.
To ensure that you have the correct show time, Disney World recommends that you check their entertainment schedule two weeks before your trip, and again the day of the party to double-check the show times.
Do note that the fireworks are not guaranteed and, on very rare occasions, may be canceled or postponed.
Subject to Change
The Magic Kingdom Dessert Party, like all Disney World attractions and experiences, is subject to change without notice.
Additional Information
If you or anyone in your party has any dietary restrictions, you don't have to worry about missing out.
Make sure to inform staff of your restrictions, and they will provide a plate filled with a range of desserts suitable to your dietary restrictions straight to your table.
Magic Kingdom Dessert Party: Is It Worth It?
The Magic Kingdom Dessert Party is definitely a bit of a splurge, but we think that if you're looking for a magical way to end your trip to Disney World, this is it– especially if you're visiting the Magic Kingdom park to celebrate a special occasion.
This experience not only offers a delicious selection of treats but also takes all the stress out of finding a space for their iconic firework show. Especially great if you want to ensure that any little ones have a perfect view of the show!
All in all, we think it is a worthwhile splurge if you're looking to make your Disney World trip extra special!
The Bottom Line
The Magic Kingdom Dessert party is a great experience, whether you're visiting Disney World as a family or in a group of adults. You're bound to make magical memories and feel like a VIP!
The three choices of parties the park offers mean that there is an option suitable for everyone, no matter what your circumstances are.
Perhaps you have younger children, want to wine and dine while watching the show or are simply looking for some time to treat yourself at the very end of the day.
Whether or not you choose to attend a Magic Kingdom Dessert Party, we hope your time at Disney World is extra sweet!
More about our TFVG Author