Parking at Walt Disney World's Animal Kingdom gets you access to the theme park without the hassle and mobs of people traveling on the bus from the Disney Resort Hotels. Parking passes are only good for one day. Passes do not carry over, even if you purchase a pass later in the day.
Parking Options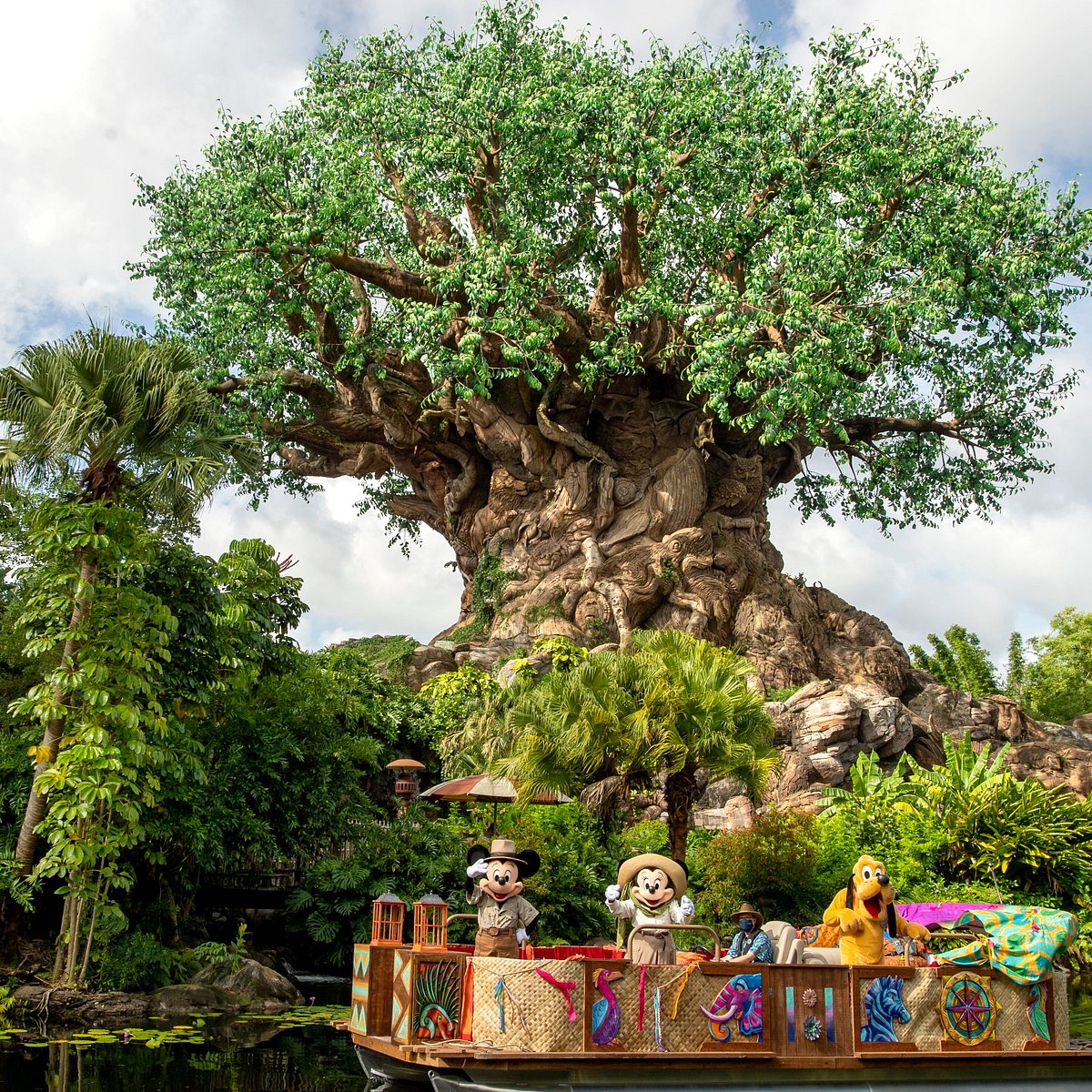 There are multiple parking options at Animal Kingdom, including Standard, Preferred, Oversized, Electric, and Disability Parking.
The last option applies if you have an Oversized vehicle, such as a shuttle, limo, camper, trailer, RV, bus, or tractor-trailer. Oversized Parking vehicles carry a parking fee of $30. Cash and credit cards are both acceptable forms of payment for all parking options.
Standard Parking costs 25 dollars for the entire day if you are using a car or a motorcycle. Preferred parking rates are $45-$50 depending on the season you are attending the park.
Before going to Animal Kingdom, you'll have to decide whether you want preferred or standard parking. Base this decision on how much walking you're willing to do during your stay at the park. Remember, you'll be on your feet all day long, so you may not want to trek a long distance once you're ready to go to your hotel or home at the end of the day.
Standard parking is farther from the entrances to the park. If you plan on getting to the park early, you'll be able to park at the front of this lot, cutting your walk time down. If you go to the park later in the day, you'll need to head to the back of the lot, and your walk will be longer.
Peak park times are between 12 pm and 3 pm. If you arrive during that window, we recommend choosing the preferred parking. Preferred parking will get you closer to the entrance of Animal Kingdom and limit the distance you need to go on foot.
Consider how many items you are bringing to Animal Kingdom and the weather forecast when deciding where to park. If you have small children, evaluate their child's ability to walk further in an environment with lots of cars.
When you arrive at Animal Kingdom, you will be asked for your parking preference by a cast member. Parking lot opening times vary, unlike the standard opening times of the park itself. The parking lots generally open 60-90 minutes before the park does. Animal Kingdom opens daily at either 8:00 or 9:00 depending on the time of year.
Parking Lots
There are six parking lots associated with Animal Kingdom: Peacock, Giraffe, Unicorn, Dinosaur, Butterfly, and Yeti. The Unicorn and Peacock parking lots are closest to the entrance of Animal Kingdom, besides the medical parking lot.
However, it is most likely that you will not be able to pick which lot you want to park in. A cast member will direct you to your parking space. If you visit Animal Kingdom in the evening, you may have more of a choice of which lot you park in. If you have a strong preference, arrive as early as possible.
Disability Parking Lots
Disability parking lots are a short distance from the entrance of Animal Kingdom. The standard rate of parking, $25, is applied to this parking option.
If you or a family member have a disability, remember to bring your valid disability parking permit. With your disability parking permit, you can park in the medical parking lot closest to the park entrance.
This lot allows plenty of room for van loading and unloading and is accessible. Cast members are nearby if you have trouble navigating to the gates.
Lots of Electric Cars
If you have an electric car, Disney has multiple charging stations at most park and resort locations. These charging stations are called ChargePoint stations. If you need to locate a ChargePoint station, find a cast member and they can direct you to the location.
These stations operate on a first-come, first-serve basis. At Animal Kingdom, there are four ChargePoint stations located in the medical parking lot. There is an additional cost to charge your electric vehicle. You have two payment options: you can use a credit card or purchase a prepaid card at ChargePoint.com.
The rate for using a ChargePoint station is $0.35 per kilowatt hour. You need to use the service for at least $1.50, meaning if you have a mostly charged car, consider choosing a standard or preferred parking instead. Once your car is done charging, you get a "ping" to alert you that charging is complete and your car is ready to go.
If you do not plan to charge your electric vehicle while you are in Animal Kingdom, you will not be able to park in this area. The spots are reserved for charging cars only. Please note that you will not have to move your car once it is charged.
Locating Your Car
After a long day at Animal Kingdom, when it becomes dark and you have tired family members, the added stress of locating your car in a vast lot is the last thing you need on your plate. If you download the My Disney Experience app, you will be able to save your parking location.
The app uses location services to provide you with the details of where your car is parked, saving you the hassle of walking down countless rows of unfamiliar cars. Additionally, taking a photo of your car can be helpful visually when looking to return home. Other suggestions include dropping a "pin" on your iPhone to locate your vehicle.
Gas Stations
Be aware that the only gas stations at Walt Disney World are located at the Magic Kingdom Speedway, Epcot Resorts Speedway, and the Disney Springs Speedway. If you own a hybrid car and are counting on one of the four spots at Animal Kingdom, you may want to visit one of these gas stations beforehand.
There is no access to a gas station at Animal Kingdom.
Car Care Center, an independent auto body shop, is located next to the Magic Kingdom Speedway if you experience car trouble.
Final Thoughts
Parking at Animal Kingdom is easy, with a variety of lots and parking options to choose from. Cast members are always on hand to assist you if you need help knowing where to park and what options are available.
More about our TFVG Author