Planning to make arrangements for a vacation to Walt Disney World? A trip to Disney World with your family may be really enchanted, but it can also break the bank.
Expenses like airfare, admission to amusement parks, lodging, dining, and other items may quickly mount up. It is possible to organize a trip without going over budget for your holiday, and one of the best places to start is by reducing the amount you spend on accommodation.
If you want to save money on your vacation to Walt Disney World in Orlando, Florida, one of the best things you can do is schedule a stay at one of the cheapest Disney World Resort Hotels.
These reasonably priced Disney resorts are either on the Disney property or near the various theme parks and other attractions.
Campsites at Disney's Fort Wilderness Resort
Finding a spot to build a tent at Disney's Fort Wilderness Resort will be your least expensive lodging choice. Swimming, archery, riding horses and other activities are all available to campers at this lovely location.
It is a fantastic way to get the most out of your vacation to Walt Disney World by combining it with a camping adventure. Depending on what kind of camping you like, there are sites available for pop-up campers, tents, and recreational vehicles.
One of the greatest benefits of staying at Disney's Fort Wilderness Resort is that it is close to Magic Kingdom, allows guests to bring their pets, and provides the option of renting cabins if guests are interested in having a more comfortable wilderness experience.
Outdoor activities, including fishing, kayaking, canoeing, boating, and wagon rides on ponies, are all readily available.
Not everyone enjoys camping, and booking a campground requires more planning than booking a hotel room. There is a pool and onsite dining, but it lacks the conventional resort features that other hotels provide, which may not be what some families search for on their vacation.
A campsite rate begins at only $74 per night, and you can save even more money on your stay if you book it using one of Walt Disney World's discounts, which are generally offered at different times of the year.
Disney's All-Star Sports Resorts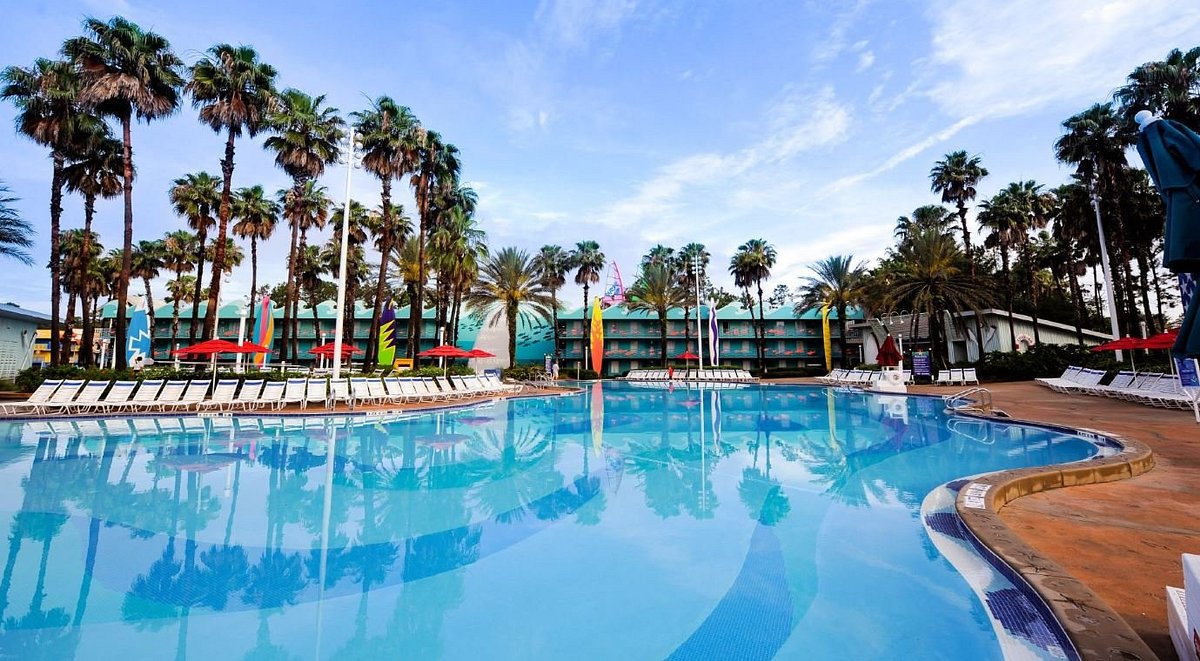 Disney's All-Star Sports Resort is the most affordable hotel that Disney has to offer, and it can be found in Walt Disney World. This hotel's rate will consistently be the most affordable of those available, but it does not imply that it is of worse quality than the others.
All the hotels on the Walt Disney World property enjoy the advantages of being close to the theme parks and provide guests with the conveniences that come along with that closeness.
This hotel is regarded as a bargain resort, and the sports theme is likely less popular than the others included in the value category. As a result, it has been placed in the category with the lowest prices.
The All-Star Sports Resort has a sports motif that centers on baseball, basketball, football, surfing, and tennis, with a dash of Disney characters thrown in for good measure.
The primary pool is in the form of a surfboard, there is a sizable food mall with a range of dining choices, and it is the first stop on the bus transit that is shared by the value resorts.
The cheapest rate at Disney's All-Star Sports is only $142 a night, and if you book your stay using one of Walt Disney World's discounts, typically held at different times of the year and throughout the year, you can save even more money.
Disney's All-Star Movie Resorts
Disney's All-Star Movies Resort is one of the most well-liked options for budget-friendly Disney hotels. This hotel pays homage to Disney's most renowned films, including Fantasia, Toy Story, Mighty Ducks, the Love Bug, and 101 Dalmatians, with life-size statues and other displays.
This resort is close to Animal Kingdom, making getting there by bus a quick and easy process. The hotel's pool, modeled after Fantasia, is often considered one of its most appealing aspects.
One of the benefits of this resort is that the amenities are close to most of the hotel rooms, so you don't have to worry about long walks around the hotel.
The food court offers plenty of options, and this hotel quickly has some of the most favorable theming of the value hotels, especially for the nostalgic Disney fan and kids.
Unfortunately, since it shares buses with other discount resorts, All-Star Movies Resort's bus service isn't the finest and involves significant wait periods and several stops.
The hotel is the last on the circuit, so guests will have a long time to wait before returning to their resort after visiting the parks.
Disney's All-Star Movies Resort rates begin at only $167 a night.
Disney's All-Star Music Resort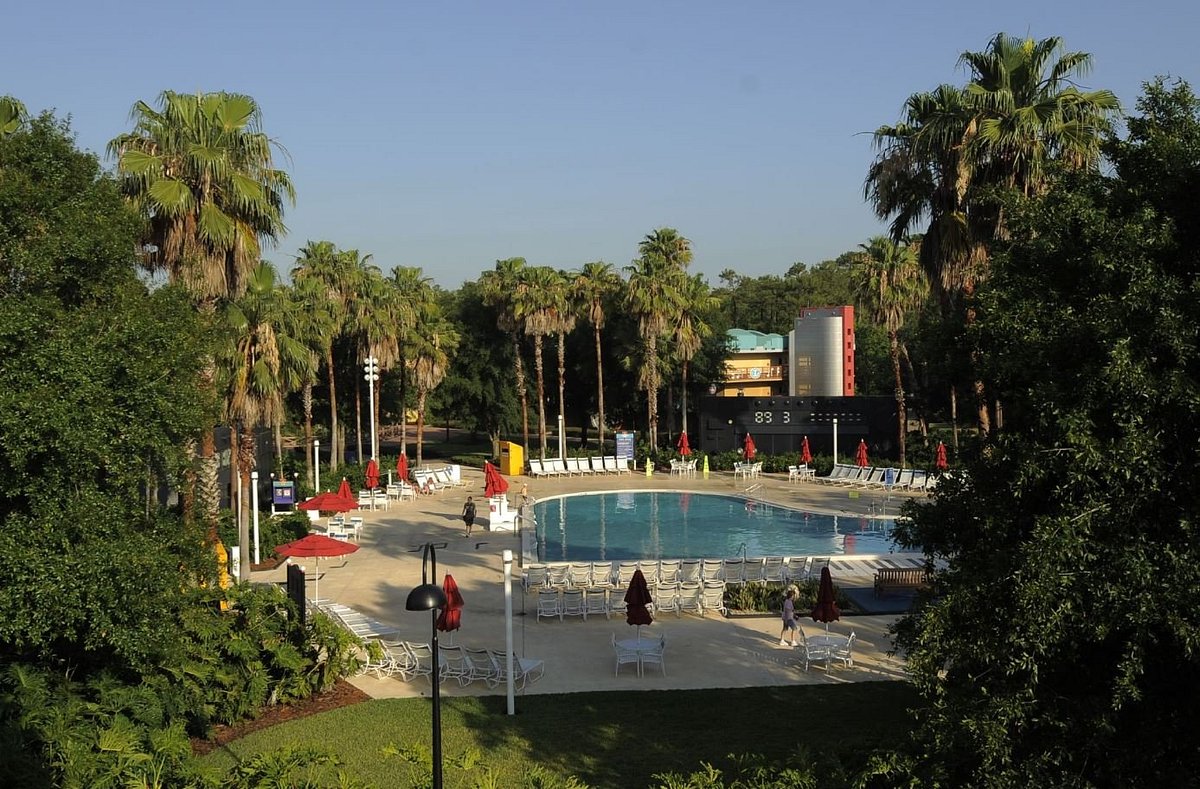 All-Star Music Resort at Disney concentrates on well-known styles of music, including jazz, country, calypso, rock 'n' roll, and Broadway show songs. Calypso Pool is the main pool, while Piano Pool is a smaller pool designed like a piano.
While the hotel's main emphasis may be music, guests will encounter touches of Disney enchantment thanks to the incorporation of beloved characters into the decor.
This discount resort is unique because it has both suites and standard rooms in the same structure, making it ideal for large family gatherings. There is a huge food court with many alternatives for everyone's preferences, much like other bargain resorts.
The Value resorts are an excellent option for families because of their low cost and high popularity among children due to their larger-than-life themes.
Some of the disadvantages are the same as those of the other value resorts, such as the shared bus transportation, which makes getting to and from the theme parks take longer, and the fact that they don't have water slides or restaurants with table service at their properties.
Room rates at Disney's All-Star Music Resort begin at only $173 per night.
Disney Pop Century Resort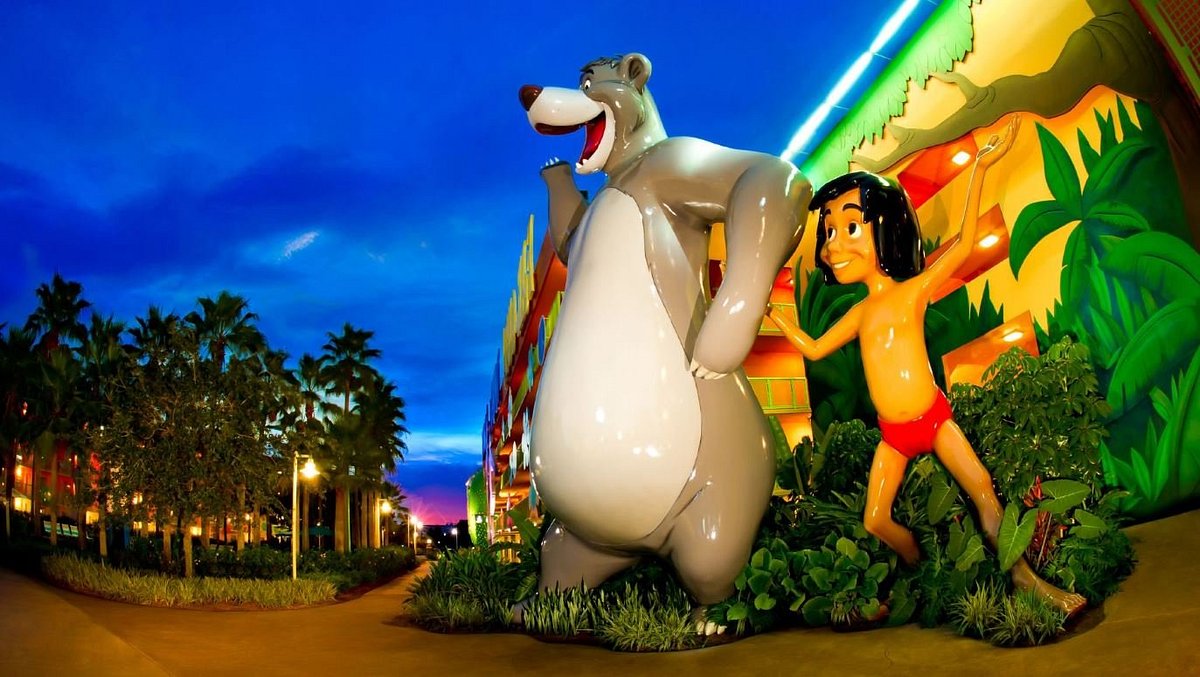 Disney's Pop Century Resort is a visitor favorite in Walt Disney World, which makes it a well-liked option for anyone looking for affordable Disney lodging. This resort has sections that are themed to the fashions of the 1950s to 1990s.
The overall concept of the resort is centered on the latter decades of the 20th century. You will witness yo-yos, enormous bowling pins, and other iconic Disney figures from different periods, among other things.
This resort is known for its excellent environment, which pulls many returning visitors back year after year.
This resort is the least expensive place to stay at Disney World, which provides access to the Disney Skyliner, which can take you to and from Epcot and Hollywood Studios. This is one of the biggest advantages of this resort that sets it apart from the competition.
If you are interested in checking out the Art of Animation's dining choices, there is a beautiful food court located only a short distance from the attraction.
If you want to avoid having to wait in a lengthy queue in the morning, you should get in line as early as possible since utilizing the Skyliner station will require you to make a transfer.
There are no water slides, hot tubs, or restaurants that provide table service, much as at other discount resorts.
The Pop Century Resort at Disney begins at about $187 per night for a standard room.
Disney's Art of Animation Resort
The Cars, Finding Nemo, and Lion King have their themed family rooms in the Art of Animation Resort, a Value Resort at Walt Disney World.
Regarding the definition of a "Value Resort," the family suites at Art of Animation stretch the limit slightly. One reason is that their prices are much higher than those of other Value Resorts; for example, AoA family suites often cost between twice and three times as much as All-Star basic rooms.
Another factor that sets this inexpensive hotel apart from others at Walt Disney World is the decor of the rooms is significantly different.
Several features in the main lobby allude to different animation techniques. The creative process is seldom touched upon outside the main foyer.
Each segment focuses more on reproducing locales from their respective films rather than providing a glimpse behind the scenes at the underlying process. However, there are some character drawings on the sides of the buildings.
Rates at the Art of Animation Resort begin at $195 per night. Winter and early autumn off-season are the most affordable times to travel, while holiday weekends and weekdays are the most expensive.
Westgate Town Center Resort
Studio-to-four-bedroom villas are available at Westgate Town Center Resort & Spa and provide all the home conveniences while being close to Orlando's world-famous amusement parks and activities.
Westgate Town Center is the ideal holiday destination, with several restaurants and shops on the premises.
It offers various onsite resort activities suitable for the whole family, such as games, sports, hot tubs, pools, movie theaters, and much more. In addition, several restaurants and eating choices are located on the premises, such as Cordovano Joe's Pizza, Sid's Bistro, and Drafts Sports Bar & Grill.
Their conference and event rooms with a lake view were designed with your organization in mind. We even have a vast lawn that may be used to hold outdoor events, concerts, or small-scale get-togethers.
You are welcome to have a virtually guided tour of the Westgate Town Center Resort, which caters to families. Utilize the cutting-edge interactivity of our advanced virtual tour to have a look around the many available different rooms.
Find great deals beginning at $129 for a stay at the Westgate Town Center Resort in Orlando.
Doubletree Suites by Hilton Orlando
Enjoy all the conveniences of home and first-rate facilities and services while staying at this all-suite hotel, which has an unparalleled position immediately within Walt Disney Resort and provides guests with the opportunity to experience the magic of Disney World.
Find a chic place to spend your holiday that will treat you like royalty by providing you with all the conveniences of home and a touch of enchantment. The DoubleTree Suites by Hilton is the only all-suite hotel in the Disney Springs area located within the Walt Disney World Resort.
It provides Guests with an incredible array of amenities, ranging from signature welcome baked goods to the sleep experience. In addition, the accommodations here are chic and contemporary.
When you stay at the DoubleTree Suites by Hilton Orlando, it's simple to take advantage of everything Walt Disney World offers.
Every visit to the resort is guaranteed to be remembered – thanks to the complimentary shuttle service that runs to the resort's most well-known attractions, such as the Magic Kingdom, Typhoon Lagoon, and Epcot Center.
You may start your day with a delicious breakfast at one of the onsite restaurants at the Walt Disney World Doubletree, or you can buy tickets for Disney attractions in the lobby of the hotel.
After a day filled with excitement and new experiences, you may unwind by the pool, have some fun in the arcade, or watch a movie on the flat-screen televisions in your room.
Therefore, before going to EPCOT, you should warm up on the tennis court or the fitness facility. Guests can play all day long in the theme parks and water parks, the Disney Springs area, and the ESPN Wide World of Sports Complex, regardless of the activity they select. Florida's beautiful sunshine awaits.
Find amazing deals on stays at the DoubleTree Suites by Hilton Orlando, beginning at $200 per night.
Holiday Inn Resort Orlando Suites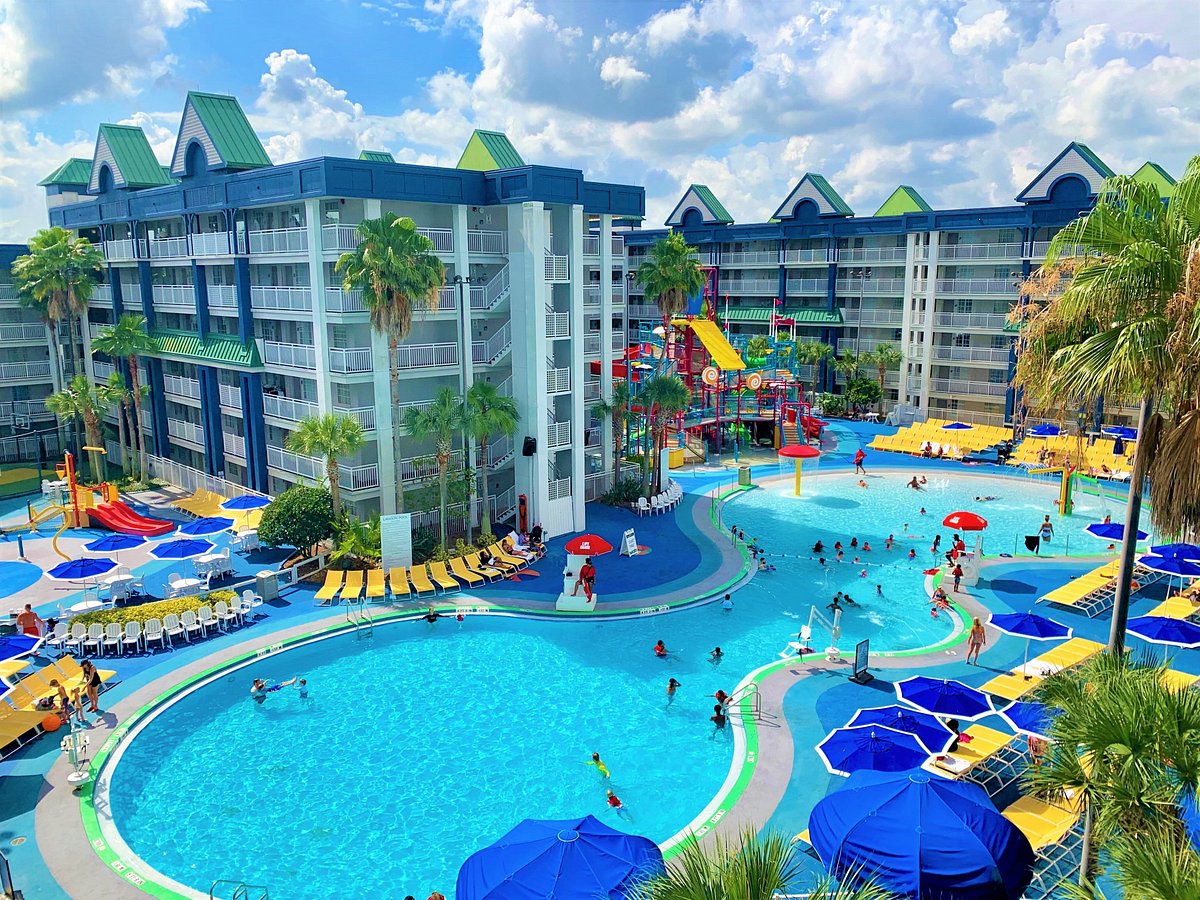 The Holiday Inn Property Orlando Suites is the only resort in the area that offers all-in suite accommodations. It can be found directly across from the Walt Disney World Resort's entrance. It is situated on 24 acres in the center of the Orlando tourist zone, approximately one mile from the Walt Disney World Resort, its closest neighbor.
The resort is also close to several other major attractions, including SeaWorld Orlando, the Orange County Convention Center, the International Drive entertainment area, and Universal Orlando Resort.
The resort is perfect for families since it offers 777 large family suites with one, two, or three bedrooms.
At the Holiday Inn Resort Orlando Suites, you will have access to a wonderful selection of amenities, including a Lagoon Pool and Waterpark, 9-hole mini golf course, Bank Heist Laser Challenge, arcade, fitness gym, kids splash pad, playground, movie night for the family, complimentary shuttle service, Wi-Fi and other entertainment activities.
Several excellent eating establishments are located inside the resort as well. This includes Antonio's Pizzeria, Burger Theory, Essentials Market, Hershey's Ice Cream Shop, Lakeside Cafe, Lagoon Poolside Bar, Lunchbox Deli Subs, and Sombrero's Cantina.
Room rates start at $136.
Courtyard Marriott Orlando Lake Buena Vista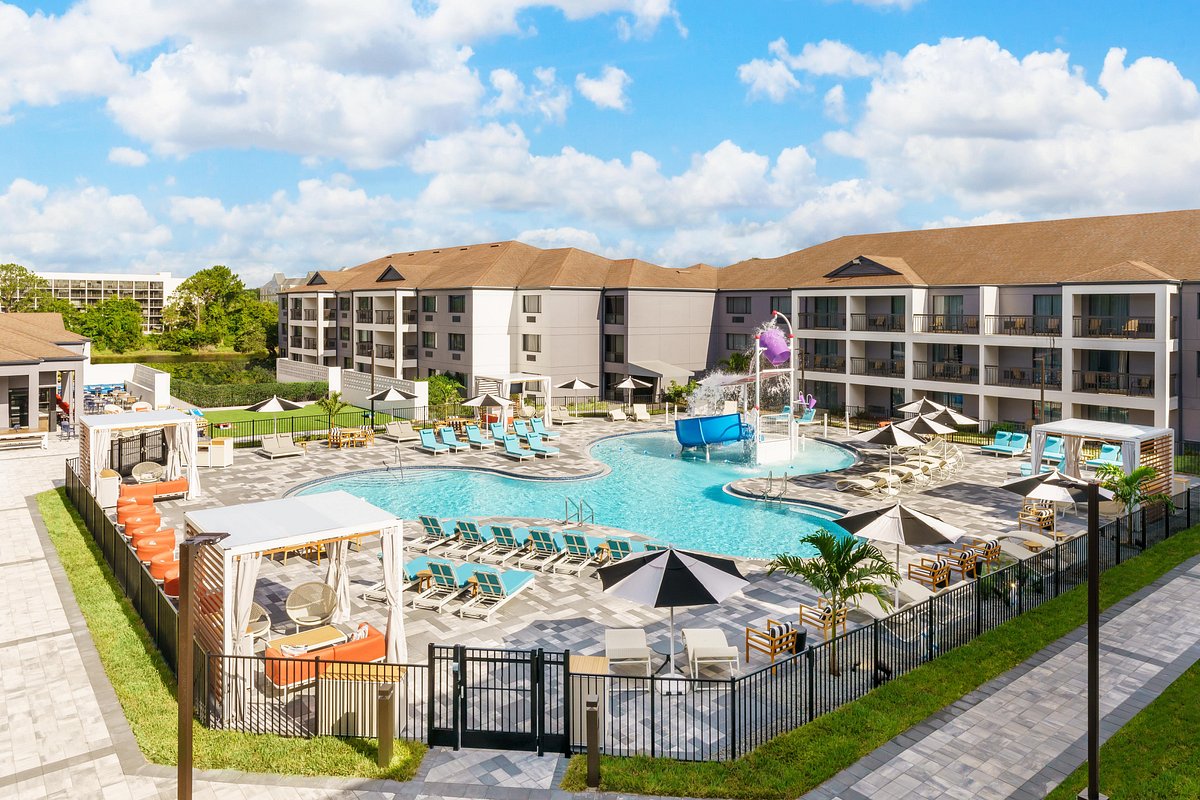 This hotel in Lake Buena Vista is about a mile away from Walt Disney World, providing guests with free Wi-Fi and ticket services onsite. There is a service that offers free transfers to guests.
A swimming pool and a fitness facility can be found at the Courtyard Orlando Lake Buena Vista in the Marriott Village. In addition, the hotel has a food court where guests may purchase pizza, ice cream, coffee, and deli goods.
The onsite restaurant, the Bistro, is open for breakfast and supper. The Lake Buena Vista Courtyard provides its guests with cable television and work desks in each room. Additionally, there are coffee makers and freezers in each unit.
If shopping is on the schedule, some places to consider visiting are Disney Springs and Orlando Vineland Premium Outlets. On the other hand, individuals interested in seeing some of the area's most popular attractions may go to Disney's Hollywood Studios and Epcot.
The Animal Kingdom Theme Park at Disney and Volcano Bay at Universal are two attractions that should not be skipped. You may go out and explore the surrounding area on the sea by participating in activities like kayaking, scuba diving, or snorkeling.
You can also seek adventure on neighboring hiking and bike trails.
Room rates at Courtyard Marriott Orlando Lake Buena Vista start at $129.
Wyndham Lake Buena Vista Disney Springs Resort Area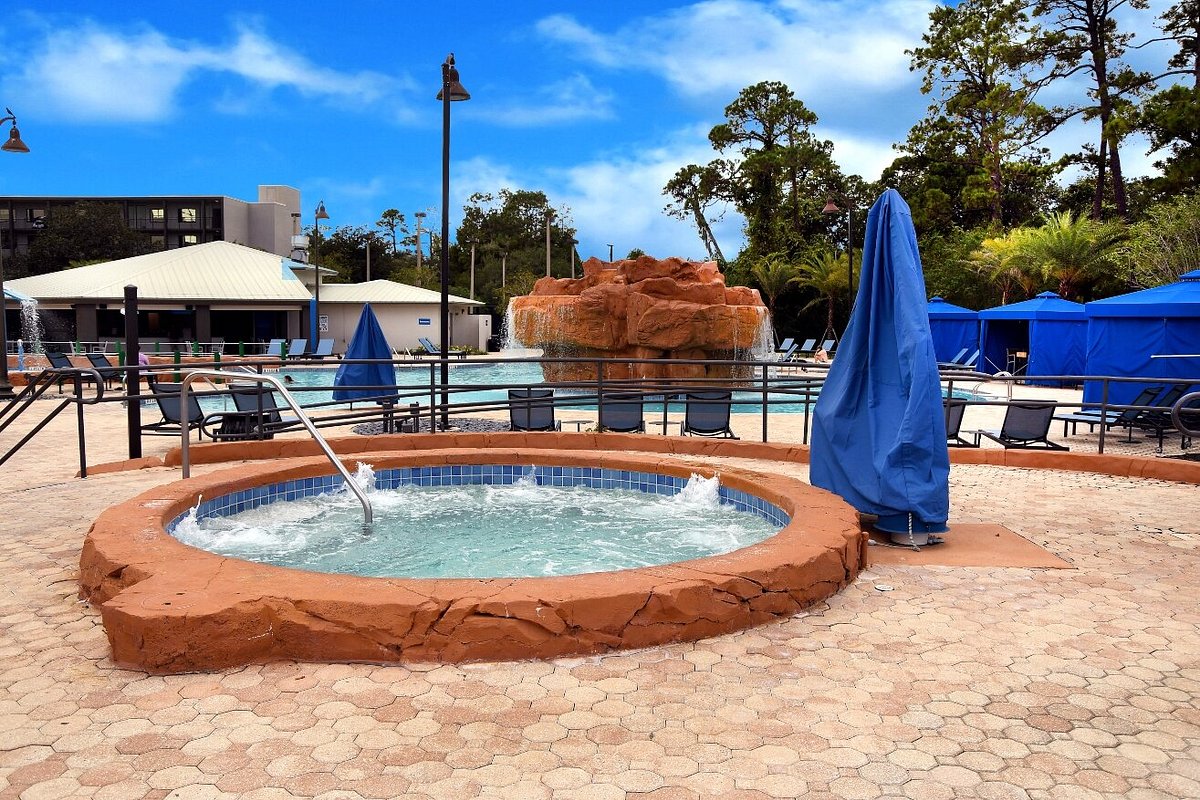 Your stay at Wyndham Lake Buena Vista Disney Springs Resort Area will allow you to enjoy the magic and merriment of Disney from the comfort of the resort, which has a wealth of amenities and rooms decorated in a lake house motif.
This gorgeous lakeside resort is situated immediately across the street from Disney Springs, and it has two swimming pools, a kids' aquatic playground, and a hot tub.
You may reserve a golf time at one of the adjacent Walt Disney World Golf courses, which are all of tour-caliber, or you can play volleyball or basketball on one of the courts that are located onsite.
You won't need to leave the resort since there are various eating choices onsite where you can get everything from a full-service dinner to quick bites to eat on the go.
A plush bedding, refrigerator, and free Wi-Fi can be found in each of the 232 roomy guestrooms, which also provide a variety of other comforts and conveniences.
With 19,000 square feet of adaptable event space, we are also the ideal location for getting together with friends and family and celebrating special occasions.
Wyndham Lake Buena's pricing starts at $229.
Wrapping Up
Remember that you may have a wonderful time at Disney World in Orlando without spending a fortune on a hotel stay.
We hope our list of the cheapest Disney World resort hotels benefits you and your family to keep expenses down while vacationing at Disney World.
Whether you stay at a Disney-owned bargain hotel or an off-site Disney World hotel, one of these resorts should be on your list. Have a wonderful time away.
More about our TFVG Author