There's a reason why Walt Disney World Resort is often referred to as the most magical place on earth, and there's no getting away from the fact that it sits high up there on pretty much every family's 'must visit' list.
And whilst some choose to stay in hotels near to the parks, many take the decision to stay on site at one of the Disney Resort hotels. And with good reason, too.
Walt Disney World is home to more than 25 resort hotels, from budget-friendly 'value' offerings to the more luxurious (and costly) options.
But if you're heading to Florida as a family and are looking for recommendations on the best Walt Disney Resort Hotels to stay in, we're here to help.
We've rounded up 9 of the best options for families traveling with kids across Disney's 'value,' 'moderate' and 'deluxe' hotels.
Choosing the Best Disney Resort Hotel
When it comes to choosing which hotel to book at Disney World, you could be forgiven for wondering what makes one better-suited for your family than others.
And whilst there's no denying that each of Disney's hotels is incredibly welcoming for guests of all ages, you want to make sure you're booking the hotel that best suits your family's needs right now.
A family traveling with a toddler, let's say, is going to have different wants and needs than a family with teenage children. But with more than 25 hotels available, it's never hard to find the best option for your own individual wants.
When considering Disney hotels, be sure to consider things like:
Transport options and transfer times to each of the parks
Children's entertainment at the hotel
Dining options at the hotel
The cost
Theming
Disney World has something for everyone, but doing your research really does pay off and helps to create that magical experience for the whole family.
Value Hotels
Disney's 'value' hotels are, as you've probably guessed, the lowest priced accommodation that's offered on site at the resort. But that doesn't mean they're not great options, because they are!
The 'value' hotels come with the same on site guest perks that all Disney guests can enjoy, including Extra Magic Hours, even earlier advanced booking of FastPass+ reservations and complimentary transport around the resort. Just because you choose the lower-end option doesn't mean you're going to miss out; far from it.
If you've got your heart set on staying on site but are working to a budget, consider one of the 'value' options to make your money go as far as possible and leave plenty for treats, souvenirs and delicious dining!
Many families find that they actually spend way less time at their hotel than they expect, especially if they're first-time guests. With Extra Magic Hours, you'll have more time to enjoy the parks than guests who stay off site and most choose to spend their time there as opposed to back at their hotel.
If you're looking for a relaxing, slow-paced break, Disney probably isn't for you!
Here are our top recommendations for 'value' hotels at Disney World:
From $162 per night
From the moment you step into the lobby of Disney's Pop Century Resort, you'll feel like you've just stepped back in time.
This value resort, located near the ESPN Wide World of Sports Complex, is themed around the decades from the 1950s through the 1990s, and is decorated throughout with memorabilia and icons from each of these.
The resort is spread across a series of themed areas that correspond with the years and consists of ten motel-style buildings that feature iconography and slogans from that decade. From the bowling pin pool celebrating the 1950's through the fooseball setup for the 70's, the rollerblades from the 90's and so much more, you'll love the theming and the memories it brings back!
With 2,880 rooms in total, three pools and a gift shop, arcade and food court, families will find everything they need before and after a day at the parks.
Guests can take Disney Transport busses to each of the Disney World parks and water parks, as well as Disney Springs, from the hotel, as well as the Disney Skyliner to Epcot and Hollywood Studios.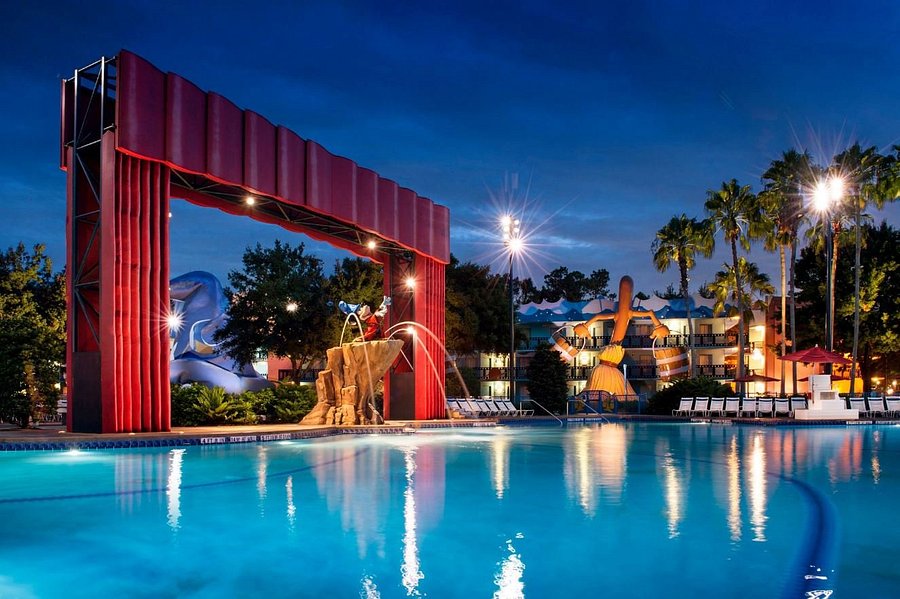 From $118 per night
Stay at Disney's All-Star Movies Resort for the perfect family getaway!
This resort is themed around classic Disney movies including 101 Dalmatians, Fantasia, Toy Story, The Mighty Ducks and The Love Bug.
Guests can enjoy complimentary Disney movies on the big screen under the stars each evening, right outside the World Premiere Food Court, take a swim in one of the resort's two pools, have some fun in the arcade or burn some energy off on the playground.
If you're a diehard Disney fan and lover of these classic movies, staying in one of the hotel's 1,920 rooms is a must and a great way to stay on site without breaking the bank.
Your kids will love this resort as much as you do!
From $188 per night
If you and your kids are fans of Disney and Pixar's animated movies, a stay at Disney's Art of Animation resort could be the perfect place to base yourself for the duration of your Disney World vacation.
Themed around four of the studio's most popular animated films; Finding Nemo, Cars, The Lion King, and The Little Mermaid, the resort has been designed with children in mind at every stage.
The resort features giant characters and props from the movies, and each of the 1,980 rooms is themed to one of the movies; something not seen at any of the other 'value' resorts. This means that guests will find artwork in the hallways from the film and other theming throughout.
Talk about staying in the heart of Disney!
You'll find three amazing pools and a series of themed play areas; all of which are home to giant characters and that recreate scenes from the four films.
Moderate Hotels
If you're looking for accommodation that offers that little bit more than Disney's 'value' hotels but don't want to splash the cash on a 'deluxe' option, you'll almost certainly find the perfect option in the 'moderate' collection of offerings.
These hotels sit at a higher price point than the 'value' choices, but typically come in significantly less than the luxurious 'deluxe' stays.
From $256 per night
Families love Disney's Port Orleans Resort – French Quarter for a number of reasons, but the hotel's stunning theming, based around New Orleans's historic French Quarter comes out as one of the most popular!
From cobblestone streets to colorful Mardi Gras characters and the sounds of jazz, the resort offers a completely different experience to that found at Disney's 'value' hotels but an amazine one nonetheless.
Guests can enjoy splashing and swimming in either the resort's own pools and water slides or head along to the nearby pools at Disney's Port Orleans Resort – Riverside resort. These are the only hotels at Walt Disney World where guests can use the facilities of another resort.
Take yourself on a stroll down the Sassagoula River, play on one of the resort's playgrounds, hire bikes or bather round the campfire as the sun goes down for old-fashioned family fun as you roast marshmallows.
If you don't want to splash out on a 'deluxe' resort but want something a little more special than the 'value' hotels, this could be the perfect choice.
From $232 per night
Disney's Coronado Springs Resort is Walt Disney World's Mexican themed hotel, featuring stunning Spanish architecture throughout, a central lake (Lago Dorado) and a pool that's themed around a Mayan temple dig site.
The resort is home to The Gran Destino Tower that opened in 2019, often cited as one of guest's favourite hotels across the whole resort.
With campfire activities, pools, playgrounds, outdoor movies and more on offer, families love this resort when they're wanting a culturally inspiring vacation with facilities that the whole group will love.
Disney's Coronado Springs Resort is home it's own fine-dining restaurant – Maya Grill – alongside a quick-service food hall, poolside bar and grill and other options.
From $256 per night
Originally known as Disney's Dixie Landings Resort, the hotel changed it's name and became Disney's Port Orleans Resort – Riverside in 2001, alongside the nearby French Quarter resort.
Guests love Riverside's 3.5 acre recreation area – Ol' Man Island – where they'll find the resort's swimming pool, a kids playground and the Fishin' Hole, where guests can fish.
As well as the resort's main swilling pool, Riverside is home to five smaller pools, and a marina.
If you don't want to leave your pooch at home, you'll be pleased to know that Riverside offers a number of dog-friendly rooms.
Deluxe Hotels
It's perhaps no surprise that Disney's 'deluxe' hotels are their most luxurious offerings and the resort's finest.
Of course, these hotels are the priciest options, but if you truly want the most magical experience at Disney World, then splashing out on the vacation of a lifetime in one of these luxury resorts can be a great move!
Staying in a 'deluxe' hotel on site means you'll be closer to the parks (with alternative methods of transport to the busses to at least one park), the resort hotels' best restaurants, a wealth of entertainment and amenities that make them the perfect base for a day away from the rides and simply stunning lobbies and grounds.
If you're into your luxuries in life, one of Disney's 'deluxe' hotels will be the perfect spot for your vacation.
From $518 per night
If you've been to Disney World before and took the Monorail to the Magic Kingdom, there's a good chance you've been right through the middle of Disney's Contemporary Resort.
One of Walt Disney World's two original resort hotels, alongside Disney's Polynesian Village Resort, this hotel is located right by Magic Kingdom and is home to 655 rooms.
The rooms are spread across the resort's three main buildings; Contemporary Tower, South Garden Rooms and Bay Lake Tower.
Imagine a hotel that is so beautiful it makes you feel like the luckiest person alive. Step into this stunning Disney Resort and discover award-winning dining, spectacular views, and dazzling pools.
Whether you're staying in the iconic A-frame Contemporary Tower or nearby Garden Wing or Bay Lake Tower, there are plenty of ways to explore Walt Disney World during your stay – whether by walking through Magic Kingdom main gate or catching the resort monorail as it breezes through the towers!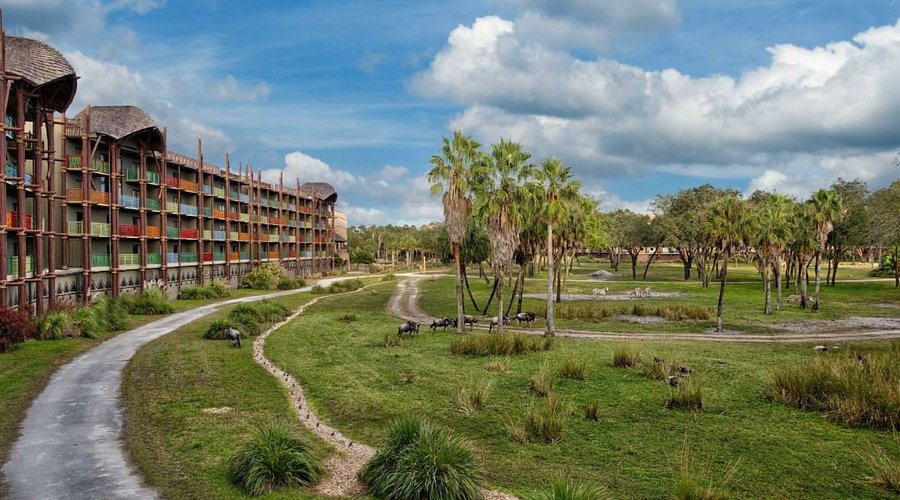 From $434 per night
Themed around a lodge on an African wildlife refuge, Disney's Animal Kingdom Lodge is the one that usually gets guests talking and dreaming.
After all, this resort is unlike any other that's on offer given that it's home to a Savannah with live animal roaming through it. Some of the rooms even look out over this; talk about a vacation you'll never forget. Whilst staying at the resort, guests have the chance to see for themselves more 30 species of African wildlife, from zebras and giraffes to gazelles, kudu and flamingos.
All of the Animal Kingdom Lodge rooms have their own balcony and each one is stunningly themed and decorated with African style.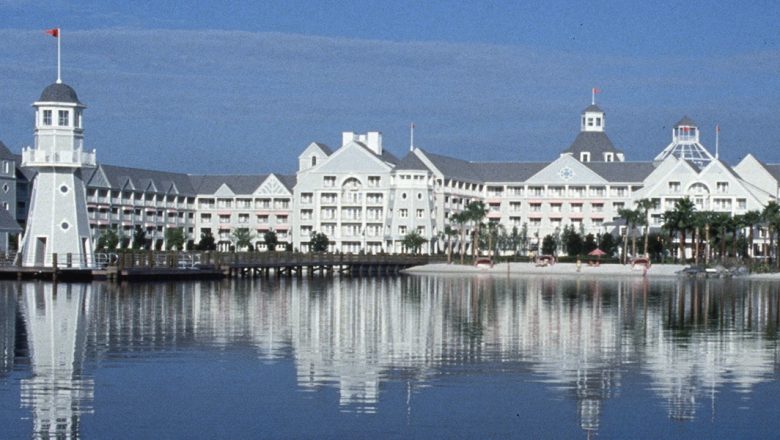 From $504 per night
A New England nautical-themed resort, Disney's Yacht Club Resort is a firm favourite with guests wanting a little luxury in their stay at Disney World.
In fact, many families love the resort because of the boat transportation to both Epcot and Hollywood Studios, and the close proximity and ability to be able to walk to these two parks. Many Disney World resort hotels require you to take the bus to the parks, so having the luxury of two parks close-by means you can make the most of your time there without having to factor too much in for travel time.
The resort is home one of the US' largest sand bottom pools, Stormalong Bay and children love that the pool is a mini waterpark that can keep them entertained for hours on end.
You'll also find Disney's Yacht & Beach Club Convention Center located between this resort and Disney's Beach Club Resort; a venue that regularly hosts business conferences and events.
Staying On Site at Disney World vs Staying Off Site
Families often have a difficult decision to make when planning their Disney vacation; do they stay on site or off site?
Both have their pros and cons, but what many don't often stop to think about is the many benefits and perks that guests who stay on site at Disney World get to enjoy.
These include:
Early Access to FastPass+
Advance Dining Reservations
Discounted MagicBands
Early Theme Park Entry (replacing Extra Magic Hours)
Free transport around the resort and to the parks
Stunning locations with (mostly) easy access to the parks
Access to a Disney Dining Plan
Pools at the resort for you to relax in
Have purchased from the parks delivered to your room
Evening activities
Staying on site at one of Disney World's resort hotels is a truly magical experience and one that we'd encourage any family to do at least once, and with so many great hotels on offer at different price points, it's not going to be difficult to find the one that suits you the best.
More about our TFVG Author
A seasoned traveller, Dad, and avid sports tourist, James foundered The Family Vacation Guide to share his expert vacation experiences- especially when it comes to being a travelling family man.
Featured in Travel articles such as Travel + Leisure, TripSavvy and SFGate, you know you're reading some of the best vacation tips online.