Disney's Hollywood Studios, part of Walt Disney World in Florida, is composed of different areas, one of them being Toy Story Land. And that's where Slinky Dog Dash is located.
Below, learn all there is to know about this attraction. We'll start with the basics and then take you through the riding experience. We'll also provide the best ways to get on this popular attraction, frequently asked questions, and more.
What Is Slinky Dog Dash?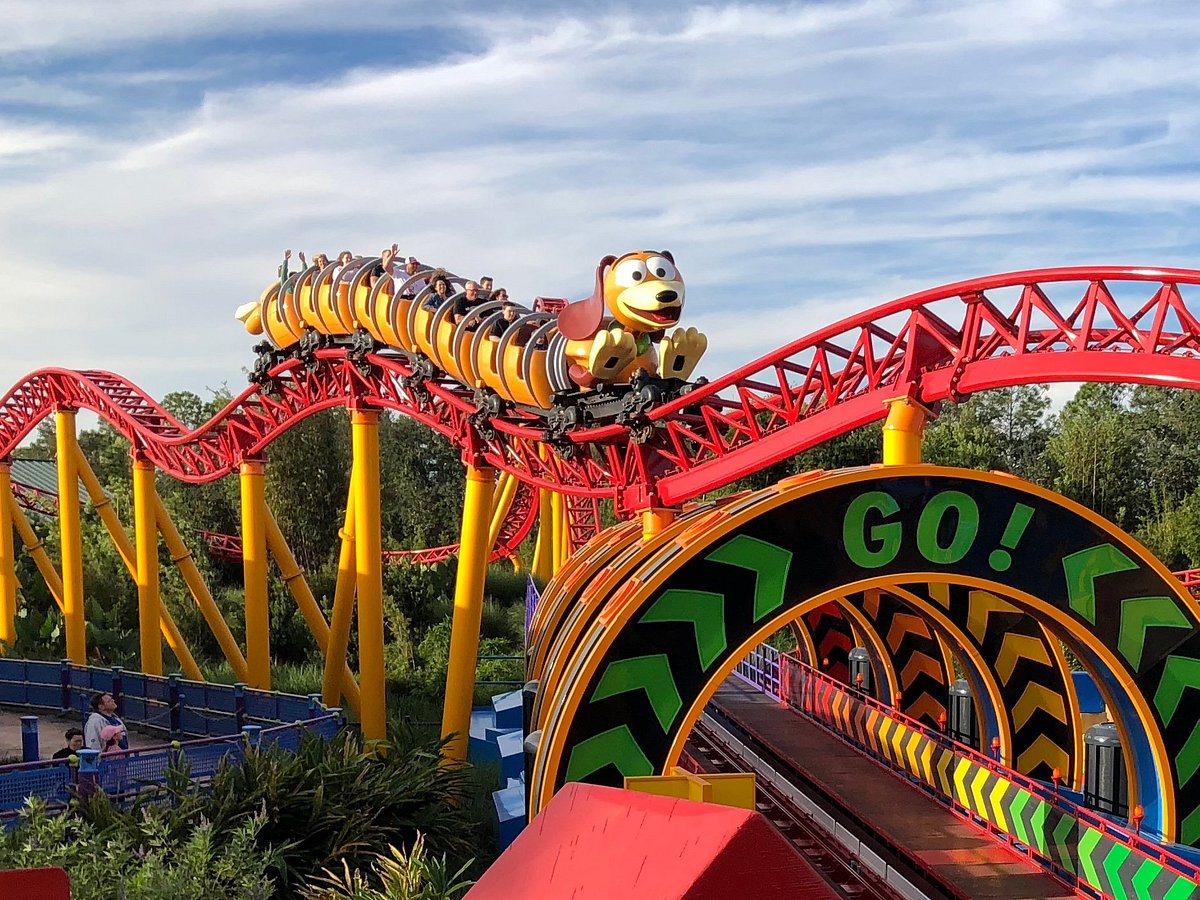 Slinky Dog Dash is a roller coaster, but it's pretty family-friendly. That means it isn't too fast or scary, but Disney still categorizes it as a thrill ride.
Slinky Dog is a popular secondary character in the Toy Story film franchise. He has a dog's head, tail, and legs, but his body is an extendable Slinky spring. He can stretch himself out and wind back together.
Slinky has stretched his springs for the coaster to provide you a seat as the roller coaster glides along the tracks.
What Is Toy Story Land?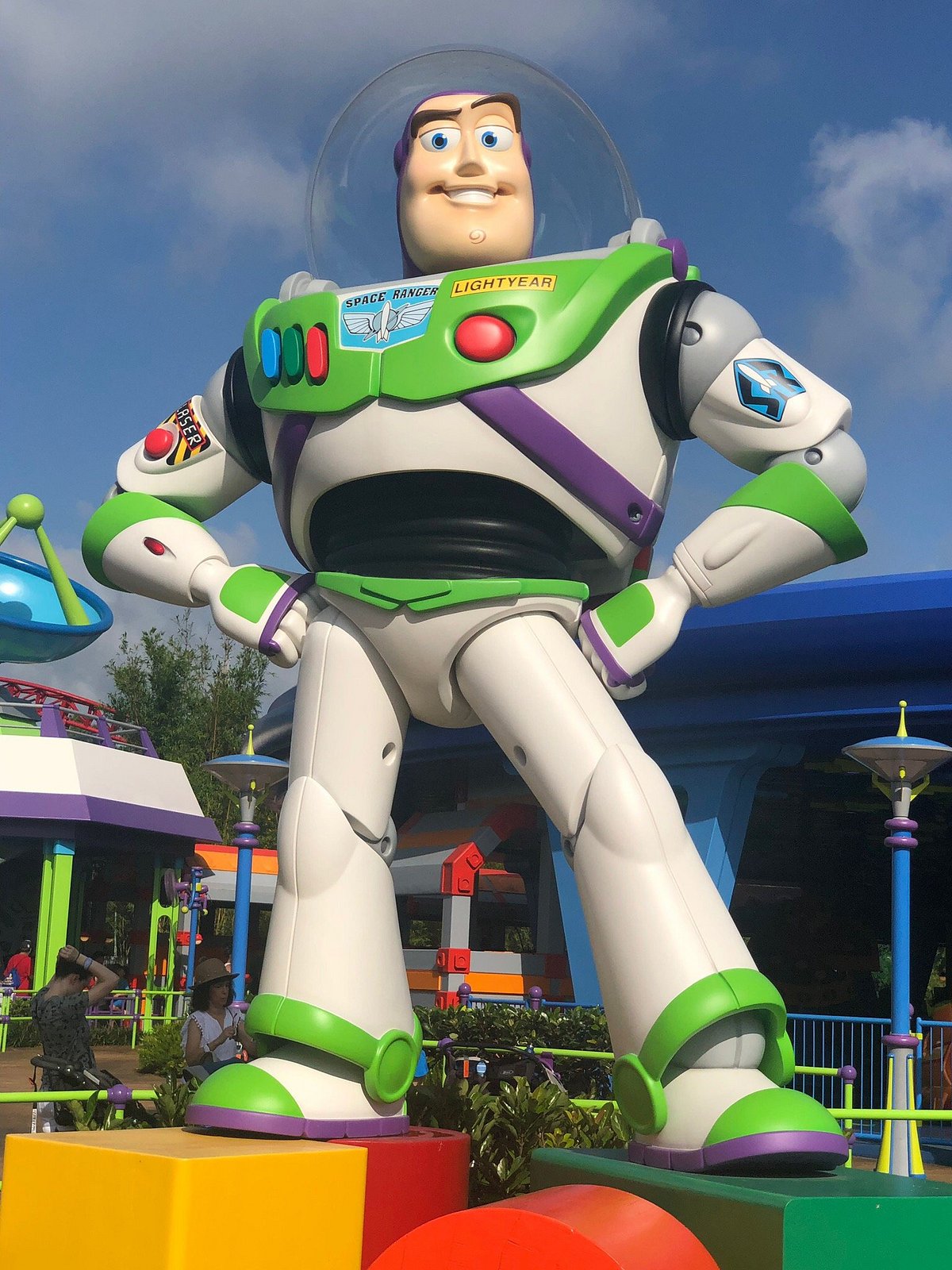 You'll find Slinky Dog Dash in the heart of Toy Story Land. It opened in 2018, and along with Galaxy's Edge (the themed Star Wars land in the park), it nearly doubled the park's size.
In partnership with Disney, Pixar released Toy Story in 1995. The computer-generated animation style was revolutionary at the time. Since then, there have been three additional films. Toy Story 4 came out in 2019, and there are rumors there will be a fifth film.
Where Is Slinky Dog Dash?
To get to Toy Story Land from the park's main entrance, head to the back of the park. Galaxy's Edge is back there too, so there will likely be a crowd surging back there.
Toy Story Land is on the right at the back of the park. You'll walk past Woody and Jessie as you see Slinky Dog himself gliding across the tracks. The ride's loading and queue areas are to the right. You won't miss them!
How To Ride Slinky Dog Dash
Getting to the attractions you want can take time and effort at Disney World. But we've got you covered.
Genie+ and Lightning Lane
If you buy Genie+ access for your day at Hollywood Studios, it's worth using one of your Lightning Lane passes on Slinky Dog Dash.
In fact, since it's one of the most popular attractions in the entire park, you might want to use your first Lightning Lane on it. If you don't, keep an eye on availability and book it before they're gone.
Remember that everyone in your family will need to buy Genie+ access, which costs an additional $15 per person daily.
Standby Line: Typical Wait Times
The most traditional way to get on Slinky Dog Dash is to wait in the standby line.
How long is the line for Slinky Dog Dash? That depends greatly on what day of the year you visit and what time of the day you want to ride.
You have early access if you have a reservation at one of the Disney-owned hotel properties. If you get to the park that early, we suggest heading straight to Slinky Dog Dash if it's at the top of your list.
If not, be sure to download the My Disney Experience app, where you can keep an eye on wait times. Get in line when you see the times drop or notice they keep going up with no end in sight.
Other Ways to Ride
If you have small children in your family who can't ride, parents can use Disney's Rider Switch. That way, you don't have to wait in line twice.
Other than that, there may be opportunities to skip the lines if you have a special tour with a Disney concierge.
All About the Ride
Are you getting excited about riding Slinky Dog Dash? Get ready to buckle up!
Who Shouldn't Ride?
As we've discussed, Disney Imagineers didn't want Slinky Dog Dash to be too thrilling. Still, there are a few cautions.
If you have any health conditions, especially back, neck, or motion sickness problems, we recommend watching the ride to make sure it's safe for you. Expectant mothers should not ride.
Finally, there is a height requirement of 38 inches (97 centimeters). Anyone shorter cannot ride. Their ride attendant in the loading area will measure anyone who looks like they might be too small.
The Story Behind Slinky Dog Dash
When you enter Toy Story Land, you'll feel like you've shrunk to the size of an ant. That's because all of Andy's classic toys loom large over your head, much larger than life.
Therefore, you won't be surprised to learn that the track you ride on is also supposed to be a toy. According to the ride's backstory, Andy built the roller coaster's track using another toy, a Dash and Dodge Mega Coaster Kit.
Instead of using a traditional car, he used one of his favorite toys – Slinky Dog. One thing you'll see in line is a mural of the set with Andy's drawing of Slinky Dog as the car.
On the Ride
We don't want to give away too many spoilers, but let's look at some of what the ride includes.
First, there are no significant drops, and the ride tops out at 40 miles per hour. It does not go upside down and stays the entire time outdoors. Since it's an outdoor coaster, anyone afraid of heights might be a little freaked. It doesn't feel too high, and you never feel like you're going to fall off.
The ride winds around many of Andy's toys, which appear to scale; remember, you're small enough to fit on Slinky's back! You'll also get to see a lot of the rest of Toy Story Land zip past you.
Frequently Asked Questions
If you still have questions about Slinky Dog Dash, check below.
Is Slinky Dog Dash good for kids?
Yes! In fact, Slinky Dog Dash is a great first roller coaster for kids. It isn't too fast or frightening. There is a height requirement (38 inches), so measure your kids before leaving home.
Does the roller coaster go upside down?
No, Slinky Dog Dash does not go upside down. It's a family-friendly coaster, and Disney Imagineers wanted to ensure that as many family members as possible would be able to enjoy it together.
Is any part of the ride in the dark?
No, this is an outdoor roller coaster, so there is no need to worry if you have a little one afraid of the dark.
Does Slinky Dog Dash run in the rain?
Sometimes, the ride will shut down if the weather is particularly bad. If the local weather center issues a lightning warning, the ride will close temporarily for everyone's safety.
If you have a Lightning Lane reservation, you may be able to use it for another attraction or Slinky Dog if it reopens later in the day.
Swirl and Whirl on Slinky Dog Dash
Slinky Dog Dash is a very sought-after ride at Disney's Hollywood Studios, and it's easy to see why. It's definitely a roller coaster with thrilling surprises on its track. But it isn't too intense, meaning that kids who are a little nervous will still enjoy it.
Now that you know all about it, you can feel comfortable taking your family to this attraction. Make Slinky Dog Dash part of your magical day in the park!
More about our TFVG Author