When you're planning your day out at Walt Disney World's Magic Kingdom park, you'll be met with a plethora of activities and attractions that the park offers; from meeting your favorite characters to watching performances, and of course— the numerous choices of rides. You'll certainly be spoilt for choice on what to do!
One thing you can't miss, however, is Space Mountain.
Whether or not you're a fan of science fiction, there's a good chance you've been fascinated by the idea of exploring the endless bounds of space.
This ride is perfect for indulging those space odyssey fantasies, however seldom or often they occur; taking you on a high-speed adventure through the stars.
However, before you blast off into the inky depths of space, we're going to take a deep dive into everything you need to know about this classic Disney park ride!
What Is Space Mountain?
Since it first opened in 1975, Space Mountain has been an iconic must-try ride in the Magic Kingdom park.
While the ride can be found in almost all other Disney parks around the world, the ride in Walt Disney World Orlando is the original version and claims a piece of history as Florida's oldest operating roller coaster.
Don't expect a creaky old roller coaster, though!
Despite its age and history, Space Mountain is timeless and feels fresh every time you ride— likely owing to the futuristic theme of Tomorrowland, the area of the park where you'll find the attraction.
As you experience this classic, dark ride, you'll be transported to an exploration through outer space, flying through a boundless galaxy filled with stars!
Where is Space Mountain Located?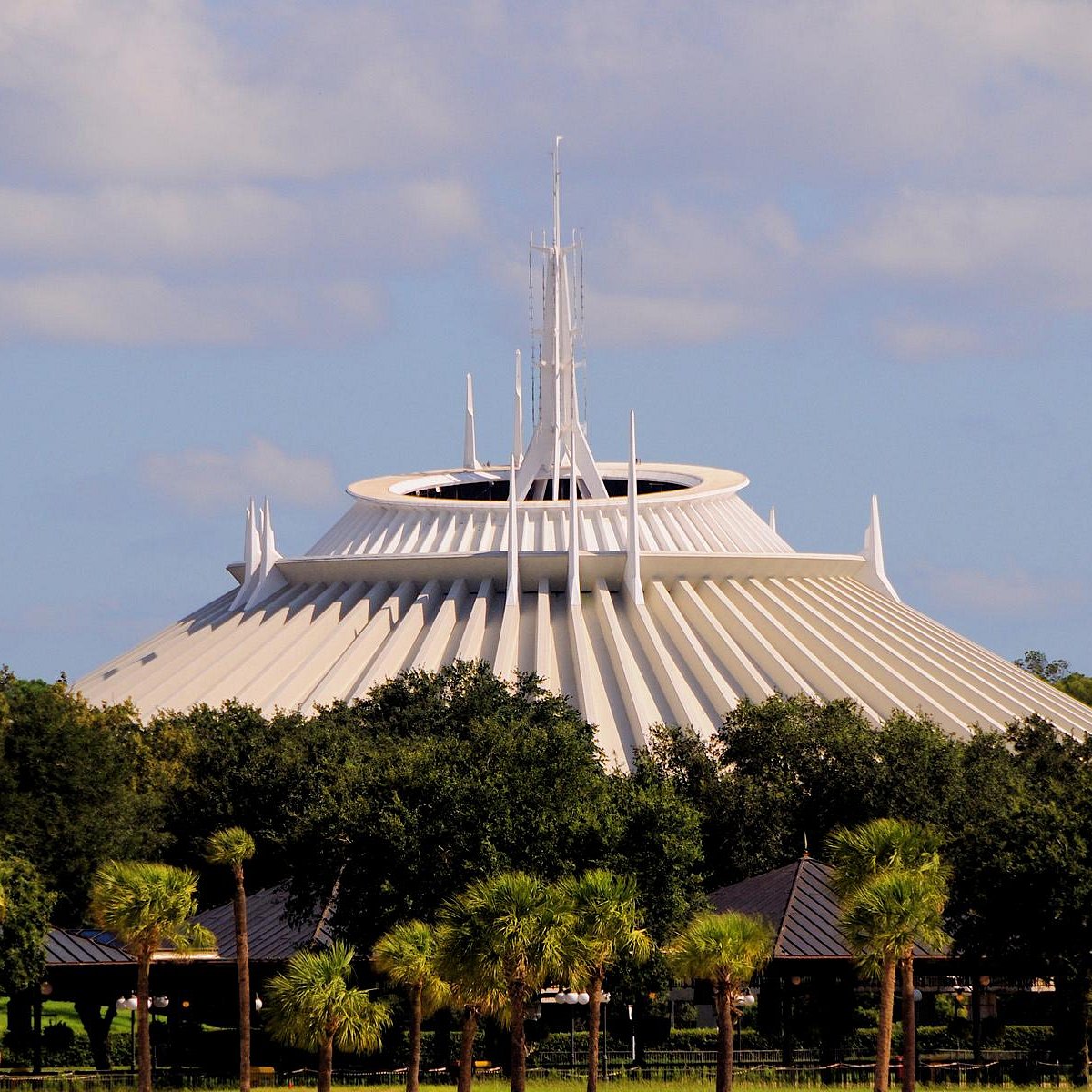 Space Mountain is found in the Magic Kingdom Park in Walt Disney World in Orlando, Florida.
It's hard to miss – simply keep an eye out for its iconic ribbed, mountain-like white roof in the Tomorrowland section of the park.
Space Mountain Ride Experience: What To Expect
Queue
Much like the ride, the queue into Space Mountain is completely indoors – perfect to get some shelter from possible wet weather, or much-needed shade from the hot Florida sun.
On average, the ride has an estimated wait time of 48 minutes.
I know what you're thinking: Waiting in a queue isn't anyone's idea of fun! But under the cool neon lights that gleam overhead, the space is designed to look like a command center out of a classic sci-fi show, with engaging visual displays and lighting that help to adjust your eyes for this dark ride.
These decorations, alongside the gentle ebb and flow of atmospheric music, will keep you immersed in this futuristic world as you wait to blast off.
Space Mountain FastPass+
If waiting in the queue isn't for you, it's definitely a good idea to invest a bit more in Genie+, the equivalent to Disney World's FastPass+ which was discontinued in 2020.
Starting at $15 per person, Genie+ allows you to book Lightning Lanes that will let you skip long lines in the Disney World park, giving you more time to enjoy the rides instead of waiting over 40 minutes in line.
Genie+ can be a bit confusing, but the key thing to note is that you can only hold one Lightning Lane booking at a time unless your booking slot is more than 2 hours after your reservation. In that case, you can make a second reservation 2 hours after you've made your first one.
For example, if at 9:00 AM you made a booking for Space Mountain for 10:00 AM, you would be able to make another booking after you used that reservation. However, if that booking was for 2:00 PM, you would be able to make a second reservation at 11:00 AM.
If you're planning on using Genie+, we recommend that you try to book for Space Mountain early in the morning at 7:00 AM to ensure its availability— especially since it's such a popular ride.
Seats
Space Mountain's seats are in a single row, with three (3) people to each rocket-shaped cart.
The seats are firm, cushioned, and comfortable, with a padded bar that you pull across your lap to keep you safe and secure in the vehicle.
Ride
The ride begins as you take off from mission command, blasting off through a tunnel of bright lights before you're pulled through a scatter of stars, satellites, and planets that sit against a pitch-black sky.
Watch (and listen!) as shooting stars zip past your rocket, and you're pulled through wormholes while the funky tunes of "Starry-O-Phonic Sound" plays from the 60 speakers installed along the ride.
As far as thrill rides go, Space Mountain is a good beginner ride without too many sharp dips, and with a relatively slow maximum speed of 28mph (compare that to some of the fastest coasters that top out at over 100mph!).
If intense roller coaster rides that throw you to and fro aren't your thing— but you're still looking for a ride that will get your adrenaline pumping— Space Mountain is perfect for you!
Be warned: The unexpected twists, big drops, and hairpin turns can be hair-raising, especially since the ride itself is in the dark. This means that you won't know what twists to expect until the ride pulls you through it.
Your trip to space may not always be smooth sailing, however. The ride is also known to be a bit jerky and rough, so be careful if you're prone to back pains.
There are two tracks on Disney World's Space Mountain— Alpha and Omega. If you're wondering which one to go on, don't stress; they mirror each other, and are almost exactly the same experiences, with the main difference being that there are 10 more feet to the Alpha track.
As your rocket returns into the earth's atmosphere and you come to the end of your ride, you will exit the gift shop through a pathway that's even more elaborate than the queue. Make sure to look around at the dioramas and digital displays!
Ride Time
The ride time for Space Mountain is about 2 and a half minutes long.
Space Mountain Ride Accessibility
Space Mountain is wheelchair accessible.
However, you must be able to transfer into the vehicle itself. If you or anyone in your group uses an EVC, they'll have to transfer to a wheelchair before entering the queue.
Service animals are not allowed in the attraction.
Space Mountain Ride Health and Safety Advisories
Disney World advises against this ride for anyone with high blood pressure, heart, back, or neck problems, is pregnant, or has any conditions that could be aggravated by any part of the ride (including sharp movements, bright flashing lights, and loud noises).
Remember to always ride safely!
Space Mountain Ride Age And Height Restrictions
To blast off into space, guests are required to be at least 44 inches tall (112cm).
Children under 7 must be accompanied by someone who is at least 14 years of age.
Space Mountain Weather Restrictions
One of the great things about Space Mountain is that thanks to it being completely indoors, the ride will almost always be running regardless of the weather or season!
Space Mountain FAQs
What is the Best Seat on Space Mountain?
Space Mountain doesn't necessarily have a bad seat, especially since there are only three people in a vehicle and most of it is in the dark.
However, we recommend that you sit in the front seat of your rocket ship, as it allows you to have a completely unobstructed view of the stars.
Because Space Mountain only has one person in each row, it will be a bit difficult to comfort anyone at your party during the ride.
If you have children who may need some comfort, it might be a good idea to have them sit behind you to ensure they don't feel alone on the ride.
Does Space Mountain Go Upside Down?
Space Mountain does not go upside down and isn't too intense for a roller coaster.
But don't let that put you off, thrill seekers!
You surely won't be disappointed with its drops and sharp turns and unpredictability in the dark.
How Long is the Space Mountain Ride?
As mentioned above, the ride is about 2 and a half minutes long.
Who Shouldn't Ride Space Mountain?
While Space Mountain is one of the park's more kid-friendly roller coasters, its twists and turns will not be for everyone.
As a dark ride, it may seem scarier to some visitors as you won't be able to brace yourself for any upcoming twists or turns.
While this may be exciting to some, it can make an otherwise less intense roller coaster a bit more off-putting to others— especially younger kids.
Always abide by the park's safety policies, and don't ride if you have any heart, neck, and/or back problems, have high blood pressure, or motion sickness, or are pregnant.
Issues such as bodily pains can be especially exacerbated because of the jerkiness of the ride, even if you are able-bodied and otherwise healthy.
The bright, sometimes pulsing or flashing lights may also be an issue for people with photosensitivity issues.
Fortunately, Disney World offers Rider Switch at Space Mountain. Rider Switch allows an adult to wait with any non-riders while the rest of your party goes on the ride.
After their whizz through space, the party can then join the non-rider(s), while the supervising adult gets to go on a trip of their own!
This is especially great if you have any younger children who may not be able to ride, or if someone in your party cannot or does not want to go on the ride at any point – even if you've already made it all the way to the front of the queue!
When Should I Ride Space Mountain?
To avoid a long queue time, we recommend that you either ride Space Mountain early in the morning (first thing when the park opens!) or in the late afternoon when the crowds have died down.
The Bottom Line On Space Mountain
Space Mountain is the perfect thrill ride that will get your adrenaline pumping, whether you're a beginner with roller coasters or a seasoned adrenaline junkie!
This dark ride has remained a crowd favorite for a reason and remains an exciting, hair-raising experience every time you embark.
We hope you enjoy your trip through the cosmos at Space Mountain, and that you have a blast!
More about our TFVG Author