When it comes to seeking out the best family resorts for your vacation, we're pretty sure you'll be considering Florida. And we don't blame you!
After all, the Sunshine State is known for being the perfect spot for tourists of all ages; whether you're looking to enjoy a family beach vacation, hit the theme parks or just relax.
You've probably heard all about Florida's water parks, but did you know that you can stay on-site at many of these for your whole (or part of) vacation?
You'll find a whole host of amazing hotels with fun-filled waterparks on offer; the perfect destination to cool off and relax. So skip the crowds, parking headaches, and admission costs in theme parks and instead, splash into the exciting waters of the best waterpark resorts in Florida.
A waterpark resort is a bit of paradise for the whole family. Whether you are looking to chill out on lazy rivers, spend the day going down action-packed waterslides or a calming massage at a spa, Florida's waterparks can accommodate your every want and the great news is that you can stay onsite at many of these.
Read on to see our picks for the best waterpark resorts in Florida, and create unforgettable experiences with your family. Be sure to also check our our guide on the best things to do whilst on a vacation with kids for ideas and inspiration.
Gaylord Palms Resort & Convention Center
The Gaylord Palms Resort & Convention Center is a stunning vacation destination entirely on its own.
It's perfect for leisure and business travelers alike and is so diverting that you may never want to leave. This beautiful resort has something for everyone thanks to its onsite leisure facilities that include the FlowRider, huge zero-entry pool, multi-level treehouse water playground, racing waterslides, a drop slide, and the adults-only South Beach Pool.
Besides the waterpark, there is much to love about the hotel itself: Wreckers Sports Bar, which features a two-story sports screen, the four-star Relâche Spa & Salon, and a 24-hour fitness gym. As well, Gaylord Palms boasts eight on site restaurants and lounges that range from the casual poolside at the SandBar to fine dining at the Old Hickory Steakhouse.
This resort offers live entertainment every night, which is a great way to unwind after a long day of active fun. Due to its convenient location in Kissimmee, Gaylord Palms Resort also gives easy access to other top sites, which makes it one of the best waterpark resorts in Florida.
Find the resort at:
6000 West Osceola Parkway, Kissimmee, FL 34746-4414, United States
---
The Grove Resort Orlando
The Grove Resort Orlando is one of the best hotels in Orlando with an on-site waterpark and the ideal destination for your next getaway.
At Surfari Water Park at the Grove Resort Orlando, you'll have the chance to discover twisting waterslides, a zero-entry pool, the lazy river, dual waterslides, and a kids' activities pool.
You can improve your surfing skills with the FlowRider Double surf simulator. Likewise, their lazy river has boundless energy you're sure to love, with overhead bridges you can cruise under and cascading waterfalls and water cannons.
If you want to stay in a secluded place to cool off, Grove Resort Orlando conveniently offers private cabana rentals at their Surfari Water Park and The Springs Pools.
This resort has much more to offer the whole family besides its waterpark, such as fishing and a fantastic indoor miniature golf course.
Find the resort at:
14501 Grove Resort Avenue, Orlando, FL 34787, United States
---
​​Disney's Vero Beach Resort
Enjoy the sparkling blue waters of Disney's Vero Beach Resort, situated just a two-hour drive from Walt Disney World Resort. Its main attraction, which the kids are sure to delight in, is the pirate-themed waterpark that has a 163-foot-long spiraling waterslide, the Pirate's Plunge, at its plundering heart.
The resort is situated next to a private beach and a golf course, making it an ideal place for you and your family to escape from the daily grind. After you've had a long day of golfing, indulgent walks, and fishing at the beautiful beaches, you can sit back at one of the resort's many on site restaurants. These offer the freshest seafood in the area, but you keep it lively by taking advantage of one of its bars.
If you charter a boat, you can explore the Indian River Lagoon, where the city sits upon. When you get back to Vero Beach's marina, there's plenty of quality eateries that reflect the area's coastal lifestyle.
Vero Beach Resort benefits from being close to Walt Disney World Resort while allowing your family to spend some quality time in a beautiful local community.
Find the resort at:
9250 Island Grove Terrace, Wabasso Beach, 32963, FL, United States
---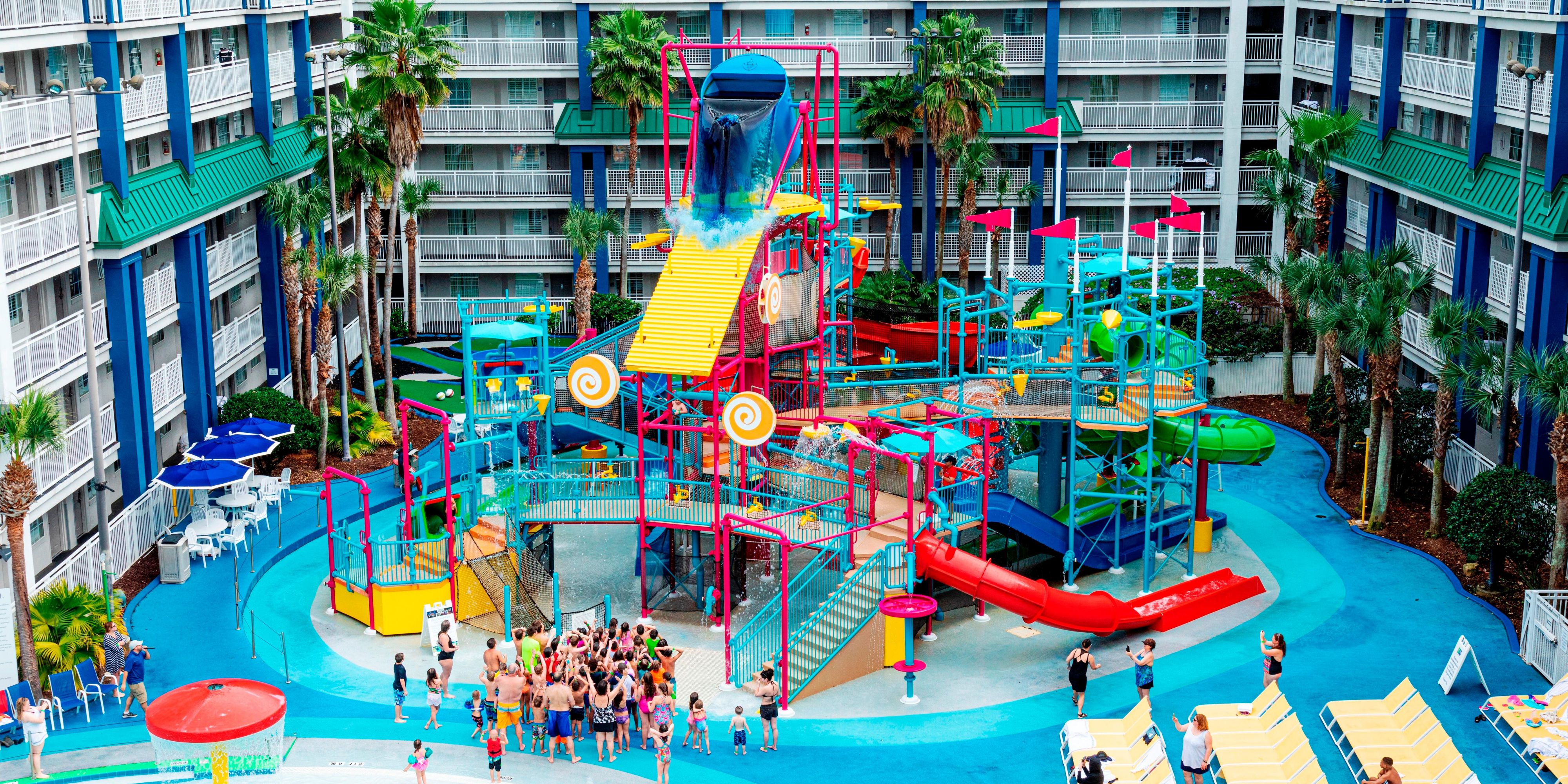 Holiday Inn Resort Orlando Suites – Waterpark
The Holiday Inn Resort Orlando Suites is one of the best waterpark resorts in Florida and is located very close to Walt Disney World.
What's more, this not-so-busy resort provides free transportation to the Disney parks each day. There's spacious accommodation for the whole family, and if you bring kids aged 12 and below, they'll get to have free breakfast and dinner.
The waterpark offers a huge lagoon pool with poolside cabanas and water features that mean you'll get to relax even as your kids let loose. Speaking of letting loose, the Holiday Inn Resort Orlando Suites features a multi-level waterpark with twisting slides that are bound to thrill all ages.
Find the resort at:
13351 State Road 535, Lake Buena Vista, Orlando, FL 32821, United States
---
CoCo Key Hotel and Water Resort
Great for younger kids and those young at heart, the CoCo Key Hotel and Water Resort is a family-friendly hotel that features a one-of-a-kind 1.2-acre canopy-covered waterpark. It has over 400 spacious rooms, with some that overlook the Caribbean-themed waterpark. Naturally, CoCo is full of exciting waterslides, including the Cyclone Slide and the Boomerango that will keep the whole family entertained all day long.
CoCo Key Hotel and Water Resort is a proud Universal Partner Hotel. Given that, they offer scheduled shuttle services to both Universal Orlando Resort and Seaworld Orlando, as well as shops at the International Drive corridor.
Find the resort at:
7400 International Drive, Orlando, FL 32819, United States
---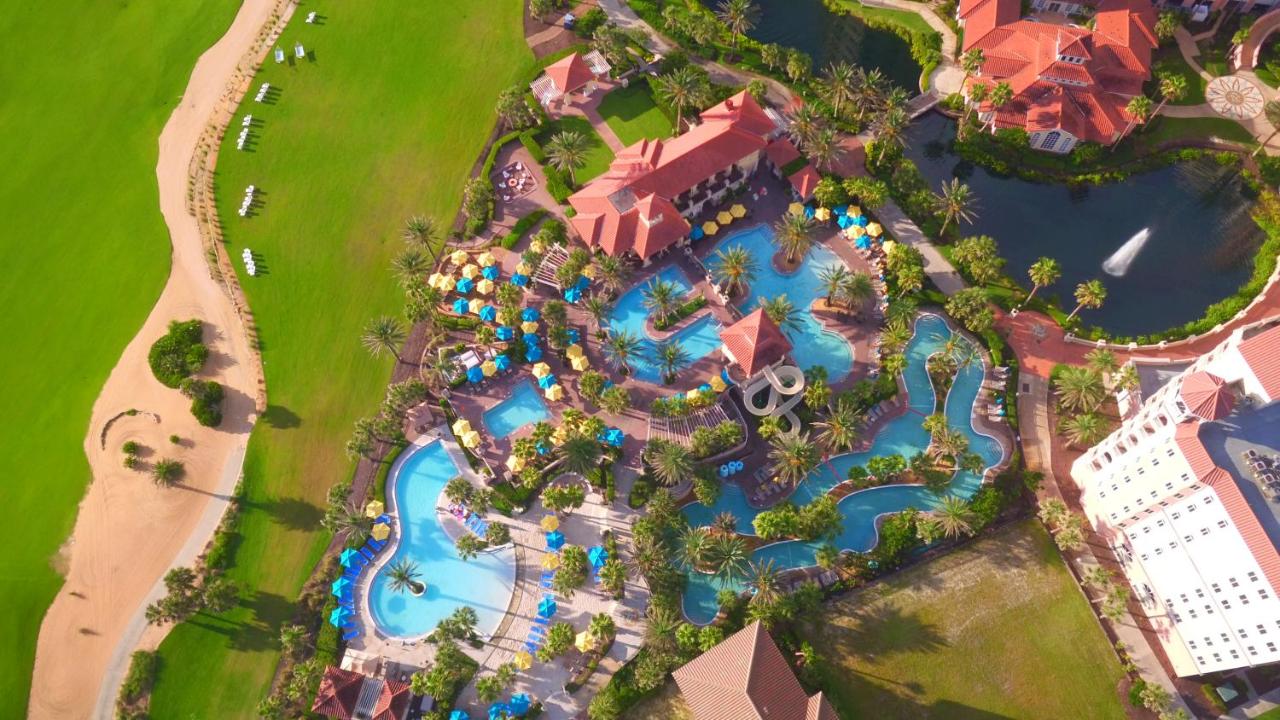 Hammock Beach Golf Resort & Spa
The Hammock Beach Golf Resort & Spa is close to historical St. Augustine, which gives it a big plus when it comes to being one of the best waterpark resorts in Florida. This luxury resort is situated along a gorgeous stretch of untouched, pristine beaches. Within the resort's confines, there are 36 holes of Signature Golf, a full-service spa, marine activities, tennis, and a six-acre waterpark.
The resort's Water Pavilion has multi-level pools, twisting waterslides, zero-entry pools, a lazy river, and a bar. Guests can chill on the private beach, enjoy the Florida sunshine, relax with an afternoon spa, or work out in the gym. In fact, you may find that there are so many activities that there just aren't enough hours in the day to enjoy them all.
One thing that makes the Hammock Beach Resort one of the best waterpark resorts in Florida is the premium accommodations. These range from rooms with an ocean view to sprawling multi-room condominiums overlooking the Atlantic Ocean.
They are known for the five-ocean view event lawns, giving guests some of the most spectacular views of the coast. Guests can dine at any of their onsite restaurants and trek along the area's many scenic paths. Plus, there are numerous onsite children's activities to keep the little ones occupied.
Find the resort at:
200 Ocean Crest Drive, Palm Coast, FL 32137, United States
---
Four Seasons Resort Orlando at Walt Disney World® Resort
If you want an unforgettable Disney offering for your family, then you can never go wrong with the Four Seasons Resort Orlando. This lakeside haven is located at Walt Disney World Resort and features a five-acre Explorer Island waterpark, adults-only swimming pool, and Tranquilo golf course. Or, you can simply unwind and have a good massage at the appropriately-named The Spa. To add to the relaxation, there are magnificent views of the lakeside scenery from Capa.
Besides its waterpark features, The resort has a fitness gym with digital classes, tennis with an onsite pro, championship golf courses, Disney Planning Center, and other onsite kids' amenities. This includes the Disney Character Breakfast, available on Saturdays, that gives the kids an opportunity to meet some of their favorites.
Find the resort at:
10100 Dream Tree Boulevard, Lake Buena Vista, Orlando, FL 32836, United States
---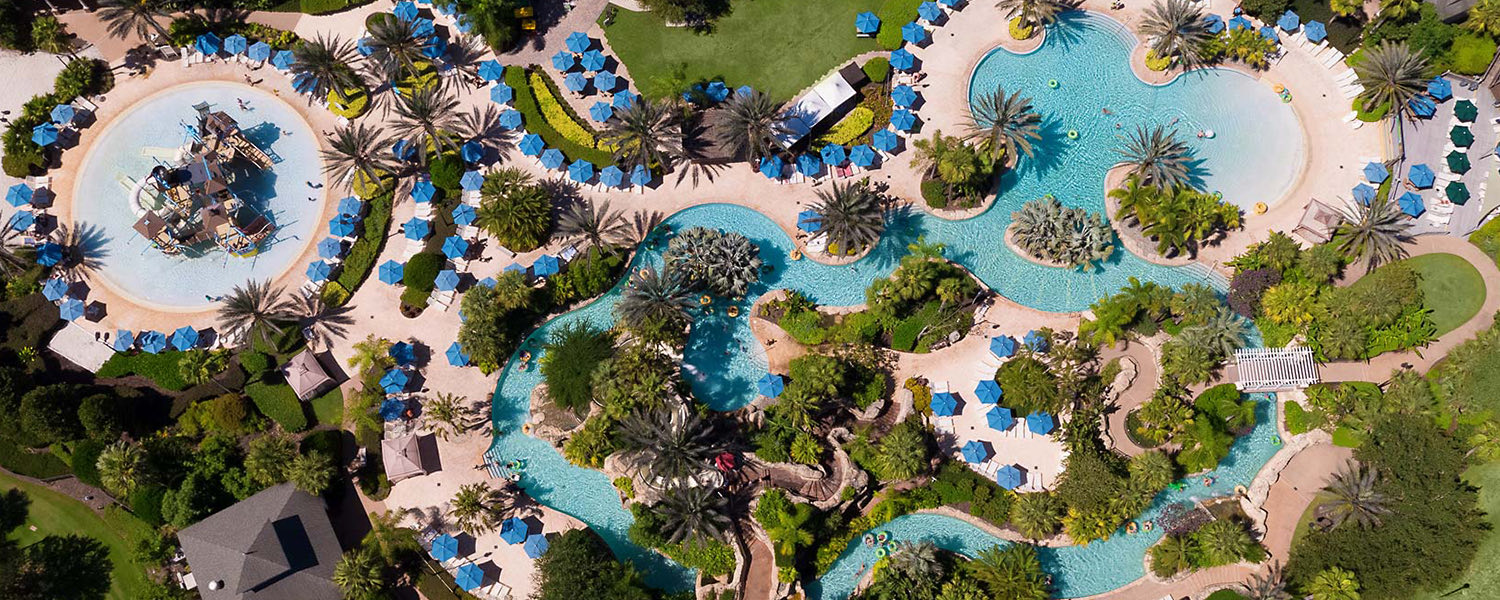 Reunion Resort & Golf Club
Just a few miles away from Walt Disney World Resort is the Reunion Resort & Golf Club, which offers 11 outdoor swimming pools and a children's waterpark that features a lazy river and spiraling water slides. Away from the water, there are large villas with separate living and dining areas, seating areas, and a full kitchen. Guests who love golf can sharpen their skills at their onsite golf courses, designed by the legendary Arnold Palmer.
The resort has seven onsite restaurants, including the Sushi Bar, Traditions at the Nicklaus Clubhouse, and the Eleven steakhouse. After a good meal, guests can treat themselves to a comprehensive spa experience.
Find the resort at:
7593 Gathering Drive, Kissimmee, FL 34747, United States
---
Westgate Cocoa Beach Resort
The Westgate Cocoa Beach Resort in Cocoa Beach provides direct access to the beach, a beach volleyball court, and a heated outdoor swimming pool. At the Wakulla Falls Water Park, there's much to sample, including the charming Aloha Tiki Bar and Cafe. Here, you'll get to have a light lunch or simply sip on some bright and cheery tropical cocktails.
Westgate has impressively sized accommodation, with separate living and sleeping areas, a full kitchen, and balconies. You will also have access to the free use of bodyboards, beach toys, volleyballs, footballs, and flying discs.
You can also take advantage of their outdoor barbeque facilities and game rooms. Their luxury spacious family suites have king-sized beds, flat-screen TVs, and a cozy breakfast. What else could you possibly need?
Find the resort at:
3550 North Atlantic Avenue, Cocoa Beach, FL 32931, United States
---
Signia by Hilton Orlando Bonnet Creek
If you stay at the Signia by Hilton Orlando Bonnet Creek, you'll only be a few minutes' ride to the famous theme parks in Orlando. With just a short drive, you'll not only get to visit Walt Disney World and Disney Springs, but experience world-class shopping, the best of Orlando's attractions, and a selection of memorable entertainment venues.
The Signia by Hilton Orlando Bonnet Creek features outdoor pools for starters, but it also has a three-acre lazy river for a swirling tube ride which kids surely love. The zero-entry pool flowing into the lazy river is a great spot for parents to watch over their younger kids taking a turn on the waterpark's winding tubes.
Guests at the resort have access to an outstanding Par 72 championship golf course, which benefits from being set in the splendor of Bonnet Creek nature preserve.
Find the resort at:
14100 Bonnet Creek Resort Lane, Orlando, FL 32821-4023, United States
---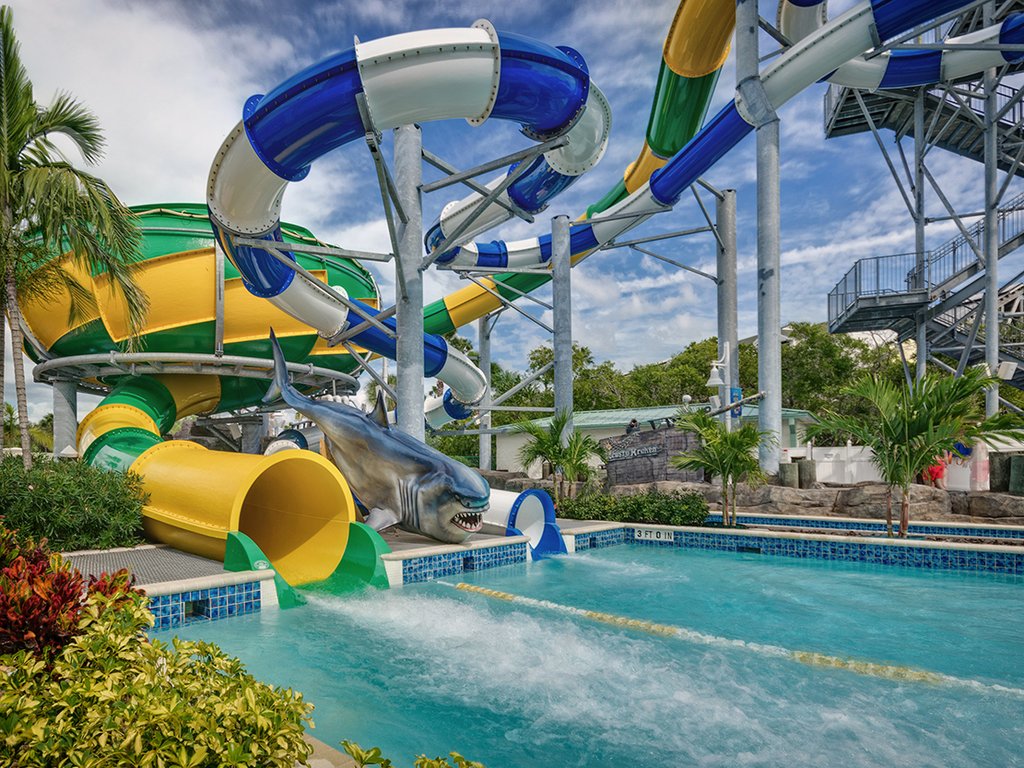 Splash Harbour Water Park Hotel
Soak up the Florida sun at Splash Harbour Water Park, one of the best waterpark resorts in Florida. The hotel is located next to the waterpark and offers exclusive waterpark packages and discounts on tickets to the guests. That's great since kids will likely fall in love with Splash Harbour's slides and cascading waterfalls.
If you have younger children that want to sample some fun water slides, we're pretty sure they'll love the splash zones!
Teens and adults have a lot to explore at this waterpark. In particular, there's Pirates Plunge, the heart-stopping drop of Smugglers Run, and the tube and body slides that are over 400-ft long and 42-ft high. You can also enjoy the fantastic experience of the 600-ft spiraling turns on the lazy river, the zero-entry big pool, and the Iguana Falls rock waterfall.
If you want some refreshing drinks, there are several restaurant options at Splash Harbour Water Park. Indeed, you could hop into Cruzan Rum Shack at the big pool to get some refreshing beverages and then top it off with a meal at the Jimmy Guana and Snack Shack.
Find the resort at:
399 2nd St, Indian Rocks Beach, FL 33785-2974, United States
---
JW Marriott Miami Turnberry Resort & Spa
Situated in Aventura, JW Marriott Miami Turnberry Resort & Spa has set a new standard for luxury for resorts with an onsite waterpark near theme parks. It features two golf courses, a fitness center, free bikes, bars, and a business center. The resort is only a few minutes away from the Tidal Cove Waterpark, and if you want to go shopping, the Aventura Mall is less than a mile away.
Tidal Cove waterpark features an enormous 60-foot tower that boasts several slides, and, for younger children, there's a 4,000 square foot pool. Kids of all ages will get to splash into the lazy river, dive in for a fun float, and dip under beautiful waterfalls. For the adults, there are 25 private cabanas.
In addition, the resort houses lagoon pools and a zero-entry pool, which has quickly established itself as a firm favorite with families who have young kids.
Find the resort at:
19999 West Country Club Drive, Aventura, FL 33180, United States
---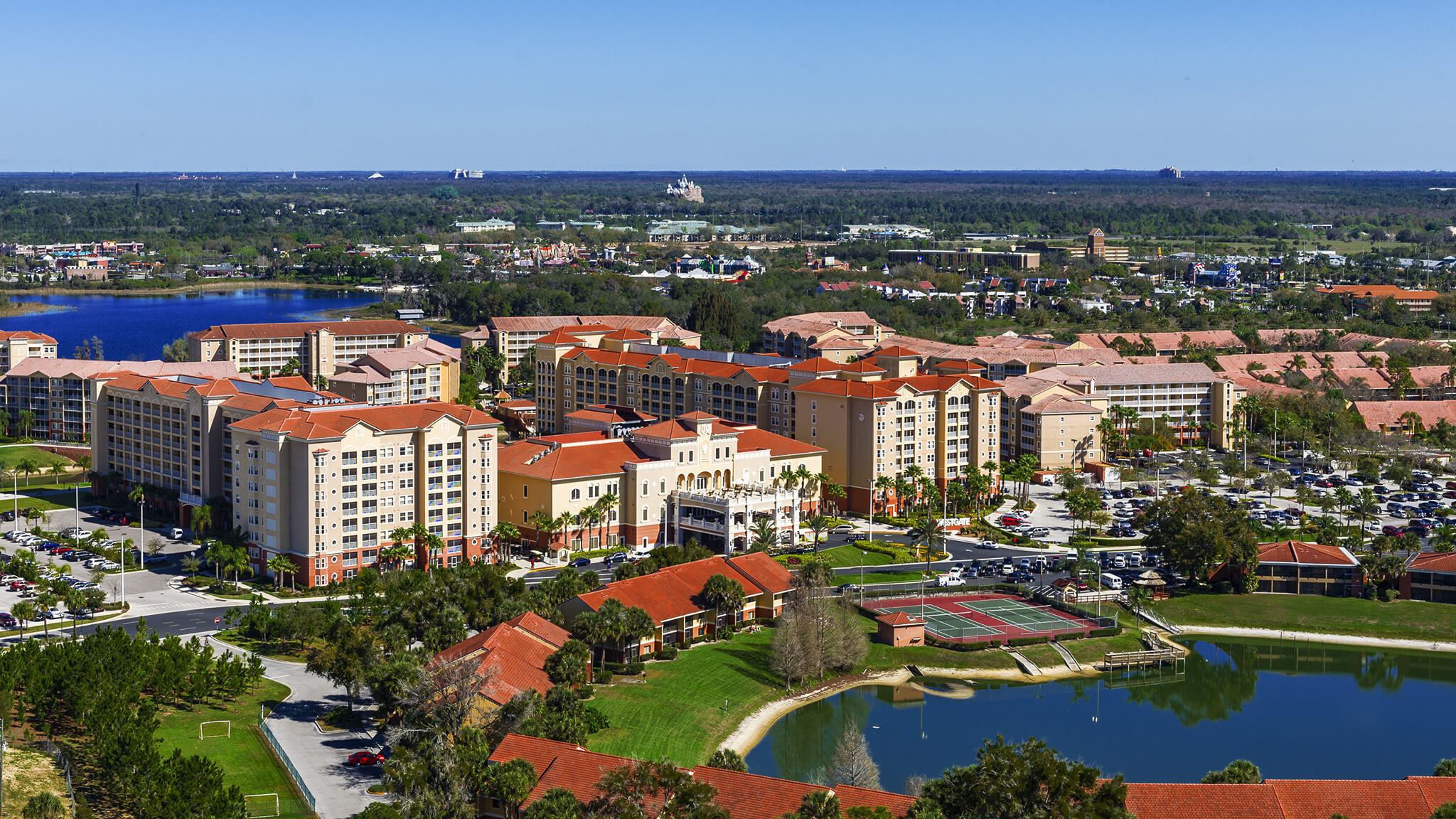 Westgate Town Center Resort
If you want to be close to Disney World's main gate, the Westgate Town Center Resort is for you. With luxuriously sized accommodations designed for the whole family, Westgate is both a perfect stepping stone to explore nearby attractions and to have fun at the same time.
Westgate houses the evocatively named Shipwreck Island Water Park, which, as the name suggests, has a pirate theme. Of course, with that in mind, there's Black Beard's Pirate Ship, which is the focal point of the entire waterpark. Here, you'll get to scramble through the infamous pirate's vessel, dodging water cannons or diving through water slides.
Elsewhere, there's a more relaxing lazy river, as well as nautically-themed refuges away from the hectic fun at Jolly Roger's Gallery, Paradise Cove, and the Sea Dog's Bar.
Find the resort at:
7700 Westgate Blvd, Kissimmee, FL 3474, United States
---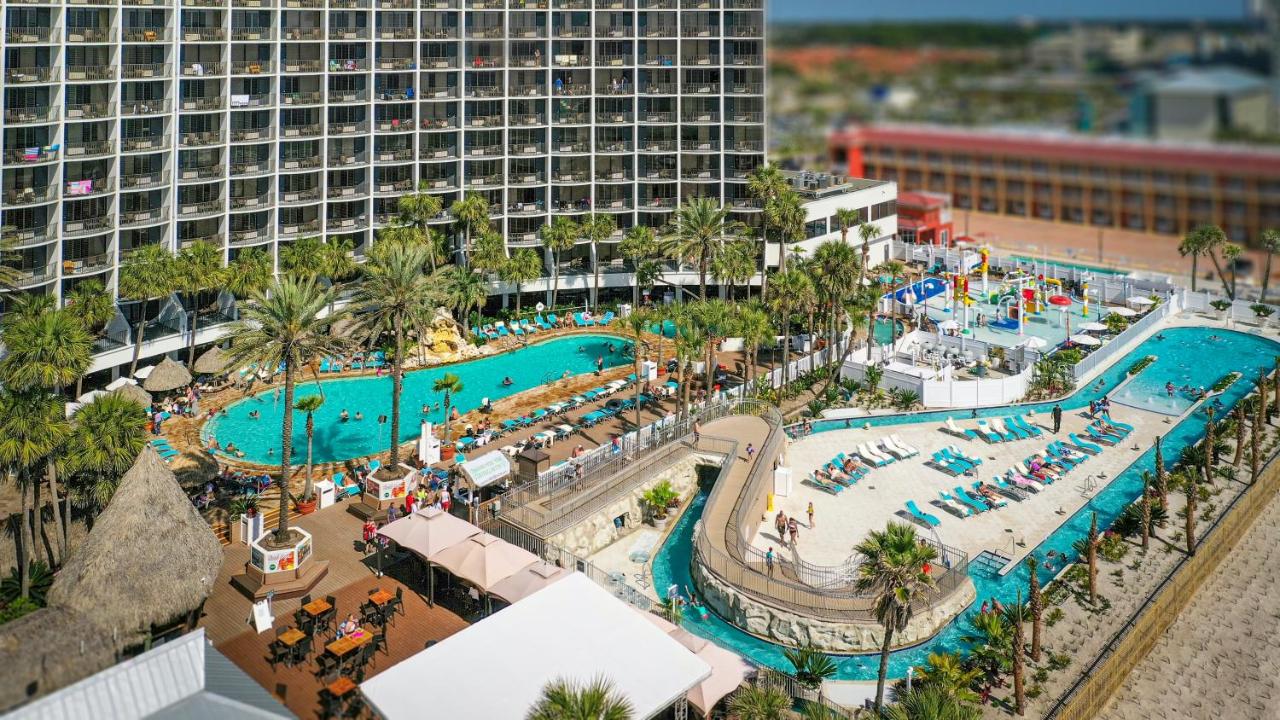 Holiday Inn Resort Panama City Beach
The Holiday Inn Resort Panama City Beach is a strong candidate amongst the best water park hotels in Florida if you're looking for an option that has easy beach access. The resort offers outdoor pools, a poolside bar, a children's pool with a playground aptly called Aqualand, and a hot tub. Guests get to relax at the spa located in the Gulf-front or enjoy the daily live entertainment.
Each room has free WiFi, a full-sized refrigerator, and a private balcony boasting a majestic view of both the pool and the Gulf of Mexico. In terms of food, the View Restaurant serves made-to-order omelets at breakfasts and fresh seafood entrees at dinner. As well, there is Bamboo Grill, which offers American cuisine and kids options, and The Pizza Shack.
If you want to get active, several activities such as deep-sea fishing, golfing, and even shopping are available. Boutiques and other shops are just a short distance from the beach.
Find the resort at:
11127 Front Beach Road, Panama City Beach, FL 32407, United States
---
Orlando World Center Marriott
Last but not least on our list of the best waterpark resorts in Florida is the Orlando World Center Marriott, just 1.5 miles away from Walt Disney World and a short car ride from Orlando Premium Outlets, Universal Studios Orlando, and Seaworld.
While it features a championship golf course, a business center, and outdoor pools, the resort's main attraction is its waterpark. This features 200-ft water slides and an onsite Splash Zone children's pool. On top of that, there's a zero-entry pool and a 90-foot speed slide.
All rooms have cable TV, a mini-fridge, coffee machine, a sofa bed, and a pool view. You can experience world-class dining at Siro Italian Urban Kitchen and the Mikado Japanese Steakhouse. There is also a fast-food court, a poolside bar, and coffee shops.
Find the resort at:
8701 World Center Drive, Lake Buena Vista, Orlando, FL 32821, United States
More about our TFVG Author
A seasoned traveller, Dad, and avid sports tourist, James foundered The Family Vacation Guide to share his expert vacation experiences- especially when it comes to being a travelling family man.
Featured in Travel articles such as Travel + Leisure, TripSavvy and SFGate, you know you're reading some of the best vacation tips online.