Mary Poppins is the famous nanny who takes Jane and Michael Banks on a series of adventures. If you've seen the movie, Saving Mr. Banks, you know author P.L. Travers created Mary Poppins. But it was Walt Disney's film with the character's namesake that made her a household name.
So, naturally, visitors to Walt Disney World want to meet and greet Mary Poppins during their stay. While she regularly appears in several locations throughout the resort, most families don't want to miss her. Knowing where she'll be helping parents and children plan their activities and sightseeing during their vacations.
If you're wondering where you can meet Mary Poppins at Disney World, you're in the right place. We'll tell you which parks, hotels, and special events you can catch her at. Let's get started!
Meet Mary Poppins at Epcot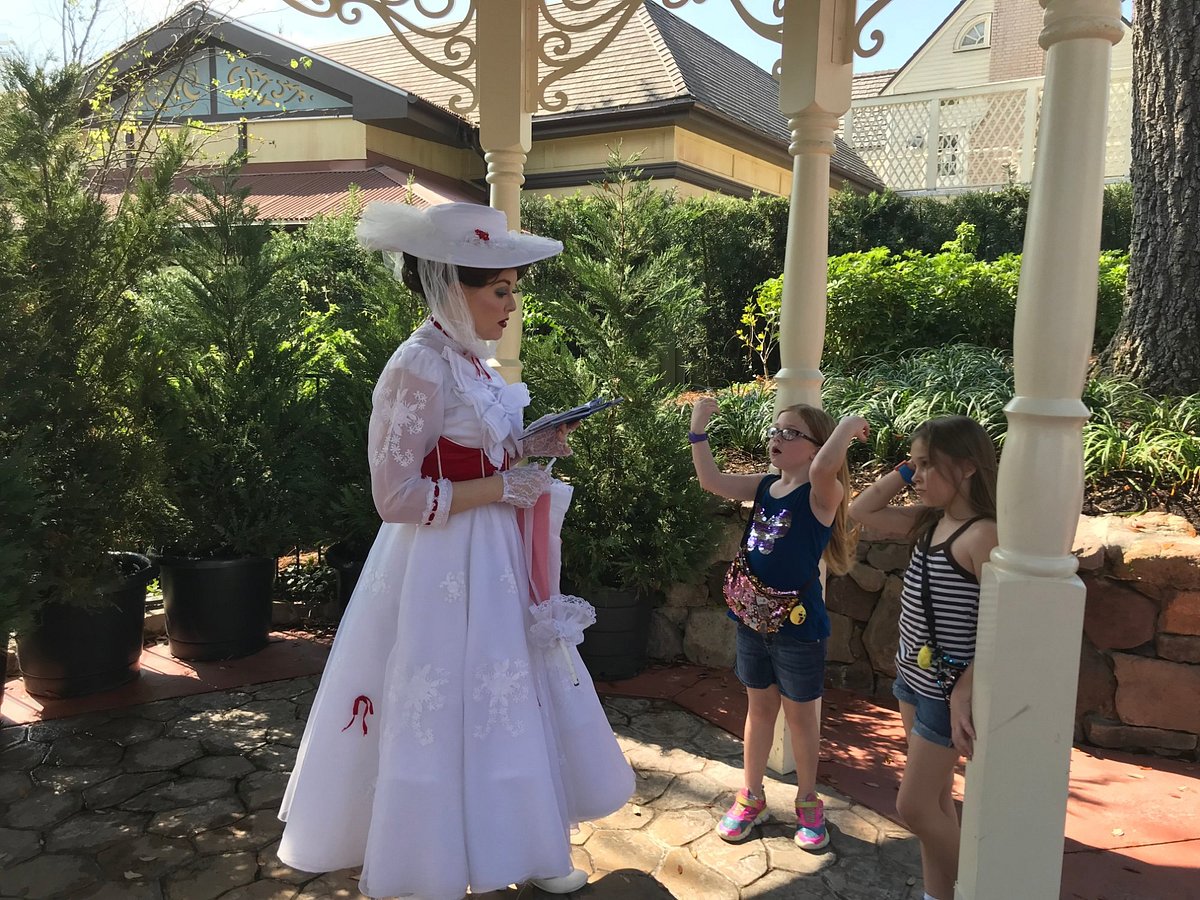 Epcot is one of the four theme parks at Walt Disney World. Its initials stand for Experimental Prototype Community of Tomorrow. While today's Epcot varies from Walt Disney's initial ideas for the park, it is more educational than the other three. You'll find attractions that give a nod to scientific discoveries and cultures around the world.
If you're looking for Mary Poppins, you can find her in the United Kingdom Pavilion at Epcot. She's usually out there in the mid-afternoon. But if you want to check the exact times for a specific week or day, you can look in the My Disney app. You can also check Epcot's tip board or ask one of the cast members.
The United Kingdom Pavilion is part of Epcot's World Showcase. Some of the other featured countries include Morocco, Germany, and Japan. Each pavilion gives visitors to experience what it's like to be in these countries.
You can see famous landmarks, eat authentic food, and meet characters. Mary Poppins and the Banks family, of course, are from the United Kingdom. This explains why you'll find her there.
Mickey's Very Merry Christmas Party
A Disney vacation during Christmas is truly magical. You can participate in and see events that don't happen during other times of the year. One of those events is Mickey's Very Merry Christmas Party, which happens in the Magic Kingdom.
The event takes place from early November to late December and includes a parade. Mary Poppins is one of the characters that appear at Mickey's Very Merry Christmas Party. This event does require the purchase of separate tickets and is not included in regular park admission.
While 2022's party is sold out, you may want to include the event in next year's Disney vacation plans. If you live in the Orlando area, you can also purchase tickets to the party's upcoming events. But if you can't make it to the party, Mary Poppins is known to be seen walking around Main Street and the train station in the Magic Kingdom.
The Grand Floridian
The Grand Floridian is one of many Walt Disney World resorts. Mary Poppins shows up here during the resort's Supercalifragilistic Breakfast featuring several Disney characters. The Grand Floridian holds the breakfast at its onsite 1900 Fare Park Restaurant.
Similar to the meet and greet opportunities at Epcot, your kids can get Mary Poppins' autograph during breakfast. She'll also sit and talk with your kids and your family for a bit. It's a more slow-paced and laid-back way to say hi and get to know Mary.
You also don't have to be a guest at the Grand Floridian to go to the character breakfast. Families can dine there if they're staying at a different resort or even a non-Disney hotel. You may have to make reservations or buy tickets to the breakfast if you want to attend. Character breakfasts are quite popular at Walt Disney World resort, and space can max out quickly.
Liberty Square in the Magic Kingdom
Planning a day or two at the Magic Kingdom? You might spot Mary Poppins in Liberty Square. Sometimes she's there for autographs, to chat about the Banks, or share a cup of tea. You might get lucky, whether you want to find out where Mary came up with supercalifragilistic or how her magic carpet bag works.
She's not always in Liberty Square, but she's by the Portrait Gallery when she's there. Check the My Disney app before you head to the Magic Kingdom. That way, you won't be disappointed if she's not there.
If she's scheduled during your visit, prepare for long lines like at Epcot's United Kindom Pavillion. Dress for the weather and have plenty of refreshing liquids to keep yourself hydrated. Once you meet Mary, there's usually just enough time to snap a photo and get a quick autograph.
Those who want more time with Mary should plan on a character breakfast instead. You won't be out in the heat or the Florida elements. Plus, you can relax and not feel as rushed.
Future Scheduled Appearances at Epcot
Epcot also features a Norway Pavilion. While Mary Poppins doesn't always make appearances there yet, she may in the future. Character meals featuring Disney princesses currently take place at Akershus Royal Banquet Hall.
Mary Poppins sometimes pops in during these character breakfasts, lunches, and dinners. However, she may become a regular due to her popularity. Until the park makes a final decision, count on visits to the United Kingdom Pavilion.
Where Can You Meet Mary Poppins at Disney World?
So, where can you meet Mary Poppins at Disney World? Your best bet is at Epcot's United Kingdom Pavilion or the Grand Floridian Resort. While you can't make reservations to meet Mary at Epcot, you can for the Grand Floridian's character breakfast. Plus, you won't have to stand in line or deal with Florida's intense heat.
We recommend the character breakfast because your kids will have more one-on-one time with Mary. They can chat with her, get her autograph, and take pictures for their memory books. So, what are you waiting for? Make those reservations and enjoy your holiday with Mary!
More about our TFVG Author