It's no secret that Massachusetts has some of the best beaches in the entire United States.
From the scenic sandy coastline of Cape Cod to the rocks and dunes of the North Shore, the Bay State boasts over 1,500 miles of gorgeous coastline.
But what you might not know is that even the state's city dwellers can enjoy a huge range of beaches without having to drive too far. There is an enormous variety of beaches near Boston that can provide anyone with a relaxing beach getaway full of unparalleled scenery, diverse natural landscapes, and exciting waterfront activities.
Whether you're looking for a popular beach town vacation or just a way to escape the city for a day, there's a beach near Boston for you. Keep reading to find the perfect place to book your next summer getaway.
14 of the Best Beaches Near Boston
Here is your guide to some of the best beaches that you can find in the Boston area and surrounding towns.
Crane Beach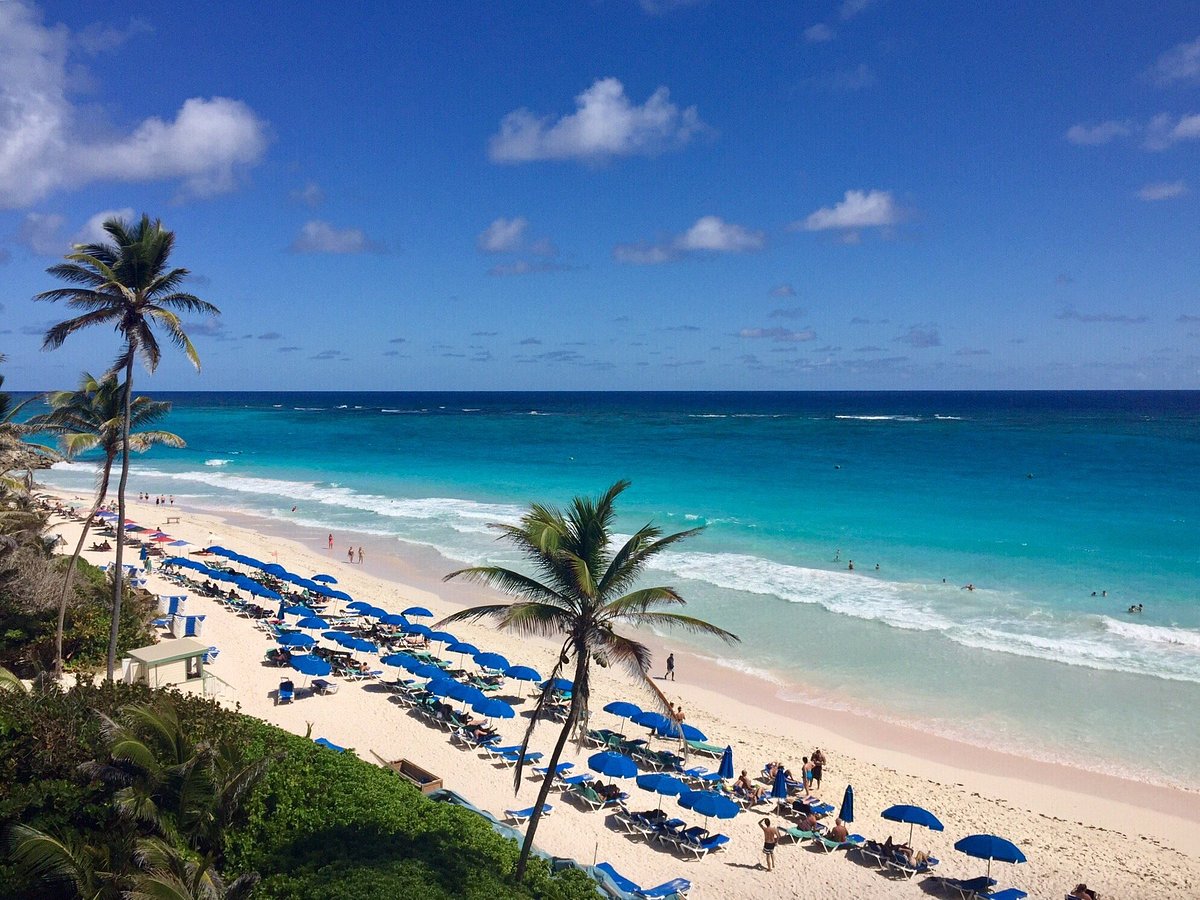 Located just under an hour away from Boston in Ipswich, Massachusetts, this stunning white sand beach offers beachgoers of every age the perfect coastal escape.
Crane Beach is situated on over 1,200 acres of expansive land that includes 5 miles of shorelines, a nature sanctuary with diverse ecosystems, and impressive coastal dunes with miles of walking trails. With countless trails and outdoor activities, Crane Beach is guaranteed to keep you busy with hiking, paddling, biking, and so much more.
The gentle waves and clean, shallow water make Crane Beach a top choice for swimming or cooling off in the water on a hot summer day. And with a vast spacious stretch of soft, white sand, there's plenty of space to relax and sunbathe along the shore.
This area also serves as a crucial nesting site for Piping Plovers, so be sure to keep an eye out for these birds and other wildlife while exploring the surrounding forests and dunes.
Visitors will also love all the convenient amenities and additional facilities located at this beach. These include:
A bathhouse with restrooms and a changing area
A concession stand with refreshments
A beach store
Lifeguards and rangers on duty during peak Summer months
While you will need to purchase a parking pass, there is a large designated parking lot with easy access to the beachfront. Crane Beach can also get quite busy during the warmer months, so be sure to arrive early to make sure you can secure a spot.
Constitution Beach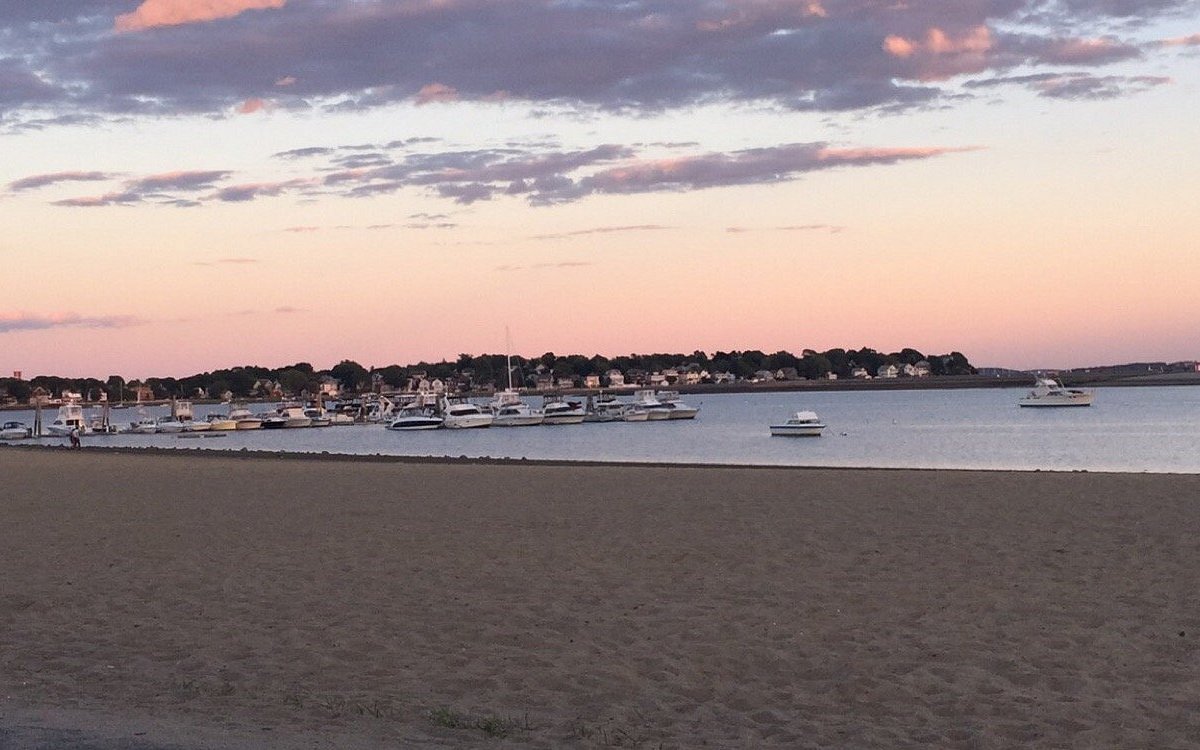 If you're looking for an option that's a little closer to the city, you can't go wrong with a beach day at Constitution Beach. Located in East Boston just across from Logan International Airport, this hidden city beach is the perfect place to relax on the sand, watch planes go by, and take in Massachusetts' iconic waterfront views.
Beachgoers can lounge or walk along the soft shoreline, watch boats sail by in Boston Harbor, or splash around in the water. This beach also offers shallow, gentle waves, a large playground, and lifeguards on duty, making it a perfect day trip for families with young kids.
After a long day of swimming, there are plenty of other outdoor activities to enjoy at Constitution Beach. You can go fishing, play tennis, basketball, or baseball at their athletic facilities, or enjoy a packed lunch at the shaded picnic area.
If you're looking for an escape from the city, Constitution Beach is easily accessible from Boston by train or bus, and it even offers free parking for extra convenience.
Good Harbor Beach
The North Shore of Massachusetts is home to some of the best beaches in the state, including the scenic Good Harbor Beach in Gloucester. This beach can be found just under an hour away from Boston and offers all the activities and amenities you might need for an exciting beach day.
If you visit during low tide, you can walk along the sand bar and explore the gorgeous Salt Island. If you're a water sports enthusiast, however, be sure to plan a visit during high tide. During high tide, visitors can take advantage of the Atlantic's choppy waves and enjoy body surfing, paddle boarding, boogie boarding, and more.
The soft white sand is perfect for walks along the shoreline or relaxing and taking in the beach's unbeatable sunset views. There are also restrooms, showers, and a concession stand on site.
While there's plenty to explore at Good Harbor Beach, there's more to discover in the surrounding beach town of Gloucester. The charming and vibrant downtown area is full of restaurants, museums, historic homes, shops, and some of the best seafood you can find in the state.
Front Beach
Just a few miles away from Good Harbor Beach, you can find the small, sandy Front Beach in Rockport, MA.
Front Beach is less spacious than some of the other popular beaches in the area. However, despite its size, there are endless activities to explore in Sandy Bay and the nearby downtown Rockport.
Popular activities include:
Swimming out to the floating docks during high tide
Exploring tide pools at low tide
Searching for sea glass, shells, and crabs along the shore
Biking along the nearby scenic paths
The beach also boasts clean and accessible bathrooms, attentive lifeguards on duty, and convenient metered parking.
With just a short walk from the beach to downtown Rockport, it's also easy to explore all this quintessential New England town has to offer. You can visit locally-owned shops, taste some delicious seafood, or stroll through art galleries and historical sites.
Long Beach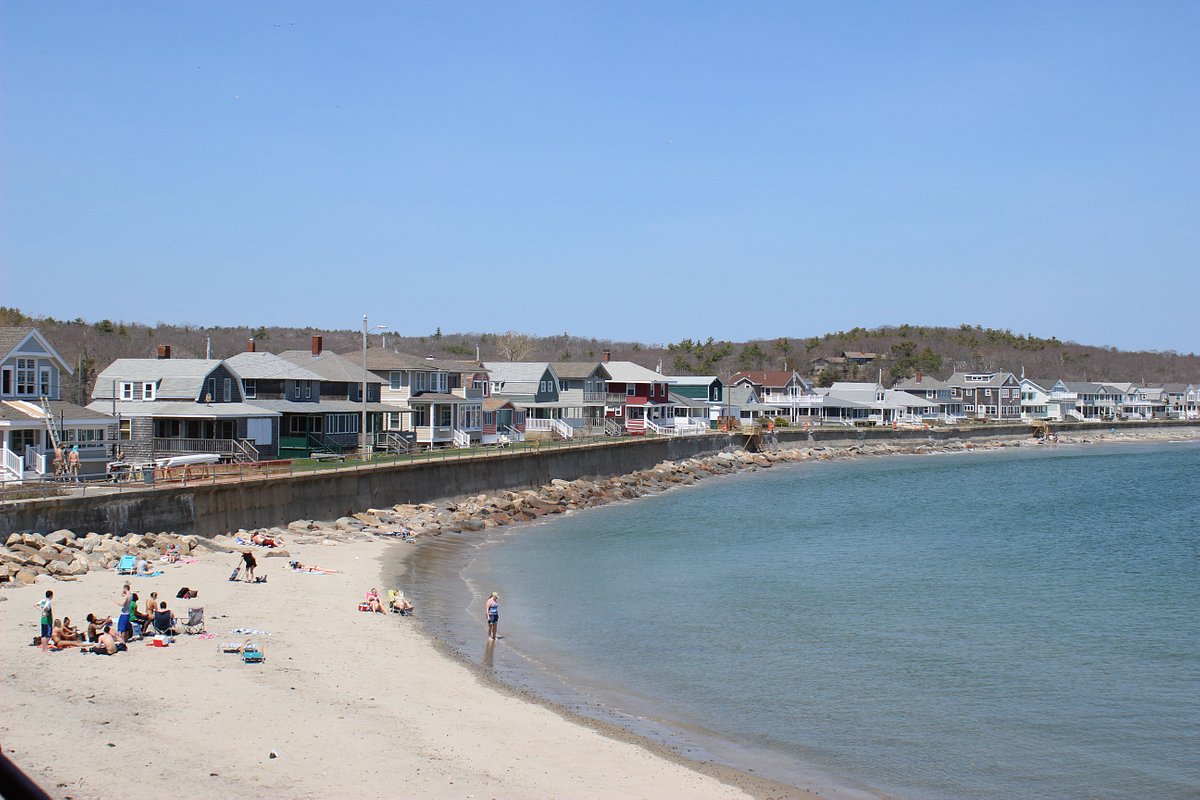 If you're already planning a beach vacation in Rockport, you should also consider a stop at Long Beach. This mile-and-a-half-long white sand shoreline stretches from Gloucester to Rockport and offers everything you need for a relaxing beach getaway.
Every summer, tourists flock to Long Beach to take in some of the most unforgettable sunrise views in the area. This beautiful beach boasts incredible views of the Twin Lighthouses on Thatcher Island, so be sure to get here early to see the sun rise over this historical Massachusetts landmark.
During the day, visitors can walk along the expansive shoreline lined with summer cottages and other charming accommodation options. The moderate waves also make this a perfect spot for surfing and boogie boarding.
The best part about this beach is all the nearby attractions to explore. Both Gloucester and Rockport are full of incredible dining and shopping options to enjoy after a long day of splashing around at Long Beach.
Horseneck Beach State Reservation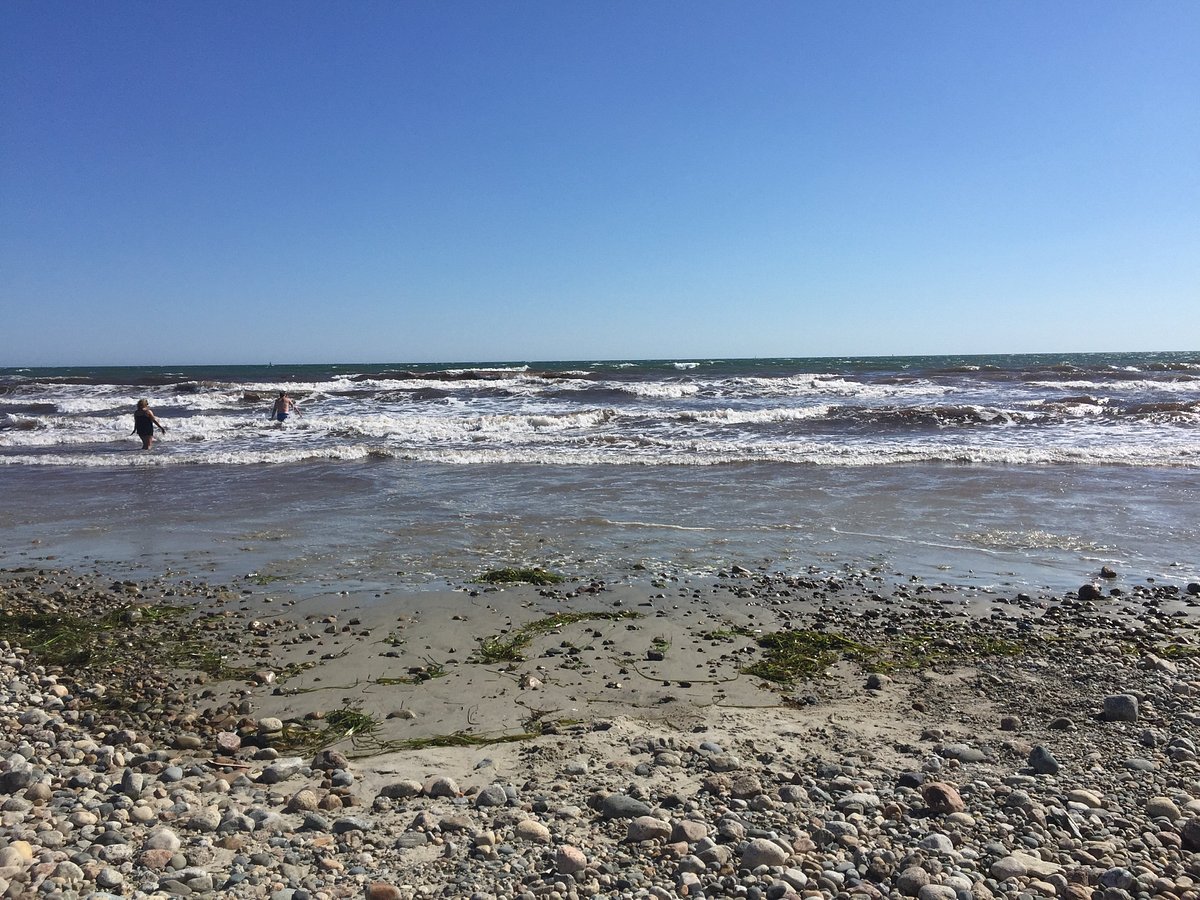 Horseneck State Beach is one of the most popular beaches in the state, and it's easy to see why. This stunning 2-mile-long barrier beach in Buzzards Bay offers endless exciting outdoor activities to explore on over 600 acres of stunning protected land.
Here, families can enjoy classic beachfront activities to cool off during the warm summer months. Whether you're swimming, fishing, kayaking, or beachcombing, this state reservation is the perfect backdrop to your beach vacation.
And there's more to explore in the areas surrounding the sandy shoreline. Beachgoers can:
Watch for birds and other wildlife along the sand marshes
Visit the nearby Gooseberry Island to hike nature trails and learn about the area's maritime history at the Horseneck Point Lifesaving Station
Bike along the paved biking path
The beach also offers lifeguard services, restrooms, showers, a playground, and a picnic area.
This state reservation offers an incredible opportunity to sleep under the stars at one of their 100 campsites. These comfortable sites provide easy access to the cobblestone beach, along with plenty of amenities for a convenient and relaxing overnight stay.
Revere Beach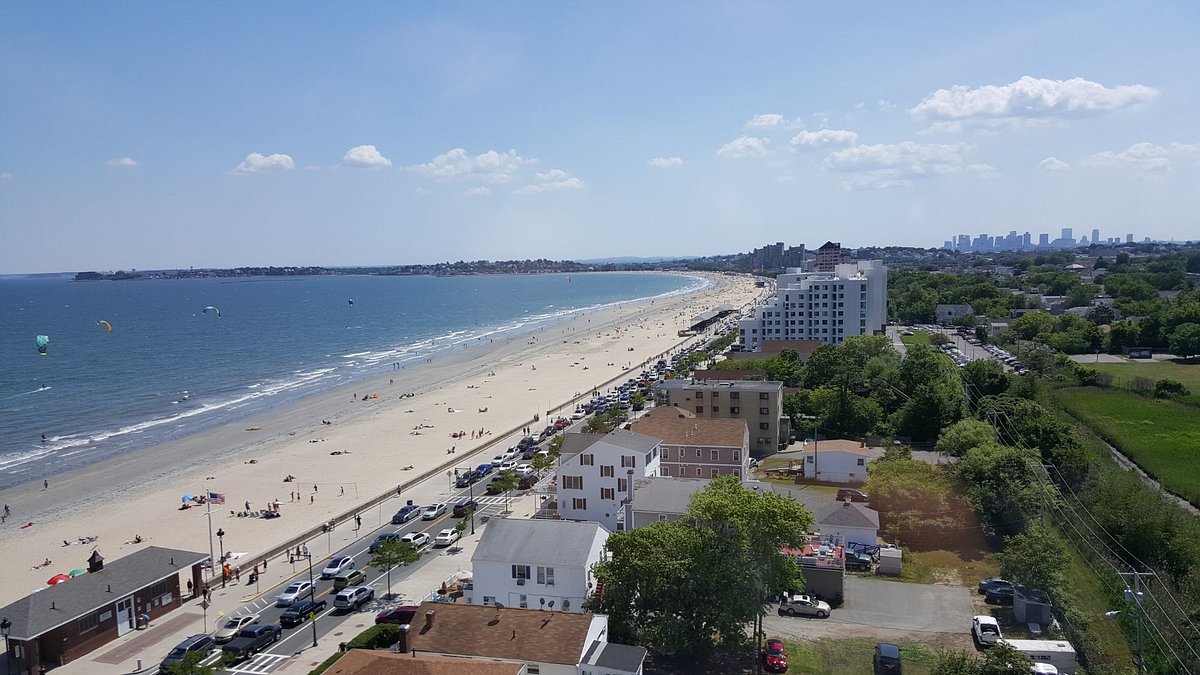 Located just a few miles north of Boston in Revere, MA, Revere Beach boasts a rich history and incredible ocean views, making it a perfect beach escape from the city. While the carousels, roller coasters, and ballrooms may not be present in the area anymore, the oldest public beach in America still has plenty of attractions for visitors to explore.
The spacious 3-mile coastline is ideal for relaxing, sunbathing, and enjoying the distant lighthouse views. There are also several designated fishing spots along the coast.
If you're planning a visit to the Boston area, be sure to keep an eye on the event schedule at Revere Beach. This beach is home to several unique festivals that draw hundreds of thousands of visitors every year, including the International Sand Sculpting Festival, the Kite Festival, and the Revere Beach Art Festival.
While there's metered parking along Revere Boulevard, this beach is also easily accessible by the Blue Line, making it an ideal day trip from Downtown Boston.
Marconi Beach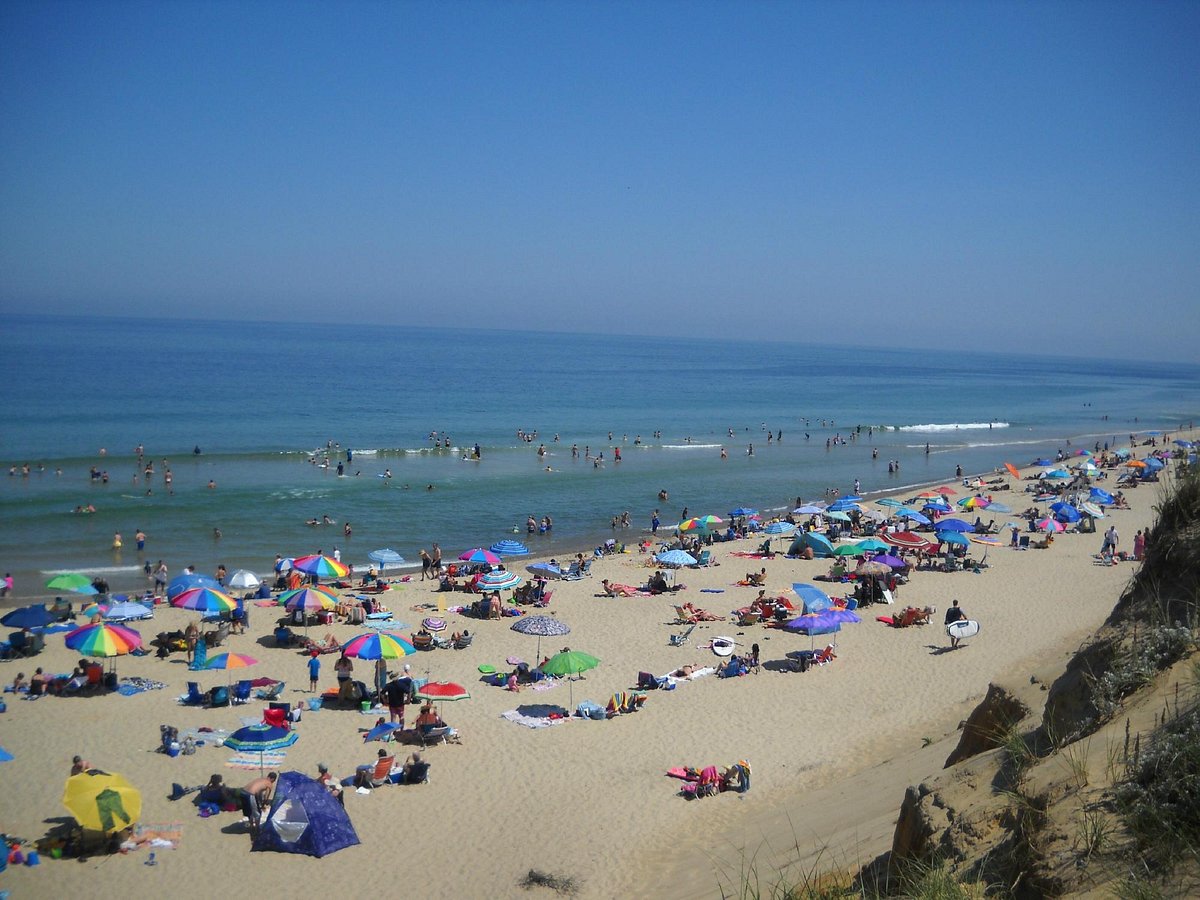 While you can't go wrong with any of the six beaches along the Cape Cod National Seashore, Marconi Beach in Wellfleet is one of the best options out there. With a vast pristine shoreline, dramatic sand cliffs, unforgettable natural scenery, and plenty of activities to enjoy, Marconi truly offers something for everyone.
The beach can get a bit crowded, but the expansive coast makes it easy to find a quiet, more peaceful space to relax on the sand, even during the busy beach days. The large, choppy waves are a favorite among surfers and boogie boarders, and during low tide, the shallow water is perfect for swimming and splashing around.
Seals are also known to frequent the beach, so be sure to keep an eye out for them while enjoying the ocean views.
At just under two hours from the city, Marconi Beach is one of the longer day trips from Boston. But with some of the best, most peaceful views, it's worth the drive if you're looking for a longer beach stay.
There is a large, accessible parking lot, but keep in mind that there is a bit of a walk and a steep staircase to get to the actual beachfront.
Salisbury Beach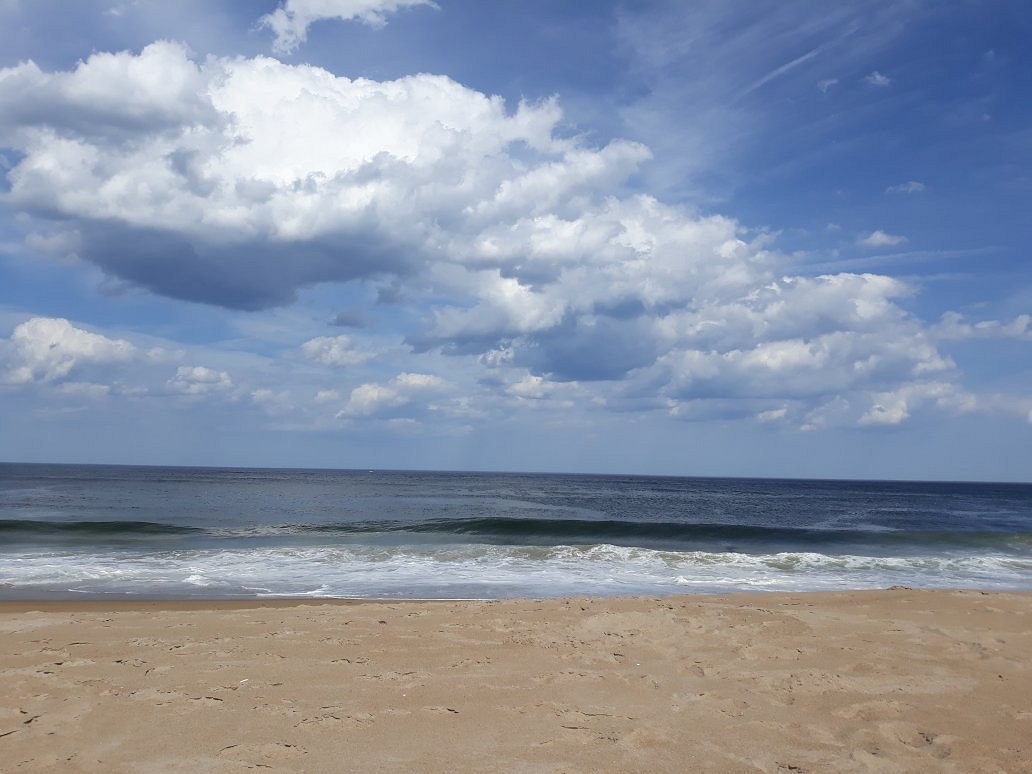 Outdoor enthusiasts will love the chance to explore all that Salisbury Beach has to offer. Situated in the 521-acre Salisbury State Beach Reservation, this expansive white sand beach is completely surrounded by thrilling outdoor adventures.
The beach boasts a nearly 4-mile coastline where visitors can sunbathe on the warm sand, kayak or canoe from two boat ramps, or cool off in the water with lifeguards on duty for additional safety.
Outside of the main beach area, there's even more for visitors to enjoy. Other popular attractions around Salisbury Beach include:
484 camping sites
A picnic and grilling area
A boardwalk with bird-watching, biking, and walking trails
Horseback riding
A playground
A variety of restaurants and shops
With all of these outdoor activities and features under an hour away from Boston by car, Salisbury State Beach Reservation makes it simple to escape city life and connect with the great outdoors during a relaxing beach getaway.
Wollaston Beach
Boston beaches can quickly become busy and crowded during the peak summer months. If you're searching for a way to avoid these crowds during a Boston beach day, consider a visit to Wollaston Beach in Quincy.
Situated in Quincy Bay, this two-mile coastline is fantastic for walking, sunbathing, or taking a dip in the ocean.
The beach has a continuous walkway along all two miles of the shoreline, allowing visitors to enjoy a walk, jog, or bike ride with a stunning waterfront view. There are also several concession stands along the walkway, as well as nearby seafood trucks, so you can grab a delicious bite to eat without having to leave the area.
Nantasket Beach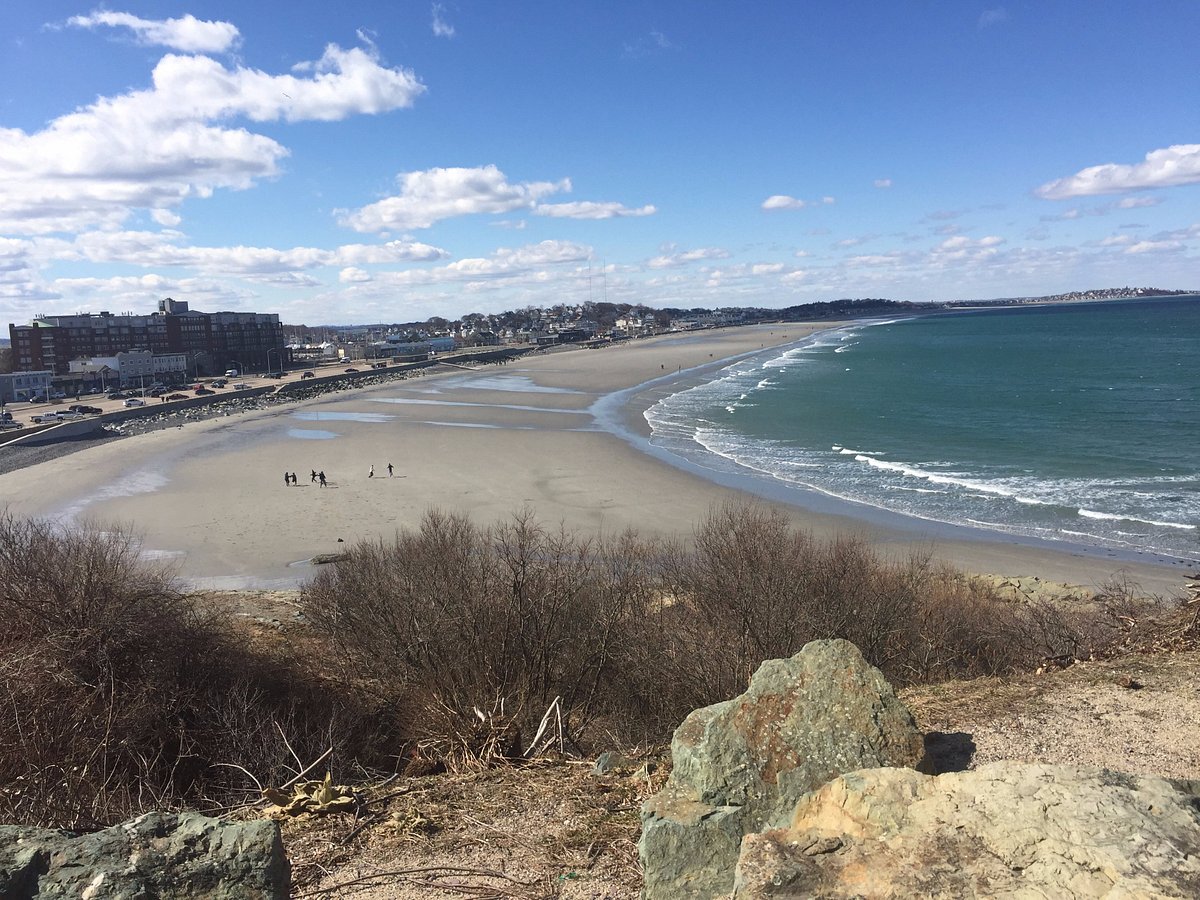 For families looking for a way to keep younger kids happy and entertained over the summer, Nantasket Beach is the place to go. Located on the South Shore of Hull, MA, this gray sandy beach is the perfect getaway for visitors of every age.
Low tide creates plenty of tide pools and shallow water, making it one of the most popular family-friendly coastlines near Boston. Along with exploring the water and sand, you can hike the nearby walking trails, visit the athletic fields, stop by the playground, or take a ride on the historic Paragon Carousel.
Exciting events such as live music and dance lessons are common at Nantasket Beach during the summer, so be sure to check the event schedule to enjoy a concert with a stunning ocean backdrop.
Castle Island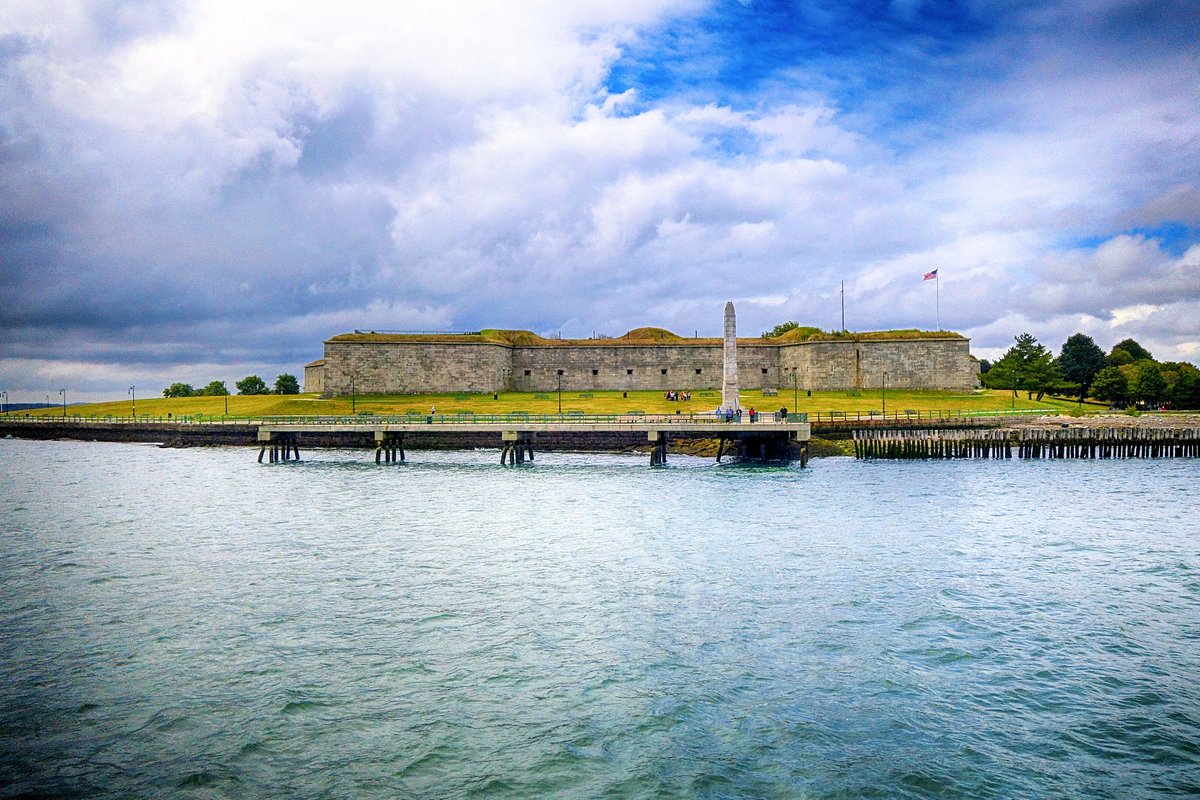 Any history lovers won't want to miss out on a trip to Castle Island, a scenic peninsula overlooking Boston Harbor.
The rich historical background of this island draws plenty of visitors looking for a unique and educational summer destination. You can take a tour of Fort Independence, stop by the World War II memorial, or take a stroll through Pleasure Bay.
Along with its historical significance, Castle Island has plenty of other recreational activities to enjoy. Visitors can:
Swim, sunbathe, or boat at Castle Island Beach
Go fishing
Enjoy a packed lunch at the picnic area
Stop by the playground
Grab seafood or ice cream at the historical Sullivan's shack
Visit a scenic overlook for stunning Boston Harbor views
If you're planning a visit in the summer, you can also enjoy features such as on-duty lifeguards, restrooms, showers, and a first-aid station.
Tenean Beach
You won't have to travel far from Boston to get to this next beach. Located just a few miles from Boston in Dorchester, MA, Tenean Beach is a great choice when you're looking for a quick break from crowded city life.
While the beach is small, it's not usually very crowded, making it easy to find a secluded and peaceful spot to sunbathe or relax on the sand before going for a swim.
When you arrive at Tenean Beach, you'll be met with some of the most incredible views of the Boston skyline. Be sure to take in the sunrise or sunset views over the city as you enjoy your peace and quiet along the coastline.
The beach is also known for its abundance of recreational activities. There's a basketball court, tennis court, volleyball nets, and bike path for visitors to use. The 2.4-mile-long Neponset Rail Trail is also nearby for hiking, jogging, or biking.
Carson Beach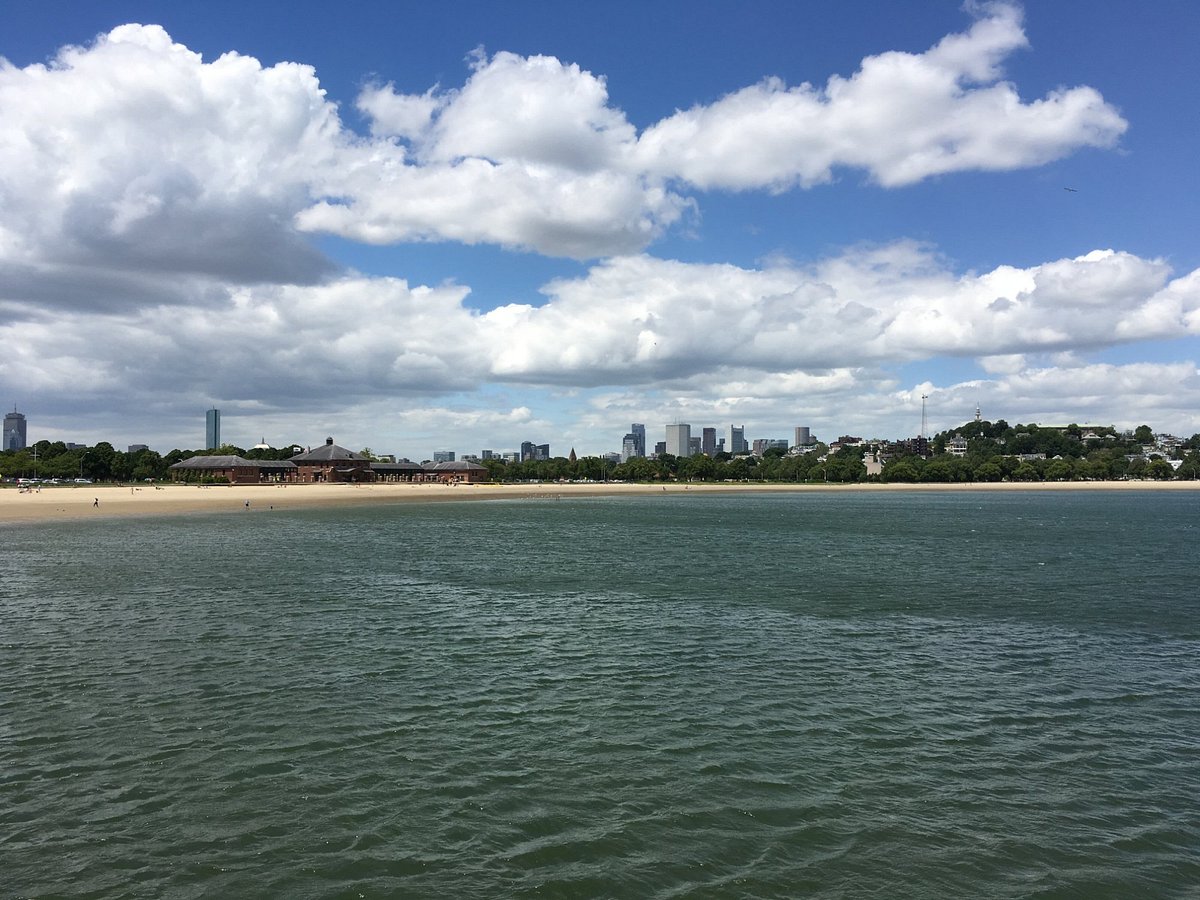 Carson Beach in South Boston is another exceptional option if you're looking for the best views of the city skyline. While swimming conditions depend on the day, there are plenty of other recreational activities that make this destination a fun beach getaway.
Along the 3-mile sandy coastline, visitors can enjoy classic beachfront activities, including:
Beach volleyball
Walking along the shore
Shelling
Sunbathing
Picnicking
Beachgoers can also take advantage of a recently renovated bathhouse, complete with restrooms, showers, and changing areas.
Finding the Best Beach Near Boston
Living in a busy city such as Boston can easily start to feel crowded and stressful.
Luckily, with a huge variety of beaches near Boston, it's simple to find a place to escape the noise and enjoy a peaceful summer getaway.
Whether you're looking for an expansive outdoor adventure or a quick beach day in the city, the beaches near Boston have something to offer everyone.
No matter where you choose to go, these beaches are guaranteed to offer some of the most breathtaking landscapes and unforgettable coastline views you can find.
More about our TFVG Author