Six Flags New England offers a theme park experience like no other.
With its spectacular assortment, from rollercoasters to water rides, there's so much to do in a single day!
As part of your Six Flags experience, you'll no doubt need a fantastic hotel so you can unwind after all of your adrenaline-packed adventures.
The following nine hotels, which reside near Six Flags and other exciting attractions, shall hopefully add to your vacation.
Read on to see our list of the best hotels in terms of value for money, comfort, location, and fun!
Every hotel offers free parking, excellent dining and grab-and-go meals, free Wi-Fi, workout rooms, laundry facilities, and a mixture of family and business-friendly options.
The rooms come in many different configurations, and all have cable TV so that you can unwind with a movie at the end of an exhausting day.
Here are 9 of the Best Hotels near Six Flags New England:
Fairfield Inn & Suites Springfield Enfield
Fairfield Inn and Suites Enfield is positioned between Massachusetts and Connecticut.
Its central location and park-like surroundings give you the best of both worlds. The hotel is close to Bradley International and Hartford Airports and the main highway, Interstate 91- not to mention the main attractions in Springfield and Enfield.
You'll be utterly spoiled for choice with easy access to MGM Springfield, The Big E, and The Basketball Hall of Fame!
The hotel also features exercise facilities, including an outdoor pool, gym, exercycle room, and shuffleboard court. You may also fancy spending some time at the neighbouring waterparks whilst in Massachusetts.
If you want to take a more leisurely pace, take in the beauty of this hotel and its views with both indoor restaurant dining and outdoor seating options.
Fairfield Inn and Suites offers an impressive, complimentary breakfast with continental and cooked options. The hotel shop has a range of readymade snacks and drinks for those in a hurry.
Business travellers will especially enjoy the computer and printing stations and fast-track check-in services.
The rooms all have refreshing blue and white décor. The discounted rates (for members) start at $153 per night for a 1-bedroom guest room, with both a king and sofa bed or two queen beds.
Larger rooms with views on the top floor are priced from around $170.
Families will enjoy the larger guest rooms on the top floor with two queen beds or the studio suite with its king bed and sofa bed. Priced from $180, these are all excellent options!
Hampton Inn Springfield Enfield
Hampton Inn Springfield Enfield is just a short drive away from Bradley International Airport, the Basketball Hall of Fame, and of course, Six Flags.
This hotel's proximity to restaurants and the casino makes it an excellent choice if you enjoy a vibrant nightlife. By daytime, there is a wealth of shopping options and local attractions nearby.
During your stay, you can go for a swim in the indoor pool or work out in the gym to round out your day.
Before or after your thrill-seeking adventures and sightseeing, you can tuck into a free, delicious hot breakfast or grab a snack from the hotel's shop on your way out!
If you feel guilty about missing work, you can head to the hotel's business center to catch up.
Prices start at around $182 for a room with two queen beds, or you can opt for a room with one king bed for $191.
Other room configurations include a king bed and a sofa bed at $190 and a large studio suite with a king bed for $250. The rooms with connecting doors will suit larger families or groups.
Most areas are accessible by wheelchair, and there are special rates for military personnel- both past and present.
Don't feel you have to leave your furry friends at home, either: You're welcome to bring your pets!
La Quinta by Wyndham Springfield
La Quinta is close to Six Flags, The Basketball Hall of Fame, and Interstate 91 which is just a short drive away from the airport!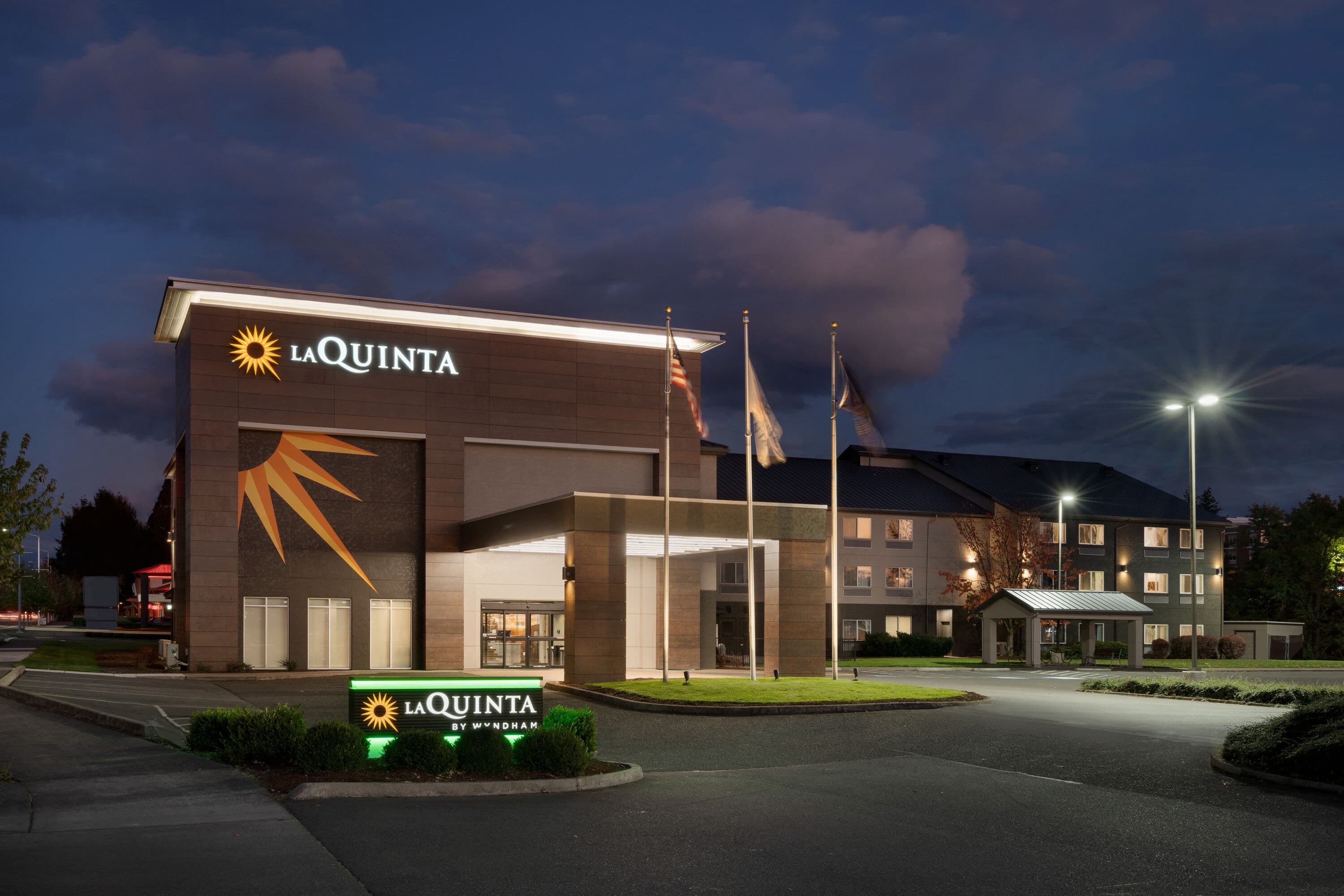 This hotel understands that you have much to do, and they have staff ready to help at the front desk 24/7.
The facilities include a games room, indoor pool, gym, and business center. An ATM and a little shop with drinks and food are available for people in a hurry to explore the area.
There are various room configurations, including some with disabled access.
The smaller rooms – which are priced from $169 – have either a king or queen bed or two queen beds. Larger rooms with a king and sofa bed or two queen beds start at $192.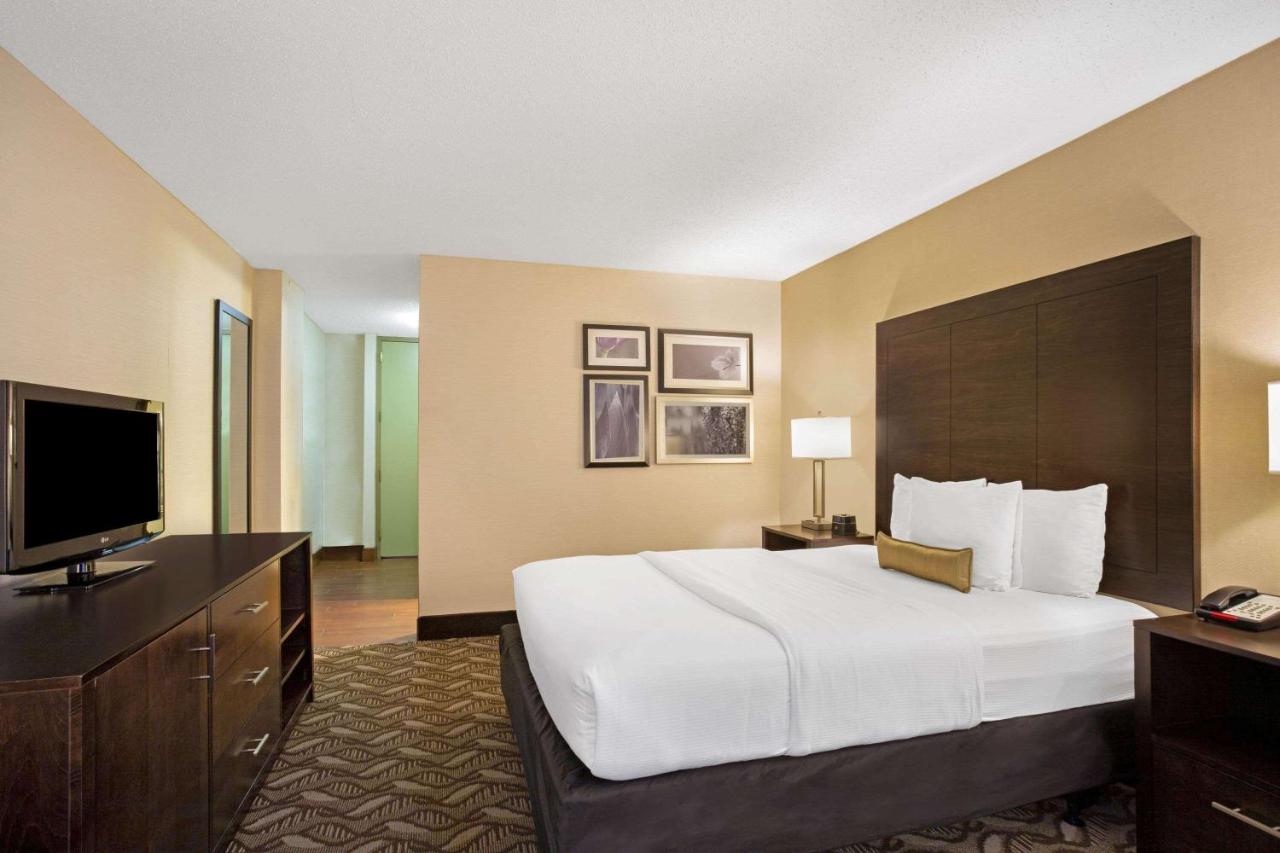 Each guest room has a desk where you can check your emails or sit back and relax with a newspaper or drink.
And if you come back late from your adventures, it's possible to heat a meal in the microwave in your room – but we strongly recommend you check out this hotel's excellent restaurant!
Hilton Garden Inn Springfield
Located just off Interstate 91, the Hilton Garden Inn is on the Basketball Hall of Fame site – so you don't even have to walk far to get there!
Likewise, if you want a cultural buzz, MGM Springfield and great shopping are also within strolling distance.
Once you see the amenities and guest rooms, you may want to just chill out in the hotel – and that's understandable.
Relax in the jacuzzi or indoor pool, or get your heart pounding in the fitness center. After that, you surely deserve a long, cold drink and something delicious to eat in the outdoor picnic and BBQ areas!
The front desk operates 24 hours a day to make life easier, and the guest rooms have refrigerators and microwaves to heat up the light meals available from the hotel's 24-hour shop.
There are several delicious and convenient dining options on-site.
You can head to the Garden Grille for a buffet breakfast or to the restaurant for pizza, burger, sandwich, seafood, or pasta-based meals for lunch and dinner.
As well as having classy conference facilities and a 24-hour business center, it'd be a pleasure to work in your room!
The lodgings are luxurious, with beautiful wooden furniture that includes a writing desk and a comfortable armchair.
A room with two queen beds or a king bed is priced at around $226, or you can book a 1-bedroom with a king-sized bed and a sofa bed for a similar price. There are some connecting rooms available as well.
Certain rooms have disabled access and a mobility hearing-accessible tub, and there are discounts for military personnel and their families.
Finally, if you want to feel pampered, go with the King room: It has a whirlpool bathtub!
Hampton Inn and Suites Springfield Downtown
You certainly won't be bored if you stay at Hampton Inn and Suites Springfield Downtown, which is located within walking distance of the Titanic Museum, MGM Springfield, the Basketball Hall of Fame, and Springfield Armory.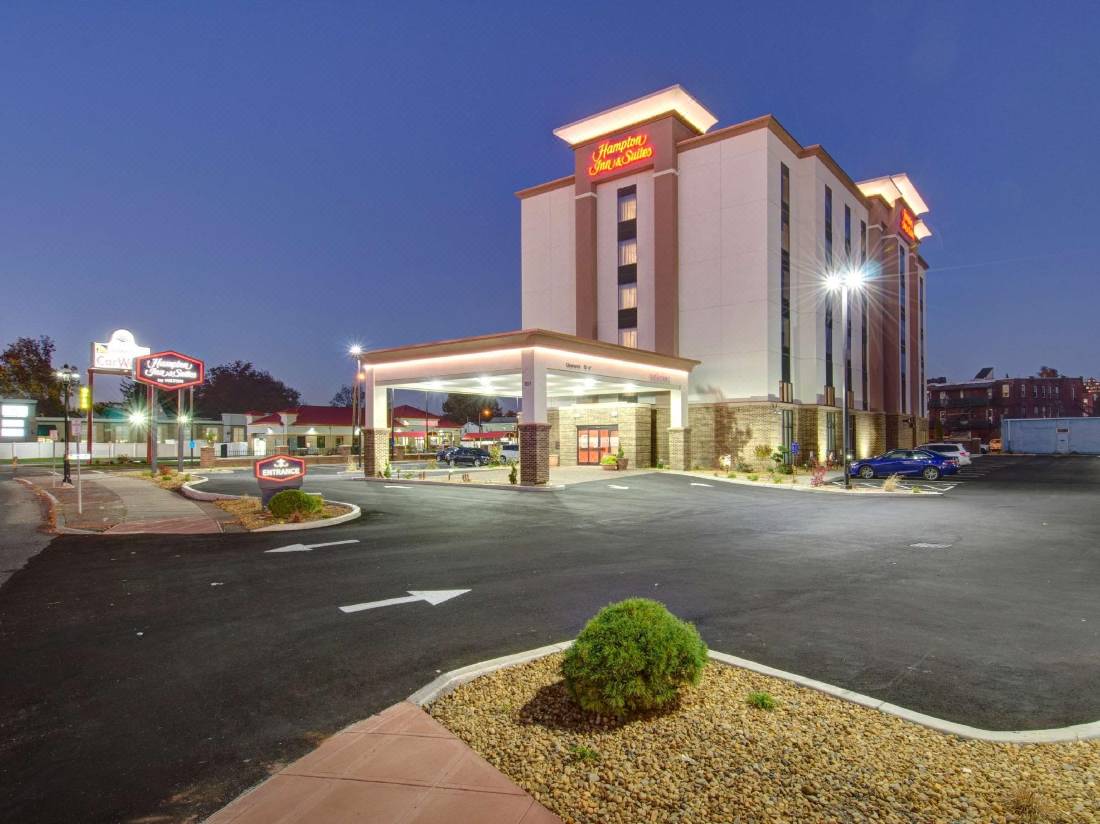 If you're here for a conference, this hotel has excellent facilities, a 24-hour business center, and staff on hand at the 24-hour front desk.
Read through your notes at the ergonomic writing desks, a prime feature of each guest room.
Enjoy a few laps in the indoor pool and grab some refreshments at the hotel shop before going out for a night on the town.
There are many room options available here: A double room with a queen or king bed is priced at around $164, while Studio king bedrooms with complimentary breakfast included beginning at $181.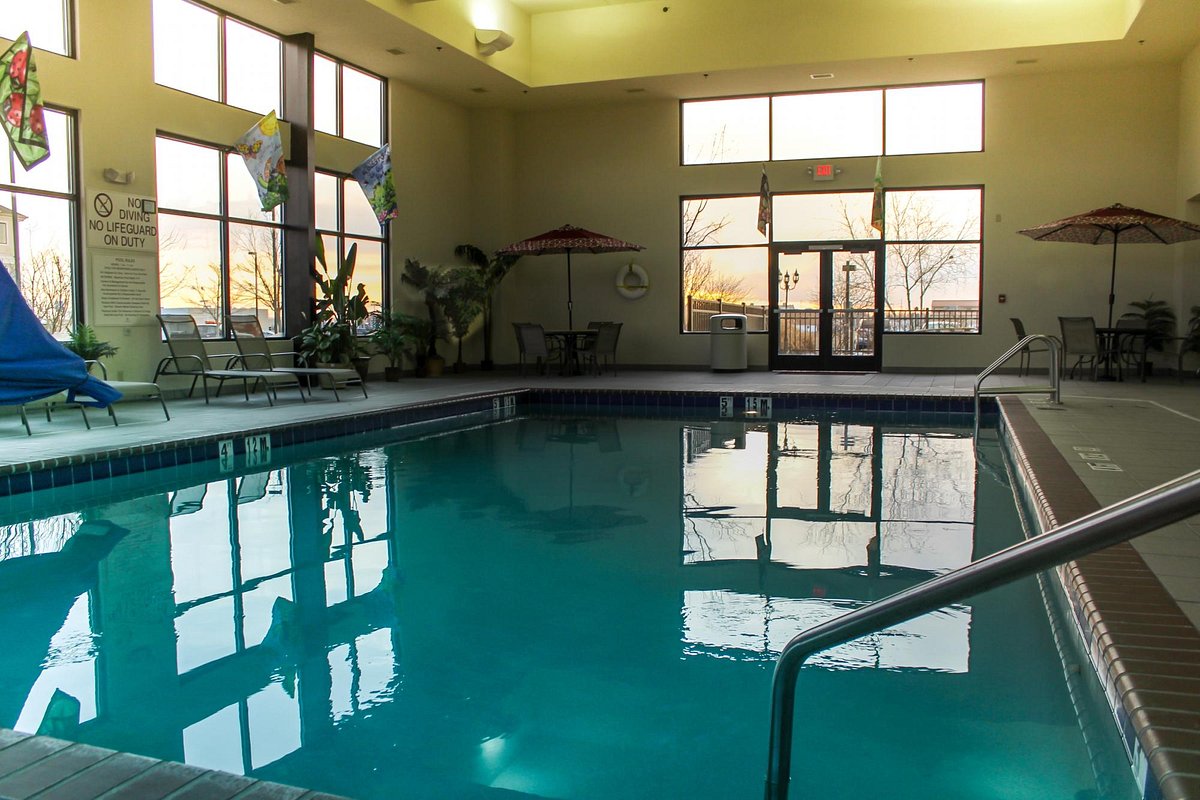 If you want a complete home away from home, you should go for the premium studio room that includes a king-sized bed and a sofa bed, microwave, refrigerator, minibar, snacks, and workspace. These rooms are priced from $188 and include a complimentary breakfast!
Comfort Inn East Windsor – Springfield
The Comfort Inn East Windsor – Springfield is just a short drive from Bradley International Airport.
It's close to both the Connecticut Fire Museum and Connecticut Trolley Museum, and most importantly, just 15 minutes by car from the New England Air Museum and Six Flags New England!
As if that wasn't enough, there is a fantastic range of local restaurants within a 2-15 minute walk from the hotel. Don't be in such a rush; sit down and enjoy the in-house breakfast with cooked and continental options first!
This hotel has staff at the front desk ready to help around the clock, as well as excellent conference and business centers and laundry facilities.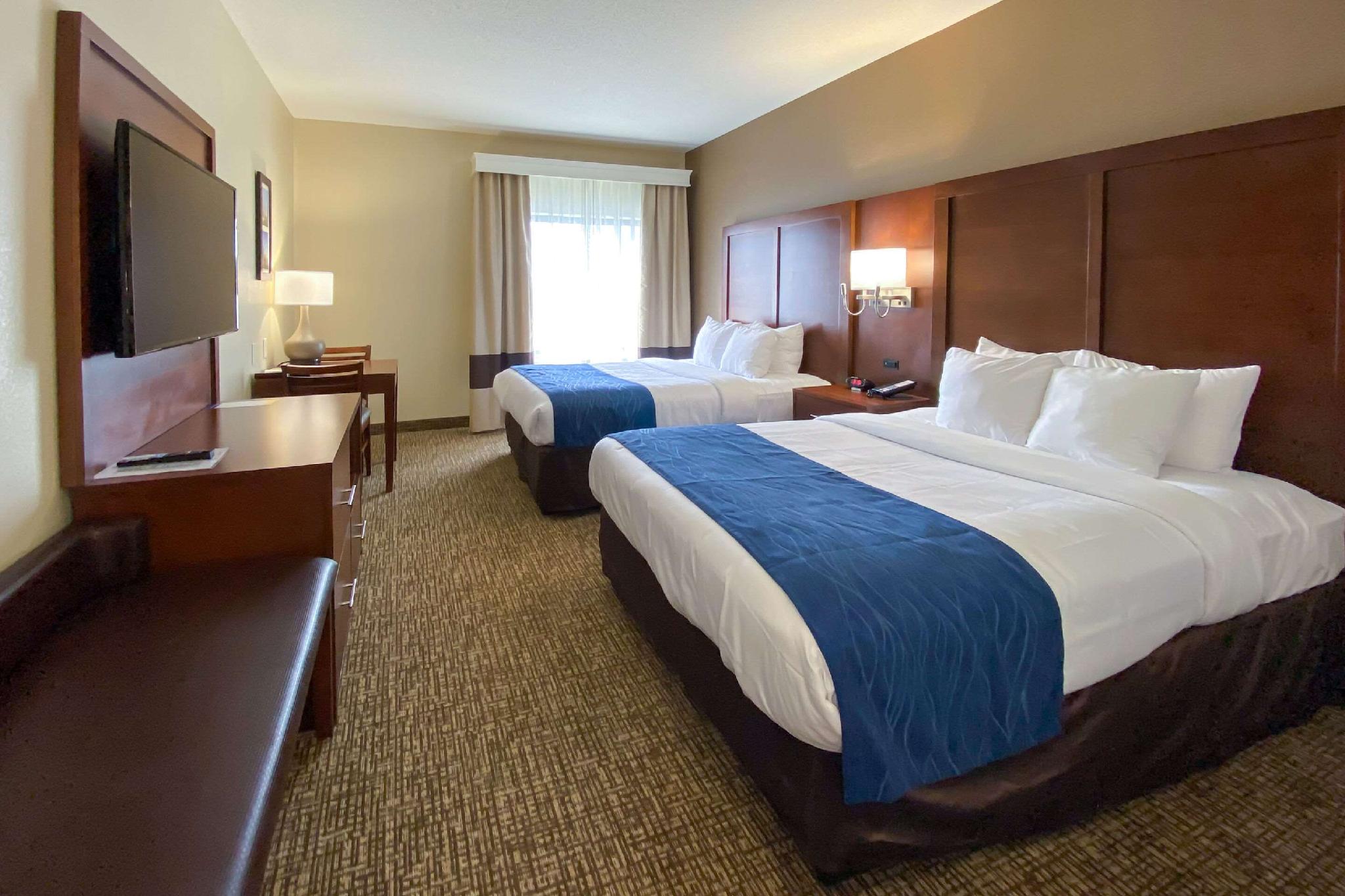 Some rooms have rural views and whirlpool tubs, and the rooms and suites all have either a king bed and sofa bed or two queen beds. Prices start from $133, with a moderate number of connecting rooms available.
La Quinta by Wyndham Hartford Bradley Airport
La Quinta by Wyndham Hartford Bradley Airport is one of the few hotels that offer an airport shuttle service- which makes sense, seeing as it's so close to the airport!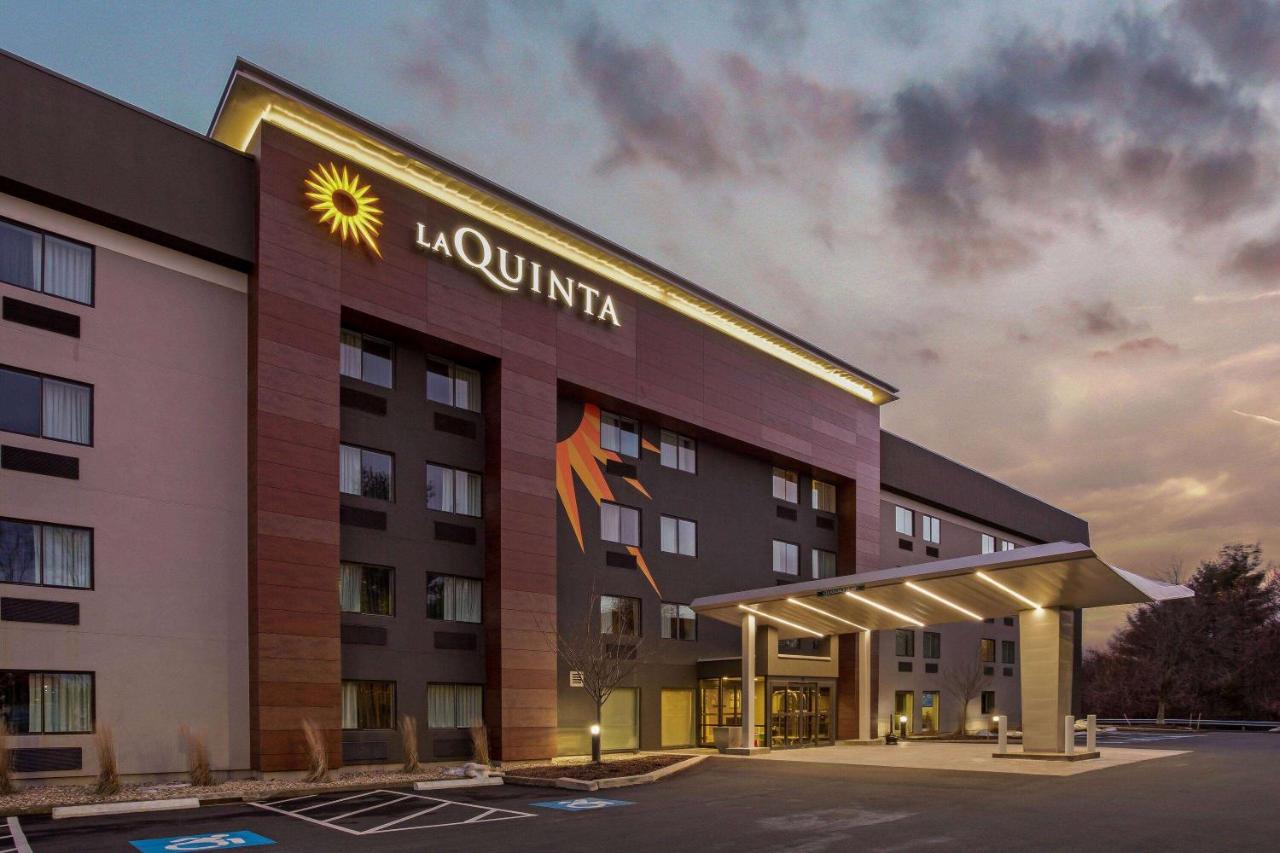 It's also just ten minutes away from the New England Air Museum and around 14 miles from Six Flags New England.
As a suburban hotel, there is a relaxed, welcoming atmosphere with modern décor, and pets are welcome.
The accommodation features 1-and-2-bedroom suites, and some guestrooms have hot tubs where you can soak your aching muscles away at the end of the day.
A guest room with two double beds will cost you about $120, while a deluxe king room with complimentary breakfast costs around $130. Mobility and hearing-impaired accessible rooms are also available.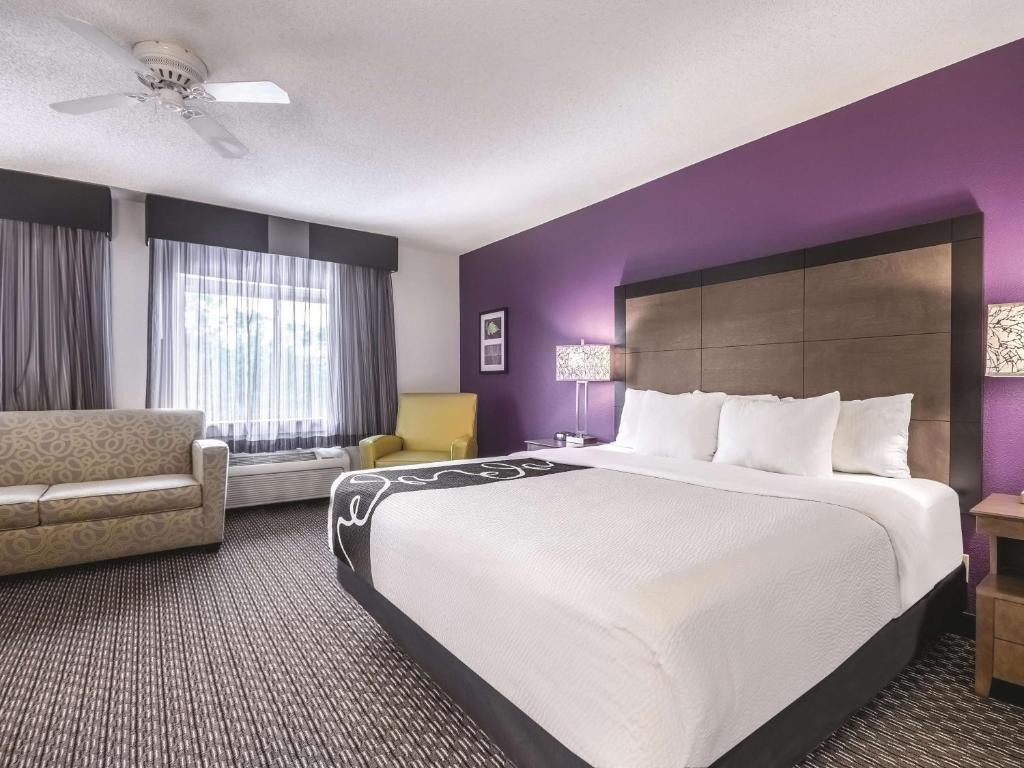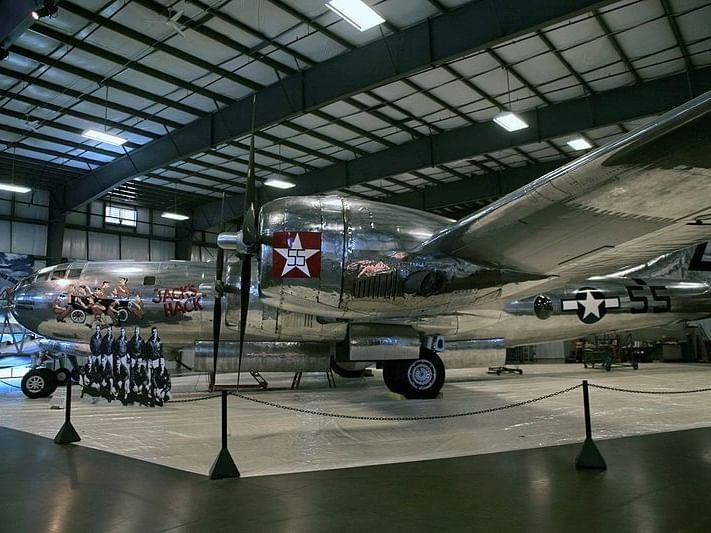 Every room has a refrigerator and microwave, which is excellent for those on a budget. Packed meals are also available from the hotel shop for when you're on the go!
Ramada by Wyndham Windsor Locks
The Ramada by Wyndham Windsor Locks is one of the closest hotels to Bradley International Airport on this list, being just a short ten-minute drive away.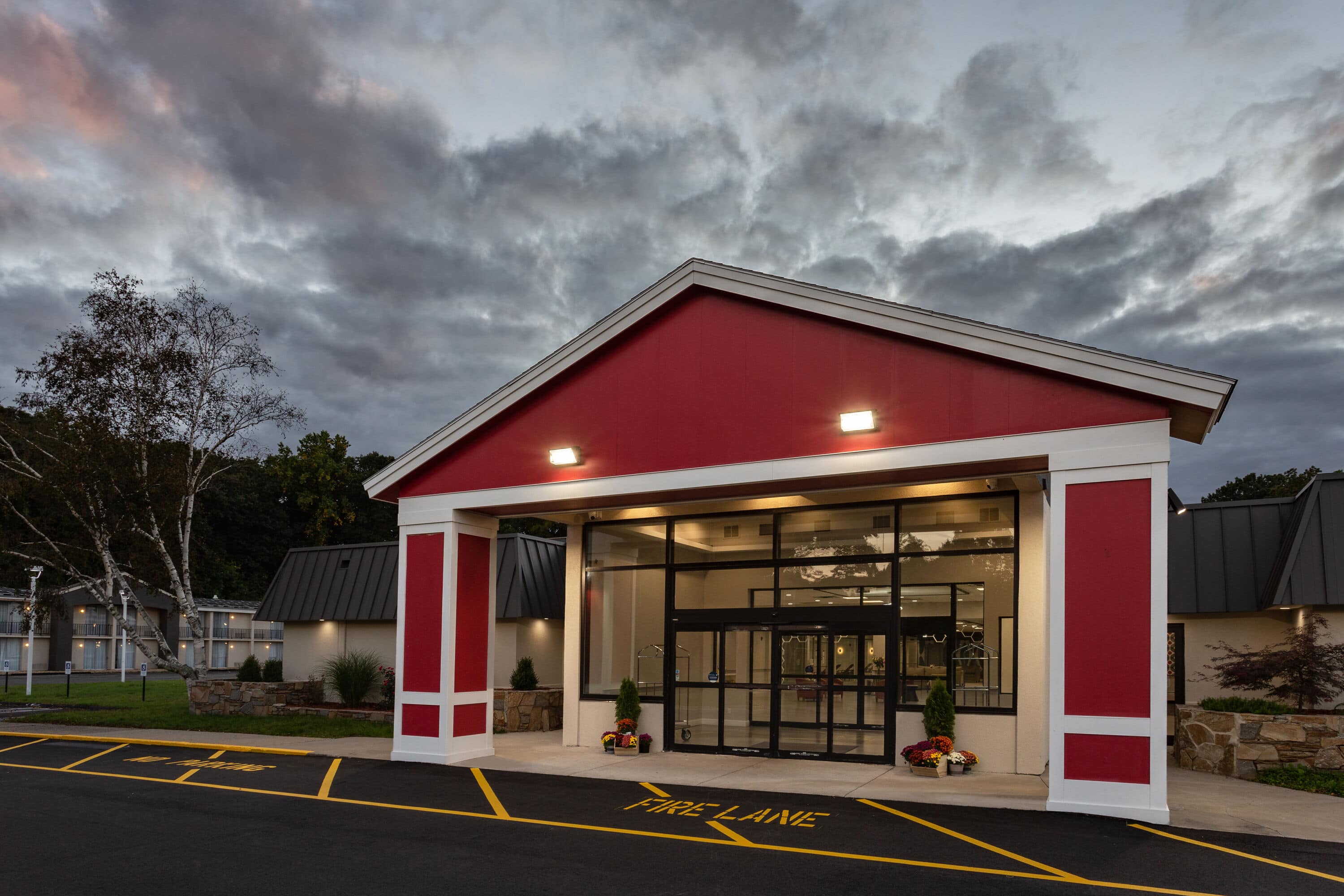 The Connecticut Trolley Museum and Connecticut Fire Museum are close too, with Six Flags approximately 12 miles from the hotel.
This hotel has a pleasant combination of facilities and is friendly towards larger groups. It has plenty of space to park larger vehicles such as RVs and buses, and pets are permitted too!
As well as conference and business facilities, a gift shop, an indoor pool and a gym, the Ramada has a lovely restaurant and bar. Drinks and snacks are available from the hotel shop.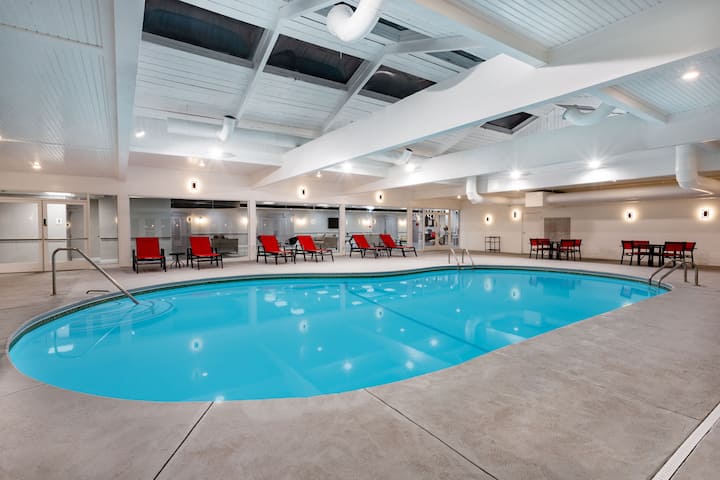 The rooms are spacious and modern, and some have disabled access. The king room, priced at around $140, contains an extra-large double bed. The queen room, which has two double beds, is similarly priced.
Holiday Inn Express – Springfield Downtown, an IHG Hotel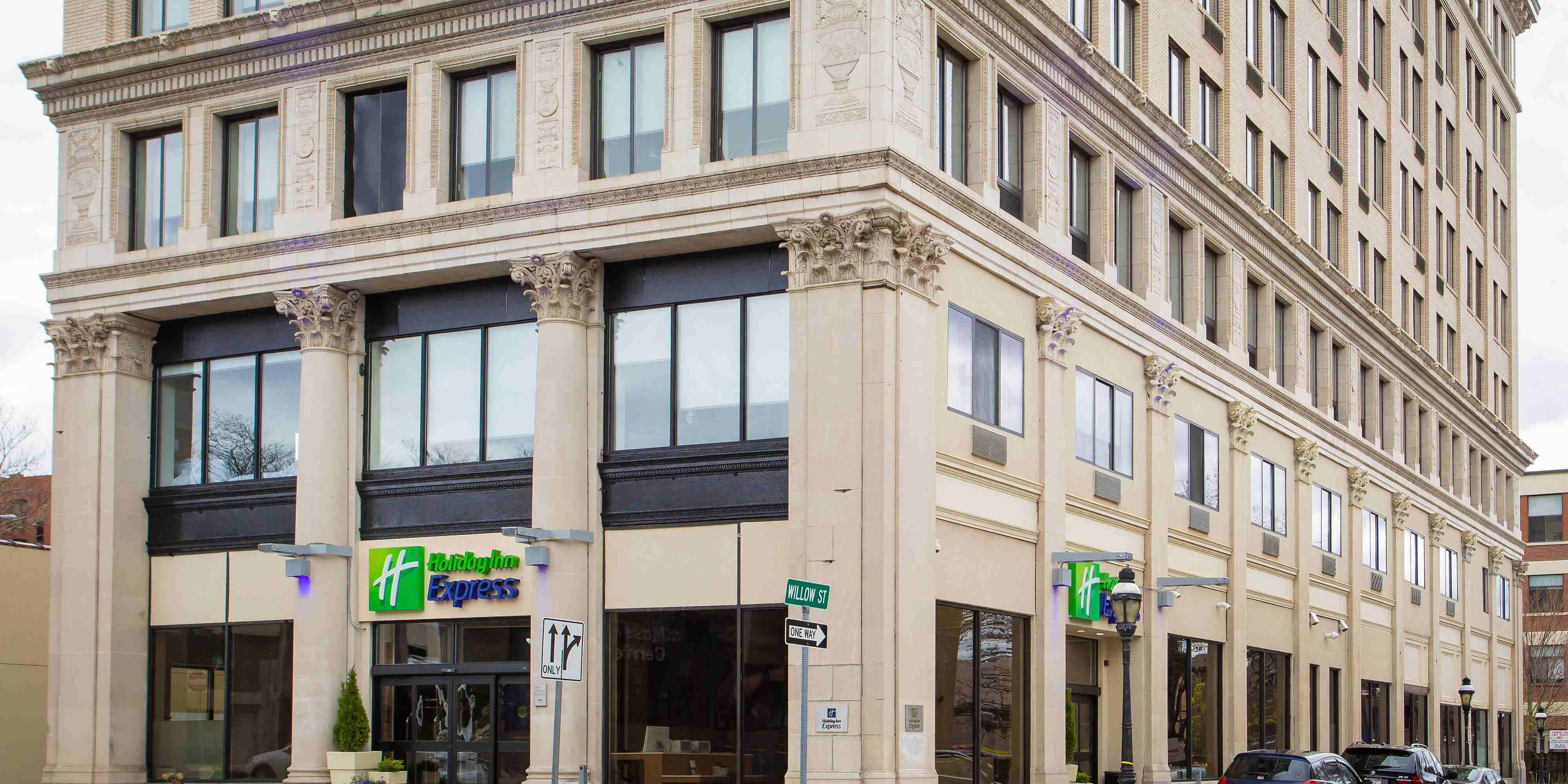 Suppose you are coming into Springfield from the Westover Metropolitan Airport, the Holiday Inn Express. In that case, Springfield Downtown makes an excellent stopover or base for your vacation as it is only a few minutes away from the city center.
The front desk is open all day, and the staff are always happy to help you plan your itinerary.
The Holiday Inn is within a short driving distance of Six Flags and George Washington's Mt Vernon. If you prefer something closer, the casino is two blocks away, and The Big E is just 2 miles from the hotel.
The Inn has a large conference area, a business center, and a free shuttle to collect passengers from the train. The shuttle can also deliver you to nearby attractions!
On-site, there are both indoor and outdoor pools for guests' enjoyment, and the fitness center never closes.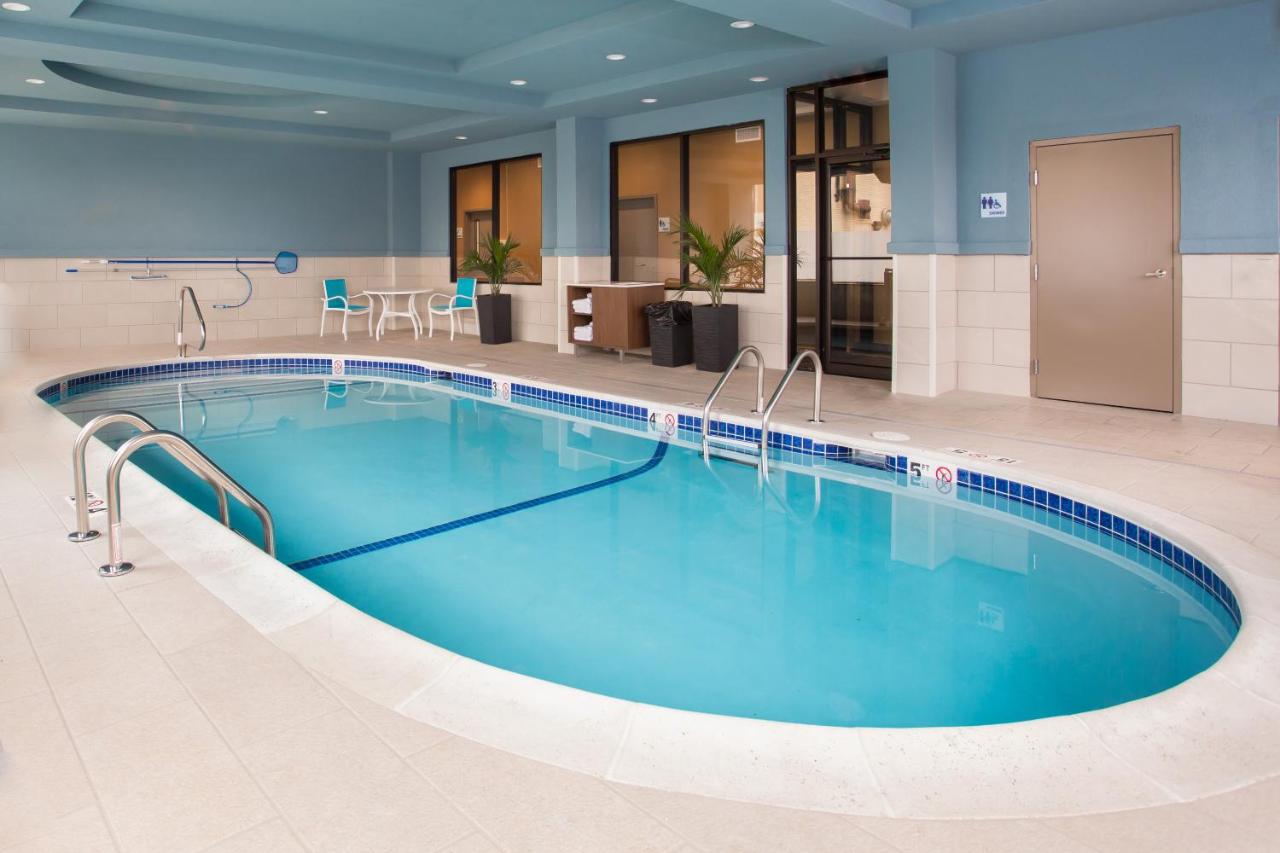 A snack bar and deli provide fresh and packaged light meal options. In addition, your choice of a free buffet or continental breakfast and a complimentary daily newspaper are all included in your room rates.
Finally, the hotel will happily accommodate your special requests for different room configurations and disabled access.
Double, twin, and king rooms with one to two double beds cost around $140+. These rooms have city views, refrigerators, and work and relaxation spaces for you to enjoy.
More about our TFVG Author