Family holidays are one form of stress relief because the modern environment makes individuals exhausted. Families not only get to spend valuable time together but can also make priceless memories. Additionally, participating in activities, playing games, trying new foods, and meeting new people all contribute to a positive experience. Choosing a decent location is the sole challenge of a family holiday. People won't have time to prepare, especially if there is a sudden plan, and will typically pick a nearby place. Knowing where to go in the city and what to see is another issue.
Cancun, fortunately, has a ton of attractions and locations for activities for people of all ages. You can go to the beach, eat cuisine from the street, play on playgrounds for children, or attend funfairs. This Cancun family travel guide will help you decide how you can spend quality time in Cancun with your whole family.
Reasons Why Cancun is the Perfect Family Vacation Destination
Cancun is considered the heart of Mexico with beautiful beaches, lovely weather, clean environment, visited by thousands of tourists every year. However, these are not the only attractions this city has to offer; there are many other reasons why you should choose Cancun for your next family vacation.
Rich Culture
If anyone in your family is a huge fan of learning the history of Mayans, the Yucatan Peninsula is the best place for them to visit. Despite being thousands of years old, the local government has kept the majority of the region protected and accessible to tourists. You'll be quite fascinated to see the only Mayan city that touches the sea. However, as individuals have a habit of damaging the relics there, you cannot visit the grounds without a guide. On the other hand, you'll make new friends, meet thousands of foreigners, and enjoy an even more amazing time there.
Beautiful Beaches
There is no better way to spend a vacation than on a beach with a cool breeze, warm sun, and a tropical drink. Cancun has a dozen beaches with huts and hotels at lower rates where you can spend the night and gaze at the stars. You may also charter a small boat or go scuba diving if you're not into lounging on the beach. Taking the boat out for 30 minutes will allow you to experience the serenity and then return to the beach. Isla Mujeres is the nicest island to visit, and it's only 13 kilometers from the shore. But if you're looking for action, nothing beats scuba diving in the area.
Sensational Cuisine
Another good thing about Cancun Mexico is the variety of food. You can walk the streets and see places offering many different food items. The best part is that their prices are so low that you can eat your fill, and your wallet remains the same. You can enjoy the traditional cuisines, visit fancy-themed restaurants and enjoy their delicious food. However, if you want to sample something that the locals adore, try their spicy tacos; you'll adore the flavor combination of the meat and the hot sauces. These are foods that your children would enjoy eating. In addition to tacos, you should also sample their lime soup to start your meal off well.
Warm Weather
The Mayans were sun worshippers, and once you visit this city, you'll know why they did it. Cancun offers flawless sunshine and heats all around the year, but the weather is never too hot to dehydrate or burn your skin. Instead, it stays warm and gets very pleasant in the month of April. So, if you want to visit a place to tan your skin without damaging it, there is no better place than the beaches of Cancun. In addition, the water is always in front of you; anytime you feel too hot, get a dip in the water and cool yourself. Plus, the heat always feels more pleasing when you get out of cold water.3
Accommodations
Cancun is one of the most desirable tourist destinations in the world. Its government and authorities have done a good job making lavish hotels for tourists to stay in. It's not just the comfort, top-quality services, and food offered by those hotels; the look and design of these all-inclusive resorts are also appealing. You can check out the Villa del Palmar Luxury Beach Resort & Spa to get an idea of the resorts in Cancun. The best part of the hotel zone is their charges; they won't cost you more than an average hotel, but if you ask for additional privileges, they might cost you a bit more. Also, you'll need to call and book a room in advance because these hotels are always filled with tourists.
Shopping Malls
You'll mostly see shopping malls in cities; Cancun, however, has shopping villages. Instead of making them like typical shopping malls, they gave them a village look by keeping most of them open-air. As you plan to visit Cancun, check out their La Isla shopping village and get some traditional clothes and souvenirs. This open-air shopping village has a canal running through it, which you won't see in other shopping malls. Don't worry about finding your favorite international brand. This shopping village has all the famous ones, including Calvin Klein, Diesel, Hagen Dazs, and more. On top of that, you'll also find banks in this village, allowing customers to withdraw money for shopping.
When's the Best Time to Visit Cancun with Kids?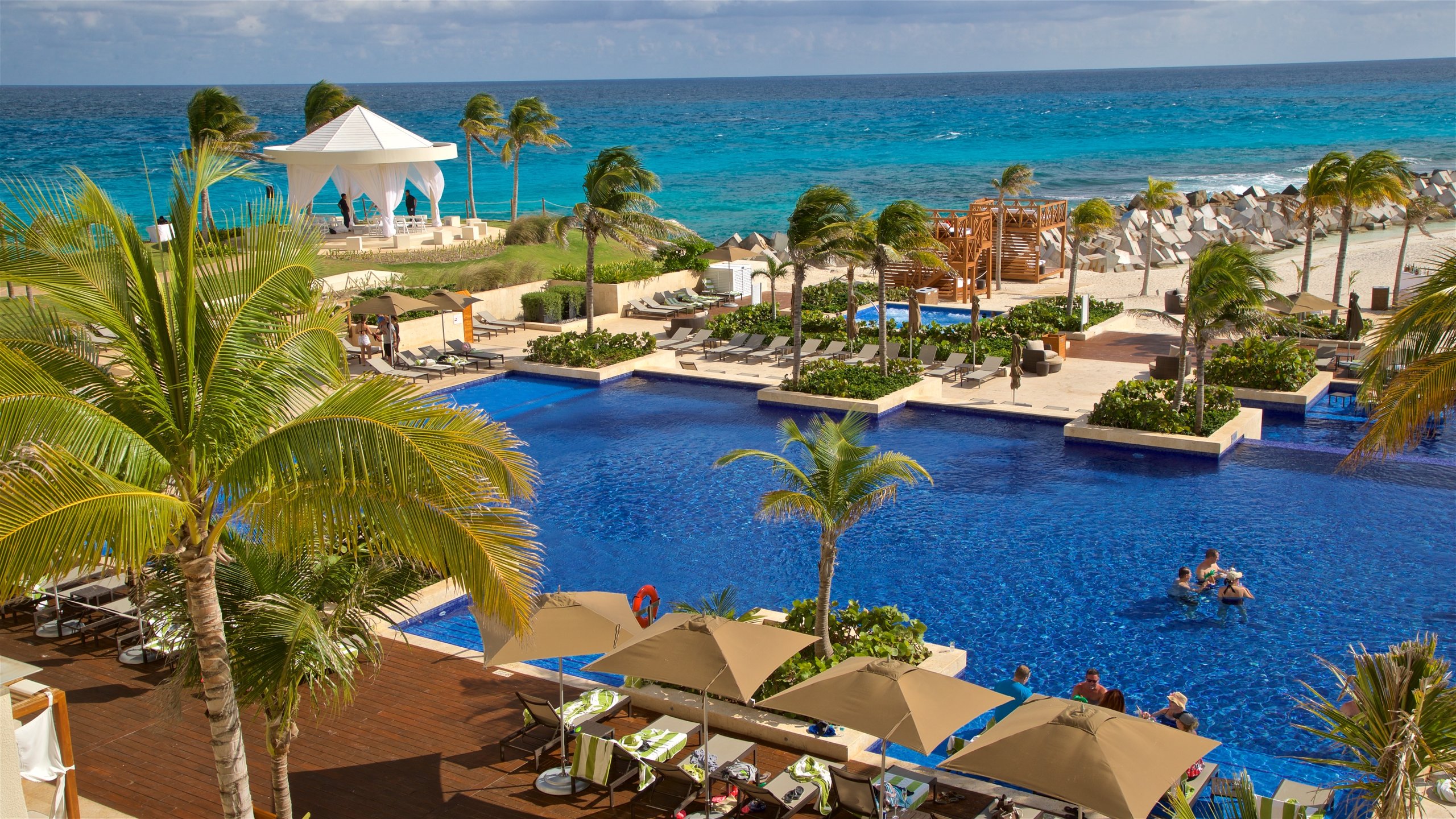 When it is cold in Canada and the United States, Cancun is the place to be, with its warm sun, sparkling ocean waters, and wonderful bars and cuisines. Since the temperature drops too low in the winter for sunburn to be a concern, this is the best time to visit. However, prepare to witness the hue of your skin change if you visit this location in June or August.
Whether you are visiting Cancun with or without kids, winter is the best time to visit this place. From December to April, the temperature stays between 75 and 90 degrees Fahrenheit, with some rain dropping even more. Schools are off from March to April, giving kids and families enough time to visit Cancun and party. During these months, the summer is near, and the nights become a perfect time for beach parties.
However, at this time, Cancun is crowded, and the hotels will be expensive since many travelers have the same idea and visit mostly in the winter. You might need to book three months in advance if you don't want to pay hefty prices for booking. Since in winter, they have an overload of tourists; many hotels drastically increase their charges.
On the other hand, if you have no plans to hit the beaches, even summer can be good in Cancun. Cancun is not that busy from May to September, and hotels lower their rates to attract tourists.
If you have plans to visit this city at night only, here's what you should know. The summer nights are breezy, allowing tourists to explore the city without feeling extra heat. While fall and summer are great for avoiding crowds, you'll experience occasional rain, humidity in the city, and hurricanes on the Yucatan shores.
What's the Weather in Cancun Across the Year?
Cancun has a semi-tropical climate with an average temperature of 78 °F, which can get up to 95 °F in peak summers. Cancun has two distinct seasons; the hot and wet seasons start in May and last until October. The slightly cool and good-for-traveling seasons start in November, get better in December, and last till April. The north-trade winds start arriving at the start of December, bringing cool breezes and lowering the temperature.
If you want to avoid lots of rain during your visit, the best time would be January to April. You'll only experience 40 mm of rain during these months, whereas the rainfall in June can reach up to 93 mm. However, during these months, the humidity will be high, at 80% most of the time, but in April and May, it is at its lowest.
In order for you to make the necessary adjustments to your plans, the hotel and beach management will let you know about the impending rain hours in advance. You might find it amusing that when it rains in Cancun's downtown area, there is only sunshine a few miles away.
Due to the unpredictable weather, you'll see many photographers in Cancun looking for the best shot. If anyone among your kids has a liking for photography, Cancun can turn out to be the best vacation spot.
What's the Perfect Length of Time to Spend in Cancun?
Cancun has a lot of tourist attractions, so even spending a month there won't be enough. In addition, if you are coming from another country, you can stay for 15 days, but that highly depends on the days off from school and college. We recommend spending at least three to five days in Cancun. That'll give you enough time to visit the significant sites and enjoy entertaining activities in Mexico. However, such a short time might not give you a good chance to explore everything, and you won't have enough time to rest. So, based on how much time you want to spend, here is what you should do.
A Day Trip
If you plan a single-day trip in Cancun, we recommend choosing only one place and moving on. The best would be to spend the day at the beach and visit the historical sights at night. While moving out of the city, you can stop at any restaurant in the middle and enjoy dinner.
Weekend Trip
Weekends are very busy in Cancun, so every site or beach will be flooded with people. We recommend giving beaches and historical sites a little less time and paying attention to malls and restaurants. On weekends, Cancun restaurants usually serve their special and unique dishes. So, you might get something different to try that you won't see on other days.
Three to Five Days Trip
Five days are the sweet spot to visit all the best places in Cancun. We recommend splitting the days based on the places you want to visit and focusing the first two to four days on the most important places. For example, if your main idea was to enjoy the beach and the islands, then you should spend the first two days on beaches and one day on nearby islands. You can spend the rest of the days exploring the beauty left by the Mayans, eating traditional food, meeting locals, and resting.
More Than Ten Days Trip
If you want to spend a significant amount of time on every site you want to visit, you should plan a trip for ten days or more. That'll give you enough time to play, explore, eat, enjoy yourself, and rest properly. There is no point in visiting a place for relaxation if you don't get enough rest. On top of that, many hotels give discounts the longer you decide to stay there. You can spend seven days engaging in entertainment and leave the last two to three days for local experiences. Join the locals, see what they do for prayer, and explore their culture as you discover Cancun's natural wonders.
The Best Things to Do with Kids in Cancun
Weekends are the best when it comes to fun things for young kids in Cancun. If you plan a five-day trip, make sure you spend Saturday and Sunday there. The first three days can be spent at the beach, on islands, shopping, touring historical places, and, on weekends, at Isla Mujeres.
Isla Mujeres is a beautiful island, only 13 kilometers away from Cancun's north beach, and has the most thrilling activities for kids and adults. That'll give you an idea of what the local kids do there during their free time.
Dolphin Discovery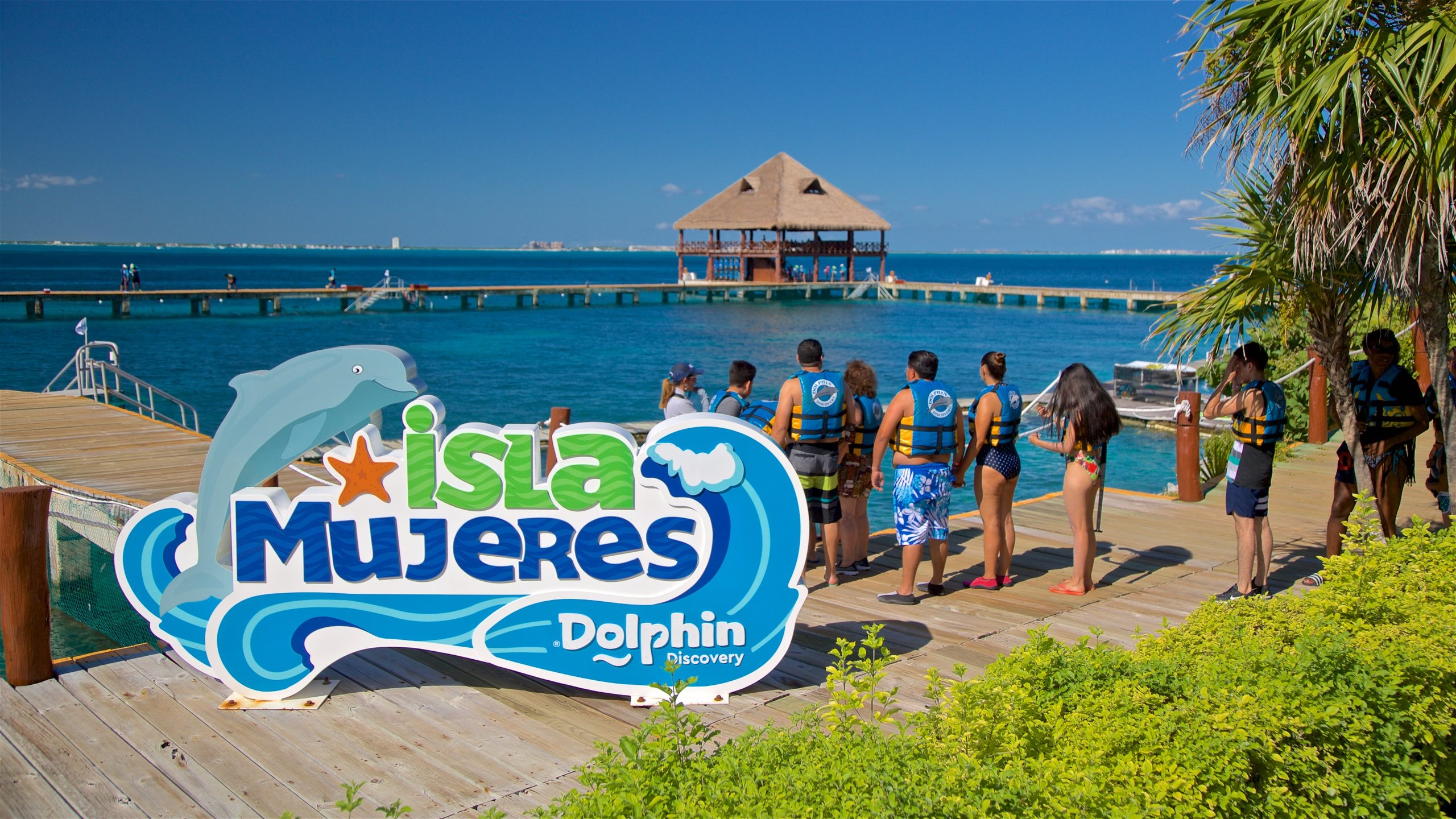 You'll get a boat ride from Cancun Beach to Isla Mujeres. As you move toward the island, you can gaze at the crystal-clear water, with beautiful sea turtles at some point, as you enjoy your coffee and a light breakfast. The best view is when the dolphins greet you as you reach the Dolphin Discovery complex. You'll get a locker in their all-inclusive resort, where you can store your belongings. After that, they'll give you a swimsuit, or you can wear the one you brought, and you'll be ready to meet the dolphins. Yes, you can touch, hug, and even receive a kiss from your new marine friends. Book Garrafon Park with the royal dolphin swims to have the best experience, as these dolphins interact with kids the most.
All Ritmo Water Park
This is the best place for kids, but you might have to get a taxi to find it. There are different water slides for kids and adults, so everyone can enjoy their time. In addition, they have umbrellas, lounge chairs, and music to keep people entertained. On top of that, you can get free food and drinks, including alcohol, with your all-inclusive pass. However, the food will be typical snacks like burgers, hot dogs, tacos, nachos, and more. This place is a good option if parents want to take a break from their kids. Just hire babysitting services, and they'll look after your kids while they enjoy themselves and you relax. Get there 15 minutes before the show to get the best seats.
Captain Hook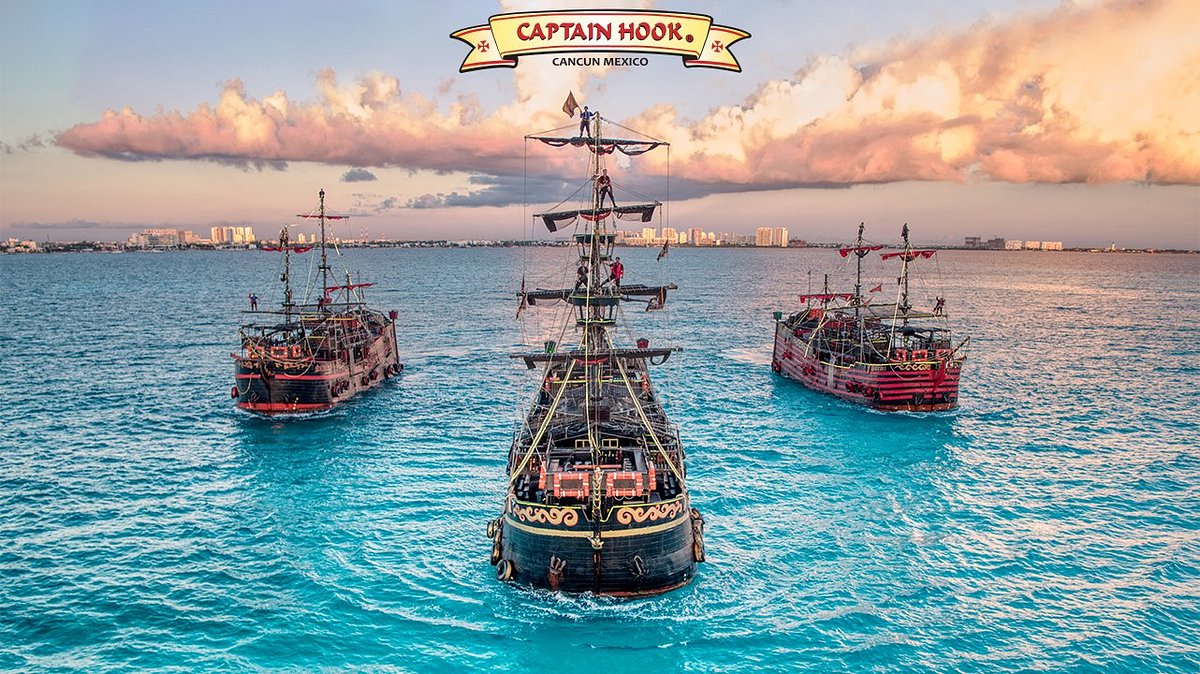 You'll be invited on the trip for dinner featuring an 18th-century Spanish galleon, where you'll ride the seas, enjoy your drinks, and engage in an exciting pirate battle. This boat ride is the best if you want to enjoy your dinner while your kids are busy defeating the pirates. Once the dinner is over, the captain will guide you to the ship's deck, where you'll see another pirate ship approaching for an ultimate battle. Don't worry; there won't be any fight; the ships will pass by each other. The tour starts at 7 pm, and the boat returns at 10 pm. If your kids are early sleepers, grab them before they sleep randomly somewhere. Arrive before 6:30 pm to get the best seats.
Croco Cun Zoo
If your children are into learning about different things, the Croco Cun Zoo is the best place to learn about different crocodile species. The friendly crocs at this zoo are its biggest feature, and under qualified supervision, you are able to pick up and pet baby crocodiles. You will be given a tour by a guide who will explain the location's history and the various crocodile species it is home to. The aim is to navigate through a situation including 50 or more crocodiles peacefully without freaking out while on the trip. In order to prevent injuries, they typically take you when crocodiles are asleep. Visitors under the age of five are admitted free of charge.
Hotel Xcaret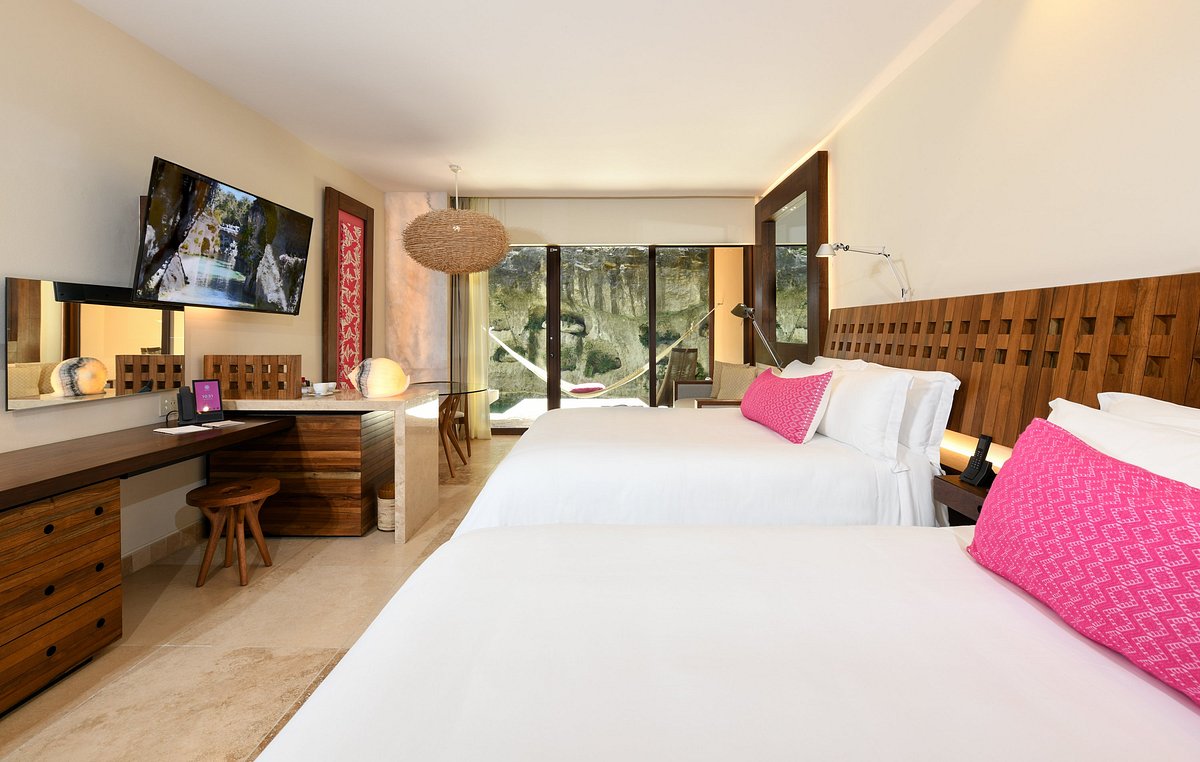 If your sole idea is a beach vacation and whichever island you visit, you only want to hit the beach; Hotel Xcaret can be an ideal option. This eco-archaeological park and kids' club can make your Cancun vacation worthwhile. Inside the park, you'll meet different animals like jaguars, spider monkeys, flamingos, and manatees. There is an aviary, a butterfly pavilion, and an aquarium for your kids to have an up-close experience. You can swim with dolphins, enjoy the underground rivers, visit the Children's World, climb small ruins, relax on the beach, and more. The Xcaret night show is full of music, dance, and music—an experience you must not miss.
The Best Family Hotels & Resorts in Cancun
Here is the most important factor that every family will check before finalizing their trip to Cancun. Since Cancun has dozens of resort hotels, you might want to decide on the one with the best services and the closest to the best locations. On top of that, you can also decide if you like a hotel with normal looks or something mimicking the Mayan historical sites.
Wyndham Alltra Cancun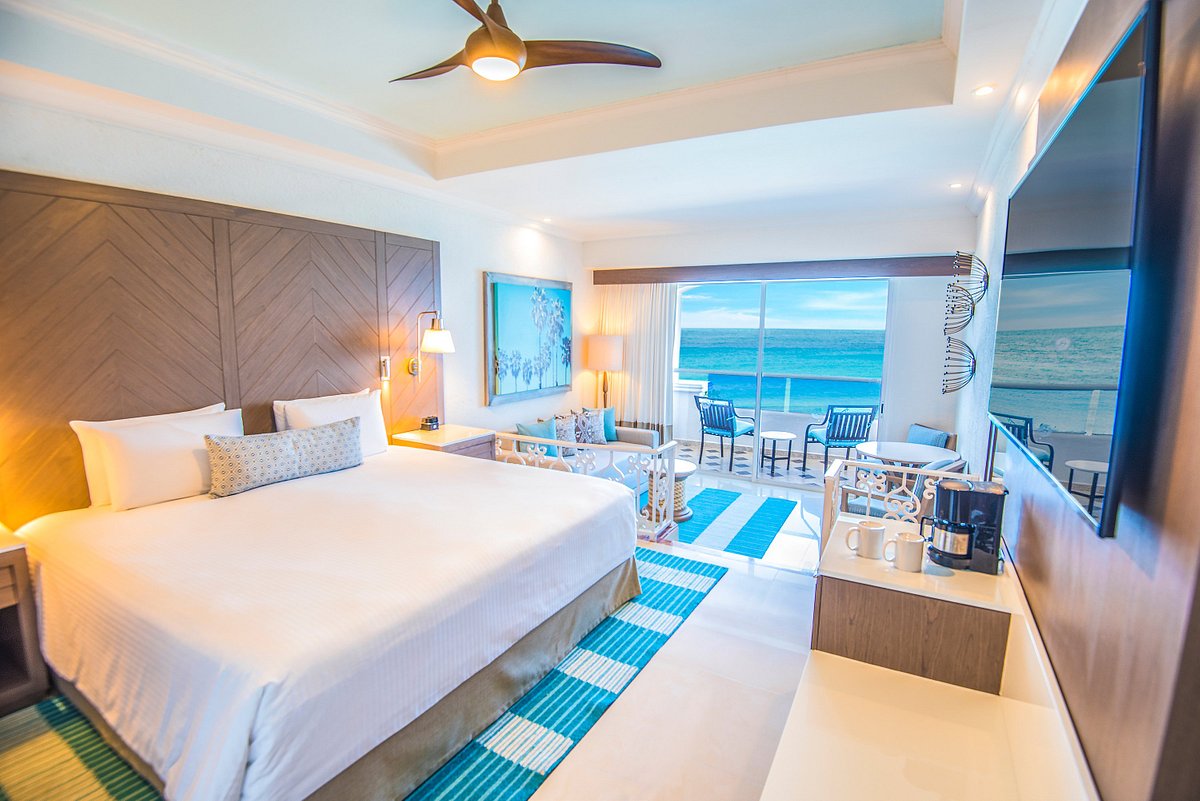 If you want the location closest to the beach, where you can open the window and see the sea, Wyndham Alltra Cancun is the best resort. It is actually a dreamy beachfront, offering fun and entertainment for all ages. The only complication is that you have to book your rooms two months before your visit, and it is a bit expensive, with fees reaching up to $400 per night. However, you get a discount if you book for more than three days, which reduces the price to $650 for all three nights. On the other hand, you can use third-party trip services to get a ticket at the lowest price.
Moon Palace Cancun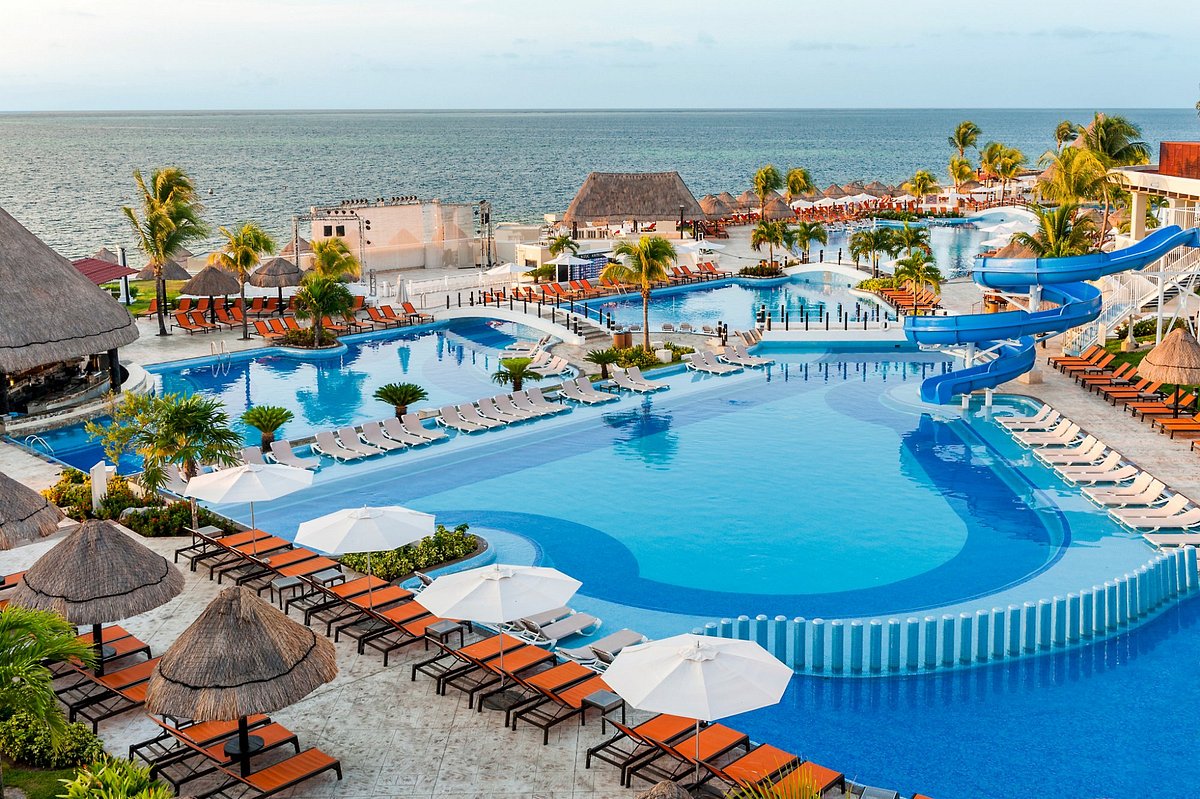 For the ultimate peace and a place only ten minutes from the airport, Moon Palace Cancun is the best. They have free parking, free internet, babysitting services, a gym open to every guest, and free breakfast. You can choose to have breakfast served in the room or at the beach. The rooms are allergy free and have to be air-conditioned. You have the option of choosing a room with one or two baths. There is a flat-screen TV in every room, 24/7 housekeeping, a refrigerator, and a minibar. The charges for the minibar are separate, and sometimes it gets quite expensive. There is no language barrier, as the staff there speaks and easily understands English.
NIZUC Resort and Spa
Nizuc is a luxurious, award-winning resort that has been accommodating people for years. If money is not a problem for you, this resort is the best place for families to enjoy their Cancun vacation. This resort has the best rooms with the fastest wifi, and a pool is accessible to every guest. Besides that, there is a tennis court, but you'll have to reserve your time. One of the best babysitting services is where they'll take care of your child for as long as you want. Their bar is open 24/7, but they don't serve alcohol during the day. The beach is directly in front, complete with chairs, umbrellas, and a pavilion where you can buy refreshments and relax in solitude.
What's the Average Cost of a Hotel in Cancun?
Hotels in Cancun are not that expensive as long as you book a room for at least two days. Yes, more kids and adults in a room mean higher costs. However, discounts and a visit during the summer can reduce this cost, but we won't recommend saving $50-$100 only to enjoy rain and humidity. A hotel can cost you anywhere from $350 to $1000 per day. The most luxurious hotel, like NIZUC Resort, will cost you around $1000 per night.
The Best Places to Eat with Kids in Cancun?
Children typically don't enjoy traditional or street cuisine, so you might need to go to particular eateries. However, the local tacos are the best if your children enjoy spicy food.
Divina Carne
If you want to try the best steak in Cancun, don't forget to visit Divina Carne. Apart from the meat variety, many of their customers love the salad bar.
Restaurante Cua
Restaurante Cua is the best place if you want to try traditional Mexican foods and want to enjoy your drink near a pool. On top of that, they also offer complimentary dishes to their new customers.
Ielo Soft Serve
If you want the best ice cream, there is no better place than Ielo Soft Serve. You'll find a lot of unique flavors at this ice cream parlor, and the prices are reasonable too.
Mextreme
Mextreme has a wide range of traditional Mexican dishes, all available at lower prices, making this a suitable restaurant for families. The reviews state that their staff is also cooperative, but you might need to wait a bit longer to get the food.
Hacienda Sisal
If you plan to visit a hotel with exotic dishes, perfect presentation, and a view to soothe your eyes, Hacienda Sisal is the only restaurant in Cancun. Yes, the prices are a bit high for their portion, but the atmosphere and taste justify the price.
The Best Day Trips From Cancun That the Whole Family Will Love
You may want to spend a bit more and rent a car to have the best day trips from Cancun. If you are driving, the chances are that your family will enjoy it while you are busy making your way through traffic. With that aside, here are the best one-day trips from Cancun.
Chichén Itzá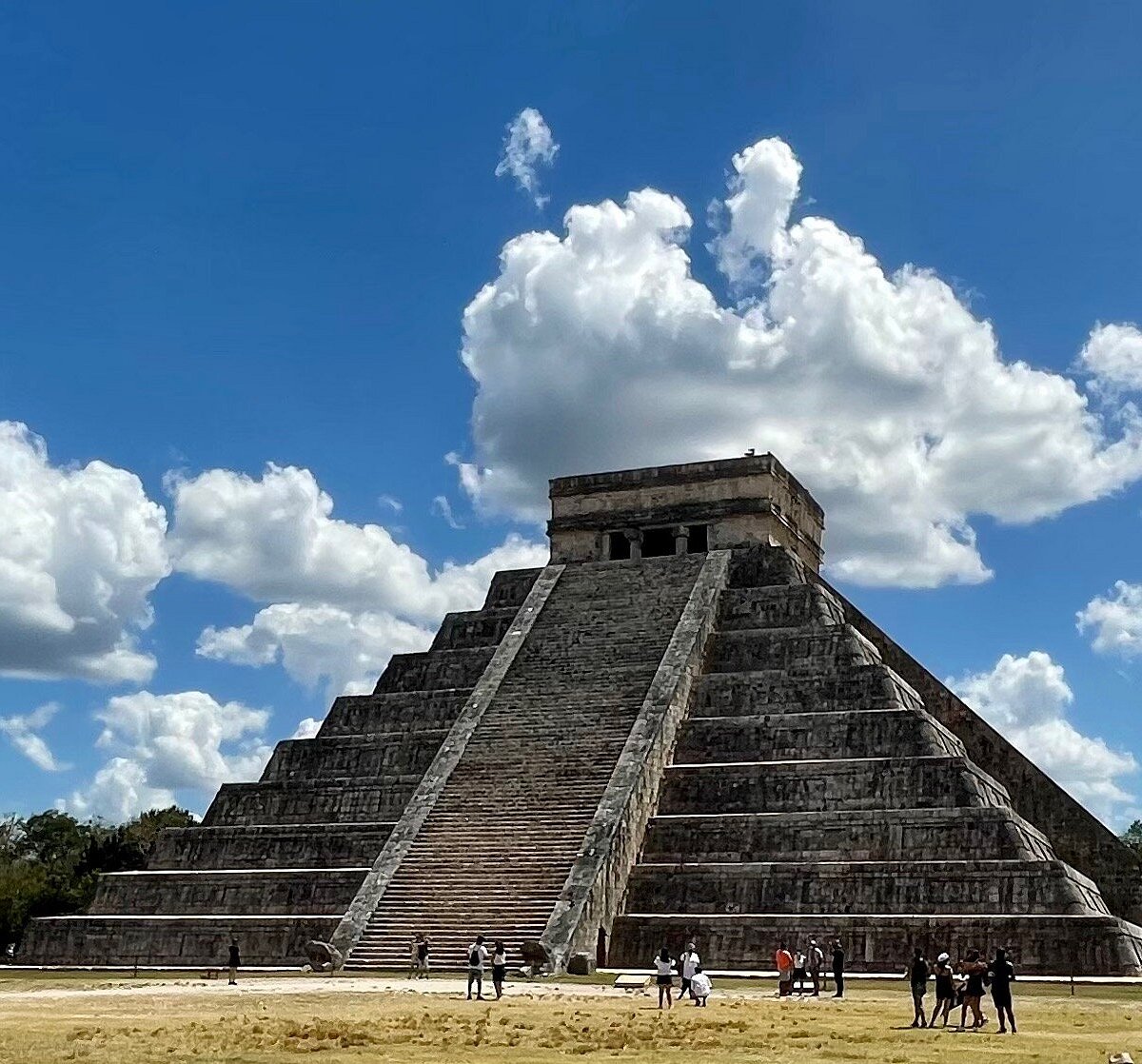 An absolutely worth it trip from Cancun is the 2.5 hours drive to Chichén Itzá. It is one of the most famous and visited Mayan sites that made its way to the new seven wonders of the world. While there, don't forget to visit Balankanché Caves, Cenote Ik Kil, and the gateway to the Mayan underworld.
Tulum
If you want an all-in-one package, including Mayan ruins, restaurants, a white sand beach, and sparkling cenotes, take a 1.5 hours drive from Cancun to Tulum. Since this site is relatively closer than others, it is typically filled with tourists.
Cozumel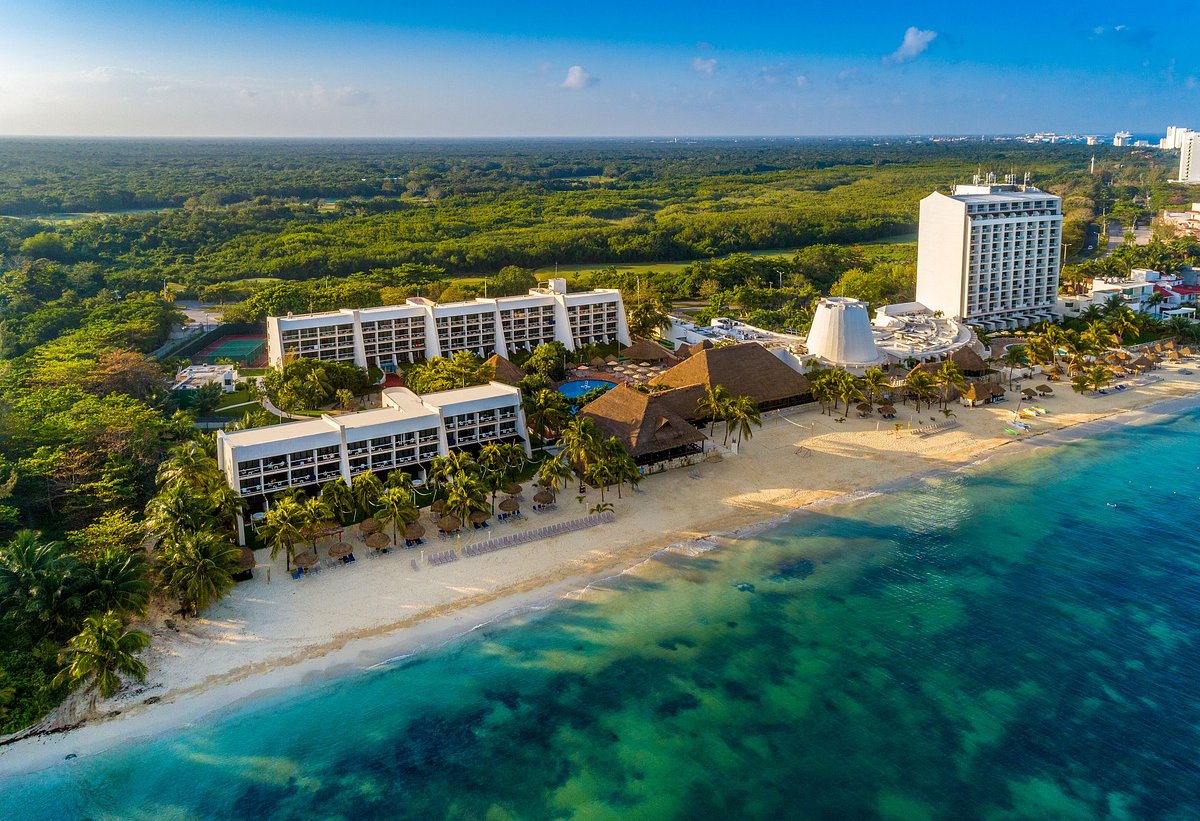 Another addition to your beach vacation is the two hours drive from Cancun to Cozumel. The white beach, warm sun, cool water, and best sunset view make Cozumel a must-see in Cancun.
Ek Balam
This is one of the biggest ancient Mayan cities, located only two hours from Cancun. Exploring this city is an amazing experience, especially for kids, and you can easily combine it with a trip to Isla Mujeres.
How to Get Around Cancun During Your Vacation
The best choice for the family would be a personal vehicle so you can stop whenever you want, or you could rent a vehicle. Taxis are a fantastic option for commuting if you dislike traffic, but you must hire a driver for the entire day, which can be pricey. The best way to get around the city with four people is on two bikes. You may simply bypass the traffic with this method. If you wish to move from stop to stop, public buses and vans are good possibilities.
The Best Ways to Get to Cancun for Your Vacation
That depends on your location; if you want to reach Cancun fast, booking a flight is best. You can also take a bus, but that will be a very long trip. Since we are talking about the whole family here, the shuttle service won't do any good. You can grab taxis at the airport to reach Cancun much faster. Uber is the safest option, and you can book it while coming out of the airport. If renting a car is not in your budget, you can also opt for Tren Maya, a new project train to take you anywhere in the city.
Top Tips for Staying Safe in Cancun When Visiting with Kids
Cancun is a relatively safe city compared to other Mexican cities, but it is still better to be safe than sorry. Never travel without travel insurance that covers all your losses. Always travel in a group; a trusted local guide will be great. Spend the nights at the hotels, as they provide entertainment.
Be careful while withdrawing cash, and keep the car close to the ATM. Don't ask for directions; use GPS to reach your destinations. Every hotel provides a safe box for travelers; take it and keep a copy of your documents. Don't show off and get a local SIM card as soon as you enter the city. Refill your water bottle from the hotel, and never try the tap water there. Besides staying safe from robbers, watch out for rip tides when swimming.
Conclusion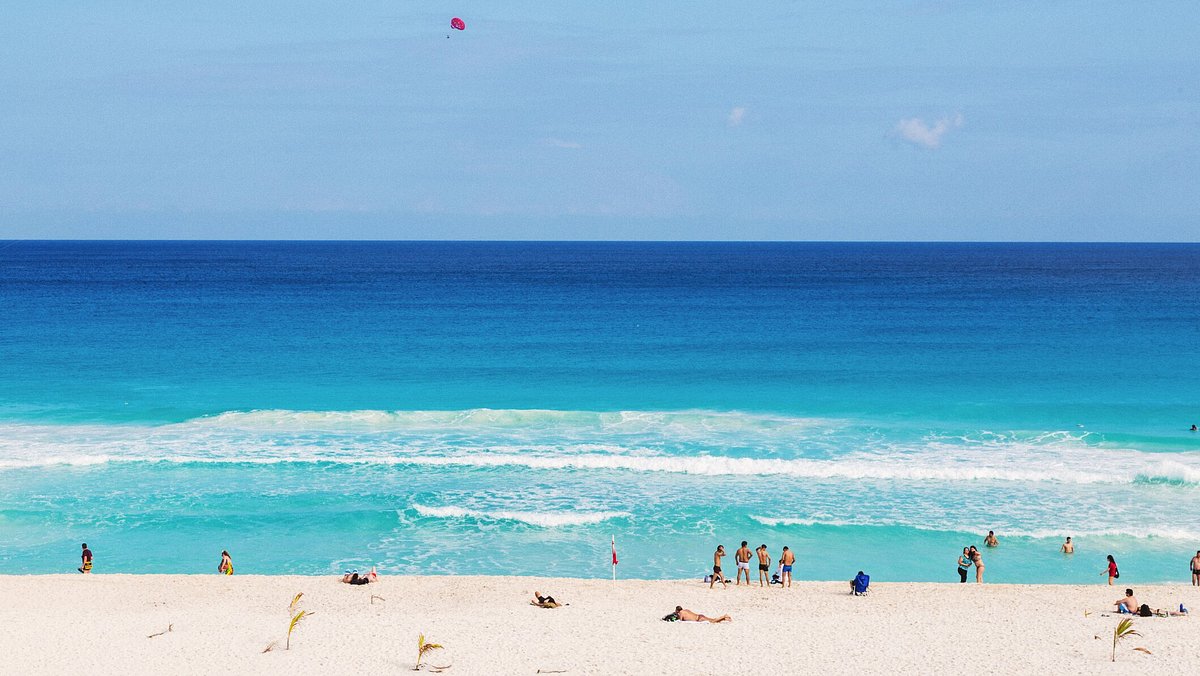 Cancun is a wonderful city in Mexico that provides an insight into Mayan culture as well as the most opulent accommodations and delectable cuisine. This Cancun family travel guide has all the details you need to know before taking your kids there if you're planning a trip there with your family. This guide covers the top attractions, eateries, family-friendly activities, safe travel practices, and the best time of year to visit Cancun.
More about our TFVG Author