Experience the beauty of the land and sea by taking a trip to the stunning city of Playa del Carmen. Fun awaits guests of all ages and families of all sizes. The unique shoreline and neighborhood culture not only captivates visitors but sets the stage for countless family memories.
Situated inside Mexico's Riviera Maya, a large selection of Playa del Carmen all-inclusive family resorts awaits. 
Choosing a place to stay can be challenging, as you want to pick the resort that accommodates everyone's interests and individual needs. We've done the research, and here's our list of hotels both in Playa del Carmen and nearby that offer you a memorable vacation for you and your loved ones. 
Why not also check out our guide to the best all-inclusive family resorts in the Riviera Maya?
Best All-Inclusive Resorts in Playa Del Carmen
Below are the top selections for Playa del Carmen all-inclusive family resorts:
The Grand Velas Riviera Maya Resort is a family-friendly establishment that caters to giving guests the vacation of their dreams. There are numerous activities for kids, teens, and parents to engage in together or by themselves.
When you tie in the gorgeous views of the Caribbean Sea, there's no question as to whether you should book your next getaway at the Grand Velas hotel.
The all-inclusive package includes all food and drinks, along with other amenities and activities like concierge service on the beach or pool, spa access, and more. Guests get 24-hour gourmet service from one of the eight signature restaurants on the premises with international cuisine.
There's access to a private beach with plenty of equipment and supplies that families can rent for water activities like scuba diving, water skiing, snorkeling, jet-skiing, and more. Children ages four to twelve can join the Grand Velas Kid's Club.
The club supervisors coordinate different events each day, such as watching movies, playing games, doing arts and crafts, and more. For the teens, there are hangout spots where they can eat snacks, get beverages, and play games. The parents can also take advantage of the babysitting services for a fee.
There are three suite styles available for your stay, but the Ambassador suite is best for families because it has more than 1000 square feet. It has a private terrace, a plunge pool, beautiful ocean views, and more. Additional amenities include free wireless internet, a 42-inch plasma TV, a minibar that gets stocked daily, and a luxurious bathroom with a jacuzzi tub.
Don't miss the opportunity to book an all-inclusive package for the whole family to enjoy at The Fives Azul Beach Resort in Playa del Carmen. There are beautiful cerulean cenotes nearby as well as the Yucatan jungle.
Your package will give you access to all of the bars and cafés, tennis courts, golf courts, seven swimming pools, and more. Childcare services are also a part of the deal when you book, with babysitting coming with a fee. If parents are traveling with a baby, The Fives resort is complete with specialized accommodations.
They offer free high chairs, cribs, strollers, baby monitors, a baby bathtub, fresh baby foods, bottle warmers, and much more. Traveling with an infant has never been easier!
With the beach just feet away, feel free to go on a family snorkeling adventure, scuba diving, or any of the other water activities offered by The Fives. Or, if you want to go for a more relaxing route, get everyone together for a group yoga session or spa treatment to help you unwind.
The Fives Azul Beach Resort has one, two, and three-bedroom suites and penthouses for families to enjoy. The three-bedroom penthouse can house up to ten people, and it has all the comforts of home (plus more!)
The penthouses have a private rooftop lounge with a whirlpool, seating areas, and a dining room table. This is the perfect setting for a family get-together and parties.
The spacious living room and kitchen mean that there's plenty of space to move about, and the bedding is plush and comfy. Guests also get 24-hour room service from the resort's incredible restaurant serving international cuisine.
Whether you want traditional Mexican, coastal classics, French, Italian, or even Asian, there's something for everyone on the menu. There's never a dull moment at The Fives resort, and other amenities such as the free W-iFi, fitness center, equipment rental, and family excursion guides make everything exciting and enjoyable.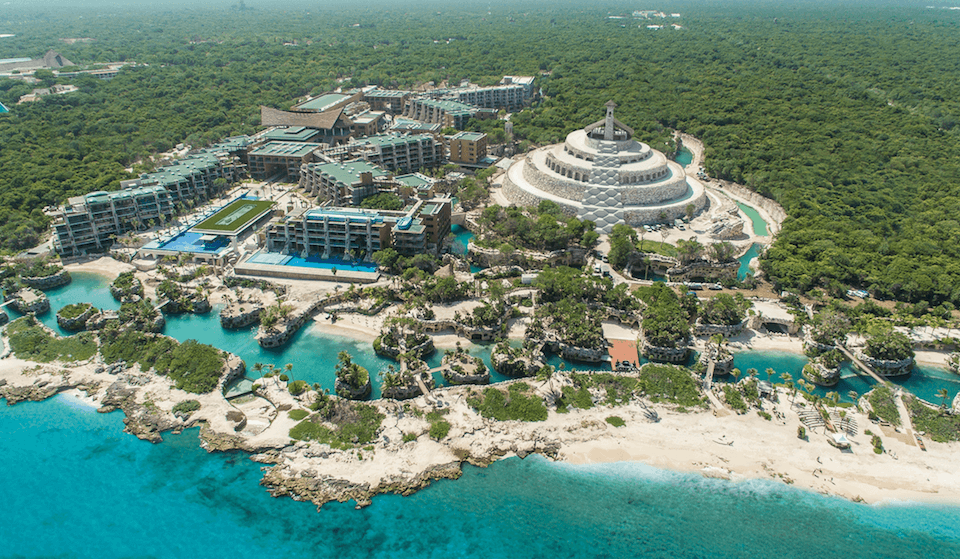 Leading the race as one of the best all-inclusive hotels in Playa del Carmen, Hotel Xcaret Mexico is the premier destination for family vacations. As if the Caribbean Sea being a few feet from your door weren't enough, other notable attractions near the hotel include the Rio Secreto Caves and the Xcaret Theme Park.
From the food to the activities to the rooms, Hotel Xcaret Mexico offers top-notch services that bring the family together to create meaningful memories.
With so many pools located around the resort, plus the rivers and caves that families can explore together, you'll always have something to dive into during your stay. Animal lovers rave about the opportunity to go swimming with the dolphins at the Xel-Ha Park, which is also open to children.
Should they be too small, they can head over to the kids club for children aged four to twelve. There is also a teens club for kids aged 13 to 17. Supervised activities get hosted daily, and it gives parents a chance to sneak away for just a moment.
Adults can enjoy eight different bars, three gyms, multiple restaurants, a butler, and a full-service spa. Additionally, there is free wireless internet and multiple channels available on the HD flat screen TV in every room.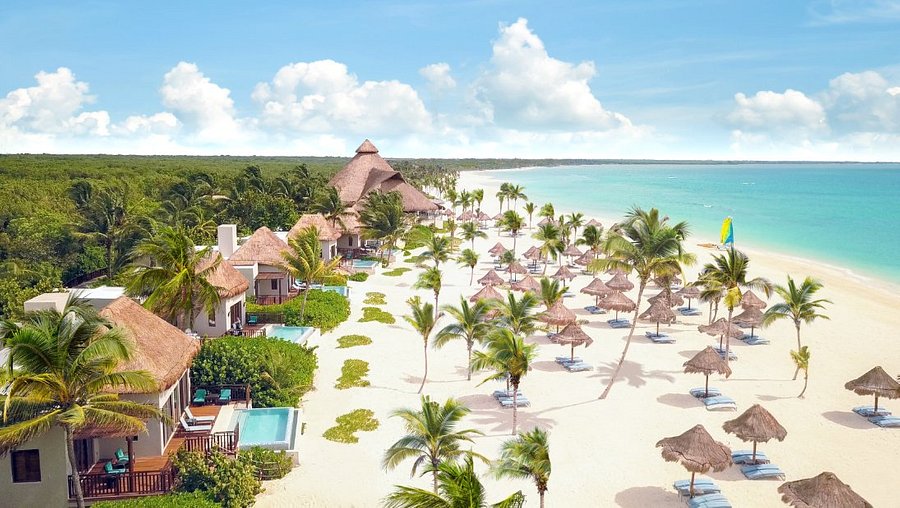 Situated in more than 200 acres of lush tropical foliage, the Fairmont Mayakoba resort is a luxurious family hotel with all-inclusive packages. In the bustling city of Playa del Carmen, families have multiple services and attractions at their disposal when booking a stay at Fairmont.
There are plenty of on-site pools, beach access, diverse restaurants, shopping boutiques, and amenities offered by the hotel. Kids have shown that they love the many water slides at the splash zone and Island Pools area for little ones.
If your children are between the ages of five and eleven, they can join the Kid's Discovery Club & Adventure Camp, which hosts supervised events and programs each day.
A great activity to do with the family involves learning about local traditions, exploring the jungle, making pinatas, and outdoor adventures. That includes ziplining, venturing through the Mayan ruins, or experiencing the cenotes firsthand. Babysitting services are also available upon request.
The accommodations are perfect for families, as almost all of their suites have ample space and plush amenities. The three or four-bedroom luxury residence is best for large families as it has two floors, one to three bedrooms with a king bed, and one bedroom with two double beds. There is a pool out on the private deck with chairs and an umbrella, a full kitchen and marble bathroom, and a work area.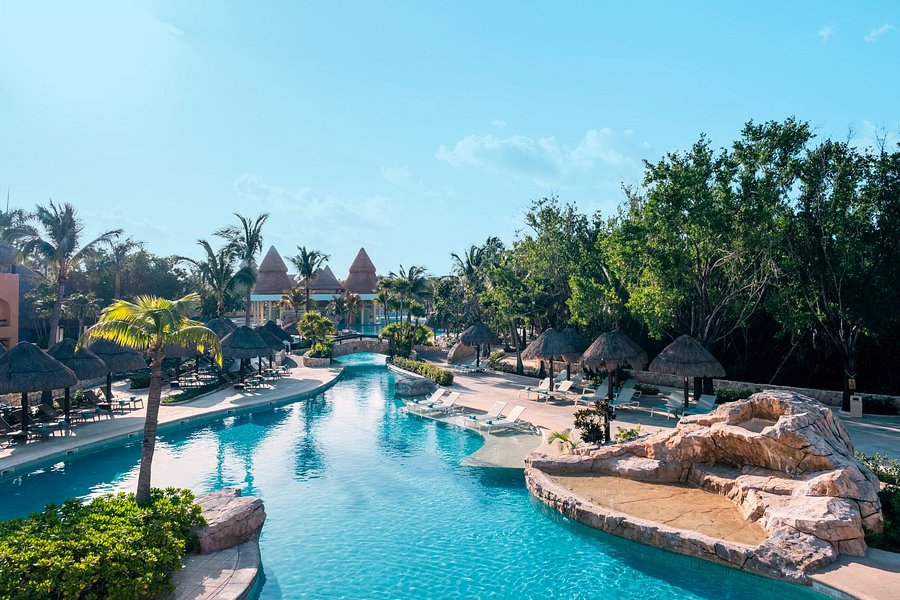 Located in Tulum National Park, Iberostar Selection Paraiso Maya is your one-stop shop for a beautiful family getaway. Take in the gorgeous scenery as you learn more about the Mayan culture and history while also being pampered during your stay.
As part of your all-inclusive package: eat, drink, and be merry while at Iberostar! Check out the golf courses, dive into one of their nine pools, tour the ruins, and find something more specific at one of the hotel themed-events. Either way, no one in the family will be bored while you're staying at Iberostar.
The hotel truly caters to families with children, as they have specific areas of the premises dedicated just to them. They have a wave pool and a lazy river that they can enjoy when using the pools, or they can join the Star Camp if they are between four and twelve years old.
Each group has special events and activities for the age groups, whether it be arts and crafts, movies, board games, going to the park, and so on.
Or, if everyone in the family is a little older, you can all take a trip to the spa for various wellness treatments like a massage or facial. Once you guys finish there, get dressed and head out to the Galaxy Disco Club for adult entertainment, or try your hand at the casino. The possibilities are endless at the Iberostar Selection Paraiso Maya.
They have six different suites, all able to accommodate two adults and two children. Each suite has a private terrace with a whirlpool tub, a kitchenette, separate dining and living room, access to a pool and the beach, and an exquisite bedroom area.
As one of the more polished Playa del Carmen all-inclusive family resorts on the list, the Ocean Riviera Paradise is just nine kilometers from Playa del Carmen.
Recently renovated, the Ocean Riviera Paradise is huge, with beautiful contemporary architecture and a Mediterranean-style interior design. There are several swimming pools, and one is located on the beach just meters away from the Caribbean Sea.
Nestled amongst tropical vegetation, the hotel boasts ten restaurants, twelve bars, and even a sports area. Families will love the diving center that offers a vast array of options that the whole family can enjoy.
With close to 1000 spacious suites, each room has four-poster beds, a minibar, a private terrace or balcony, a Smart TV, a sofa bed, a separate sitting area, and more. The upgraded suites also provide a view of the sea and direct access to a hot tub and the pool. All guests may enjoy the 24/7 room service as part of the all-inclusive package.
Additionally, there's a kid's club for children that want to find activities to do while parents take a break, or after they've enjoyed a full day of adventures together. Kids love the game room which also has a bowling alley, the kid's water park, the outdoor playground, and themed events like eco-day, pirate day, aqua kids, dancing games, the Olympics, and so on.
For parents, there's a spa, casino, and nightclub for adult entertainment. The family has plenty of options that they can do together like scuba diving and snorkeling, jet-skiing, table football, board games, beach volleyball, mini pool, beach football, and so on. Create lasting memories today at the Ocean Riviera Paradise hotel.
The Royal Haciendas All Suites Resort & Spa is a Gran establishment in Playa del Carmen that is indeed fit for a royal family. The building is bright and airy with a Spanish Colonial-inspired layout, not far from numerous restaurants and shops in the city.
One of the main features that draw families to book their vacation at the Royal Haciendas is the proximity to crystal clear turquoise waters and the white sandy beaches near the sea. You have multiple options for your all-inclusive stay, including all drinks and meals covered, accommodations only, or accommodations with breakfast added.
Additionally, guests can enjoy free parking, and the meals and drinks are endless at four of their bars and eateries. Access to the outdoor pool that has a swim-up bar, the beach, the fitness center, the kid's club, and the spa are all included in the all-inclusive deal.
One of the popular choices for spending quality time with the family is to take a trip to the Cancun Mayan Museum, for which the hotel supplies two free tickets per stay.
Replete with room service, Wi-Fi, a mini-fridge, a private balcony, coffeemakers, and flat-screen TVs, families can choose between the rooms or suites that best fit their needs.
If you choose one of the more upgraded rooms, you'll also get a separate living room, full kitchen, and a hot tub while enjoying views of the sea. Room service is available to all families while at The Royal Haciendas.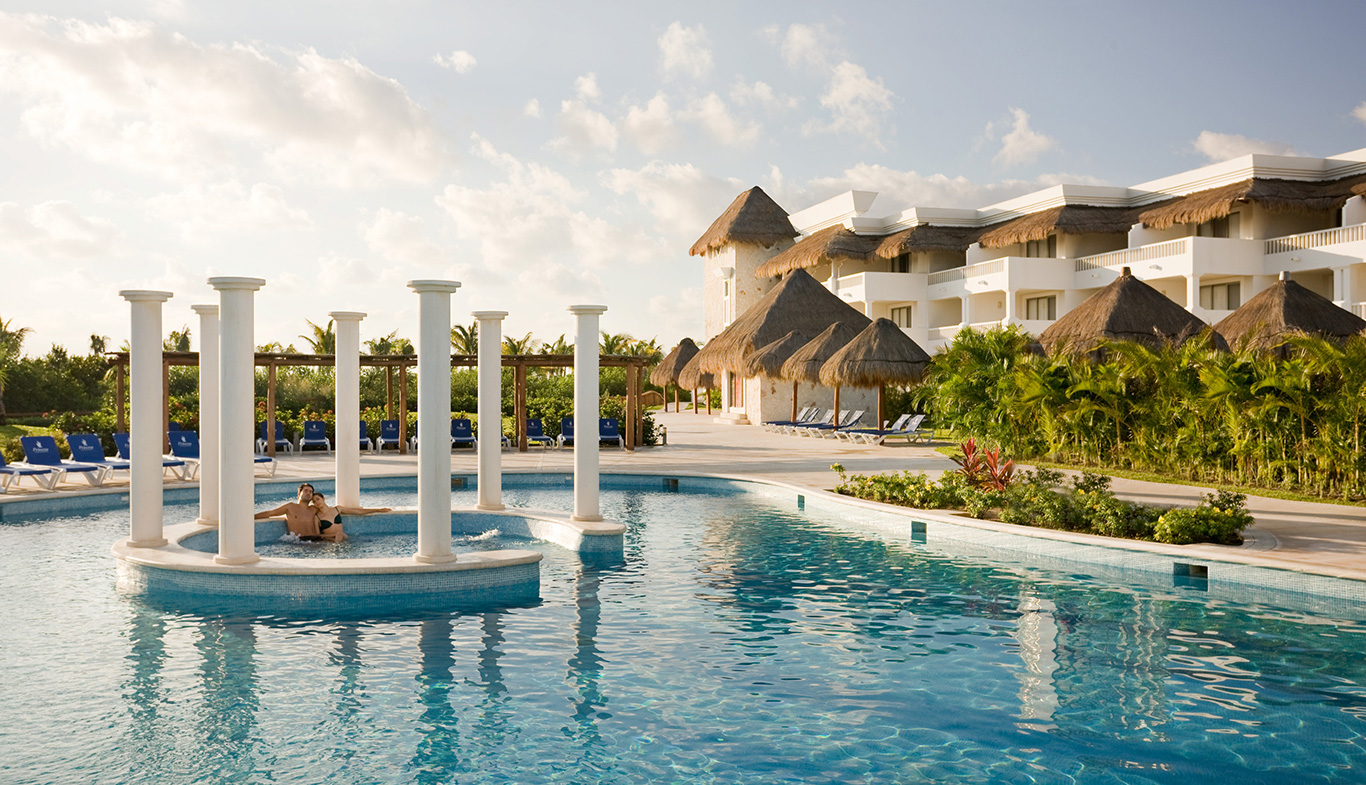 Simple and elegant is the name of the game at the Grand Riviera Princess Hotel. For families that want options to find their niche at the hotel, the children's club offers parents a short break while the kids participate in theater events, tennis, water sports, craft clubs, and even a mini disco.
There's a Family Club for larger families and it is ideal for arranging activities that everyone can enjoy together. In the area, nearby families can take a trip to the 3D Museum of Wonders, the Gastón Charó Art Gallery, and the Frida Kahlo Museum, each with a unique history to offer visitors.
Want to experience a diverse range of gastronomy while you vacation? The Grand Riviera features seven themed restaurants, from authentic Mexican eats to Swiss delicacies, and Italian favorites.
The array of flavors on display is sure to please everyone in the family. All of these restaurants are part of the all-inclusive package at The Grand Riviera Princess Hotel.
There are numerous options for lodging while on vacation, with some standard rooms and suites that have access to the pool and they're comfortable and basic. For families that want a more lavish experience, they have the Platinum and Laguna Villa Suite rooms.
These rooms, like the Family Club Deluxe Junior Suite, come with exclusive benefits and a large space for family meetings, reunions, and parties. All suites have air conditioning, a flat-screen TV, a full kitchen or kitchenette, and free internet access.
Additionally, concierge services and room services are a part of the all-inclusive deal, along with free parking, and access to the property's private beach, fitness center, gaming rooms, and more.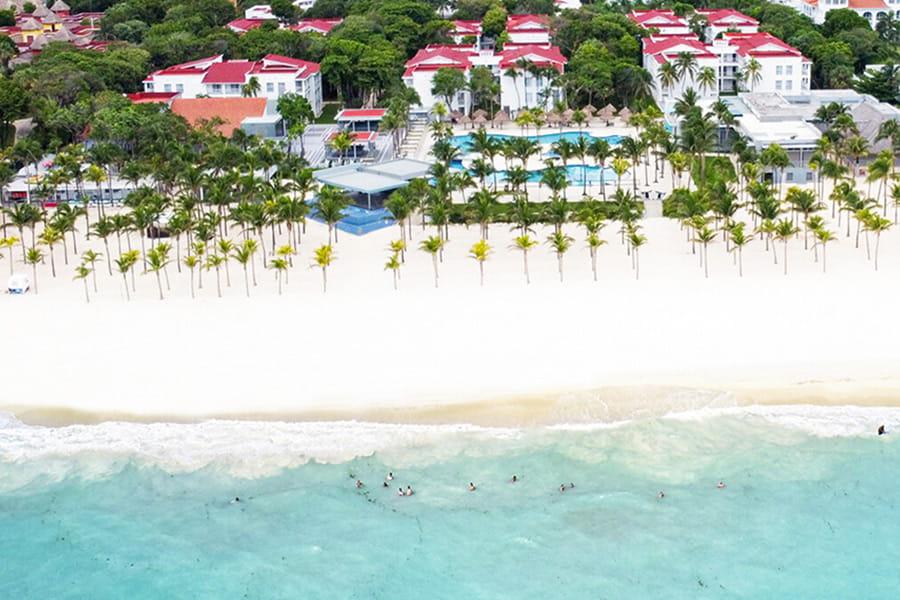 In the Playacar residential estate, Hotel Riu Yucatan is a luxury resort on the beach that offers all-inclusive packages to families and couples that want to explore all that Playa del Carmen has to offer.
Their top-of-the-line resort hosts a variety of activities for the family and plush rooms to make everyone's time there relaxing and pleasant. Families will have a ball planning out fun and exciting activities for each day since there's so much to do in and around the facility.
Children ages four to seven or eight to twelve can dive into the activities specially designed for them. And of course, there's something special for the adults to partake in; the daytime and evening entertainment include Riu Get Together Parties and discotheque.
What's more, there's a gastronomy buffet, along with Italian, Asian, Mexican and steakhouse restaurants and five bars to choose from.
Additional amenities that you expect to enjoy at this hotel include free parking, free internet, a pool, a fitness center, beach access, a flat-screen TV, and more.
This boutique-style hotel satisfies the needs of families that yearn for a quiet escape in a secluded tropical rainforest. The Reef Playacar is one of the best Playa del Carmen all-inclusive family resorts that takes its inspiration from Mayan history.
This gated community offers families exclusive benefits, such as access to not only their spectacular dining options and bars, but also other restaurants in the surrounding area. It's only 15 minutes from Fifth Avenue, which has a nice arrangement of nightlife entertainment, specialty shops, and things to do for family groups.
The all-inclusive specials come with all accommodations related to bed and breakfast, and other activities such as exploration tours, eco-adventures, skydiving, and more. The golden beaches of Playa del Carmen offer beach volleyball, snorkeling, swimming, diving, jet-skiing, and more.
Furthermore, babysitting services are always available to parents that want to sneak away for a bit, and not worry about the well-being of their little one(s). Free parking, free Wi-Fi, a fitness center, bicycle rental, the sauna, yoga classes, the snack bar, laundry service, beach equipment, and more are all included in the all-inclusive package.
The Premium room and Superior room have plenty of space for families, as well as air conditioning, private beach access, a minibar, refrigerator, housekeeping services, satellite TV, and other standard amenities.
Hotel Riu Tequila is another all-inclusive hotel that has many activities for couples and families, no matter the size, to enjoy together. Situated conveniently from the stunning Playa del Carmen beach, the hotel is a mere 450 meters away from this beautiful beach.
You don't have to worry about getting around because the resort provides guests with a complimentary shuttle to the beach. They also provide shuttle service to and from the airport for families that weren't able to bring or rent a car.
While you're there you can enjoy an assortment of activities that you and your family can lose track of time doing. There are water activities to try out such as boating, canoeing, windsurfing, and snorkeling. If there are any other activities you're interested in, just ask the hotel staff if it's available and they'll be happy to assist you.
What's more, the hotel even has a kid's club, offering your smaller children some appropriate fun to have while you're off enjoying adult activities.
Hotel Riu Tequila has 630 rooms which are beautifully furnished. Each room has free WI-FI. The facility houses four outdoor pools, a relaxing spa, a gym, and one pool for children with a delightful water slide.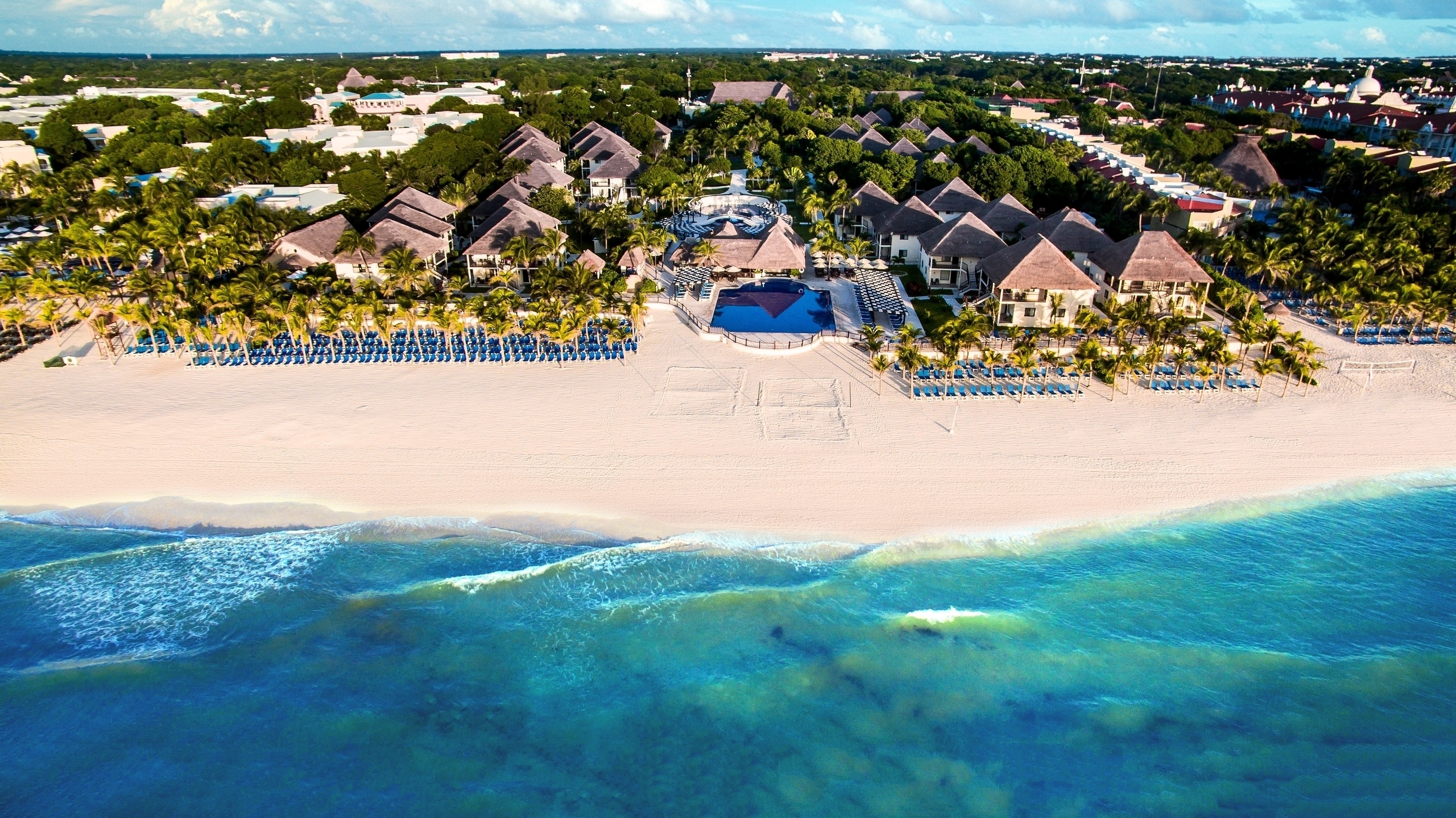 Allegro Playacar is an all-inclusive resort that's so successful that many visitors to Playa del Carmen make it their resort of choice. Allegro Playacar offers an intriguing mix of comfort, convenience, and value; moreover, there's a well-established family-friendly setting with a plethora of amenities that you can enjoy during your stay at this resort.
Conveniently experience some of Playa del Carmen's most renowned attractions that are situated close to the resort such as the Zona Arqueologica Playa del Carmen and more!
Upon arrival, Allegro Playacar provides their guests with amenities including, but not limited to, a refrigerator, a minibar, air conditioning, and access to Wi-Fi.
Find plenty of things for you and your family to get into. There is an abundance of water activities to explore, from boating to snorkeling to diving. All of these activities can be done with your family.
Additionally, there's a kids club that families can take advantage of. Children can have kid fun as they enjoy a moment to relax.
Residences at The Fives is a luxurious resort that houses 210 generously sized rooms. This aesthetically appealing resort is conveniently situated in Playa del Carmen on the Riviera Maya.
Since this opulent resort is located here, guests can experience everything that downtown Playa del Carmen has to offer! This includes all of their local attractions, such as the notable selection of world-class exclusive championship 18-hole golf courses only moments away from the resort.
Be prepared to have lots of fun on the sea with all of the exciting water activities that you and the family can engage in. You may find yourself boating, snorkeling, or even diving, but whatever the case may be, you are sure to have fun.
When it comes to the rooms, you can have your choice of a one, two, or three-bedroom resident. For those traveling with families, there will be no shortage of space, especially when you take into account the size of each room coupled with the fact that you can have multiple if need be.
Some of the welcomed amenities that guests can expect to enjoy on their stay at Residences at The Fives include free parking, free internet, a fitness center with a full gym, a bar and lounging area, a private beach, multiple pools, valet parking, and more. Also, kids stay for free at The Fives Hotel!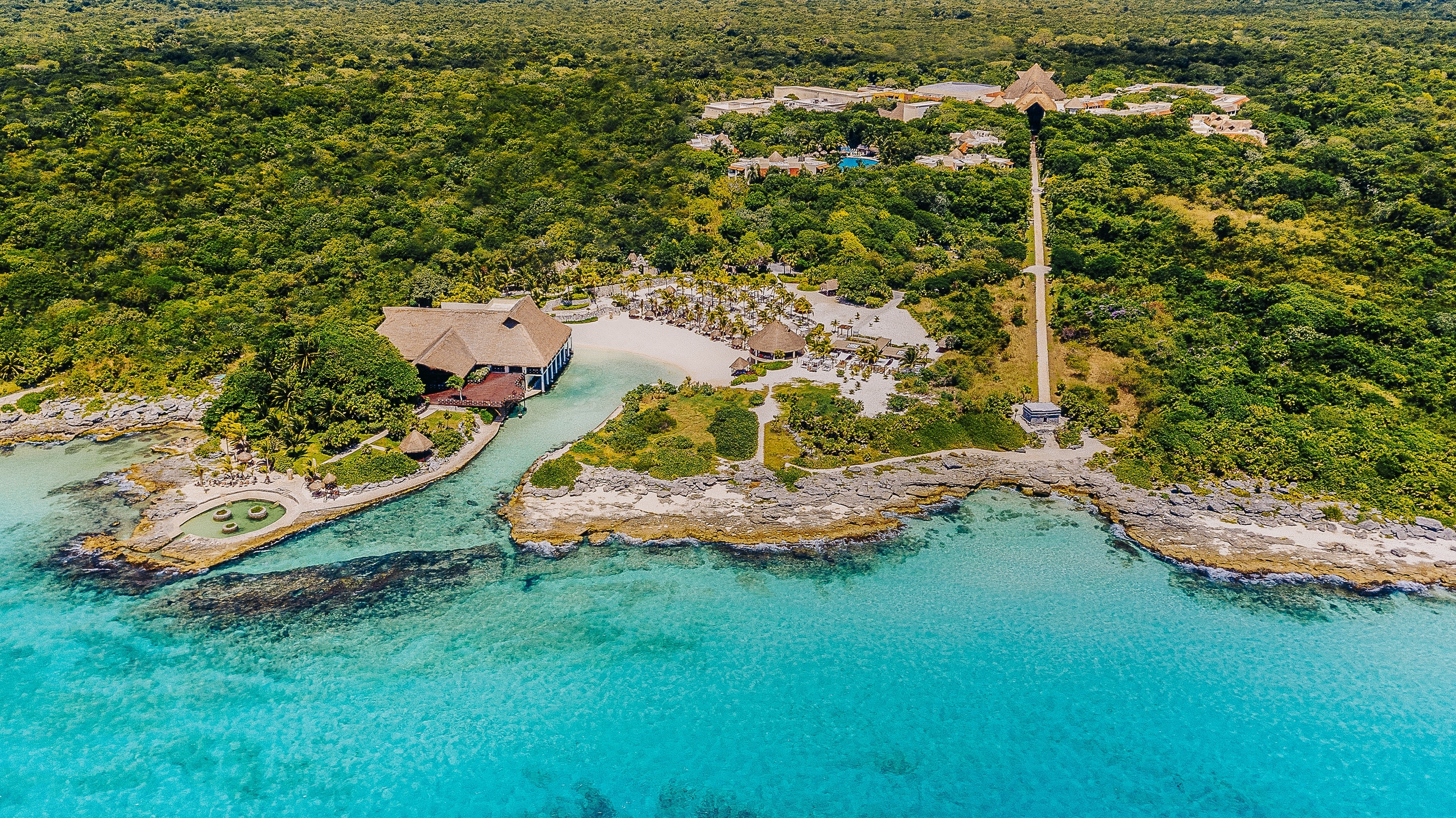 The Occidental at Xcaret Destination in Riviera Maya is a 5-star resort that marries the natural surroundings and preserved cultural landmarks perfectly. In other words, the resort is simply a sight to behold.
This family-centered resort has a wide array of activities for you and your children to enjoy. Thanks to all of the things you'll have at your disposal to do, you will have to make some tough choices.
You can begin by taking an exhilarating swim with the dolphins, trying many different water sports at the beach club, attending a Mayan Indian ceremony or you just might sail down the canals and the spectacular rivers which surround the resort.
The Xcaret eco-archeological park is unique and fun-inducing, especially for families; there are more than 40 expositions and cultural attractions on art and traditions native to Mexico.
Wi-Fi is featured in each cozy room at this resort; there's cable, minibars, and TVs as well. Each suite adds separate living rooms. For those who choose a club room or a suite, you'll have access to a private lounge, pool, and beach.
Furthermore, suites that are upgraded to two bedrooms include whirlpool tubs, coffee makers, and beautiful sea views. The standard rooms still have comfortable amenities such as a kitchenette, balcony or terrace, plush bedding, and more.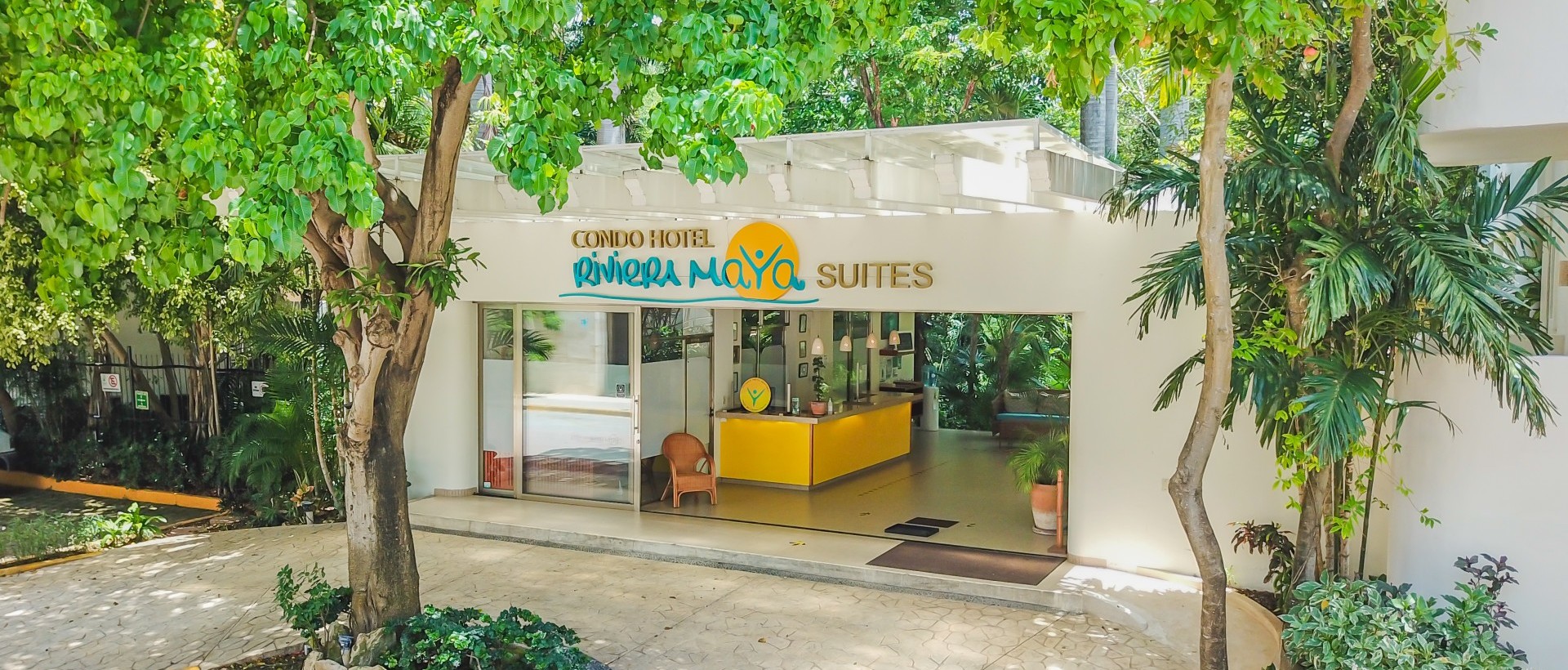 Riviera Maya Suites features apartments with two or three bedrooms. This complex is uniquely designed for family vacations by pioneers at Playa del Carmen.
You are sure to enjoy a memorable experience in the Mexican Caribbean while you are on your stay at the Riviera Maya Suites. You can take advantage of the vacation rentals, conveniently located moments from the beautiful sea.
Here you can choose from a wide variety of water activities, such as snorkeling at the Coral reef or scuba diving. Moreover, you can enjoy some yachting on the Caribbean Sea.
As a Riviera Maya Suites guest, you can access the beach club. Each Riviera apartment is fully equipped with high-end appliances, which will help you to perform all of the necessary duties that you need to perform throughout your stay. As mentioned previously, you can choose two or three-bedroom suites.
Each bedroom features a private bathroom. The main bedroom is furnished with one king-size bed and the second bedroom has two double beds which is ideal for families. The third bedroom features two individual beds to accommodate the largest of families.
Additional amenities you can expect to enjoy on your visit to Riviera Maya Suites include 24-hour check-in, dry cleaning and laundry services, free parking, free Wi-Fi, a hot tub, pool, beach equipment, and many more.
More about our TFVG Author
A seasoned traveller, Dad, and avid sports tourist, James foundered The Family Vacation Guide to share his expert vacation experiences- especially when it comes to being a travelling family man.
Featured in Travel articles such as Travel + Leisure, TripSavvy and SFGate, you know you're reading some of the best vacation tips online.