Cozumel is one of the premier islands in Mexico, near the coast of Playa del Carmen. Depending on which side of the island you're on, you can partake in local vibes or the top-end beaches with sugary sand shores and crystal waters. 
There are breathtaking reefs with exotic tropical fish, palm trees everywhere, nurse sharks, turtles, manta rays, and more marine life waiting for you to explore.
Tourists, day-trippers, and cruisers love the idea of relaxing at one of the many all-inclusive resorts sprinkled around the island. For small families, large families, or a group of friends wanting an exclusive getaway, this island has it all from food, shopping, and fun in the sun.
Are you having a hard time choosing? We've put together a list of the 13 best all-inclusive hotels and resorts in Cozumel for your convenience. 
Best All-Inclusive Hotels in Cozumel, Mexico
Here's our list of the top all-inclusive hotels and resorts in Cozumel that are family-friendly with plenty of amenities: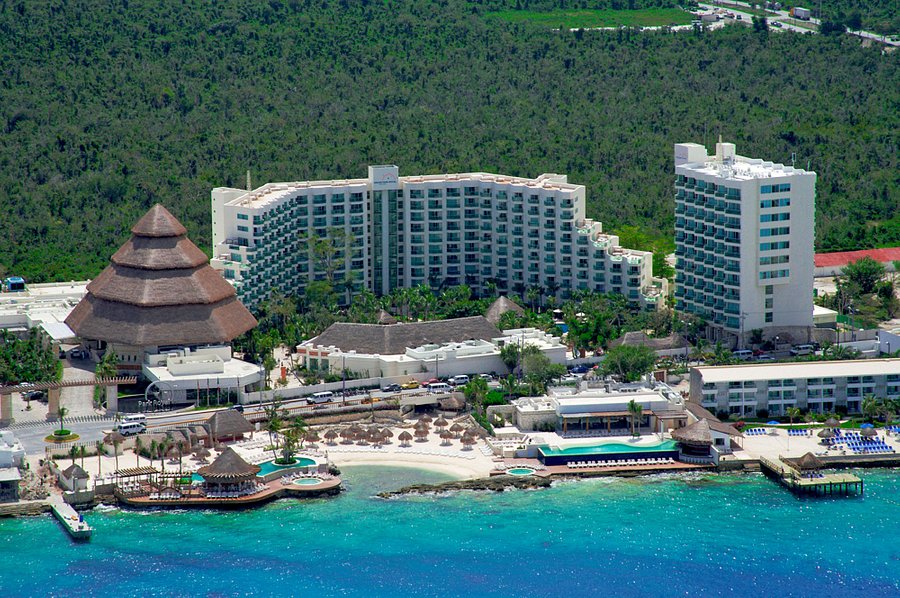 The Grand Park Royal Cozumel Luxury Resort has a reputation as one of, if not the best all-inclusive resorts on the island. The resort is family-friendly, with numerous activities for families that have children in tow.
The Grand Park Royal has a private beach with water that's so clear and warm; you'll never want to leave the golden sandy shores.
They also offer plenty of activities such as snorkeling, diving, scuba diving, and volleyball. One of the resort's highlights is the Kid's Club, featuring a child's swimming pool equipped with water slides, sports, a mini-theatre, a playground, games, and more. All activities are under the supervision of skilled staff members.
Also included in the package are the adult's activities and amenities like the infinity pools, whirlpools, spa, fitness center, sports court, and two party decks lounges. The nightlife in Cozumel is lively with many shops and two National Parks nearby.
With nearly 15 bars and restaurants at the facility, there's no shortage of delicious cuisines to sample and tasty cocktails to enjoy. You can always catch a pool party as well, with great music and entertainment from the DJ.
Enjoy deluxe rooms that have luxurious marble floors, a private balcony, 27-inch flat-screen TVs, a vanity mirror, and more. All meals and snacks come with the package price at select restaurants.
If you and your family want to enjoy an intimate setting with tons of activities, Iberostar Cozumel is an excellent option. They have 306 beautiful rooms situated right in front of the second-largest coral reef. Observe the beauty of Cozumel and sit back and watch the peacocks, iguanas, and flamingos roaming the property.
The suites are similar to bungalows with a private balcony. Those rooms are the largest available at the resort, with an ocean view and sun loungers available on the balcony.
Besides the PADI-certified diving activities, there are two outdoor pools, four restaurants, beach access, a full-service gym, and fitness classes available.
If you're interested in a bit of rest, enjoy the exquisite spa that offers massages, beauty treatments, and aromatherapy services.
Other beaches and water activities include kayaking, snorkeling, volleyball, and tennis. Children can take advantage of the kid's club for young ones ages four to twelve years old.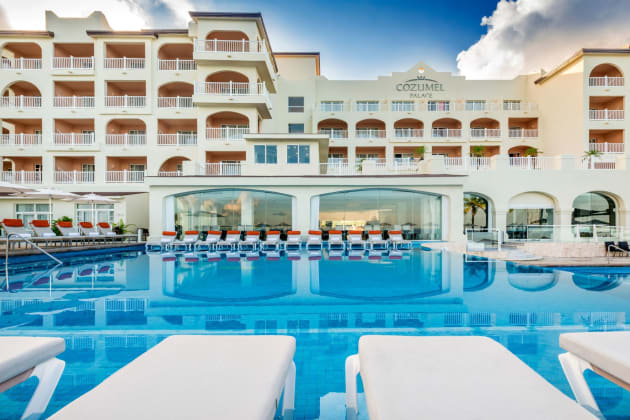 Another exquisite resort near the sea, the Cozumel Palace, is perfect for families, divers, or couples looking for a romantic getaway. They have a plethora of water activities like scuba diving, snorkeling off the dock, free diving, and more.
The 169-suite resort sits by the transparent blue waters of the Caribbean Sea, and guests can choose a room that has a beautiful view.
Rooms come with a spacious and comfortable sitting area, a private balcony, and a double whirlpool- excellent for relaxing after an adventurous day.
Amenities at the Cozumel Palace include the free WiFi service, turndown service, a minibar with bottled war, juices, domestic beers, and soda. There's also a liquor cabinet, red wine provided when you arrive, air conditioning, and more.
The rooms also have digital safes, LCD Satellite TVs, slippers and bathrobes, a coffee maker, CHI® hair appliances and products, and a variety of other convenient accommodations.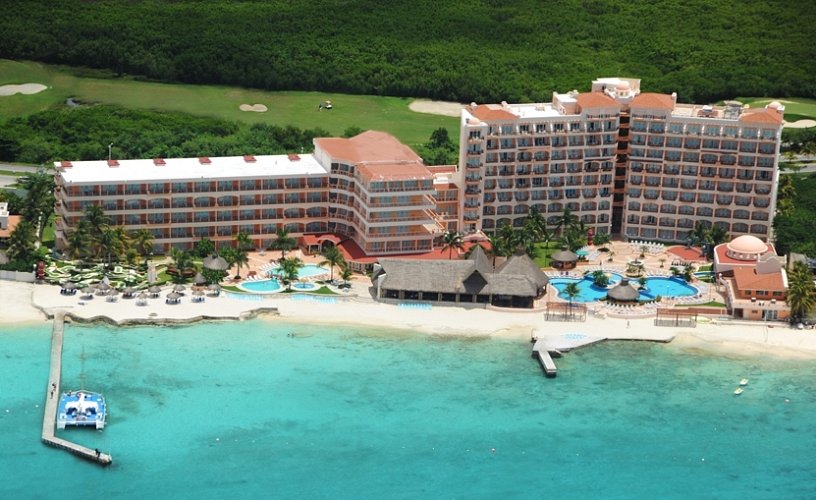 Take a trip to a historic resort rich in traditional Mexican decor. El Cozumeleno was amongst the first resorts of its kind constructed in the Northern part of the island.
For that reason, some parts of the resort are a little dated, but it adds a certain charm to go with the ocean views and excellent value for the price.
Families with children will appreciate the many kid-friendly services and features like the game arcade, the kid's club, mini-golf, and kid pools. The rooms are large and can accommodate up to four people.
Parents that like to golf can take a little time to themselves and play a few rounds of golf at the personal golf course with discounted rates.
Additionally, El Cozumeleno Beach Resort has an indoor pool, five outdoor pools, bike tours, theme nights for the family, kayaks, snorkeling, volleyball, diving tours, and more. Guest favorites include fishing trips, parasailing, jet ski excursions, and relaxing spa services.
The rooms have blackout curtains for when you don't want to be disturbed, room service, breakfast delivered to your room, a private balcony, flat-screen TVs, and more.
The on-site restaurant comes with an all-inclusive package, and bottled water, snacks, and drinks are included as well.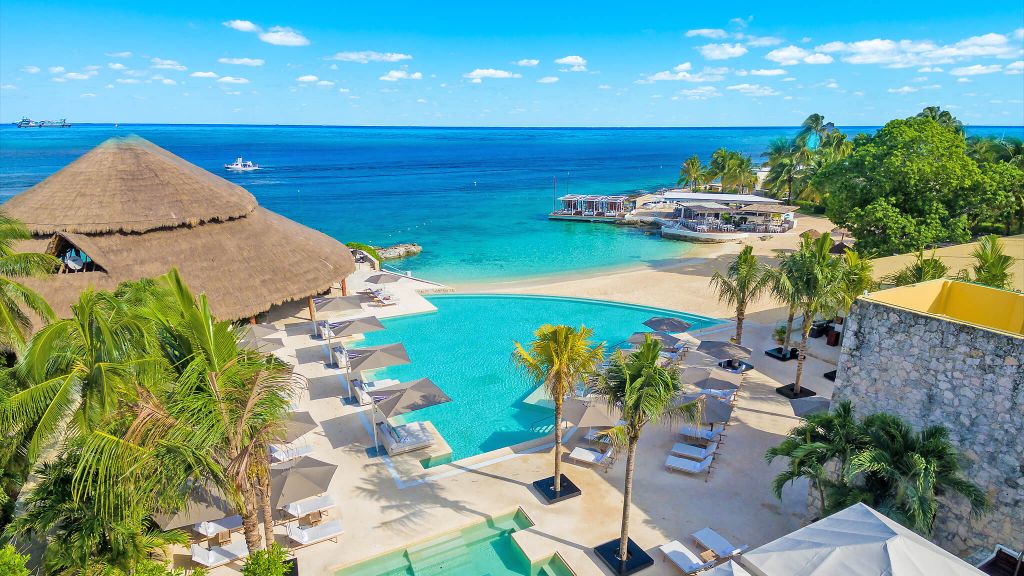 Experience a first-class resort with a private beach with spectacular views are the Presidente InterContinental Cozumel Resort & Spa.
Families will love the vast number of activities this location has, like the on-site spa with a steam room, hydrotherapy, massages, and beauty treatments.
Presidente InterContinental has four premier restaurants that guests can enjoy in their all-inclusive package, including Mediterranean, Mexican, Italian, and other international fares.
There's an exceptional bar and grill at the facility that serves tropical cocktails and beers, as well as snacks.
This pet-friendly resort allows fur babies up to 20 pounds for a daily fee. Amenities and services include organized children's activities, a fitness center, dry cleaning, a butler service, an on-call doctor, and more. The rooms are luxurious, with a choice between suites and executive rooms.
The Executive rooms have a large deck terrace with a cozy lounge area and a private plunge pool. All rooms and public areas have complimentary WiFi.
The suites offer a private sitting area with a swing-in hammock, a gorgeous view of the Caribbean sea with direct beach access, a spacious deck, a fire pit, and nearly 6000 sq ft.
Aside from food and drinks, other activities included in their packages are snorkeling, water and land excursions, two tennis courts, table tennis, and two outdoor pools.
The Explorean Cozumel is a discovery resort that offers an unforgettable experience for the whole family. Included in your stay are daily hikes and excursions by boat, hiking, snorkeling, and boat.
Chankanaab National Park is close to the resort, where guests can partake in swimming with the dolphins.
The Fiesta Americana is the sister hotel of the Explorean, and families will have access to all of the facilities and amenities offered at both hotels.
That includes the private beach access and the culinary options on-site. The Playa Corona Beach and the Playa Santa Maria beach are about five minutes away by car.
The Explorean is one of the smaller resorts, and it only has one restaurant, Lool Kan, but the quality is superb, and there's a nice variety of dishes.
Guests are welcome to get spirits, beers, and other non-alcoholic beverages, and they can also request a hand-crafted cocktail if they prefer.
The Explorean also has a hot tub and a sauna in their spa. Additionally, there are plenty of expeditions through the jungle to visit the Mayan ruins for a unique experience on the island.
The rooms are comfortable and spacious, with standard amenities such as a cosmetic mirror, a waiting room, air conditioning, housekeeping services, a minibar, and a terrace with a garden view.
Occidental Cozumel is a Mexican Hacienda-themed resort that grants easy access to the nearby beaches and the Palancar Reef.
What's more, the all-inclusive resort is surrounded by tropical gardens, stunning forests, and majestic mangroves.
The Occidental Cozumel resort, renowned for its service, houses a wide range of restaurants & bars, its very own nightclub, and three outdoor pools.
This island brings with it loads of fun; the resort provides a variety of scuba and snorkeling options for guests to choose from. This place is not only family-friendly, but it is home to one of the best hotels that you can find in Cozumel.
The spacious rooms come with WiFi (for a fee), minibars, and TVs. If you have a suite, you can enjoy separate living rooms.
Parking is complimentary, and there's a fitness center and a spa for you and your family to enjoy. More importantly, there are kid's entertainment programs that offer a variety of opportunities to participate in, such as snorkeling, sailing, swimming with turtles, and kayaking!
Regarded as one of the best diving destinations in the world, the Melia Cozumel Golf resort transports you to a different world.
There's the opportunity to swim with dolphins, and you have convenient and easy access to the Mayan treasures of the region.
This all-inclusive resort is located just 50 yards away from the beach, and it has an 18 hole golf course nearby. There's no shortage of activities to get into at this resort.
The rooms have spectacular views of both the tropical gardens and the beaches. Moreover, the place has some of the best restaurants on the island and five excellent bars.
Designed to facilitate family fun, this resort has many water sports including, windsurfing, snorkeling, and kayaking. However, you must book a chance to go diving to see the Mesoamerican Reef, the second-largest reef on the planet.
Additional amenities include flat-screen TVs and Wi-Fi (for a fee). Upgraded rooms also include coffee makers and minibars, while the suites come with a lounge and a sofa, with a whirlpool tub nearby.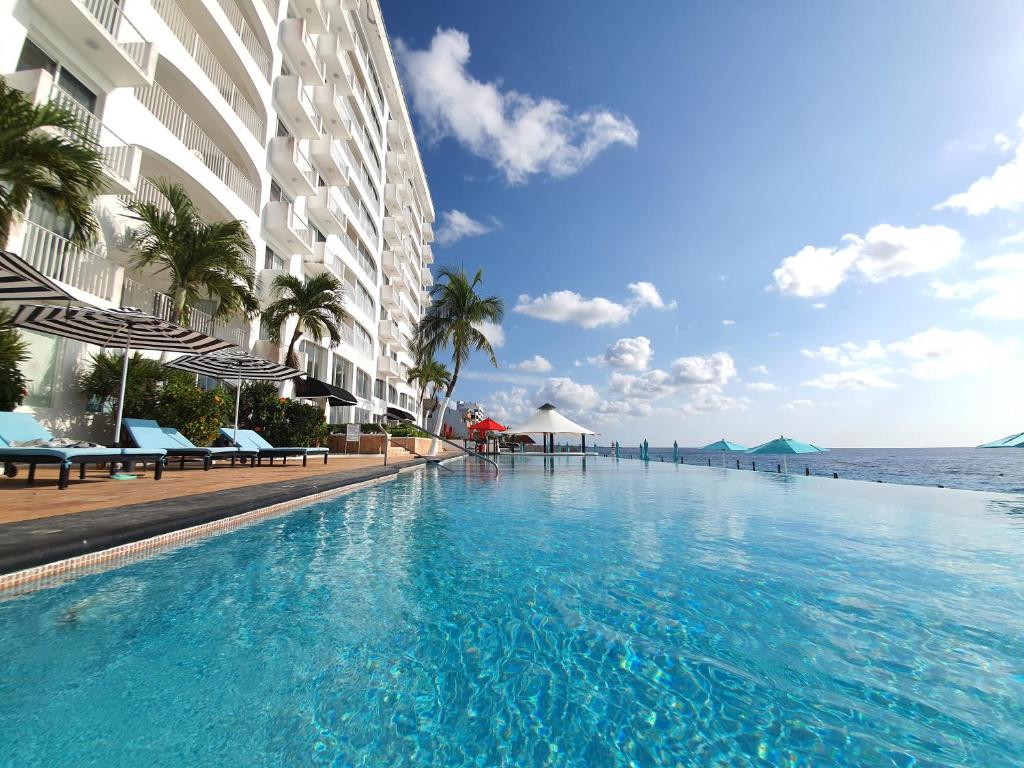 The Coral Princess Golf & Dive resort is all-inclusive, granting private access to the Playa San Juan beach, Cozumel Country Club golf course, and exclusive coral reefs. In each of the 140 rooms, you can expect to see infinity heated pools, ocean views, or views of the jungle.
This resort does indeed cater to golfers; however, the resort also provides a wide range of scuba diving experiences at the reefs that are nearby and a full-service spa.
The Coral Princess has a rich history of providing exceptional service for over 30 years, including hosting many major events.
The brightly lit rooms have free Wi-Fi coffee and tea makers, flat-screen TVs, and a balcony. An upgraded room will afford you a view of the sea.
Moreover, one and two-bedroom suites have dining areas, pull-out sofas, and kitchenettes. Additionally, room service is available.
The Sunscape Sabor Cozumel resort is situated nicely right next to the Playa Mia Grand Beach. This resort is designed to be family-friendly, and as a result, you can find many different activities to get into. The Playa Mia Grand Beach is the largest family-friendly beach renowned for its abundance of water activities!
These beautiful rooms feature WiFi for a fee, free minibars, flat-screen TVs, and either a balcony or a terrace. If you were to upgrade your room, you'd have access to a view of the sea. With a suite, you can have pull-out sofas and sitting areas. Some suites even have hot tubs and kitchenettes. Room service is available as well.
Food and drinks are included in three a la carte international restaurants, which is a buffet-style restaurant. There are also three bars and a wine cellar. For the late-night owl, there's even 24/7 dining. There's a spaz outdoor pool, water sports, a gym, and a kid's club for your family to enjoy.
The El Cid La Ceiba Beach Hotel is a beautiful family resort overlooking the Caribbean Sea. Interestingly the Chankanaab Beach Adventure Park is mere moments from this all-inclusive resort. There are many activities to get into as you relax at the resort.
The rooms are furnished with dark wood and tile floors. The rooms have satellite TV, safes and WIFI access. Moreover, there are coffee makers with balconies. If you were to get a suite, there will be an additional kitchenette with separate living areas. Some suites even have sofa beds.
There are two restaurants, a gym, two outdoor pools and a pool bar where you can go to get refreshments. Furthermore, the resort even has a spa that offers massages. What's more, there's a tennis court to keep active and a hot tub to relax in after.
If you need a meeting or event space, these are available to the guests as well. Lastly, breakfast is available at the resort as well.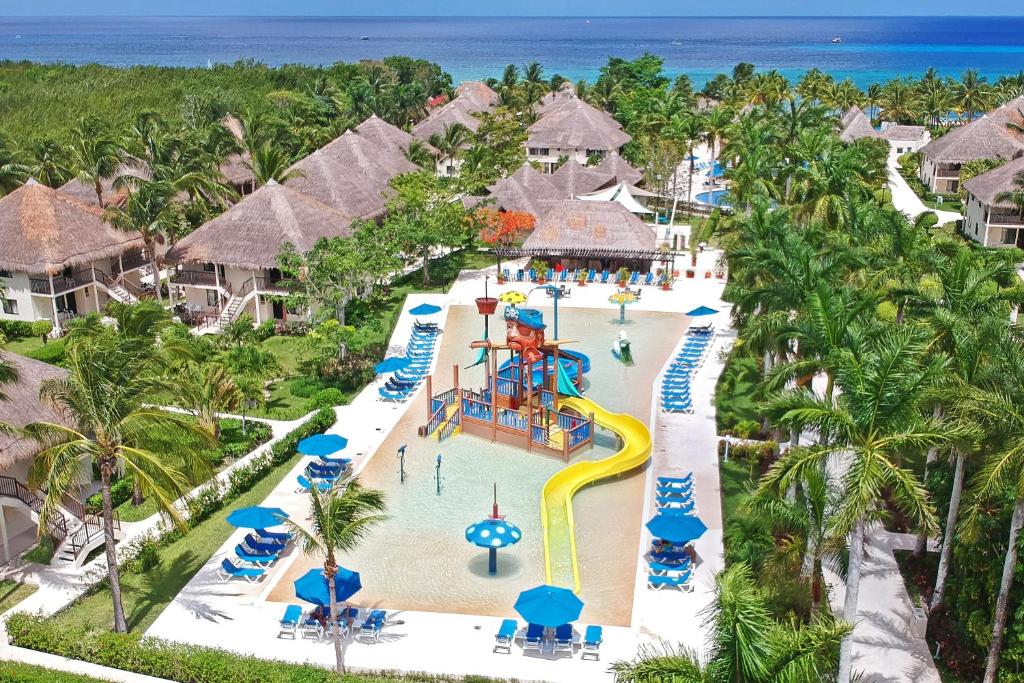 The Allegro Cozumel hotel is in Palancar, near the beach. Moreover, there's easy access to the Palancar Reef, which is the second-largest reef on earth.
If you're a guest at the Allegro Cozumel hotel, you have the opportunity to visit the majestic and spectacular reef daily. What's more, the hotel offers excellent scuba packages to guests who decide to stay with them.
This hotel is uniquely constructed and consists of 305 Polynesian style Bungalows which are spacious and air-conditioned to boot. The outside boasts traditional external architecture, which aids the resort in blending with the natural ambiance.
This family hotel has five swimming pools, a spa, a place to play various sports, and even a water park! Additional amenities include the spacious rooms that come with minibars, flat-screen TVs, terraces, or balconies.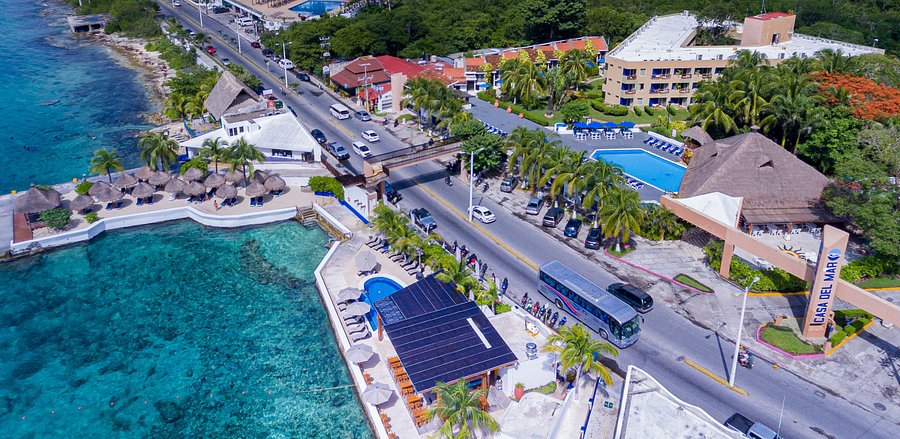 Casa del Mar Cozumel Hotel & Dive Resort is a family resort situated next to the sea and offers beautiful views. This is an all-inclusive resort that specializes in scuba diving.
The resort had a Mexican village vibe thanks to the tropical gardens, which bring the link together. This resort emphasizes creating a comfortable, relaxing, and quiet atmosphere for everyone who stays with them.
The hotel has direct access to the beach, but there's also a lounge area and a swimming pool to take a dip in if you want to stay inside. Also, there's a well-stocked bar that you and your significant other can take advantage of. If you're going on a scuba diving trip, departure takes place at the hotel's private dock.
Other amenities that guests can look forward to are the casual rooms and cabanas are adorned with wood furniture, ceramic-tile floors, and colorful decor. There's Wi-Fi for a fee and flat-screen TVs throughout the rooms as well.
More about our TFVG Author
A seasoned traveller, Dad, and avid sports tourist, James foundered The Family Vacation Guide to share his expert vacation experiences- especially when it comes to being a travelling family man.
Featured in Travel articles such as Travel + Leisure, TripSavvy and SFGate, you know you're reading some of the best vacation tips online.