Las Vegas, Nevada is known for its nightlife, entertainment, and thrill factor. Home to glamorous casinos, restaurants, and the world's largest observation wheel, Vegas is nothing short of an adventure. 
However, you don't have to hit the casino to have a good time. Not all of the thrills of Vegas are experienced on the ground. Get glorious views of the city from an aerial point of view with ziplining, free-falling, and high-climbing adventures. 
Check out this list of the best places for ziplining and aerial adventures in Las Vegas.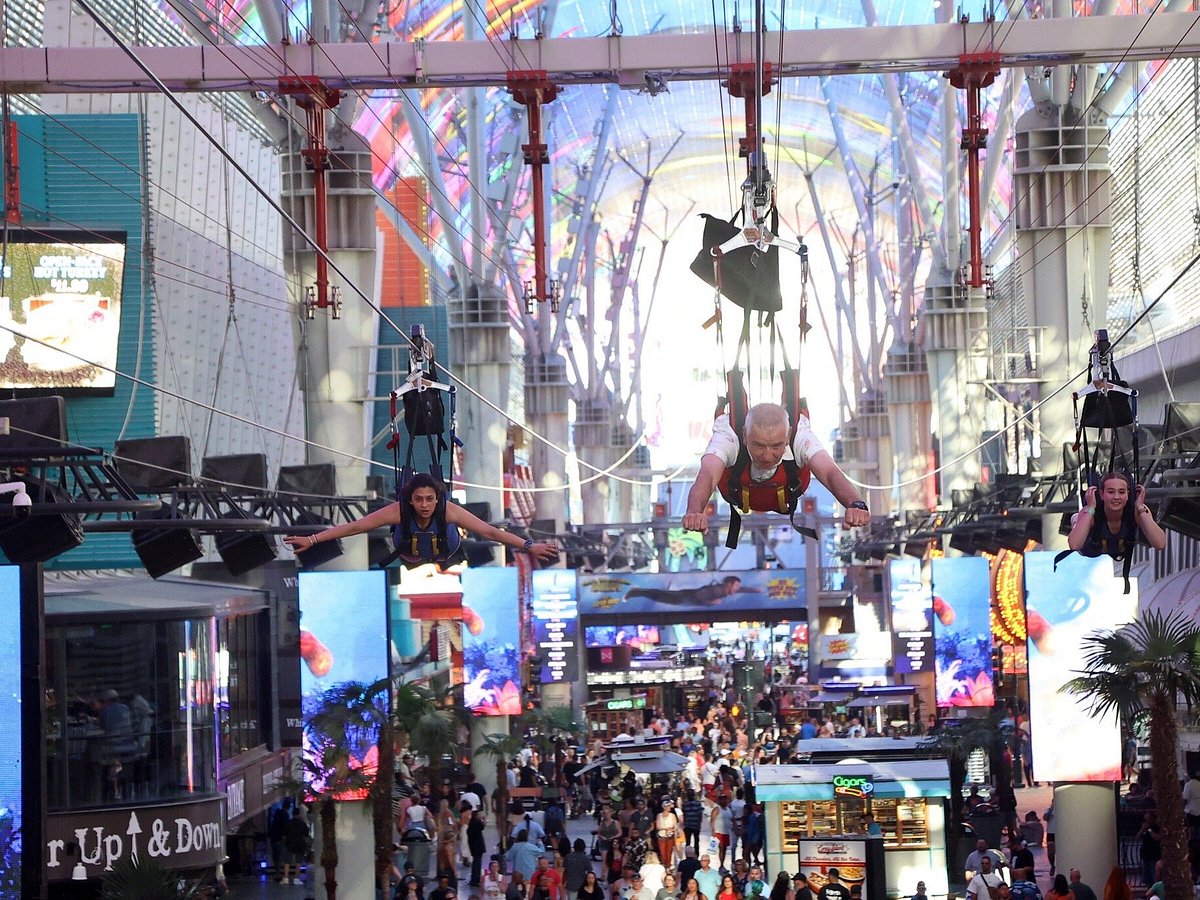 Location: Fremont Street Experience
Length: Varies by experience 
Duration: Varies by experience 
Slotizilla offers two different ziplining experiences, catering to two different levels of thrill-seekers.
Beginners can play it safe with the Fly Zip-Zilla experience. Starting at $39.00 plus fees, this seated zip line experience places you seven stories high, which is 77 feet in the air. Riders fly two city blocks down Fremont street and eventually land between Four Queens and Fremont Casino. The flight lasts for about 30 seconds.
Guests can purchase a package for $49.00 that includes one ride and a digital photo of their Fly-Zip Zilla experience.
True daredevils can fly high with the Fly Super-Hero Zoom experience. Starting at $59.00 plus
fees, riders fly eleven stories high "superhero-style" on their stomachs. The Fly Super-Hero Zoom flight travels five city blocks and lasts for approximately one minute. With a superhero flight position, you can increase your speed by adjusting your arm position.
A $69.00 package for the Fly Super-Hero Zoom experience includes a digital photo of your adventure.
For an extra $25 per ticket, guests can add a GoPro to their experience and record the ride either facing you or the view ahead of you. Ticket prices may vary, depending on the time and day that the guests choose.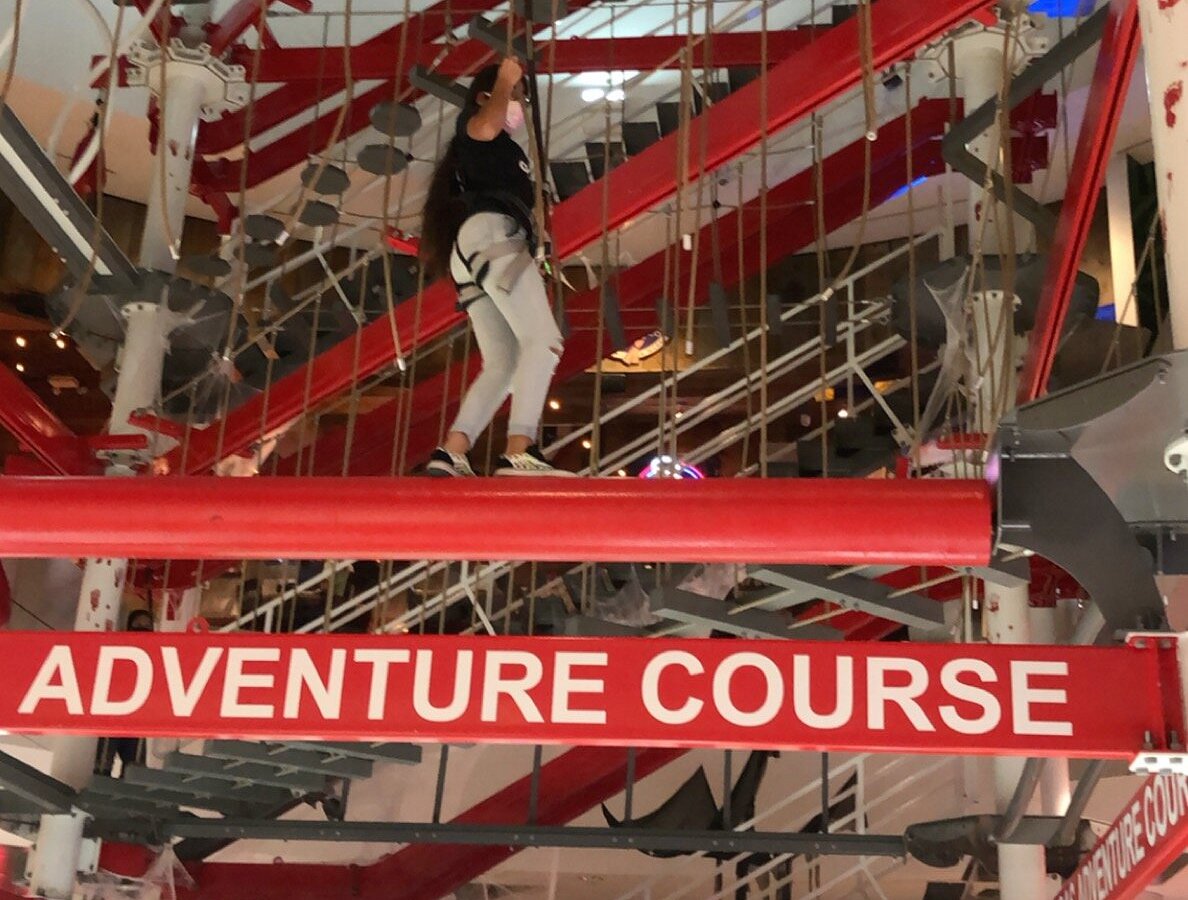 Location: Harmont Retail Corner Building
Length: Varies by course
Duration: Unlimited 
Looking for an indoor aerial adventure? Climb Vegas is home to 17 different high ropes courses across three levels and challenges for all ages. Test your balance (and your bravery) with this high-up obstacle course.
General admission tickets cost $32.00, but, if you purchase online, you will get receive the discounted price of $30.00 per general admission ticket.
Climb Vegas features six primary types of rope challenges: a zigzag plumber, suspension bridges, a sky rail, a weave walk, a rolling pin, and a kelp walk.
There is no time limit for the course—your ticket grants you access to freely explore the courses.
Location: The Spine at AREA15
Length: About 584 feet 
Duration: Approximately three minutes 
Check out some out-of-this-world views on Haley's Comet at Vegas's AREA15.
This unique attraction transports you from glamorous Las Vegas to outer space. This indoor, galactic adventure features two side-by-side zipline tracks. Riders are in a seated position as they fly through space.
Tickets start at $12.00 for children and $18.00 for adults.
Location: the promenade at LINQ 
Length: 1,121 feet 
Duration: Under one minute 
The Fly LINQ Zipline on the Las Vegas Strip is a twelve-story high, thousand-feet long adventure. Fly alongside up to nine other riders from the LINQ Hotel and Casino. Choose from four flying stiles: "superhero" backward, "superhero" forward, seated backward, or seated forward.
This experience is fast and furious at up to 35mph for over 1,000 feet above Las Vegas Boulevard. The adventure reaches its highest point of 114 feet at the launch tower.
This unique experience is the only zipline located on the Las Vegas Strip. Tickets start at $35.00 and are valid for thee days after the purchase date.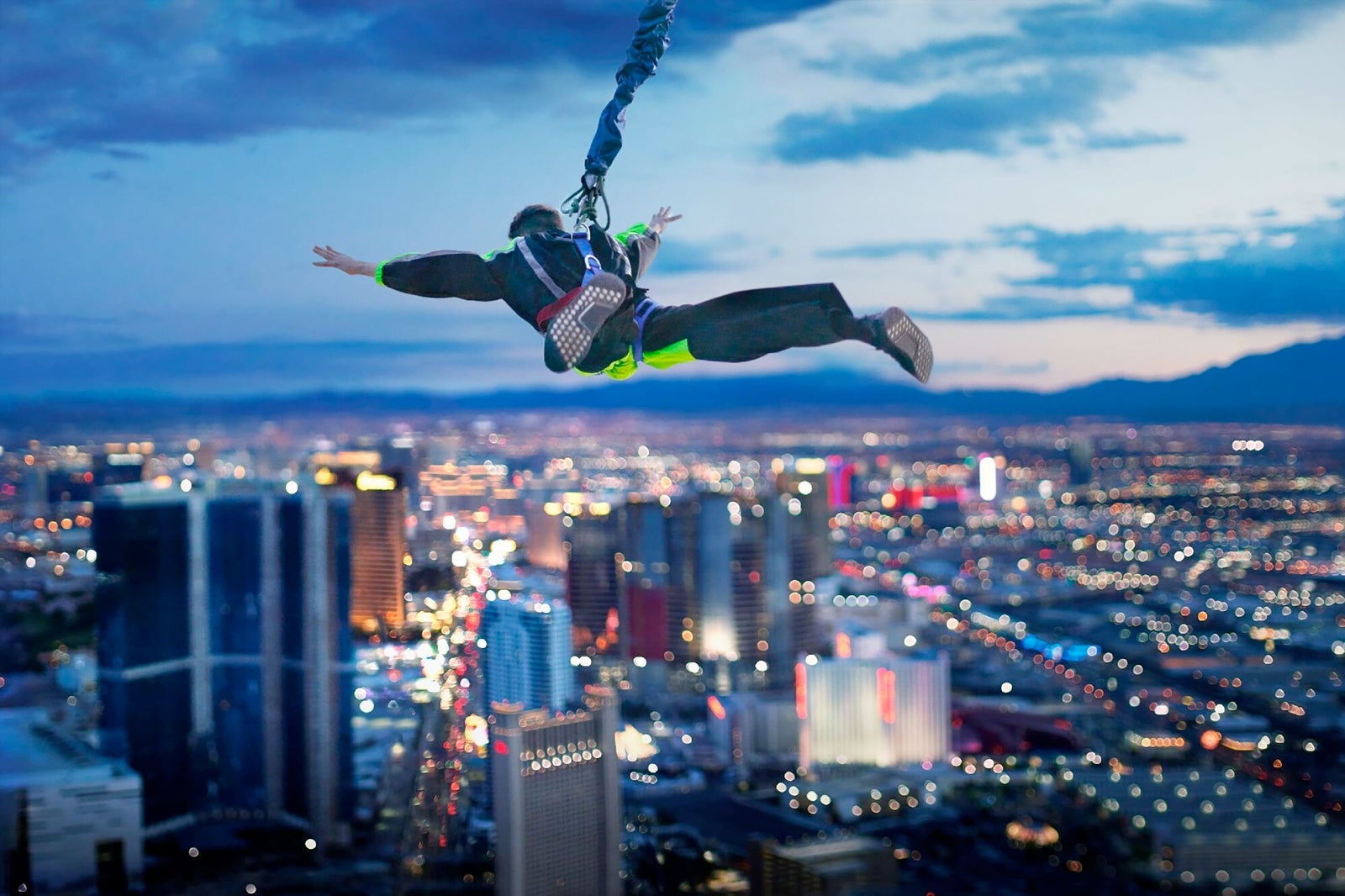 Location: The STRAT Hotel, Casino, & Skypod
Length: 829 feet
Duration: About 35 to 45 minutes for the entire experience
Feel the rush of free-falling and experience the luxurious views of Las Vegas with this controlled bungee-jumping experience. Take the plunge from the 108th floor and zip at speeds up to 40mph at the facility that currently holds the Guinness World Record for being the highest of its kind.
The SkyJump experience starts at $129.99. If you want a picture to look back on, a photo package is available for only $15.00 more at $164.99. If you want to amp up the memories, purchase a wrist video package for $164.99 that includes the SkyJupmp, a digital photo, and a personal wrist-cam point-of-view video of the experience.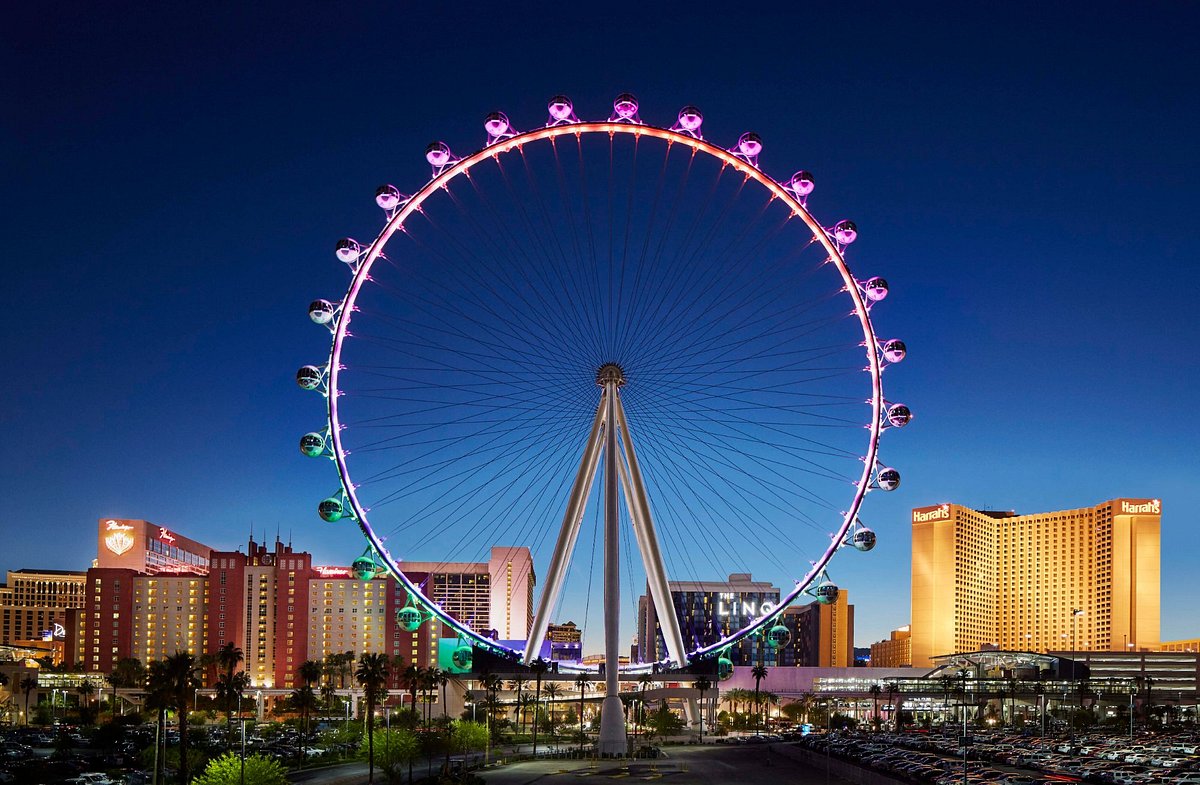 Location: The Link Promenade
Duration: 30 mins
The High Roller is not your ordinary ferris wheel. Each pod can hold 40 people and includes climate control, so you can ride it at any time of the year. It climbs as high as 550 feet above ground and offers you a 360-degree view of Las Vegas.
You can enjoy a happy hour with your friends or family (aged 21 and over) on the Happy Half Hour cabins, which can accommodate up to 25 people.Or you can even get married at the High Roller if love is the air.
In terms of ticket prices, and adult daytime ticket, between 2 p.m. and 4:59 p.m., costs $23.50, and after 5 p.m. it rises to $34.75. The Happy Half Hour will set you back $60 per person. If you have children, know that from ages 4 to 12 they will pay $8.50 if you visit the Wheel before 5 p.m., and after this time $17.50. For children of up to 3 years old the visit is free.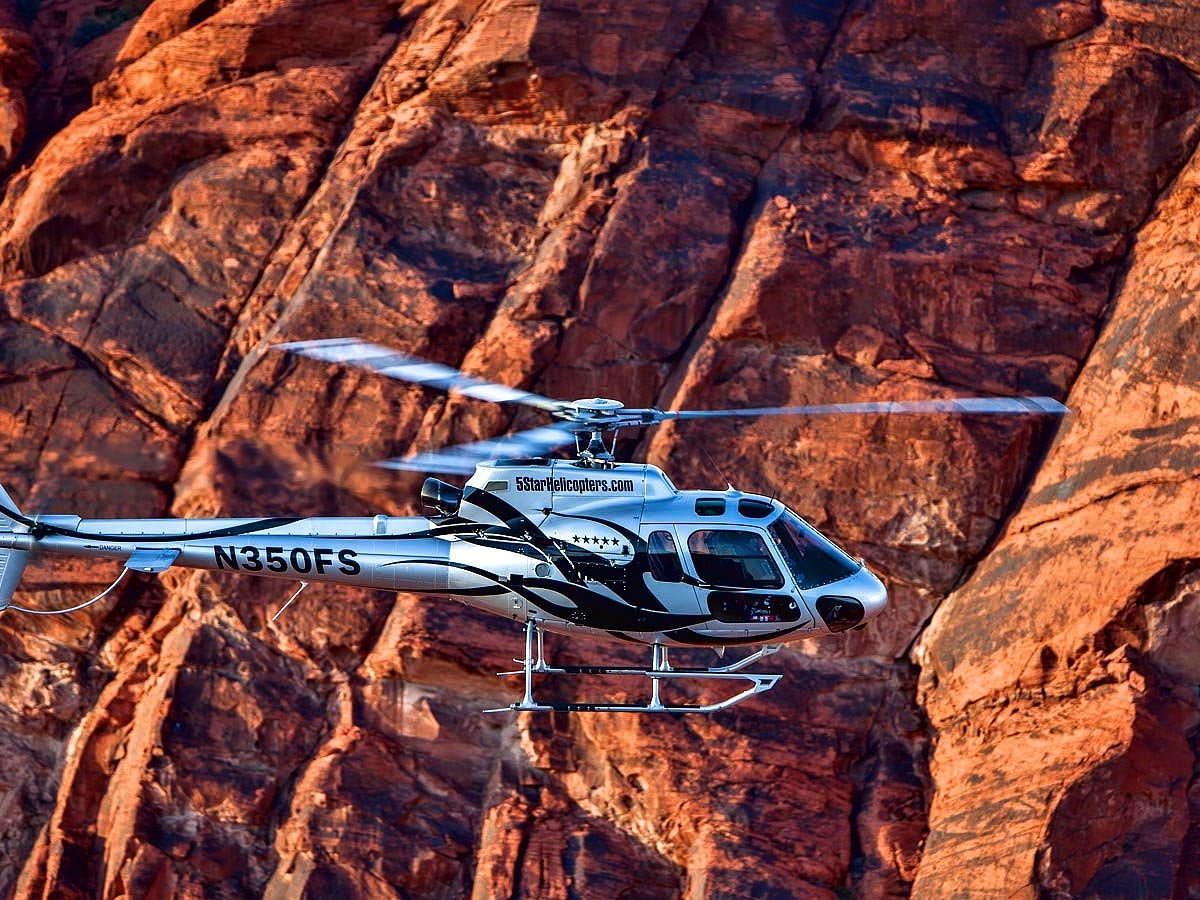 Location: Grand Canyon West
Duration: Approximately 5.5 hours 
Take to new heights on this luxurious helicopter adventure. After a walk across the Hoover Dam Bridge, board a VIP helicopter and soar through one of America's most wondrous views. Take a quick pitstop at the bottom of the canyon for some champagne.
Although this experience is pricier than ziplining and other options, the luxury reflects the price.
Complimentary pickup from your hotel on the Las Vegas Strip is available.
Frequently Asked Questions
The variety of adventures available in Las Vegas can be overwhelming. Learn more about what experiences are best for beginners and thrill-seekers alike.
What aerial adventures in Vegas are best for beginners?
Although beginners can leave their comfort zone at any time, the more tame aerial experiences in Vegas are the Fly Zip-Zilla at Slotzilla, the Climb Vegas High Ropes Course, and AREA15.
Is ziplining in Las Vegas a worthwhile experience?
Although thrills are subjective, ziplining in Las Vegas is an exciting way to check out the city's gorgeous views from a new perspective.
Is ziplining in Las Vegas expensive?
Prices for ziplining and other aerial adventures in Vegas can vary due to several factors. The time of day, the day of the week, and the number of guests can impact the prices of experiences. It is also important to note that many experiences do not offer refunds if you back out last minute.
Is ziplining the only experience in Vegas for height-seeking adventurers?
Luckily for the thrill-seekers, ziplining isn't the only high-up adventure in Las Vegas. Check out the ropes course at Climb Vegas or the free-falling experience at the STRAT Hotel.
More about our TFVG Author