Although everyone thinks of Las Vegas as a hedonistic place, it's no longer just for adults. Las Vegas has become a hotspot for vacations that the whole family can go on together.
Indeed, many hotels on the Strip and beyond have put a lot of effort into their entertainment for children. Parents and children can enjoy some of it, while other options are for the kids alone. From swimming pools to theme parks, bowling alleys, and magic shows, there's an unimaginable amount that can bring smiles to children's faces.
While Las Vegas has always been popular, it's an even more attractive destination during these times when international travel is so difficult. So, consider staying in these great kid-friendly hotels in Las Vegas for your next vacation and giving your kids free rein to enjoy all they offer.
MGM Grand Hotel and Casino
Our list of the best kid-friendly hotels in Las Vegas begins with the MGM Grand Hotel and Casino. The MGM Grand is one of the largest and flagship properties in Las Vegas, possessing a prestige that few other resorts or casinos can claim. On the South Strip, the MGM Grand is close to the airport and even has its stop on the Las Vegas Monorail, which makes getting there, leaving, and seeing other attractions while you're in town incredibly easy.
Few people know that the original design of the MGM Grand was meant to look like the wizard's castle from the Wizard of Oz—that's why it has that green color. So, it's somehow appropriate for your kids to have an adventure within its walls. With all the MGM's attractions, they'll have no lack of options.
A unique attraction for children and teenagers at the MGM Grand is the "CSI: The Experience." With a concept somewhat close to an escape room, the interactive show allows your kids to adopt the role of an investigator trying to solve a crime!
The hotel also contains a Topgolf complex, which spills over four levels of the hotel and offers the chance to play mini-golf, swim, have a bite to eat, and watch TV on huge high-definition screens.
In addition, the hotel has a VR complex, a massive swimming complex of four outdoor pools, a lazy river, and three whirlpools, and shows by Jabbawockeez and Cirque du Soleil.
ARIA Sky Suites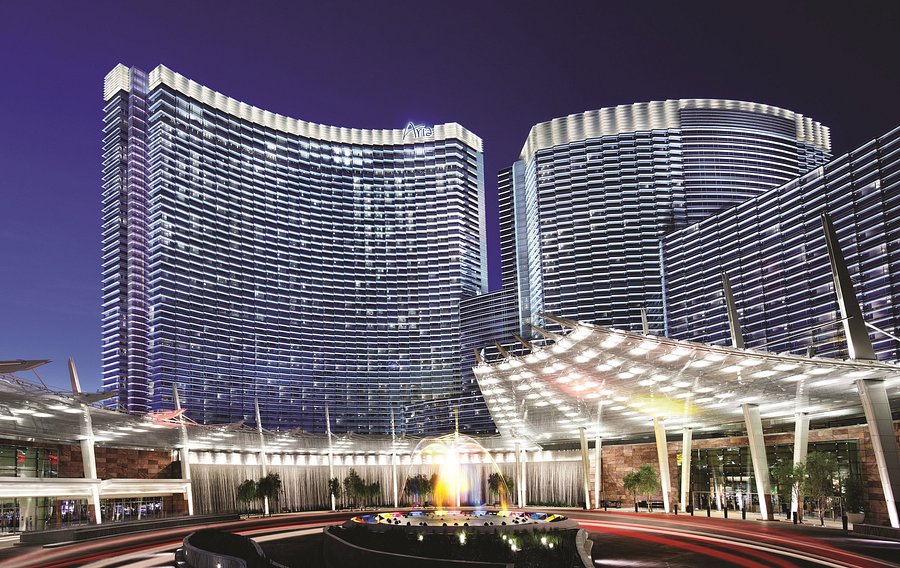 One of the snazzier-looking hotels on the Strip, the ARIA opened in 2009 to rave reviews about its luxurious rooms and great dining options. The hotel is rated at five stars by the American Automobile Association (the most reputable hotel raters around) and comes with an appropriately high bill. But, if you have the budget for it, there are few hotels in Las Vegas that both parents and kids will enjoy as much as the ARIA.
Just about anyone will enjoy the magic show by Xavier Mortimer. He was a crucial part of Cirque du Soliel for many years and now hosts a unique 14-act show at the ARIA under his name.
For kids that are a little older, we'd recommend taking them (or sending them) to see the Fine Art Collection at the ARIA, which has paintings by world-famous artists like Maja Lin, Claes Oldenburg, Frank Stella, and Henry Moore. Even a guided tour runs multiple times daily, so you can be sure that they'll come away from your vacation a little more educated about art.
Finally, we have to mention some great restaurants that kids love. First of all, the Buffet at ARIA is amazing and has plenty of options for both picky eaters and kids with more adventurous palettes. The famous Five50 Pizza Bar is a dream for anyone who loves pizza (as all kids do).
Bellagio
The Bellagio's main claim to fame is its high-stakes casino floor, but it has lots for children and teenagers to occupy themselves. The location is just about as central as it gets on the Strip between the ARIA and Ceasar's Palace. Even better, it's right by one of the few walking bridges to the other side of the Las Vegas Strip, allowing you and your kids to go and see the Paris Hotel and Casino as well.
The Bellagio plays host to one of the most famous Cirque du Soleil shows of all time: O. With large portions of the show performed underwater, you'll have one night of guaranteed, genuine amazement for the kids.
During the day, the kids can also check out Bellagio's huge Botanical Garden. Spread out over 14,000 square feet, the gardens have diverse plants worldwide, and the displays are periodically updated according to the season.
And, of course, there's the Bellagio's pool complex, which features five different Mediterranean-style pools and multiple Jacuzzis.
Circus Circus
Where some hotels and casinos in Las Vegas do their best to cater to kids on the side, Circus Circus provides them with entertainment they'll remember. It's not as luxurious as some of the other hotels in Vegas, which can be a positive for those traveling with lots of kids and a less than astronomical budget.
Anyone talking about the entertainment options for kids at Circus Circus has to start with the Adventuredome. Entirely within the hotel complex, it's one of the largest amusement parks in the entire country! Naturally, this makes it one of the most kid-friendly hotels in Las Vegas.
It features 25 different rides, including drops and roller coasters that can take a whole day to get through. In addition, they have a huge bungee jumping system and a tall rock climbing wall. There's lots of thrill to be found in the appropriately titled Adventuredome.
Circus Circus has a theme park, but it also has a water park called the Splash Zone. The standout attraction is the 50-foot slide, but there's also a large playground with rain trees, water cannons, and much else. Kids under 6 need to be accompanied by an adult, but older kids can play there on their own if you're comfortable with that.
And, lastly, we'd be remiss not to mention the free circus acts that take place every day starting at 11:30. But you knew there would be a circus at Circus Circus.
The Hilton Grand Vacations on the Boulevard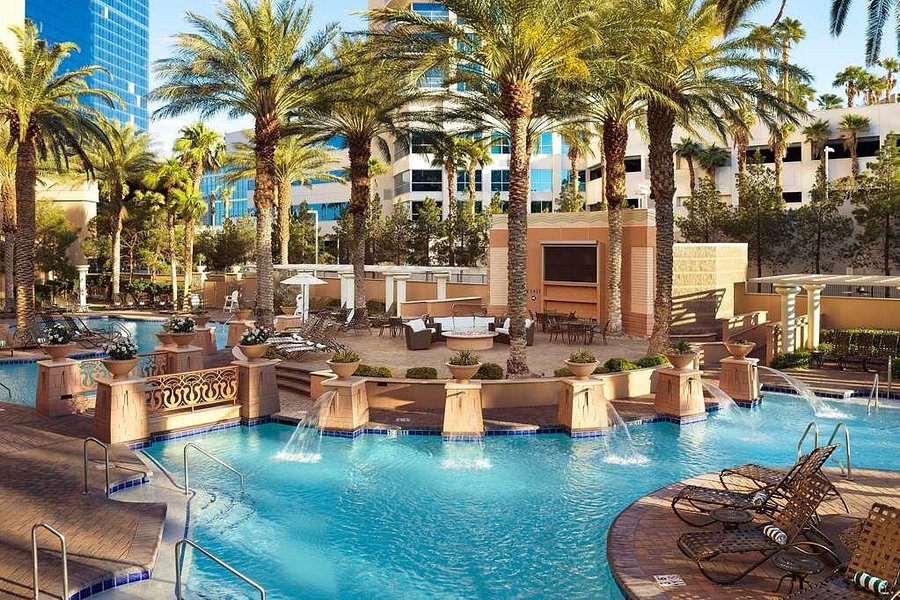 As the representative of the Hilton brand on the Strip, The Hilton Grand Vacations on the Boulevard is a well-run hotel that will make you feel right at home, wherever you and your family are from. With two towers holding 714 units, located on the northern half of the Strip, the Hilton Grand Vacations has welcomed families since 2004.
Your kids will love the super pool at the hotel, which takes up 20,000 square feet. There's plenty of room for four slides and calmer areas with floating chairs with all that space. A sports complex at the hotel will keep your kids active and burning energy on the basketball and pickleball courts.
Finally, there's a huge game room that has all the modern electronic equipment that your kids crave even when they're on vacation.
Four Seasons Hotel Las Vegas
The Four Seasons Hotel Las Vegas isn't a gaming establishment, so they know they need to provide entertainment for the whole family without having a casino for diversions. Therefore, there's a more wholesome feeling to the entire establishment that everyone will feel comfortable with.
The Four Seasons is well known for the variety of offsite tours they arrange for their guests, offering both well-established tours and a hotel staff that's experienced enough to make things up on the fly.
Especially popular is the Natural Wonders Tour Package, which is a wonderful experience that any kid will remember. This is not a normal walking tour—you'll be flying in a private helicopter through Las Vegas, over to the Valley of Fire with its bright red sandstone ground, and lastly to the Grand Canyon.
Once you get to the Grand Canyon, the helicopter will touch down, and you can enjoy a picnic that's been prepared by the chefs at the hotel.
Back on the premises, the Four Seasons has a very nice pool that will remind you of large resorts in the tropics. And if that's not to your taste, guests at the Four Seasons get complimentary access to the pools at the Mandalay Bay Hotel.
The Venetian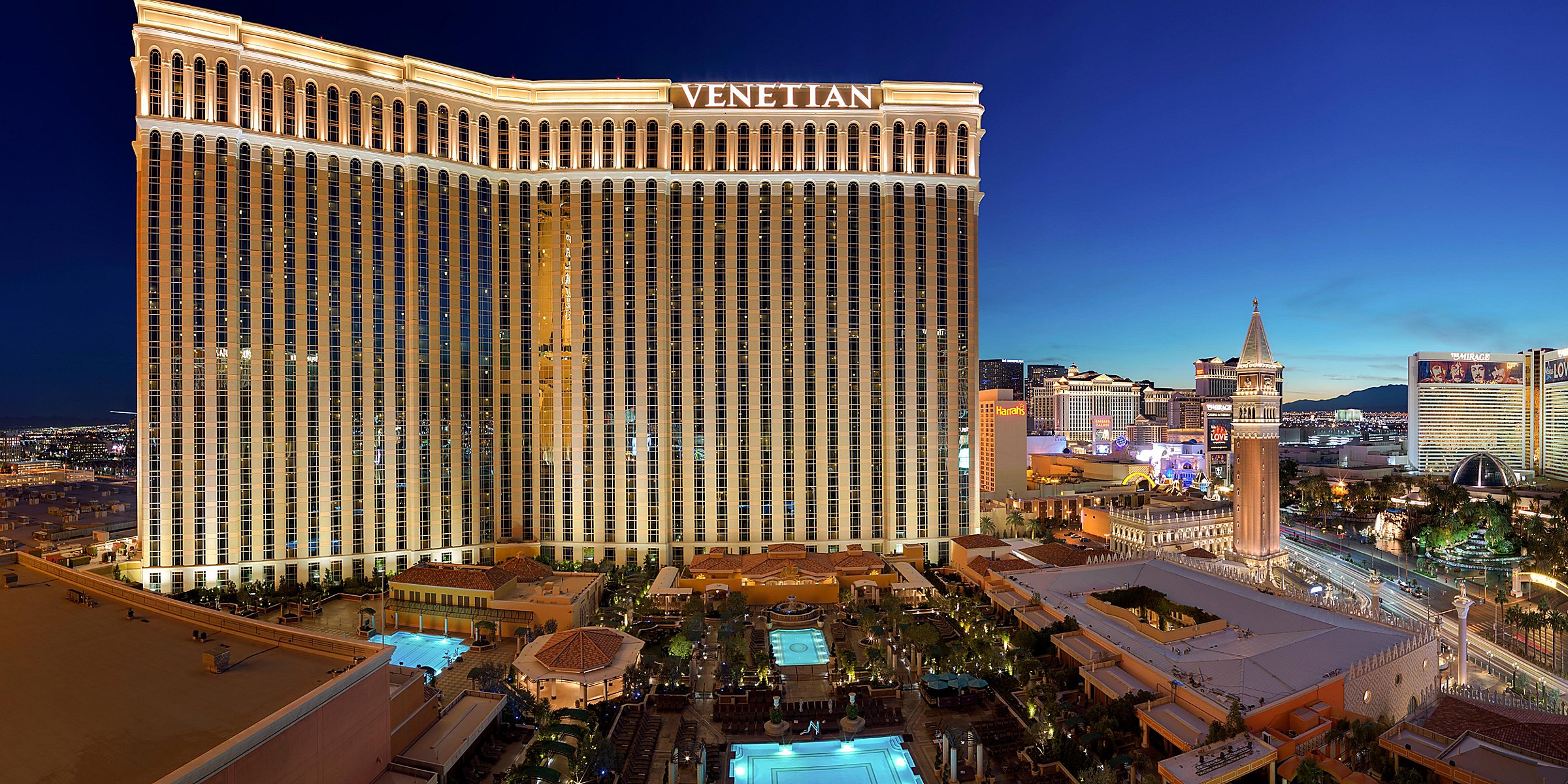 Inspired by the famous Italian city, the Venetian manages to bring some of the charms of that country to Las Vegas. The Venetian is a comfortable and fun choice for families looking to stay in Las Vegas with a host of different room arrangements that can accommodate small and large families alike.
The pools in the Venetian are particularly exciting because they aren't on ground level: they're four stories up! Nonetheless, there's still 5-acres of space in the area with three different pools, Jacuzzis, and private cabanas that come with TVs, lounge chairs, and mini-fridges.
Part of the Venetian's theme is their reconstruction of the Grand Canal, which you can glide through in a gondola with your whole family. Taking a look at St. Mark's Square and the beautiful bridges is undoubtedly an experience.
Finally, one of the attractions at the Venetian that people staying at other hotels come to see is the Madame Tussauds Wax Museum on their property. There are many celebrities immortalized in wax, as well as a room full of superheroes that your kids will enjoy.
The Mirage Hotel & Casino
The Mirage Hotel and Casino is an old and established property on the Strip, well known for its casino and entertainment options. The Mirage is on the South Side of the Strip, which means it's very close to the airport. It's also a ten-minute walk from the monorail station at the LINQ.
The Mirage has a heated pool that is both outdoors and opens all year round! If you're planning your vacation for the winter months, keep this in mind. 
The Mirage also has a very popular Cirque Du Soleil act called Love, which is based on the music of the Beatles. Since your kids will recognize most of the songs, they'll be even more drawn into the action.
For younger children, there's a regular show by Terry Fator. A few years ago, he won America's Got Talent for his work with puppets, and he now puts on a great show, four nights a week, at the Mirage.
You might not know that there's an active volcano on the premises of the Mirage! It erupts during the evenings, complete with a light show and electronic music soundtrack.
Many children's favorite attractions will be Siegfried & Roy's Secret Garden and Dolphin Habitat at the Mirage, which provides a beautiful living environment to white tigers and dolphins right on the Strip. The magicians wanted to give their favorite animals a nice place to live, and your kids won't be able to wait to see them.
The Palazzo Resort Hotel & Casino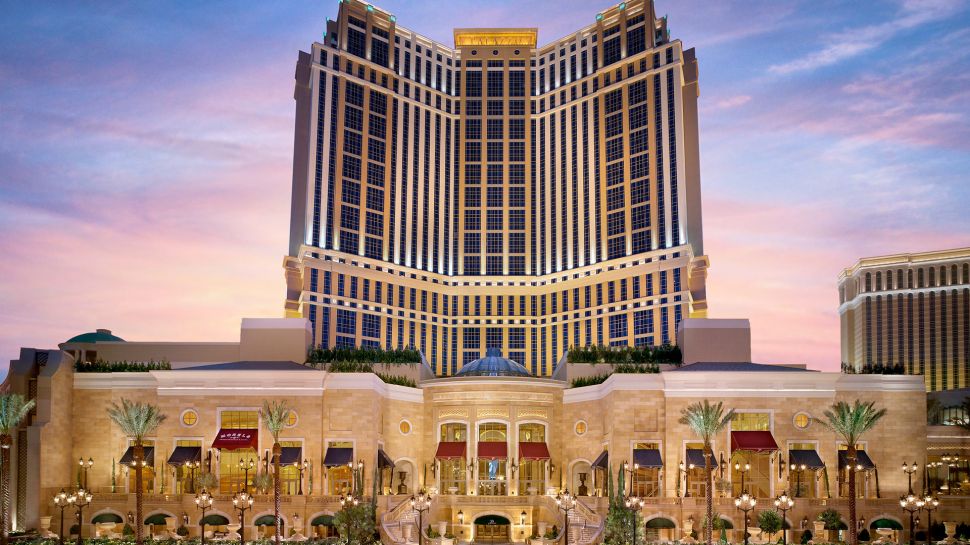 The Palazzo Resort is the sister property of the Venetian, which you can tell from the Italian-sounding name. It's just south of the Venetian and just across from the Fashion Show Mall, which holds some of the best shopping in Las Vegas.
The Palazzo has one of the more unique virtual reality experiences in Las Vegas, called Star Wars: Secrets of the Empire. If your kids love Star Wars, they won't be able to wait to get into this immersive experience.
Once you've spent enough time in computerized entertainment, you and your kids will probably want to see something live. Luckily, you can go see the street performers just outside the hotel doors. Some popular performances include Streetmosphere, the Venetian Trio, and Living Statues.
If you're staying at the Palazzo, you'll probably want to enjoy some classic Italian food with your family. There are a few standout options in the Palazzo. Buddy V's is a classically American Italian eatery that looks like it came out of a mafia movie; go there for spaghetti and meatballs, pizzas, and chicken parm. There's also Canaletto and Casanova, both of which are more traditional Italian restaurants with authentic Italian food (including, of course, pizza).
Mandalay Bay Resort & Casino
The Mandalay Bay is one of the largest resorts in Las Vegas, with two massive towers filled with both hotel rooms and lots for kids to do. It's right at the southern tip of the Strip, so although it's very close to the airport, it's a little far from everything else. This isn't much of a bad thing if you're mostly planning on sticking to the resort where you're staying.  
And, luckily, there are lots for both children and adults to enjoy right on the Mandalay Bay Resort grounds.
Perhaps the most dramatic attraction is the Shark Reef. Despite its name, the aquarium has more than just sharks; over 2,000 different creatures live in its huge tanks. That includes everything from stingrays to turtles and even a few piranhas. Taking a look at everything swimming around can easily take a whole day.  
The Cirque Du Soliel show at Mandalay Bay is a popular one revolving around the music of Micheal Jackson. If you've raised your kids on a diet of Thriller and other Micheal Jackson hits, they're sure to love this show as much as you do.
Mandalay Bay Resort has one of the more unique pool complexes in Las Vegas. They do have four pools, all surrounded by enough palm trees to make you think you're in the Caribbean. Not only that, but there's also a wave pool with a sandy beach made up of 2,700 tons of sand.
New York – New York Hotel and Casino
New York – New York Hotel is one of the most famous themed hotels on the Strip, with lots of history on its walls. They put a lot of effort into making their hotel look like a mini New York City, and it gives the place a lot of charm. For instance, twelve different towers look like one of New York's iconic skyscrapers, including buildings that resemble the Empire State Building, the Century Building, and the Chrysler Building.  
The aptly named Big Apple Roller Coaster is one of the best roller coasters on the Strip. You sit in a small cab that appears to be one of the yellow taxi cabs that keep the real city running and fly around the resort at top speed. It's the best way to take in the many buildings and replicas of the resort.
Another of the New York-themed attractions is the replica of the Brooklyn Bridge, which connects a spate of shops and restaurants to an entertainment area. It has a large stage that plays host to local and international bands and other types of shows.  
Excalibur Hotel & Casino
You can tell just by looking at Excalibur that it's one of the most fantastic (literally) kid-friendly hotels in Las Vegas. The vast castle in between its two hotel towers, with its multicolored and interestingly-shaped towers, looks like a large, Disney-inspired playground.
The Excalibur's huge Fun Dungeon is one of the standout arcades on the Strip. There are hundreds of arcade games that go beyond the standard fare. There are ten sports games, so your kids can work on their basketball shooting and 15 carnival rides. Even better, there are age-appropriate food and drink options within the arcade itself–including a Dairy Queen and an Orange Julius.  
Excalibur also features lots of live entertainment that goes with its medieval time theme. The Tournament in Kings is a fascinating show that features medieval jousting and duels between knights in full suits of armor. The restaurant doesn't have any forks to add to the authenticity, so you have to eat with your hands like they used to.
The Castle Walk Shops area has a lot of shopping, much of which will be as interesting to your children as it is for you. They can look for medieval-themed toys and stuffed animals in stores such as the Dragon's Lair, Toy Zone, and Kids of the Kingdom.
Golden Nugget Hotel & Casino
The Golden Nugget is one of the oldest continuously operational hotels in Las Vegas, opening in 1946. This property isn't on the Strip, but rather in Downtown Las Vegas, which gives it a different feel because of its different surroundings. On the Strip, anywhere you walk will be another hotel, resort, or casino, but in downtown Las Vegas you'll be able to find more local entertainment options.
You'll barely be able to believe the swimming pool at the Golden Nugget, which they call the tank. There's a huge aquarium that winds throughout the pool, allowing you to take a look at sharks and other species of fish while you're swimming. There's also a huge water slide and a nice waterfall in the complex.
You never really know what's going to be playing at the Showroom in the Golden Nugget because the hotel doesn't rely on resident shows like many other hotels, but instead books a large diversity of acts for short periods.
Since you'll be staying downtown at the Nugget, you can just walk over to some of the awesome museums that the area has to offer, like the Discovery Children's Museum and the Springs Preserve at the Nevada State Museum.
Wynn Las Vegas
The Wynn has the image of a luxurious adult hotel that's not good for children, but this isn't entirely the case. The hotel has lots of attractions for kids and its central location on the Strip means that you and your family can easily get to many other attractions.
The Wynn has a huge pool with a river section that your kids will love. If they're young and you think the main pool is too deep, head over to the encore pool, which is very shallow and great for kids as young as four to play in.
The Wynn puts really interesting floral displays throughout the hotel. These are constantly changing, but always large and magnificent. They've recently arranged flowers in the shape of a hot air balloon and a carousel complete with floral horses.
La Reve is a show at the Wynn that's appropriate for all ages, which takes watchers on a dreamy journey through hugely impressive aquatic set pieces. It'll keep even the young ones engaged and entertained. 
We have to mention the Buffet at the Wynn, which is one of the most impressive in the city and a tell-tale sign that you're staying in a five-star establishment. Your kids can choose whatever they like, even if it's from one of the buffet areas where chefs prepare omelets and other hot foods to order.
Desert Rose Resort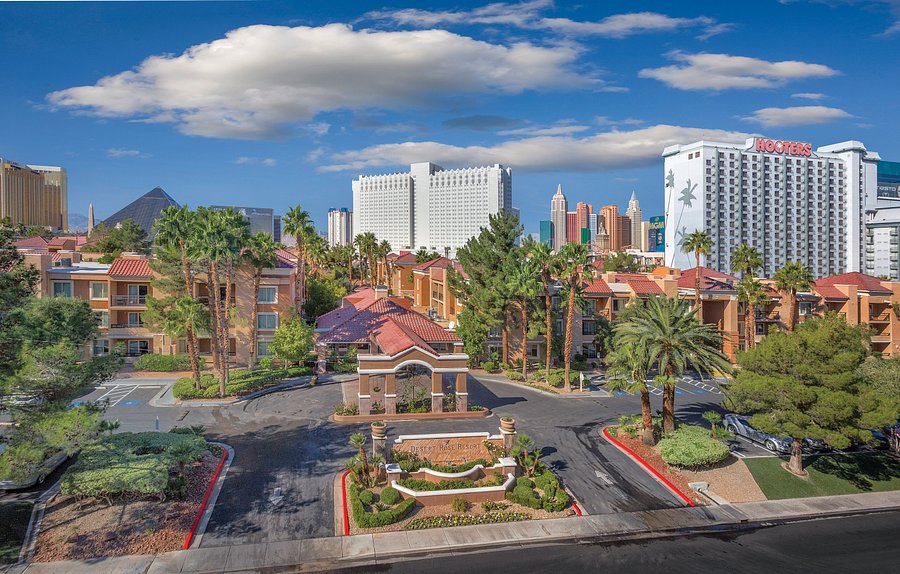 The Desert Rose isn't actually on the Las Vegas Strip, being two blocks off of it, and is a non-gaming hotel, lacking a casino. These two facts mean that those staying at the Desert Rose can feel as if they are in a more wholesome, less crazy version of Las Vegas. This is great for parents with kids; you might not want to take the chance of them walking into bars and casinos.
You can also be sure that the kids won't be bored at the Desert Rose. The hotel's heated pool is a great start, and everyone can also look forward to the free breakfasts each morning.
You can use the convenience of the Desert Rose's location, just by the MGM Las Vegas Monorail stop to get to a whole world of entertainment options. The spacious condo-style rooms at the Desert Rose make a great home base for exploring the city.
Marriott's Grand Chateau
The Marriott's Grand Chateau is another non-gaming hotel located in the heart of the Strip, which is great for families who don't plan to organize their trip around casinos and clubbing. Even better, the entire facility is non-smoking, which is great for keeping your kids away from secondhand smoke.
There is a wide range of activities that every guest is informed of as they enter the hotel. Exactly what's on the schedule for the time you're staying will vary, but there will always be lots on the docket for both children and adults. For example, you can send your kids on an arts and crafts afternoon while you and your spouse hit up a tequila tasting.  
Neither of the two pools is all that large, but both are great for children. Part of this comes from the hotel's non-smoking policy, and partly from the amount of lounge space. The rooftop pool makes up for its size with the great view of the Strip it offers. Make sure to check out the view at night.
Finally, there's a great exercise center wherein both you and the kids can keep fit and burn some energy while you stay.
The one downside of the Grand Chateau is that there's not a full restaurant on site. However, this can be a boon because it gets you out of the hotel and gives you a chance to explore a little bit while you're getting dinner with your family. There's lots of both fast food and fine dining within easy walking distance.
More about our TFVG Author
A seasoned traveller, Dad, and avid sports tourist, James foundered The Family Vacation Guide to share his expert vacation experiences- especially when it comes to being a travelling family man.
Featured in Travel articles such as Travel + Leisure, TripSavvy and SFGate, you know you're reading some of the best vacation tips online.