Are you looking for an exhilarating experience in New Jersey? You should try ziplining or an aerial adventure. These experiences will leave you breathless with excitement, and you will have a pulse-pounding and heart-racing good time. We have found the top nine places to visit for ziplining and aerial experiences in New Jersey.
Treetop Adventure Course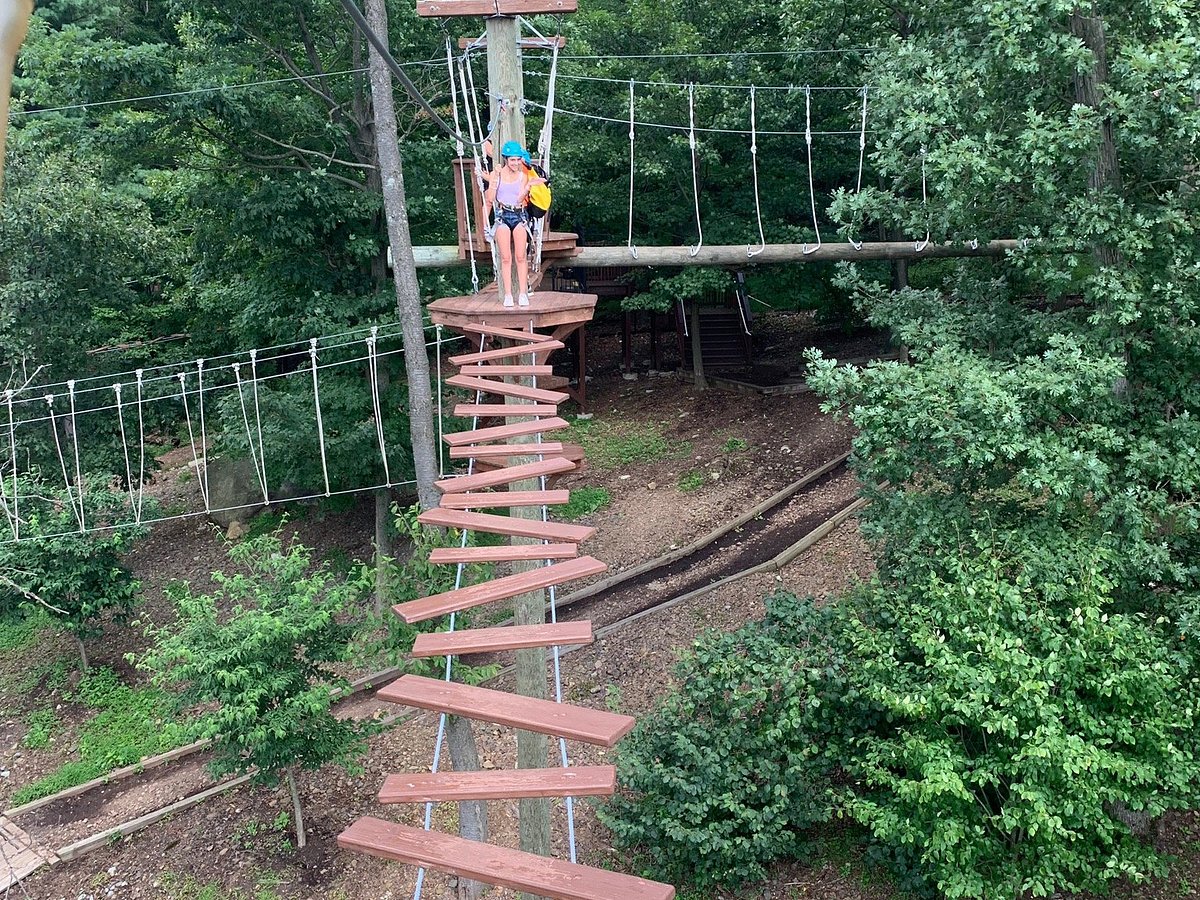 West Orange, NJ
This fantastic aerial obstacle course and zipline experience will leave you breathless. This world-class aerial course is located next to the Essex County Turtle Back Zoo. They offer adult and junior courses.
The adult courses are 35ft in height with 30 unique challenges. You will complete the course in approximately 1 to 1.5 hours. The junior courses are 10 ft in height, and they offer 15 unique challenges. These courses can be completed in about 30 to 45 minutes.
They recommend that you reserve online to guarantee your spot. They accept walk-ups, but they cannot be guaranteed a place without a reservation. While booking your spot, you can complete your Participant Agreement Form.
Treescape Aerial Adventure Park
Vernon Township. NJ
The Treescape Aerial Adventure Park offers an exhilarating aerial experience to people of all ages. These parks offer hours of delight to individuals, families, or larger groups with wooden platforms built high in the trees of the Great Gorge forest. Ropes, obstacles, and ziplines connect the platforms.
Participants will delight in soaring through the trees and overcoming the challenges. They will love the outstanding views. Kick your experience up a notch and try their night climb. Reservations are required, and Treescape Aerial Adventure operates rain or shine.
Tree to Tree Adventure Park
Cape May, NJ
This aerial adventure park is located in South Jersey. It offers ziplines, nets, Tarzan swings, and other exciting challenges for seven-year-olds or older.
Tree to Tree Adventure Park has a color-coded system for their courses, becoming increasingly difficult. The courses challenge both mind and body. They have courses that are perfect for beginners and courses that will challenge the most experienced participants.
You will have a fantastic day of adventure and relaxation. They have great deals on their website; check to see what will entice you to the top of the trees.
If you're searching for a great way to explore Cape May with your friends or family, come to Tree to Tree Adventure Park for an exhilarating experience.
FLG X Adventure Course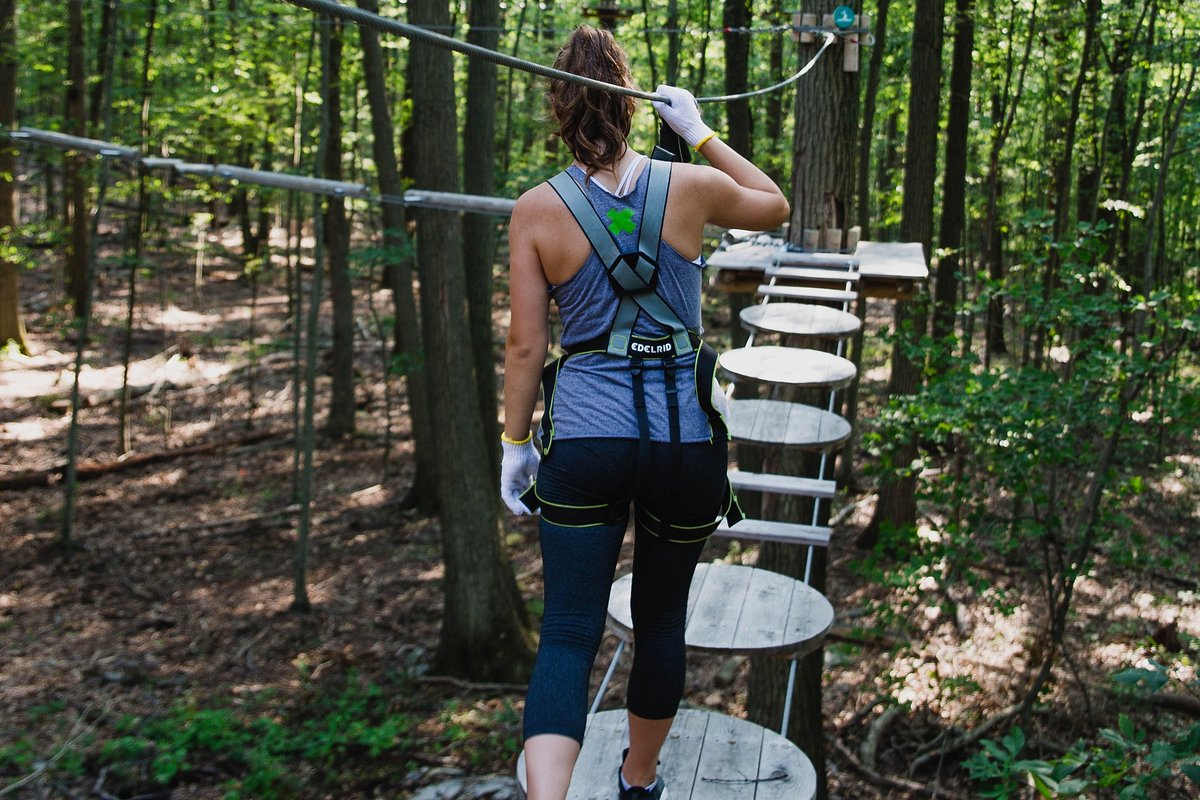 Ledgewood, NJ
At FLG X, they want their guests to face and overcome their fears. They provide an outdoor experience that is fun yet challenging. They work to overcome the challenges while creating bonds with their family and friends.
Their tree to tree adventure courses offer 3 to 4 hours of fun on their elevated obstacle courses. These courses are built 15 to 50 feet off the ground, and they include swings, bridges, slides, ziplines, and even an aerial surfboard.
FLG X has over 30 zip lines to choose from. You will find the perfect one to satisfy your adventurous spirit. The ziplines are self-guided. Participants 12-15 years of age must be accompanied by an adult.
FLG X also offers a professional guiding service. They also offer great discounts when reserving for eight or more people, and there are also discounts for active military personnel, college students, or seniors. This adventure park has something for everyone.
The Mainland Adventure Park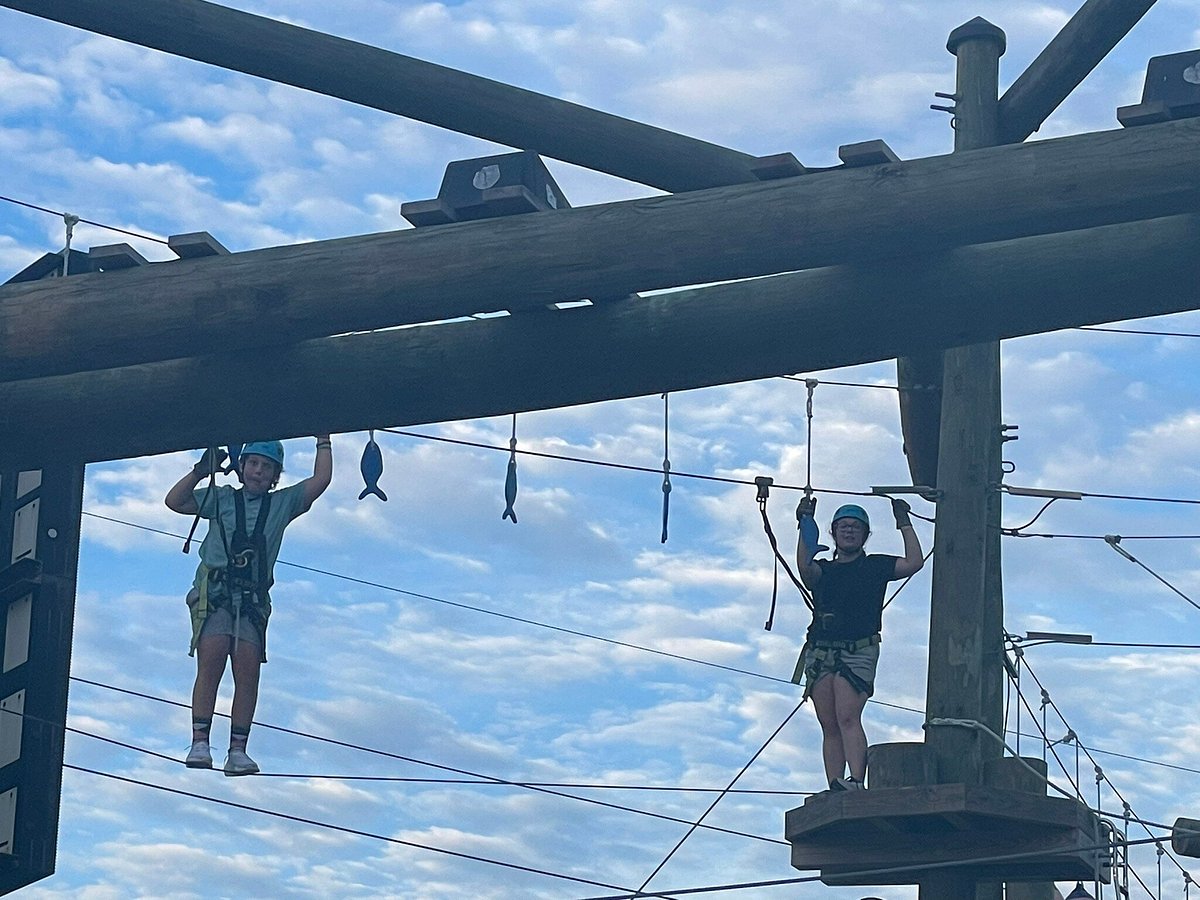 Manahawkin, NJ
The Mainland Adventure Park is the newest tourist attraction in South Jersey, but it is not for the faint of heart. Thrill-seekers will love this place. This park offers more than 50 aerial experiences, climbing walls, zip lines, Go-Karts, an arcade, and much more.
This park includes a family-friendly aerial obstacle course. It has three levels that become increasingly difficult the higher you go. Everyone is sure to be challenged, and there are four zip lines to choose from. This park has different levels so all ages can soar through the sky.
Everyone can test their climbing skills on the climbing wall. You will reach dizzying heights while challenging your mind and body. Those who aren't ready for heights can enjoy the go-karts, play fort, and the arcade. This is undoubtedly the place to visit if you are looking for a family adventure.
Mountain Creek Resort
Vernon, NJ
Mountain Creek Resort offers a unique zipline experience. You will explore the mountain on a guided tour. You will enjoy the breathtaking scenery as you take a Cabriolet to the top of the mountain. After some relaxing sightseeing, you will set your heart racing with an exhilarating zip line ranging from 200 ft to 1500 ft in length. You will get a bird's eye view of the beautiful lake.
Mountain Creek Resort is an excellent choice for families who enjoy outdoor activities. Along with the zip lines, they also offer a bike park and water park.
Jenkinson's Boardwalk
Point Pleasant Beach, NJ
The Adventure Lookout Ropes Course is now part of the amusement park. This is a great family activity that your kids are sure to love. There are two types of adventures. There is a course for those under 48" and one for those over 48". The more comprehensive course has 25 fantastic elements that will delight everyone.
At Jenkinson's Boardwalk, there is something for everyone. You can visit the amusement park, the aquarium, the arcade, the beach, or even the mini-golf course.
Six Flags Soaring Eagle Zip Line
Jackson Township, NJ
You will soar 150ft in the air over the amusement park. You will enjoy the views, and you can pick out the rides you want to try next. The zipline is over 1500 ft long, and you can soar frontwards or backward.
Once you have finished the zip line, you will have an entire amusement park to explore with some of the most entertaining rides in the world.
Diggerland USA Ropes course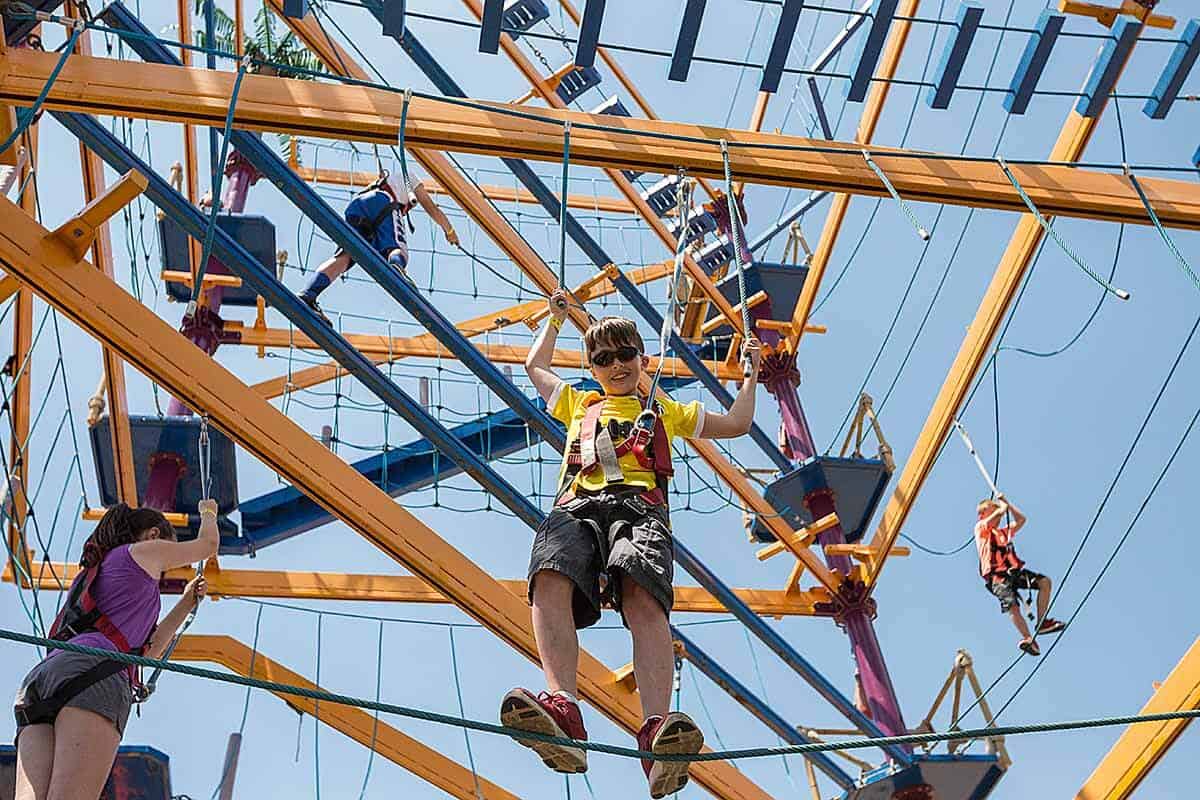 West Berlin, NJ
This construction-themed park has everything your family could ever want. The Soaring Eagle Zipline allows passengers to sit side-by-side and soar over the amusement park. Passengers will fly down a 700 ft zip line. No harness or gear is needed; you climb on and enjoy the ride. If you need more heights, you can tackle the four-story ropes course.
When you're ready to try the ground-level attractions, you can enjoy the waterpark, amusement rides, and construction parks. There is something to pique everyone's interest.
FAQs
Here are some of the most common questions.
What do I need to bring for a ziplining adventure?
You should bring gloves, a signed liability waiver, and athletic sneakers.
Is ziplining safe?
All activities carry some risks, but ziplining companies use the highest quality equipment that is checked daily.
Do I have to make reservations to go ziplining?
It is best to make a reservation so your spot is guaranteed.
Final Thoughts
Ziplining and aerial adventures are excellent outings for families or groups of friends. Nothing builds a stronger bond than sharing the thrill of soaring through the air at dizzying heights.
These experiences will satisfy those seeking an adrenaline boost while challenging beginners. Whether it's ziplining at lightning speeds or finding your way through a rope course, you will find a day of adventure that you will never forget.
More about our TFVG Author