Whether you're visiting the shore or are a full-time Garden State resident, you know there are plenty of things to do in New Jersey. The state has 44 beaches and many historical sites. New Jersey also has a surprisingly extensive list of great water parks. 
From the shore to the suburbs of Philadelphia, there are lots of great options all across the state.
Here are some of the best water parks in New Jersey for your next vacation. 
1. Runaway Rapids Waterpark
Located in Keansburg, New Jersey, Runaway Rapids Waterpark is open in the summer for some fun by the shore. The water park is next to Belvedero Beach and is surrounded by family-focused activities.
Arcades, batting cages, and a go-kart track ensure that there is something here for everyone to enjoy. The water park is a part of the Keansburg Amusement Park, to top it all off. There is an excellent selection of rides, with many of the attractions geared towards a younger audience.
Runaway Rapids is one of the best water parks in New Jersey. Slides like Moutain Blast, Volcanic Revenge, and Soaring Thunder will entice thrill-seekers. There are plenty of other slides too.
There are other options if the slides aren't appealing, like a giant rope swing. Lazy rivers, interactive play areas, and warming pools are also available in the park. Toddler's Reef provides a water playground suitable for the park's youngest guests, children ages four and under.
Runaway Rapids is designed with the family in mind. There are activities for children of all ages. Even kids who aren't strong swimmers can participate. Life jackets are free and recommended for guests under four feet tall.
2. Big Kahuna's Water Park
Big Kahuna's Water Park is twenty miles outside Philadelphia in West Berlin, New Jersey. The water park, formerly known as Sahara Sam's, is rebranding itself with an island twist.
The best feature of Big Kahuna's is that they have an indoor and outdoor water park. When there are attractions inside, inclement weather can't ruin your visit—looking for a bit of taste of the tropics in January? The indoor park is open year-round.
Big Kahuna's has two parks on site. The indoor water park has racing slides, tube slides, a water activity area, a lazy river, a leisure pool, and New Jersey's only indoor body surf simulator. Whether you're more interested in riding a raft with the whole family down the Kilimanjaro slide or sneaking off for a quiet moment in the adults-only warming pool, the indoor water park has tons of options.
The outdoor park is more focused on pools than slides. The Hibiscus Bay pool offers free swimming and lanes for lap swimming. There's also a wave pool for those that want to experience the ocean without the salt.
A challenge lots of water parks face is accessibility. Big Kahuna's has accounted for this. While most of the attractions aren't accessible by wheelchair, many of the pools are. If you, or someone traveling with you, needs a wheelchair, you can rest assured this is one of the best water parks in New Jersey for you.
3. Mountain Creek Waterpark
Mountain Creek Waterpark is in Vernon, New Jersey, about an hour away from New York City. The water park is a part of the Mountain Creek Resort, which means there are multiple options for lodging right next to the park. The resort is home to one of the best bike parks in the country. Golf and ropes courses are also nearby for your enjoyment.
Mountain Creek Waterpark ranks among New Jersey's best water parks because of its uniqueness and high excitement attractions. The park has a natural aesthetic, with many of the slides were designed to look like they were carved out of the mountain's rock. It fits in well with the beautiful surroundings of the area. 
One of the most popular is the Canyon Cliff Jump, providing all of the fun of cliff diving with no risk. Try the Bombs Away slide to make a real splash if you're craving an eighteen-foot freefall. Then there's the Zero-G, a 100-foot plummet, the world's tallest double looping slide.
The park is home to more standard slides, a lazy river, and a wave pool. The selection includes raft-style slides so the whole family can ride together. There is also a children's play area named Sprayground and Fishing Village, a water fort in the style of a shack by the sea.
There's something for everyone at this park, but we recommend Mountain Creek Waterpark, particularly for families traveling with teens and older kids. There are tons of options here to get the adrenaline pumping so no one will be left feeling bored!
4. Clementon Park & Splash World
Splash World is the water park addition to Clementon Park, located in Clementon, New Jersey. Clementon is close enough to Philadelphia that Splash World makes for a great day trip.
Splash World is one of the best water parks in New Jersey because it's an affordable option and has lots of space for younger kids to play in the water. Admission to Clementon Park & Splash World is bundled at one price. Your child's height will determine their admission price, so don't worry about paying extra for a child that will only be tall enough for a couple of rides. There's also a senior discount available.
Shipwreck Bay is the perfect play area for small kids to explore a pirate ship. For slightly older kids, Laguna Kahuna offers a 13,000 water play area. Laguna Kahuna has a bunch of slides, waterfalls, and of course, water sprays! Laguna Kahuna is an excellent area for kids to explore; just remember, an adult must accompany them if they're under six.
Splash World is also home to a wave pool, lazy river, and bigger water slides. This includes Viper and Sky River Rapids, a raft-style slide that will make you feel like you're breezing through the sky. There are plenty of options here for the whole family to enjoy, especially for the cost.
5. The Splashplex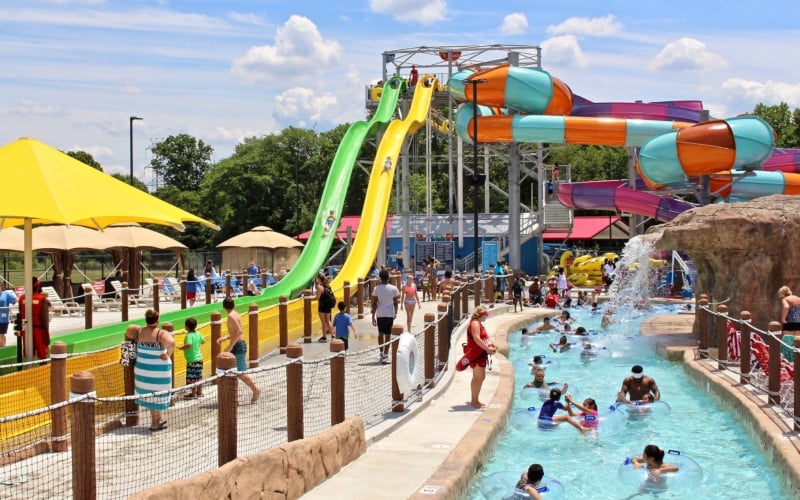 The Splashplex is a part of The Funplex in Mount Laurel, New Jersey. This water park is all about the slides. There are open tube slides, closed tube slides, speed slides, and even one named WhipSplash. It lives up to its name, taking riders on lots of twists and turns while experiencing some pretty impressive drops.
If your family is a little competitive, try the newly added Manta Racer. The nearly 300-foot slide has four lanes, so grab your mat and get in the race! There's Splashin' Speedway, an activity pool, and a relaxation pool for more family fun.
Many water parks offer cabana rentals, but The Splashplex has upped its game by adding villas. You can rent either out to secure a place for your family to rest up out of the sun. Villas and cabanas at The Splashplex come with charging stations for your phone, a refrigerator with bottled water, and a television to entertain the kids.
The Splashplex ranks as one of the best waterparks in New Jersey due to its versatility. There are plenty of slides for those who like speed and plenty of fun pool areas to relax for those that don't.
6. Hurricane Harbor New Jersey
Hurricane Harbor is a Six Flags Park. The water park is located in Jackson Township in North Central New Jersey. Rides are separated into three categories: thrill, family, and kids. There's something here for everyone to enjoy, including restaurants when you're ready for a break from all the fun. 
For the thrill-seekers at Hurricane Harbor, there are some great options. There are plenty of exciting slides to choose from at this park. The most unique and thrilling is a slide experience called Tornado. Bring your family on this, and you'll experience a 132-foot drop into a giant funnel that whips you around just like its namesake.
The water park's family and children geared attractions are numerous as well. There are plenty of slides that aren't as scary for smaller children. Kids will also enjoy the enormous wave pool centered in the middle of the park. Blue Lagoon contains 696,000 gallons of water and has a shallow end for relaxation and a six-foot deep end for catching waves.
Hurricane Harbor ranks among the best water parks in New Jersey because of its accessibility. Six Flags also provides attraction accessibility guides for its parks for people with cognitive disorders, disabilities, and mobility impairments. Six Flags recently became a Certified Autism Center and are working on getting its staff trained to serve people with autism better. Fun for the whole family includes everyone at Hurricane Harbor.
7. Morey's Piers and Beachfront Water Parks
So far on this list, there have been quite a few water parks that are a part of amusement parks. Morey's Piers and Beach Front Water Parks outdoes them. Morey's is a series of three piers with rides, shopping, dining, and two water parks. Morey's Piers are located in Wildwood, a stop that shouldn't be missed on a New Jersey Vacation.
The Surfside Pier is home to the Ocean Oasis Water Park. This water park has a lazy river, activity pools, and a bunch of slides. This includes a slide called Cliff Dive that will take you down five stories in three seconds and Shotgun Falls, a flume-style ride that will launch you six feet in the air before dropping you in the pool.
Raging Waters Water Park has many similar options to its counterpart. There's another lazy river, two more kids' activity areas, and more slides! With its dual water parks, Morey's Piers offers tons of options, which is how it earned its place on this list of best water parks in New Jersey.
If visiting two water parks in one day sounds like a lot of running around, don't worry. Luckily, there are plenty of places to relax, including one just for adults. The Water Lilies Swim Up Bar is a crowd-pleaser for parents who need a break from rushing from one attraction to the next. Both parks have pools for families to lounge next to as well.
8. Breakwater Beach Waterpark at Casino Pier
Seaside Heights is home to Breakwater Beach Waterpark at Casino Pier. This pier has everything you'd expect from a Jersey shore vacation, including The Jersey Shore House just a few blocks away.
Breakwater Beach has something for everyone: slides, wave pools, an activity area. The names of the attractions are inspired by moments in American history. Your kids might learn something while they're having fun.
Two If By Sea is a dual slide where you can choose from either side and see where it takes you. Revere's Wild Ride is a winding body slide that is perfect for those that like fast water slides. Salem's Scream will have you shouting, "Oh my cod!" as you descend 50 feet on this freefall slide.
They're also areas to relax like the wave pool and other activities geared toward younger children. A unique area called Lighthouse Cove is designated for kids under six, who an adult must accompany. 
Breakwater Beach has a little something for everyone, even history buffs. That's why it made our list of best New Jersey water parks.
9. Island Aqua Park
Located in Margate City, Island Aqua Park is a water park unlike any other, except maybe their other location in Stone Harbor. There are no giant slides here, only an inflatable obstacle course for you and your family to navigate settled right on the bay.
Island Aqua Park ranks among the best water parks in New Jersey because of its innovation. Its obstacle course style setup is reminiscent of summer camp and will bring back just as many memories for your family. The unique experience to had here is very different than other water parks on the list.
The course includes climbing walls, blob launchpads to rocket you into the air, and obstacles to navigate and cross. This is the perfect attraction for an active family. The cost is quite reasonable, and Island Aqua Park offers a deal on two-hour passes.
Island Aqua Park doesn't admit children under six, so this is an excellent option for older children. Life jackets are required at this park for all ages for safety reasons. Be prepared to sign a waiver, too. But don't worry too much; CPR-trained lifeguards watch out for you.
10. Thundering Surf Waterpark 
Thundering Surf Waterpark was the first water park to have a Flow House in the United States. For those not in the know, a Flow House is an entertainment venue surrounding the FlowRider, which allows you to catch waves when the ocean isn't cooperating. A day full of waves perfect for body surfing ranks this park among New Jersey's best.
There are other activities at this water park. Guests can race each other down Rainbow Rapids, check out the activity pool, and ride the tube slides. Cabana rentals are also available. The Lazy, Crazy River is a big draw for kids who can't wait to get dunked by 700 gallon Tipping Bucket. This wild river is on a rotating schedule of lazy and crazy, so it's two attractions in one.
The Flow House is the main draw to this water park. If you love to flowboard or want to learn, you can do so here! The best part, the Flow House is included in the cost of admission. You can also rent it out for private parties.
Catching waves with the FlowRider is considered an extreme sport, so be prepared to sign a waiver to participate. Safety precautions are in place to protect you and your family while participating in flowboarding. Follow all rules and instructions as outlined by lifeguards on site.
Know Before You Go
Unlike other states with lots of water parks, New Jersey isn't hot all year round. Many of the parks are only open during the summer. Check with individual water parks for their exact schedules.
Remember that you or your child may be asked to wear a life jacket during your trip to the water park. Most places have life jackets on hand, so there's no need to pack one in your suitcase. Be sure to follow this and other safety guidelines from parks.
Do pack your sunscreen. Since many water parks are only open when it's warm and sunny, you'll need to protect yourself from the sun. Sun hats and long sleeve shirts are great for beating UV rays, but not all parks will allow you to wear them at attractions.
Bring cash. New Jersey has toll roads across the state. You can also get an E-ZPass if you're going to be vacationing for a while, but sometimes it's easiest to get rid of your spare change.
Finally, remember to enjoy yourself! Pick one of the best water parks in New Jersey that will match you and your family's needs, and have a great trip!
More about our TFVG Author
A seasoned traveller, Dad, and avid sports tourist, James foundered The Family Vacation Guide to share his expert vacation experiences- especially when it comes to being a travelling family man.
Featured in Travel articles such as Travel + Leisure, TripSavvy and SFGate, you know you're reading some of the best vacation tips online.