With its expansive forests, beautiful views, and famous mountainscapes, ziplining in Asheville, North Carolina is a one-of-a-kind experience. No other area of the state has as much to offer as Asheville does! 
Whether you're looking for a thrilling 40 mph flight down a 1,000-foot zipline or a family-friendly adventure with young kids, the Blue Ridge Mountains around Asheville have it all.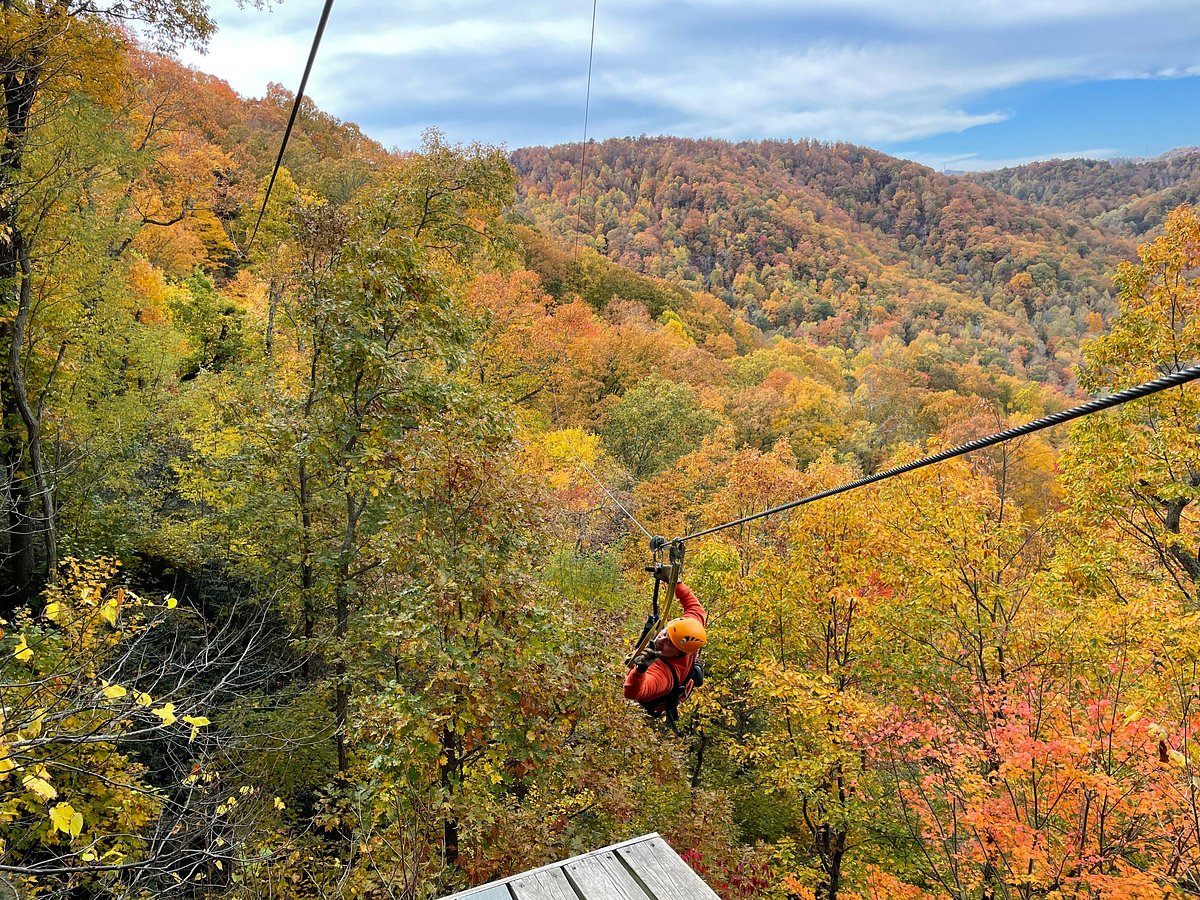 In Saluda, North Carolina, the Gorge Zipline is around thirty minutes from downtown Asheville. It is one of the premier destinations for aerial adventure lovers and zipliners on the east coast. Adventure enthusiasts have cited the Gorge as the steepest and fastest zipline in the United States!
Along the 11 unique sections, visitors fly from mountaintop to mountaintop. Four of these sections are over 1,000 feet long and feature huge drops that propel adventurers at high speeds of up to 40 mph. Valley and river views are one of the major draws of The Gorge Zipline. But, the large surrounding trees, some of which are more than 175 years old, should not be overlooked.
Visitors should be aware that kids as young as ten years old are allowed to embark on this incredible excursion.
Canopy Ridge Farm Outdoor Adventure Park on the east side of Lake Lure is one of the best outdoor adventure areas in North Carolina and certainly one of the best parks for ziplining in Asheville.
Their zipline tour is spread out over more than 60 acres and includes views of gorges, surrounding hills, water, and more. Visitors can expect to fly up to 30 mph as they traverse the park's six ziplines at up to 100 feet in height!
Informative and entertaining guides lead the tour, which lasts around 1.5 hours and is suitable for young kids. Their longest zipline, Zipzilla, is over 1,000 feet long! The area also offers horseback tours, hiking trails, and a variety of water sports. Canopy Ridge Farm is also located near a small mountain town famous for its inclusion in Hollywood movies.
The Adventure Center of Asheville is one of the area's premier ziplining and outdoor adventure parks. It is located five minutes from downtown Asheville and provides visitors with incredible views of the Asheville skyline and the surrounding Blue Ridge Mountains.
For more adventure, the park recommends visiting the Asheville Treetops Aventure Park, an aerial obstacle course with five levels of increasing difficulty. At the Treetops Park, visitors can climb up to impressive heights, test their balance, bravery, and willingness to learn new skills in the sky.
The primary draw of this adventure center is its secondary area, KidZip, a kid-friendly yet still exciting place for the youngest visitors to explore. It was the first zipline in the United States that provided kids under 10 with ziplining adventures and is sure to instill young visitors with long-lasting memories.
The Nantahala Gorge Canopy Tour was one of the first zipline tours in North Carolina. The unique facility offers 12 different ziplines and eight skybridges. Zipliners glide from platform to platform, experiencing breathtaking views of Fontana Lake and other amazing sights around the Blue Ridge Mountains.
On the approximately three-hour Nantahala Gorge Canopy Tour, visitors can expect to feel safe and secure as a Canopy Tour Ranger guides them through the process.
Kids eight years and older are welcome to come to Nantahala Gorge for an amazing aerial adventure. Nantahala also offers KidZip, an area of the park created for kids 4-12 years old. Young visitors can enjoy ziplining on a continuous cable system with their parents nearby.
After touring Nantahala's aerial adventures, visitors might also want to take a guided river raft trip or a tour of the Great Smokey Mountains railroad on the Tarzan Train.
The Navitat Zipline in Asheville is one of the best zipline areas in the country. They offer visitors a range of aerial adventures. At Navitat, visitors can embark on the Treetop Tour or Mountaintop Tour. The Treetop Tour is their most popular package and the experience that made Navitat Zipline famous today.
On this tour, visitors of different ages can enjoy being surrounded by nature while climbing through the treetops. There are six ziplines up to 200 feet high on the Treetop Tour. One of these is a remarkable 1,250 feet long! Adventurers can explore bridges, ropes, and stairs between flying on Navitat's ziplines. At the end of the tour, visitors can expect to rappel back to the forest floor.
On the Mountaintop Tour, Navitat offers tall, side-by-side ziplines that take visitors up to 65 miles an hour along mountain ridges. The tour features three long ziplines that carry adventurers from one mountain to the next and are around 3,600 feet in length.
Additionally, visitors might choose to embark on an RV tour through the beautiful local woodlands that lasts around two hours and features snacks, a hiking excursion, and more.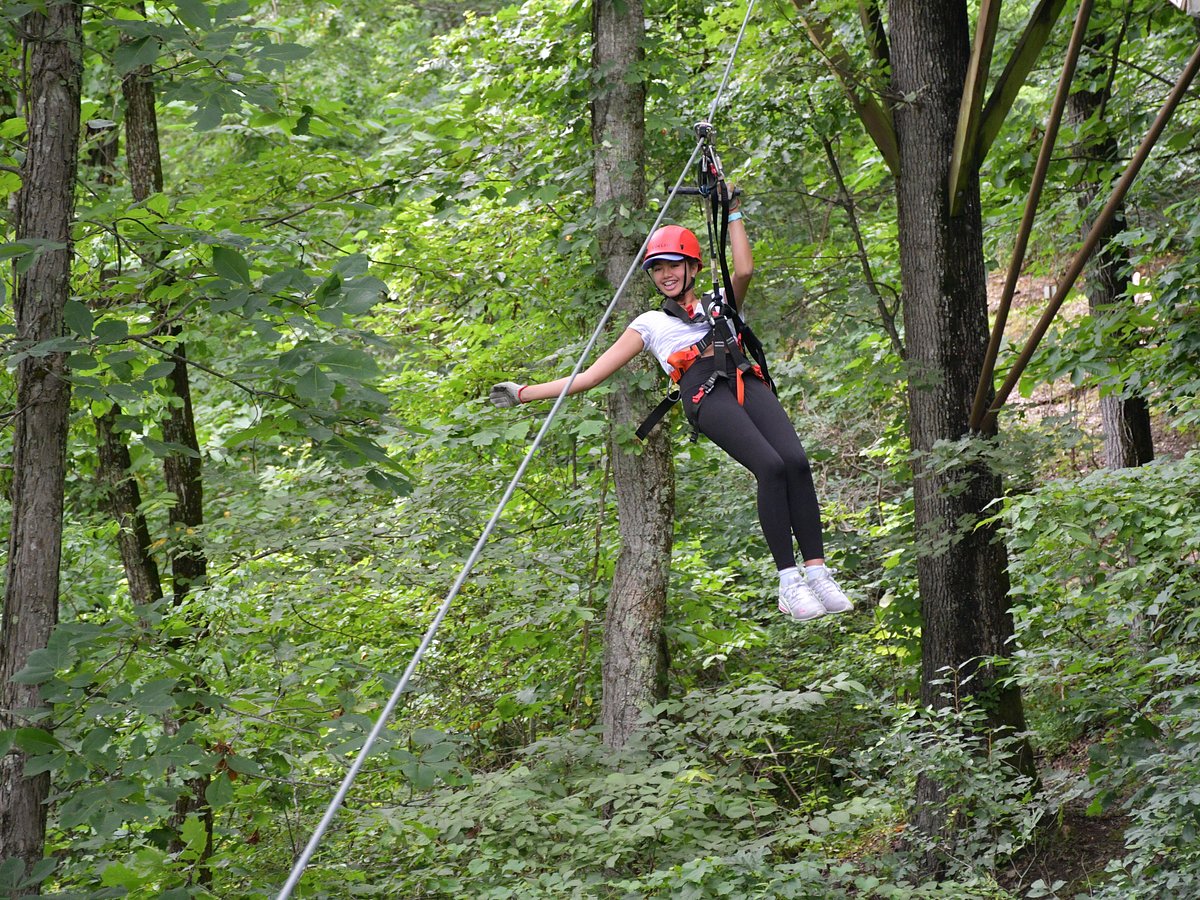 The French Broad Zipline is located in Pisgah National Forest and allows visitors an up-close look at the beautiful landscape North Carolina offers. Specifically, the park is easily accessible from downtown Asheville in Madison County cove.
After riding UTVs to the top, adventurers should expect to spend between two and three hours on the ten-zipline course. There is no minimum age for French Broad Zipline visitors, unlike some ziplining adventures.
After ziplining, visitors also have the option of going whitewater rafting. It is only one of several experiences offered by French Broad Adventures.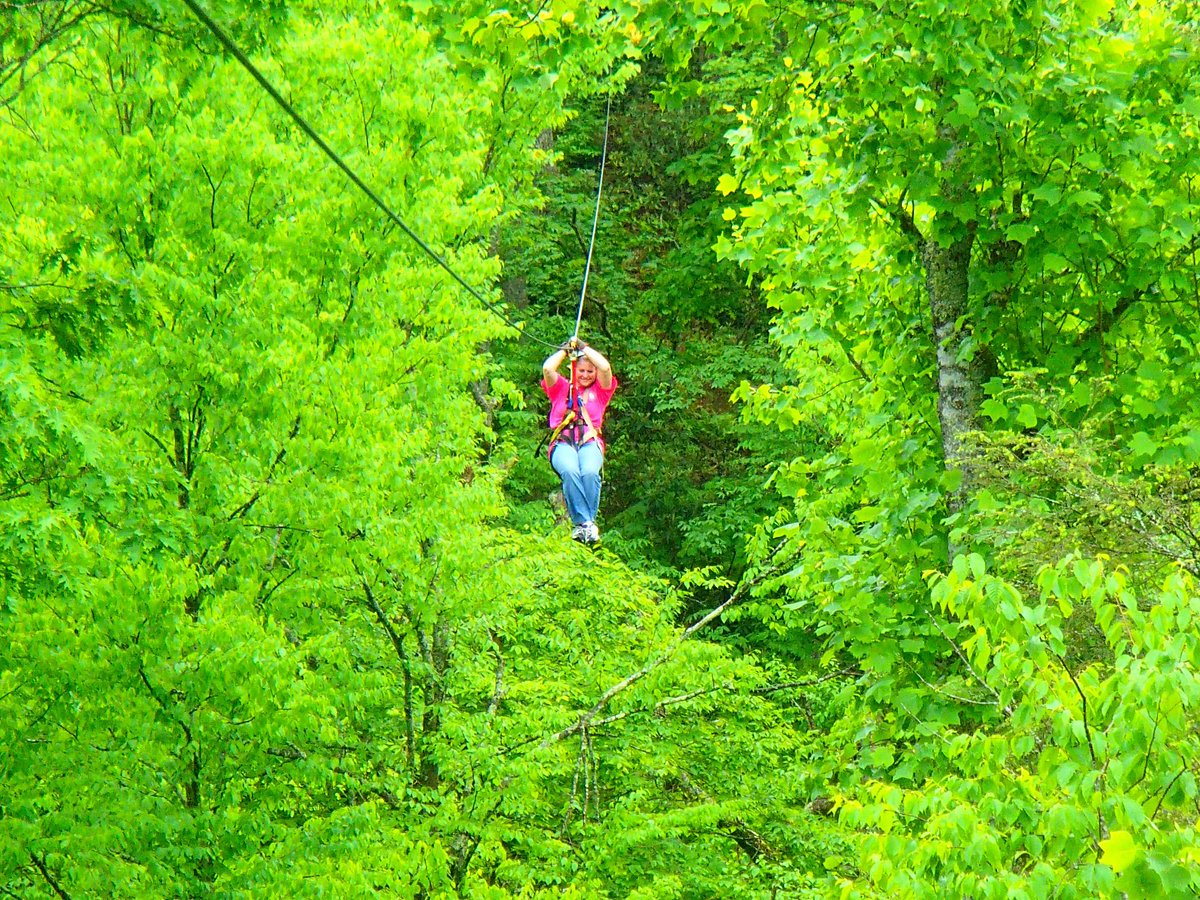 Sky Valley Zip Tours is in Blowing Rock, a short two hours from downtown Asheville. They have ten zip lines suspended around 300 feet off the valley floor and on over 140 acres of property. Their largest zipline is over 1,600 feet long and named "Big Mama." The facility can host groups of various sizes, from small families to large corporate retreats.
Sky Valley Zip Tours also offers night flights, a thrilling new option the park began in 2018. Starting at 9:00 PM, visitors can fly over the valley floor and enjoy one of the only nighttime zipline tours. Their kid's area, known as Whistle Pig Adventure Park, includes seven zip lines, a bridge, a giant slide, and more! They are happy to host kid's parties and school trips within this section of the park.
Visitors should be aware that the central area of Sky Valley Zip Tours only accepts visitors over 10 years old. Kids four years old and older can visit the designated kids' site, Whistle Pig Adventure Park.
Pigeon River Canopy Tours is located around one hour from Asheville in Gatlinburg and is one of the best adventure centers in the area. The unique tour featuring dual ziplines takes visitors over the Big Pigeon River, soaring to over 120 feet! The surrounding landscape, including the mountains of North Carolina and Tennesse, is one of the major draws of this particular tour.
After the aerial adventures are over, visitors might want to book a rafting trip on the Pigeon River. The park offers two different guided tours, one suited for the more adventurous visitors through class three and four rapids and another perfect for all ages.
NOC Mountaintop Zip Line Tour in Bryson City, North Carolina, is around 1.5 hours from Asheville. The park is one of the most popular zipline destinations in western North Carolina. It is on around 500 acres owned by the Nantahala Outdoor Center.
One of the park's major draws is the half-mile Mega Zip, located 2,000 feet off the valley floor. It provides visitors with incredible views of Blue Ridge Parkway and surrounding hills.
Nantahala Outdoor Center also offers Treetop Adventure Nets, an area created for younger visitors three years or older, and Zip Line Adventure Park featuring sixteen unique aerial adventure obstacles.
The Adventure Park is suitable for all ages, from beginner to advanced, and can be booked ahead of time by groups. Another 600-foot zipline is in this portion of the park, as are the resources for team building, family reunions, and a variety of other celebrations.
Thrill-seeking adventurers and families can also embark on a one-of-a-kind whitewater rafting trip while at the Nantahala Outdoor Center!
CLIMB Works Smokey Mountains is located near the Great Smokey Mountains National Park and is one of the best zipline tours on the east coast. Their guided tours are exhilarating, educational, and one of a kind.
The park offers dual ziplines that allow visitors to fly alongside a friend or family member. Overall, the tour lasts around two hours and is suitable for kids over seven years old.
The tour includes six ziplines that travel from platform to platform in the treetops, four sky bridges, and an ATV ride to the top of the course!
Conclusion
Asheville offers numerous places for adventures, whether they be on a zipline or obstacle course. Check out one- or more- of these locations when you plan your trip to Asheville.
More about our TFVG Author