Carowinds has been a South Carolina–North Carolina staple for almost 50 years now. Providing many Carolinas residents with their first roller coaster or thrill ride experience, Carowinds has come a long way from a small theme park straddling both Carolina borders.
Featuring 14 exciting rides for all ages, Carowinds roller coasters have provided thrills for any roller coaster enthusiast living along the East Coast. We will tell you about each one of the rides in our ride breakdown, but we also want to tell you about the fascinating history of this theme park jewel tucked away outside Charlotte, North Carolina.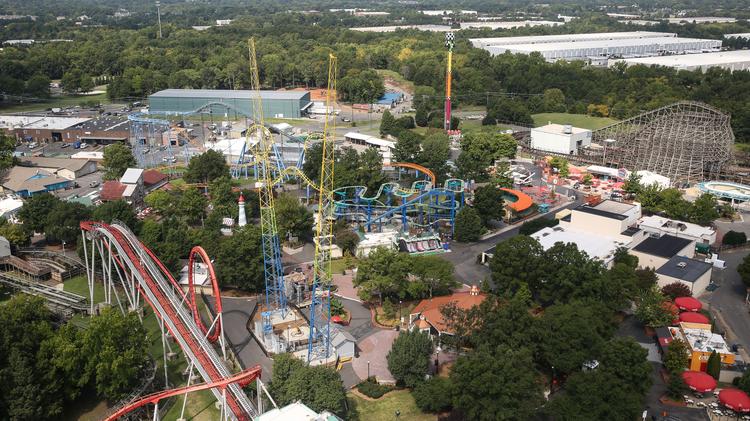 The idea of a theme park nestled between North and South Carolina came to fruition with the park's announcement in October 1969. Conceived as a theme park, resort, and even the potential site of an NFL stadium, the group behind the idea broke ground on the site in May 1970.
While operators planned to open the park in 1972, various delays due to the weather and construction issues pushed the opening back a full calendar year. On March 31, 1973, Carowinds – a portmanteau of Carolinas and the region's winds – had its opening day and was an immediate hit.
However, debt nearly sank the park following the first season, forcing park operators to merge with Taft Broadcasting. Taft would eventually transfer ownership of the park to Kings Entertainment Company. KEC operated the park along with several others through the 70s, 80s, and 90s.
Carowinds expanded during the decades, becoming the only theme park in the United States to include a water park with admission. The park's success continued through the decades. Despite the success, Paramount Communications acquired KEC in 1993. Paramount Parks, a subsidiary of the massively successful movie studio, transformed Carowinds and themed many of the rides after their movie and television properties.
Paramount also brought many new rides and sections to the park, including areas themed around Saturday Night Live's Wayne's World and a new coaster called Top Gun: The Jet Coaster. Paramount also dipped their toes into motion seat rides, giving park-goers a taste of the action in Days of Thunder.
However, Paramount's ownership of the park would only last until 2005, when the company moved to sell its slate of theme parks to Cedar Fair Entertainment Company. By the time of the sale, Cedar Fair had developed a reputation for thrilling roller coasters and quality rides at its main theme park, Cedar Point, in Sandusky, Ohio.
Cedar Fair's ownership started in 2006, and the company quickly moved to remove all movie and television-themed rides and attractions. For example, the aforementioned Top Gun: The Jet Coaster was renamed Afterburn.
Cedar Fair has worked to modernize the park in the intervening years, adding several new rides such as the Dale Earnhardt-themed Intimidator and removing such classics as Thunder Road.
The park continues to be popular among Carolinas residents despite not operating during the 2020 season because of the COVID-19 pandemic.
Carowinds operates 14 distinct roller coasters, each with its own themes and thrill levels. From wooden classics like the Hurler to modern rides like Copperhead Strike, the park has been diversifying its ride selection to ensnare fans for decades.
Afterburn opened in 1999 as Top Gun: The Jet Coaster. Once themed after the 1986 Tom Cruise-Air Force classic, this attraction hangs 32 riders through six inversions and a top speed of 62 miles per hour.
Riders get on the attraction and are safely affixed to it with an over-the-shoulder harness system. From there, riders hang off the ride as they are taken up the first hill and shot through the first set of inversions.
Riders then get a vertical loop, an Immelman, a roll, a flat spin, and even a spiral, all designed to give thrill seekers the feel of an actual jet ride. This ride is easily one of the most thrilling in the park, even after 23 years of operation.
Carowinds remains home to many roller coaster innovations. The Carolina Cyclone was an innovator from the moment it opened in 1980.
The Cyclone was the first roller coaster in the world to feature four inversions, giving riders a taste of the future of thrill rides. The ride quickly became a fan favorite, giving park-goers a chance to watch as it spins over parts of the park.
The ride is also one of the shortest coasters in the park, clocking in at just a minute; keep that in mind if standing in line is not something you enjoy.
Still, this coaster is a classic and a must-ride for those who want to taste an original innovative roller coaster.
For those newbie riders seeking a memorable first thrill on a roller coaster, the Carolina Goldrusher is a fantastic first ride. This old wooden coaster is built like an Old West mine cart expedition with cart-themed trains.
The Goldrusher is the park's oldest ride. This attraction was one of the first rides in operation on Opening Day in 1973. The ride has a positive reputation despite being almost 50 years old.
The coaster's trains take you on a 2-minute ride over water, up and down large hills, and through a dark cave before coming to a stop. With a top speed of 30 MPH, the Goldrusher delivers bursts of speed that will deliver thrills to any rider. This classic ride, quite frankly, is a must-ride for those first visiting Carowinds.
Copperhead Strike is a unique entry on this list, considering it is the first double-launch roller coaster in the Carolinas. These rides have quickly gained favor and appreciation among thrill seekers and coaster enthusiasts.
Themed after the swamps of the Carolinas, Copperhead Strike shoots riders immediately out of the ride bay and into a roll. From there, riders are taken to the first of two launch bays designed to send riders from 0 to 42 MPH in just 2.5 seconds. The speed carries through five inversions and plenty of twists and turns before stopping at a second launch bay.
That second bay blasts riders forward again for more excitement, culminating in an experience that lasts just under 2.5 minutes.
As one of the more contemporary rides at Carowinds, Copperhead Strike is already a park favorite.
Welcome to the most death-defying ride in the park. Fury 325 is the coaster for serious thrill seekers and coaster fans seeking an immediate adrenaline rush. Themed after the power and speed of a hornet, Fury 325 gains its name for its peak of 325 feet. That height makes this ride one of the tallest coasters in the world.
But the height is only one aspect of the ride among many. Fury 325 riders experience an 81-degree drop that can make anyone lose their lunch. After the stomach-turning drop, riders fly into a barrel roll and an S-curve that helps Fury 325 reach speeds of 95 MPH.
With its speed and height, Fury 325 is not for kids or the faint of heart. Consider this ride as one of your last in the park or perhaps one you take after a few spins on the Vortex or Afterburner.
Originally part of Carowinds' Wayne's World-themed section of the park, the Hurler quickly gained a reputation among experienced riders for being a ferocious ride capable of high speeds and screams.
The Hurler is a wooden coaster capable of speeds topping 50 MPH. Riders reach an 83-foot peak before the ride hurls them down a tremendous drop. Thrill seekers immediately hit a banked turn before several hills and turns.
Be cautioned that the Hurler is known for being a rough ride. Many riders experiencing the Hurler for the first time report hitting the sides of the cart during the coaster's significant turns and large hills.
Still, regardless of the coaster's age after it opened in 1994, riders find a thoroughly enjoyable classic wooden coaster with the Hurler.
Charlotte, North Carolina is known as the seat of power in NASCAR. What better way to celebrate the Queen City's stock car roots than a roller coaster engineered in tribute to one of the most legendary drivers ever to sit behind a wheel?
The Intimidator, directly inspired and named after NASCAR legend Dale Earnhardt, is one of Carowinds' more contemporary rides. The coaster, which opened in 2010, is also known as a "hyper-coaster." A hyper-coaster delivers extreme heights and massive top speeds.
The Intimidator is one of the top 10 tallest steel coasters in the U.S., thanks to its highest point of 232 feet. This monster coaster also comes equipped with a 74-degree drop and top speeds of 80 MPH, all designed to make you feel like you are riding shotgun with Earnhardt at the Daytona 500.
Riders themselves may find themselves intimidated by the sight of the coaster alone, which whips around the western perimeter of the park. The ride is a malevolent presence, daring riders to hop on board or watch others scream their guts out.
As its name suggests, Kiddy Hawk is a ride designed for younger riders needing the taste of thrills without the fright of something like Afterburner or Fury 325.
The ride is perfect for kids who want their first big kids' ride. Kiddy Hawk features seats that allow riders to dangle their legs with a shoulder harness safety system.
Once riders are launched through the ride bay, they begin a 49-foot climb that crescendos with a series of loops and a top speed of 26 MPH.
While not as thrilling as some of the more mature rides in the park, Kiddy Hawk still creates experiences and memories for those looking to have their first amusement park ride with their parents.
Nighthawk once began life at Carowinds as a Star Trek-themed coaster called the Borg Assimilator. However, once Cedar Fair purchased the park, the ride was changed to Nighthawk and given an overhaul.
Nighthawk is one of several flying roller coasters in the United States. The attraction suspends riders in the air while they lie on their backs. Riders spend the first few seconds of the ride traveling up a 115-foot hill that they cannot see, creating a perfect mix of anxiety and excitement.
The drop flips riders face down, allowing them the chance to see the lagoon below and begin their flight through the ride. With eight inversions and a top speed of 51 MPH, Nighthawk gives riders the experience of flying like a hawk.
Younger riders seeking an upgrade over Kiddy Hawk have found the perfect ride. Ricochet ups the ante for advanced thrill-seekers who need more speed and whiplash.
Ricochet derives its name from the ride itself, which features enough sharp and hairpin turns to make anyone feel like they are bouncing off walls. The ride also comes with several hills, giving riders a vertical experience that will twist their stomachs in all sorts of knots.
This ride is one of the smaller ones in the park, but it makes up for it with its unique design and aesthetic. Ricochet is a ride worth experiencing for riders of all ages.
After moving from a closing Ohio-based theme park, The Flying Cobras received new life at Carowinds. Featuring a 125-foot peak and a top speed of 50 MPH, The Flying Cobras takes riders on a head-spinning experience designed to mimic the fun of aerial acrobats.
Since moving to Carowinds, the ride was renamed in 2017 after being known as the Carolina Cobra. The name and appearance change allowed the ride to flourish in its new atmosphere.
Featuring six inversions and a 360-degree loop, The Flying Cobras takes riders on an adventure worth repeating.
The presentation of the ride is also unique with each car on a train featuring a different pilot and car design.
Vortex was a first-of-its-kind coaster when it debuted at Carowinds in 1992. The ride was among a new wave of steel roller coasters introduced in the 90s that eschewed the standard cart-and-train approach of wooden coasters.
Instead, Vortex stands riders up during the experience and latches them in place with shoulder safety harnesses. Topping out at 90 feet tall and thrusting riders through speeds of 50 MPH, Vortex is still a park favorite even at 30 years old.
With drops, twists, and turns, Vortex makes riders feel like they are tossed through a chaotic windstorm that sometimes whips through the Carolinas on a warm summer day. Vortex is everything you could want from a steel coaster.
Wilderness Run is another ride designed specifically for the younger thrill seekers, but it still delivers the type of experience that will bring new riders back for more.
The ride is Snoopy-themed and is another attraction located in the Camp Snoopy section of the park. Located near Woodstock Express – more on that ride in a moment – younger park patrons can easily ride both attractions back-to-back.
While Wilderness Run only reaches top speeds of 6 MPH, young riders receive the opportunity to enjoy the twists, turns, and hills of a standard roller coaster. Out of all the kid coaster rides in the park, Wilderness Run is easily the most rider-friendly experience for a child licking their chops to try a roller coaster.
The Woodstock Express has been renamed several times since opening early in Carowinds' lifetime. Despite that, the Woodstock Express is another beginner's ride at the park and a fantastic entry for novice riders. The Woodstock Express is a Carowinds classic, placed in Camp Snoopy and named after Snoopy's bird pal.
Known lovingly by many riders as the Scooby-Doo Ghoster Coaster in the 1990s, the now-Woodstock Express is a wooden coaster capable of speeds topping out at 35 MPH. A relatively short ride, clocking in at around 2 minutes, the Woodstock Express is a fabulous choice for newbie riders.
The Woodstock features plenty of hills and drops capable of thrilling the smallest riders without scaring their parents.
Final Thoughts
Since 1973, Carowinds roller coasters have delivered chills and thrills to theme park fans from everywhere. Cedar Fair's acquisition of the Southeast thrill zone has injected new life into the theme park. The company continues to invest in Carowinds.
In recent years, Cedar Fair has worked to redevelop the park by closing many classic rides, including Rip Roarin' Rapids and the dual-track Thunder Road. While these closures have happened, much to the chagrin of Carowinds' long-term fans, Cedar Fair has closed these rides to make room for new ones and expand old attractions.
Carowinds is not only for rides. We would be remiss if we did not mention the entertainment and food selection. Even with typical theme park fare, park visitors find delicious meals and tasty snacks on every corner.
Still, if you find time to venture with your family to this nearly 50-year-old park, you will find enough thrill rides, food, and entertainment to leave you asking for more.