If you'd like to take your family on a unique vacation, are stopping in Austin to visit friends and family, or are planning to move there in the near future, you're in for a treat!
Austin is a fast-growing city with plenty to offer families with kids. From picturesque parks and attractions to the bustling downtown area, there's something for every type of family in Austin, Texas.
Families with kids love destinations that have plenty of family-friendly activities, and Austin has no shortage of them. People enjoy visiting museums, swimming holes, live music events, and delicious restaurants for iconic Texas barbecues.
You can also find various accommodation options to suit your family's needs, from budget-friendly hotels and motels to luxury condos and homes.
But where might be the best place to stay for your family? We've compiled a comprehensive list of the best places to stay in Austin for families and categorized each option based on who in particular might prefer it.
By the end of this article, you should feel well-equipped to make the best neighborhood choice for your next vacation, weekend getaway, or long-term move.
Zilker Park – Best for Green Space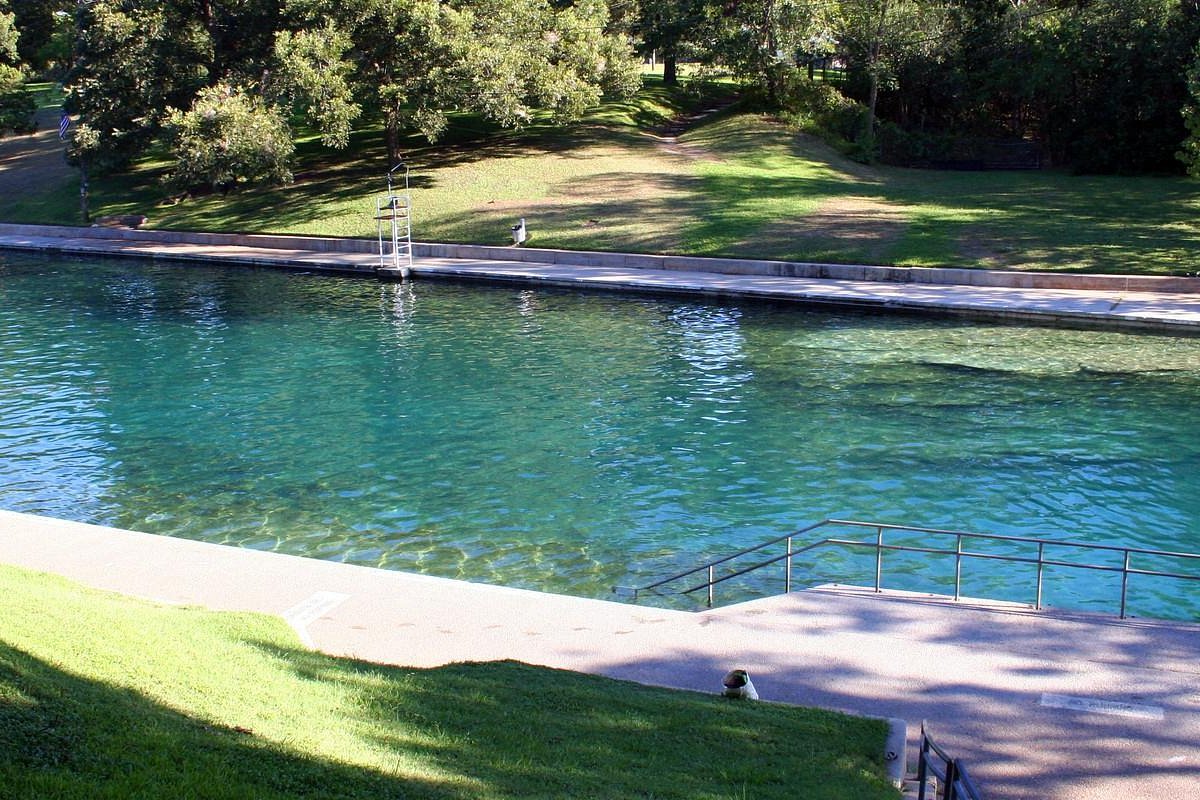 Zilker Park is one of Austin's best areas for families due to its green space, family-friendly activities, and proximity to Downtown amenities and fun. It provides an agreeable mix of relaxation and entertainment to suit everyone in the family.
Accommodation
There are many modern, homey, and comfortable accommodation options in the Zilker neighborhood. You can find a range of luxury hotels, cozy Airbnbs, and mid-range spots.
Zilker isn't the most convenient neighborhood for those looking to stay close to the city's downtown activities. Still, its lush green space and outdoor amenities make it one of the most picturesque areas in Austin.
Activities & Attractions
Zilker Metropolitan Park is one of the most frequented attractions in the Zilker neighborhood, with its walking, hiking, and biking trails. You can also go canoeing or kayaking, a favorite activity for many families in the area.
The Austin Nature and Science Center is a great place to take your kids to help them learn about the environment.
Other family-friendly activities include the Zilker Botanical Garden, the Barton Springs Municipal Pool, the Zilker Zephyr train, and the Umlauf Sculpture Garden and Museum.
In addition to specific attractions, there are plenty of live music venues in Zilker, which appeals to many families.
Food
The food in Austin is one of the main reasons people visit the city, and Zilker is no exception. The neighborhood features many acclaimed restaurants and eateries, from barbecue joints to vegan-friendly spots.
Some of the best restaurants in Zilker include:
Chuy's – Tex-Mex
Uchi – Japanese
Odd Duck – New American
Cafe Blue Downtown Austin – Oyster bar
Soto – Japanese
It's Italian Cucina – Italian
Mandala Kitchen & Bar – Southeast Asian
Atmosphere
The atmosphere in Zilker is friendly, welcoming, and laid-back. There's plenty of green space for relaxation, and the live music venues bring an energetic feel.
Zilker is certainly one of the top tourist hot spots, so it's an excellent location if you're going on a family trip. However, it might be a bit too touristy for families who want to stay for a longer time or live in Austin.
North Loop – Best for Quaint, Warmhearted Vibes
The North Loop is a charming, artsy neighborhood with a lot to offer families. It's considered one of Austin's best areas for families due to its cozy and friendly atmosphere.
Accommodation
You can find a wide range of affordable, modern, and luxurious accommodation options in the North Loop neighborhood. There are also many Airbnbs if you're looking for a more homey, private space, as well as lodges and cabins if you're looking for a more rustic experience.
The North Loop is also a fantastic option for living, as it's known for its modest, single-family homes.
Activities & Attractions
The pedestrian-friendly streets around North Loop, especially around North Loop Boulevard, are where a lot of the activities and attractions lie.
This area is excellent for shopping at eclectic boutiques and vintage shops, sipping tea at trendy cafes, or getting your next favorite book at a bookstore.
Food
Cafes dominate the area, but there are plenty of delicious and varied food options to choose from in the North Loop.
Some of the family-favorite restaurants in the North Loop include:
Epoch Coffee – Cafe
Quality Seafood Market
Foreign & Domestic – New American
Kome Sushi Kitchen – Japanese
Home Slice Pizza – Casual pizza joint
Atmosphere
The North Loop has a notably relaxed, Bohemian vibe that appeals to young, hip families. Its pedestrian-friendly streets, with plenty of lively cafes and shops, make it a great place to stroll around and spend the day.
This peaceful neighborhood is also considered one of the safest in Austin, which is also a huge plus for families looking to visit or live in the city.
Mueller – Best Modern Residential Area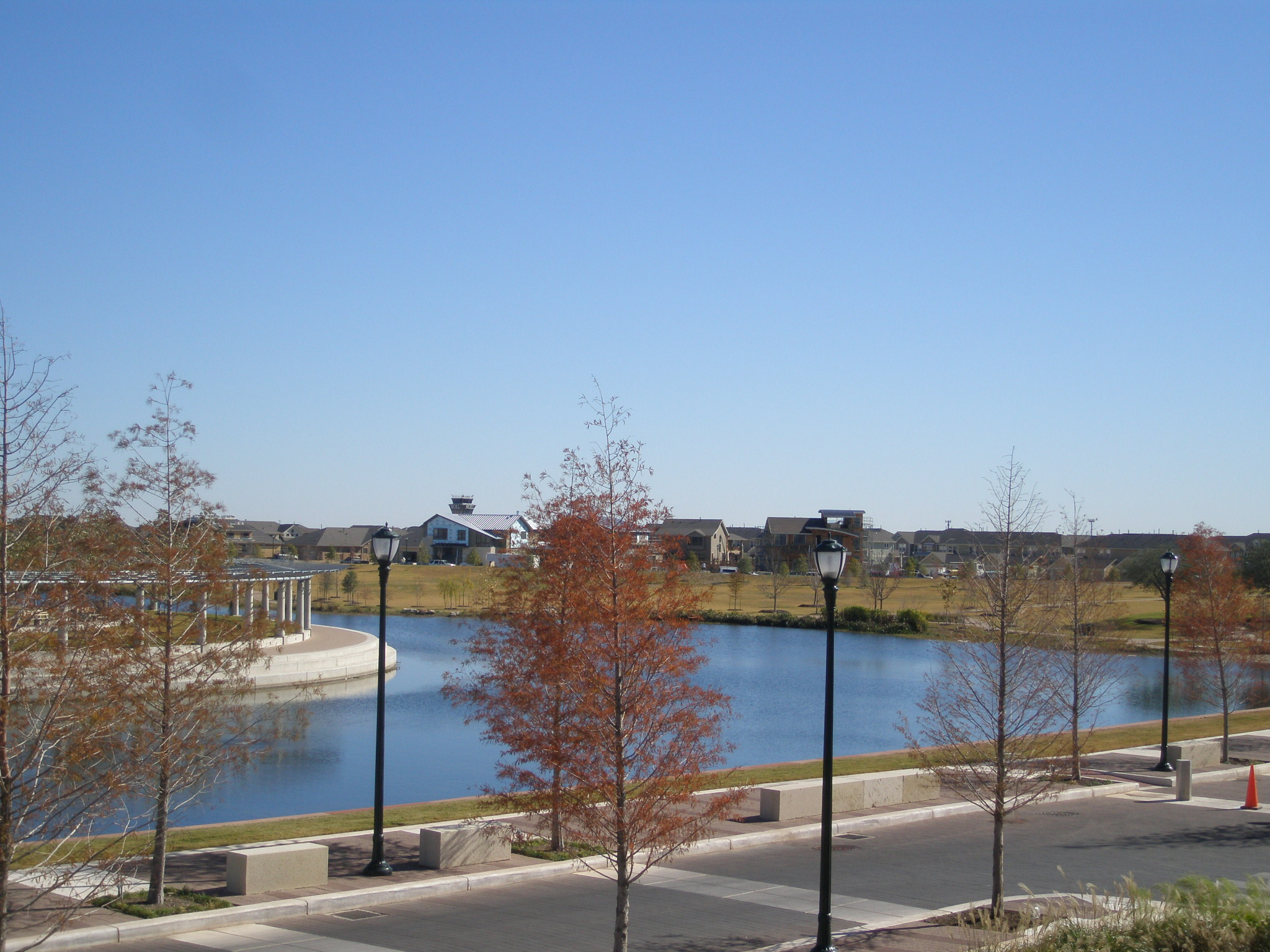 Mueller is another excellent choice for families looking to spend some time in Austin. This newly developed area is renowned for its modern vibes and excellent amenities, making it a great place to live or visit.
Accommodation
Mueller offers plenty of luxurious accommodation options, from high-end hotels to Airbnb vacation homes. For longer stays, you can find a range of townhouses, apartments, and houses for rent or purchase.
Activities & Attractions
Like Zilker, there's lots of green space for families to enjoy in Mueller.
In particular, Lake Park is a popular spot as it's a 30-acre park with walking and jogging trails as well as an open-air theater. The Patterson Park Playground is also nearby.
Thinkery is another fantastic place to take kids. It's an educational, innovative children's museum.
In Mueller, you'll find both local and chain retail shops to find everything you need for a comfortable stay or lifestyle.
Food
Mueller isn't necessarily the food paradise of Austin, but there are plenty of great family-friendly options.
Some of the top restaurants in Mueller include:
The Texas Farmers' Market at Mueller – Food vendors and live music
L'Oca d'Oro – Family-style Italian
Lick Honest Ice Cream – High-end ice cream shop
Bao'd Up – Trendy Asian spot
Kerbey Lane Cafe – Comfort foods
Atmosphere
Mueller has a modern, safe community feel that many families appreciate. It also has plenty of pet-friendly cafes, so it's ideal for families who want to bring their furry friends along. Finally, it has made anti-racism efforts that families of various backgrounds appreciate.
South Lamar – Best Growing Residential Area
South Lamar is an area that's growing in popularity due to its eclectic atmosphere and developing nightlife scene.
Accommodation
It's easier to find hotels in neighboring South Congress, but if you're looking for a place to live long-term, there's an increasing number of options in South Lamar.
You can find everything from rental apartments to condos to townhouses if you're thinking of moving in.
Activities & Attractions
South Lamar is well-known for its entertainment options. It's home to Broken Sooke, a live music venue and dance hall, as well as the South Austin Recreation Center, where the family can partake in many activities, from basketball to tennis to picnicking.
It's also an accessible place to stay long-term because it's close to other popular attractions around Texas, such as Zilker Park, Barton Springs, and the non-profit ZACH Theater.
This neighborhood is quickly becoming the center of Austin's nightlife, so you'll have plenty to explore once you put the kids to bed.
Additionally, this area is known for its murals, so you can take the family on a mural walking tour to appreciate some of Austin's best artwork.
Food
Just like the residential and nightlife aspects of South Lamar are growing, so is the dining scene.
Here are some top spots to check out in this area:
Jim BBQ – Korean braised BBQ
Papaloto Taco House – Popular taco joint
El Naranjo – Upscale Mexican
Loro – Asian-fusion
Super Thai Cuisine – Thai
Easy Tiger – American restaurant
Red Lobster – Popular seafood chain restaurant
Atmosphere
South Lamar is perfect for families looking for an eclectic, modern atmosphere. There's lots of diversity here, from the food and entertainment options to the people living in the area. This makes it a great place for people looking to experience all aspects of Austin.
Additionally, South Lamar is not as loud as nearby South Congress, which is helpful for families with kids, but it still has a buzzing, lively feel. You can get the best of both worlds here!
Downtown – Best for Sightseeing and Food
Downtown Austin is known for many things, including historic sites, intriguing museums, delicious dining, arts and entertainment, nightlife, and much more. If your family loves to be within the hustle and bustle or is only staying for a short time, this is the place to be.
Accommodation
Downtown has more short-term accommodation options, such as hotels and vacation homes, than any other area in Austin. The hotels range from business-oriented modern rooms to funky, hip spots to spacious, family-oriented homey stays.
There are even plenty of luxurious rooftop hotels. It's a pricier part of town to stay in, but given the wide variety of options, you're sure to find something that can fit both your budget and style.
However, it's one of the most popular Austin areas for people to stay, so if you decide you want a spot Downtown, you should definitely consider booking far in advance.
Activities & Attractions
Downtown Austin has some of the best sightseeing and food options in the city. It's home to the Texas State Capitol, a great place for a family outing, especially for older kids and teenagers who might better grasp the significance.
You can also take the kids to several nearby museums, such as the Bullock Texas State History Museum and the Thinkery Austin Children's Museum. The Museum of the Weird is another fun museum that'll appeal to the whole family.
And if your family loves art museums, you'll be remiss not to visit The Contemporary Austin and the Mexic-Arte Museum.
There's also a lot Downtown has to offer in terms of live entertainment. Your family can enjoy comedy shows, musicals, and concerts on a weekly basis if you wish. The Paramount Theater is a great location for these types of performances.
Finally, if you head to the 2nd street district, you'll discover Downtown's main shopping hub.
In general, Downtown is an ideal place to stay in Austin if you're looking to be close to many of the main tourist attractions and even have the ability to walk or bike to many of them from your hotel. For these reasons, it's also a great option for first-time visitors to the city.
Food
Downtown arguably has the tastiest and widest range of food of all of the best places to stay in Austin for families with kids. You can find casual and fancy, local and international, outdoor and indoor, and any other type of dining option you can think of in Downtown Austin.
But the two best cuisines you'll find in the area are Mexican or Tex-Mex spots and classic Texan BBQ restaurants.
Here are some of the top picks for the area:
Cooper's Old Time Pit Bar-B-Que – Classic, renowned BBQ joint
Gabriela's – Mexican
Licha's Cantina – Mexican
Fareground Food Hall – Casual and clean counter-serve spot
Taco Pegaso – Mexican
Atmosphere
Downtown has a very energetic and boisterous atmosphere that many people admire. It's not immediately seen as one of the best places to stay in Austin for families with kids because it can be a bit loud and hectic – especially at night and in particular areas.
Rainey Street and 6th Street are two party areas that you may want to stay away from, especially if you're thinking of bringing your kids to live Downtown.
Like the downtown area in almost any city, it's not the safest of all the areas. However, in general, Austin is relatively safe if you employ common sense practices.
East Austin – Best for Trendy, Artsy Families
East Austin is a hip, trendy, accessible area near Downtown Austin. It's a wonderful location option for younger families who want a calmer place to stay than Downtown but still be close to the action – and still have plenty of options at their fingertips.
Accommodation
Seeing as East Austin is just east of Downtown, it should come as no surprise that there's a multitude of accommodation options in the area.
You can go for luxury, casual, or a mix of both, as many Easy Austin hotels portray. ARRIVE, for example, is the best hotel if you want something that feels luxurious but still warm, artsy, and inviting.
Activities & Attractions
Street art, live music venues, and local retail shops are a few of the many attractions that appeal to families with kids in East Austin.
Art-loving families have easy access to the art museums in the nearby Downtown area but will also have plenty to explore in terms of art galleries and outdoor displays right in East Austin.
The George Washington Carver Museum offers an educational experience for all ages centered around African American history. You can also check out the Texas Music Museum to learn about the history of the country and other genres in the south and the Austin Children's Museum for interactive exhibits.
Additionally, Boggy Creek Greenbelt is an excellent space for the family to chill, hang out, and even enjoy a light picnic before continuing the urban exploration.
Food
Barbecue is huge in East Austin, but there's a lot more to eat besides brisket and pork. You can find almost just as many eateries as you can Downtown, and some may argue they're even better than the neighboring spots.
East Austin is truly a food haven, so you can't go wrong with any eatery you enter here, but here are some of the standout spots:
Franklin Barbecue – Top place for Texas Barbecue
Old Thousand – Chinese and Texan fusion
Paperboy – Breakfast, and brunch
Atmosphere
East Austin has a local, eclectic vibe that appeals to hip, fun, and down-to-earth families.
South Congress – Best Area for Shopping
South Congress is well-known for its nightlife scene, but families with kids are pulled here mostly due to the vast number of shopping opportunities and picturesque locales.
Accommodation
The accommodations in South Congress are mainly cozy and family-friendly. You can find both boutique hotels with modern amenities and traditional lodges that are perfect for a larger family. Living in South Congress is also suitable for youthful, energetic families.
Activities & Attractions
In South Congress, there are many intriguing boutiques to shop at, as well as the Stassney Heights Shopping Central nearby.
Outside of shopping, the main attractions in South Congress are centered around urban art murals and hipster cafes. Both of these aspects promote a creative, inspired atmosphere.
There are also a few outdoor activities you can get into as well. You can head to Congress Avenue Bridge for beautiful scenes and the best view of the bats' nightly migration.
If your family isn't easily creeped out, you should check out the Sfanthor House of Wax. But if you want an attraction that's even more family-friendly, don't hesitate to pay a visit to the Yard Dog Art Gallery.
Food
Fusion restaurants, taco joints, and cozy cafes are all plentiful throughout the South Congress. But it's mostly known for its Fusion restaurants, taco joints, and cozy cafes are all plentiful throughout the South Congress. But it's mostly known for its wide, delicious selection of Mexican and Tex-Mex joints.
Here are some top-notch South Congress Mexican restaurants for you and your family to check out:
BBQ Frank – Mexican
Sabor Tapatio – Mexican
Tacos Las Amazonas Estilo Jalisco – Mexican
Remirez "El Unico" – Mex-Tex
Taquitos Michoacanos
Atmosphere
The atmosphere in South Congress is one of ease and comfort. There's the ease of access due to good public transportation, and it has a comforting, welcoming vibe as this is an area where both locals and tourists unite.
Families often appreciate the cultural diversity in South Congress, especially relative to the rest of Austin. You'll find people of all ages and backgrounds, making it a truly unique experience.
Overall, South Congress is an ideal spot for busy families to explore and get a bite of the best Austin has to offer.
Cherrywood – Best Suburban Area
Cherrywood is a lovely residential spot for families looking to relocate to the city. It's a suburban, walkable neighborhood with beautiful tree-lined streets.
Accommodations
The accommodations in the Cherrywood area are primarily comfortable, suburban houses with modern amenities. There are also plenty of short-term and Airbnb options available if you're looking for a shorter stay.
Activities & Attractions
Cherrywood is an ideal spot for families looking for a more suburban feel. Here, you'll find plenty of parks and playgrounds to keep your kids entertained.
In addition to parks and playgrounds, there are also some great family-friendly attractions worth visiting while you're in Cherrywood. You can walk around a dog park with your furry family member or have a picnic with the whole crew.
Food
Cherrywood is known for its cozy diner joints and authentic Italian restaurants. But if you're looking to try some new cuisines, there are also plenty of international restaurants to choose from.
Here are a few Cherrywood eateries that your family is sure to enjoy:
Thai Thani – Thai
El Mana – a Mexican food truck
Cherrywood Coffeehouse – coffee shop
Vic and Al's – Cajun restaurant
Bird Biscuit – Sandwich shop
To Chinese Takeout & Delivery – Chinese
Atmosphere
Cherrywood is a calm, quiet, extremely family-oriented neighborhood. But you won't be bored here either, as it's easily accessible to all the main attractions across Austin, especially if you own or rent a car.
Old West Austin – Best for Unique Accommodations
Old West Austin is a great area for families looking to get away from the somewhat hectic and bustling nature of Downtown. It's known for its unique accommodations and beautiful scenic views.
Accommodation
Old West Austin is well known for its unique accommodations. You can find a range of attractive accommodations in Old West Austin. You can choose a simple, cozy cottage, an eye-grabbing, unique colonial mansion, or something in between.
If you're not ready to commit to one type over the other, you can choose to stay in several Airbnbs in the area to find what might suit you and your family the best.
Activities & Attractions
Old West Austin is all about exploring the unique and historical. You can visit a variety of museums, galleries, and parks while you're in the area. Take a walk along Lady Bird Lake, or hop on one of the historic trolleys to explore downtown Austin.
Food
Old West Austin has some great restaurants and eateries to explore.
Here are a few that you can take your family to check out:
Musashino Sushi Dokoro – Japanese
Tiny Boxwood Austin – Cafe with garden
Jeffrey's – Steakhouse
Atmosphere
Old West Austin is known for its unique atmosphere. Here, you'll experience the charm of a historical city, with plenty of modern attractions nearby. You'll find the perfect balance of a peaceful, quaint neighborhood and bustling activity when you're in Old West Austin.
Like several of these neighborhoods, Old West is a nice choice for exploring the beauty of Austin without having to deal with the hectic nature of a big city.
Is Austin Safe for Families with Kids?
Yes, Austin is a very safe city to visit or stay in for families with kids. In general, crime rates are much lower in the city than in other major cities in the United States.
The neighborhoods mentioned in this article are especially safe and family-friendly, so you can rest assured that your children will be safe while visiting Austin.
Additionally, there are plenty of resources available for families visiting the city, such as babysitting services and family-friendly activities to ensure that you and your family have a fun and safe time in Austin.
Here are some additional safety tips you should consider for Austin, as well as travel to any other city:
Always be aware of your and your family members' surroundings
Keep your valuables out of sight and in secure locations
Don't leave anything valuable in your car, especially if they're visible
Use well-lit paths and streets when walking at night
Always lock your doors and windows before leaving
Install a home security system if needed
Frequently Asked Questions
Now you have a better understanding of the best places to stay in Austin for families with kids. But you might have additional general questions or concerns about traveling to Austin, especially as a family.
Here are our answers to other frequently asked questions about traveling to Austin.
What are the best family-friendly activities in Austin?
There's a multitude of exciting family-friendly activities in Austin. Some of the most popular ones include Lady Bird Lake, The Bullock Texas State History Museum, Zilker Park, Sixth Street, South Congress Avenue (both during the day), and the Hamilton Pool Nature Preserve.
Are there any kid-friendly restaurants in Austin?
Yes. There are numerous family-oriented restaurants in Austin, ranging from classic American barbecue to Mexican/Tex-Mex and Italian fare. Some of the favorites include P. Terry's Burger Stand, El Chilito, and Matt's El Rancho, to name just a few.
Are there any family-friendly festivals in Austin?
The city of Austin annually hosts several family-friendly festivals to celebrate a variety of cultures and interests. Two of the most popular festivals include South by Southwest and the Pecan Street Festival.
However, depending on your kids' ages, you may want to avoid taking them to some of the louder and crazier festivals, such as Austin City Limits.
Are there any family-friendly hotels in Austin?
The most family-friendly hotels in Austin include La Quinta Inn & Suites Austin South, TownePlace Suites by Marriott Austin Round Rock, Embassy Suites by Hilton Austin Arboretum, Homewood Suites by Hilton Austin Cedar Park, and Hyatt Place Austin / Downtown.
All of these hotels have excellent amenities and offer plenty of family-friendly services.
Where can I take a 3-year-old in Austin?
Austin is an increasingly popular destination among young adults, but what about young kids? If you have toddlers and small children, you can feel rest assured that there's a lot in Austin that'll suit their interests as well. Here are some top spots to take toddlers:
Austin Zoo
Lady Bird Lake
Emler Swim School
Round Rock Park
Alliance Children's Garden
The Dinosaur Park
There are also many kid-friendly restaurants across the city.
Are three days enough for Austin?
As you can tell from this article, there are plenty of things to do and see throughout Austin and various neighborhoods to explore.
So although many people can see a lot of Austin in three days, we recommend spending at least a week in the city to get a sense of its culture and attractions.
Is 6th Street in Austin family-friendly?
6th Street isn't known as the most family-friendly place in the city. However, during the day, it can be a nice area to visit for family-friendly entertainment.
There are various cultural museums around the Street, the Sir Swante Palm Neighborhood Park, and dozens of spacious, inviting restaurants.
There are also plenty of bars, but if you don't mind your kids seeing some daytime adult fun, there's no reason to avoid 6th Street during the day.
What are the safest neighborhoods in Austin?
If safety is your main priority on your visit to Austin and you don't mind being a little further from the main attractions and popular restaurants, here are some other neighborhoods that are known as the safest in town:
Round Rock
Brushy Creek
Hudson Bend
Manchaca
Driftwood
Briarcliff
Leander
Pflugerville
Conclusion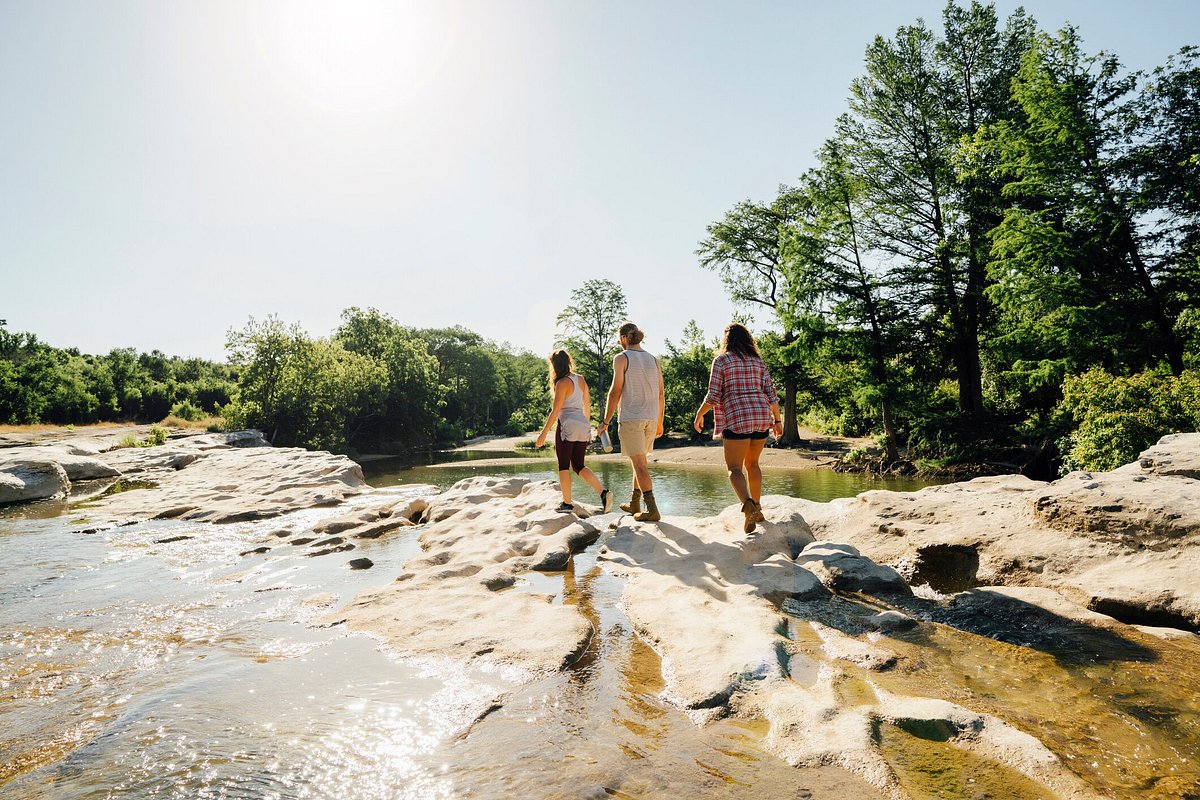 Overall, Austin is an amazing place to visit or stay for families because it is incredibly safe and has much to do to suit everyone's needs and interests.
The best places to stay in Austin for families are varied. Depending on what your family is looking for, you can find something that fits their needs in one of the city's many interesting, fun, educational, historical, and/or lively neighborhoods.
This list also just scrapes the surface. There are plenty of other neighborhoods, as Austin is a large metropolis. However, we hope this article helped you discover and understand the best options for most families.
More about our TFVG Author