No matter your interests, the chances are good that the San Antonio area has something to offer you. No trip is complete without visiting the Alamo to experience American history first-hand before heading to the Buckhorn Saloon and Museum to explore Texas history.
After that, there is the world-famous San Antonio River Walk that many rank as the best tourist attraction in Texas. Of course, all that leaves out sampling the eclectic and fascinating culture of the city, from restaurant tours to many different ways to experience old San Antonio ghosts or one of the city's many sports teams!
When you are visiting San Antonio, you will need a place to stay if you plan on experiencing the city to its fullest.
Fortunately, you can find many hotels that are centrally located and family-oriented. It is fair to say you will run out of time before you run out of places to visit. Below are the 16 best family hotels in San Antonio. 
16 of the Best Family Hotels in San Antonio
San Antonio has as much diversity in its hotels as in its attractions, culture, and people. No matter your family size or interests, there is a place to stay in San Antonio that fits your needs.
Every hotel highlighted in this article emphasizes the health and safety of its staff and guests. Each has stated and posted health policies that guests are expected to follow. Additionally, each room is cleaned daily and sanitized per CDC guidance.
You should check with whatever hotel you select to make sure you understand their protocol before you book any rooms.
If it is luxury and the authentic San Antonio you are looking for, the five-star rated Hotel Emma on the river at Pearl is almost impossible to beat.
The hotel has a feel of old Texas merging with new. It is steps away from the historic Pearl District and within walking distance of the San Antonio Museum of Art, Witte Museum, and San Antonio Botanical Gardens.
Hotel Emma exudes comfort and relaxation with 146 air-conditioned rooms, each equipped with refrigerators, LED televisions, satellite programming, WiFi, and daily housekeeping. Every room has a bathroom with a bathtub or shower and designer toiletries.
While the rooms are spectacular, the property boasts an outdoor pool, 24-hour fitness center, restaurant, and café. The hotel also offers complimentary concierge services and, for a surcharge, babysitting/childcare services. Additionally, there is a 24-hour front desk and dry cleaning/laundry service.
The Mokara Hotel and Spa is a destination unto itself. It is so enjoyable and relaxing, you and your family might forget you have the entire city of San Antonio to explore.
Located on the aforementioned "River Walk," which at times makes San Antonio seem like Venice, Italy, the Mokara is centrally located with easy access to multiple points of interest.
As a hotel, the Mokara is difficult to top. It has a rooftop pool and whirlpool, Forbes four-star spa, 24-hour fitness center, and a AAA Four-Diamond restaurant.
Its 99 guestrooms and suites come with:
Complimentary coffee service 
Free and paid WiFi
Hand-forged four-poster beds 
Oversized soaking tubs
Aromatherapy luxury bath amenities
This hotel has 194 guestrooms and provides the basics. It is comfortable and family-owned and will meet all your needs. It is a 15-minute drive to shopping and a little over 9 miles to Six Flags Fiesta Texas.
At just under 10 miles from the University of Texas, San Antonio, it is perfect for the family if you are visiting for a sporting event or family weekend.
Each room has a refrigerator and LCD television. WiFi is free for guests, and the rooms have desks and microwaves, plus phones for local calls. Outside the room, the Drury has an outdoor pool and fitness center and a common area with a TV.
Additionally, the hotel has:
A restaurant
Complimentary reception to meet other guests
Complimentary breakfast
A business center
Dry cleaning
Laundry facilities
The best part? Kids stay free.
Located downtown and centrally, the Sonesta ES Suites merges studio, one- and two-bedroom suites conveniently. It is steps away from the San Antonio River Walk. Each studio has a fully equipped kitchen, roomy work area, free WiFi, and complimentary treats.
Other amenities include an outdoor pool, fitness facility, business center, and large common areas for hanging out, eating, and drinking. There is also a complimentary grab-and-go breakfast, onsite laundry, and the hotel offers long-term stay packages.
The Sonesta ES is a recipient of the AAA Inspector's Best of Housekeeping in 2021 and places a premium on the health and safety of its guests.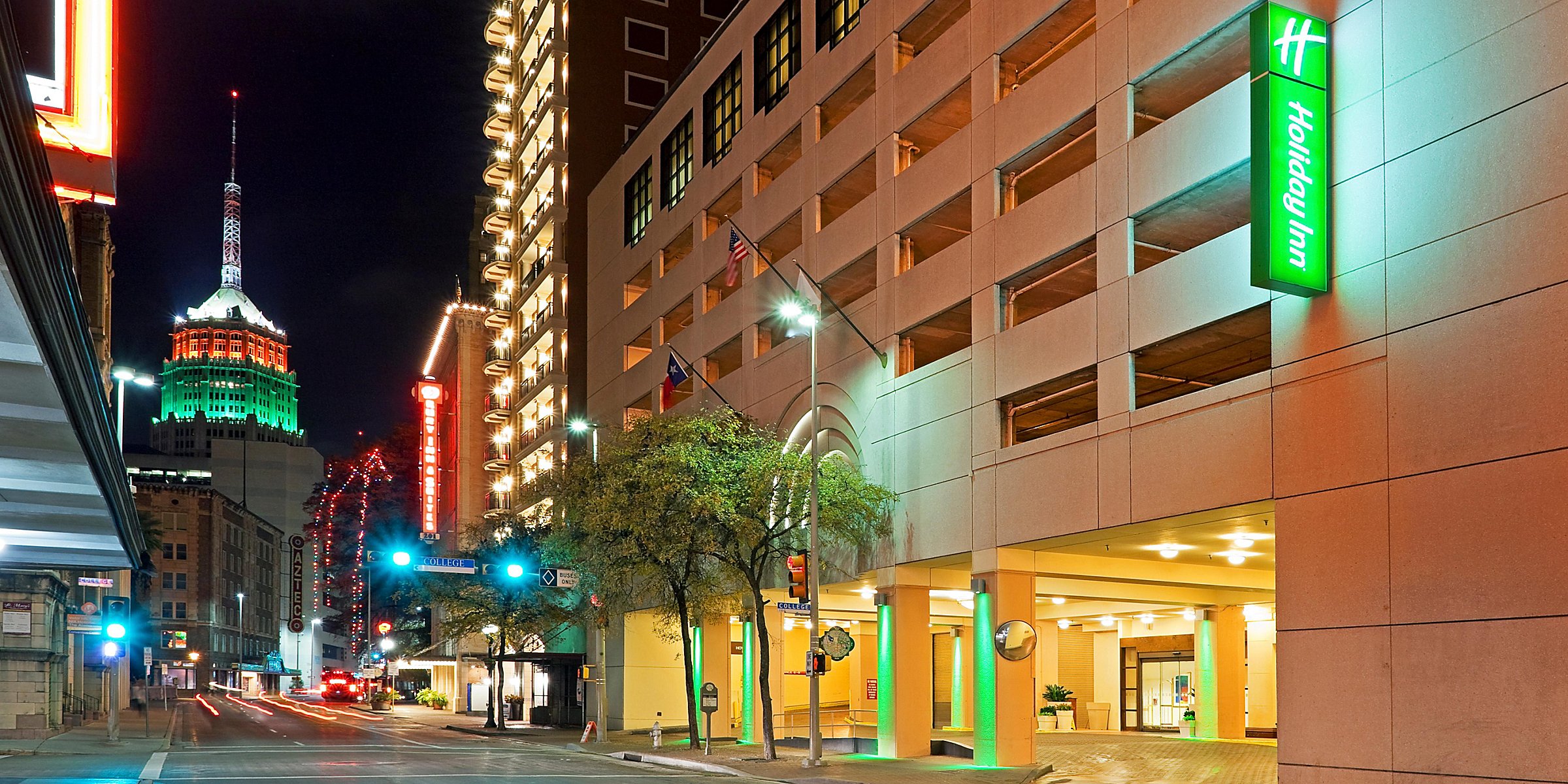 This Holiday Inn is right on the River Walk and has all-new guest accommodations. Whether you are an individual, couple, or family, the location is hard to beat.
Amenities include free WiFi, a business center, and a fitness center. Mugg's Café offers gourmet coffee, and there is a 24 hour retail area that sells sandwiches, salads, and sundry items.
Located within minutes of the Alamo and close to the Henry B Gonzales Convention Center, the Holiday Inn San Antonio is great for business and leisure travelers.
If you do not feel like sightseeing, the Windows on the River Restaurant and Lounge is a well-known and celebrated dining experience.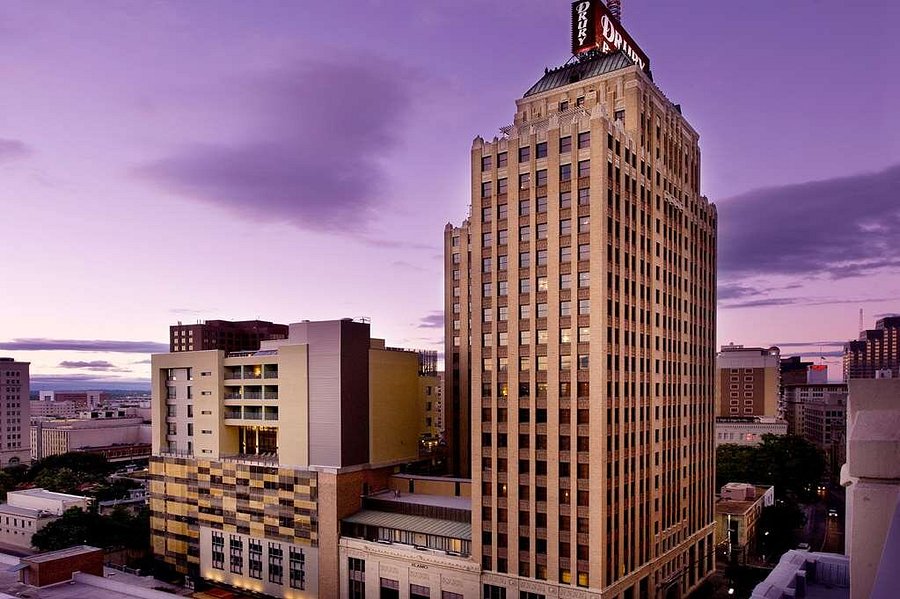 This Drury Plaza is less than a 5-minute walk to the San Antonio River Walk and footsteps away from attractions like the Majestic Theater.
It is a short drive to the Alamo, Museum of Art, and the Botanical Gardens. It has 380 guestrooms and is renowned for its convenience, location, and sparkling clean facility.
Amenities include refrigerators, WiFi, LCD televisions, safes, and desks. The Drury has an outdoor and indoor pool, a spa tub, a business center, laundry services, and a ballroom.
Complimentary receptions are held daily, and a complimentary breakfast is served daily (check for times). Limited parking is available on site.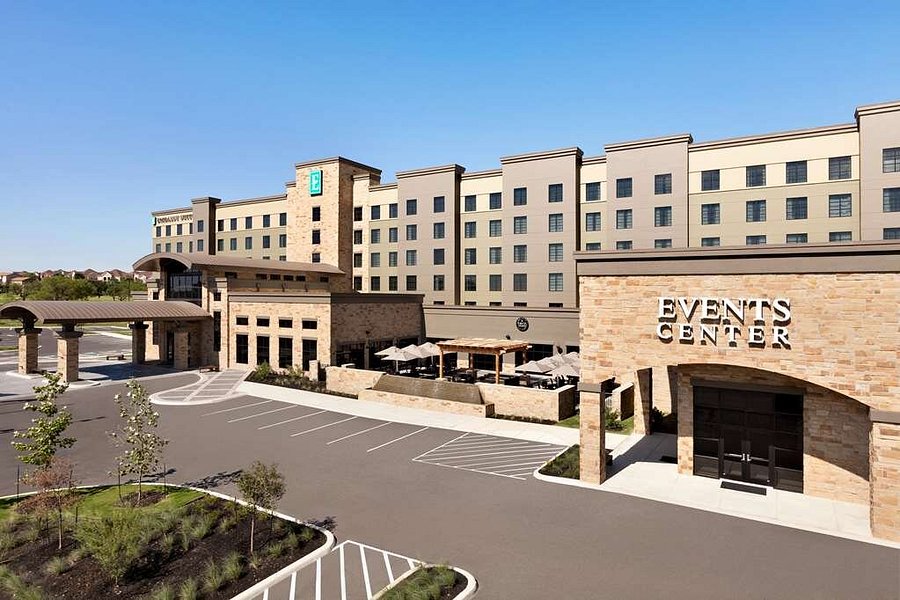 The Embassy at San Antonio Brooks Hotel & Spa is an all-suites hotel with 20,000 square feet of event space, outdoor pool, fitness center, IT oasis, restaurant and bar, and the Puresol Spa with San Antonio's only salt cave. Guests also get a made-to-order breakfast and complimentary evening reception.
Each suite has a separate living room with a sofa sleeper, work area, and wet bar with a mini-fridge. Additionally, each suite comes with a microwave and coffeemaker. The hotel also has pet-friendly rooms.
Embassy Suites San Antonio by Brooks Hotel and Spa is just 11 minutes from the Alamo and downtown. It is also easily accessible from major highways and located to several area attractions away from downtown. 
The Hampton Inn & Suites at Lackland AFB SeaWorld is about as centrally located for the San Antonio area as you can get. It is near everything. Downtown, the Alamo, and the River Walk are a few minutes drive from the hotel.
The Main Event is within walking distance, and SeaWorld is 5 miles away. That is the same distance as the Lackland Air Force Base if you are visiting someone stationed there.
The hotel has 105 guest rooms and the most extensive room square footage in the area at 896 square feet per room. Amenities include free parking, WiFi, an indoor pool, complimentary breakfast, fitness, and a business center. 
Family-owned with over 150 different locations, Drury Inn & Suites San Antonio North Stone Oak is known for its hospitality, friendly, professional staff, and immaculate facilities. Each room has a microwave and refrigerator, coffee maker, desk, and flatscreen TV.
The WiFi is free, and the facility has a business center, workout facilities, pool, and free parking. Pets are allowed, and there are three types of rooms:
Nonsmoking
Suites
Family-oriented
The North Stone Oak location is near Six Flags Fiesta, SeaWorld San Antonio, and the University of Texas, San Antonio. You can start each morning with breakfast and wind down the day with a complimentary reception every evening. 
Located on the River Walk, The Hotel Valencia Riverwalk is second to none in San Antonio regarding comfort and amenities.
The best description of the hotel is "away, but right there," which describes the comfortable seclusion the hotel offers, sitting right next to the bustle and excitement of Downtown San Antonio.
With 213 guest rooms, Valencia provides free WiFi to guests and has onsite in-room spa services, in-room safes, valet parking, and same-day laundry.
The city-operated shuttle service can pick you up and take you to the heart of downtown, or you can eat at Dorrego's, a restaurant known for extraordinary Argentine cuisine.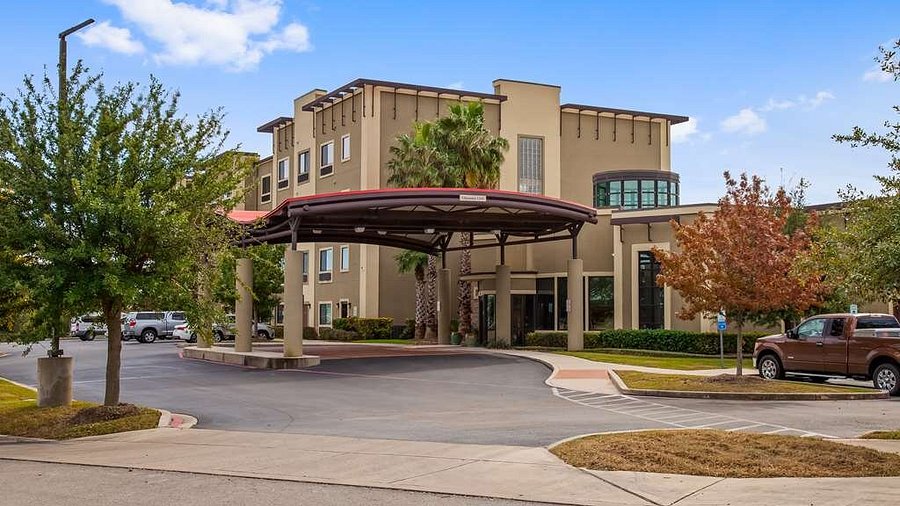 A trip to and stay at the Best Western Plus Lackland Hotel and Suites is between the Lackland AFB and the Kelly AFB.
The US Military Dog Walking Teams National Monument is within 2.5 miles, and the Guadalupe Cultural Arts Center is nearby. If you are hungry, Tripoli's Mediterranean Grill and Andrea's Mexican Restaurant are a short distance from the hotel.
Guest rooms come with:
Free WiFi
A flat-screen TV
A refrigerator
A work area
The hotel offers a 24-hour front desk, room service, concierge, outdoor pool, and complimentary breakfast. It also has free parking.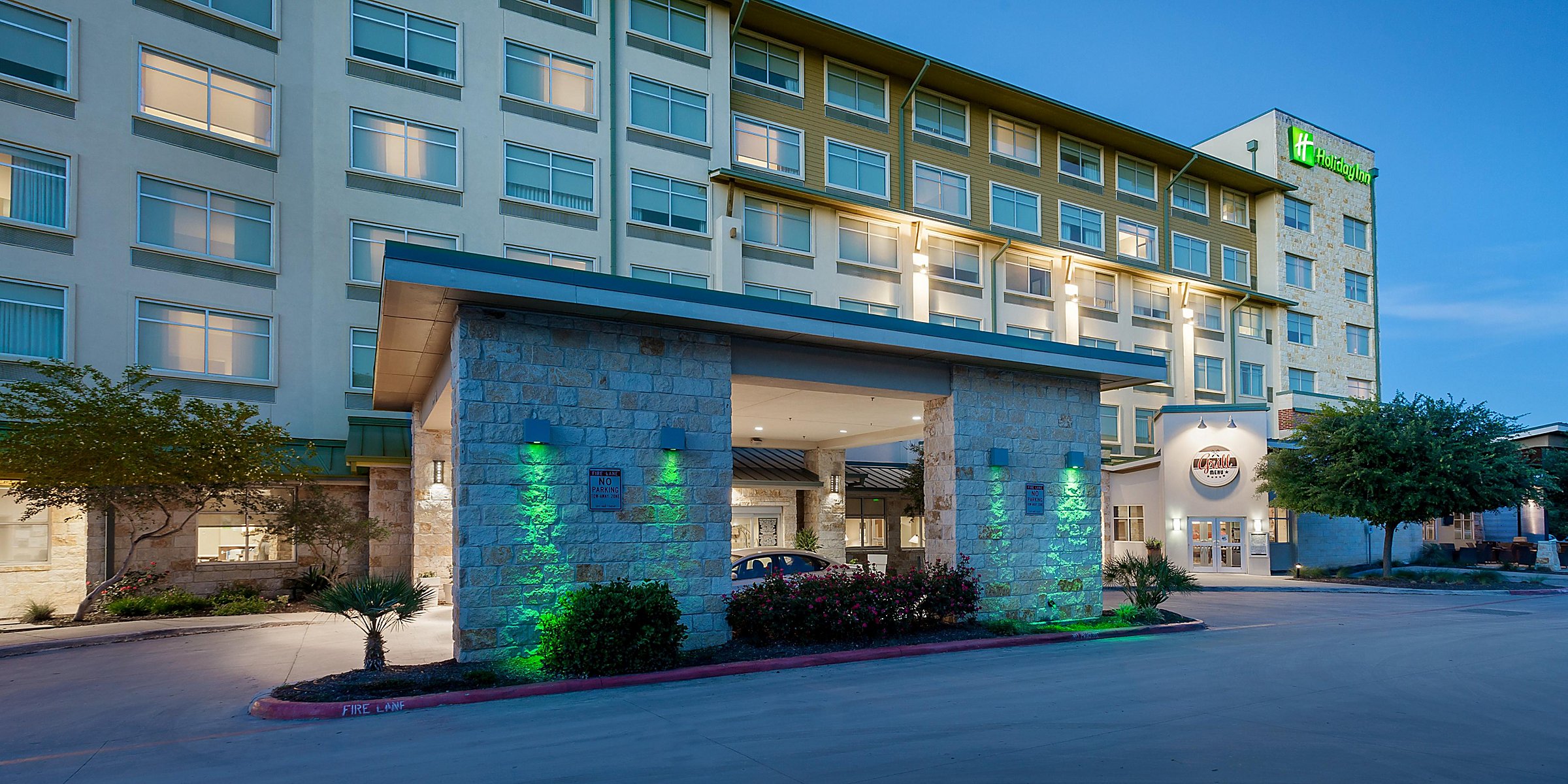 The SeaWorld area Holiday Inn is the company's first LEED-Certified "Green" Hotel. It specializes in using energy-efficient technology and environmentally friendly materials. It has a sports-themed grill restaurant, three pools, business and fitness centers.
Each room has a 32" flatscreen TV, free WiFi, coffee maker, microwave, refrigerator, and room service. The hotel is close to SeaWorld and Six Flags, as well as several family-oriented restaurants.
The Crockett Hotel is a Texas Landmark. It has been operated independently for more than 100 years and is less than 20 steps from the Alamo.
The hotel is ultra-modern with 138 guest rooms and suites, an outdoor swimming pool, and easy access to downtown. Ernie's bar is a daily gathering spot for food and drink.
Each of the 138 rooms and suites has unique architecture, free WiFi, room service and comes with a complimentary breakfast featuring waffles, tacos, and other specialties. The property has an outdoor pool, valet and self-parking, daily laundry, and dry cleaning.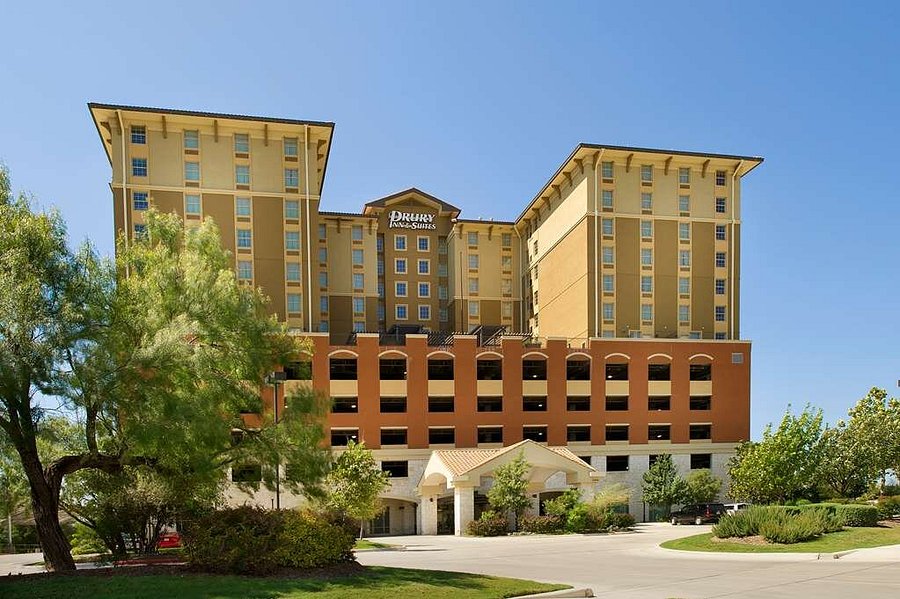 Located at I-10 and Loop 1604, this Drury can get you to just about everything San Antonio has to offer quickly and easily.
It is close to the Six Flags and the local University. Each room has free WiFi, TV, microwave, refrigerator and comes with a complimentary breakfast. The property has a 24-hour business center and fitness center.
The Marriott Plaza San Antonio has 248 rooms and three suites located on seven floors. Each room comes with a mini-fridge, free WiFi, TV, safe, and pull-out sofa bed.
The property has a sundry/convenience store, restaurant, lounge and pool side bar, swimming pool, fitness center, and access to outdoor activities like biking, miniature golf, and hiking, all within 10 miles.
In addition, this Marriott offers high-speed internet for a price, room service, and dry valet cleaning. Local attractions include downtown San Antonio, the Alamo, several restaurants, theaters, and museums. Six Flags Fiesta and SeaWorld San Antonio are also close by. 
The San Antonio Marriott Riverwalk is, as the name implies, located on the famous Riverwalk and is opposite the Henry B.
Gonzalez Convention Center. Downtown, the hotel is near the Alamo, with several art museums, Botanical gardens, and professional sports venues. For someone looking to experience the best of San Antonio, this property is complicated to beat.
The rooms have a view of downtown San Antonio, and each one comes with free WiFi (for Rewards Members). Additionally, there are family rooms and suites available. Fitness and business centers are located on the property, as is an indoor pool.
Room amenities include balcony views of the Riverwalk (in select rooms), coffee machine, refrigerator, flatscreen TV, nightly turndown service, and newspaper delivery.
San Antonio Hotel Traveler's Guide
Traveling to San Antonio can be a blast, but you have to consider a few things before beginning. Here are a few things to think about.
Parking is Limited
No matter where you go, parking is minimal. The closer you get to downtown San Antonio, the more scarce it becomes. That makes ensuring parking is available no matter where you visit critical. All tourism sites have free parking, but space is always limited.
Parking Can Cost Big
Even the hotels, in some cases, will charge a parking fee. Every attraction will charge a parking fee if the facility has parking.
Whenever possible, you should take public transportation or walk. Walking is not only great exercise, but it can also save you hundreds of dollars each time you venture downtown.
Biking is Big
There are multiple opportunities to bike for sightseeing and exercise. Mapping out your routes beforehand is a good idea, as securing your bike can be a challenge if you go into a venue.
Take Advantage of the Riverwalk
While there are many excellent sites in San Antonio, the Riverwalk is central to the city's heart. The walk provides access to restaurants, shopping, museums, theaters, and much more. Cruise and bus tours are available and frequently run deals for travelers.
The Riverwalk is broken into segments:
3.6-mile Museum Reach: features museums and parks
3.2-mile Downtown section: This is a loop and is where most of the shops and restaurants are
1-mile Eagleland section, which boasts the Blue Start Arts Complex
8-mile Mission Reach (south of downtown)
Each of these segments is food and bike accessible. Only the downtown and museum section of the walk is accessed by Rio River taxi boats. The Rio Barge Tour covers downtown. Making sure you understand the dynamics of the Riverwalk can save you a lot of time navigating the attraction to get to what you are interested in seeing.
The boat tours are also top-rated. Do not expect to walk up and walk on a boat. Plan and be prepared to wait. The tours are fantastic, but not a great way to see the city if you are in a hurry or are trying to see as many sites as possible during your visit. If you take a boat tour, sit back, relax and enjoy the show.
The Other Tours Are Cool Too
San Antonio has a lot of tourist-oriented tours. These cover pubs, restaurants, ghost sightings, the river, etc. They are a great way to see the city, enjoy good food (most of them), and not worry about navigation.
The Missions Are Free
If you are looking to see San Antonio's history on the cheap, visit the Missions. Almost all of them played a crucial part in Texas and San Antonio's past. Make sure you allocate enough time. The Alamo alone will take 2 or 3 hours. Most of the Missions require a drive.
From the Riverwalk, the Alamo is within walking distance, but the other Missions range from Concepcion at 3 miles from downtown to Espada at 8.5 miles from downtown. The other two Missions, San Jose and San Juan Capistrano, are 5 and 7 miles, respectively.
More about our TFVG Author
A seasoned traveller, Dad, and avid sports tourist, James foundered The Family Vacation Guide to share his expert vacation experiences- especially when it comes to being a travelling family man.
Featured in Travel articles such as Travel + Leisure, TripSavvy and SFGate, you know you're reading some of the best vacation tips online.