Austin is a city where you can enjoy incredibly tasty food, beer, and numerous attractions. As a unique and interesting destination for everyone, Austin offers a variety of live music performances, outdoor adventures, and the most delicious chicken and waffles!
Austin is known as one of the best US cities for food. The city has over 400 restaurants where you can try some of the most popular local dishes, BBQs, and desserts. We should not exclude the local breweries that make unique beer, perfect for every season.
No matter where you decide to eat, you must try some of the best chicken and waffles in Austin. In continuation, you will see the best restaurants and bars that prepare the best crispy chicken and sweet waffles that melt in your mouth.
The Taste of Austin Cuisine
Austin offers everything for everyone. When it comes to cuisine, you can try everything from high-end steaks to street food tacos.
Austin is known for its delicious BBQ and Mexican cuisine that combines different spicy, sweet, and savory flavors. If you thought that you would eat only Mexican dishes, like tortillas, fajitas, and other spicy foods, we are happy to share that you can try numerous tasty traditional foods like chicken and waffles, too.
What makes the chicken and waffles different in Austin is the variety of syrups you can find at the local restaurants. The different combinations of syrups and dressings poured over your chicken and waffles give a whole new flavor to the well-known dish.
Why is the Chicken and Waffles dish so popular?
Chicken and waffles is a popular Southern dish made to fulfill the sweet and savory cravings of everyone who can't decide whether to eat a savory or a sweet dish.
The white chicken meat perfectly pairs with mustard, honey, sugar, spices, herbs, and everything that comes across your mind, while the waffles are a classic that can be topped and eaten with almost everything.
The dish became popular because it is a simple but rich combination of flavors and textures that perfectly blend and melt in the mouth. The traditional chicken and waffles dish comes with butter, maple syrup, and sometimes powdered sugar.
In Austin, this dish gets in another dimension since it is available with various syrups, sauces, and gravy. However, the cooks who make chicken and waffles prefer using the traditional recipe to keep the dish's original taste.
Forthright
Forthright is a cafe bar that serves various breakfast dishes, among which is the famous chicken and waffles. We chose this place for you to eat because it has an incredible customer reputation, especially for the crispy chicken.
The menu is quite comprehensive, but you can easily spot the chicken and waffle dishes in the entrees section. In Forthright, the chicken and waffles dish comes with two boneless chicken thighs, deep fried and placed over a Belgian waffle. The waffle is also topped with honey butter, pecans, powdered sugar, and maple syrup.
You can either dine in the cafe or order takeout. For orders, call the property or place your order on the Toast TakeOut app.
Information
What customers say
"The menu offered a selection of alternative breakfast items. I opted for the chicken and waffles, non-US visitors, if you like bacon/ sausage with pancakes and syrup, you should enjoy this delight." – Lindsay
Lucy's Fried Chicken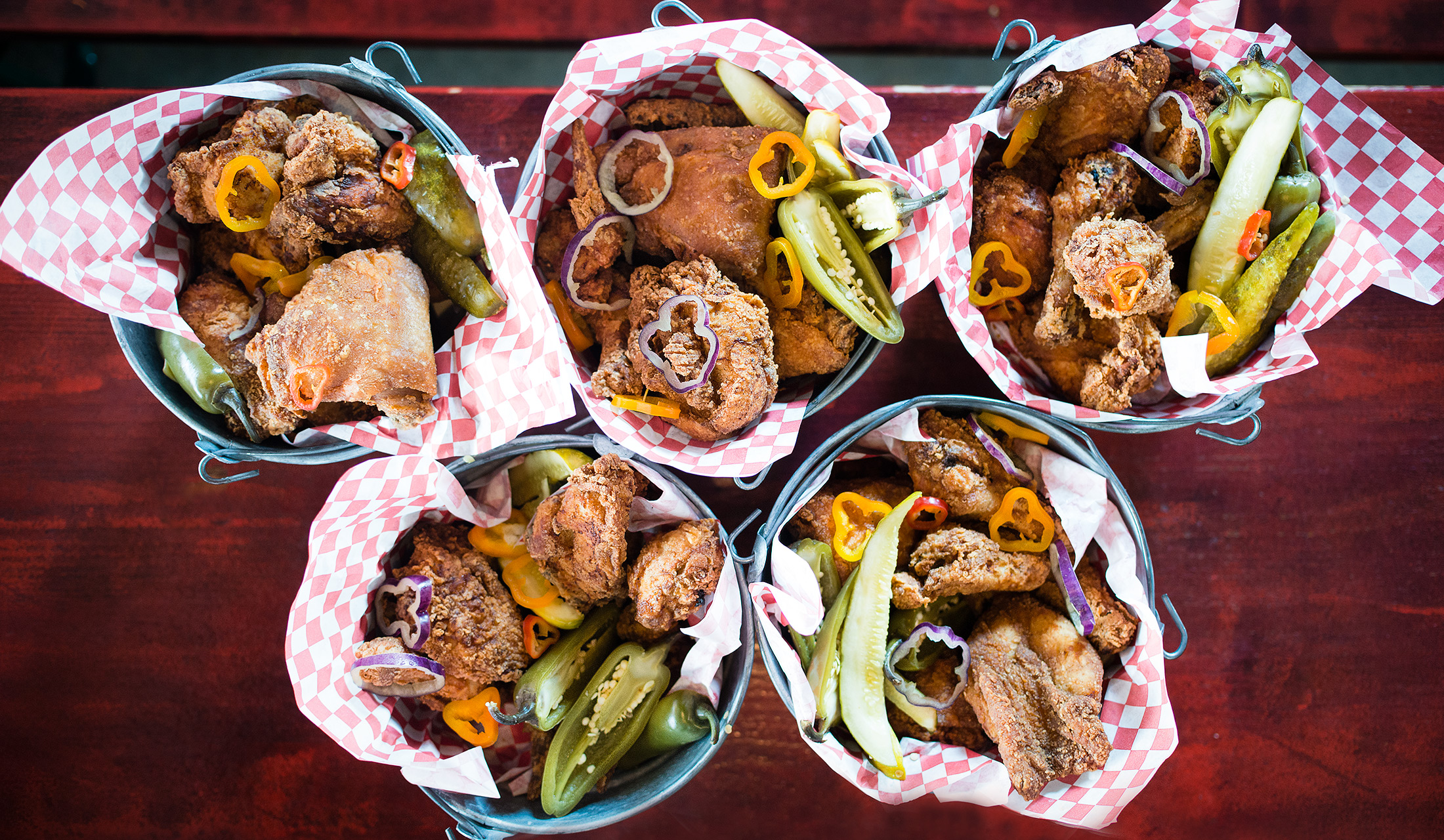 Many people will say Lucy's Fried Chicken is a hidden gem, and we can completely agree with it. The staff and service are at a high level, and many satisfied customers can tell the same.
When it comes to chicken and waffles dish, Lucy knows how to cook the chicken to perfection, ideally prepared to be soft and juicy inside and crispy from the outside. Combined with waffles and bacon marmalade, you get the most intensely sweet and salty combination, unique for this place.
If you choose this bar, we warmly recommend taking some of the popular Lucy's pies (pecan, Elvis, lime, or s'mores) or trying the banana pudding.
Information
What customers say
"I can't stop thinking about their fried chicken and waffle skewers. Amazing!! A kitschy place with tight seating but WORTH it!" – Fred
The Rolling Rooster
The Rolling Rooster is a place where you can eat freshly fried chicken. The restaurant uses only fresh (never frozen) chicken wings, thighs, and tenderness.
Numerous returning customers confirm the great taste of the fresh chicken. This nice and cozy place welcomes everyone seeking crispy fried chicken and waffles with juicy flavor. The menu is comprehensive, and you can choose the number of waffles and chicken and fish plates that will satisfy your hunger.
Information
What customers say
"THE BEST CHICKEN AND WAFFLES. Juicy. Crispy. Sweet. Spicy. They play baby-making music so it masks the sounds of moaning coming from the people eating." – Katelyn
The Cavalier
The Cavalier is an excellent place to eat that easily transforms into your favorite bar in Austin. If you choose this bar, we recommend trying some of the best draft beers that perfectly match the pool and darts atmosphere.
When it comes to the food served in The Cavalier, many people will share positive impressions, especially for the buttermilk fried chicken and Belgian waffles served with maple syrup and butter pickled jalapenos.
Children are also welcome here. The children's menu offers numerous boneless chicken options, whether on a waffle or biscuit, as well as burgers, fries, and sandwiches.
Information
What customers say
"Food, vibe, music, and drinks are on point. The bartenders are nice, but not too nice if you know what I mean. The best chicken and waffles AND chicken on a biscuit. Helloooo succulent chicken!" – Leasly
Revelry Kitchen + Bar
Revelry Kitchen + Bar is a counter-service in the heart of Austin's east side where you can try incredibly tasty American dishes, be it brunch or dinner. From Tuesday to Friday, the place offers Happy Hour discounts on drinks and food starting from 4:00 PM to 7:00 PM.
The chicken wings and waffles are the first option on the menu and one of the most ordered branches in Revelry Kitchen + Bar. The dish comes with six chicken lollipop wings and a Belgian waffle with bacon-sriracha maple glaze and garlic herb butter on top.
Information
What customers say
"I have been wanting to have brunch at Revelry for a while now and it was delicious! The first thing on the menu that I noticed was the wings + waffles; I highly recommend ordering this dish! The chicken was so crispy, yet juicy; you absolutely won't need any maple syrup because of the drizzle of sweet and spicy sauce." – Keay
Stella San Jac
Casual and modern eatery in the middle of Austin downtown. What we liked the most were the positive comments customers left for the kind and welcoming staff. In Stella San Jac, everyone receives a warm welcome and incredible service.
The food is quickly prepared and always served fresh, which is another reason why you should choose Stella San Jac. The Chicken and Waffles dish is served with unique bourbon maple syrup, country gravy, and fried herbs.
Information
What customers say
"This was my first visit to the Rolling Rooster. I ordered 4 Chicken Tenders and Waffle meal with sweet tea. The tenders were large, juicy, and delicious. The waffle was large, moist, sweet, tasty, and one of the best waffles I've ever had in my life!" – Steve
Colleen's Kitchen
Colleen's Kitchen is a Southern-style restaurant with a modern interior and refined ambiance. You can either dine in or order food to go. Colleen's Kitchen is the right place if you carve Southern cuisine dishes.
Breakfast, lunch, and dinner offers are incredibly versatile. You can even come here and drink a cocktail or a glass of wine during the happy hours. The chicken and waffles are traditionally prepared and consist of two boneless buttermilk fried chicken pieces, waffles, powdered sugar, and maple syrup.
Information
What customers say
"My daughter & grandkids brought me here, and we sampled all the things! (Well, many of them!) Chicken and waffles were the best, and the donuts. Lots of cool ancestral photos." – Peter
Moonshine Patio Bar & Grill Downtown
Moonshine Patio Bar & Grill is an eatery inside one of the oldest Austin buildings. The stone walls and incredibly long bar give the space a cozy and welcoming ambiance. The Southern dishes are spiced with innovative recipes and creamy sauces.
Numerous customers say it is an iconic place with tasty food and yummy desserts. The chicken and waffles dish comes with whipped lemon butter, maple syrup, and the iconic chipotle cream gravy, which gives a Texas flavor to the dish.
Information
What customers say
"We had the Chicken Fried Steak, Chicken and Waffles, and Chicken Almondine. All were good. The Waffles, though not crispy, tasted like cake. Portions were large. Service was prompt and friendly." – Helen
24 Diner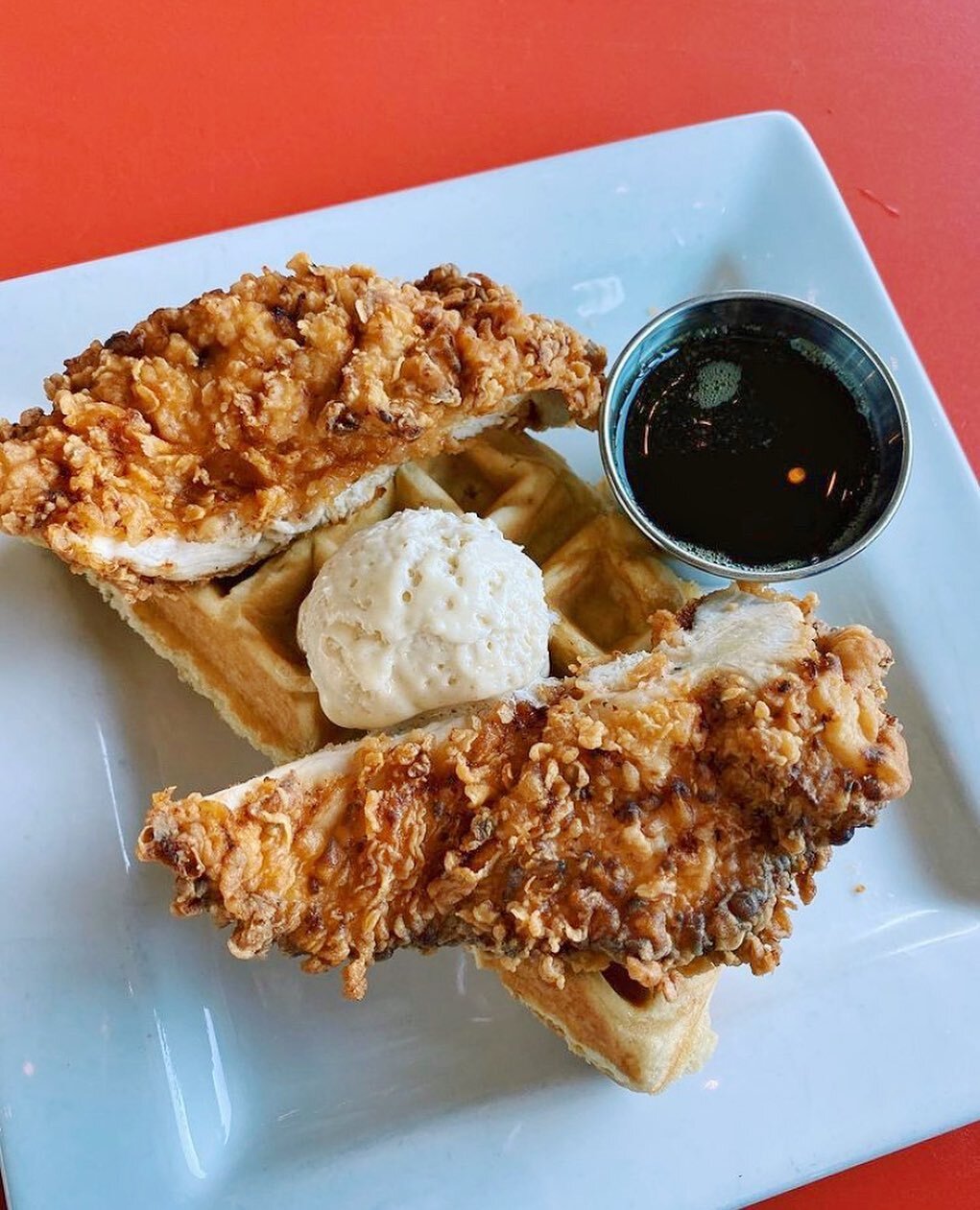 24 Diner is a place in downtown Austin open for dine-in and takeout services. Most people who come to Austin choose 24 Dine since it is an eatery where you can rely on quality food all the time. The interior is inspired by the '50s and makes 24 Diner a perfect place for meeting, eating, and having fun.
The dishes aren't something special and unknown to the guests, but they are enriched with unique blends of ingredients and sauces. The chicken and waffle dish comes with a brown sugar butter ball that melts under the hot chicken.
Information
What customers say
"We ate here for brunch and really enjoyed it! My wife had the chicken and waffles and was really impressed, which is saying a lot, considering that she always gets chicken and waffles at every restaurant that has it. I had the breakfast platter. It was awesome, too!" – Jamie
Another Broken Egg Cafe
This cafe offers a delicious twist on a classic dish. The flavors and colors on a single plate make this place unique and attractive. In Another Broken Egg Cafe, you can try numerous "craveably" delicious breakfast, lunch, and brunch meals.
The best chicken and waffles in Austin can be found right here in the Another Broken Egg Cafe. The dish is prepared with crispy chicken tenders and Belgian waffles, drizzled with homemade chipotle honey sauce.
Always leave space for dessert! Another Broken Egg Cafe has incredible pancakes (topped with strawberries, Nutella, cream, bananas, and nuts), cinnamon roll toast, and strawberry pound cake French toast.
Information
What customers say
"Very nice new place to enjoy breakfast food and lunch. The staff is very friendly and informative, willing to explain the menu. The food was awesome. Big fluffy waffles with crispy chicken and flavorful omelets. Can't wait to go back and try more!" – Diane
Conclusion
We are happy if this guide has helped you find the best chicken and waffles in Austin. Share your experience and tell more about the chicken and waffle style you prefer.
Enjoy your stay in Austin and feed your cravings with the tastiest dishes and BBQ in the USA!
Bon appetit.