Also known as the Lone Star State, Texas offers many destinations that are a sight for sore eyes. Sure, camping is a great way to experience the true side of Mother Nature, but people often have a love-hate relationship with it.
You can have a lot of fun camping and do many outdoor activities once you are in the wilderness, but as soon as you remember that you will not have a proper shower the entire week, the entire "joy" goes down the drain. This is where glamping fits perfectly in the puzzle.
The replaced G with C is for glamorous, and glamping is a new and modern way to experience nature and its most beautiful landscapes. Without the lack of comfort or hygiene, glamping can give you the rest you desperately seek and recharge your batteries before returning to the city.
When it comes to Texas, the state has something for everybody and combines the best of both worlds; ruggedness and class. Whether you want a romantic getaway or a trip to bring the entire family, our article has the best spots for glamping in Texas.
The best destinations in Texas for glamping come with easy access, and they are not that far away from the city. Texas has many natural sights you can enjoy from a deluxe cabin or tent.
With glamping, sleeping under the stars has never been more beautiful. You can feel like you are on a camping trip and enjoy all the perks without losing the comfort and being surrounded by mosquitoes.
By glamping in Texas, you can get all the fresh air and soak in nature while returning to a cozy bed once all the activities end and the sun is nowhere to be found.
Because many glamping options range from simple tents to more luxurious cabins, you might need some help with where to stay. That's why we are here to help.
In our article, we will offer you high-end cabins that offer electricity, AC, hot tubs, and the best glamping experience possible.
There are only a few locations in the glamping world that allow you to have the experience from a futuristic bubble, and Udoscape is one of them.
This place will keep you close enough to nature and give you an extraordinary experience while keeping you rooted in comfort and top-notch amenities. The bubble has views that are simply out of this world.
Located at 19508 Boggy Ford road, Lago Vista, Udoscape is one of the highest-rated resorts for glamping in Texas.
Traits and amenities
Since September 18, 2021, Udoscape has been a go-to resort for glamping for many Texas citizens.
It offers amenities like free Wi-Fi, a hot tub, free parking, AC, a fully equipped kitchen with a dining area, a flat-screen TV, a private bathroom with a shower, a hair dryer, and much more.
The bubble is located in Lago Vista and is especially popular amongst couples who need a romantic getaway.
This spot is also called the Luxe Tented cabin and will make you feel like you are on safari in Africa. Located in Texas Hill County, this cabin resembles a safari retreat and has private bathrooms and outdoor dining areas.
In addition to that, the resort has decks, verandas, and timber floors. Like every location we suggest, the cabin's views are extraordinary, and you can get the rest you truly deserve by sleeping under the stars.
Traits and amenities
Looking like a tiny secluded home, the Lost Horizon glamping resort is located on a 1700-acre ranch near the Lampasas River. Also, more than 18 species of wildlife around the cabin roam free, so don't be surprised if you spot a gemsbok or a barbary sheep.
The Luxe Tented cabin comes with a workspace, an area with high-speed Wi-Fi, and a desk. Who said you couldn't work while enjoying the beautiful sights of nature?
Additionally, you get free parking, EV, a charger, a fully equipped kitchen, a bathroom, and more. You can bring your pet with you. The host, Jeremy, has installed security cameras on the property for extra safety.
After being closed for a couple of months for renovation and additional construction work, Walden Retreats has reopened and offers accommodations for guests from all over America.
If you need a resort to sit near a campfire, grab your acoustic guitar and play some Morgan Wallen, this is the place for you. Walden Retreats Hill County offers a luxurious camping experience because it's in an intimate location with a pure connection with nature.
The resort hosts truly believe that nature is the best environment for getting proper rest, and that's why they created this resort for the most comfortable outdoor experience.
Sleeping in nature has never been more luxurious than in Walden Retreats. The place is on 96 acres of private land near the Pedernales River.
Traits and amenities
Walden Retreats Hill County has safari-style tents that, despite offering beautiful sights, have accommodations like raised platforms, AC, running water, a gas grill, a private bathroom, a fridge, and more.
Moreover, the resort has a balcony on which you can listen to the sounds of local wildlife and enjoy the stunning panoramic view. Walden Retreats is the place to visit if you want a luxurious hotel in the wilderness.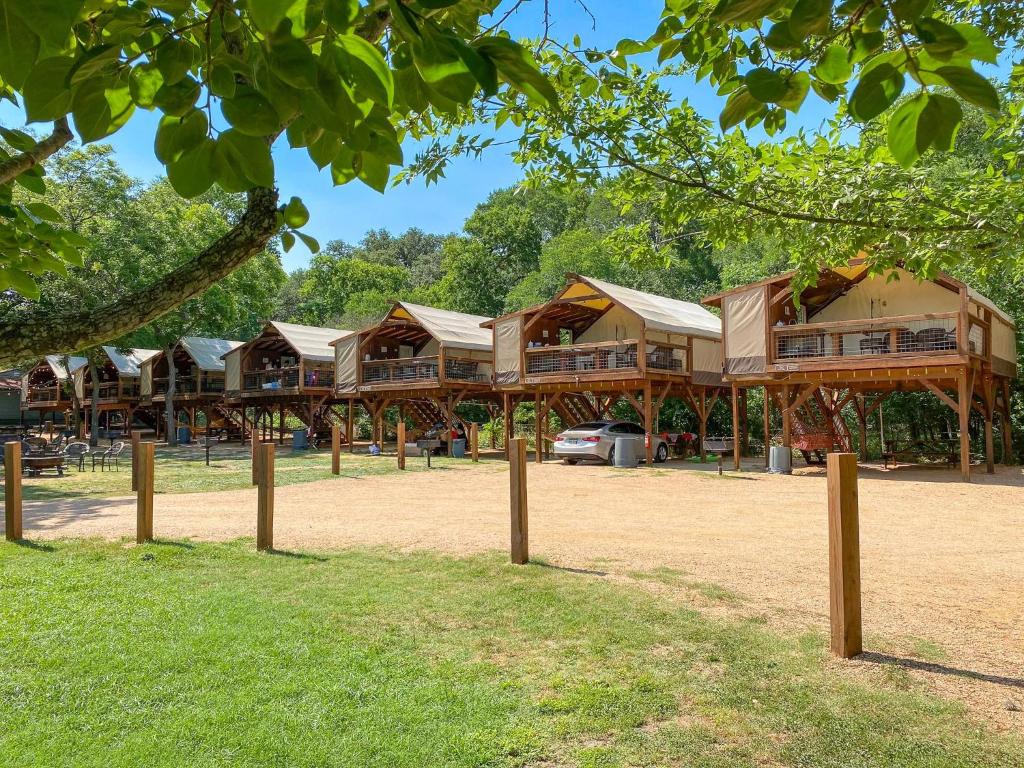 Vintage and rustic with modern and top-quality amenities, the Geronimo Creek Retreat is a perfect place to visit if you are tired of all the traffic and bright lights in the city. This tent is best described as a laid-back Texas resort with many fun outdoor activities.
The Geronimo Creek Retreat is between Gruene and New Braunfels, making it perfect for glamping in Texas. The resort is near a spring-fed creek that has crystal clear water.
Also, from the Geronimo resort, you have private access to swimming, fishing, paddling with kayaks and paddleboards, rope swinging, etc.
Traits and amenities
If you like to get away from technology and step away from the modern world for a little while, the Geronimo Creek Retreat is the perfect spot to visit.
Like in the movie Grown Ups, this place offers many around-the-water activities. In addition, it has a frisbee golf course, a game room, a hot tub, and a basketball and volleyball court.
The cabins have tepees, AC, a fire pit, and a grill. There is also free parking, Wi-Fi, a kitchenette, a fridge, and a flat-screen TV.
Alongside the cabins, Geronimo Creek offers treehouses which are also perfect for glamping in Texas and getting a little more in touch with the ruggedness of nature.
Located just 220 miles from Dallas, this place is basically Disneyland for grownups. Rancho Pillow is a whimsical wonderland set amongst farms and ranches of Southeast Texas and is perfect for anyone with an adventurous spirit.
This magical and stylish ranch is one of the more artistic and unique spots for glamping in Texas. The ranch has a colorful exterior with great accommodations that make the entire glamping experience unforgettable.
Being one of the strangest spots for glamping in Texas, Rancho Pillow has wide outdoor space for engaging in fun activities.
The ranch is nestled on a 20-acre compound near the town of Round Top. Despite being an awesome place for a restful stay, the ranch is available for all kinds of special occasions and private events.
Traits and amenities
On the Rancho Pillow, you can stay in The Barn, The Red House, The Love Shack, The Shure Shack, or The Tepee. The resort has something for everyone and offers the most friendly environment to rest and refuel. Despite its Woodstock vibes, Rancho Pillow offers unique and luxurious amenities.
The ranch has a bathhouse with pedestal tubs that allow you to soak under the stars. Also, there is a library for a poetry reading, a treehouse for kids, and a heated saltwater pool.
Other amenities include Turkish towels in the bathrooms, a kitchen, bedding, freshly roasted coffee beans, Wi-Fi, firewood, and more.
When chasing romance, the Sinya on Lone Man Creek is the resort that shines the most. The place is perfect for a romantic getaway and is one of the most visited destinations in the entire Lone Star State.
Once again, the camp was inspired by the African Safari and is a beautiful tent for the best possible glamping experience. Named after a rescued orphan elephant, the amazing frills of the resort can offer anyone a pleasant stay.
Located in Wimberley, the tent has a simple elegance. From the moment you step foot in the place, you will get the feeling that you are someplace special. There are captivating and beautiful sights all around.
Traits and amenities
The Sinya On Lone Man Creek is only a 45-minute drive from Austin and is perfect for a romantic getaway. The amazing sights of the Texas Hill Country will make you and your partner relive your first date.
The tent is furnished with a king-sized bed with luxurious linens, bedside tables, lamps, a shower, kitchen, AC, ceiling fan, and a wood-burning stove.
There is anything that will enhance the romance in the room, from a hot tub and a hammock to a deck perfect for yoga, the Sinya On Lone Man Creek offers a unique experience.
If you have had a couple of stressful days at work or life is just getting too hectic, the Lucky Arrow Retreat is the perfect resort to unwind and recharge your batteries.
The resorts are located in the Texas Hill Country and provide the ultimate glamping in Texas experience.
From our suggestions above, the Lucky Arrow Retreat has the most cabins. Lucky Arrow has 10 yurts and additional cabins, porches, and ranch houses to accommodate larger groups.
Despite not being the "classic glamping" type of resort, the Lucky Arrow is very versatile. It has many onsite amenities like a beer garden, a seasonal swimming pool, and a kid's nature-themed area.
Traits and amenities
By visiting this retreat, you can enjoy many fun excursions in the Land Cruise Tropp and visit breweries, restaurants, wineries, distilleries, and other beautiful nature destinations.
The Lucky Arrow is amongst many beautiful attractions, and boy, do the hosts know how to take advantage of the amazing sights. Only a 30-minute drive separates the property from other hidden gems like Hamilton Pool, Westcave Preserve, Reimers Ranch, and more.
Lucky Arrow has cribs upon request, AC, a coffee maker, a hairdryer, a microwave, Wi-Fi bathrobes, an acoustic guitar, a bar sink, a porch swing, fire pits, and complimentary s'mores.
From the vast canopy of the stars above to its wide open spaces, El Cosmico is one of Texas's most unique resorts.
Offering a temporary relief from the modern world and its quirks, El Cosmico is a second home to many intrepid travelers who like to explore every corner of the planet.
In addition to that, the resort is perfect for glamping in Texas because it has renovated vintage trailers, scout tents, tepees, yurts, and tent campsites.
Located in the desert just right off Marfa, the resort provides a little more laid-back glamping experience and allows you to enjoy the simple things in life with many organized events.
Traits and amenities
From bikes to exploring the entire property of Marfa to wood-fired hot tubs, El Cosmico has many amenities to greet guests.
Communal spaces are eligible for larger groups of people, such as a hammock grove, an outdoor kitchen, a dining area, a reading room, an outdoor stage for all kinds of performances, and a community lounge. You can go stargazing in the desert, hiking, biking, and much more.
The resort also offers many kid-friendly activities, free parking, free Wi-Fi, a patio where you can stretch or drink a nice cup of coffee, and an open-air bath.
Less Popular Sports for Glamping in Texas
The Lone Star State is filled with resorts that can help you get in touch with nature while enjoying comfortable beds and luxurious bathrooms. There is a saying, "everything is bigger in Texas", and when it comes to glamping, that is very much true.
Whether you decide on a small tent or a large cabin for more than 10 people, glamping in Texas can help you unwind and prepare for the next challenge.
The sky above Texas seems like it goes on forever, and the best part about the whole thing is there are not only dude ranches, pasture, and oil fields.
The Lone Star State is filled with many secluded getaways that give glamping a whole new meaning and turn the trip into an adventure.
Our eight recommendations above are some of Texas's most popular resorts for glamping. However, because we like to convince many more people to give glamping a chance and scratch the trip off their bucket list, here are some additional places to go glamping in Texas.
If your childhood dream was to build a treehouse, but you never got the chance to do so, now it's your chance. The River Road Treehouses offer a new take on glamping and are fully equipped. You can reach them with an elevated boardwalk through the cedar forest.
Each treehouse has a kitchen, dining area, lounge, TV, Wi-FI, and an air conditioner. The Guadalupe River is nearby, so you can engage in many water activities like fishing, swimming, or kayaking.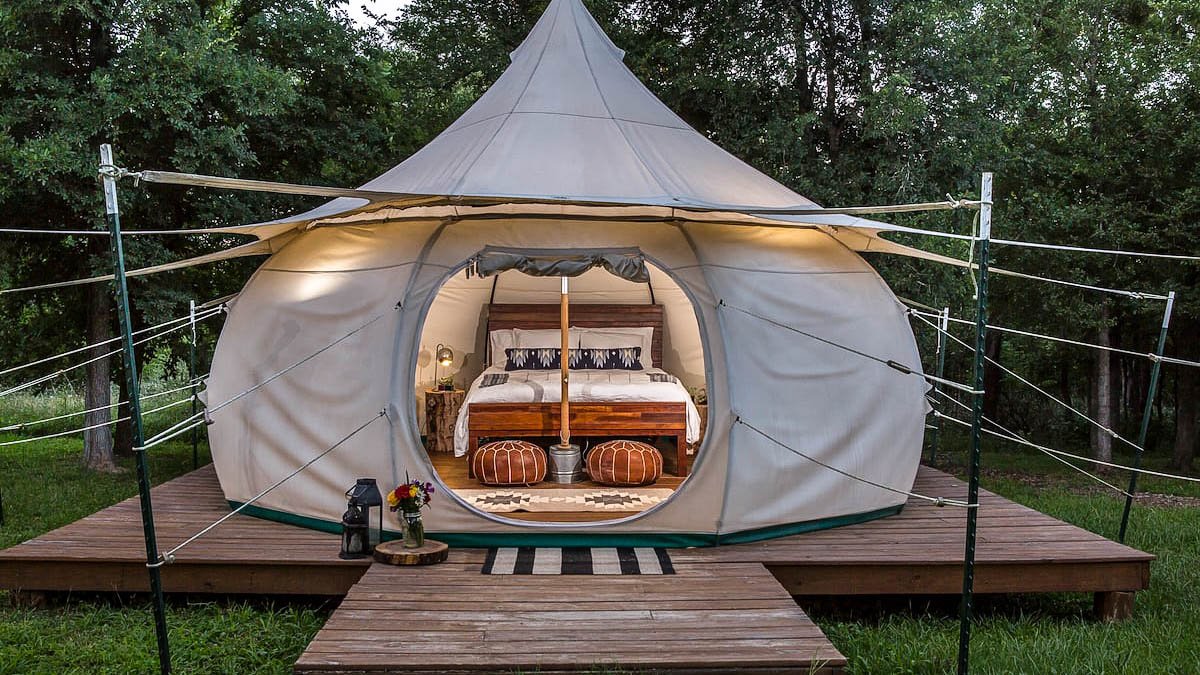 Located only 25 miles from Austin, Green Acres is a resort perfect for the entire family. Green Acres offers an artistic retreat and can be perfect for a glamping weekend.
On the property, there are five yurts which you can choose from. They include queen-sized beds, high-quality linens, and indoor and outdoor seating. The outdoor kitchen is open to every guest.
The Davis Ranch Retreat is another treehouse that will bring back some childhood memories. The resort is anchored to four strong trees, and you can reach it by climbing the wooden walkway.
Inside the Davis Ranch retreat, you will notice many glamorous amenities like a large and comfortable bed, a shower, a toilet, a coffee station, and a small deck for outdoor sightseeing. On top of that, guests can rent a golf cart and explore the entire ranch.
Conclusion
Glamping is the perfect way to enjoy a night under the stars at the Lone Star State. Getting out of the city and diving deeper into nature doesn't mean you need to sleep on a bamboo bed or go the entire week without a shower.
Glamorous camping or glamping in Texas can offer you just the right amount of nature and comfort you need to stay inspired and motivated for your daily tasks.
More about our TFVG Author