One of the best things to do on a family vacation in Texas is to visit a place with many animals. Not only are they amazing and adorable, but an up-close view of animals is also an incredibly valuable educational experience.
Here are some of the best zoos and aquariums for families to visit in Texas.
Fort Worth Zoo
If you're looking for a zoo that offers a ton of events and activities that allow you to learn about the animals, the Fort Worth Zoo is a great place to start! From their Monarch Butterfly Day to Summer Zoo Camp, there are a ton of ways to enjoy the zoo with unique options every visit.
Naturally, there is more to see at the zoo than just the events, with a total of 542 species of animals calling the Fort Worth Zoo their home. This also includes 68 species of endangered or threatened animals and 112 species that are included in the Association of Zoos and Aquariums (AZA) Species Survival Plan.
The zoo is open 365 days per year, with half-priced admission every Wednesday.
Texas State Aquarium
For a huge selection of sea (and quite a few land) critters, the Texas State Aquarium is a great place to visit. In this aquarium's vast collection, you can see fish from the underwater caves of the Mesoamerican Barrier Reef, Caribbean Sea, and the Gulf of Mexico. You may even be able to spot some baby jellyfish or seahorses in the Aquatic Nursery!
The Texas State Aquarium is more than just a home for fish and aquatic mammals– a great variety of birds, reptiles, and other land animals live here too. You can even find an African serval, two-toed sloth, and scarlet ibis among the aquarium's collections.
Cameron Park Zoo
Located in Waco, Texas, the Cameron Park Zoo offers a ton of different creatures to learn about, observe, and interact with. From the king vultures and sun conures in the South American Exhibit to the underwater critters in the 50,000-gallon saltwater aquarium, there are many animals to meet.
One of the unique aspects of this zoo is the many different areas to explore. Guests can see alligators from the boardwalk of Brazos River Country, river otters and black bears from the Piney Woods region, and paddlefish within the Blackland Prarie region's aquarium.
The zoo is open year-round and only closed on Christmas Day, New Year's Day, and Thanksgiving.
Caldwell Zoo
The Caldwell Zoo is an accredited member of the Association of Zoos and Aquariums and a fun animal-themed destination with a mission supporting animal conservation. Caldwell Zoo is currently participating in a breeding program to protect the Attwater's Prairie Chicken, which is one of the most endangered birds in the country.
One reason guests like to visit the Caldwell Zoo is the animal encounters they offer with their skilled animal ambassadors. Through these programs, visits can learn about these species up close and see how their training or enrichment happens within the zoo. The current opportunities are for the Penguin Encounter or Bear Encounter.
The Caldwell Zoo is open every day from 9:00 am to 3:30 pm as long as entry slots are available.
TGR Exotics Wildlife Park
Featuring up close and personal views of over 100 animals across more than 25 species, the TGR Exotics Wildlife Park is a fun destination to spot many interesting, endangered, or just plain cute critters. This zoo offers a ton of special events and activities where guests can learn about a ton of different animals, from capybaras to red kangaroos.
TGR Exotics prides itself on its educational programs, such as Zoo Keeper for a Day, where visitors can get a behind-the-scenes look at the day-to-day inner workings of the zoo. Guests can check out how the zookeepers care for the animals, prepare their food, and keep their habitats clean, in addition to getting an up-close view of the critter.
Houston Zoo
The Houston Zoo boasts one of the largest collections of animals around, with over 6,000 creatures calling this park home. In addition to working to conserve animal species, the Houston Zoo is very popular to visit and explore– in fact, it's the second most visited zoo in the country.
The Houston Zoo collaborates with 49 wildlife conservation projects located across 27 different countries to help protect the planet's endangered or threatened animals. If you visit the zoo, you can meet a wide variety of amazing creatures, from Asian elephants to giant river otters to red pandas.
The zoo is open seven days a week between 9:00 am and 5:00 pm, with the last entry at 4:00 pm.
Gladys Porter Zoo
Located across 28 acres in Brownsville, Texas, the Gladys Porter Zoo is home to around 1,600 animals. It's a fantastic place to walk through a collage of tropical plants and see amazing creatures like wallabies, camels, chimpanzees, and rhinos.
One of the things the Gladys Porter Zoo prides itself on is its breeding program for endangered wildlife species. As a participant in the American Zoo and Aquarium Association's (AZA's) Species Survival Plan, this zoo is working especially hard to protect species on the edge of extinction, such as the Phillippine Crocodile, American Ocelot, and the Kemp's ridley sea turtle.
If you're looking for a fun group activity, you can even arrange a private train ride for an exciting tour of the park.
Abilene Zoo
Animal enthusiasts may have a special connection to Abilene Zoo, as they can read about the individual animals on the website and learn their names and personality before visiting. Guests can read all about Felix and Farrah the hyenas or Macho the Southern Black Rhino before seeing them in person.
One of Abilene Zoo's claims to fame is their American Alligator resident, Albert, who became a zoo resident in 1966 and is among the oldest living members of his species living in captivity.
The Abilene Zoo is only closed on Christmas, New Year's Day, and Thanksgiving.
San Antonio Zoo
Operated by the San Antonio Zoological Society, the San Antonio Zoo is a nonprofit organization dedicated to the protection and conservation of animals. The park has experienced a lot of interesting history since it first became the San Antonio Zoo in 1914.
Over 750 species of animals live across the 56 acres of this zoo, and over a million guests visit annually to walk along the 34 acres of public pathways and admire the critters. Speaking of animals, some of the amazing creatures you can encounter at this zoo include hippos, giraffes, and rainbow lorikeets.
SEA LIFE Grapevine
If you're looking for a unique underwater experience– including the only 360-degree ocean tunnel in Texas and the only sea turtle hospital in North Texas— look no further than SEA LIFE Grapevine.
At SEA LIFE Grapevine, guests can even interact with the creatures through their safe and fun Interactive Rockpools, which are home to sea stars, anemones, and other beautiful ocean life. Visitors can also encounter some unbelievable creatures, such as flashlight fish, stingrays, and jellies. There are even sharks you can observe, such as the aquarium's resident Zebra shark, Solomon.
San Antonio Aquarium
The San Antonio Aquarium is more than just a place to see cool fish– they have a ton of events, encounters, and a large variety of animals to meet, including reptiles, birds, and even mammals. You may even be able to spot a mermaid!
In addition to observing the animals, some of the special encounters that visitors can enjoy include Snorklening with Stingrays, feeding some of the animals, and even walking the plank to jump into shark-infested waters. Prefer birds to fish? Check out the interactive lorikeet and parakeet aviary!
The San Antonio Aquarium is currently open Sunday through Thursday from 10:00 am to 7:00 pm, and Friday through Saturday from 10:00 am to 8:00 pm.
Austin Aquarium
With everything from Ring-tailed lemurs to kinkajou to sharks to kangaroos, the Austin Aquarium is home to a ton of fascinating creatures. In addition to their cold water and tropical fish tanks that house sharks and stingrays, visitors can also enjoy seeing the reptiles, coatimundis, and other land animals living in the rainforest vivarium.
The Austin Aquarium is all about interaction. Through their animal encounters, visitors can hand-feed sharks and birds and maybe even pet one of the caiman lizards or lemurs. With more than 8,000 animals calling the zoo home, there are plenty of new friends to meet.
SeaQuest Fort Worth
At SeaQuest Fort Worth, the name of the game is animal interactions. This is one aquarium where visitors are encouraged to meet, feed, and even touch animals from across five continents.
SeaQuest Fort Worth is a fantastic place to meet interesting creatures like Asian otters, sloths, and stingrays. Guests can even arrange for a Fishy Kisses experience, where small, harmless, toothless feeder fish remove dead skin cells from the visitors' feet in an underwater pedicure.
Feeding tokens for unique animal experiences can be purchased along with tickets. Want to learn more but not ready to make the trip? Give the video tour a try!
Dallas World Aquarium
As a member of the World Association of Zoos and Aquariums (WAZA) since 2000, the Dallas World Aquarium earned its accreditation from the Association of Zoos and Aquariums (AZA) in 1997.
The Dallas World Aquarium offers a unique variety of exhibits for the guests to enjoy, including the Cloud Forest Trek, Photo Ark, and– of course– the aquarium. Some of the critters you can spot in the tanks include harlequin shrimp, Pot-bellied seahorse, Tasseled anglerfish, Leafy seadragons, White-capped clownfish, and giant clams.
There are quite a few animals above the water to visit, too, such as an impressively tall Shoebill stork, adorably small blue penguins, and majestic palm cockatoos. You may even meet a Hoffman's two-toed sloth!
Frank Buck Zoo
Located in Gainsville, Texas, the Frank Buck zoo is a home for more than 130 animals located across 30 acres. Here visitors can see alpacas, Arabian camels, black vultures, coyotes, red foxes, pygmy goats, and so much more.
Because the Frank Buck Zoo is dedicated to educating people about the care and conservation of animals, they offer great school field trip prices and programs to encourage young animal enthusiasts to learn as much as they can.
The Frank Buck Zoo is open all year (except for Christmas Day and Thanksgiving), and there are typically feedings scheduled every day to watch, weather permitting.
Natural Bridge Wildlife Ranch
With around 450 acres of wildlife area to enjoy and over 500 animals to meet, the Natural Bridge Wildlife Ranch has something for all animal fans to enjoy. Guests can experience the guided Safari Adventure Trek Tours led by animal specialists in custom Safari Rovers or Safari Shuttles.
The Natural Bridge Wildlife Ranch is a drive-thru environment where guests can meet the animals from the comfort of their own cars (or a Safari vehicle for the guided tours). Visitors usually spend a few hours wandering around the four-trek and interacting with the creatures.
There is also a Walk-A-Bout section where visitors can experience the giraffe barn before getting a bite at the Safari Camp Grill.
El Paso Zoo
With over 35 acres of animal fun to enjoy, the El Paso Zoo provides a wide variety of critter-themed adventures for their guests to enjoy. In addition to meeting all of the resident animals, visitors can try out fun attractions such as the Foster Tree House Playground, African Star Train, and Hunt Family Splash Pad.
Naturally, there are all kinds of animals to see as well, from places like Asia, Africa, and the Americas. There are also some fascinating creatures from the Chihuahuan Desert, including prairie dogs, Mexican wolves, mountain lions, and jaguars.
To get a peek at the animals before visiting the zoo, prospective guests can also try out the Zoo Cams available online to see the giraffes, meerkats, sea lions, and more.
South Padre Island Dolphin Research & Sea Life Nature Center
As a nonprofit organization driven to protect and care for sea animals, the South Padre Island Dolphin Research & Sea Life Nature Center is a fun and educational place to learn about the local aquatic creatures.
Tours through the Nature Center include hands-on interactions through the touch tanks, where guests can see (and feel) a wide variety of unique critters. There are also boat tours available that allow guests to observe dolphins in their natural habitat.
The South Padre Island Dolphin Research & Sea Life Nature Center is open every day except Thanksgiving Day.
The Texas Zoo
Not only does the Texas Zoo house and care for over 100 animal species, but they also have a mission to support the conservation and protection of wildlife around the world. Many of the creatures living in the Texas Zoo were rescued from owners who could not care for them or can otherwise not return to the wild.
The Texas Zoo also has a ton of events and special programs that guests can enjoy with the animals, such as the Haunted Zoo and Zoo Boo festivities in October.
Visitors can enjoy the Texas Zoo all year round except for Thanksgiving, Christmas Day, and New Year's Day.
Tiger Creek Wildlife Refuge
The Tiger Creek Wildlife Refuge, or Tiger Creek Wildlife Sanctuary, is an organization with a mission to rescue, protect, and care for big cats. They collarbone with biologists, zoos, and conservationists to drive protection for endangered species forward. Tiger Creek is currently under the National Foundation for Rescued Animals.
The Tiger Creek Wildlife Sanctuary is a great place to meet some incredible rescue cats, including lions and tigers. The animal residents have habitats that closely resemble their natural settings, allowing visitors to see what these animals may have done in the wild. There is also a small cat area where guests can see some smaller– but still very wild!– creatures in the cat family.
Austin Zoo
One of the best things about the Austin Zoo is that it is a rescue zoo, dedicated to helping animals in need. This nonprofit organization cares for over 300 different animals and allows guests to meet the critters up close.
One of the ways guests can interact with the animals is through encounters, which are usually available while the zoo is open but must be reserved in advance. Through these experiences, guests can learn about capybaras and Galapagos tortoises in a safe environment.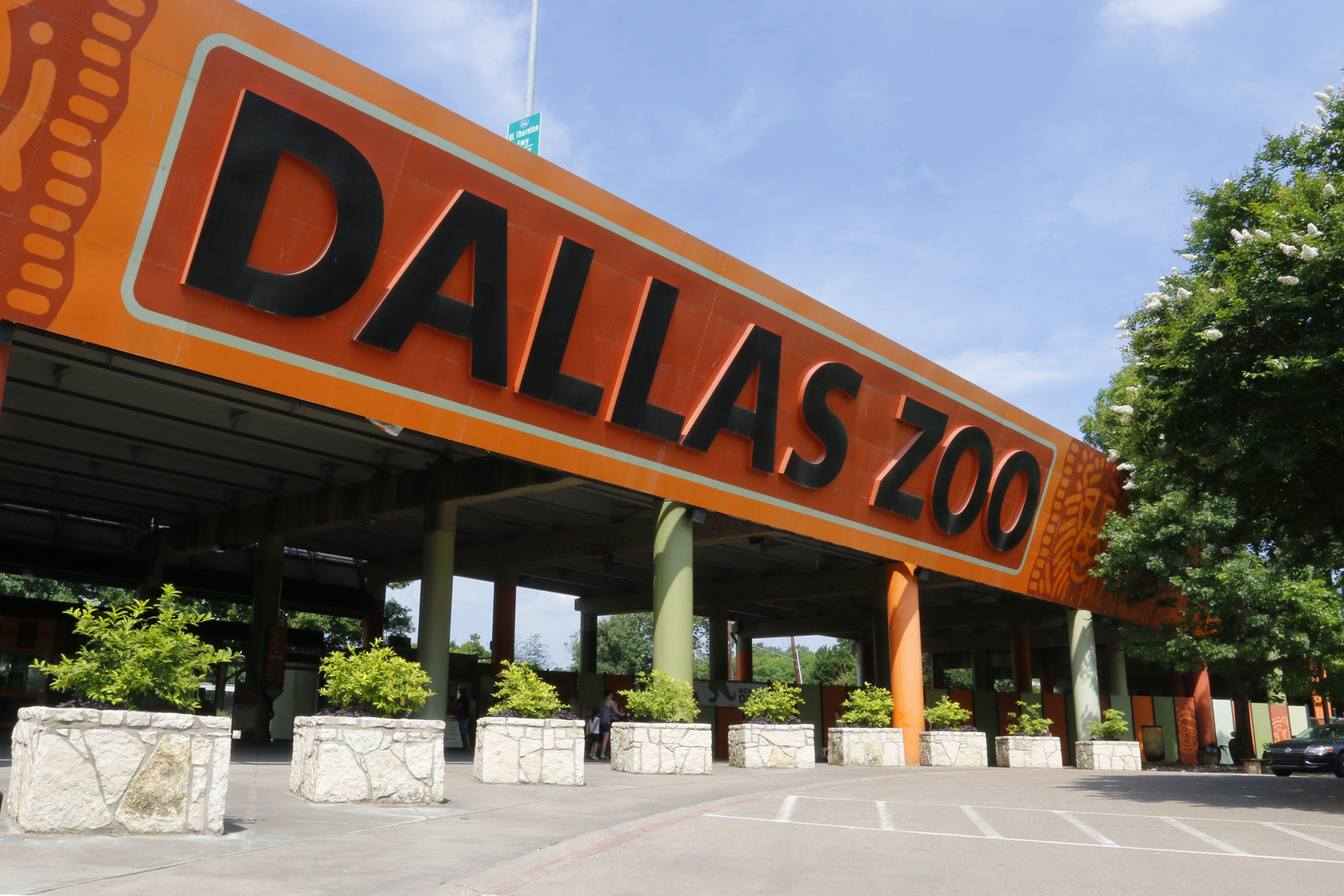 Dallas Zoo
With animals across 106 acres, the Dallas Zoo has the honor of being the largest zoological experience in the state of Texas. Visitors to this zoo can see some of the 2,000 animals living among their collections.
There are a ton of different things to try at the Dallas Zoo. If you like birds, the Travis and Zach's Bird Landing exhibit allows guests to interact with over 20 species of feathered friends, including friendly cockatiels who may just land on your head. Or you can check out the beautiful macaws at the Rainforest Rendezvous experience!
The Dallas Zoo is open every day except for Christmas Day.
Topsey Exotic Ranch & Drive-Thru Safari
As another drive-thru wildlife experience, the Topsey Exotic Ranch & Drive-Thru Safari is a great way to get a glimpse of some incredible animals without leaving your car.
The staff at Topsey has been working in animal conservation since 1988, and since then, they've expanded to 350 acres of natural habitats for their critters. Their goal is to provide top-quality care standards to animals while giving guests a way to experience nature.
Sea Center Texas
Sea Center Texas is much more than just a place to see some fish– it's a fish hatchery, education center, and marine aquarium located on Lake Jackson and operated by Texas Parks and Wildlife Department. Sea Center Texas also partners with the Coastal Conservation Association and US Fish and Wildlife Service Sportfish Restoration Funds.
Some of the incredible creatures you may spot at Sea Center Texas include blue crabs, killifishes, sea cucumbers, and yellow tang. Guests can also check out the 5,000-gallon Artificial Reef Aquarium where eels, groupers, snapper, and rock hinds live.
One of the best parts about Sea Center Texas is that admission is free (but remember that donations help keep the animals fed).
Exotic Resort Zoo
The Exotic Resort Zoo & Safari Cabins are a huge wildlife park featuring over 700 animals across 45 different species living in a free-roaming safari park. With multiple tour options and many ways to enjoy the park, this is a fun destination for any animal enthusiast.
The Exotic Resort Zoo offers drive-through tours that allow guests to explore the park in their own vehicles. There are also guided tours, where visitors can ride in an open-air trailer and meet the animals up close and personal. There is feed available for purchase if anyone wants to make friends with the critters.
Amarillo Zoo
Located in Thompson Park, the Amarillo Zoo is a great place to meet a huge variety of interesting and adorable animals. The zoo has been working since 1955 to support wildlife education and high-quality care for animals.
Guests at the Amarillo Zoo have the opportunity to see all kinds of amazing creatures, including American badgers, African Crested porcupines, black-footed ferrets, miniature donkeys, and Texas longhorns.
Looking for more unusual creatures? The Amarillo Zoo also has a fascinating collection of invertebrates, including Blue Death Feigning Beetles and Giant Cave Roaches.
The Amarillo Zoo is open seven days per week from 9:30 am to 5:00 pm.
Franklin Drive Thru Safari
Built on over 100 acres, the Franklin Drive Thru Safari offers a huge animal adventure park as well as other critter-themed experiences for the whole family to enjoy. Guests on the safari can expect to see some incredible animals, including camels, emu, and llamas.
There is a lot more to experience than just the drive-through park! Franklin Drive Thru Safari also offers a variety of exhibits, including the Exotic Aviary and the Reptile House. There's even a Baby Animal Room with new tiny creatures coming often!
Other fantastic zoos to consider
If you're hoping to find more fantastic zoos that the whole family will enjoy, take a look at our roundup of zoos in other locations!
More aquariums that the whole family will enjoy
If you're hoping to find other incredible aquariums that the kids will be sure to love, look no further than our round-up below!
More about our TFVG Author
A seasoned traveller, Dad, and avid sports tourist, James foundered The Family Vacation Guide to share his expert vacation experiences- especially when it comes to being a travelling family man.
Featured in Travel articles such as Travel + Leisure, TripSavvy and SFGate, you know you're reading some of the best vacation tips online.