Pregnancy, while being the life-changing, miraculous experience that it is, isn't always fun and games– and that's something that can be agreed upon by most women.
Sometimes, all you want is an exciting day out with your family, or a thrilling girl's trip to a theme park where you can let loose and feel like yourself again.
It's certainly not unusual to see multiple warning signs at the gates of roller coaster rides, stating that pregnant women are prohibited from the high-speed, upside-down attractions. 
Is It Safe to Ride a Roller Coaster While Pregnant?
Recommendations are frequently made by organizations such as the American Pregnancy Association advising pregnant women to stay away from riding roller coasters and other physically jarring rides.
There is actually not much clinical proof (which is understandable) that confirms that riding a roller coaster while pregnant poses a definite threat to the mother and baby.
However, it is thought that the most risk for both the woman and fetus occurs during the first and third trimesters of pregnancy.
Most doctors strongly advise against fast, jolting rides such as roller coasters during all stages of pregnancy, and since every woman's body is different, consequences cannot be safely predicted on a case-by-case basis.
The Risks
Unfortunately, the potential risks of riding a roller coaster during pregnancy are serious enough to give pause.
The rapid starts and stops and jarring motions of roller coasters can be compared to a low-impact auto accident, in which 5% of pregnant women experience placental abruption.
Placental abruption is the number one concern for pregnant women on high-speed rides, as it involves the placenta becoming detached from the wall of the uterus.
According to the National Library of Medicine, this dangerous situation not only deprives the fetus of blood and oxygen, but can also cause obstetric hemorrhage, emergency hysterectomies, and kidney failure.
Obstetrics & Gynecology state that in the occurrence of placental abruption, prompt delivery of the fetus is necessary to increase the baby's chances of surviving.
Other risks that could be dangerous to both the mother and fetus include heavy nausea and raised blood pressure due to the excitement and thrill of the ride.
Since these risks are seemingly low probability, it may be tempting for some to approach the situation with a "these bad things won't happen to me" attitude.
However, it's definitely recommended that the bigger rides are exchanged for some lower-impact fun for now!
It's always better to be safe, and a very good idea to wait a little bit longer for the big thrills once you're completely cleared to do so.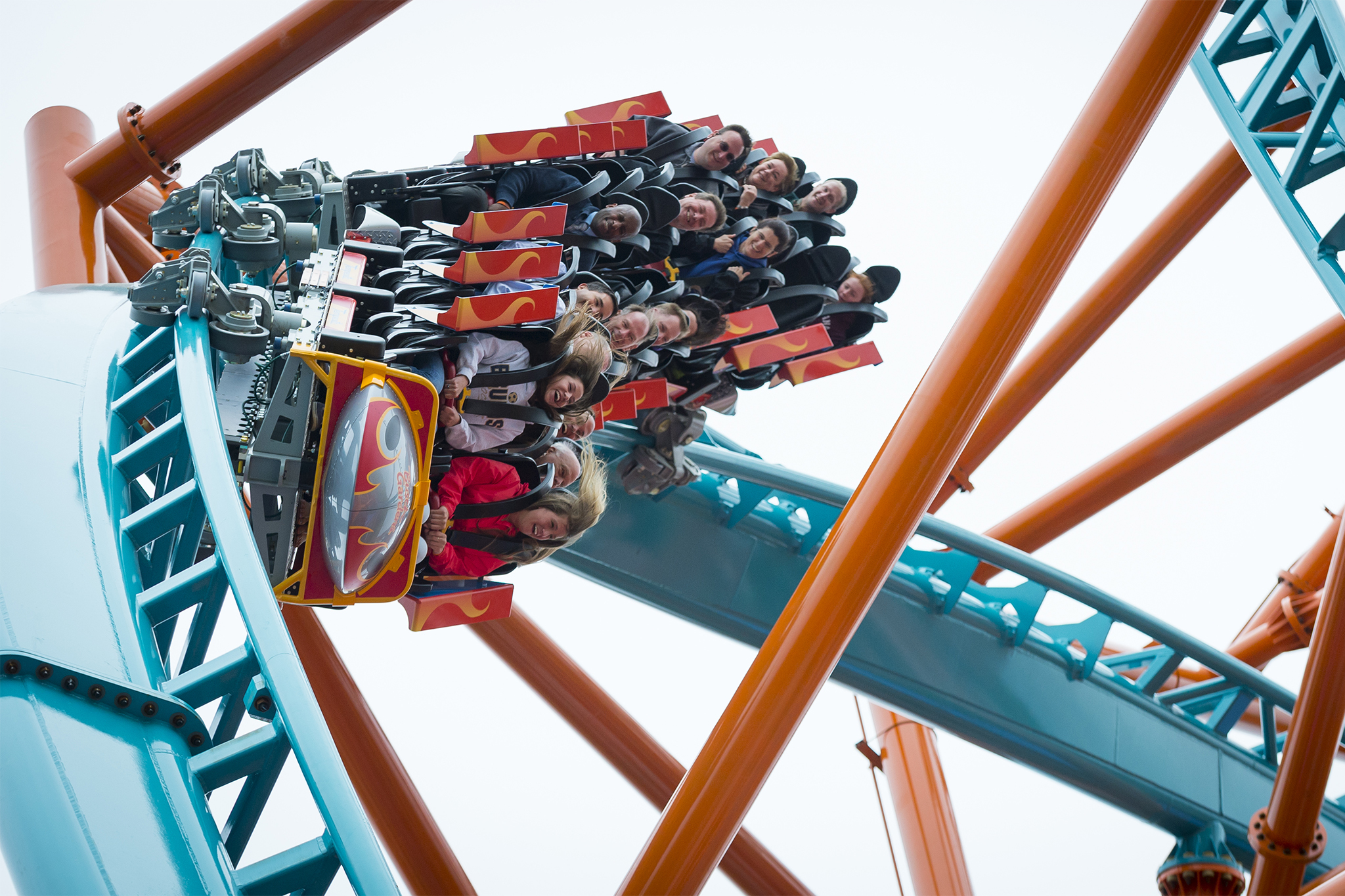 Possible Complications
The potential complications listed in this section (as mentioned by the Obstetrical and Gynecological Survey journal) should be taken extremely seriously, and an immediate trip to the hospital is recommended.
Complications may include constant abdominal cramps, sudden abdominal pain, vaginal bleeding, and extreme backaches.
If placental abruption were to occur, in the worst-case scenario there may even be stillbirth or miscarriage for the premature fetus.
In all cases of complications- either directly after being on a roller coaster, or after you've left the park- pregnant women should see a physician for a check up as soon as possible.
What Theme Park Rides Can Pregnant Women Go On?
While it is probably best to avoid high-speed roller coasters while pregnant, there are safer options out there for those seeking a fun day out at these parks.
Plan Disney advises that amusement park rides without sudden drops, upside-down actions, or high speeds are safe for pregnant women to enjoy.
Examples of these rides can include lazy river cruises, railway tours, canoe rides, Ferris wheels, and carousels.
You are sure to run into musical performances, interactive shows, gallery exhibitions and haunted houses during your visit to the parks as well, which can be a huge amount of fun and excitement!
While you may feel as if you're missing out on the biggest source of exhilaration, there's nothing wrong with finding a lovely shady spot and settling down with a book and some delicious theme park cuisine.
Look at it as an opportunity for some relaxing 'me-time', or even take amusement in watching the hordes of motion-sick children and adults alike! It's sure to grant you a chuckle or two.
What Do You Do If You Went On A Roller Coaster Before You Knew You Were Pregnant?
If you visited a theme park or amusement park and went on the high-speed rides before you realized you were pregnant, you'll be happy to learn that it's unlikely to be a problem. 
If you are feeling fine with none of the above symptoms, try not to feel too concerned for the wellness of your baby!
Always talk to your doctor or midwife if you're in need of any advice or reassurance.
How Long After Giving Birth Can You Ride a Roller Coaster?
Each pregnancy is different, and getting back to normal life (and riding roller coasters) can take longer or shorter amounts of time depending on the birth itself.
Generally, recovery time for a vaginal birth is generally a lot quicker than recovering from a cesarean-section.
After a vaginal birth, doctors recommend getting up and about for light walks and activity a few days after giving birth.
It's also recommended that you take at least 12 weeks off any regular heavy exercise schedule.
The aftermath of cesarean-section birth requires a longer recovery period for the stitches and wound to settle and heal.
For this reason, activity and movement should be restricted for six to eight weeks after having the procedure.
Women's Care informs that within the first six weeks, a five-minute walk around your home should be the extent of your movement to decrease the potential consequences moderate exercise could have on your recovering body.
With this in mind, it's up to each woman to heed the recommendations of medical professionals when it comes to activities she feels able to part in.
For vaginal births, you may be able to safely enjoy the thrills of a roller coaster within a few weeks of giving birth, while the women who have cesarean-section births should be waiting at least six weeks post-birth.
Always remember that these parks aren't going anywhere, and you will have more fun knowing you aren't risking your health or the health of your baby in the process of enjoying what they have to offer!
The Verdict
There's currently a lack of clinical proof on whether pregnant women are at high risk on roller coasters.
In saying this, a significant amount of knowledge exists around the pregnant victims of low-impact auto accidents, which has a similar stopping motion to that of some roller coasters.
The consensus is that placental abruption is the number one concern for women on these rides, and that the risks associated with it can be critical (and in some cases, even fatal).
If you are looking for a fun day out at a theme park, there is still a lot you can do besides the high-speed coasters and other in-the-air, jarring rides.
Slower rides can be excellent for strengthening the bonds between yourself and your family, partner, or friends, and there are always other things to do and see!
Until you have recovered properly from your birth, it's probably best to choose the safer options. This will allow you to build up excitement for the big rides later in the future!