If you are planning a family vacation to California, USA, you should take some time to research some of the great attractions and theme parks you can visit and enjoy during your stay!
With so much to see and do, Californian vacations can be jam-packed full of fun and adventures, but they can be expensive. Researching your trip will help you decide what you want to see and do, help make sure you don't run out of time and miss out on anything, and save you money on experiences that aren't what you thought they'd be.
This post will help anyone looking for the magical Disney experience and wondering which is better, Disneyland Park or Disney California Adventure Park?
Disneyland
Disneyland is the original Disney park and was built in 1955 under the supervision of Walt Disney himself. There are nine themed lands to explore with fantastic rides and attractions.
Disneyland Rides and Attractions
The nine different Disneyland areas are;
Main St, USA – Main St, USA is the first thing visitors see when entering the park! Main St, USA features the Town Square Theatre, Main Street Trolley Show, Main Street Philharmonic, Dapper Dans Barbershop Quartet, and Mickey's Royal Friendship Faire, among other great attractions.
Adventureland – The design of Adventureland takes visitors off to a far-off, exotic land packed with great attractions such as the Jungle Cruise, Indiana Jones, Adventure, and Tarzan's Treehouse.
Frontierland – Get a taste of the Wild West at Disney's Frontierland. You can experience the pioneer days with fun animatronics and excellent attractions, including the famous Big Thunder Mountain Railroad.
New Orleans Square – The Haunted Mansion and Pirates of the Caribbean attractions are located in New Orleans Square.
Critter Country – Critter Country was previously known as Bear Country and is Splash Mountain's home for anyone who doesn't mind getting wet.
Star Wars: Galaxy's Edge – Opening in 2019 following Disney's acquisition of the Star Wars franchise, this is a must for kids and parents that can't get enough of the famous films.
Fantasyland – Fantasyland captures the magic of Disney and takes you through Alice's Wonderland, lets you fly with Peter Pan on Peter Pan's Flight, and visit Sleeping Beauty's castle.
Mickey's Toontown – Toontown is a must for cartoon fans and features two great attractions in Gadget's Go Coaster and Roger Rabbit's Car Toon Spin.
Tomorrowland – Tomorrowland offers a fun, futuristic experience for guests to enjoy. Space Mountain is the most famous of its great attractions.
Dining at Disneyland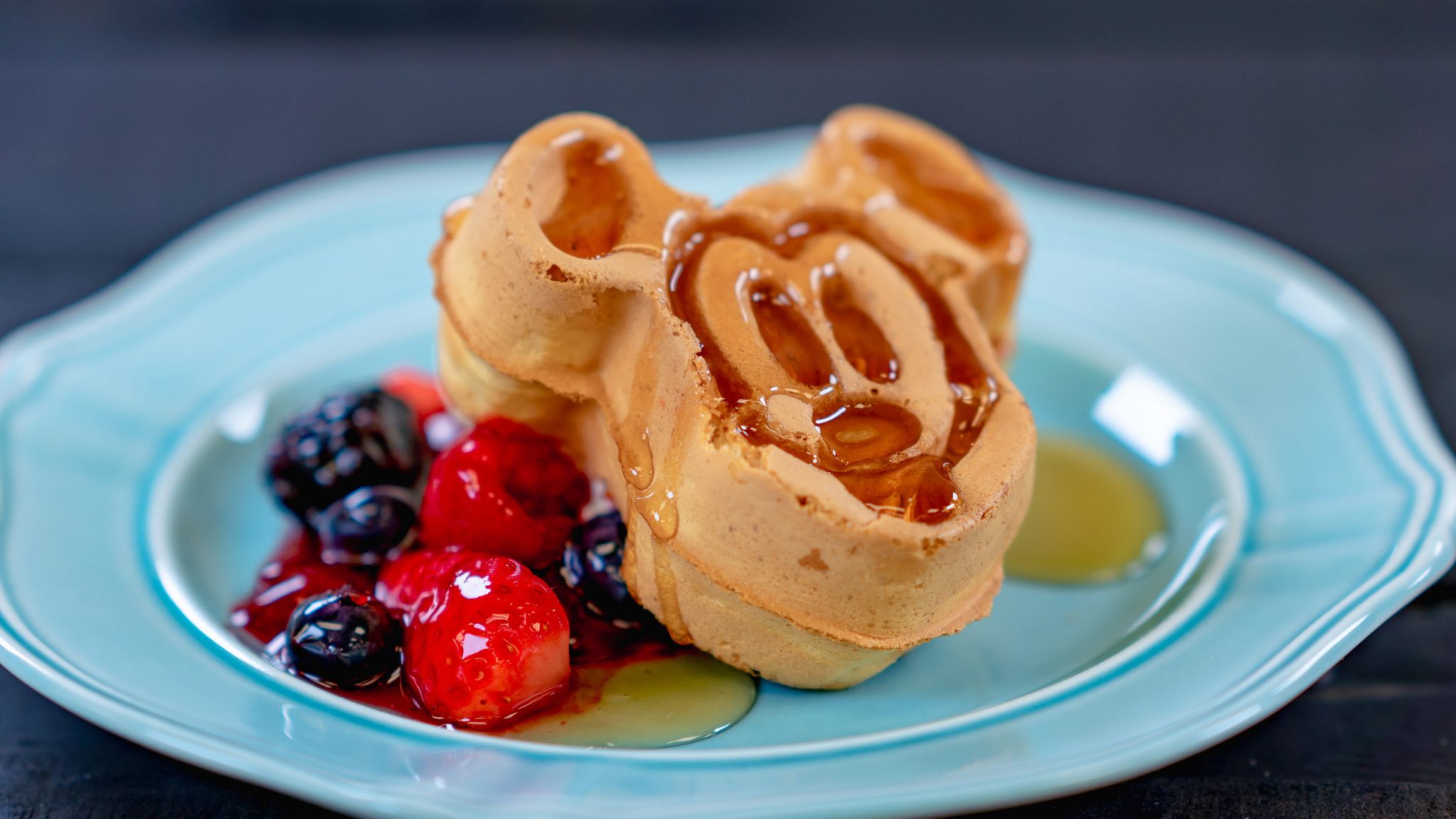 No matter what dining preferences in your family, you are bound to find something at Disneyland. Throughout the park, you will find casual snack bars to eat on the move, as well as a great selection of restaurants that include;
Alien Pizza Planet in Tomorrowland
Blue Bayou Restaurant in New Orleans Square
Carnation Cafe on Main Street, USA
Docking Bay 7 Food and Cargo at Star Wars: Galaxy's Edge
The Golden Horseshoe in Frontierland
The Hungry Bear Restaurant in Critter Country
These are just some options, and all dietary requirements can be met! You will also find a great selection of carts selling pretzels, popcorn, churros, and much more.
Shopping at Disneyland
Everyone loves a spot of retail therapy, and you will be able to shop til you drop at Disneyland. With great Disney branded products, including clothes, toys, and much more, you will find the perfect thing for you and your family.
Don't forget; you will also be able to choose from a great range of fun Mickey Mouse and Minnie Mouse ear headbands and hats to enjoy a fun day in style!
The Pros and Cons of Disneyland
As with any large theme park, there will be things you love and things you don't. To help you make up your mind, here are some of our top pros and cons of Disneyland.
Pros:
The attention to detail at Disneyland is excellent and gives you a real taste of how Walt Disney envisioned the perfect theme park.
The extensive dining options are perfect for even the fussiest eater or people who simply want to try different things.
There are some great rides for adrenaline junkies, including the Matterhorn, Space Mountain, and Splash Mountain. Pirates of the Caribbean, Jungle Cruise, and the Haunted Mansion are wonderful attractions for those who prefer something less intense.
Disneyland is constantly improving, with new rides and attractions being developed all the time.
Cons:
The price Disneyland pays for being such a great place to visit is that it can get very crowded at popular attractions.
Disneyland is also expensive. As well as the price of entry, you will have to budget for food and drink throughout the day.
It can be a very tiring day, and there are not a considerable amount of places to stop and rest. You will probably have to stop at a restaurant to get the chance to sit down for a while before heading back out.
Why Should You Go to Disneyland?
If you find yourself asking, 'Why should I go to Disneyland California?', we have the answers right here! Disneyland is a wonderful place to visit for you and your family. With so much to see and do, there are attractions to suit people of all ages.
If you are a Disney fan, you will love it, but even those who don't consider themselves fans will still have a great time!
There are many excellent dining options, and you will definitely be able to fill your day with thrilling rides and fun attractions to enjoy a family vacation to remember.
California Adventure Park
The entrance to California Adventure Park is located just a few hundred feet from the Disneyland entrance and offers visitors another wonderful experience.
The Disney California Adventure Park is located on what used to be Disneyland's car park before being transformed into an adventure theme park that opened in 2001.
Rides and Attractions at California Adventure Park
Like Disneyland, Disney California Adventure Park boasts several different areas that include;
Buena Vista Street – Buena Vista Street serves a similar purpose that Main Street, USA, does in Disneyland. It is the first area that guests are welcomed into and has a transport system, shops, and restaurants.
Pixar Pier – Pixar Pier has four Pixar-themed areas, including Toy Story Boardwalk, Pixar Promenade, Incredibles Park, and Inside Out Headquarters. Pixar movies have remained popular for decades, and these great areas are packed with movie-themed attractions for all ages.
Paradise Gardens – Located in the park's centre, Paradise Gardens offers easy access to different areas and has excellent attractions, including The Little Mermaid ~ Ariel's Undersea Adventure, Jumpin' Jellyfish, and Goofy's Sky School.
Pacific Wharf – The Pacific Wharf only has the Walt Disney Imagineering Blue Sky Cellar and Bakery Tour attractions and is mainly visited for its excellent selection of restaurants.
Grizzly Peak – California is known for its excellent national parks. Grizzly Peak takes the best of them to create a fun-filled attraction that includes a playground area, the Soarin' Around the World attraction, and the Grizzly River Run.
Hollywood Land – The attractions and rides in Hollywood Land are all film-based, and you will be able to enjoy Monsters, Inc.-inspired fun, as well as live stage action.
Avengers Campus – Marvel fans love flocking to the Avengers Campus to enjoy Marvel Comics-inspired attractions like Web Slingers: A Spider-Man Adventure and Guardians of the Galaxy – Mission: Breakout!.
Cars Land – Cars Land is based on the Pixar film, Cars and is designed to look like Radiator Springs. Radiator Springs Racers is just one of the great rides available here!
Dining at California Adventure Park
There are many great places to stop and eat at California Adventure Park. The Pacific Warf alone offers an excellent outdoor food court that has a great choice of restaurants, including the Magic Key Terrace, Cocina Cucamonga Mexican Grill, Rita Baja Blenders, Sonoma Terrace, Lucky Fortune Cookery Chinese Wok, and the Wine Country Trattoria.
Other great places to stop for meals and snacks include the Adorable Snowman Frosted Treats stall, Angry Dos, Corn Dog Castle, Flo's V8 Cafe, Lamplight Lounge, and many more.
Shopping at California Adventure Park
California Adventure Park has a great selection of shops for you to browse. Big Top Toys on Buena Vista Street is great for toys, games, and plush characters from your favourite films.
Disney Princess fans can visit Gone Hollywood in Hollywood land for a great selection of t-shirts, toys, and accessories. Knick Knacks on Pixar Pier has an excellent range of Pixar products, and with lots of other shops to explore, you are bound to find what you are looking for!
The Pros and Cons of California Adventure Park
To help you make an easier decision about what theme parks to visit when you travel to California, we have compiled a list of the pros and cons of California Adventure Park:
Pros:
The park regularly adds to its already impressive list of attractions and is designed to give you a taste of when Walt Disney first came to California. This is underlined by the welcoming figure of Oswald the Lucky Rabbit, who welcomes guests into the park.
Disney California Adventure looks excellent. As well as having a great choice of things to see and do, the time and effort that goes into creating the different areas make it all worthwhile.
The overall layout and open pathways make it better to navigate and stop areas from becoming overcrowded.
Cons:
The park does feel like it is always in development. While this can be good as new things are always being added, it lacks the timeless areas and attractions of Disneyland or Walt Disney World in Florida.
There are no Star Wars-themed attractions, which is disappointing considering it is one of Disney's biggest franchises.
There isn't as much here as there is in Disneyland. This may change over time as the park expands.
Why should you go to California Adventure Park?
The Avengers Campus is a huge draw for the California Adventure Park, thanks to the continued success of Marvel movies. There is also an excellent choice for people of all ages regarding attractions, rides, and places to eat.
Disneyland vs California Adventure Park: Tickets and Passes
Ticket prices are the same for Disneyland and California Adventure Park, but investing in a Park Hopper ticket can give you access to both parks.
If you are spending time in California, a Park Hopper ticket will provide you with access to both parks and will last for 13 days after it is first used. This will give you the freedom to explore and enjoy both parks during your vacation.
Disneyland & California Adventure Park: Hotels and Accommodation
Disneyland Resort offers easy access to both parks. Disneyland Resort hotels include Disney's Grand Californian Hotel and Spa, Disney's Paradise Pier Hotel, and Disneyland hotel. There is also a great selection of hotels in nearby Anaheim to explore.
What is the Difference Between Disneyland and California Adventure Park?
For those asking 'What is the difference between Disney California Adventure and Disneyland?', the main differences are the attractions and themes. As explained above, each park has different themed areas to explore. Whilst you can enjoy Star Wars-themed attractions only at Disneyland, you will only find Marvel attractions at California Adventure Park!
Which is Better? Disneyland Park or California Adventure Park
Answering which park is better, Disneyland or California Adventure, is a matter of opinion, with some visitors having their favourite. From a neutral standpoint, Disneyland edges ahead because it has a bit more to see and do and offers a traditional Disney experience.
FAQs
Which is bigger, Disneyland or California Adventure Park?
Disneyland is slightly bigger at 85 acres than the 72 acres of California Adventure Park.
Is Disney California Adventure the same as Disneyland?
No, Disney California Adventure Park is very different from Disneyland, with different rides, attractions, and restaurants found in each park.
Can you visit both Disneyland & California Adventure Park in one day?
You can visit both parks in one day, and the best way to do this is by investing in a park hopper ticket. You might be wondering, 'Should I go to Disneyland or California Adventure first?', which is where a bit of planning and research will help you.
How far apart is Disneyland from Disney California Adventure Park?
The two park entrances for Disneyland and California Adventure are only a couple of hundred yards apart, making it ideal for people that want to visit both.
Which hotel has a special entrance to Disney California Adventure Park?
Guests staying at Disney's Grand Californian Hotel and Spa can enjoy making the most of the special entrance to beat the queues and enjoy unparalleled convenience.
Final Thoughts
Deciding whether Disneyland Park or Disney California Adventure is better is a challenging decision, and though we picked Disneyland, it was a tough choice.
Disney parks will always offer guests a magical time, whether you are visiting Disneyland, California Adventure Park, or Walt Disney World.
If you are lucky enough to visit both, we advise the park hopper ticket. But if you are going to choose one over the other, take the time to research all the attractions to make the right decision for your family vacation.
Here are some fantastic articles about the Disney Parks, so you know your stuff before your trip:
More about our TFVG Author
A seasoned traveller, Dad, and avid sports tourist, James foundered The Family Vacation Guide to share his expert vacation experiences- especially when it comes to being a travelling family man.
Featured in Travel articles such as Travel + Leisure, TripSavvy and SFGate, you know you're reading some of the best vacation tips online.