If you're looking to head out on a whole-family adventure, there's a very good chance that you're considering visiting one of the US' 63 national parks.
But which are the best to visit with kids?
To find out, we've analyzed and ranked each of the country's national parks against a number of family-friendly factors including:
Kid-friendly hotels
Walking trails
Attractions
Family sightseeing landmarks
From this, we can reveal the best national parks in the US to visit as a family.
Top 5 most family-friendly national parks in the US
1. Yellowstone, Wyoming
Landmarks – 37
Family Friendly Hotels – 3
Kids Attractions – 78
Kid Friendly Walking Trails – 77
Other Kid Friendly Trails – 21
Kid Friendly Score – 9.62
Yellowstone National Park is almost 2.2 million acres of wilderness recreation area sitting above a volcanic hotspot.
The park is host to 37 landmarks for you to take your child to see, including the world-famous Old Faithful geyser and the iconic Grand Prismatic Spring. It is also home to over 50 mammal species, including wolves, bears, elk, and bison.
With 77 kid-friendly walking trails and 21 other kid-friendly trails, Yellowstone offers adventure and memorable views everywhere you look, from dramatic canyons, alpine rivers, lush forests, hot springs, and gushing geysers.
There is a total of 78 attractions for your child to enjoy too, meaning you can make multiple trips to this beautiful park without your child getting bored. 
Why not check out our guides to the best time to visit Yellowstone National Park and the closest airports to Yellowstone to inspire you to start planning your trip?
2. Great Smoky Mountains, Tennessee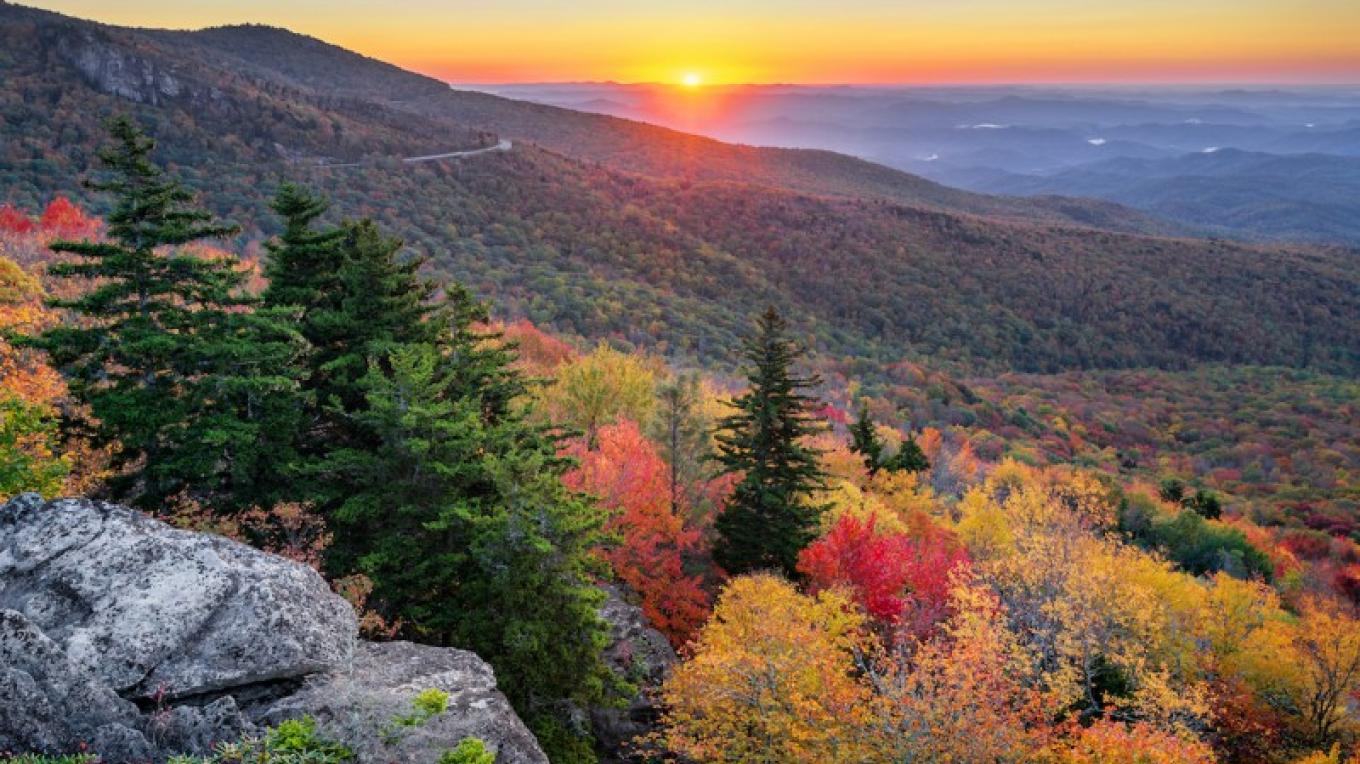 Landmarks – 14
Family Friendly Hotels – 3
Kids Attractions – 35
Kid Friendly Walking Trails – 49
Other Kid Friendly Trails – 26
Kid Friendly Score – 9.2
The Great Smoky Mountains National Park is America's most visited national park, and for good reason. It's also widely regarded as one of the best spots for a family mountain vacation in the US.
It holds world-renowned diversity of plant and animal life, beautiful ancient mountains, and absorbing remnants of Southern Appalachian mountain culture.
This park contains some of the highest mountains in eastern North America and covers 522,419 acres.
There are 49 walking trails and 26 other trails for you and your kid to enjoy, with another 35 kids attractions and 14 landmarks, so you can't go wrong with this national park if you want your kids to experience some of nature's beauty and adventure. 
3. Rocky Mountain, Colorado
Landmarks – 13
Family Friendly Hotels – 5
Kids Attractions – 38
Kid Friendly Walking Trails – 34
Other Kid Friendly Trails – 20
Kid Friendly Score – 9.13
Rocky Mountain National Park is over 265,000 acres of lush meadows, glistening lakes, and a spectacular mountain range with over 100 peaks that rise above 11,000 feet.
There is something for everyone to discover here, with a total of 54 kid-friendly trails, 38 kids attractions, and 13 landmarks to tick off your list. There is also incredible wildlife viewing and five visitor centers, where you could discover the everyday sightings of chipmunks and mule deer or the extremely moving experience of seeing elk during the mating season.
There are sports and activities throughout the entire year and cater to any level of adventure and skills, including special activities during the summer and winter seasons, such as skiing and mountain climbing.
Landmarks – 33
Family Friendly Hotels – 1
Kids Attractions – 40
Kid Friendly Walking Trails – 39
Other Kid Friendly Trails – 18
Kid Friendly Score – 8.59
Yosemite National Park is best known for its waterfalls, deep valleys, grand meadows, and vast wilderness areas.
With 40 kids attractions and 39 kid-friendly walking trails, Yosemite is a brilliant place to encourage your child to enjoy the great outdoors.
Whether you're looking for adventure or immersion in the stillness of nature, you'll find Yosemite park has something for everyone.
To avoid the rain, the best time to visit Yosemite is June to September, where the climate is prime for hiking adventures, but no matter when you decide to go, the iconic vista of towering Bridalveil Fall and the granite cliffs of El Capitan and Half Dome await you in California's Yosemite National Park.
Why not check out our guides to the best family hotels in Yosemite, the closest airports to Yosemite and Yellowstone vs Yosemite to inspire your trip?
5. Grand Canyon, Arizona
Landmarks – 42
Family Friendly Hotels – 2
Kids Attractions – 54
Kid Friendly Walking Trails – 28
Other Kid Friendly Trails – 7
Kid Friendly Score – 8.46
Completing our top five for most family-friendly national parks is the Grand Canyon in Arizona.
Grand Canyon National Park is home to much of the world-renowned Grand Canyon, which shows off its layered bands of red rock and incredible geological history. The Canyon is a mile deep and up to 18 miles wide in some areas and is truly a breathtaking experience.
There are over 40 landmarks to see at the Grand Canyon, including the fantastic viewpoints like Mather Point, Yavapai Observation Station, and Mary Colter's Desert View Watchtower.
With another 54 kid-friendly attractions and 28 kid-friendly walks, the Grand Canyon national park is one of the best national parks to visit with your kids.
Every US National Park Ranked on Family-Friendliness
Methodology
We compiled a list of all 63 national parks in the US.
National Parks which were not considered their own location on Tripadvisor were removed from our list.
National parks were ranked based on several factors. The number of kids attractions, family friendly hotels, and landmarks were taken from Tripadvisor. Kid friendly walking trails and other trail data was taken from All Trails. 
More about our TFVG Author
A seasoned traveller, Dad, and avid sports tourist, James foundered The Family Vacation Guide to share his expert vacation experiences- especially when it comes to being a travelling family man.
Featured in Travel articles such as Travel + Leisure, TripSavvy and SFGate, you know you're reading some of the best vacation tips online.