Family vacations to Disneyland California, USA, are so packed full of fun and excitement you are guaranteed to have the time of your life.
Planning an itinerary is advisable to make sure you enjoy the best getaway possible. This means you will enjoy everything the park has to offer with minimal waiting times. There are many great ways to do this, including downloading and using the Disneyland App.
The Disneyland App has many great features that will help you plan your day and keep up to date with the latest wait times at the most popular rides. Another great feature of the Disneyland App is the opportunity to get Disney Genie+ for $20 a day.
You might grudge spending an additional $20 at first, especially after the cost of park tickets, but the benefits can be worth it. This feature will give you easy access to Lighting Lane booking opportunities and free access to Photopass, which usually costs $19.99 and gives you access to all ride photos.
The Disneyland App is also handy for pre-ordering meals and booking reservations at restaurants. If you have time constraints and are trying to pack as much into one day as possible, this can be a great idea.
With so many great dining and snacking options available at the Disney California Adventure Park, there will be something for everyone, even the fussiest of eaters.
This article will look at the best dining options and where to find them in the park, so you don't waste time deciding what to eat at Disneyland California.
20 of the Best Restaurants to Eat at in Disneyland California
If you are in the planning stages of your family vacation to the Disney California Adventure Park and have been wondering about Disneyland food, look at the top Disneyland restaurants below:
1. Plaza Inn
Plaza Inn is located in Main Street, USA, in Disneyland Park, and traditional American food is available for breakfast, lunch, and dinner.
You can make breakfast reservations, but reservations are not available for lunch or dinner. A buffet-style breakfast is an ideal way to start your day. With a selection of some of your favourite Disney characters stopping by for the character dining experience, you're sure to make memories to last a lifetime.
The Plaza Inn is a traditional Victorian setting, with many of the furnishings being hand-picked by Walt Disney's wife, Lillian.
Dining packages are also available that offer guests reserved viewing vouchers for the Main Street Electrical Parade every night.
You will be able to enjoy their famous fried chicken, mac and cheese, cornbread, cheesecake, and much more.
Location: Main Street, USA, Disneyland Park
2. Docking Bay 7
Disney's acquisition of the Star Wars franchise was massive news for the movies and spin-offs that will delight its fans, but it is also great news for visitors to the Disneyland Resort.
Star Wars: Galaxy's Edge is the Star Wars-themed area of Disneyland Park that offers guests the opportunity to pilot the Millenium Falcon.
There is an excellent range of Star Wars-themed food for guests to enjoy, with great allergy-friendly options.
Location: Star Wars: Galaxy's Edge, Disneyland Park
3. French Market
The French Market Restaurant in New Orleans Square at Disneyland Park offers diners a traditional cajun-creole menu.
If you are a fan of Cajun chicken, jambalaya, or other great Cajun and Creole dishes, this is your place! The garden patio offers excellent views of the Rivers of America, where you will see the Mark Twain paddleboat.
There is a great kids menu for the little ones to enjoy, and you can even place mobile orders, so there is less waiting about. This is an excellent option for families trying to see and do as much as they can in one day and don't want to wait in a restaurant for too long.
Location: New Orleans Square at Disneyland Park
4. Carnation Cafe
The indoor and outdoor dining options at the Carnation Cafe on Main Street, USA, Disneyland are great for those looking for a hearty breakfast to start their day, a delicious lunch to refuel, or a meal at dinnertime after a long day of fun and excitement.
Watch people pass by as you eat under the candy-striped umbrellas or enjoy traditional American meals in the Victorian dining room.
You will be able to make reservations in advance using your Disneyland App, but it is worth remembering that all members of your group will have to be present to be seated. A charge of $10 will be imposed for no-shows, as is the case with all reservations at Disneyland Park.
You will find a great food selection, including all your favourites like pancakes, waffles, chilli, burgers, sandwiches, and much more.
Location: Main Street, USA, at Disneyland Park
5. Bengal Barbecue
The Bengal Barbecue is relatively small and closer to being a food kiosk than a restaurant but still offers some great options. You will also be able to pre-order using the mobile app, making it an excellent choice for those that like to eat on the move or don't have time to wait.
The food is straightforward and served on a skewer, with lots of great meat options and some vegetarian skewers. One of our favourite things they do is the Mickey Mouse-shaped pretzels- a must-try at Disney California Adventure Park!
Despite not having a vast menu, the Bengal Barbecue is still extremely popular, and queues can get quite long, so take advantage of your Disneyland App to skip the lines and enjoy a delicious skewer.
Location: Adventureland at Disneyland Park
6. Blue Bayou
Enjoy a traditional taste of New Orleans at the Blue Bayou restaurant in New Orleans Square at Disneyland Park. The laid-back, waterside restaurant has a great atmosphere, and the balloon lanterns give it a cosy feel.
Kids will be able to create their meals, and adults can feast on a great selection of Creole and Cajun meals. The cocktails, wine, and beers are a great way to cool down after a busy day.
Reservations are advised and can be made as much as 60 days in advance. Same-day bookings can also be made, subject to availability.
Location: New Orleans Square at Disneyland Park
7. Cafe Orleans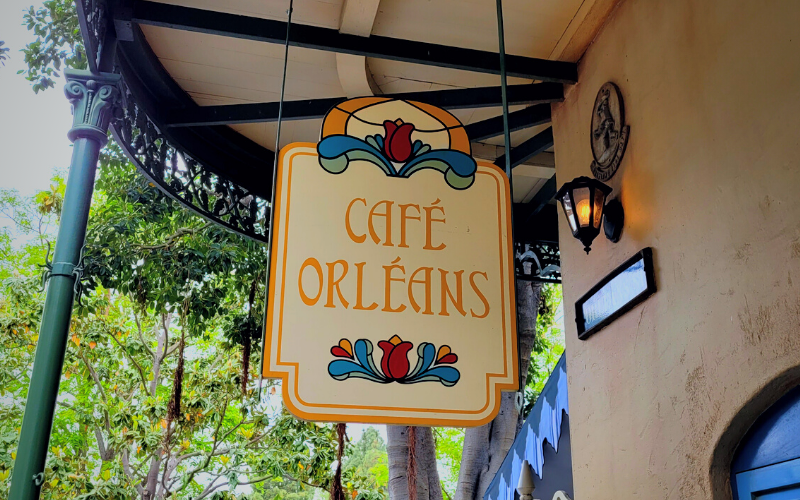 Fans of Cajun and Creole food have no shortage of options at Disneyland at New Orleans Square. Cafe Orleans is another great option that offers casual dining where you will be able to make reservations to save time.
The sidewalk cafe has been going since 1966 and has excellent displays of The Princess and the Frog for customers to enjoy.
The patio has great views along the Rivers of America, making it the ideal location to unwind and relax. Their most popular dish is probably the monte Cristo sandwich that features Swiss cheese, turkey, and ham. There is also a meatless version with brie and mozzarella.
Location: New Orleans Square at Disneyland Park
8. Red Rose Taverne
The Red Rose Taverne is from Beauty and the Beast and offers quick-serve, casual French and American dining options.
You will be able to enjoy burgers, flatbreads, plant-based meals, and the famous Grey Stuff Gâteau, which is a red velvet cake with cookies and cream mousse.
If you have ever dreamed of being in a Disney film, this is the ideal location and will transport you to Belle's charming village, where you can relax and enjoy delicious food.
Location: Fantasyland at Disneyland Park
9. Carthay Circle
The Carthay Circle Restaurant and al-fresco dining options offer guests an excellent location.
The Carthay Circle Theatre premiered Snow White and the Seven Dwarfs in 1937. This was Walt Disney's first feature-length film, and the theatre was meticulously recreated to capture the atmosphere.
The Art Deco design and great menu make for an unforgettable dining experience. This is a popular choice among Disney California Adventure Park guests, so making a reservation is advised.
The outdoor seating area of the Carthay Circle Lounge offers guests the opportunity to watch the world go by while enjoying delicious food.
Fine dining is the order of the day at the Carthay Circle, with dishes like Braised Lamb Porcini Fettuccini and Grilled Angus Rib-eye gracing the menu.
Kids will love the children's menu, and the extensive wine list, cocktails, and bottled beer are ideal for adults.
Location: Buena Vista Street at Disney California Adventure Park
10. Pym Test Kitchen
Marvel movies have been huge for years, and introducing them to Disney Theme Parks has pleased countless fans.
The Avengers Campus at Disney California Adventure Park is a huge draw and extremely popular thanks to the WEB SLINGERS: A Spider-Man Adventure and Guardians of the Galaxy – Mission: Breakout rides that Quinjet will soon join to Wakanda.
If you are going to visit the Avengers Campus, you will be able to get something to eat at Pym Test Kitchen. You can order online and enjoy a great choice of American food, healthy snacks, and vegetarian options.
With an Antman theme, the meals and food you get will have been shrunk or grown, giving you a unique dining experience. There are snacks for meals and a kids' menu to ensure you get exactly what you need.
The Pym Testing Lab is a great experience for adults to enjoy beer cocktails, novelty drinks, and other experimental refreshments.
Location: Avengers Campus at Disney California Adventure Park
11. Flo's V8 Cafe
Everyone loves a classic American diner. Flo's V8 Cafe in Cars Land at Disney California Adventure Park is perfect for those who want to enjoy quick, friendly service, delicious food, and a fun theme.
Cars Land is one of the most impressively designed areas in all the Disney Resorts. Great memorabilia, the ability to pre-order using your mobile app, and everything from burgers to fried chicken and hot dogs make this a popular destination.
Location: Cars Land at Disney California Adventure Park
12. Trader Sam's Enchanted Tiki Bar
Trader Sam's Enchanted Tiki Bar is a great dining option for guests and visitors of Disneyland Hotel based on the Jungle Cruise ride.
There will be something for everyone to enjoy with a great selection of cocktails and an excellent menu that includes chicken wings, macaroni salad, tempura shrimp, delicious ramen, and much more.
Location: Disneyland Hotel
13. Lamplight Lounge
The popularity of Pixar movies makes Pixar Pier a popular location. Lamplight Lounge offers a great selection of Californian, American, healthy eating, and vegetarian dishes.
Eat indoors or enjoy their al-fresco patio dining options to make the most of the fantastic views.
You will not be able to make a reservation, but you can add your group to the mobile walk-up list.
Location: Pixar Pier at Disney California Adventure Park
14. The Golden Horseshoe
Get a taste of the Wild West at the Golden Horseshoe and Frontierland at Disneyland Park. Enjoy some old-time chow, including loaded potato skins, chicken wings, and pepper jack chilli mac, and the ice cream desserts are incredible. The ice cream floats are also very popular and great to cool down on hot days.
The Golden Horsehoe dates back to the Disneyland Resort's opening in 1955, and you will even be able to enjoy the Golden Horseshoe Revue.
Location: Frontierland at Disneyland Park
15. Napa Rose
Disney is a great family adventure, but sometimes you want a more adult, upscale experience. Located in Disney's Grand Californian Hotel & Spa, Napa Rose is the perfect option.
Enjoy fine dining from a menu designed by award-winning chef Andrew Sutton in an elegantly designed restaurant.
Reservations can be made up to 60 days in advance. Cancellations must be made at least one day in advance, or a $10 cancellation fee will be charged.
Location: Disney's Grand Californian Hotel & Spa
16. Ronto Roasters
Ronto Roasters is great for those who like to eat on the move. Grab a delicious wrap from this Star Wars-themed food stall that is found in Star Wars: Galaxy's Edge at Disneyland Park.
Place your order online for super-fast service and choose from either the Ronto Morning Wrap or Ronto Wrap. Alternatively, they have plant-based Ronto-less wraps for vegetarians to enjoy.
Location: Star Wars: Galaxy's Edge at Disneyland Park
17. Cocina Cucamonga Mexican Grill
If you are a fan of Mexican food (and let's face it, who isn't?), you should head to Cocina Cucamonga Mexican Grill. They have a great selection of street tacos that you can pre-order using the mobile app for quick and easy pick-up.
Location: Pacific Wharf at Disney California Adventure Park
18. Harbour Galley
Seafood lovers will enjoy this waterfront shanty with a great selection of food you will be able to pre-order and collect.
Choose from their great lobster roll, tuna salad sandwich, clam chowder soup, or explore their allergen-free menu.
Location: Critter Country at Disneyland Park
19. Jolly Holiday Bakery Cafe
For light bites and snacks, this Mary Poppins-themed bakery is ideal.
You will be able to enjoy tasty sandwiches, soup, or assorted desserts, all with that classic Disney twist.
Location: Disneyland Park, Main Street, USA
20. River Belle Terrace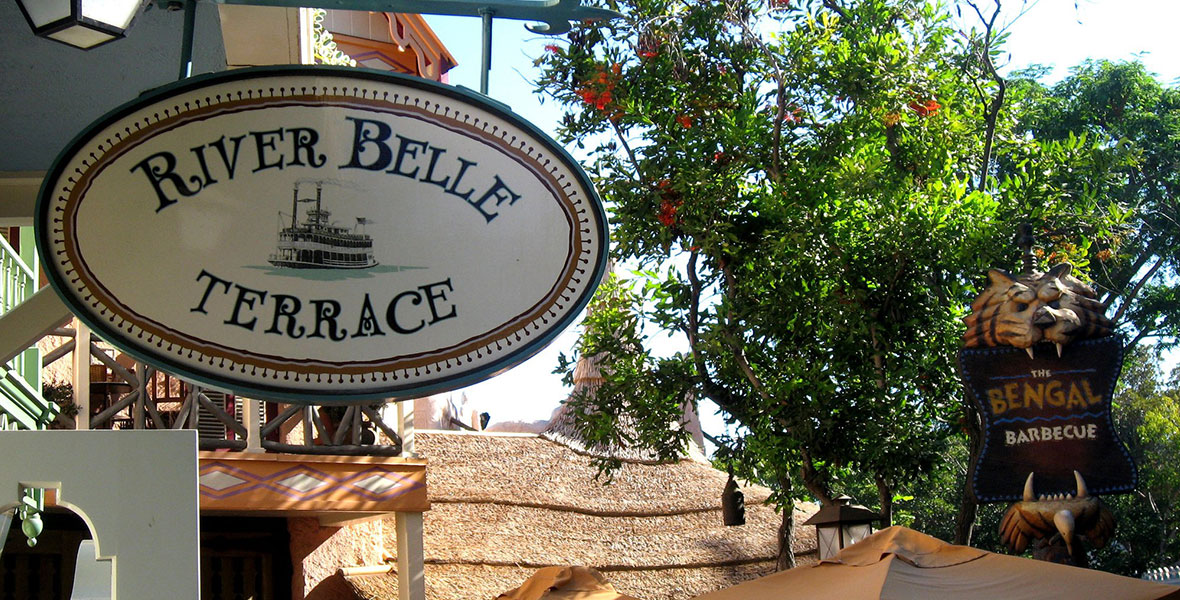 River Belle Terrace is a beautiful riverside dining option where guests can enjoy delicious lunches and dinners while watching the Rivers of America drift by peacefully.
Choose from salads, sandwiches, and the kids' create-your-own meal options while relaxing at this wonderful location.
Location: Frontierland at Disneyland Park
FAQs
Is Bengal Barbecue gluten-free?
Bengal Barbecue is not one of the dedicated gluten-free restaurants and dining experiences available at Disneyland California Adventure Park.
What is Pym Test Kitchen based on?
Pym Test Kitchen is a restaurant located in the Avengers Campus of Disney California Adventure Park based on the Ant-Man and The Wasp movies and comic books.
You will be able to enjoy a unique dining experience where the size of your food will be shrunk down or grown!
Do you need to make a reservation at Ronto Roasters?
All table-service restaurants inside the Disneyland resort, including Ronto Roasters, will require a reservation for everyone in your group that is three years old and over.
This is because the park can get very busy, and restaurants can end up having long waiting times. To maximise your time in the park having fun, booking a reservation will minimise these wait times.
Can kids go to Lamplight Lounge?
Lamplight Lounge is more of an adult experience, but kids can enjoy it too. There are interesting art installations throughout the restaurant that kids will love, and there is a children's menu for younger guests to enjoy.
Final Thoughts
Disneyland is known for creating a magical time for families to enjoy. Making sure you are well fed is easy, thanks to the great selection of restaurants, snack bars, and food carts throughout Disneyland Resort, including Disneyland Park and Disney California Adventure Park.
With excellent accommodation available in the Disneyland Resort, including the Disneyland Hotel, Grand Californian Hotel, and Disney's Paradise Pier Hotel, you will have everything you need for the perfect family vacation.
Whether you are going to be spending a few days exploring the parks at your leisure or are trying to pack everything into one day, options to make reservations at Disneyland restaurants mean you will be able to find the perfect dining options at a time to suit you.
There is an excellent choice of Disneyland restaurants that cater to all tastes and dietary requirements, whether you are in the parks, hotels, or the Downtown Disney District. Taking the time to do some research and even contacting restaurants to advise them of requirements will mean that you will have peace of mind when enjoying your food.
Have a further read about Disneyland, California below!
More about our TFVG Author
A seasoned traveller, Dad, and avid sports tourist, James foundered The Family Vacation Guide to share his expert vacation experiences- especially when it comes to being a travelling family man.
Featured in Travel articles such as Travel + Leisure, TripSavvy and SFGate, you know you're reading some of the best vacation tips online.