Over 4 million people visit New Hampshire each year to enjoy the state's ski resorts or the many public beaches that draw tourists looking for outdoor fun.
New Hampshire and other eastern states also provide many villages and historical sites for those who want to experience the culture and history of early America. 
This state also offers many places for families to enjoy outdoor activities. These resorts and parks are don't-miss destinations for families who want to enjoy some aerial adventures like ziplining in New Hampshire.
Chuckster's Family Fun Park
Chuckster's Family Fun Park in Chichester offers outdoor adventures, from the longest mini-golf hole in the US to Go-Karts and batting cages. They also provide the TimberTrek Aerial Adventure Park for your above-ground adventure needs.
TimberTrek isn't a single zipline but an entire course of elements to traverse that can take 20 to 60 minutes per person. Ziplines, trapeze-like devices, and other exciting props get you from tree to tree on this course.
This aerial park offers a unique experience for kids eight and older who are at least 69″ with their arms extended above their heads. The weight limit is 275 pounds, and the cost for the course is $25 per person.
Gunstock Mountain Resort
The Gunstock Mountain Resort in Gilford offers several activities for visitors to enjoy, and the Gunstock Adventure Park inside the resort is sure to please those looking for aerial excitement.
A zipline tour for visitors aged ten and older costs $85 per person, and you can add on an exciting aerial course for an extra charge that includes suspended footbridges and unique ways to move among the trees. The combination ticket makes it a bargain for ziplining in New Hampshire.
The park also offers a scenic lift ride free for kids five and under at $20 per person for a single ride. Gunstock's Mountain Coaster is $20 per ride for visitors ages six and up, but you can combine the attractions and get unlimited lift and coaster rides for a discount on their own or combined with the zipline.
Bretton Woods Canopy Tours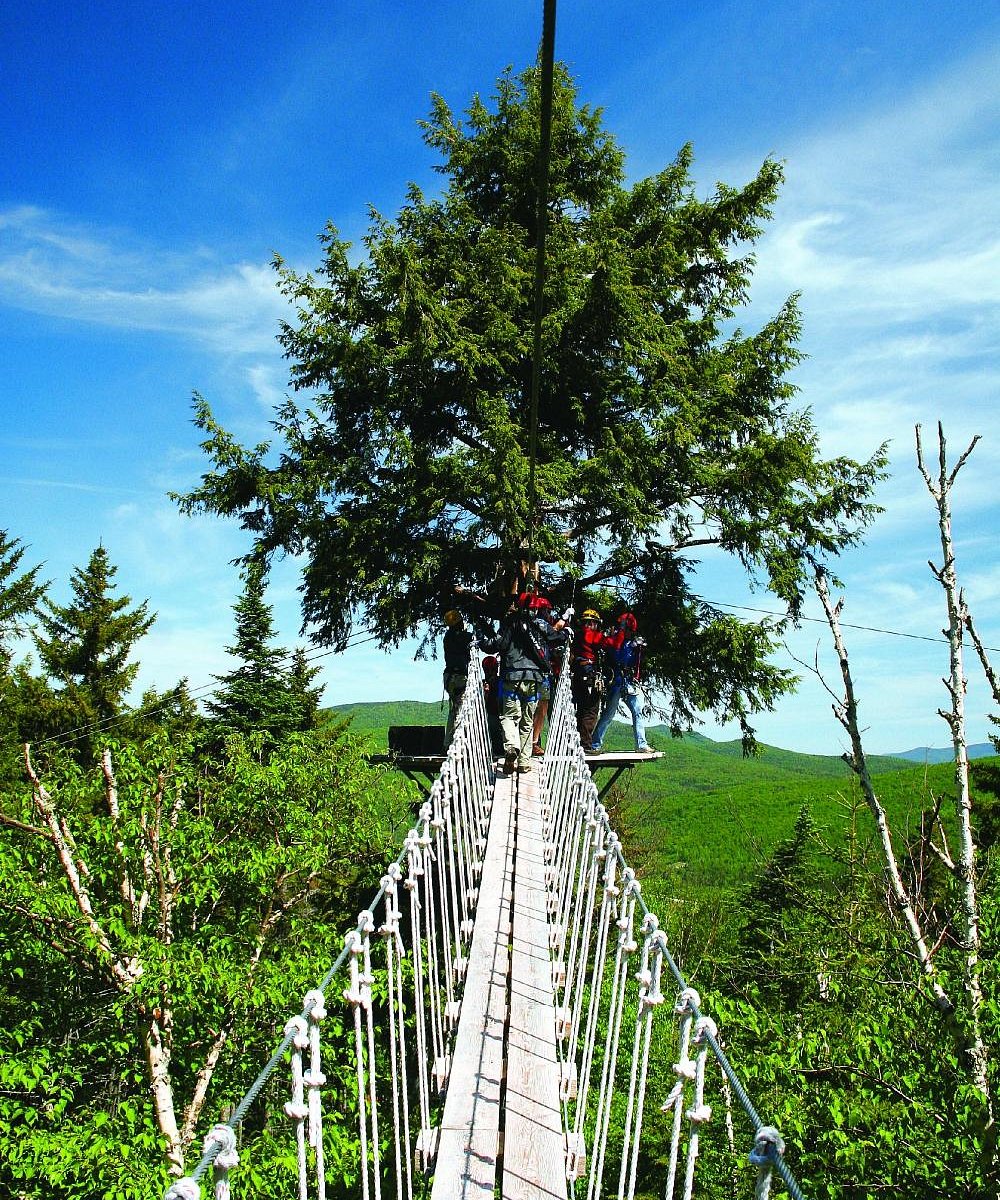 Visitors aged 12 and older can enjoy 16 tree platforms up to 70 feet high, sky bridges, rappels, and several ziplines that take them up to 30 mph at Bretton Woods Canopy Tours in Bretton Woods, NH.
The 3-hour tour inside the Mount Washington Resort takes guests over an 830-foot zipline and a 1000-foot descent from Rosebrook Canyon's peak to the ground. Enjoy heights of up to 165 feet above the forest floor in groups of eight or fewer people.
You'll want at least a group of four because the $440 price is the same for four or fewer, with $100 additional for each person up to $880 for a full group.
Alpine Adventures
Alpine Adventures offers several fun experiences, including a zipline tour and Thrillsville's aerial adventure course. Visitors in or near Lincoln, NH, can enjoy some of the best ziplining in New Hampshire and the self-guided adventure course.
Thrillsville's adventure tour provides challenges like rope ladders, suspended bridges, and cargo nets. The course takes up to 90 minutes to complete and costs $39 per person.
Five ziplines and a suspension bridge make up the tour that costs $79 for each participant. The height and weight limits vary by adventure.
Morningside Flight Park
In Charlestown, NH, guests can enjoy several adventures at Morningside Flight Park, including their Mountain Top and Superman zipline tours. But the fun here doesn't stop at ziplining. Why not enjoy a hang gliding experience, too?
Morningside pilots offer lessons, adventures, and certification in paragliding, power paragliding, and hang gliding. Each level of instruction costs a different amount, but introductory classes for both types of gliding start at $250.
You don't have to take lessons to glide on your own. Tandem gliding is $199 for visitors at least ten years old and under 225 pounds. You can enjoy the trip with a pilot for up to 15 minutes. For an extra $80, you'll get a video of your adventure to show friends and family.
Loon Mountain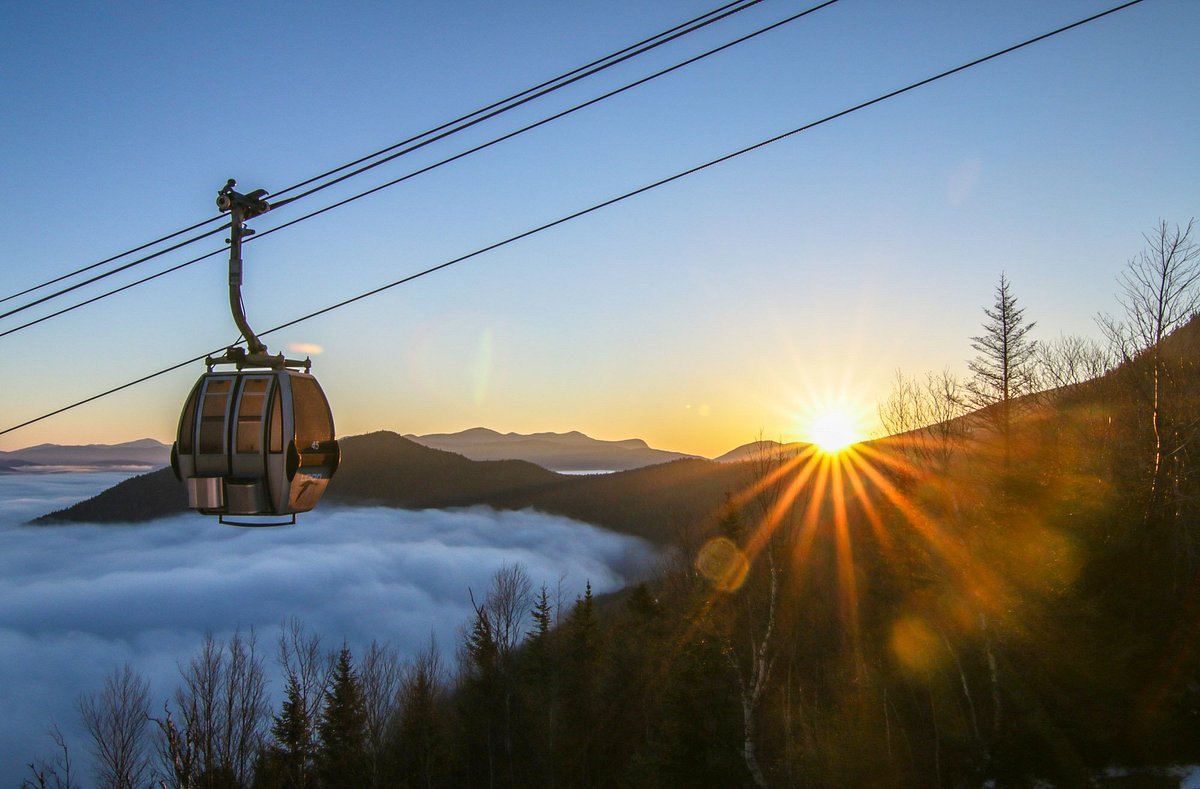 Loon Mountain in Lincoln is known for family fun and activities like skiing in the White Mountains. In addition to the fun activities like hiking, a climbing wall, a bungee trampoline, and cave exploring, Loon Mountain offers ziplining in New Hampshire and the popular White Mountain Express Gondola Summit and Skyride.
The Skyride is the longest aerial gondola ride in New Hampshire. It takes visitors to Loon Peak summit, a 1.3-mile ascent. Loon Mountain's zipline stretches over the Pemigewasset River, a trip of 750 feet.
Zipliners must weigh between 50 and 250 pounds and must be with an adult if younger than 14.
Candia Springs Adventure Park
If you plan to visit Candia, New Hampshire, or find yourself nearby, the Candia Springs Adventure Park offers a fun zipline adventure for families to enjoy. The attraction sells out often, so reserve your $45 ticket as soon as you know you'll be in the area.
Visitors aged seven and older who are at least 48 inches tall and under 250 pounds can enjoy this guided zipline tour with zips up to 1000-feet long. The park also offers an aerial adventure forest tour, a water park, ax throwing, and other fun activities.
Cranmore Mountain Resort Adventure Park
The Cranmore Mountain Resort in North Conway offers fun summer activities in their adventure park for everyone. They have a leisurely scenic chairlift for those who want a bird's eye view without too much excitement and a mountain coaster with over 2,300 feet of thrilling twists and turns.
Ziplining in New Hampshire usually requires each person to have enough upper body strength and conditioning to pull themselves along in certain spots. Cranmore's Soaring Eagle is a zipline for anyone who meets the height and weight requirements because it's a seated zip ride that doesn't require physical strength to operate.
A ticket to the park costs between $39 and $49, depending on the person's height. A ticket provides access to all the rides and attractions.
Final Thoughts on Ziplining in New Hampshire
Most resorts and parks in New Hampshire that offer ziplining with other activities sometimes bundle them at a discounted price for each experience. Look for add-ons and combined tickets at each adventure to get the most sky-high fun for your family vacation budget.
Whether you stick to ziplining or opt for a chairlift, hang gliding, or other aerial adventures, you won't be disappointed by the variety of activities in New Hampshire.
More about our TFVG Author