The east coast is known for its scenic, picturesque beaches, quaint towns, New England charm, and southern hospitality. It's also known to be rather expensive, and sometimes it might look like finding an amazing and affordable beach vacation spot on the east coast is impossible. But, we're here to tell you it's not!
All along the eastern seaboard are unique beach vacation spots with budget-friendly dining, lodging, shopping, and activity options that are perfect for a family vacation. You just have to know where to look. Keep reading to learn all about our top nine choices for family vacation spots on the east coast.
Top Cheap Beach Vacation Spots for Families
Each of these destinations is a beautiful vacation spot where you can find affordable accommodations and fun for you and your family. It's your vacation, so don't spend it worrying!
Chincoteague Island, Virginia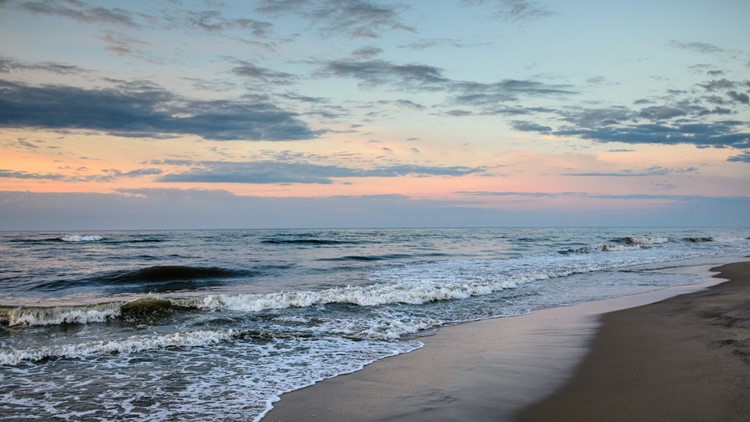 Have you and your family had your fill of loud, flashy beachside towns and are looking for something a little more quaint for your next budget family vacation? Chincoteague Island, Virginia could be an excellent option for you and your family.
The Chincoteague Island Chamber of Commerce website describes Virginia's only resort island as being calm and serene but in no way lacking in fun and exciting activities for families and kids of all ages.
Chincoteague Island has a wide array of accommodation options, including traditional hotels, bed and breakfasts, vacation rentals, and even campgrounds. If your family loves camping or is simply working on a tight budget, many campgrounds offer small cabins for rent. These cabins are better than a tent and are much more affordable than hotel rooms.
This destination is perfect for families who love to get outside and go on adventures. There are a plethora of things to do on this small island. Iron Pony Adventure Park is a new addition to this destination and features an aerial obstacle course and even the Pony Plunge, which is a 26-foot bungee jump!
Various adventure cruises are available on Chincoteague Island as well, such as Up The Bay Pony Tours, Daisy's Island Cruises, and the Cowboy Cruise Company.
It's hard to avoid a horse theme when talking about this area. This could be a great spot for horse lovers for one main reason: the Pony Swim. The Pony Swim is where the Saltwater Cowboys lead a herd of horses across the Assateague Canal to Chincoteague Island as part of a week-long string of festivities in the summer.
Chincoteague Island also boasts several beaches: the Recreational Beach, Wild Beach, Toms Cove Hook, and the Assawoman, Cedar, and Metompkin islands.
Hampton Beach, New Hampshire
Hampton Beach, New Hampshire is a gorgeous strip of coastline on New Hampshire's tiny oceanside corner that offers true New England charm.
One of the most significant tolls on your wallet during a family vacation is shopping: t-shirts, souvenirs, that amazing necklace you just have to take home, a gift for a friend back home. It can be daunting, but New Hampshire harbors one amazing secret in this department. New Hampshire doesn't charge general sales tax. It might not extend to dining and accommodations, but that's a huge saving point for everything else you'll need while on your trip.
Getting back to this destination, Hampton Beach is a gorgeous, quaint slice of New England resort town fun for you and your family.
Hampton Beach has an impressive range of 65 accommodations from motels to suites and beyond, so you are sure to find something that fits your budget.
For dining, Hampton Beach offers an amazing array of ice cream shops, coffee shops, sweet shops, seafood restaurants, and pubs, among many other options. Depending on your budget and what you and your family are in the mood for eating on any given day, you are sure to find something that more than satisfies your appetite and wallet.
When you and your family want to set out on an adventure, Hampton Beach has some really great choices. The Blue Ocean Discovery Center is an amazing museum and ecological center for those who love the ocean and want to learn more about it. This amazing organization offers whale watching tours and educational exhibits that include touch tanks.
Want to teach your children about the importance of taking care of our environment? Join the Blue Ocean Discovery Center for one of their beach cleanup programs!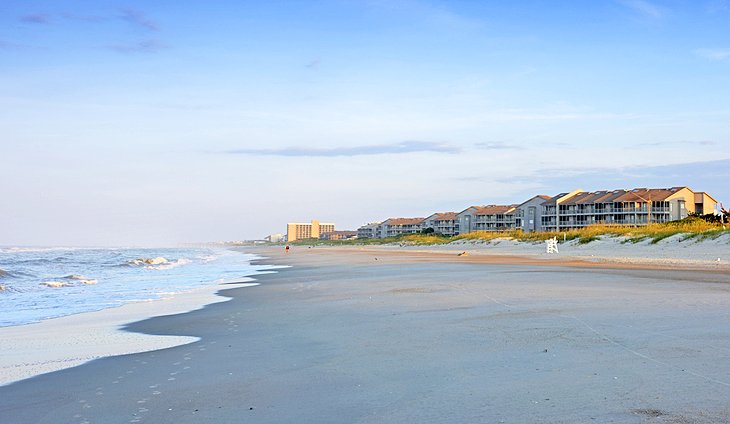 Carolina Beach is a lovely strip of coastline along North Carolina and holds a treasure trove of exciting activities, accommodations, and dining options for vacationing families.
If you and your family love the ambling variety of a boardwalk, you're in luck! Carolina Beach is home to a spectacular boardwalk lined with arcades, places to eat, and shops to browse. Along the boardwalk, there's a collection of amusement park rides perfect for small kids, as well as a carousel. To complete this mini carnival, there are street food options and games to play.
If you're into more adventurous and physically active fun, there are also bike rentals available, as well as a self-guided bike tour.
Love music and festivals? The boardwalk has that too. Carolina Beach also offers everything from hotels and motels to luxury accommodations and vacation rentals are available, so you are sure to find something that fits right into your price range.
Bar Harbor, Maine
Bar Harbor is a unique corner of Maine as it sits on Mount Desert Island and acts as the gateway to Acadia National Park. With its incredibly diverse landscape populated by cliffs, mountains, beaches, and forests, Bar Harbor is sure to please every kind of outdoor enthusiast.
Bar Harbor is a vibrant community and the largest community in the area. If you want to explore a quieter spot for a day during your stay, you can check out nearby Bass Harbor or Otter Creek.
Like most quaint New England towns, Bar Harbor has a lovely array of small bed and breakfasts, cottages, campgrounds, and vacation rental options for you to choose from. As we mentioned earlier, campground cabins can be a great money-saving option when looking for accommodations.
Interested in culture and history tours? Bar Harbor is home to The Natural History Center, the Seal Cove Auto Museum, Red Cloak Tours, and the La Rochelle Mansion and Museum, in addition to many other attractions.
Looking to get outside? Bar Harbor is in no short supply of both land and water activities. Wildlife cruises, canoe rentals, kayak tours, and white water rafting are just a few of the activities offered in this gem of a destination. And of course, you can't forget Acadia National Park.
Acadia National Park covers 49,000 acres of gorgeous wilderness and offers 125 miles of hiking trails that accommodate walking, biking, cross-country skiing, and more. It's a great choice for families looking for adventure!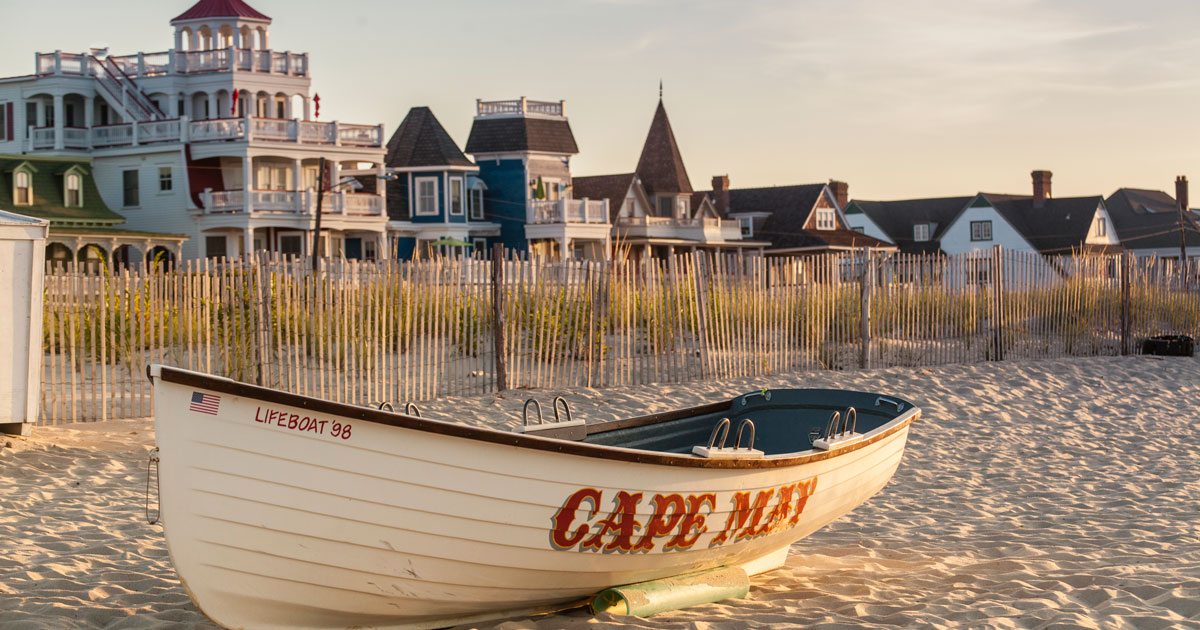 For those who love the Victorian era, the oldest resort in America could be a great option for you and your family this summer.
With almost 600 perfectly preserved Victorian-era buildings, Cape May is a gorgeous little resort town with so many options for fun and entertainment for the whole family.
Cape May Mini Golf, whale watching tours, museums, and more offer a great range of activities for the whole family. Do you come from a military family, or are you interested in the history of aviation? Check out the NAWS Aviation Museum!
Are your kids animal lovers? Then they might love to visit the Cape May County Park and Zoo or the Nature Center of Cape May!
Would you rather spend your time out on the water? There's no shortage of jet boat, jet ski, and parasailing rentals out there, as well as pontoon boats at the Pier 47 Marina.
Are your kids a little older and interested in history and spooky stories? Cape May MAC hosts ghost tours at very affordable prices. They also hold scavenger hunts and family activities at many different historical locations!
When it comes to accommodations, finding something affordable and comfortable is essential. The Lotus Inn in Greater Cape May has amazing weekend and holiday package deals. These deals offer a long list of perks that include complimentary meals and family BBQs for a very reasonable price. The Lotus Inn is open from April to October, so you're sure to find a weekend that suits you perfectly.
Outer Banks, North Carolina
Looking to get away from the city for a while? In the Outer Banks, there is not a city in sight for over a hundred miles. The Outer Banks of North Carolina are a series of barrier islands off the east coast, and they're brimming with small-town charm and summer fun.
As far as accommodations go, the Outer Banks have no shortage of options. From motels, hotels, and bed and breakfasts, to vacation rentals and rental houses, you'll be able to find something that fits your needs and your budget. These options include oceanfront locations and even pet-friendly options if you want to bring your furry friend along for the ride!
When looking for dining options, The Outer Banks has everything from fancy restaurants perfect for date night to pizza and Mexican joints that are great for family dinners. If you're looking for a quick bite you can get wrapped up to bring to the beach, try Barrier Island Bagels for a hearty sandwich! They have an impressive 306 dining options, so even the pickiest eaters are sure to find something they will love.
Seeing as the Outer Banks is a string of islands, you are never far from a beach. From Kitty Hawk Beach to Nag Head to the Southern Shores, there are plenty of beaches for you and your family to explore, comb for treasures, play, and relax on.
If you want a break from the beach, there are dozens of other entertainment and activity options all around the Outer Banks.
If your family is into the theater and the performing arts, check out The Lost Colony, an outdoor symphonic drama about the Roanoke colony. There is also the African American Experience of Northeast North Carolina for those interested in history and culture. Interested in the surrounding wildlife? Check out the Alligator River National Wildlife Refuge and the Buxton Woods Reserve.
Looking for a little more action? Barrier Island Aviation, Kitty Hawk Kites, and Aero Tours have what you're looking for. They offer bi-plane, hang gliding, kayaking, parasailing, dolphin tours, sailing cruises, island exploration, and much more for those who want a more action-filled vacation.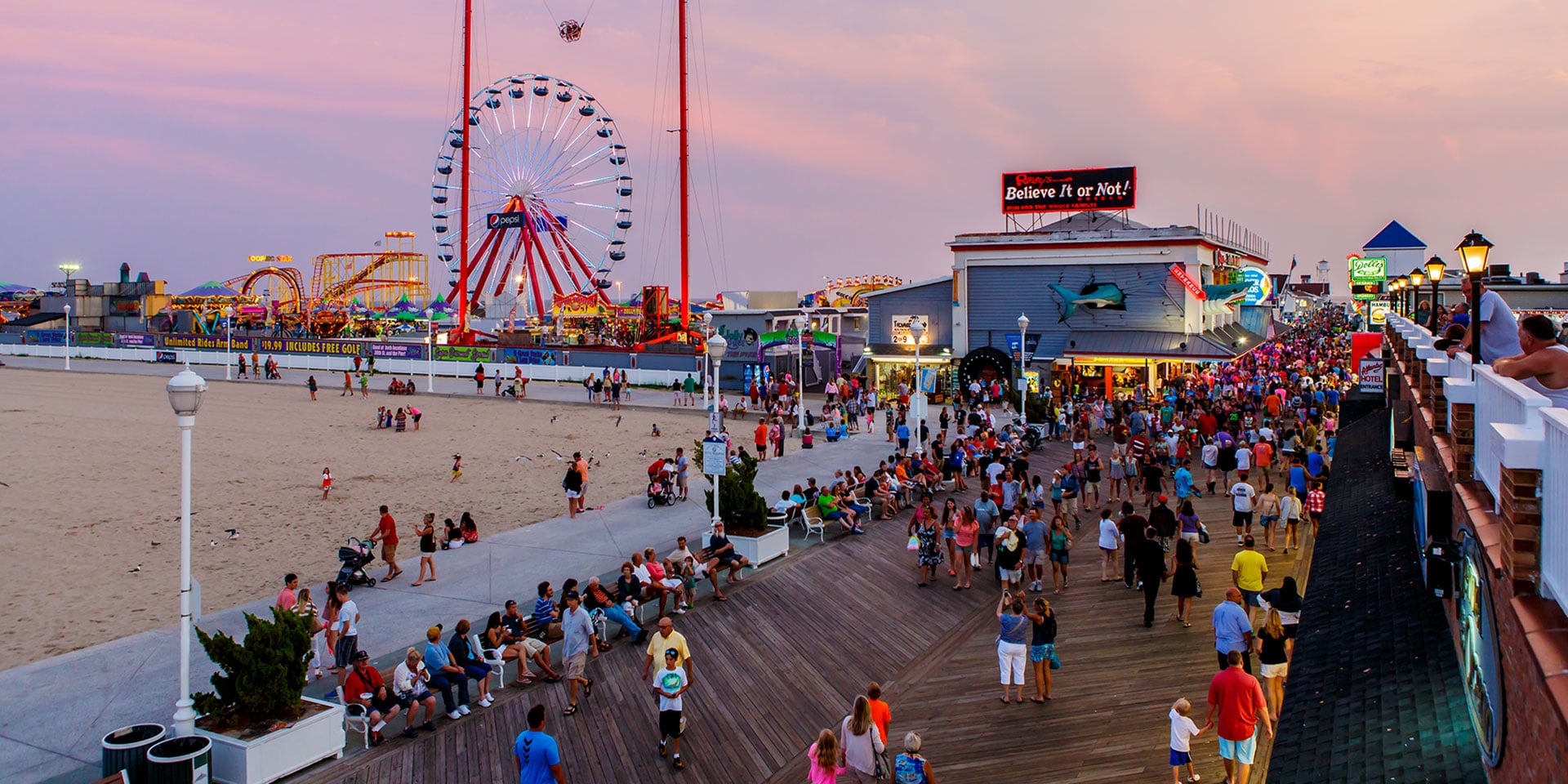 Ocean City is a gem located along Maryland's coast, and it is open year-round for fun without a closing date.
If it is the beach you are looking forward to the most, Ocean City has a beautiful 10-mile stretch of coastline. This is perfect for relaxing, sandcastle building, and all sorts of water sports. Surfing, kayaking, canoeing, and fishing are all allowed on the Ocean City beach. In the evening, you and your family can enjoy fun family events like movies and music!
Along the beach is a three-mile stretch of boardwalk with a wide array of stores, arcades, and other entertainment. There's truly something for everyone here, so you won't have to worry about anyone being bored.
Accessibility is an important topic, especially when traveling. Ocean City provinces beach wheelchairs in the summer to help the whole family get out on the sand to have some fun. Both electric and manual beach wheelchairs are available–just contact the visitors center.
The chamber of commerce website has a list of local accommodation options for convenient browsing via filters to pinpoint your needs, and they even have a pet-friendly guide available!
The chamber of commerce also has a handy directory of local dining options divided into categories like fine dining, seafood, buffet, etc. You can tailor your search to only include options that are compatible with your budget to both save time and frustration. Ocean City has many casual spots like Phillips Crab House and even Dumsers' Drive-In, which has been going strong since 1939.
Ocean City has a huge array of things you and your family can do for fun! From fishing, performing arts, museums, golf, and more, you will have no problem finding something great to do.
One of the best things about the Ocean City chamber of commerce website is the directory of free family activities! This directory includes movie nights on the beach, drone shows, beach dance parties, beach games, museum programs, and more.
In the summer, movie screenings on Monday, Wednesday, and Friday are free every week, and there are even games like giant connect four, cornhole, and more available to pass the time until the movie starts.
Free concerts are also available at Sunset Park, but beverages and other food must be purchased.
While all the destinations on this list are great for budget vacations, this list of free family activities really makes Ocean City shine. If you're planning a getaway on the east coast, be sure to stop by this hotspot!
Virginia Beach, Virginia
One of the more classic east coast beach destinations has to be Virginia Beach. Like a few other destinations on this list, Virginia Beach is open year-round, so you might be able to cash in on some deals during typically "off-season" times in the fall and winter. It's even recommended to visit Virginia Beach in the off months to experience a quieter, more authentic Virginia Beach without the crowds!
Virginia Beach has a great range of hotel options, including resorts, hotels, bed and breakfasts, and campgrounds. You could even check out listings on Airbnb and Vrbo to find deals and unique accommodations.
While campgrounds can sometimes sound a little rough for a long stay, Virginia Beach's coastal beach campgrounds might be a fun adventure for the whole family. Imagine sleeping just yards from the water! Just remember not to set up camp too close to the water, and keep an eye on the tide reports.
The area has all sorts of dining options, from proper sit-down restaurants to rustic farm stands. You're sure to find something that both fits your budget, satisfies your whole family, and even stirs up some unique interest! Local favorites are also listed in a "dine like a local" tab of the chamber of commerce website to help you find the hidden gems of Virginia Beach that are often missed in tourist guides.
Like another entry on this list, Virginia Beach makes finding affordable activities easy with a "budget-friendly" tab on their Things to Do page!
Three beaches, the Sandbridge Beach, the Oceanfront Resort Beach, and the Chesapeake Bay Beach are all free and open to the public. The Cape Henry Lighthouse is a fun and free historical destination for the whole family, and First Landing State Park is a fun place to explore and relax.
The local farmer's markets are a great place to browse local wares and food and an amazing way to get in touch with the local culture.
If you're into music, Virginia Beach has a free summer concert series called Live! on Atlantic located on the boardwalk. Here, you can enjoy music, performers, magicians, and more from June to Labor Day weekend.
If you and your family love museums, check out the Surf and Rescue museum to learn about local history and the Virginia MOCA to get your fill of gorgeous contemporary art.
Do you love Cape Cod but want to do something a little different this time? Dennis Port is a unique destination in Massachusetts. It is part of Cape Cod, but it offers more than just beaches and summer fun.
One amazing aspect of this destination is that it's open year-round! Accommodations, food, and fun always tend to be more expensive during the summer months on the coast, so visiting in the fall or winter might score you some deals.
Accommodations in Dennis Port are plentiful and varied! Take a look at various booking websites, and you will find great accommodations in your pride range. For example, a quick look on Vrbo finds a waterfront room available for just $131 per night.
Dennis Port is a quaint little destination with a distinctly small-town vibe that is great for small children and a more laid-back vacation. Playgrounds, parks, bocce courts, beaches, and concerts on the green are all fun family activity options.
When it comes to dining, Dennis Port has an impressive roster of eateries, restaurants, BBQ joints, and seafood spots for you to choose from.
If Dennis Port is a little too quiet for your liking, the entirety of Dennis consists of a cluster of five villages: Dennis, Dennis Port, East Dennis, South Dennis, and West Dennis. Explore them all to find the perfect spot for your next family vacation!
In Summary
The east coast has it all: countless historic sites, science and history education programs, spooky ghost tours, water sports, ponies, hiking trails, and so much more. There is something for everyone at every destination, whether it be food preferences or activities you or your family want to try. Many of these destinations encompass entire towns that you can explore, finding the gems along the way.
Always remember to take into account the things you and your family may need while on your vacation. You might be able to find accommodations with complimentary meals and other perks–always remember to ask about perks when booking your stay!
While generally considered expensive, if you know where to look, you'll be able to find affordable accommodations, food options, and opportunities for fun activities on the east coast. From hotels to quaint inns and campgrounds, inexpensive beach passes, and museum tours, there are always options for you and your family to have fun this summer, no matter your budget.
More about our TFVG Author
A seasoned traveller, Dad, and avid sports tourist, James foundered The Family Vacation Guide to share his expert vacation experiences- especially when it comes to being a travelling family man.
Featured in Travel articles such as Travel + Leisure, TripSavvy and SFGate, you know you're reading some of the best vacation tips online.