The holiday season is around the corner. This is the perfect time to plan for a family getaway, spend some time with your loved ones as you bond, and create memories away from the norm.
For most individuals, the cold season is not complete without skiing and snowboarding sessions with the family. Skiing is not only fun but also a perfect exercise to improve flexibility and engage the core muscles. It helps you stay fit and better your moods.
Thankfully, many resorts across America cater to families' skiing needs, whether they are veterans or newbies headed to skiing sessions for the first time.
Explore the guide below to discover 19 family-friendly ski resorts in the US.
Why not also take the time to check out our guides to: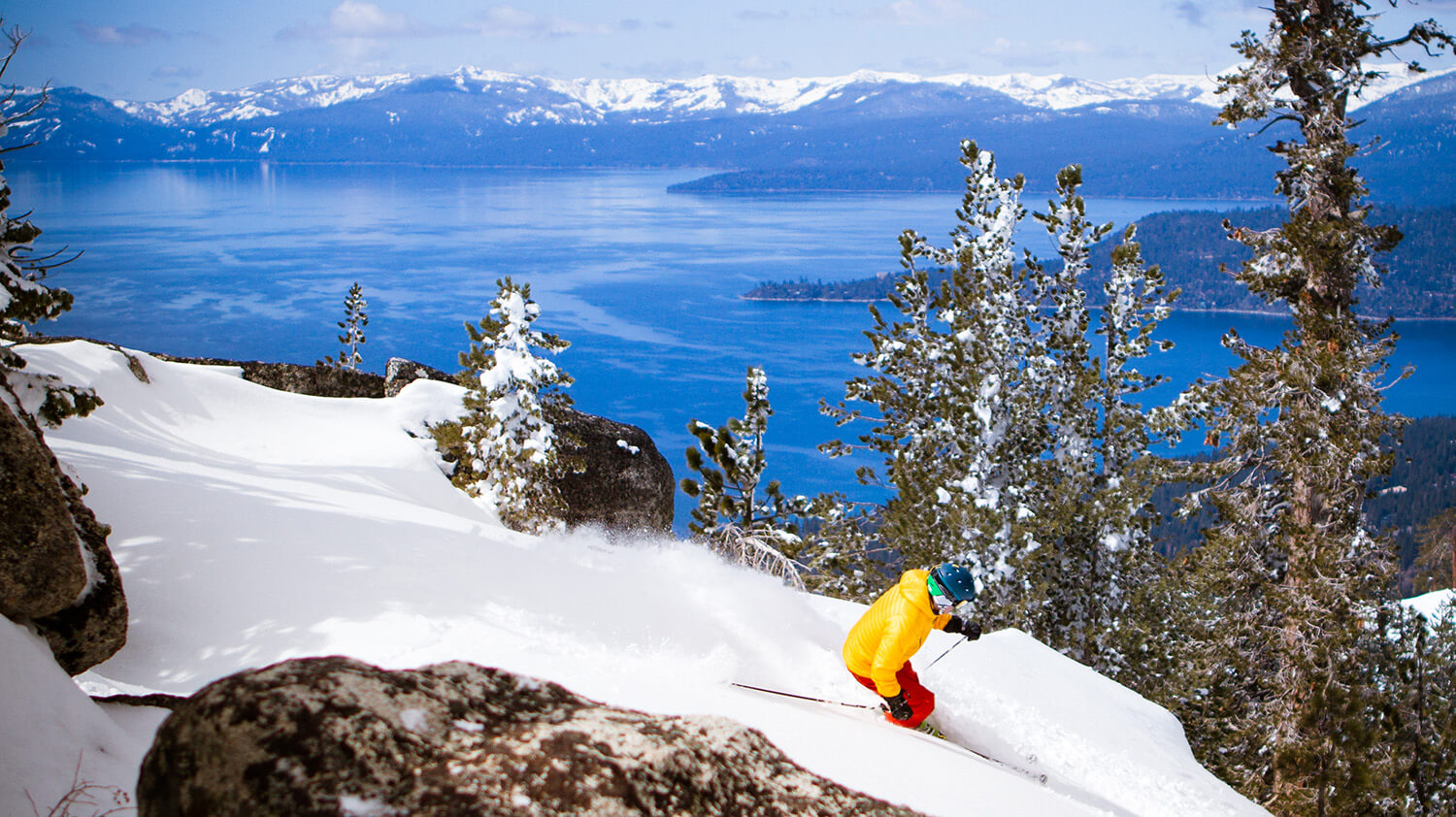 Diamond Peak is one of the many hidden gems of Lake Tahoe. It is a community-owned resort, surrounded by breathtaking views and easy access from the parking lot to the skiing village.
The most outstanding part about this resort is its commitment to giving kids the most fun with a safety guarantee. It is dedicated to the littlest snowboarders and skiers, so you can take your little ones there with peace of mind.
The resort boasts a Child Ski Center, where you can take your kids, aged 3 to 6, for distinct learning under strict supervision. This idea ensures that kids remain in a crowd-free environment, thus minimizing risks.
The other way Diamond Peak stands out among other resorts is its service affordability. You may either choose to buy the tickets in person or purchase them online in advance.
Diamond Peak neighbors amazing family-friendly restaurants, such as the Big Water Grill. After dining, head to the Tahoe Chaparral for more memories with your loved ones.
At the foot of Beaver Creek Mountain is the fantastic village-to-village ski area that neighbors Bachelor Gulch and the Arrowhead Villages.
This mountain offers world-class slopes and competitions for a once-in-a-lifetime skiing session with loved ones. Besides skiing, this is a chance for you to explore a unique playground of oversize sculptures scattered throughout the skiing Villages. You definitely won't resist taking family photos with the sculptures.
After skiing, ensure to join the fun cook time with the resort's cabins. Beaver Creek has impressive rates, and you are assured of a unique combination of experiences and fun to exceed your expectations.
The resort features a family-friendly environment with lots of blue and green runs for beginners. The skiing system has a great mix of terrain with limited lift lines. You will also love their ski school and the variety of slopes to suit individuals with different skiing abilities.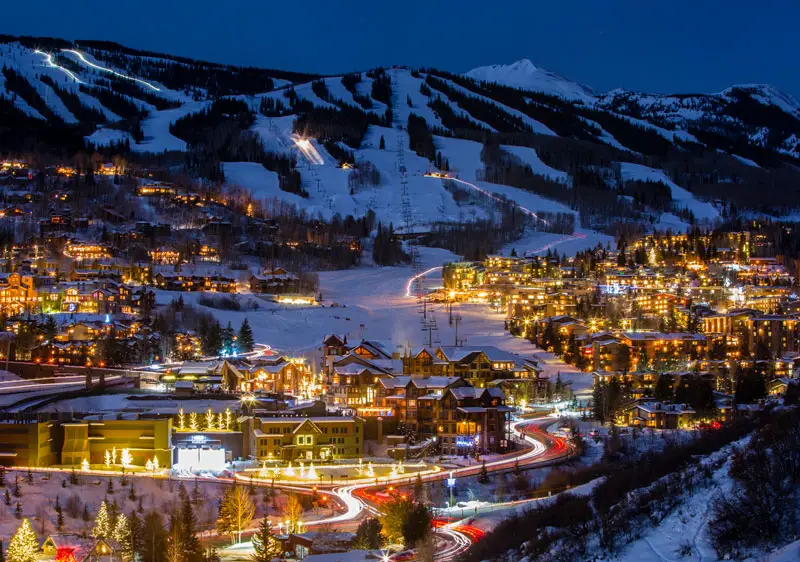 Located in Snowmass Village, Aspen Snowmass is a ski resort owned by the Aspen Skiing Company. The resort takes pride in top-notch services to meet the needs of skiers of all ages. From dining to lodging, you will love every aspect of this world-class resort.
The skiing village is loved for its long runs to keep you engaged longer. The lift lines are few and super short, making it an ideal place for beginners.
The resort has a fantastic skiing school with great lessons. The staff is well organized to help both the kids and adults along. Whether you are a beginner, intermediate or veteran skier, there is someone to hold your hand through the thrilling moments.
The amazing restaurants and shops cover your dining needs throughout your stay. The most outstanding feature about the resort is the free shuttle rides around the beautiful year-round town. You will undoubtedly want to go back.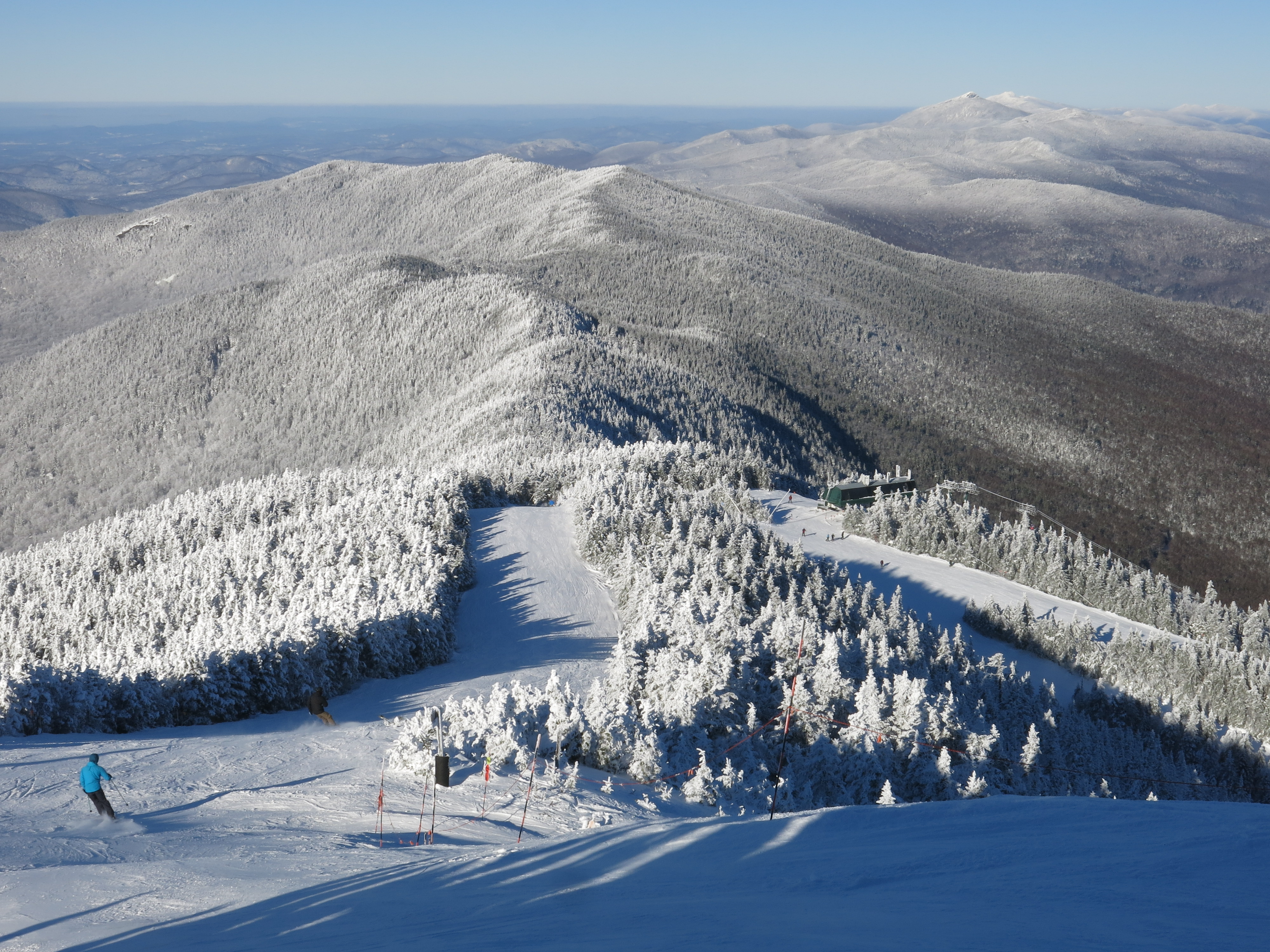 Among all the Green Mountain ski areas to select from, none of them matches Sugarbush. The independently-owned ski resort shows off its ordinances without tampering with the beauty of Mad River Valley, which features nearly the iconic scenes in Vermont, including rushing streams, a covered bridge, working farms, and two fascinating Villages.
Skiing terrains get the highest marks. The slopes sprawl across two areas, Mount Ellen and Lincoln Peak. You are assured of a challenging, thrilling, but incredible fun experience with your little ones. The trails are made to accommodate everyone's sensibility and ability.
The resort offers private lessons to improve your skiing skills. The rates are pretty reasonable, and the quality of services is worth every penny. It's never too late to start planning your winter getaway to Sugarbush now.
For many decades, Wilmot has been striving to be the most accommodating family destination for winter activities. The resort has made skiing, tubing, and snowboarding accessible and affordable for everyone, so you have no excuse for not having a fun trip with your entire family.
The resort features approximately 120 skiable acres, seven lifts, 23 trails, and two magic carpets. The progression terrain parks that feature high-speed ropes are also a commendable aspect of this skiing system.
For the many years of operation, Wisconsin has transformed thousands of beginners into lifelong riders and skiers. If your young ones are passionate about skiing, this is a chance for you to enable and improve their skills. The staff and ski school instructors are friendly, and their dining section is top-notch.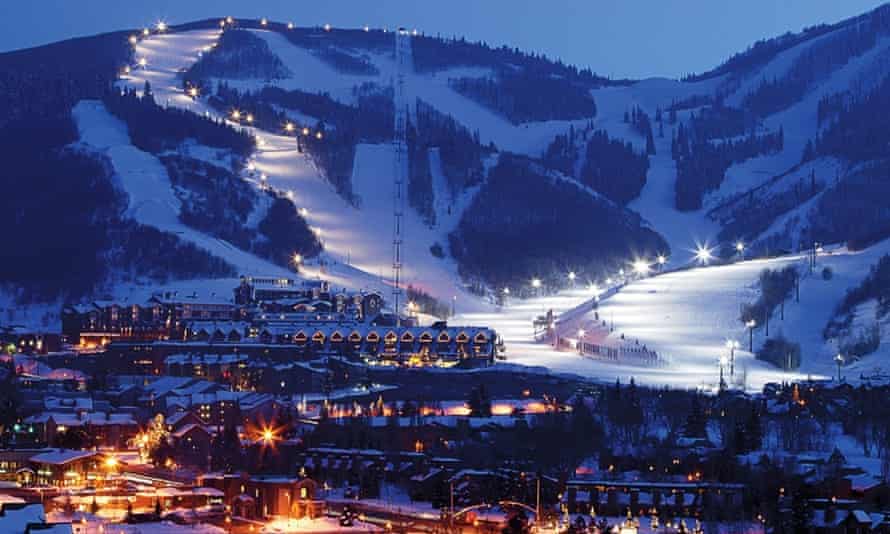 Park City is located on the east side of Salt Lake City in Western Utah. It neighbors the incredible Deer Valley Resort and Park City Mountain Resort, both known for their amazing ski slopes.
Park City, Utah, is saturated with natural beauty, high-rated restaurants, spas, bars, health clubs, and open-air concerts.
Although it is famous for skiing, the playground is a summer wonderland with unlimited fun things to do through all seasons.
If you are looking for a fun and thrilling activity with your family, ensure to hit the slopes during the snowy seasons or try out the bobsled version during summer.
Most trails and parks in this city are open to the public. If you wish to extend your stay, worry not, as the region features a variety of top-rated hotels and lodgings for accommodation. From private homes to hotels, you will undoubtedly find a configuration that suits your precise needs.
Unlike most ski towns located in remote mountains, Park City, Utah, is among the easily accessible ski resorts as it is located between a major highway and an interstate. Therefore, you can quickly get in despite the snowy weather.
Furthermore, the region experiences lots of snow of between 300-400 inches. Go there prepared to embrace the winter wonderland that the park has to offer.
Whether you are a veteran or a first-time skier, you have many slopes to hit, depending on your skill levels. Other than skiing, you cannot miss out on dog sledding with your kids and fat-tire snow biking.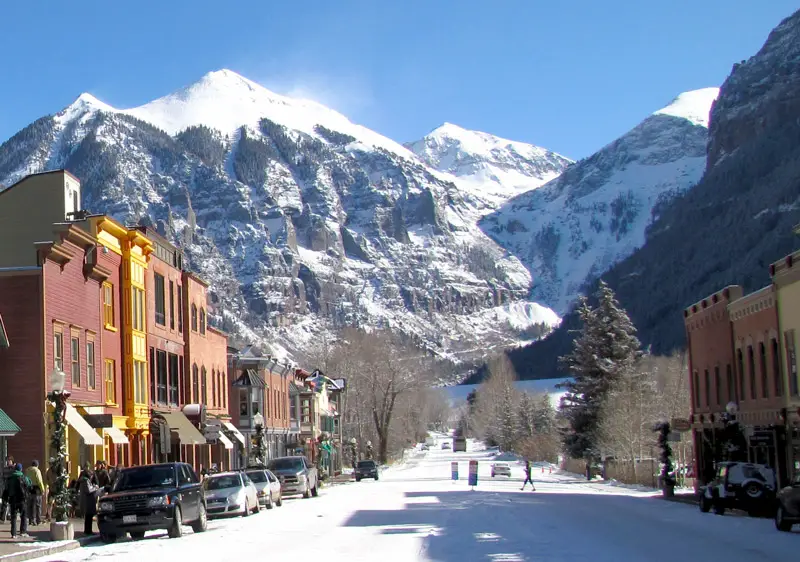 Riding at Telluride Ski Resort is an absolute paradise. The massive resort boasts over 2,000 acres of skiable terrain on the San Juan Mountains. It has 148 trails, which are adequate to cater to skiers of all skill levels.
Winter is not the only ideal time to visit Telluride. The resort has a golf course and incredible mountain biking trails to keep you occupied during the warm months.
You will love how less crowded the space is and that it gets up to 300 inches of snow each season to offer smooth skiing experiences.
In addition to the fun outdoor activities, most Telluride visitors raved about its restaurants, including Bob Vivant, Alpino Vino, Altezza at the Peaks, and Allred's Restaurant, which feature family-friendly settings, ambiance, and meal choices.
The skiing slopes are open from November to April, so you have all the time to go back as many times with your family and boost your skills.
Snowshoe Mountain is a 4-star rated ski resort located in Snowshoe, West Virginia. The resort sits on 244 acres of skiable terrain and covers about 11,000 acres in the Allegheny Mountains.
The resort offers pure adventure and fresh mountain air fun as you bond and create memories with your loved ones.
Snowshoe has the perfect and friendliest ski school for all beginners. Whether you wish to take your elderly parents or young kids to experience the thrill, you can rest assured they will be several skill levels better before leaving the resort.
Snowboarding and skiing are not the only fun things the resort has to offer. You should try out the snowmobiling activity to get a different perspective of the mountains and slopes.
Later in the day, head to the resort's iconic Sunrise Backcountry Hut for adventurous dining. Your visit to Snowshoes should not come to an end before experiencing the off-road RZR tours for a view of Snoeshoe's interesting terrains.
Keystone Ski Resort qualifies as the family friendliest ski resort in Colorado. Located a few miles from Denver International Airport, this is the best place to have fun and challenge your skiing skills on the lifts and 128 runs.
Keystone resort provides about 3,148 acres of skiable space and a perfect chance to ski at night. Furthermore, you will access countless opportunities and fun activities, including dining, snow tubing, ice skating, snow biking, and sleigh rides.
Keystone has designated areas for kids and adults, which feature massive snow forts for smooth skiing experiences.
Whether you are planning for a family staycation or an afar trip with your family, Deer Valley Resort Park welcomes you with a myriad of fun throughout all seasons.
Summer is packed with unlimited things to do, from hiking, mountain biking, and fresco dining, while winter creates the perfect opportunity for skiing.
The resort is located in Park City, Utah, a few miles east of Salt Lake International Airport. The resort boasts luxurious amenities, including perfectly groomed slopes, ski valets, and kids' on-site care to accommodate visitors of all ages.
They also offer a myriad of lodging options and three ski rental shops where you can get all the necessary skiing equipment.
Deer Valley has an award-winning ski school that caters to all skill levels. Take your kids there for a life-changing experience, with peace of mind knowing they are in the right hands.
Breckenridge Ski Resort is among most people's favorite ski towns and resorts. It is located near the Denver metro area and about 100 miles west of Denver International airport.
The ski resort lies on 2,908 acres of skiable terrain and five peaks for skiers and riders to explore, making it one of the largest international ski resorts today. Moreover, the resort offers a summit elevation of 12,998 feet, one of the highest in the state.
Fuel your adventures by strolling Breckenridge's historic downtown districts or dining at one of the resort's on-mountain restaurants.
After a tiresome day of hitting the slopes, dining, and shopping, you will need to lay your head, and Breckenridge has you covered with top-class lodgings to accommodate your entire family's needs. They also have ski-out resorts, hotels, and condos, so you can extend your stay and get back on the trails for as long as you wish.
With approximately 4800 acres of skiing terrain, Heavenly Mountain is one of the favorable skiing resorts for all skill levels. The spectacular views of Lake Tahoe make you want to go bigger and forge your path. The skiing system is so extensive that you can cover two states in a day.
Furthermore, Heavenly Mountain features wide-open and well-groomed cruisers and foot plunges for limitless choices of fun things to do. This, combined with the sapphire blue Lake Tahoe waters, make Heavenly Mountains the most unique snowsports destination.
The resort has more hidden glades, more terrains, and ripping groomers than you can find elsewhere.
After hitting the terrains, you will undoubtedly want to go back for summertime fun. The resort offers numerous must-do activities for summer, including the scenic ride up gondola and touring through the trees on a zipline. Don't forget to challenge your skills on the rope courses or slide down the hill on their summer tubing hill.
Big Sky is an excellent destination for any outdoor activities lover. Nested on Gallatin National Forest, the resort offers excellent all-seasons fun activities with scenic lift rides during the warm seasons and exhilarating snowboarding and skiing during winter.
The groomed terrains and trails make excellent escapes for bike riding, horse riding, snowshoeing, and skiing. The Gallatin River adjacent to the resort makes a perfect spot for intrepid rafters.
Smugglers is a self-contained ski resort that accommodates visitors from all corners of the globe. The resort has hundreds of apartments spread over its five communities, making it a common destination with families. The resort is more like a home away from home as the apartments include kitchens and fireplaces so you can make favorite meals on the premises to save money.
Smugglers' Notch resorts offer a range of supervised children's activities, including camps, daycare, and ski school. You can take your kids and head to the adults' section for fun and thrill, with the assurance that your young ones are in the right hands.
In addition to skiing, the resort has eight heated pools, including water slides and indoor pools. Don't let the cold in winter stop you from engaging in your favorite activity.
Smugglers have five on-site family-friendly restaurants, a Ben & Jerry Ice Cream shop, and two bars for lively nightlife.
Plus, they offer free shuttle rides through the resort, and the fact that the resort is connected to Madonna, Morse, and Sterling ski mountains means endless fun for you and your family.
Book your stay at Bretton Woods, New Hampshire, for extraordinary discoveries and experiences in every corner.
The resort is home to the largest ski area in Hampshire. It sits on 464 skiable acres and 100 kilometers of Nordic trails for year-round activities.
Even better, the resort has a full-service spa where you get top-class treatment after a tiresome day hitting the trials. The famous Mount Washington Hotel is also a part of this resort, so your accommodation needs are covered regardless of how long you wish to stay.
The trials and terrain are well-groomed for a smooth and safe skiing experience. The scenery is to die for, and the friendly staff makes you want to stay longer.
They experience lots of snow for a more challenging experience. You may also try out zip lining above the resort's other lifts as you enjoy the breathtaking views of the Presidential Range.
Although a bit smaller, Snow King Mountain is an excellent family ski area. Plus, the resort is located only a short distance from Jackson.
The locals refer to it as Town Hill, but you will be amazed by how much the resort has to offer.
Snow King provides five lifts with 400 acres of skiable terrain. It has a vertical of more than 1,500 feet with new cruisers and several steep runs near the top.
The terrains are highly groomed and designed to suit beginners, intermediate and advanced skiers. Night skiing is also available for those who love a little more challenge and thrill.
The resort has a Ski school with experienced and friendly teachers to make the lessons a breeze. Prepare your kids for a lifelong love of winter activities with the rock-solid lessons by experts.
Snow King has a rental shop for all skiing equipment at affordable rates. The goal is to help you get the most out of your vacation at the resort. Convenience and friendliness are a guarantee.
Okemo Mountain Resort is located in Ludlow, Vermont. The family-friendly resort was rated as the Top US snow resort by Parents Magazine, thanks to its exceptional services and facilities to meet families' needs.
Okemo is simple but delightful. It is made with families' best interests at heart. The dining facilities and grooming machines have been upgraded recently to give visitors the best snow experiences and a convenient stay at the resort. The terrains are cruiser heaven. The resort's grooming and snowmaking crews have certainly done a great job of making skiers comfortable.
Whiteface Lodge is located amid the woodlands of Adirondacks' High Peaks in Upstate New York. The old time's rustic timber design is probably the first thing you will notice when you get to this resort.
Whiteface Lodge is home to two Winter Olympic games and a myriad of all-season attractions. The services are reasonably priced, and the quality is worth every penny. The staff is friendly and helpful whenever you feel stuck, as their goal is to help you make the most out of your visit.
It is surrounded by the largest protected area in the US mainland, Adirondack Park. This can only mean you get access to endless all-year-round outdoor activities.
This, combined with plentiful on-site amenities, makes Whiteface Lodge one of the best family resorts for your next getaway.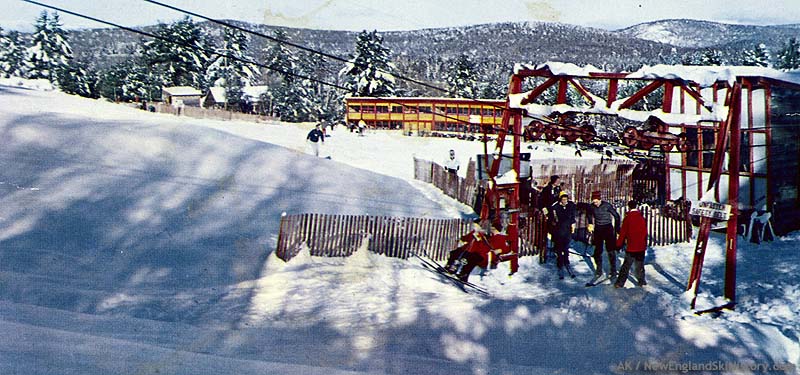 Shawnee Peak is geared towards family and fun. You can visit this Maine resort at any time of the year, and rest assured of fun activities to do with your family.
The family-owned ski resort features two terrain parks, 40 trails and glades, five lifts, 19 lit trails for night skiing, and snow marking. These aspects are meant to give you and your loved ones a more effortless skiing experience, regardless of age or skill levels.
The resort has an incredible kids learning program for children between 3 and 12 years. You can take your little ones there any day to improve their skiing or snowboarding skills to prepare them for winter games.
The skiing area is less crowded, especially on weekends. The ski conditions are great, with some very steep blues for extra fun. You will also love the view of Mount Washington on clear days.
The prices are pretty family-friendly. The workers are friendly and always ready to help where you feel stuck. You will never get bored as there is always a new challenge to try.
More about our TFVG Author
A seasoned traveller, Dad, and avid sports tourist, James foundered The Family Vacation Guide to share his expert vacation experiences- especially when it comes to being a travelling family man.
Featured in Travel articles such as Travel + Leisure, TripSavvy and SFGate, you know you're reading some of the best vacation tips online.