Glamping has become dominant in America in the last two decades. It's no wonder. With glamping, even those skeptical about camping can finally try a comfortable outdoor venture.
Slightly more elegant than traditional camping, glamping has lured nature lovers with amenities such as king beds, hot showers, air-conditioning, and Wi-Fi. All that under the beautiful sky, enjoying all of nature's marvels.
Utah is probably one of the most popular glamping destinations in the USA. As a result, glamping resorts keep appearing in breathtaking landscapes, and sometimes it's hard to pick the best spot for an extraordinary glamping adventure.
Knowing that we have done some research and selected five of the best spots for glamping in Utah, which have pleased numerous glampers with their value and have remained a must-visit for voyagers.
Let's reveal them and help you decide where to spend your fabulous time in Utah's paradise!
Four of the Best Spots for Glamping in Utah
We have carefully picked these five gorgeous accommodations, and we hope one of them will catch your eye and fulfill your glamping vacation fantasies.
All of them offer a distinct encounter with Utah's unique nature, and we must say, it really is a challenge choosing one of them.
Zion Glamping Adventures
Under Canvas
Zion Wildflower Resort
Capitol Reef Resort
Location
Located very near Zion National Park, or to be precise, a 45 minutes drive, Zion Glamping Adventures is set up in a private canyon in Hidle, Utah.
Hidle is one of the southernmost parts of the state, very close to the Utah-Arizona border.
Surrounded by Canaan Mountain's scenery, mountain view lovers who want to pause from the noise of their busy lives and have a terrific getaway will find a perfect spot at Zion Glamping Adventures.
Glamping tents
At Zion Glamping Adventures, there are 21 bell tents. You can choose from Deluxe and Standard tents with AC or Dry tents without AC. Moreover, there are Suite tents and Rock Cabins.
Glamping tents are for two to four people, except the Suite, where three people can comfortably sleep because of the added couch.
All of the tents are pet-friendly.
The bell tents, depending on the type, are settled at the campground, above the hill, or on the mountain's base.
Amenities
Deluxe and Standard's tents have a private hangout area with chairs, a picnic table, a fire pit, and a barbeque. The only difference is in their size; Deluxe is made for two, while Standard is made for four people.
In contrast, Dry tents have a fire pit and a grill only. But, if you opt for these tents, you can expect a breakfast.
The bathroom and showers for these tents are shared, and shampoo and shower gel are accessible to guests.
On the other hand, Suite tents have a private bathroom, while the Rock Cabin has a jacuzzi too. For both of these luxury tents, there's a complimentary breakfast.
We mustn't forget to inform you that when you stay at Zion Glamping Adventures, you will have access to all communal areas for hangout, occupied with grills, yard games, and hammocks.
Activities
At Zion Glamping Adventures, you can select one of their paid activities, making your adventure even more exciting.
Specifically, you can go on Side by Side tours: a Cottonwood Canyon Tour or a Sunset Buggy Ride Tour.
Further, you can pick Guided Hikes: on the Water Canyon Trail, the Natural Bridge, or the El Cap Hildale.
Lastly, at Zion Glamping Adventures, you will have a chance to try to ride a horse and have an exceptional experience with the surrounding environment while on a horse's back.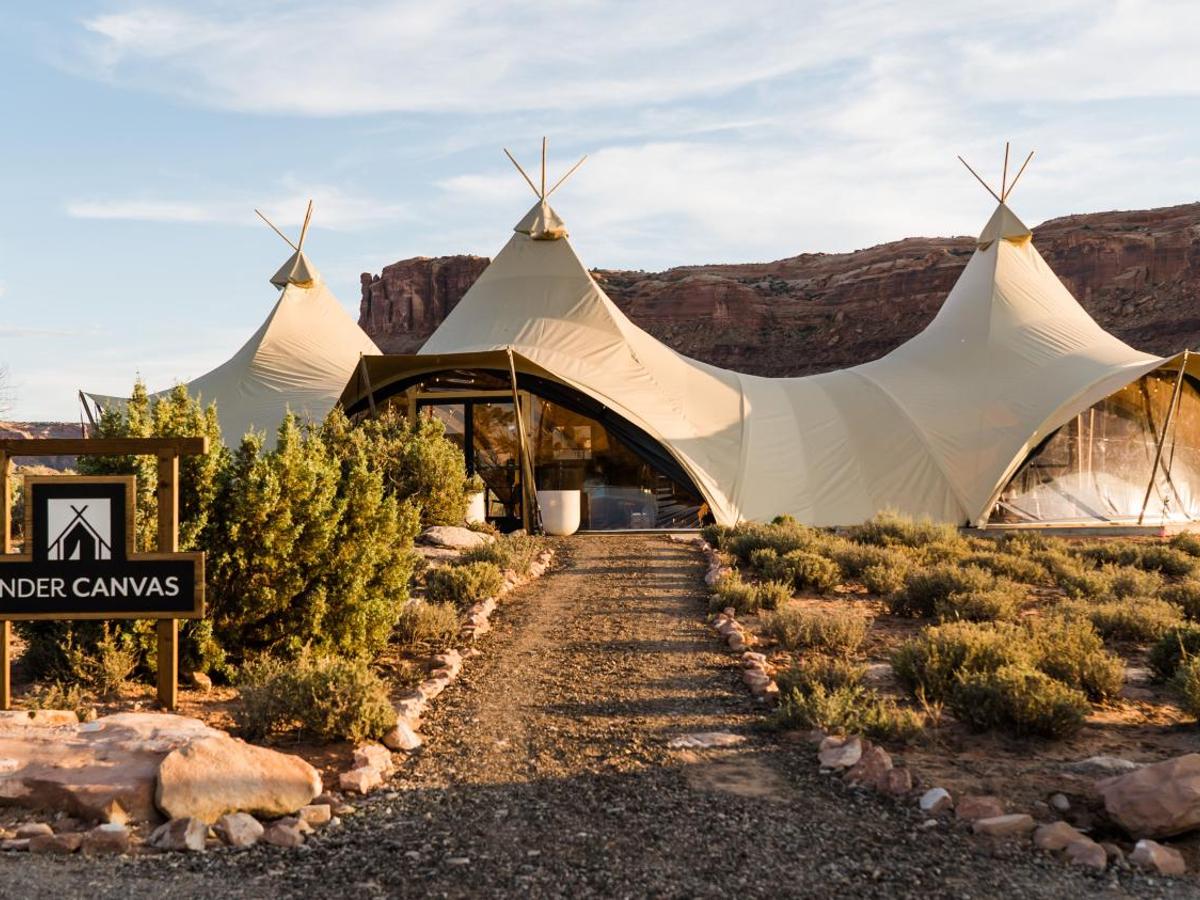 Location
Under Canvas' location in Moab is 7 miles north of Moab, close to the Arches and the Canyonlands National parks.
When you arrive at Under Canvas, you will be amazed by the surroundings: sandstone cliffs, naturally occurring geology, and sandy grounds will welcome you and enrich your stay.
Glamping tents
The glamping tents at Under Canvas are safari-inspired, and most can fit a whole family. So, if you were thinking of taking your kids, Under Canvas is one of the best spots for glamping in Utah with your kith and kin.
It's good to know that tents are divided into four groups: Suite, Deluxe, Stargazer, and Safari, all made for a specific number of people.
Initially, the Safari tent can fit two people. However, the Safari type comes with three beds, too, making it an excellent choice for a small group of friends. There's even a kids' tent addition, making the Safari an ideal choice for a family of four.
Next in order, the Deluxe and the Stargazer are made for couples. However, the Deluxe has an option for a kid's tent as well.
Finally, the Suite tent is prepared for a family of four, or with an added kids' tent, for six people.
Amenities
All tents have a private bathroom with a shower, sink, and toilet, except the Safari one. When you decide on the Safari, you can use the shared bathroom steps away from your tent.
Moreover, Under Canvas' accommodations include a private deck with outdoor chairs, king-sized beds, a lounge area, and a burning stove to keep you warm at night.
Now, let's inform you about the essence of the Stargazer tent. The name says it all – there's a roof window above the bed for a romantic, stargazing experience!
Under Canvas is a special place, with all details taken care of. Amenities such as organic bath products, grab-and-go snacks, USB bedside charging packs, and EV charging stations make this place notable and sublime.
There's more. When it's time for relaxing, you can make your food and rest at the picnic area and, at night, light up a fire and delight in the complementary s'mores.
Activities
What we like most about Under Canvas are the activities, such as morning yoga, live music, and engaging games for children, all available at the campsite.
In contrast, you can go canyoneering, mountain biking, or hiking when you feel like exploring the place.
Likewise, you can select to raft on Whitewater or visit the Arches National Park for a one-of-a-kind adventure you will recall long after.
Location
Located just minutes away from the Zion National Park's entrance, Zion Wildflower Resort is a new and already famous glamping zone.
If you want to be close to Zion National Park while hanging up your hat in a luxury tent in Virgin's Utah magnificent landscape, Zion Wildflower Resort is just what you are looking for.
You can reach Zion Wildflower Resort easily. Once you're on their website, you can discover a map with the exact location of the resort and find it without any difficulties.
Glamping tents
The glamping tents aren't the only lodging alternative at Zion Wildflower Resort. You can choose from Small Canvas Tents, Covered Wagons, Grand Mesa Tents, and Bungalows.
With this plethora of opportunities, we are sure that everyone can find something according to their taste.
The Small Canvas tents are optimal for families because of the large king bed and the two twin beds. Covered Wagons are also perfect for families or larger groups because they can fit from four to six people.
When it comes to Grand Mesa Tents and Bungalows, you have more options. In particular, Grand Mesa Tents come with a king bed, a king bed plus a pullout, or two queen-sized beds. On the other hand, the possibilities for the Bungalows are with two king-size beds or with one.
Moreover, there are Bungalows with king-size beds and bunk beds, and you have an option for two separate bedrooms.
Amenities
All the accommodation types at Zion Wildflower Resort are equipped with AC and a heater.
If you opt for the Small tents or Covered Wagons, you will share a bathhouse with other guests. Only Grand Mesa Tents and Bungalows have private bathrooms.
The Covered Wagons have coffee makers, while the Grand Mesa tents and the Bungalows are provided with a microwave and a mini-fridge.
The Grand Mesa tents and the Bungalows have private parking and a sitting deck in front.
Free Wi-Fi is available anywhere on the campgrounds, and there are fire pits, grills, a playground, a pool, and a spa.
There's much to do while staying at Zion Wildflower Resort. The many games and activities available are there to make days longer, sweeter, and nights comfier and full of restful sleep.
Activities
Besides the amenities mentioned above, the activities at Zion Wildflower Resort will put a smile on your face and make your stay pleasant.
When you feel like spending energy, you can ride a bicycle in any of the Virgin areas or play ping-pong, cornhole, or Jenga at the playground.
You can even do your yoga at campgrounds' specially made yoga areas or relax at the locally-crafted Adirondack chairs.
At night, you can stargaze or settle on a movie night. Additionally, you can dance and sing to live music or swing in the hammocks and breathe that portion of good air.
Other than Zion National Park, you can visit the Kolob Canyons and the Sand Hollow or bike at the Gooseberry Mesa.
Furthermore, Zion Wildflower Resort will recommend all the worth-visiting restaurants in the area and the popular recreational areas.
Location
The reputed Capitol Reef Resort is the last spot that made it to be on the list of four of the best spots for glamping in Utah.
Between the red rocks near Capitol Reef National Park in Torrey, Utah, this 58-acre paradise is ready to accommodate you and your loved ones and make your holiday exceptional.
On the official website, you will be introduced to the exact address and get the directions to reach the place without a problem.
Glamping tents
The variety of accommodations at Capitol Reef Resort is wide. There's a place for everyone, meaning if you don't feel like glamping, you can pick a room or a king suite.
For glamping, you can rest in one of the Conestoga Wagons, TeePees, or cabins. While for more comfort and luxury, you can pick a superior or traditional room, a studio, or a suite.
It all depends on your plans and preferences, keeping in mind that all housings are excellent.
The Conestoga Wagons are suitable for up to six people, while the TeePees can fit two adults with an option for a child's bed.
Moreover, the king loft cabins are big enough for six, while there are also two-bedroom, double king, or superior king cabins.
In contrast, the king suites and the traditional and standard rooms are flawless for four people.
Ultimately, it depends on what kind of space you need and what will satisfy your desire the most.
Amenities
The list of amenities at Capitol Reef Resort is never-ending. Crisp-bed linens, microwaves, beverage coolers, coffee makers, hairdryers, AC and heaters, iron boards, and bath amenities will welcome you once you enter your special place.
Additionally, you can expect free Wi-Fi and a flat TV in every accommodation type except the Covered Wagons.
Regarding dining, Capitol Reef Resort has taken care of that too. You can eat tasty food and drink in the Pioneer Kitchen for breakfast and dinner.
Activities
The seasonal outdoor pool, open from May to October, makes Capitol Reef Resort one of the best spots for glamping in Utah. You can swim in it or relax in the poolside lounge chairs if you visit during this time.
However, if you miss the outdoor pool, you will still have a chance to dip in the outdoor hot tub, which is available all season round.
When you want to train while enjoying the view of the red cliffs, you can do that too in the fully equipped fitness center that works 24/7.
Furthermore, you can go on llama adventures or horseback trail rides when it comes to activities out of the resort. Additionally, jeep safaris will give you an awesome experience.
You can always visit one of the thirteen national parks in Utah, at least those nearby. Or, if you want another ride, you can pick the Utah Scenic Byway 12 and stop at nine memorable historical towns.
Conclusion
We have arrived at the end of our article, so we may say that we did all we could to select four of the best spots for glamping in Utah. It was challenging because glamping resorts are widespread in Utah, and many are worth dwelling in.
We believe we made an excellent choice because we tried to throw in diverse and impressive places so everyone could discover something that would make them clinch.
Therefore, lovers of the great outdoors, pack your baggage and prepare for an adventure of a lifetime at one of these glamping resorts.
We are sure that whichever spot you pick, you won't be disappointed, and you will immensely revel in the opportunities of the resort and Utah's unexampled ambiance.
More about our TFVG Author