Traveling with your family is now easier because we have found the right suites and hotels for you. Here, we chose 14 Virginia Beach Oceanfront suites for families with a beach view and an excellent location near the popular attractions.
Parents can enjoy the warm sun and pleasant ocean wave sound, while children can spend some time in the waterparks and fun parks nearby. Within the suites, everyone can find his happy corner, whether a bar, play zone or indoor and outdoor pool.
Explore Virginia Beach With Your Family
Virginia Beach is way more than just a beach.
From relaxing sunbath on the beach to lively nightlife and entertainment for every family member, Virginia Beach is the best family travel destination. Parents can take a walk on the famous three-mile boardwalk with cafes, concerts, and fascinating entertainment.
The Virginia Aquarium & Marine Science Center is another great thing you should visit while in Virginia Beach. The Aquarium holds over 800,000 gallons of saltwater and freshwater and is home to over 300 species.
You have numerous options to spend your free time in Virginia Beach. You can try some indoor and outdoor attractions, take a ride in the Atlantic Fun Park, and visit some of the nearest museums, state parks, and waterparks.
To make your accommodation choice easier, below, you'll find some of the best Virginia Beach Oceanfront suites.
Our first chosen hotel has an excellent location and easy access to numerous water activities, events, shopping, and live music performances. It also has oceanfront pools and a fitness center.
What makes this hotel a perfect family place is its fully equipped and spacious suites with kitchens and kitchen appliances, self-laundry service, 24-hour security, kids' club, and children's activities.
You can freely leave your kids playing in the fun zone while you drink your coffee or suntan near the pool. The hotel has numerous pools for children and adults, which contributes to additional safety.
Amenities
Oceanview swimming pool, indoor pool
Heated pool, hot tub
Free parking within the hotel
Game room, kids' club, and children's activities
Fitness center and sauna
Spacious family suites with heating and air conditioning
Restaurant, bar, poolside bar, lounge, vending machine
Information
Beach Quarters Resort is the best choice for value for money. The hotel has excellent suites that accommodate up to six people, which is perfect for big families!
Guests can select the suite option that meets their preferences since the hotel has one-bedroom and two-bedroom suites. All suites have large sofas and armchairs.
The resort has pools, a rooftop tennis court, and shuffleboards, ideal for fulfilling your free time with your family without leaving the hotel. The youngest family members can also spend some time in the game room and water sports spots.
Amenities
Fast and free Wi-Fi
Game room, tennis court, children's activities
Outdoor, rooftop, and indoor heated pools
Beach access and beach towels
Free garage parking
Sauna and steam room
Kitchen, kitchenette, toiletries, iron, hairdryer
Information
This hotel is near numerous restaurants, shops, and the beach. Also, it is a half-hour drive from Norfolk Airport, which is excellent for families with younger children who plan to travel on a plane.
The hotel has an on-site restaurant and breakfast is included. It also has a self-service laundry, which is a significant advantage for parents with messy toddlers.
Parents with teens can opt for the connecting rooms, which are two separate rooms with a mutual door that give greater privacy to both teens and parents. All rooms are non-smoking, and the hotel charges a fee of $250 for breaking this rule.
Amenities
Free parking within the hotel
Free breakfast buffet
Safe indoor pool and fitness center
400 feet square studios with two balconies and a sitting area
Private bathroom, toiletries, towels, hairdryer
Refrigerator, microwave, heating, air conditioning
Information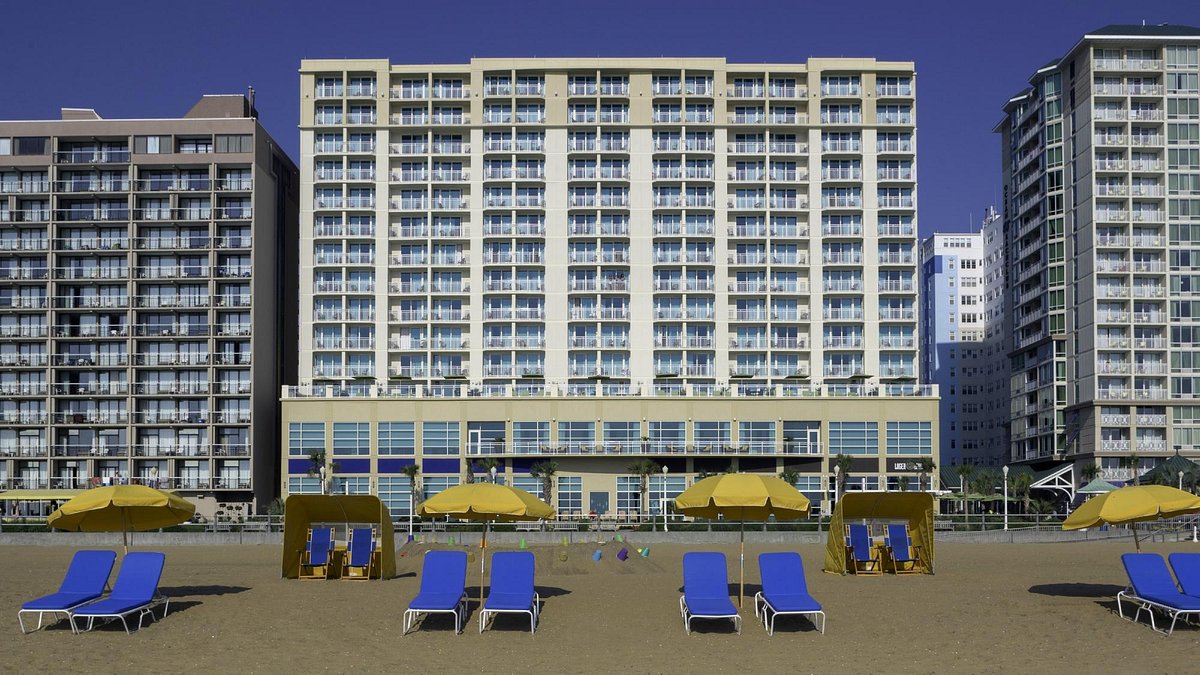 Hilton Garden Inn is an excellent family hotel with a good location. Within a minute's walk, you get to the finest shipping, dining, and entertainment areas in this property. Spend a day on the golden beach or explore the boardwalk and the numerous shops, ice cream parlor, and restaurants.
This hotel is a safe place for kids, especially toddlers who have a lot of energy to spend in a day. The restaurant within the hotel has a kids' menu with fun meals and included breakfast for everyone.
For lunch and dinner, you can try some of the dishes from the hotel's restaurant or eat outside since numerous different restaurants are nearby. Also, you can cook something inside the suite. The hotel's suites are equipped with a kitchenette and microwave for preparing and storing quick meals.
Amenities
Indoor and outdoor heated pools
Restaurant, snack bar, kids' menu, bar, lounge
Free high-speed internet and an additional paid internet option in the room
Dry cleaning, laundry, and self-laundry services
Spacious suites with a balcony, sea view, and private bathroom
Toiletries, towels, hairdryer
Heating and cooling appliances
Information
Courtyard is a perfect family-friendly hotel with numerous helpful amenities that urge you to stay more. The hotel is near the popular landmarks of Virginia Beach, like the Law Enforcement Memorial and the King Neptune Statue on the Boardwalk.
The hotel has multiple large and small suite options so that everyone can find the one to comfort the whole family. Another big advantage of this hotel is the free stay for kids. Check the hotel's policy to see the children's age requirements.
The suites have heating and air conditioning, a kitchenette, a dining area, a refrigerator, a private bathroom, and a balcony with a sitting area. The hotel has a 24/7 snack bar with vending machines accessible to all guests.
Amenities
Comfortable family rooms and suites
Free Wi-Fi with excellent speed
Free breakfast
Restaurant, bar, snack bar, poolside bar, lounge
Laundry and self-laundry services
Indoor pools and outdoor pools with waterfalls
Information
Turtle Cay suites make you feel at home. The hotel rooms feature high ceilings, incredibly big bathrooms with tubs, and a gas fireplace that gives warmth to the stay. The rooms are modern and super clean. The cleaning service cleans up the rooms within two or three days, but you can ask for additional clean-up if needed.
The kitchens within the suites are fully equipped with a microwave, a refrigerator, a coffee maker, a tea maker, and a dining area. Bigger suites have a big refrigerator and a dishwasher.
On the outside, the guests love the big pools with waterfalls and hot tubs. There are pools for everyone, whether adults or children.
Amenities
Tennis court, golf course, fitness center
Outdoor pools with waterfalls
Heated pool, hot tub
Clothes dryer, laundry service, self-laundry service
Suites with kitchen, dining area, and spacious living room
24-hour security, safe for children
Free and fast Wi-Fi within the hotel
Information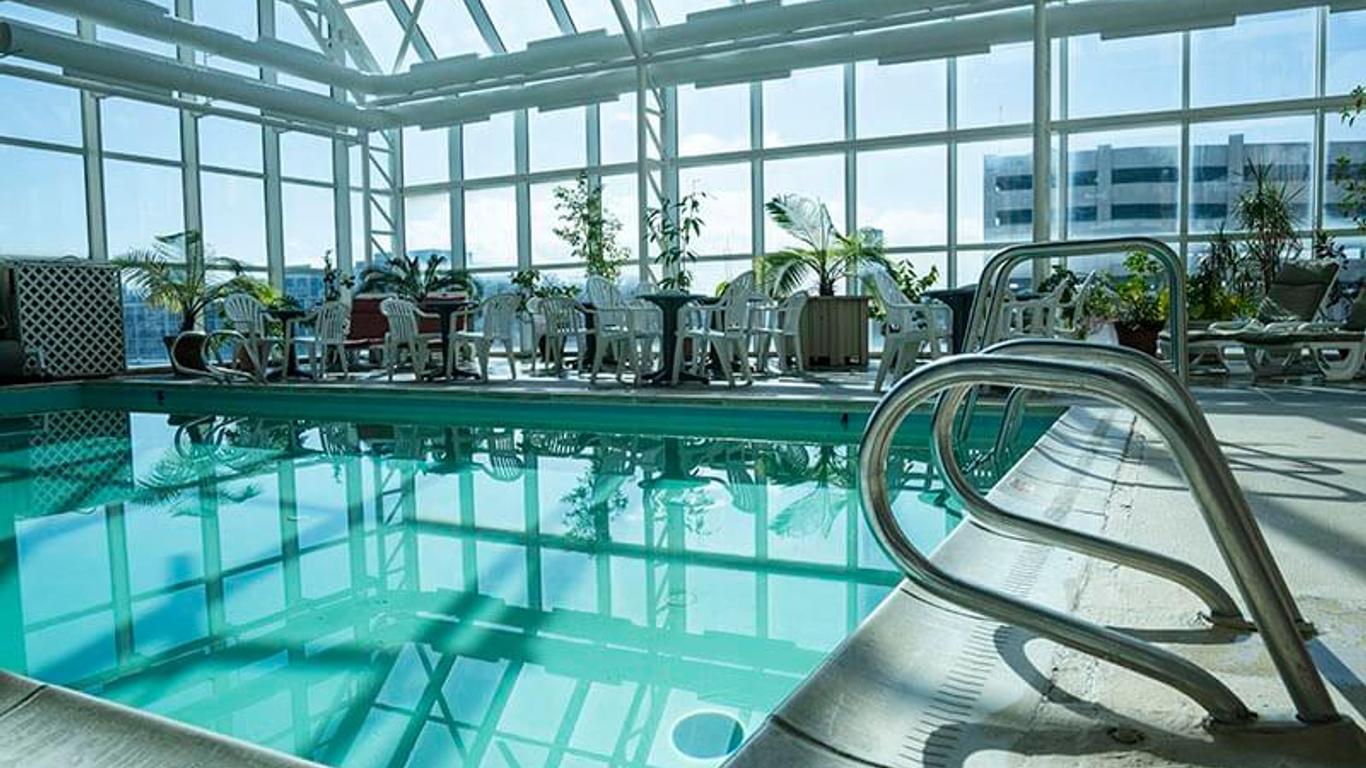 Four Sails Resort has amazing value-for-money suites. All suites have a kitchen with a bar dining area, kitchen appliances, a cooker with an oven, a separate dining area, a living room, and a big bathtub (some suites have a hot tub in the private bathroom).
The hotel's pool and fitness center are open from 8 AM to 10 PM. In the afternoon, you can enjoy the sun deck area on the eighth floor. Four Sails Resort has a bike rental service for everyone who wants to explore the area outside the hotel.
The resort has an excellent reputation and numerous visitors recommend it. Many guests love the resort's location, which is just a 10 minutes ride from the Ocean Breeze Waterpark and a couple of steps to the beach.
Amenities
Free parking within the hotel
Fast and free wireless internet
An indoor pool and poolside sitting area
Excellently equipped fitness center
Sauna, spa, heated pool
Private hot tub in the room
Restaurants within the hotel
Information
SpringHill proves that Marriot has some of the best hotel lines worldwide. This hotel meets the needs of every traveler, whether for a business trip or a family vacation trip.
The rooms in SpringHill have excellent sound isolation, meaning they are soundproof, and you can't hear your neighbors, nor can they hear you or your children. The hotel serves free fresh and warm breakfast every morning.
The hotel has an indoor and outdoor pool, available to guests of all ages. The beach is easily accessible since the hotel is just a minute's walk from the sea.
The snack bar within the hotel is available (and paid) to all guests who feel hungry or thirsty when the main bar is closed.
Amenities
Free parking, nearby paid public parking area
Rent a car service
Indoor and outdoor pools with a view
Hot tub, heated pools
Free breakfast, coffee, tea, wine
Bowling area, tennis court, fitness center
Dry cleaning and laundry services
Information
Holiday Inn Express is a family-friendly hotel that welcomes guests of all ages. The hotel has an excellent location, facing the sandy beach and the sea. The aquarium, Ocean Breeze Waterpark, and IMAX Theater are within a minute's walk from this hotel.
The hotel features standard rooms and suites for friends and families. The suites are equipped with a kitchen, a microwave, a fridge, and a dining area.
The hotel is stunning, both inside and out. The indoor pool and hot tub are cleaned daily, as well as the area around them. All rooms are non-smoking, and the hotel charges high fees for breaking this rule.
Amenities
Free breakfast within the hotel
Free parking for all guests
Heated indoor pool and hot tub
Fast and free wireless internet
A clean fitness center with cardio and weighted equipment
24/7 open vending machine area
24/7 front desk and self-service laundry
Information
Another beachfront family hotel by Marriott that waits on your appointment. Residence Inn is a contemporary hotel that offers breathtaking panoramic ocean views from the rooms. Feel free to ask for a room with a view.
The rooms and suites have private bathrooms with a bathtub. The suites are equipped with a kitchenette, a sofa, a working desk, a flat-screen TV, and a dining area.
The hotel prepares free and fresh breakfast for its guests every morning. Also, the guests can enjoy lunch and dinner at the hotel's restaurant or prepare something in their suite since every suite has a private kitchen and appliances.
Amenities
Safe for kids and pet-friendly
Restaurant within the hotel, vending machines, BBQ facilities
Kitchen, kitchen appliances, and dining area in suites
Heated indoor pool and fitness center
Free Parking
Private balcony and private bathroom
Information
Quality Inn is an excellent place where you can spend a vacation with your family. Guests love this hotel because of its location, amenities, and comfort. Attractions like Virginia Legends Walk and Naval Aviation Monument are just less than a mile from the hotel.
The pool and free breakfast make things even better! The property also has free internet access. The parking is free for all guests, so you don't have to worry about the safety of your vehicle while on vacation.
Amenities
In every room, there's a coffee and tea maker, a microwave, and a fridge
Non-smoking rooms and suites
Free internet and parking
Outdoor pool
Heating and air conditioning
Private balcony and bathroom with bathtub
Information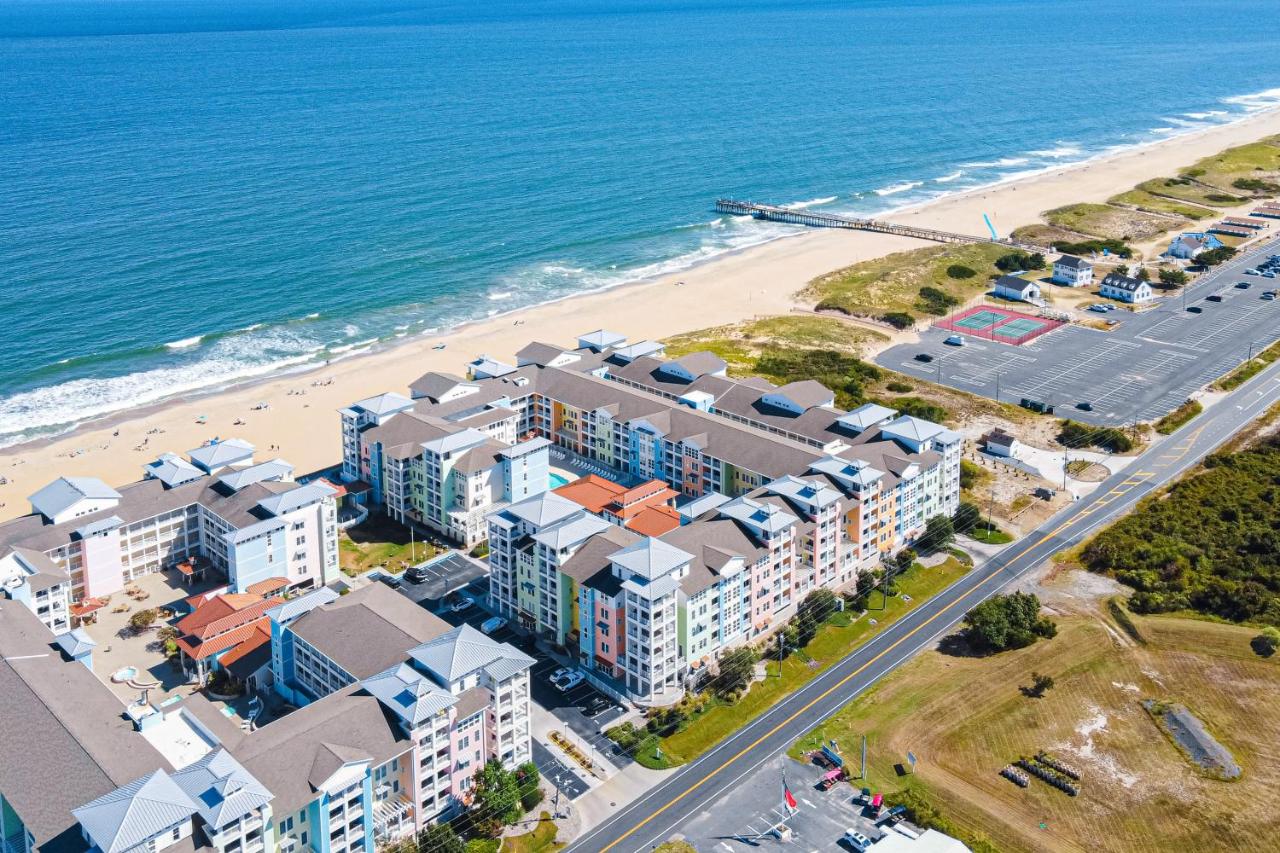 The Sanctuary is a condo with three bedrooms and the capacity to accommodate up to eight people. It is perfect for big families who want to avoid the big crowded hotels and resorts and spend some time in something more private.
Outside the condo, you can enjoy the shared outdoor pool and hot tub. You can also cool yourself at the pool bar while your children are having fun in the shallow pool.
The condo has charming sunrise and ocean views and a private balcony with panoramic views that hold the opportunity of seeing playful dolphins in the afternoon.
Amenities
Three bedrooms, two bathrooms, capacity for eight people
Laundry area and equipped kitchen (fridge, dishwasher, oven)
Exercise room, elevator, private balcony
Outdoor pool with shallow area for kids
Free parking, free Wi-Fi
Information
Country Inn & Suites By Radisson
The best place for families with younger children! Here, at the Country Inn hotel, kids stay for free and enjoy the children's activities within the hotel while parents drink their coffee at the lobby or bar.
The breakfast buffet is free for all guests, including the youngest. The parking is also free, so you can park your vehicle in a safe place and enjoy your Virginia Beach vacation with peace of mind.
Amenities
Free breakfast within the hotel
Restaurant open for lunch and dinner (optional)
Fun children activities
Heated indoor pool and fitness center
Daily housekeeping
Refrigerators and microwaves in all suites
Every room has a private bathtub bathroom
Information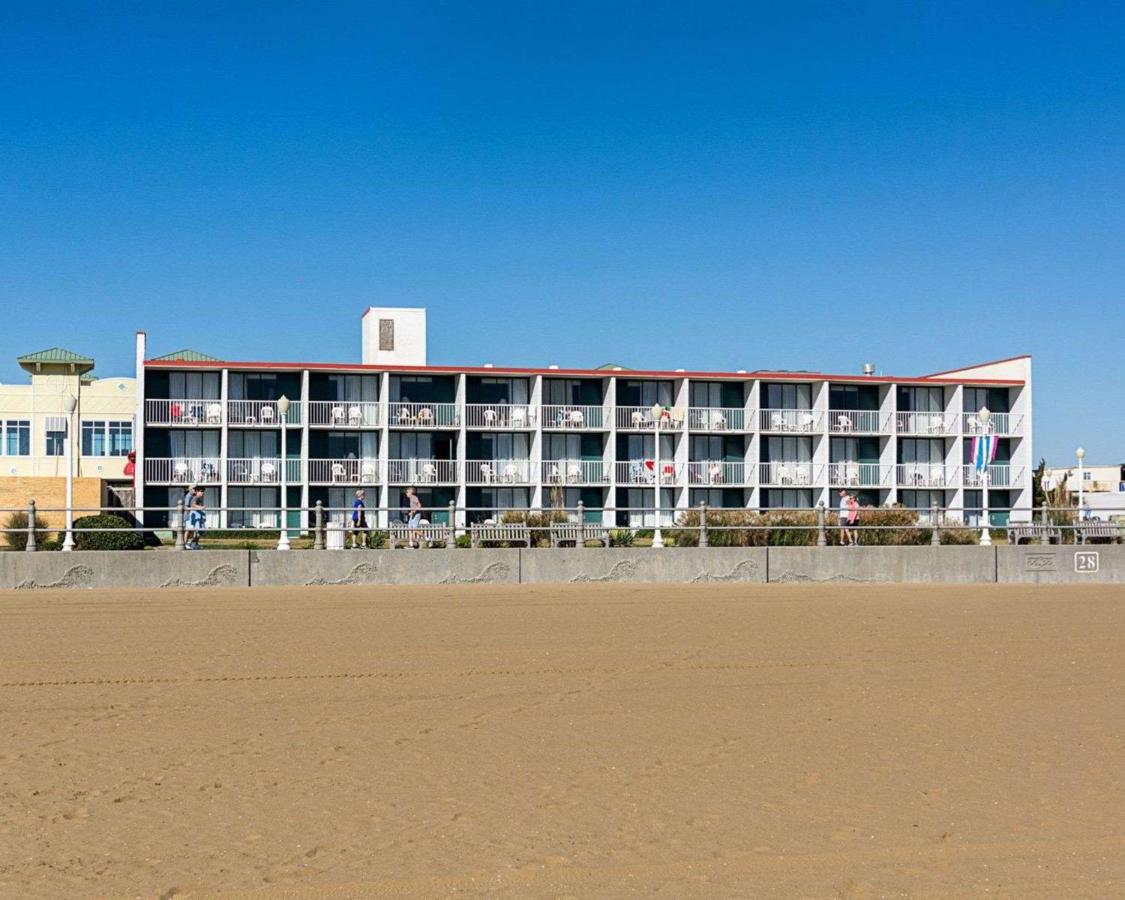 Our last chosen hotel is Ocean27, a budget option for those who can't afford to pay hundreds. This hotel is a family-owned hotel close to the Virginia Aquarium and Marine Science Center, and Virginia Beach Fishing Pier.
The hotel has free parking for all guests, newly renovated rooms, private patios and balconies, and kitchen appliances (refrigerator, microwave, coffee maker, iron, and hairdryer). Wireless internet access is available in all the rooms and in the lobby.
Throughout the day, you can enjoy the hotel's pool, beach, and golden sand, while at night, you can watch Disney movies and cartoons in the room since all rooms have free HBO and Disney channels.
Amenities
Free parking and Wi-Fi
Safe outdoor pool for children and adults
Bicycle rental and free tennis court
Pet-friendly (charges may apply)
24/7 available vending machines for snacks and drinks
Information