Vacationing as a family sometimes means you're limited by where you can go. As one of the most child-friendly US states, Virginia is the perfect destination for a family break! But, searching for the best family hotels can be a minefield!
Which are the best kid-friendly hotels? What should you look for in a hotel? It can be a bit of a daunting task. That's why we've put together this list of 15 of the best hotels in Virginia Beach for families! Hopefully, this guide will give you some ideas and inspiration so you can easily plan your family's much-needed break!
Whatever your budget, you'll find the perfect hotel to suit you in this guide. From luxury boutique hotels to affordable accommodation, there's something for everyone.
To find out more about the hotels that Virginia Beach has to offer, just carry on reading!
The Best Western hotel lives up to its name! Sitting directly on the famous Virginia Beach boardwalk, this is the ultimate base for an unforgettable beach vacation. Enjoy impeccable service, direct access to the beach, and breathtaking views of the ocean.
At the Best Western Sandcastle hotel, you'll have several different types of accommodation to choose from. With 214 rooms, there's something to suit everyone each room is kitted out with a TV, a microwave, and a mini-fridge for a real home from home feeling.
One of the great things about the Best Western is that it offers modern amenities that you'd generally find in premium hotels, without the premium prices! Even better, there's an outdoor pool and a children's pool that the kids are sure to love, as well as a games room for the perfect evening entertainment!
Traveling with kids means you'll almost certainly have washing to do, even on vacation! Luckily, there's an on-site laundry room specifically for guests to use, so you can sort your dirty laundry in no time. Lastly, there's a seasonal ice cream parlor that provides yummy treats that parents and kids can enjoy!
Situated in the coveted North End of the area, the Hampton Inn Virginia Beach boasts 120 oceanfront rooms all complete with private balconies that overlook the beach, boardwalk, and the Atlantic Ocean.
Each room is also kitted out with a mini-fridge, a TV, and a microwave. The indoor pool is certainly a highlight, but even better, it has a whirlpool! A small waterfall separates the main swimming pool from the whirlpool.
Not surprisingly, this will provide hours of entertainment for the kids, allowing parents to kick back and relax! If you go in the summer, you'll be able to enjoy live music at the indoor and outdoor restaurants while you enjoy dinner!
There are plenty of family-friendly activities to do nearby including the Virginia Zoo, water sports, and highly-rated golf courses! This Virginia Beach boardwalk hotel also offers free internet access and a free breakfast each morning.
Perfectly located in Virginia Beach town center, the Hilton Garden Inn is one of the most popular family hotels in the state. The town center is a fun and stylish downtown area with lots of restaurants and smart retail shops, and plenty of entertainment options.
All of this is within walking distance of the hotel, which is sure to be appreciated by parents and kids! This walkable setting means that families can take full advantage of the beautiful city.
Spacious and cozy, all the guest rooms are kitted out with stylish decor and homely amenities such as free Wi-Fi, Serta Suite Dreams bedding, Keurig coffeemakers, and microwaves. Each morning, you can wake the family up to a delicious, made-to-order breakfast on the on-site Garden Grille.
Alternatively, if you've got a busy family day ahead, you can grab a quick snack at the 24-hour Pavilion Pantry. Other facilities you can enjoy include a big fitness center, a large indoor pool with a whirlpool tub, and a 24-hour business center.
For a truly luxury family vacation, why not stay at the historic Cavalier Hotel & Beach Club? For almost 100 years the grand Cavalier Hotel has overlooked the Virginia Beach oceanfront.
Sitting on a grassy hill looking over the Atlantic Ocean, this iconic establishment has welcomed some very high-profile guests in the past, such as ten US Presidents and many celebrities including Elizabeth Taylor, Scott F. Fitzgerald, and Judy Garland.
One of the most luxurious Virginia Beach hotels, the Cavalier oozes glamour and timeless style, earning itself a place on the National Register of Historic Places.
A member of the renowned Marriot Autograph Collection, this opulent hotel boasts a beautiful oceanfront view, as well as the Cavalier Beach Club, a high-end venue known for its deluxe dining and sweeping ocean views.
Ideal for families with older children, this is the perfect base for a luxury Virginia Beach vacation! Expect impeccably decorated suites, world-class service, and exceptional amenities including a hot tub and a plunge pool!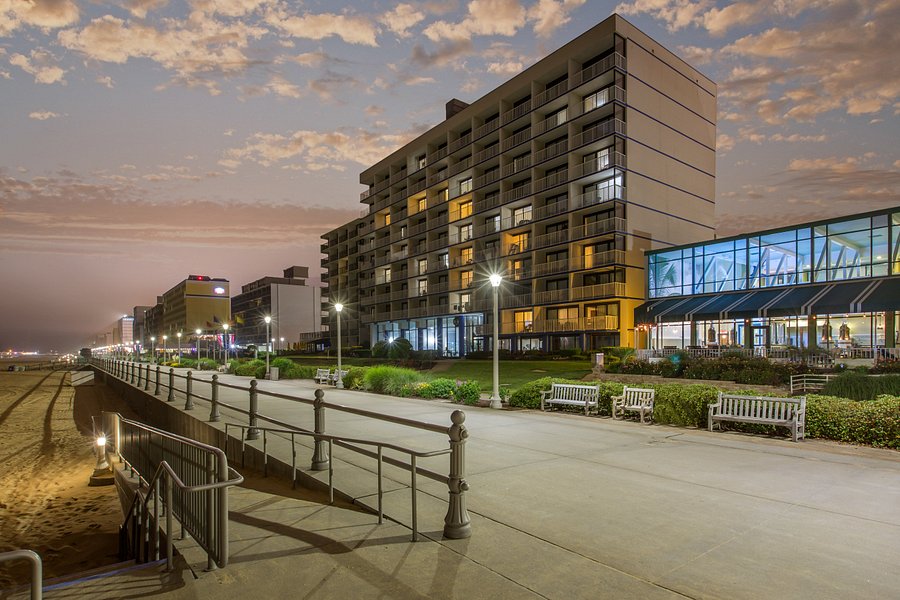 If you want to have the beach right on your doorstep, the Coastal Hotel and Suites establishment is for you! Perfectly located on the Virginia Beach boardwalk, this hotel is within a short walking distance of many popular attractions, events, and restaurants, including the Virginia Beach Convention Center, and the Virginia Aquarium.
You'll be greeted with a warm welcome, helping to get your family break off to a great start. One of the best Virginia Beach family hotels, you can expect a balcony in your room, providing a beautiful view of the Atlantic Ocean.
Start the day with complimentary breakfast – something the kids are sure to love, and take advantage of free Wi-Fi, a heated indoor pool, and a fitness center where parents can grab a bit of "me time".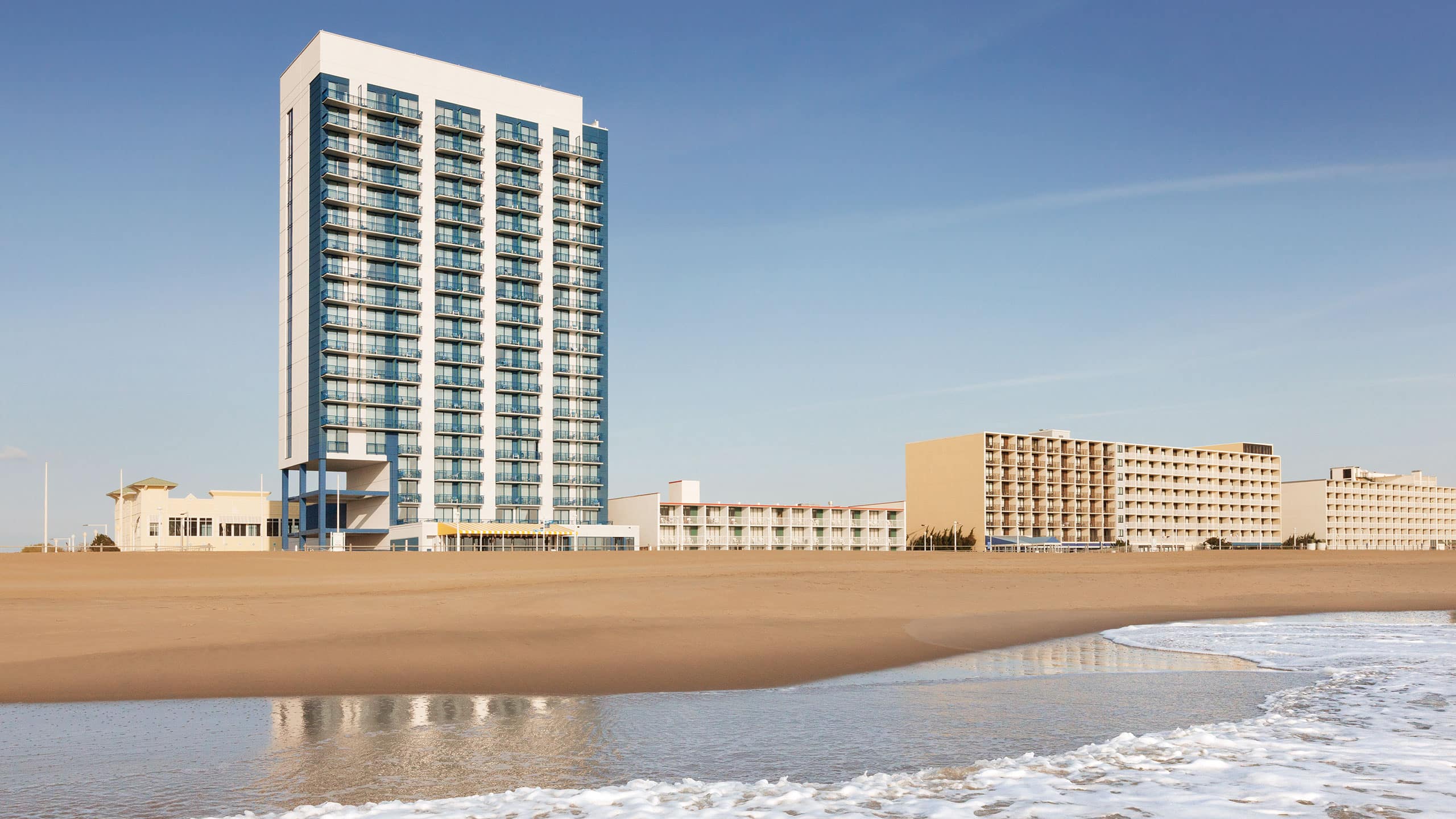 For the ultimate family getaway, the Hyatt House in Virginia Beach is a perfect choice. Offering spacious guest rooms, you'll be able to enjoy spectacular views of the Atlantic Ocean!
During your visit, why not take the kids for a stroll along the beach boardwalk and check out the Cape Henry Lighthouse? Or maybe discover the First Landing State Park? Whether you're staying for the weekend or you're on a 2-week family vacation, there's something for everyone to enjoy.
There's a range of guest rooms and suites available, and each one has a microwave, refrigerator, and a coffee machine to make you feel at home. Parents will be pleased to know that the family suites and studios have full kitchens, which will make life easier if you have kids.
Other helpful amenities include a luggage storage area to save space in your room and meeting facilities. There's also a fitness room and an indoor pool, where parents can relax with a drink at the oceanfront bar.
The Four Points by Sheraton Hotel sits at the point where the ocean and the beach meet, providing modern amenities and excellent hospitality. From the hotel, you'll have easy access to the Virginia Aquarium, the Virginia Beach Convention Center, and the Virginia Beach Town Center, so entertaining the little ones will be super easy!
If you are traveling with kids, the last thing you want is to struggle to find great dining options as hungry kids aren't fun! The good news is that there are two on-site restaurants, offering fresh seafood and classic American cuisine, so there's something to keep everyone happy.
After a busy day of exploring, rest and relax in your spacious guest room, each one featuring a balcony with an unbeatable ocean view, as well as a smart TV and complimentary Wi-Fi to keep you connected.
If you're looking for a more countryside hotel, the Founders Inn and Spa will fit the bill nicely. Flanked by perfectly manicured trees and hedges, the hotel will give you a feeling of luxury before you even step inside.
This Virginia resort is one of the few kid-friendly hotels in the area that treats its guests to all the comforts of home, along with hi-tech amenities and concierge attention. For kids, there's a thrilling children's playground as well as a large outdoor pool with a 25 feet high water slide that's sure to keep them entertained for hours!
There's also an indoor pool for those rainy days and a hot tub where tired parents can relax and unwind!
Not only is the hotel child-friendly, but it's also dog-friendly too, so no need to leave your four-legged family member at home. There's an on-site 30,000 square foot, fenced dog park where you can safely exercise your pooch.
Situated in the exclusive North End part of Virginia Beach, the Hilton Garden Inn is just minutes from some of the best entertainment, shopping, and dining in the area.
If you're looking for places to entertain the kids, you'll be pleased to know that the Hilton Virginia Beach oceanfront hotel is only a short distance from Neptune's Park, which offers nightly entertainment all through the summer. There's also a third-floor sundeck, which is perfect for watching the sunset.
If you've got older kids, they'll love the swimming pool as there's a tiled wall that they can climb over to get between the indoor and outdoor pool. There's also a cool water spray that they'll love to play under.
The Hilton Virginia Beach oceanfront hotel also offers contemporary amenities including HDTVs, Keurig coffeemakers, and microwaves to make your stay even more pleasant. If you'd like to keep fit during your vacation, you're in luck! There's a 24-hour fitness center where you can get your sweat on.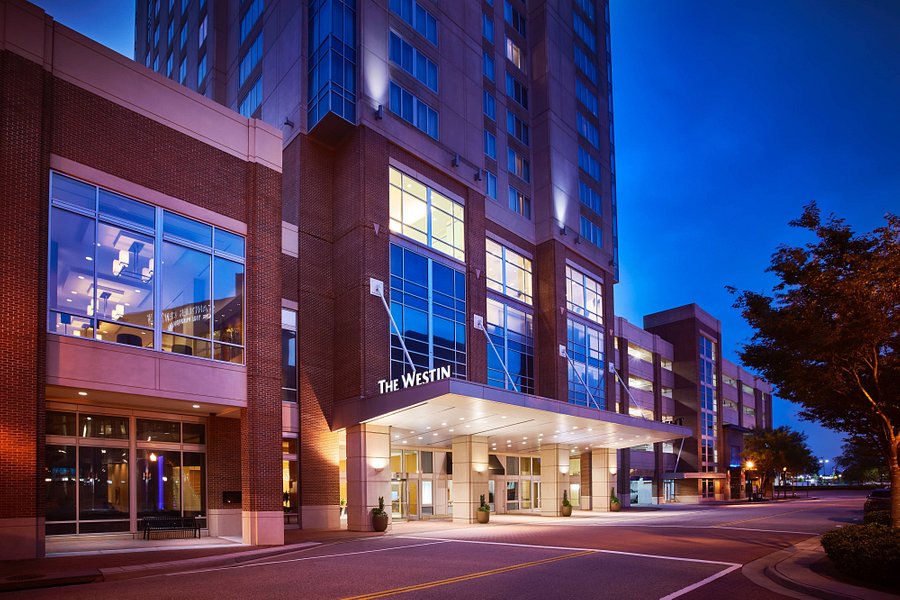 Complete your family vacation at one of the best family hotels in Virginia Beach – the Westin Virginia Beach town center. Just a short drive from the beach, this hotel offers top-class facilities and comfortable accommodation.
The on-site restaurant serves breakfast, lunch, and dinner, or if you'd like a night in, you can opt for room service. There's also a bar and lounge where you can relax at the end of a busy day!
Don't worry about the kids getting bored either, as there are plenty of activities to do. The Bayville Farms Park is just 5 miles away, offering tennis and basketball courts, picnic areas, and a golf course, all in a 68-acre park.
For rainy days, the Bounce House is a perfect attraction. Full of indoor activities, there are eight bouncers, a basketball court, a complimentary arcade, and a private lounge for adults to chill out in.
So, if you're looking for the perfect base for a fun family vacation, look no further than the Westin Virginia Beach Hotel!
Looking for some of the most luxurious family hotels in Virginia Beach? Take a look at the Hilton Virginia Beach hotel! Towering above the beach resort, this stunning establishment offers spectacular views that are considered some of the best on the coast.
One of the premium hotels on the oceanfront, the Hilton provides truly luxurious accommodation and top-class service. You'll have a choice of two on-site restaurants, including Catch 31, a seafood restaurant offering a large selection of fresh catches.
There's also Salacia, the only AAA Four-Diamond steakhouse in the area offering mouthwatering cuisine, as well as the Sky Bar, featuring the only seasonal infinity pool and rooftop bar in Virginia Beach!
The hotel is also conveniently situated close to Neptune's Park, which hosts entertainment each night through the summer months, as well as 31 Ocean, a retail park offering boutique shops and exciting events, so there's plenty for the whole family to do!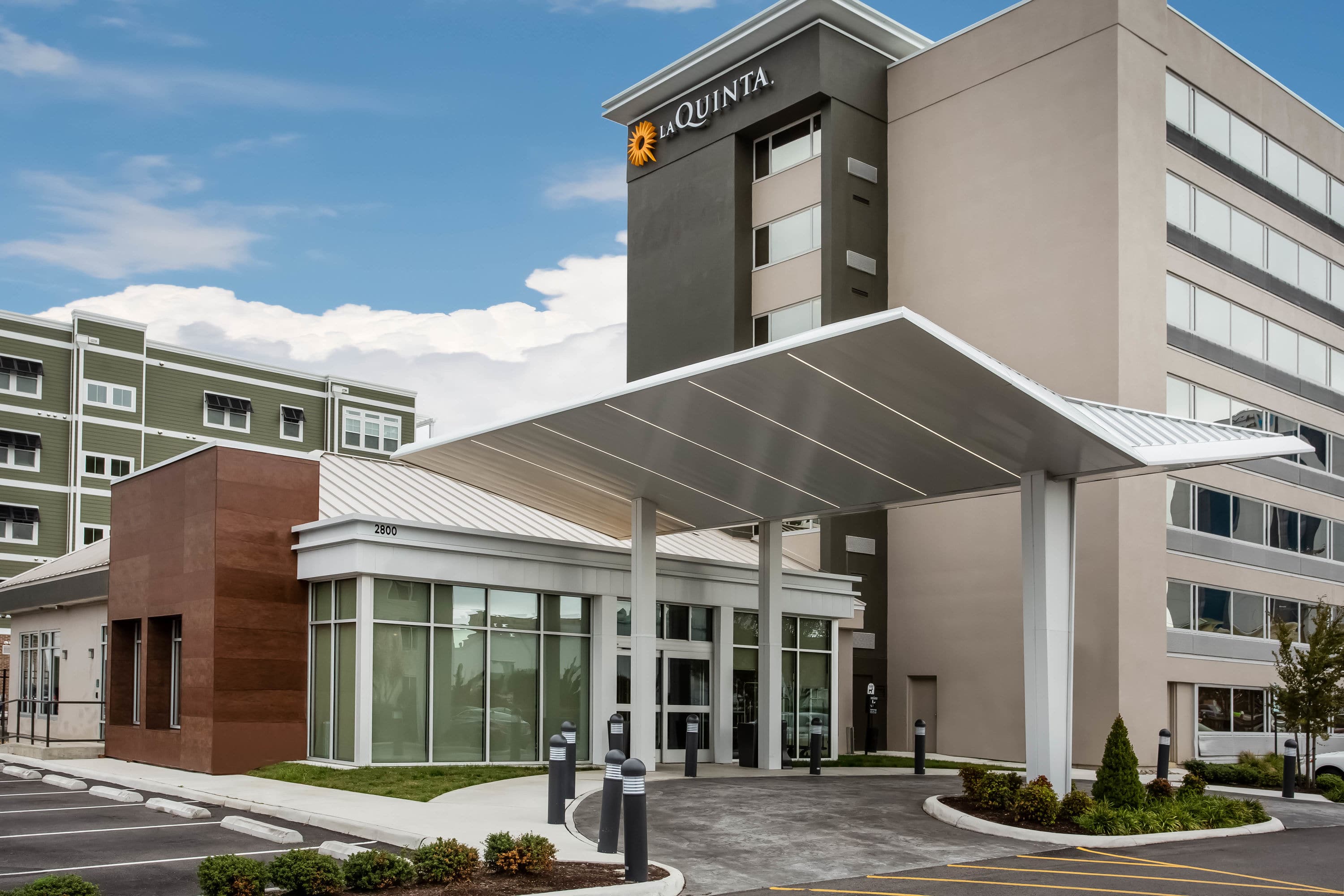 After just one night's stay at the La Quinta Inn & Suites, you'll soon see why many travelers opt for this stunning hotel. Offering the perfect mix of comfort, value, and convenience, this family-friendly establishment provides a selection of amenities all designed to make your vacation even better.
In your room, you can expect a flat-screen TV as well as air conditioning for a comfortable stay. You can also take full advantage of the free Wi-Fi, perfect if you need to do a spot of work.
There's a 24-hour front desk for your convenience as well as a large swimming pool and free breakfast each morning to make your hotel stay even better. You don't need to worry about parking if you're driving to the hotel as there is free parking available.
The hotel is also close to some popular landmarks including the King Neptune statue on the beach boardwalk and the Norwegian Lady statue, making it a great base for tourists.
If you're looking for a fun family break, the Fairfield Inn Virginia Beach hotel provides everything you need for a pleasant stay. This oceanfront hotel is right on the beach, so you'll be able to take the kids for a splash in the sea, relax in the sun or take a stroll down to the fishing pier.
It's also a short distance from the convention center, while the nearby Virginia Aquarium and Marine Center provide educational fun. After a busy day of exploring and learning, you can retire to one of the comfortable and spacious guestrooms, where you can expect free internet access, a private balcony, and a flat-screen TV.
Following a great night's sleep on the plush, comfortable bedding, fuel the family at the free breakfast buffet each morning! During your downtime, why not squeeze a workout in using the 24-hour fitness center, then treat yourself to a relaxing dip in the indoor pool, boasting beautiful views of the sea.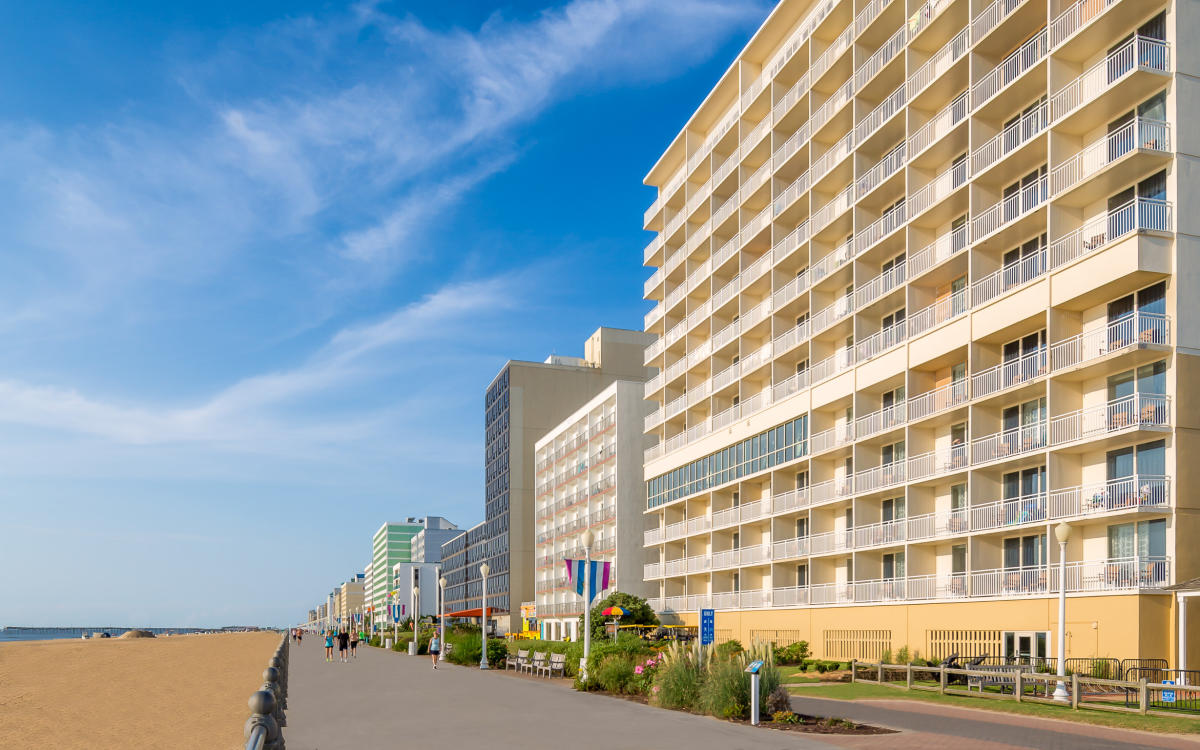 Located in the center of the Virginia Beach resort, Comfort Suites is within easy reach of attractions, shops, and restaurants, so you'll never be short of things to do. Each room is a one-bedroom suite with a separate bedroom and living area, which is perfect if you're traveling as a family.
The living area is equipped with a sofa bed, refrigerator, coffeemaker, TV, and a private balcony with beautiful views across the Atlantic Ocean!
The perfect base for families with young children, there are plenty of exciting sightseeing locations nearby that can also double as educational fun! These include the Hermitage Museum and Gardens, the Chrysler Museum of Art, and Moses Myers House.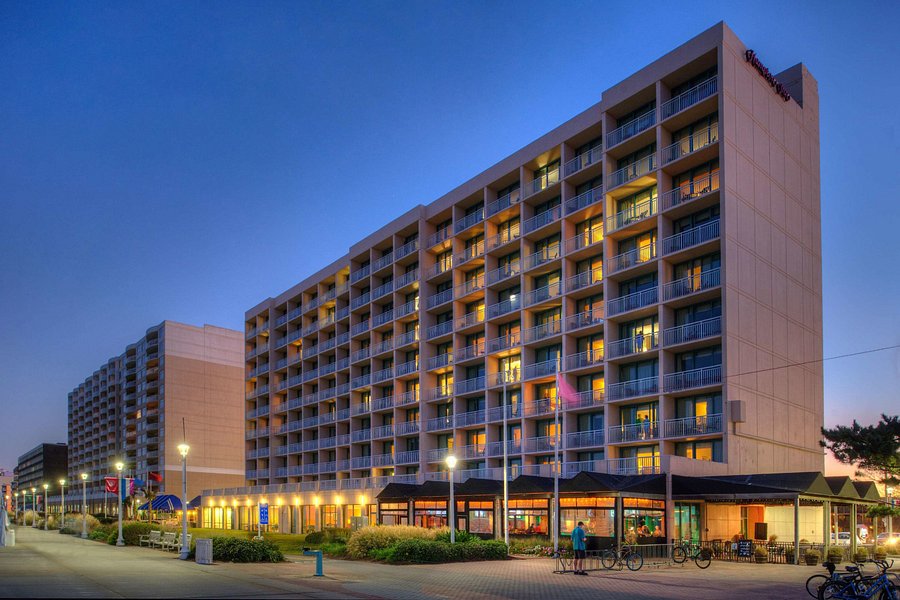 Our last pick of the best family hotels in Virginia Beach is the Virginia Beach oceanfront south hotel. Just steps away from the beach, shops, and restaurants, it's easy to see why this is one of the most popular family hotels in the area!
Even better, if you're arriving at Norfolk International Airport, the hotel is only 30 minutes away, making it easy to get the family to their destination. Other helpful amenities include free parking and Wi-Fi, a hot breakfast each morning, and an indoor pool for those rainy days.
In Summary
As one of the most family-friendly states, Virginia Beach is brimming with family hotels, as shown in this guide! Hopefully, you now feel inspired and ready to book your perfect vacation.
Whatever your budget, there's a hotel to suit – so you and your family can all have an unforgettable trip.
More about our TFVG Author
A seasoned traveller, Dad, and avid sports tourist, James foundered The Family Vacation Guide to share his expert vacation experiences- especially when it comes to being a travelling family man.
Featured in Travel articles such as Travel + Leisure, TripSavvy and SFGate, you know you're reading some of the best vacation tips online.