Wisconsin is well known for the amount of outdoor adventure you can experience here. Wisconsin's many waterparks, outdoor adventure parks, and indoor theme parks mean there's no limit to the amount of fun you can have. 
When planning a trip to Wisconsin, the number of options for outdoor zip lining and aerial adventures can be overwhelming. How do you know which one to choose? This list is here to help. Here are 10 of the best places for ziplining and aerial adventures Wisconsin offers.
Bigfoot Zipline
Bigfoot Zipline is a zipline tour that will keep you entertained for about 2 hours. The course has seven towers that take you from 10 to 100 feet in the air as you soar through the forestry. It was the first world-class zip line in the Wisconsin Dells area, making it a favorite amongst visitors.
This course allows you to travel over 6,000 feet over seven ziplines. To enjoy all seven zip lines, admission is $99.
Vertical Illusions 
Vertical Illusions has a lot to offer at its outdoor adventure park, including climbing, kayaking, and paddleboarding. Their most popular is their chimney rock zip line. Completing the course can take between 3-4 hours and includes a nature hike up to the zipline summit.
No experience is necessary because you'll have a personal guide taking you through the zipline course. Admission to this course is $129 for adults and $99 for children 16 and under for one of the two ziplines. If you want to experience both courses, it is $198 for adults and $168 for children.
Bigfoot Ropes Course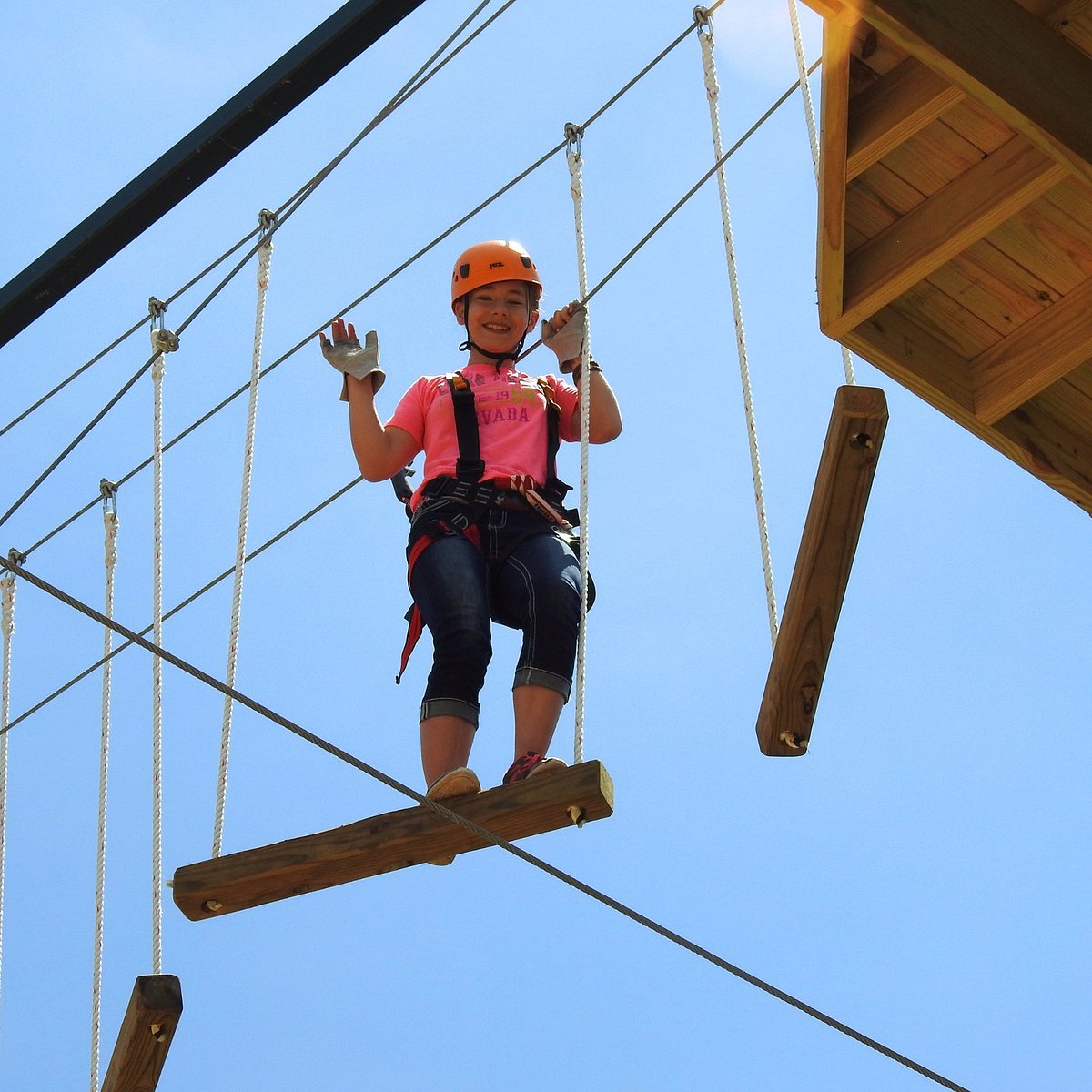 Bigfoot Ropes Course takes you on an adventure through the Wisconsin Dells. This aerial course is open year-round and offers fun for all ages as long as you're at least 48 inches tall. The course provides a variety of different difficulty levels, so there is no need to be advanced.
There are over 80 different elements for you to experience throughout the course. These elements include jungle tracks, moving bridges, giant steps, etc. For a self-guided tour of the ropes course, admission is $29.99.
Dells Zipline Adventures 
Dells Zipline Adventures is a zipline and adventure park that encompasses 6 acres. In their zipline park, there are 18 different zip lines you can experience to enjoy the beauties of nature around the park. After the zipline, you can enjoy the four courses at the adventure park, which offer different difficulty levels.
There are two different zip line options to choose from. Soar like an eagle takes you superhero style over half a mile, giving you a thrill ride experience. The zipline pass takes you tower to tower through the 16 ziplines on the course. Admission to the zipline pass is $79.99 for adults and $59.99 for children. Admission to soar like an eagle is $49.99 a person. If you're interested in doing the ropes course, it's $59.99 for adults and $39.99 for children.
Wilderness Canyon Zip Line Tour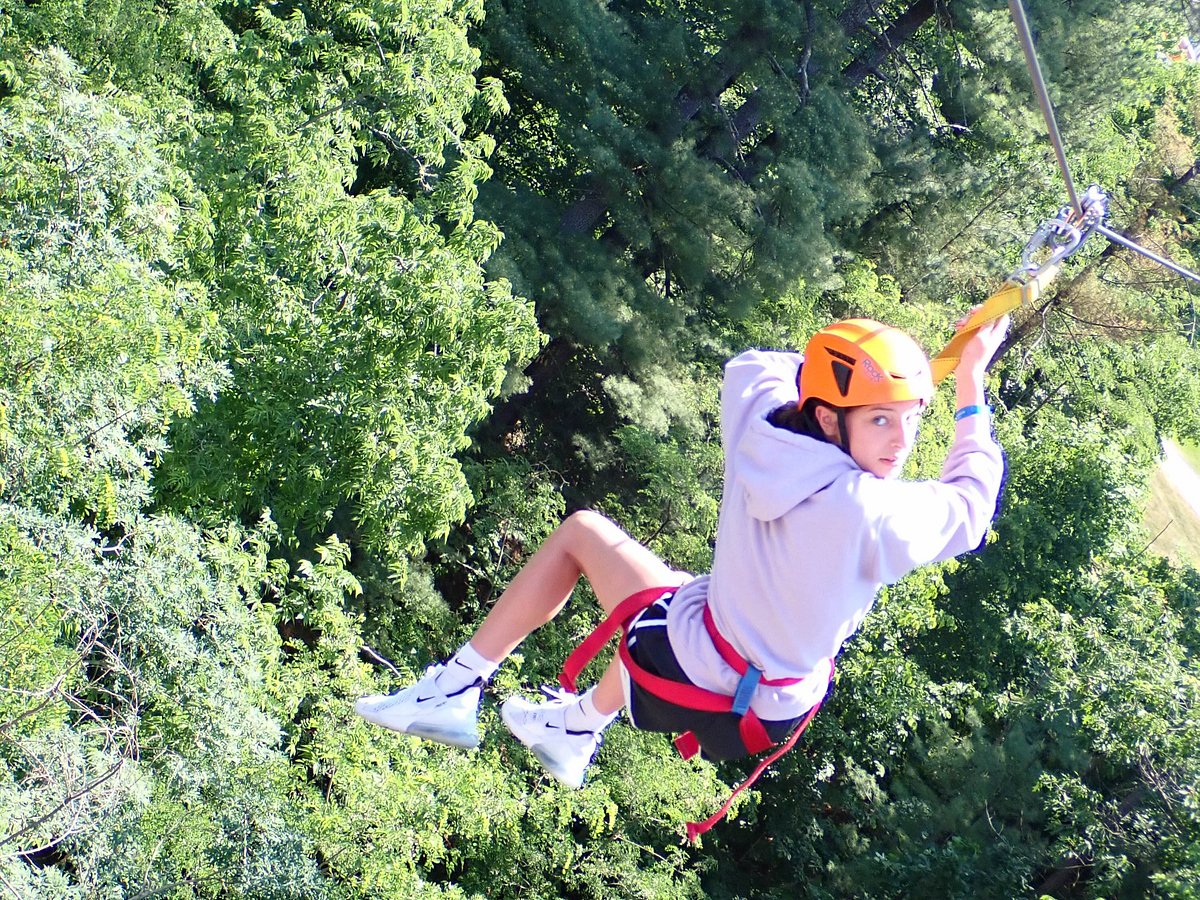 Wilderness Canyon Zip Line Tour is a zipline experience that takes you through 6 towers over 60 feet in the air. You'll soar over the lost canyon throughout this zipline tour and experience beautiful scenery with a bird's eye view.
It is open year-round and is a great place for team building, family vacations, and more. You'll zip over 2,400 feet altogether, making it an excellent zipline experience. Admission to this zipline is $55 per person.
Lake Geneva Ziplines & Adventures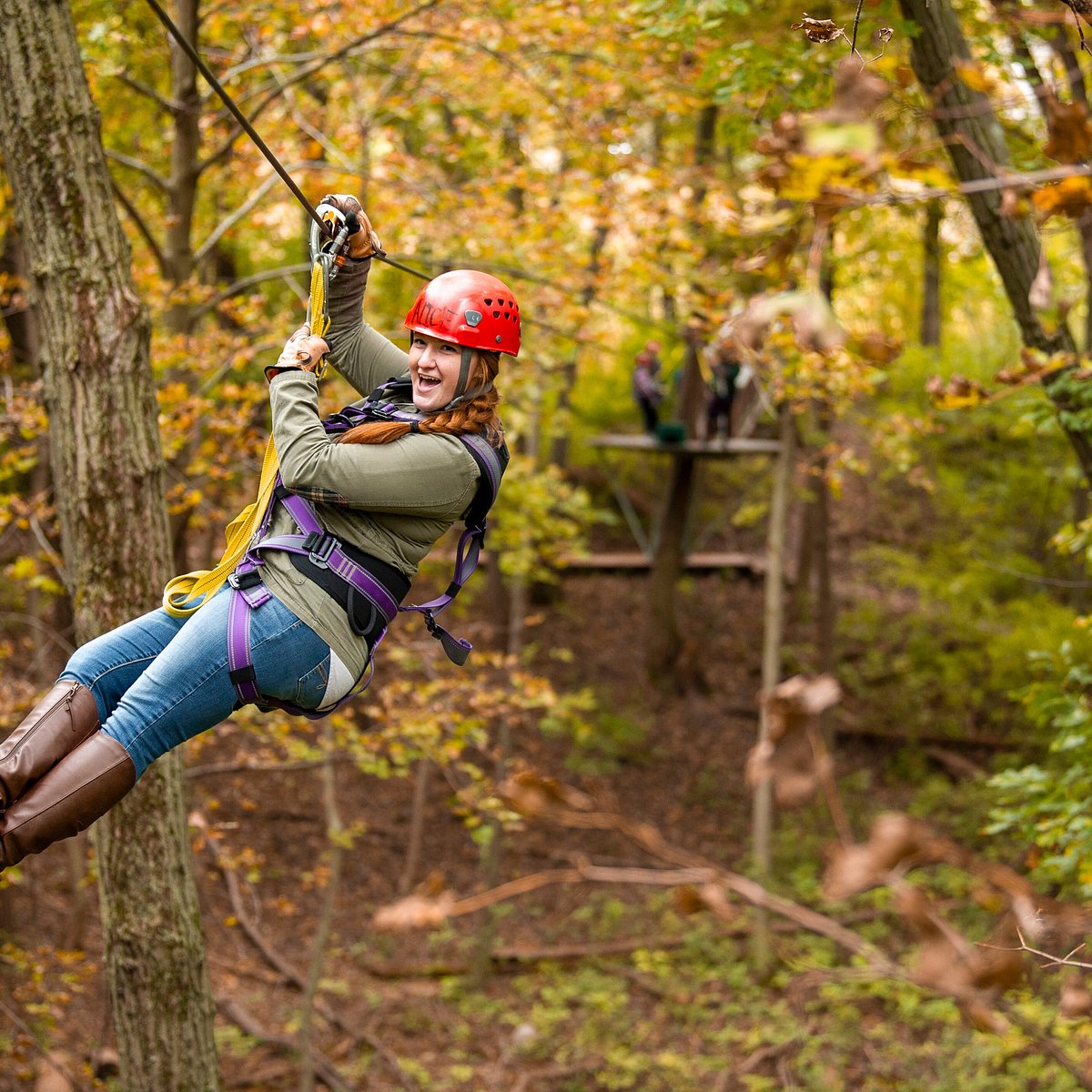 Lake Geneva Ziplines & Adventures is an adventure park that offers ziplining, ropes courses, and wall climbing. Their zipline course spans over a 100-acre property that allows you to enjoy all the beauty of the Lake Geneva area. They have nine ziplines that take about 2.5 hours to complete.
Besides the regular zip line, they also have racing ziplines for you to enjoy some friendly competition. If nine lines seem too much, they also offer a 4-line tour for you to experience. Admission for the 4-line tour is $60, while the 9-line is $120.
Trollhaugen Outdoor Recreation 
Trollhaugen Outdoor Recreation has something for everyone when it comes to adventure. They offer an aerial challenge course, zipline tour, adventure combo, and a kids course for kids 3-6. So if you're having trouble deciding if you want to zipline or ropes course, you can do both! The Adventure combo is 5 hours long and combines the two courses for a fun-filled day.
Their 2-hour zipline tour takes you through the Wisconsin trees as you traverse six different zip lines. If zip lines aren't for you, the aerial course is 3 hours of fun as you experience over 100 different obstacles. Admission for the zipline tour is $59 for adults and $54 for children. Admission to the aerial park is $49 for adults and $44 for children.
Boundless Adventures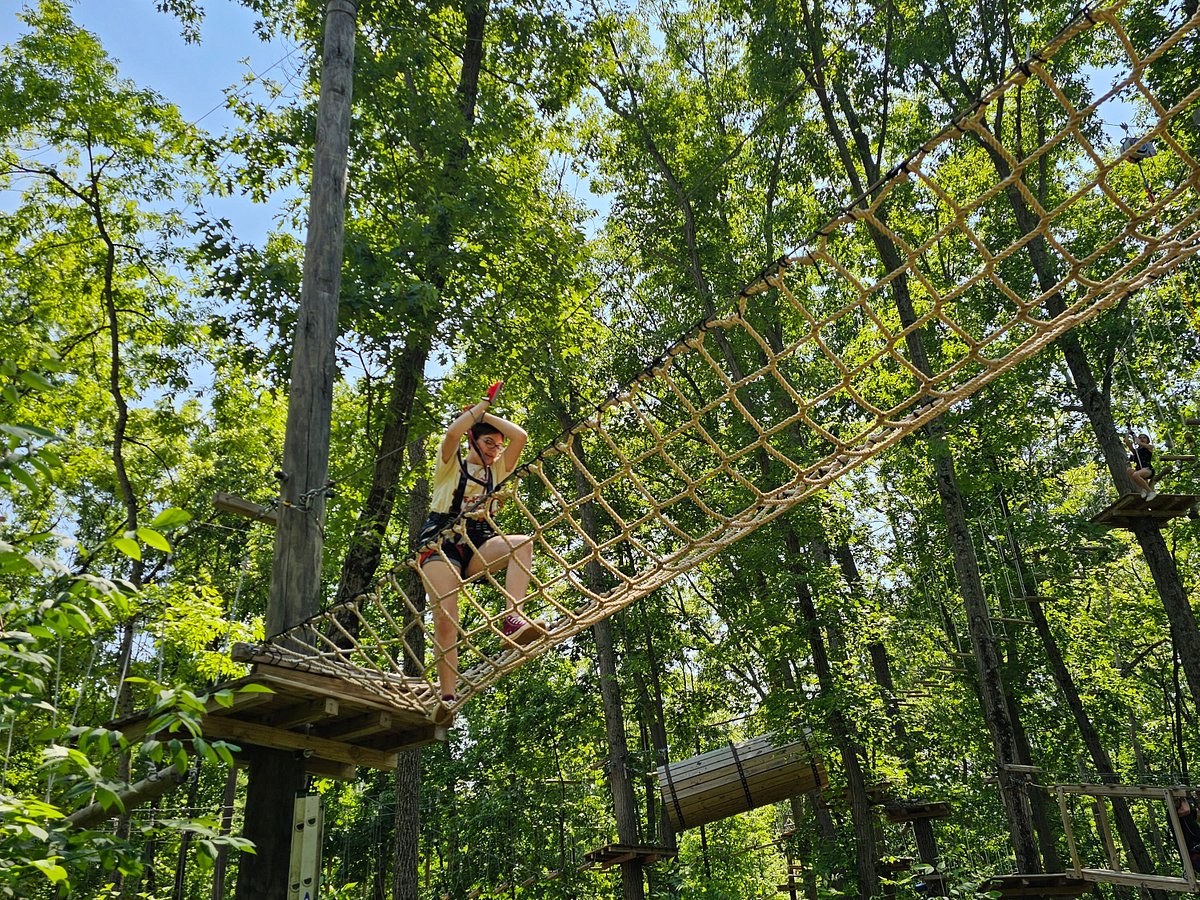 Boundless Adventures is over 6 acres of outdoor fun. They offer nine ropes courses and 20 ziplines for you to enjoy what Wisconsin nature has to offer. You'll experience the Bristol Woods and gain aerial experience on a fun-filled day.
Aside from ziplining and aerial ropes courses, they also have 4 miles of hiking trails if aerial activities aren't for you. A unique experience offered here is their "glow in the park," which is a chance for you to experience their adventure park at night with neon lights. Admission to the adventure park is $58 for 3 hours and $45 for two hours.
So, What are the best zipline and aerial parks in Wisconsin?
That answer is up to you! From the Wisconsin Dells area to Lake Geneva, there are many options to choose from. Knowing what each adventure park has to offer and what you're looking for on your trip is important in your decision.
Each park has something unique, whether it be longer courses or other outdoor experiences outside ziplining and ropes courses. There's plenty of fun in Wisconsin for you and your family to enjoy.
More about our TFVG Author