Are you looking for fun places to visit with kids during your next vacation? Wisconsin is your best bet. 
With dozens of water parks, miles of beaches, vast farmlands, and museums, the state has many places awaiting exploration. We've rounded up a list of the best places to vacation in Wisconsin with kids.
1. The Wisconsin Dells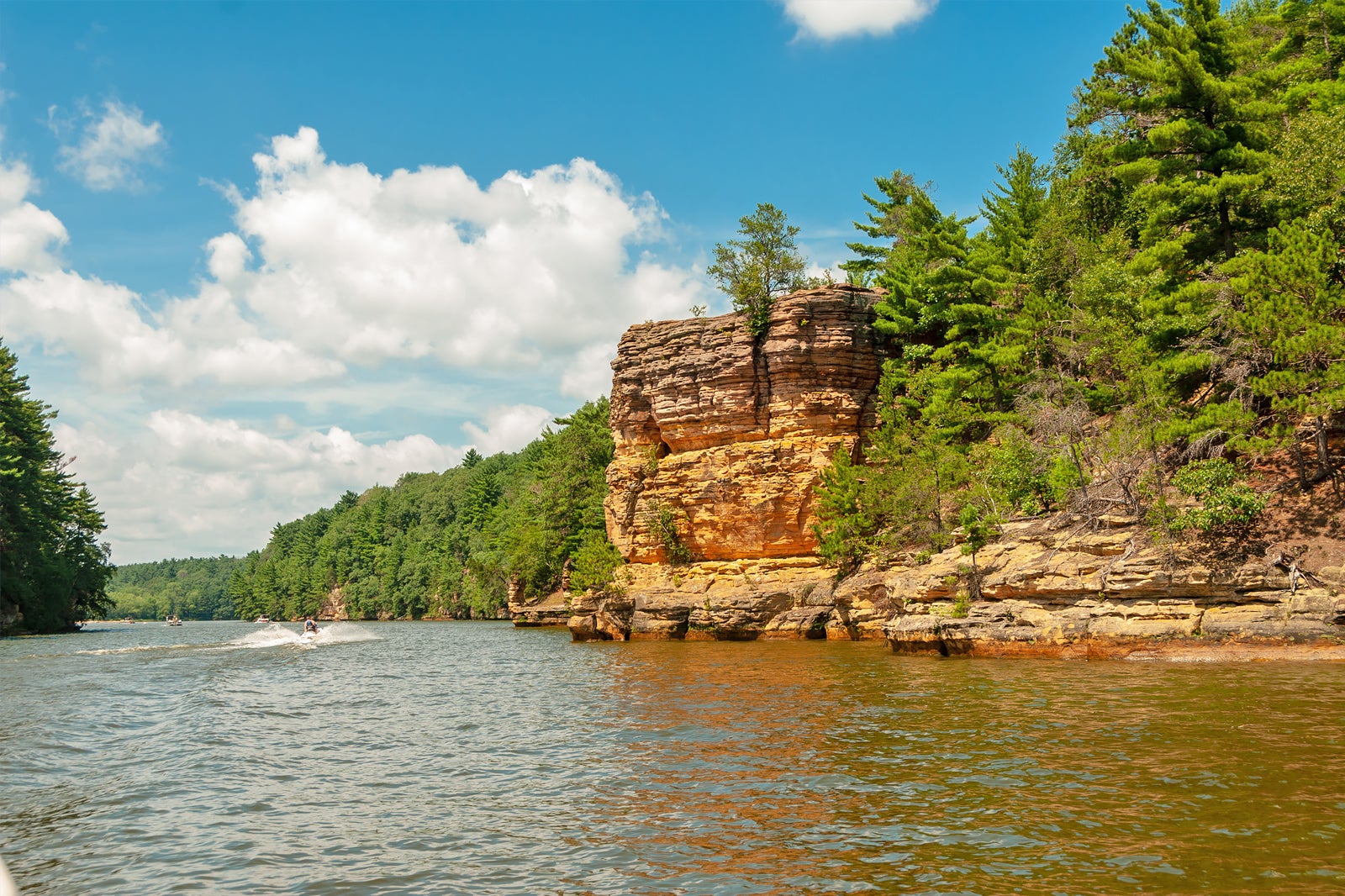 Known as the Water Park Capital of the World, Wisconsin Dells is a must-visit when visiting Wisconsin with kids. With dozens of indoor and outdoor water parks, it's the perfect place for having fun, whether visiting during the cold or hot season.
Noah's Ark is the most famous, boasting close to 30 water attractions. It has thrill rides, too, for both kids and adults who enjoy winding down tall and scary water slides.
The Scorpion's Tail is a key attraction at Noah's Ark. Visitors drop through a trap door, slide through a 400-foot water slide before being thrown into a vertical loop. Other popular water parks at Wisconsin Dells include:
The Wilderness Territory
Chula Vista Resort
Kalahari Waterparks
Mt. Olympus Water & Theme Park
If your kids aren't fans of water parks, explore Dell's natural attractions. Sandstone formations are the most fascinating, and they can be traced to millions of years ago. They formed after erosion reduced Midwestern Mountains to sediment.
Other Things to Do
Visit the family-centric Devil's Lake State Park. You can relax at the beach, rent a boat, or camp here
Visit Circus World Museum, 12 miles south of Wisconsin Dells. Kids get to create a circus performance too
Visit the International Crane Foundation, an animal habitat home to 15 species of cranes
Rent a boat, bike, or kayak to explore the wooded Mirror Lake State Park
Where to Eat at Wisconsin Dells
Here are some spots to try out for a quick, kid-friendly snack or lunch:
Kaminski's Chop House with an exclusive kid-friendly menu
Monk's at Lake Delton has the best burgers in Wisconsin
Sarento's Italian restaurant for whole-family menu options, seafood, and Italian cuisines
High Rock Cafe for a variety of American cuisine (has gluten-free options too)
Where to Stay at Wisconsin Dells
Wisconsin Dells has lots of family-friendly resorts. The Great Wolf is a favorite. Apart from offering accommodation, it has morning yoga and storytime for kids. Spring Brook is another family-centric spot for kids who want to learn fishing.
However, if a well-rounded resort is your ideal location during a vacation, the Sundara Inn and Spa is an excellent pick. In addition to the cozy suites, it's equipped with a fitness studio, outdoor pool, salt treatment room, and a spa.
2. Green Bay
Home to the iconic football franchise (the Packers), Green Bay is another place you want to explore during your vacation. It has fantastic restaurants, lots of parks, and museums for kids and adults to enjoy.
Bay Beach Amusement Park stands out. Your kids get to enjoy riding on the mind-blowing coaster and spinning on the adrenaline-filled rides. There are colorful train rides and carousels for toddlers too.
Your visit to Green Bay isn't complete without visiting the National Railroad Museum. The tour starts with a 25-minute film that explains the history of steam locomotives. Then proceed to indoor and outdoor exhibits of the command train used during World War II, a mail car, and a 1950s futuristic Aerotrain.
Kids love animals, and a visit to the zoo is the epitome of any vacation. Green Bay hosts a New Zoo & Adventure Park that hosts tons of animals. The zoo has many animal species to discover, from majestic lions to prairie dogs, towering giraffes, and penguins.
Other Things to Do
Explore the scenic Bay Beach Wildlife Sanctuary. Injured animals are brought here to be nursed and released back to the wild
Take a stroll at the Green Bay Botanical Garden
Experience Green Bay Packers' Hall of Fame
Play football at Titletown
Take a tour to Lambeau Field Stadium
Where to Eat at Green Bay
Culver's for free Kid's custard for every kid's meal
Cheese Cake Heaven for a serving of thick soup, huge sandwiches, and cheesecake
Pizza ranch for free meals for kids less than three years
Julie's Cafe for a full breakfast platter
Denny's for a freebie with every purchase of an adult entree (limited to two)
Golden Basket for free kids' meals on Mondays and Thursdays
Where to Stay at Green Bay
For lodging options, it's best to look for hotels or resorts with kid-friendly social amenities. Tundra Lodge, Comfort Suites, and Clarion Pointe hotels are excellent examples. They have indoor pools, kids' pools, laundry facilities, a water park, among other facilities.
Lodge Kohler is another pick for tourists visiting Green Bay, but it's not exclusively designed for kids. It offers hydrotherapy spa amenities, among other luxuries, making this resort a hot spot.
3. Door County 
Also referred to as the Cape of Cod of the Midwest, the county is home to most of Wisconsin's hidden gems. From picturesque coastal towns to fish boils to lighthouses to forested state parks and up to 30 beaches, there's plenty to discover here.
Door County also has the most stunning waterfront views stretching across the vast 300 miles of shoreline. What's more, the rugged rock formations, limestone bluffs, and pristine beaches should pique your kids' interest.
While new art galleries, home decor, and upscale clothing boutiques continue to be set up, old museums are still a sight to behold. The Peninsula Players Theater is an excellent example. Dubbed America's oldest resident summer theater in the county, it hosts rib-cracking live theatrical performances.
Other Things to Do
Adventure rafting on high-speed boat tours. You get to explore island caves, shipwrecks, and more
Visit Maritime Museum located in Sturgeon Bay. Kids learn about ship captains, explore Shipwrecks of Door County and visit John Purves, the restored tugboat
Attend the FYR Ball Festival with endless family entertainment, fireworks, and bonfires
Visit Hands On Art Studio, where kids explore their art skills using ceramic, glass, and other materials
Where to Eat at Door County
There's no shortage of eateries at Door County. You can dine at:
The Barringer's which is known for serving steaks and seafood
The White Gull Inn
The Cookery Fresh Foods
Bluefront Cafe is known for serving healthy local foods
Harbor Fish Market and Grille (is also pet-friendly)
Where to Stay at Door County
Most restaurants double up as resorts offering bed, breakfast, and lunch for families. There are inns too if looking for more budget-friendly accommodation. Here are some examples:
Bridgeport Waterfront Resort
Glidden Lodge Beach Resort
Eagle Harbor Inn
Scofield House
Inn at Cedar Crossing
Blacksmith Inn on the Shore
4. Madison
The city gains its status from its role as Wisconsin's capital, but there's more. Thanks to the numerous chef-owned restaurants and ethnic eateries, it has a diverse food scene. 
Madison also has lots of kid-friendly places to visit. There's a kid's museum (Madison Children's Museum) and theater and storytelling events at the Overture Center for the Arts on State Street.
Henry Vilas Zoo is also a great place to start exploring during a vacation. Kids get to view giraffes and primates in their houses, ride the kid's train and carousel, and enter the Arctic Passage to see polar bears.
Governor Nelson State Park is another place to explore as it boasts a spacious kid-friendly area for kids to play. Located in the north-western region of Lake Mendota, the park has a boat launch, a sand beach, and playground equipment.
Teens and pre-teens are more likely to enjoy skirting through eight miles of trails, including the circling Native American mounds.
They can also explore the State Capitol, and if visiting during the summer season, they should head for the sixth floor of the deck for a spectacular view of Madison city.
Other Things to Do
Visit the National Mustard Museum with up to 5,600 mustard species
Visit MacKenzie Center to watch native animals, view the towering lighthouse, and skirt through nature trails
Visit Olbrich Botanical Gardens
Rent canoes, kayaks, or boats and participate in various lakeshore events
Join one of Madison's food tours
Where to Eat at Madison City
The city's famous food scene gives visitors a vast array of dining choices. Here are some kid-friendly spots:
Ian's Pizza, known for serving the best mac n' cheese pizza
Zuzu Cafe, famous for hosting the Mediterranean fare
Pizza Brutta for Italian-style Pizza
Pat O'Malley Jet Room. Kids eat while watching planes arrive and depart
Where to Stay at Madison City
Choosing family-friendly hotels in Madison makes your stay even cozier. The city has a decent range of hotels and resorts with standard king bedrooms and double queen bedrooms. Here are top picks:
Hampton Inn and Suites
Double Tree, Madison Downtown
Sleep Inn Suites
Hyatt Place, Madison
Comfort Inn
5. Oshkosh
The small town has grown famous for hosting the annual Airventure show. The show is sponsored by the Experimental Aircraft Association and is held at the end of July.
Many tourists flock here to experience the week-long event that showcases spectacular aerobatics, historic warplanes, and the latest innovations.
There's a kid's corner too called the KidsVenture. Kids learn how to fly a radio-controlled airplane, aviation history, and experience flight simulators.
Apart from the Airventure show, there are many fun places for kids to visit. Pollock Community Water Park is an excellent example. It boasts many social amenities, including water slides, sand play areas, splash pads, and a lazy river.
Menominee Park is another fun park sitting in a vast 100-acre area. What makes it stand out is the designated amusement area for kids. The park also has tennis courts, a zoo, and athletic fields.
Other Things to Do
Rent kayaks or paddle boats and have fun on the water
Visit Oshkosh Public Library
Attend shows and concerts at Leach Amphitheater
Paint pottery at Fire Escape
Visit Oshkosh Farmer's Market
Where to Eat at Oshkosh
Cozumel Mexican Grill (offers free meals for kids under 12 on Sunday)
TJ's Harbor Restaurant to dine while enjoying a waterfront view
Cinder's Charcoal Grill for affordable kid's meals
Benvenuto's Italian Grill
Where to Stay at Oshkosh
If you're big on the breathtaking waterfront views, Cobblestone Suites, Holiday Inn Express Hotel, and Best Western Premier are great picks.
They're also kid-friendly. You can also check various travel listings for more options. They should help you compare prices and the amenities on offer.
6. Milwaukee
The city is an excellent destination for families during the summer season. It has a history of hosting brewery tours thanks to its rich German heritage, but it has many kid-friendly attractions too.
The Mitchell Park Domes at Layton Boulevard still stands out despite being the oldest park in the town. It has three domes with different surroundings to allow guests to experience different worlds within a short period.
The first Dome showcases a desert setting and has varying cacti species, while the second Dome hosts a Tropical surrounding. The third is a Floral Dome displaying different flower species. The park holds shows year-round.
The Safe House is another exciting place to visit with kids. It's a spy-themed restaurant with fun activities for kids and adults to indulge.
Your tour isn't complete without visiting Milwaukee's County Zoo. It sits on a vast 190-acre piece of land and has more than 2,000 animals. The zoo has many exhibits too.
The Bear Garden, Otter Home, and the Sea Lion show will keep your kids thoroughly entertained. If you're bringing a toddler, be sure to take a ride on the Safari Train to view the animal exhibits.
Other Things to Do
Head over to the Veterans Park
Visit Milwaukee's Museum
Play at Nixon Park's splash pad
Explore art at Lyden Sculpture Garden
Journey to the Old World Wisconsin at an open-air museum
Where to Eat
Take a burger at AJ Bombers
Enjoy seafood specialties at Third Coast Provisions
Visit The Vanguard for housemade sausages
Enjoy some tasty cookies and sandwiches at Colectivo Coffee
Dine at Braise for a platter prepped from local produce
Where to Stay
It's best to look for a hotel or resort that's close enough to the places you want to visit. Hilton Milwaukee City Center is close to the Domes, while Crown Plaza Hotel (in Milwaukee West) is near the County Zoo. Be sure to check out traveling listings too.
6. Minocqua
A vacation in Wisconsin isn't complete without visiting the famous lake getaway—Minocqua. This small town located in the north-western part of Wisconsin is known for its lake appeal. It has more than 3,000 lakes, and the quieter ones are great for kids to swim and make sandcastles.
It hosts nearly 1,000 condos, rooms, and cabins lined along the pine-shaped shores, allowing you to explore the town's pleasantries for a day or two.
Hiking on The 18-mile Bear Skin Trail is the most popular activity in the town, and you can rent bikes to help you cover more ground faster. Older kids are more likely to enjoy this activity.
There's also zip-lining, horseback riding, go-karting, and mini-golfing at nearby parks for younger children.
Other Things to Do
Engage in throwing axes at Fred Scheer's Lumberjack show
Ski at the Min-aqua Bats Waterski show
Visit Northwoods Children's Museum
Sightseeing at Minocqua Pontoon cruises
Rent a boat or canoe and go kayaking on the waterways
Where to Eat
The Boathouse for outdoor dining
Monical's Pizza serves the best Pizza in Minocqua
Hoggie Doggie for a bite of the Chicago-style hot dog
Paul Bunyan's Cook Shanty for scrumptious buttermilk doughnuts
Tula's Cafe to enjoy freshly baked cinnamon rolls
Where to Stay
The Beacons of Minocqua is an excellent place for you and your kids to relax. The resort has log cabins, condos, and an indoor pool. Alternatively, make a reservation at The Waters of Minocqua, another cozy resort in the town.
It has an arcade and a water park, hence highly kid-friendly. And if you want to be a little more adventurous, set up a tent in one of the campgrounds.
7. Hayward
This Midwestern town is a favorite vacation destination for avid anglers. This is because of its abundance of large lakes rich in stockfish.
Hayward also boasts miles of dense woodlands, where locals get logs for the famous Lumberjack World Championship.
There's also a Lumberjack Bowl where Hayward residents engage in ax-throwing, logrolling, and speed climbing activities. The activities happen six days a week, so you never get bored during your stay here.
Things to Do
Camp, fish, hike, or hunt at Chequamegon-Nicolet National Forest
Visit Fresh Water Fishing Museum
Watch Scheer's Lumberjack show
Where to Eat
Have a pizza at Copps' Pizza
Enjoy old-world loaves of bread at the Firehouse Bakery
Dine with from-scratch lunches at the Farmstead Cafe
Enjoy large scoops of ice cream at West's Hayward Ice Cream Cafe
Where to Stay
Book a cabin at Deerfoot Lodge and Resort
Vacation in one of Treeland's Resorts
Choose a guest room at Spider Lake Lodge Bed and Breakfast
Explore Wisconsin With Your Kids in Your Next Vacation
The state is home to Wisconsin's best places to vacation with kids. From the numerous water parks at Wisconsin Dells to the hiking trails at Madison city to the three nature domes at Milwaukee, there's plenty to keep your kids entertained.
Traveling with your kids is one of the best decisions you can ever make. Here's all the inspiration you might need to help you successfully plan for the next family vacation.
More about our TFVG Author
A seasoned traveller, Dad, and avid sports tourist, James foundered The Family Vacation Guide to share his expert vacation experiences- especially when it comes to being a travelling family man.
Featured in Travel articles such as Travel + Leisure, TripSavvy and SFGate, you know you're reading some of the best vacation tips online.