One of the biggest national parks in the USA is Yellowstone. The numerous waterfalls, geysers, basins, rivers, lakes, and rich flora and fauna make it recognizable and unique.
The precise number of waterfalls in Yellowstone National Park in Wyoming is unknown, but it is something close to 300. Some of them are named, while the bigger number of the Yellowstone Waterfalls remain unnamed.
If you are a hiking lover, you are going to enjoy the trail and hike to the top 10 Yellowstone Waterfalls we've chosen for you. In continuation, you will meet the most popular and easily reachable falls that impress everyone.
The Beauty of Yellowstone National Park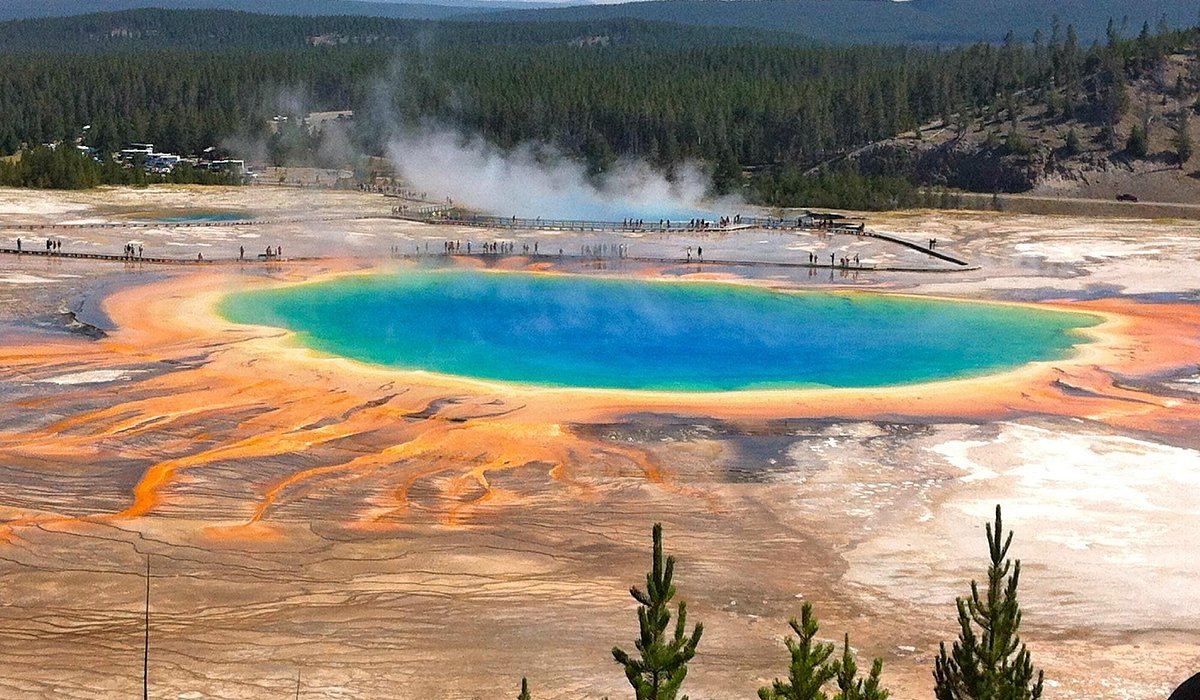 Taking a trip to Yellowstone National Park is an excellent idea for all nature lovers. There is a lot to see here throughout the year.
The weather varies almost daily, but summers are generally warm and around 70°F, while winters are snowy and cold, often below 0°F.
Yellowstone is America's first and biggest national park, with beautiful views, attractions, and hundreds of waterfalls. The Old Faithful geyser and Grand Prismatic Spring are the two most popular attractions you can see only in Yellowstone and nowhere else.
The Yellowstone waterfalls are also part of the national park's beauty. Some are visible from the road, while others are hidden in the woods and require a little hike. To make things easier, we chose 10 Yellowstone waterfalls that leave incredible impressions on everyone.
The national park has five entrances, and all of them are open and passable. The damaged roads were fixed after the Flood in June 2022.
Entrance and fees
The national park's entrance fees are the following:
Non-commercial vehicle – $35
Motorcycle/snowmobile – $30
On foot/bicycle – $20
However, there are 5 days in 2023 when the park is free for everyone! The National Park Service would not charge the visitors entrance fee on these dates in 2023:
16th of January – Martin Luther King's Birthday
22nd of April – National Park Week day 1
4th of August – Great American Outdoors Act Anniversary
23rd of September – National Public Lands Day
11th of November – Veterans Day.
Top 10 Yellowstone Waterfalls Worth Visiting
Northeast quadrant
Gibbon Falls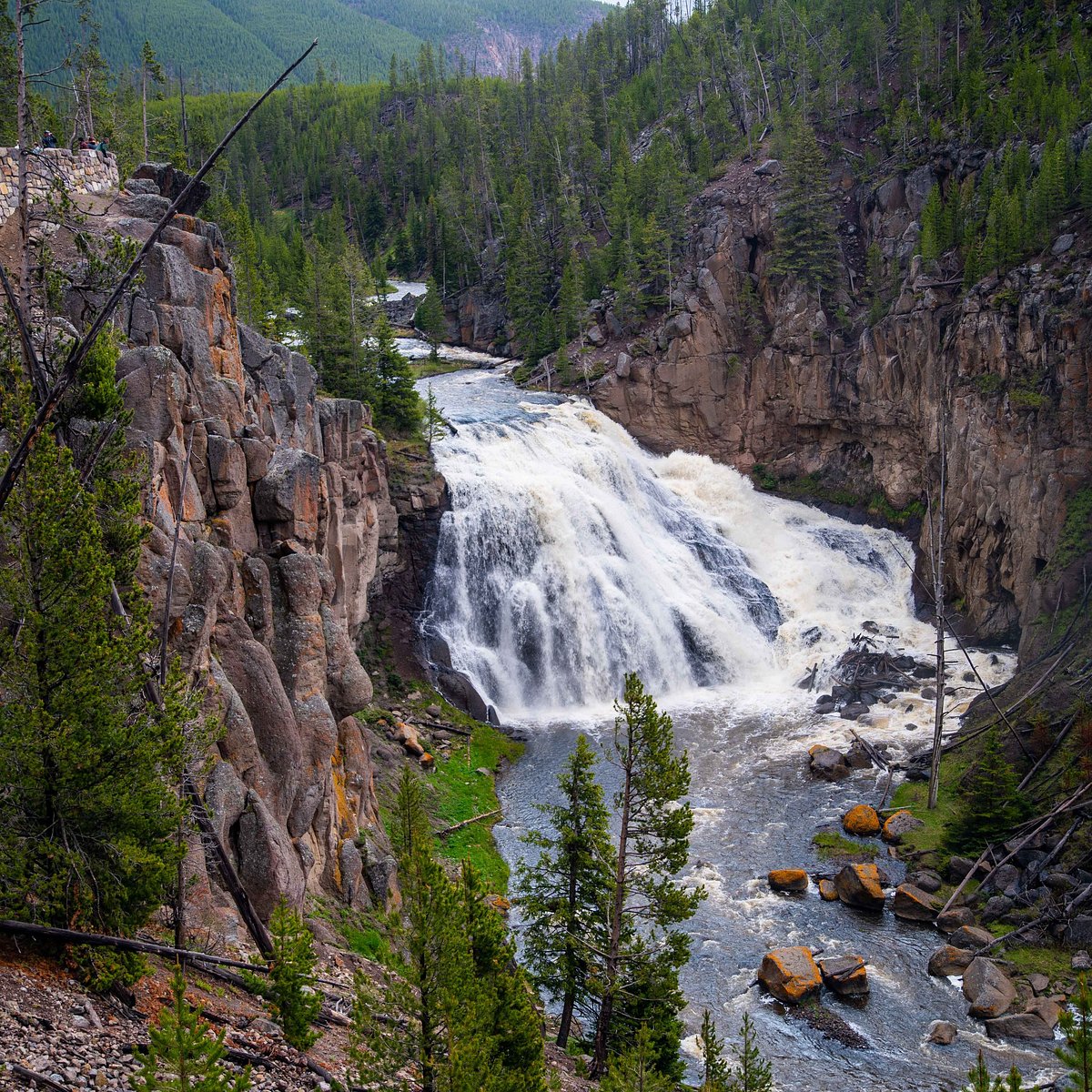 Gibbon Falls was discovered in 1872 by Willian Henry Jackson. No information or report points out how these waterfalls got their name, but in 1880, the falls' name was accepted by the government and commercial park accounts.
These falls are between Norris and Madison Junctions and are easily spotted from the east side of the road. The falls surrounding are perfect for picnics and rest.
The trail to Gibbon Falls is easy and family-friendly. It is generally a cement trail that does not require special hiking equipment.
Best time to visit
The road to Gibbon falls is short and easy. You would not have to climb rocks and hills to reach the falls, which makes it suitable for visiting throughout every season. The best time of the day to visit Gibbon Falls is the morning or early evening.
Additional info
Firehole Falls
Firehole Falls is located on the Firehole River. The location of these amazing falls is 0.5 miles from the Firehole and Gibbon rivers confluence. These waterfalls were discovered in 1871 by a US army member Gustavus C. Doane.
The Firehole Fall is said to be a result of an enormous pool of lava that filled the Supervolcano's caldera centuries ago. At the end of the Firehole Canyon drive, you will also see attractive cascades and waterfalls.
Best time to visit
Firehole Falls and cascades are available and open throughout every season. The swimming areas are closed during high water in the spring.
Check the info of the Visitors Center to ensure swimming is allowed on the dates you plan to visit Yellowstone.
Additional info
Osprey Falls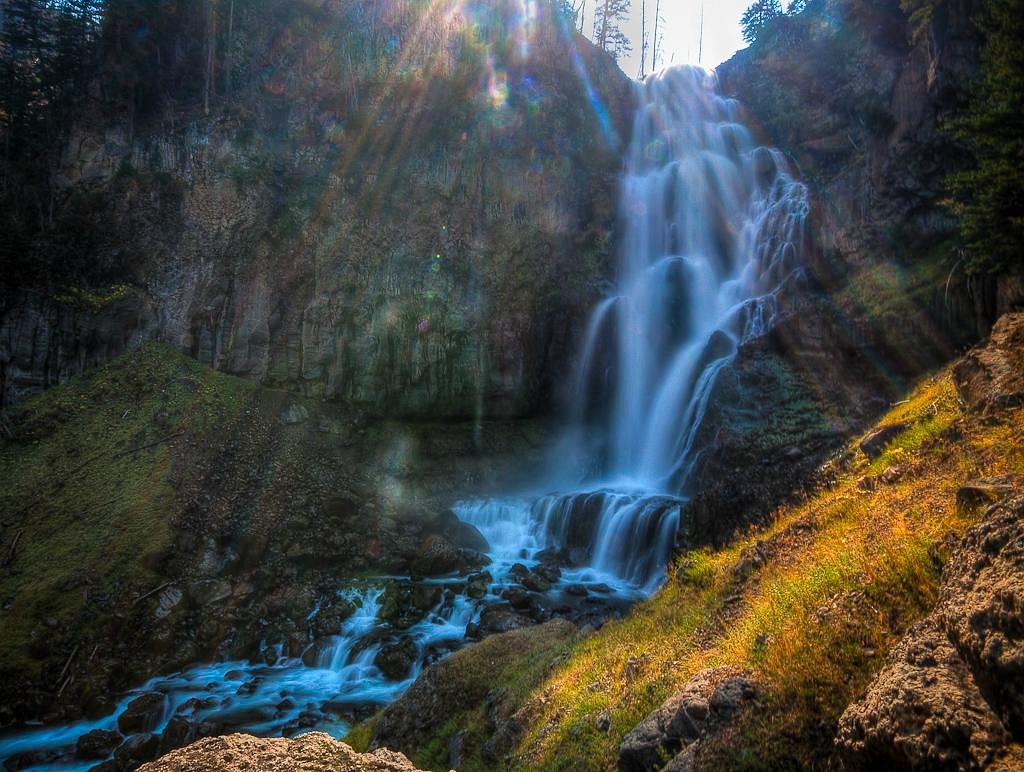 Osprey Falls is located on the Gardner River. It was initially discovered in 1885 and was named after the osprey bird (Pandion haliaetus). Everyone who has visited the falls confirms their magnificence and uniqueness.
To reach these falls, you should take a tour of around 9 miles. The hike is difficult and not recommended for children and inexperienced visitors. Bikes and pets are also not allowed on this hike.
Best time to visit
Because it is a strenuous area, it is recommended to visit these waterfalls from April to September when the weather is warmer.
Additional info
Northwest quadrant
Crystal Falls
Crystal Falls can be seen from the South Rim Trail and Uncle Tom's Trail parking spots. It is located at the Yellowstone river and Cascade Creek confluence.
Crystal Falls has a special beauty. The tour is not difficult but has a few steep parts at the end. It is good to take water and something to eat in the backpack and wear quality shoes.
There are also several camping areas in the park where you can take a break and "refill your batteries."
Best time to visit
Every season. Exceptions are made when the weather is rainy because the steep parts of the hike might be slippery.
Visiting the falls after the wet season might be best because the Paluma Dam is full and has a large volume of water that flows down the Crystal Waterfall.
Additional info
Yellowstone Falls
Yellowstone Falls is located on the Yellowstone River and consists of two major falls – Upper and Lower Waterfalls. The Yellowstone River first plunges into the Upper Waterfall and later into the Lower Yellowstone Waterfall, where it enters the Grand Canyon.
Lower Yellowstone Waterfall is the biggest and most popular waterfall in the entire Yellowstone National Park. The water volume and height make this waterfall the park's signature.
The Upper Fall is also breathtaking, but with a visibly smaller size than the Lower Fall. You can see this fall from Uncle Tom's trail.
Best time to visit
April to October. Warm and sunny days are excellent for visiting these two incredible waterfalls. This period is good to visit these two falls since there is less crowd and no road closures.
Additional info
Tower Fall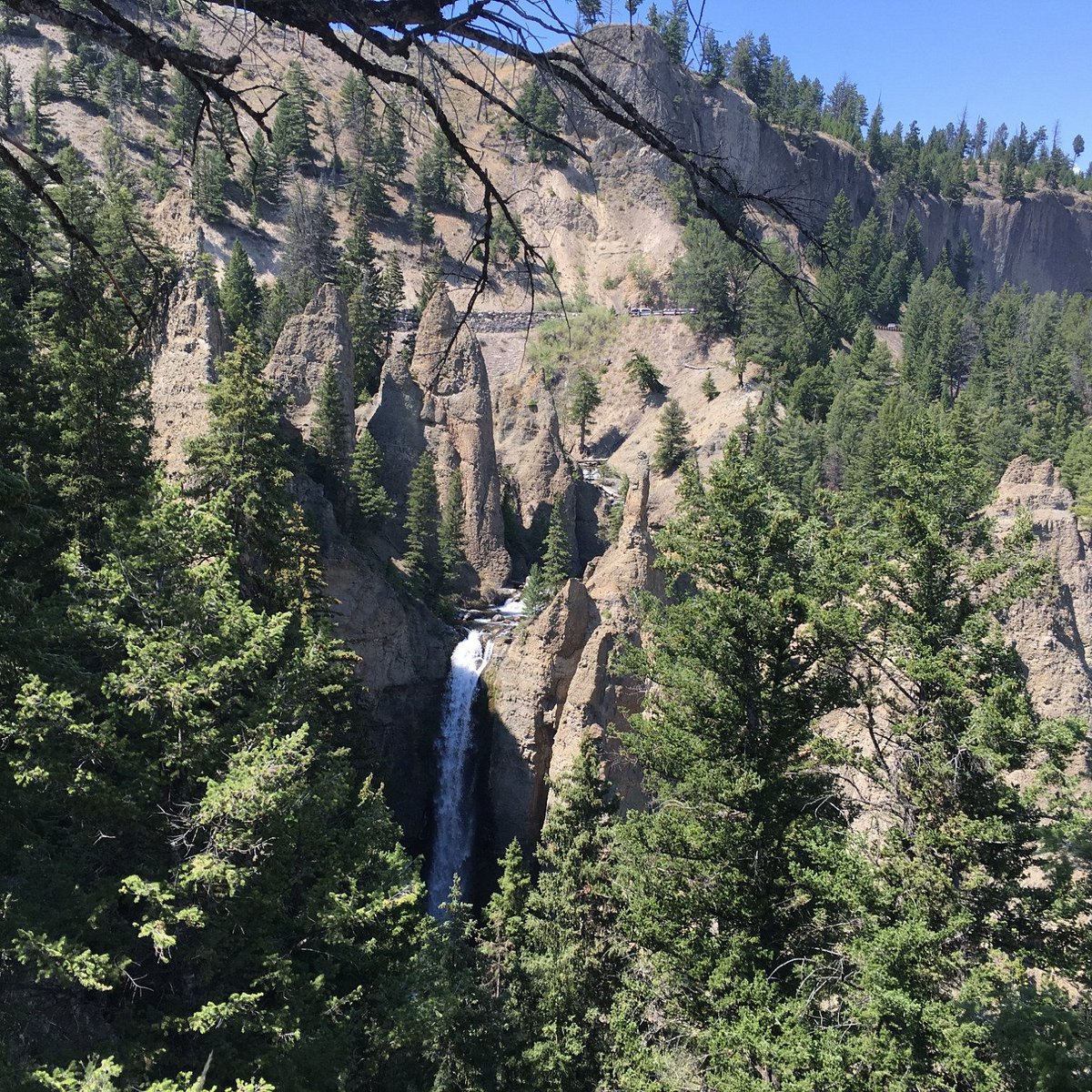 The Tower Fall is a waterfall on Tower Creek. This fall was initially discovered in 1869, while the US Geological Survey gave its official name in 1928.
The Tower Fall route is easy and family-friendly. It is steep at some points but does not make the trail difficult for the youngest hikers. The route does not bring you to the waterfalls directly but to a viewpoint that offers a perfect view of the falls.
Best time to visit
The view at the Tower Fall is best in April, September, and October. The trees are not so dense in these months, and you have a clear view of the fall. Also, these months are not so crowded, which lets you have a much better view.
Additional info
Southeast quadrant
Cave Falls
Cave Falls is located on the Fall River. The view makes everyone happy. A constant roar and crystal clear water with incredible nature surrounding the river.
To reach these falls, you should take a long gravel road drive. The road gives easy access to the falls.
Near Cave Falls, there is a camping area where you can place a tent or park your RV. The camping season ends on the 30th of September or earlier, depending on the snow.
Best time to visit
The best time to visit Cave Falls is from May to September. These falls have an incredible camping area that is open during the warm spring and summer days.
Additional info
Colonnade Falls
Colonnade Falls is a set of two incredible falls that fulfill each other. They are located on the Bechler River and are a little harder to reach compared to the previous falls in Yellowstone National Park.
Arnold Hague was a popular geologist known for numerous Yellowstone National Park surveys. This man is the one who named Colonnade Falls since they resemble a row of regular interval columns.
Best time to visit
The best months are July, August, and September. Late summer days are excellent for visiting Colonnade Falls since the meadow is the driest then. Spring and autumn are not good seasons for visiting these falls because there is a lot of marshy ground.
Additional info
Mystic Falls
Mystic Falls is a cascade located on the Little Firehole River. Because of their location, they were initially named Little Firehole Falls in 1872, while their name was changed to Mystic Falls in 1885 for unknown reasons.
The Mystic Falls trail is quite easy, but it is still unsafe for pets. If you decide to continue the trail for a couple of miles, you will reach the Biscuit Basin, one of the most attractive views of Yellowstone National Park.
Best time to visit
The Mystic Falls route is easy and suitable for every season. However, even if the route is short and accessible, you must be prepared and well-equipped. Always carry water and bear spray for protection since it is a National Park area.
Additional info
Terraced Falls
Terraced Fall is the largest waterfall on the Fall River. The fall got its name in 1886, which perfectly matches the fall's look.
Terraced Fall is easily accessible by a short trial from Ashton Flagg Ranch Road. You can drive to the Cascade Creek Trailhead with your vehicle, but be careful, the road is rough and unsuitable for sports cars.
Best time to visit
It is from June to October. September and October might be the best months for visiting these falls because there are little to no mosquitoes.
Additional info
Essential Things to Carry on Any Yellowstone Fall Trail
Even though the trails are generally easy and moderate, it does not mean you can go with your regular shoes or without hiking equipment.
Bottled water is the first and most important thing you must carry on every hike. Some trails can be pretty exhausting and make you thirsty, especially during summer days.
Because of the numerous water areas in Yellowstone, the atmosphere is humid, perfect for mosquitoes. So, the must-have product on summer days is mosquito repellent.
Anyway, the most important things you should pack for a Yellowstone Falls hike are the following:
Good pair of terrain shoes or boots
Bottled water
Sunscreen and mosquito repellent (in summer)
Sunglasses
Hat
Bear spray
Compact first aid kit
External phone charger battery
SmartWool socks
Camera and binoculars.
You can also pack other things that might be essential to you, but the listed ones are must-haves on most hiking trails.
Some trails are unsuitable for children and pets, so check the route's information and determine whether to carry your pets and kids or take the tour alone.
Conclusion
We are happy if our choice has helped you decide which fall to visit next. Yellowstone is an incredible place to stay for a couple of days, even weeks. The camping areas are clean and equipped with benches and fireplaces.
Yellowstone waterfalls are something you must visit even once in a lifetime. We can not decide which one is the most beautiful because each of them has its beauty.
Spend your day off in nature. Visit Yellowstone!