Yellowstone National Park has become a beloved landmark for a whole host of different reasons, but visiting it is not always as easy as it sounds. With so many different factors to consider, it is easy to get lost when trying to choose the ideal time to visit, especially if you have not been before.
Whether you know what to expect or not, it is a good idea to plan ahead and figure out when you actually want to visit. Not only can each season change the park quite dramatically, but the exact month might have a major impact on your experience at the park itself.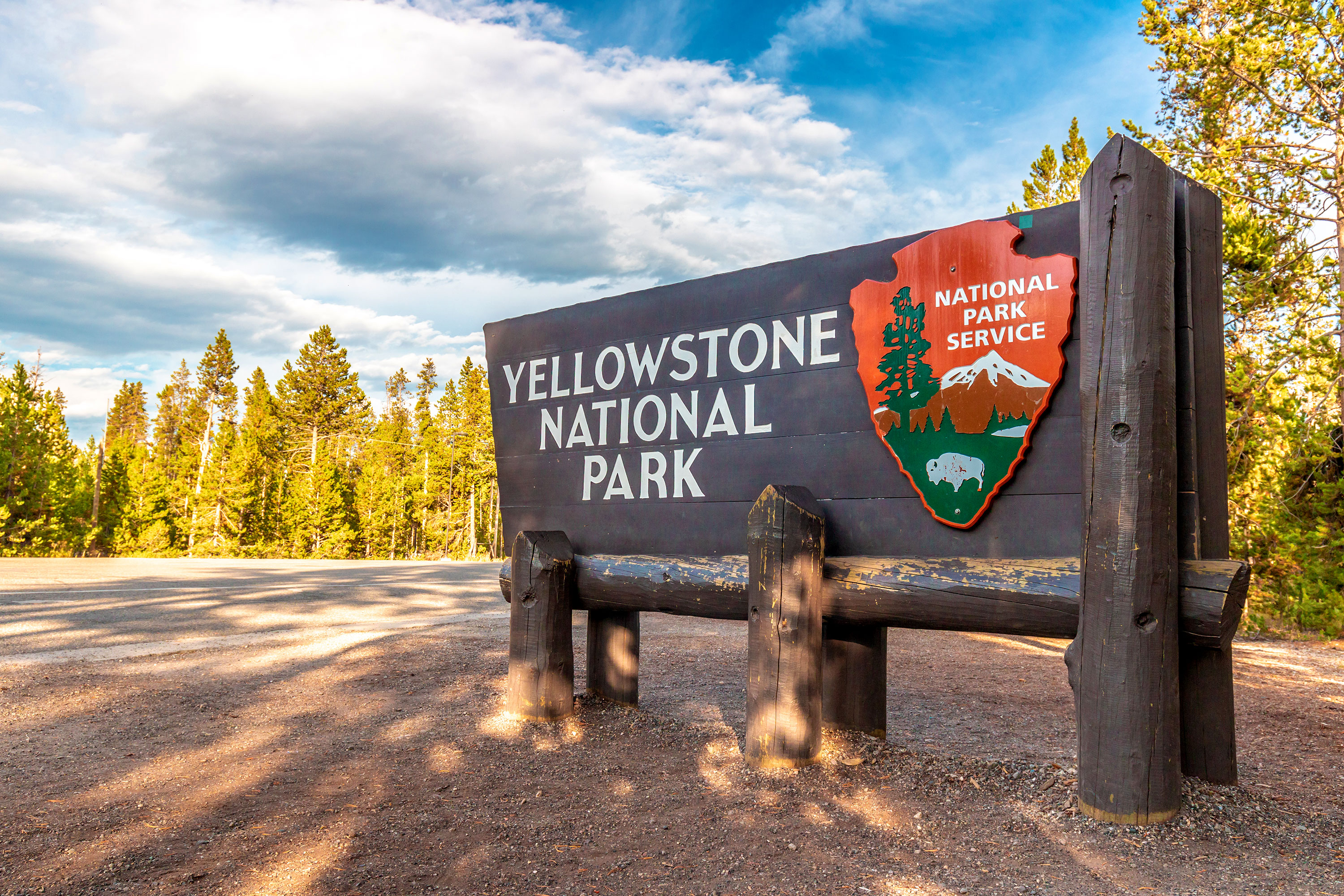 Visiting by Season
If you are planning to go to Yellowstone on your own terms, then it is a good idea to consider which season you will aim for. They might not be the most accurate guide, but understanding the differences between each season can make a major difference all the same.
For example, there can be different amounts of tourists and visitors, specific activities that are only available in certain places, or even changes to which roads are open at any given time. The more you know, the easier it becomes to choose a perfect visiting date and time.
Yellowstone in Winter
The first thing to know about winter is that the park will have far fewer visitors. If you would prefer to visit at a time when you will not be around many large crowds, then you will likely want to focus on winter.
However, the more important part concerns the snow. If you want to avoid snow itself and mostly just focus on exploring Yellowstone without big crowds interrupting you, then you will want to choose a month at the start or end of the winter period. Otherwise, you will get plenty of snow.
Yellowstone's winter season marks the opening (and eventual closing) of the Old Faithful Snow Lodge, accommodation that is only really available during the winter. A lot of activities have to close down due to the snowfall, but you can enjoy winter-specific replacements instead.
The snow season is the perfect time to enjoy the park in a brand new way, especially if you are feeling festive. There are a lot of activities and excellent sights to keep you engaged, and it can almost feel like a completely different place once the blanket of snow settles.
Yellowstone in Spring
Spring is the season that brings all of the new wildlife and plant life, meaning that it is easily one of the most fascinating, bright times to visit. Without the snow, the landscape looks fresh and extremely pleasing to explore, although the weather can still be a little bit chilly.
You should expect spring to be a bit cooler than the early summer period, and it is also likely to get quite a lot of rain here and there. The average temperature can vary quite heavily, even across a single day, so it is a good idea to bring extra clothing just in case you need it.
Other than that, spring is a good starting point for the rest of the year, and the warmer months of the season are the point where the visitor numbers begin to pick up. If you visit early, you can avoid crowds almost entirely.
Yellowstone in Summer
The high heat of the summer season means that the park becomes a lot warmer, but it also tends to gather quite a high average number of visitors. Not only is the park at its most popular, but it also tends to be very dry, so bringing extra water can be essential to staying hydrated.
Beyond that, you have to remember that accommodations are going to fill up quickly. If you have not booked ahead or arranged something of your own, then it can be tough to find any last-minute places to stay, so be sure to plan in advance rather than assuming there will be free spaces.
Summer also has quite a lot of key events, many of which take place during July. There are also a lot of events in the towns surrounding the park, meaning that you have plenty to do even if you are not within the park's borders.
Yellowstone in Fall
The fall tends to be the second-most-popular season to visit, mostly by people who want to avoid the summer heat and crowds by waiting a little while. If you still want the park to be lush and green, then it is important to visit early in the fall, before the leaves begin to change and brown.
If you don't mind visiting the park while it is in the middle of its fall transformation, then you can get some incredibly beautiful views that are not possible during the summer or the winter. With fewer people around, the local animals are also more willing to roam around, ready for you to snap some pictures.
If you go late in the fall, then you should expect unreliable weather and plan in advance. It is not always clear when snow is going to start settling, but it can happen at any moment, and certain trails may become too muddy to use properly. Some roads also start to close down near winter.
Visiting by Month
While knowing the general seasonal differences can be very helpful, it is often a good idea to focus more on a specific month. There are a lot of differences between the start and end of each month, whether that is temperature differences or the expected average number of visitors.
The more you know about each month's average conditions, the easier it becomes to choose a time that suits you and your preferences best. Even if you know a general time you would like to visit, figuring out the specifics can help you finalize your choice properly.
January
January tends to be one of the lowest-temperature months in the year for the park, with an average level of rainfall. Snow is still quite a common sight, but the chances of it falling will gradually decrease as you get through the month, meaning that it is more like a lingering piece of winter.
The visitor numbers here are often far lower than in most other months, meaning that you can easily enjoy the park without too many huge crowds. Of course, there will still be other people who want to visit during these off-peak times, so it will not be completely empty.
February
February's slight increase in temperature comes with a major decrease in average precipitation, meaning that you will get far less rain (and snow if the temperature is still low enough) than any other month of the year. It also tends to have a dip in visitor numbers compared to the previous month.
This means that it is one of the least popular months to visit, mostly just because it does not have anything special going on. This is not a bad thing, though: if you choose to visit now, you get the lowest visitor counts and rainfall levels, as well as slightly higher temperatures.
Of course, these temperatures are still quite low, so you will want to pack something that can help keep your body heat in. The park will boast warmer weather than winter, but not by very much.
March
March is the point where the park begins to warm up, getting better weather and having fewer cases of being below freezing point. While average precipitation rises back up to the park's basic amount, this is not going to get in the way of most visits at all.
The average tourist volume is going to increase around here, mostly because it is the first month of the year that is not freezing cold. However, this slight bump is not too bad, so you will not have to deal with an overcrowded park or big crowds of guests that clog up tight trails.
Since this is leading into the hotter months, you can expect the second half of March to be warmer than the first. Keep this in mind if you are considering a specific date that you will want to visit the park on.
April
April begins the hotter weather in the park properly, with the average temperature reaching a peak of around forty degrees. This still is not that high, but it is enough for a properly-prepared visitor to stay warm and comfortable while exploring the many trails that Yellowstone has to offer.
The average precipitation tends to go up very slightly during the month, but you will not notice unless you are spending a long time at (or near) the park. Other than the temperature bump and slight visitor boost, April is very similar to March in many ways.
May
May is usually the point where the visitor count rapidly begins to increase, usually alongside the sudden temperature jumps that visitors will see while spending time there. This is the lead-up to the summer season, so the heat will begin to rise throughout the month.
It is important to note that the average amount of precipitation often doubles during this month. Twice the rain means that you are twice as likely to get wet, but it also helps to counteract the usual dry spells that you can expect in hot weather.
Despite the heat, it is important to bring clothing that can protect you from rainwater, too. If you are caught outdoors, you do not want to get drenched trying to find shelter, especially with so many other guests roaming the park now that the cold weather has gone.
June
Arriving in June puts you at the peak of the visitor count, meaning that you are going to have the largest (on average) number of tourists and guests compared to any other month. If you do not mind having a lot of crowds around, then this is not a bad thing, but it can be a problem for many people.
While the average level of precipitation will fall compared to May, you still get more than some other months, and there is a spike in temperature that will not end until September or October. This weather can be a lot harder to deal with if you are not prepared, so be sure to plan ahead.
Other than that, this visitor-heavy month can still be a great time to turn up. There are lots of unique events and experiences that only run during the summer, and June is the first month of the park's summer season.
July
Anything that applies to June applies to July, with the only difference being the higher temperature. This is often the hottest month of the year for the park, so proper protection and safety are even more important here, especially if you are sticking to trails without much shade.
Visitor numbers here are roughly the same as June, although they might drop off slightly near the end of the month. If you want to avoid large crowds, then it is best to wait until August.
August
August visitor levels generally see a gradual drop over time, even though the temperature and humidity are roughly the same as the previous two months. This is the best time to go if you want to experience the park in summer but hate cramped and crowded spaces.
August also marks the beginning of the shift into fall, so be sure to go at the right time. The temperature will gradually drop throughout the month, making it more comfortable for some people but too chilly for others.
September
September begins the major temperature drop, taking it back down to similar levels as June. It also tends to drop the amount of precipitation closer to what you would expect at the start of the year, and there is often a downturn in visitor numbers around this point.
Visiting in September would mean that you get cooler temperatures and a less crowded park, but it might also mean that some of the summer events are gone. Many facilities close in the middle of September, so you might want to go in the early days of the month.
October
October is a major seasonal month, but it is also one of the lowest in terms of visitors. While some might appear near the start of the month, you are generally getting quite a low population in the park, as well as some cooler temperatures that are similar to what you would get in April.
This means that you will want to start treating the trip like an actual autumn visit – warm clothes are a must-have, even if you do not necessarily need them all that much. Thankfully, the rain itself is actually below January levels and will usually stay like that until the end of the year.
Seasonal road closures also start to happen in the middle of October. You will want to factor this into your plans if you will be moving around by car most of the time.
November
November gives you some very cold weather and a surprisingly low amount of rain. The low amount of visitors is generally consistent between October and November, so there will not be any major bumps or spikes unless a specific event draws more people in.
More importantly, though, there is the chance of snow appearing. This can often lead to roads being either temporarily closed until they are cleared or closed for the season as part of a schedule. Many activities may also be shut down, although winter-specific replacements will pop up instead.
December
The end of the year tends to be either the coldest or second-coldest month, depending on how cold January is. December is the point where almost all non-winter events and options shut down, with the Christmas festivities usually meaning that there is a bump in the visitor count again.
If you are planning to visit for December, then remember that snow is incredibly likely. Even with the relatively low precipitation levels, you will need to prepare for a very wet, slippery, and cold environment, so do not hesitate to stock up on warm clothes and tire chains.
When is the best time to visit Yellowstone National Park?
Yellowstone National Park, like many other outdoor sites, is heavily influenced by the weather. However, the weather is not the only thing that changes over the year, as you have seen above. So, when should you visit, and when should you stay away?
If you want to avoid the rain, then February tends to have the least. Every month from May to September tends to have quite a lot of rainfall.

The hottest months come in the summer, naturally. Going during May or October lets you avoid the hotter weather, and July is consistently the warmest.

Cold weather lingers between December and February, but it can also hit November and March if you are unlucky, so you will want to pack warm clothing.

Summer seasonal events and activities close in September, sometimes earlier. Winter events also tend to be gone by February or March. If you want to enjoy them, you need to go before they are gone for the year.

Road closures happen in the middle of October, with more closing after that, thanks to the snow and cold weather. Remember to keep this in mind if you are planning a trip that happens after October – especially a vehicle-heavy trip.
Whenever you decide to visit, it is a good idea to make sure that you have planned for every possible issue you might face. If rain is likely, bring coats. If the snow could start to fall, make sure you have warm clothing. Do not get caught out by sudden changes in weather or temperature.
More about our TFVG Author
A seasoned traveller, Dad, and avid sports tourist, James foundered The Family Vacation Guide to share his expert vacation experiences- especially when it comes to being a travelling family man.
Featured in Travel articles such as Travel + Leisure, TripSavvy and SFGate, you know you're reading some of the best vacation tips online.