Yellowstone National Park is a world-renowned destination for outdoor enthusiasts and nature lovers. The park spans more than two million acres, making it one of the largest national parks in the United States.
Yellowstone is also one of the most famous national parks, with over four million visitors yearly. Given its popularity, many people wonder if May is a good time to visit Yellowstone.
The answer is yes! May is a perfect time to visit Yellowstone National Park. The weather in Wyoming is mild and cool, and the crowds are smaller than they are in the summer months.
If you're considering taking a trip to this remarkable landmark, discover which airport is closest to Yellowstone National Park to make planning a whole lot easier!
Things To Consider
Here are a few things you should keep in mind when planning a trip to Yellowstone in May: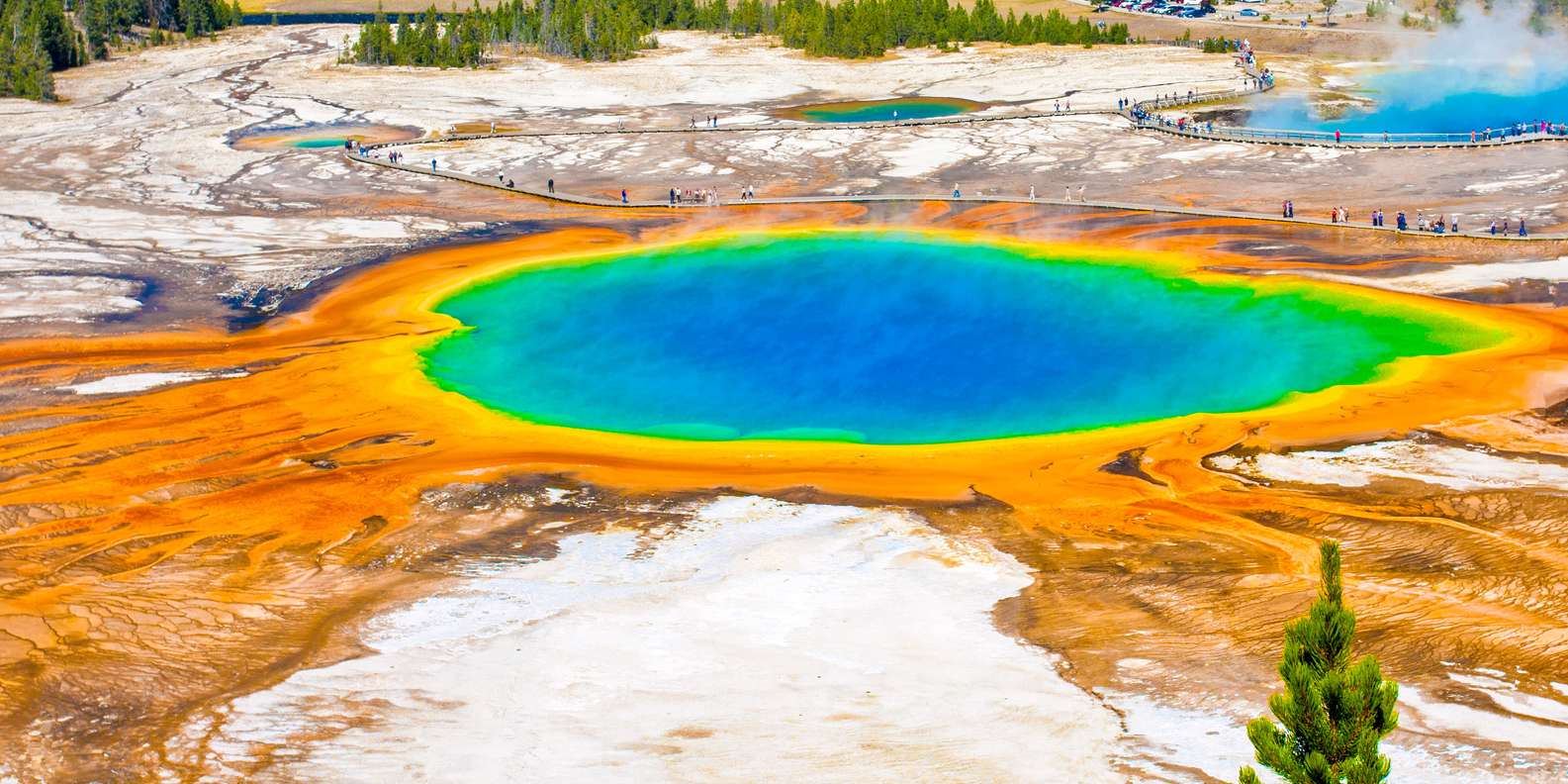 Weather
The average high temperature in Yellowstone in May is 70 degrees Fahrenheit. The average low temperature is 42 degrees Fahrenheit. The winter tends to be a bit longer in the area, so the temperatures are still on the cool side.
However, the weather is milder than it is in other months. There is less chance of snow. Speaking of snow, Yellowstone does experience snow in May. Getting up to 24 inches of snow over 24 hours isn't uncommon. In fact, some have reported a dusting of snow in August.
To get the most incredible experience out of your Yellowstone National Park visit, prepare for comfortable temperatures up to 70 degrees and a blizzard at any time.
Crowds
Yellowstone is one of the most popular national parks in the United States. That said, it's still not as crowded as it is in the summer months. Many people visit Yellowstone in July and August when school is out and the weather is warmest.
May is a great time to visit if you want to avoid large crowds. You'll still have the chance to see all the fantastic sights and attractions the park offers, without dealing with large crowds.
Closure of Some Roads
Some roads in Yellowstone National Park close in May due to snow and ice. These closures can vary from year to year, so it's essential to check the road conditions before you visit. Expect to do more walking than usual, as some trails and roads may be inaccessible.
In general, the roads that close in May are the ones that lead to higher elevation areas of the park, such as Dunraven Pass and Beartooth Pass. If you're planning to visit Yellowstone in May, check the road conditions before you go.
Some of the popular attractions in Yellowstone, such as the geysers and hot springs, are only accessible by foot. Be sure to pack appropriate shoes for hiking.
Things To Do in Yellowstone In May
Let's look at some of the best things to do in Yellowstone National Park in May.
Visit the Geysers and Hot Springs
One of the most magnificent things to do in Yellowstone is to visit the geysers and hot springs. The park is home to over 500 geysers, making it the largest concentration of geysers in the world. Many of these geysers are active and erupt throughout the day. The most popular geyser to see is Old Faithful, which erupts every 35 to 120 minutes.
In addition to geysers, Yellowstone is also home to several hot springs. These springs are another popular attraction in the park. Some famous hot springs include Mammoth Hot Springs, Liberty Cap, and Excelsior Geyser Crater.
Hike Through the Grand Canyon of the Yellowstone
The Grand Canyon of the Yellowstone is one of the most popular hiking trails in the park. The trail can take about two to three hours to hike. It takes you through the canyon, past waterfalls, and some of the best views in the park. The trail is effortless enough that all skill levels can do it as a day hike. Bring plenty of water and snacks if you plan to hike the trail.
Explore the Largest Lake in Yellowstone
Yellowstone Lake is a great place to explore. The lake is full of fish, including cutthroat trout and whitefish. There are several trails that lead around the lake and offer stunning views. The lake is also an excellent spot for boating and canoeing.
Visit One of the Yellowstone Museums
Yellowstone features multiple museums that offer insight into the history and culture of the park. These museums are exciting for all ages and offer a variety of exhibits.
Some of the most popular museums in the park include:
There are many more museums to visit in Yellowstone National Park in May. These are just a few of the most popular activities that visitors can enjoy.
See the Wildlife Operating in Its Natural Habitat
Yellowstone houses an abundance of wildlife. Some animals at the park include bison, elk, deer, bears, wolves, and buffalo.
May is bison calving season in Lamar Valley, so this is a great time of year to see these massive animals with their babies in their natural habitat. Wolves are born each year in March and May as well, making it a great time to see them playing and frolicking around in the park.
May is a stupendous time to see the wildlife as they're active and can be seen throughout the park. Always ensure that you are keeping your distance from the animals, as they can be dangerous.
For example, May is also elk mating season. So, you may see these animals fighting for mates. Female elk tend to act aggressively to protect their calves. Getting too close could result in you getting injured. Therefore, it's best to leave these animals in their space and enjoy them from a distance.
Remember that you are in their natural habitat and should respect their space.
The best way to see the wildlife is by taking a guided tour. These tours get facilitated by well-experienced guides who know where to find the animals and how to keep you safe.
Fishing Season
One drawback is the fishing season. The season doesn't open until Memorial Day weekend, so if you're planning to fish during your visit, you'll have to wait until then. Yellowstone is home to several fish species, including cutthroat trout and whitefish. There are many lakes and rivers to choose from, so you're sure to find a great spot to fish.
The best fishing places are the Gibbon, Madison, and Firehole Rivers. Remember that permits are required to fish inside the park. Purchasing permits is easy. Just visit any fly store or visitor center outside of Yellowstone if you didn't get it ahead of time.
Take a Scenic Drive Through the Park
Yellowstone is home to many of the most scenic roads in the country. It is home to several scenic drives that offer breathtaking views. These roads provide many unforgettable attractions. These drives are the perfect way to see the park and learn about its history.
Some of the best scenic drives in Yellowstone include:
Grand Loop Road: This road takes you through the entire park and offers views of the geysers, hot springs, waterfalls, and more.
Tower Fall Road: This road leads to the Tower Fall area and offers views of the waterfall and the surrounding canyon.
Norris Geyser Basin Road: This road takes you to the Norris Geyser Basin, which is home to some of the most active geysers in the park.
These are just a few of the many scenic drives that you can take in Yellowstone. Remember to keep calm and enjoy the views.
Gaze at the Meadows and Wildflowers
Yellowstone is home to several meadows and fields blanketed with wildflowers in the spring. These flowers are a beautiful sight and make for a great photo opportunity. Some of the best places to see the wildflowers are in the Hayden Valley and along the Firehole River.
Take a Soak in the Hot Springs
We mentioned earlier that Yellowstone is home to several hot springs. But did you know that they are perfect for taking a relaxing soak? The water in the springs is heated by the earth's heat, making it the ideal temperature for a soothing soak.
The Hot Springs State Park has a free bathhouse for the public to enjoy. The water is 104 degrees Fahrenheit and is perfect for relaxing in. It's a wonderful way to get warm during the cooler months in Yellowstone.
Yellowstone Hot Springs is a newer hot spring located in Paradise Valley. It's open Tuesday through Sunday and features three bodies of natural mineral waters.
Have an Adventure in Yellowstone
Yellowstone is the perfect place for those who love adventure. Countless activities, including hiking, biking, canoeing, and more keep you busy. Wildland Trekking offers visitors a Spring Trekking Adventure, which lets you experience the Yellowstone River, wildlife habitat, night skies, and mountain solitude.
Stay in a Yellowstone Lodge
One of the most fabulous parts about visiting Yellowstone is staying in one of the park's lodges. These lodges offer visitors a unique experience you can't find anywhere else.
The Lake Hotel is one of the most popular lodges in Yellowstone. It sits along the shore of Yellowstone Lake and offers stunning views of the lake and surrounding mountains.
If you're looking for an experience that's a little more rustic, the Old Faithful Inn is the perfect lodge for you. It's located in the heart of the park and is one of the oldest lodges in Yellowstone.
All of the lodges are open from late spring throughout the fall. However, only the Old Faithful Snow Lodge and the Mammoth Hot Springs Hotel are available during the winter. Therefore, you'll need to make your reservations to ensure that you get a room.
Tips for Traveling to Yellowstone National Park in May
Here are a few tips to make traveling to Yellowstone better.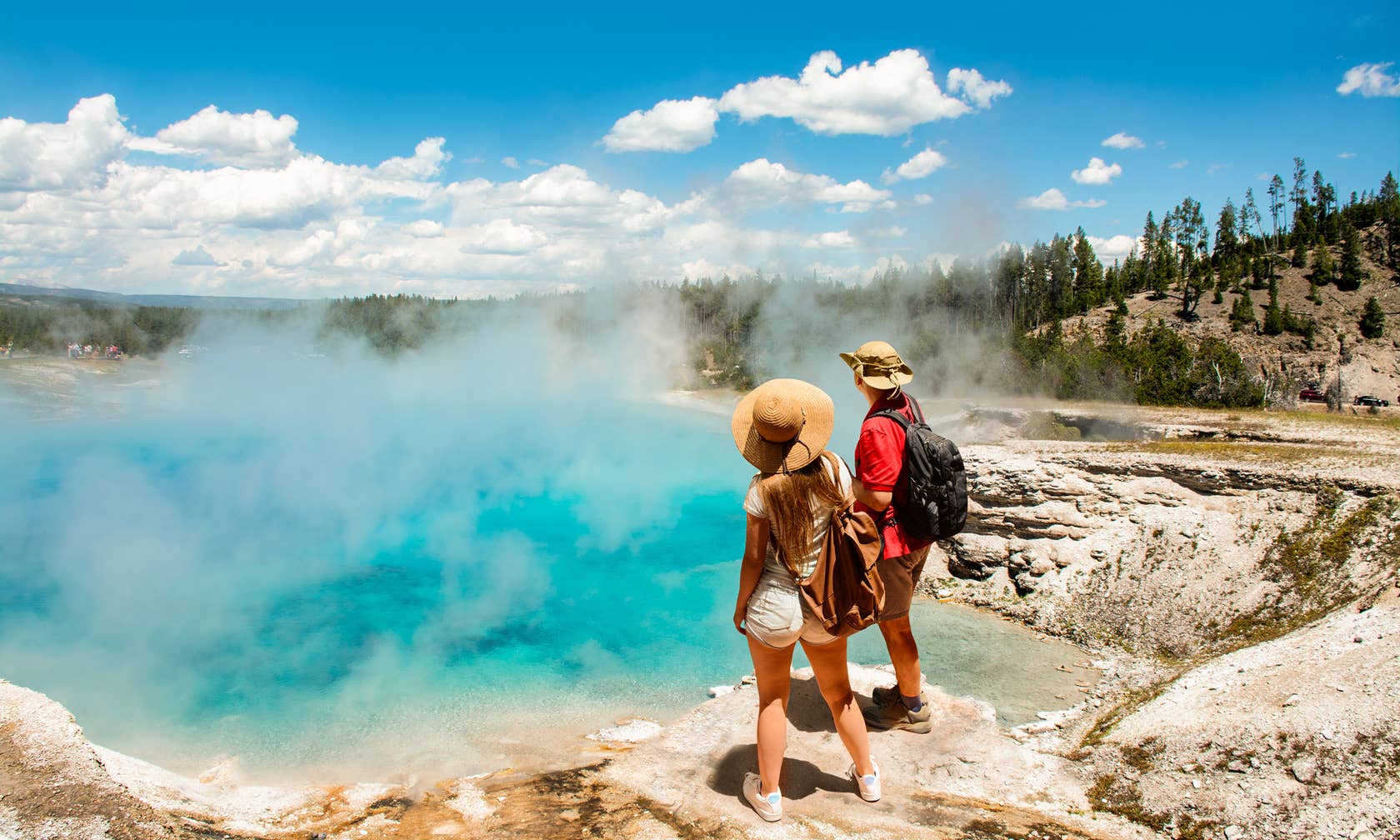 Purchase an America the Beautiful Pass
If you're planning on visiting any national parks in the United States, purchasing an America the Beautiful Pass is a good idea. This pass gives you access to the national parks and monuments for one year.
You can purchase an America the Beautiful Pass online or at any ranger station in Yellowstone. The price is $80.
Download the National Park Service App
The National Park Service offers a free app that is incredibly useful for visitors. The app includes information on all of the national parks, including Yellowstone. The app contains maps, ranger-led programs, and tips for visiting the park.
Stay on Boardwalks and Trails
Yellowstone is home to several geysers, hot springs, and other thermal features. It's crucial to stay on the boardwalks and trails when you're near these features. The ground can be scorching and can cause severe burns.
Furry Companion Disclosure
Pets cannot accompany you on trails or boardwalks in Yellowstone. They can only go where a vehicle can go. This aims to protect your pets.
Yellowstone is full of wild animals, which poses a threat to domesticated animals. Pets have been lost and killed at the park. If you're planning on bringing your furry companion with you, you'll need to leave them at the lodge or campground.
Know Before You Go
Before you visit Yellowstone, it's important to know what to expect. The weather can be unpredictable, so pack for all eventualities. The same applies to getting your reservation early.
Trash
Keep all trash secure and in designated trash bins. It prevents wildlife from getting into the garbage and becoming sick or injured.

Is May a Good Time To Visit Yellowstone?
Yes, May is a fantastic time to visit Yellowstone! The weather is awesome yet unpredictable. Just be sure to come prepared for some cold nights and possible wet weather.
The crowds are smaller, making your trip more peaceful. You'll also have more time to enjoy one of the many activities to keep you busy. Remember to plan ahead to get the reservations of your choice. Follow these tips to ensure that you have a safe and enjoyable trip. 
If you're considering other months to visit this beloved landmark, take a look at our guide exploring the best time to visit Yellowstone National Park!
More about our TFVG Author
Caitlin is one of The Family Vacation Guide's long standing contributors. She enjoys taking vacation to busy, vibrant cities and has stretched her traveling legs out towards Europe in recent months, enjoying new experiences in Barcelona in Spain, and Nice in France.