A family summer vacation in Arizona wouldn't be complete without a trip to the beach! Especially if you're in a famously hot and dry area like Phoenix. Phoenix beaches by the ocean aren't actually a thing, but there are beaches in the general Phoenix area that you can try.
If you're looking for beaches near Phoenix though, you'll have to be willing to drive a few hours away. So it's best to plan it into your itinerary as a whole day trip.
Check out some great beach spots near Phoenix below.
11 Best Beaches Near Phoenix
Most of the best beaches near Phoenix aren't actually saltwater beaches. They typically have freshwater beaches on a lake, like Lake Havasu. In fact, some of the best "Phoenix beaches" are on Lake Havasu.
While these may not be beaches in the traditional sense of the word, they do come with a lot of benefits. You get the best part of beaches, like white sand, but also the best parts of a state park, like hiking trails.
If you're a beach-lover in the Phoenix area, these beaches are well worth a visit.
1. Tempe Beach Park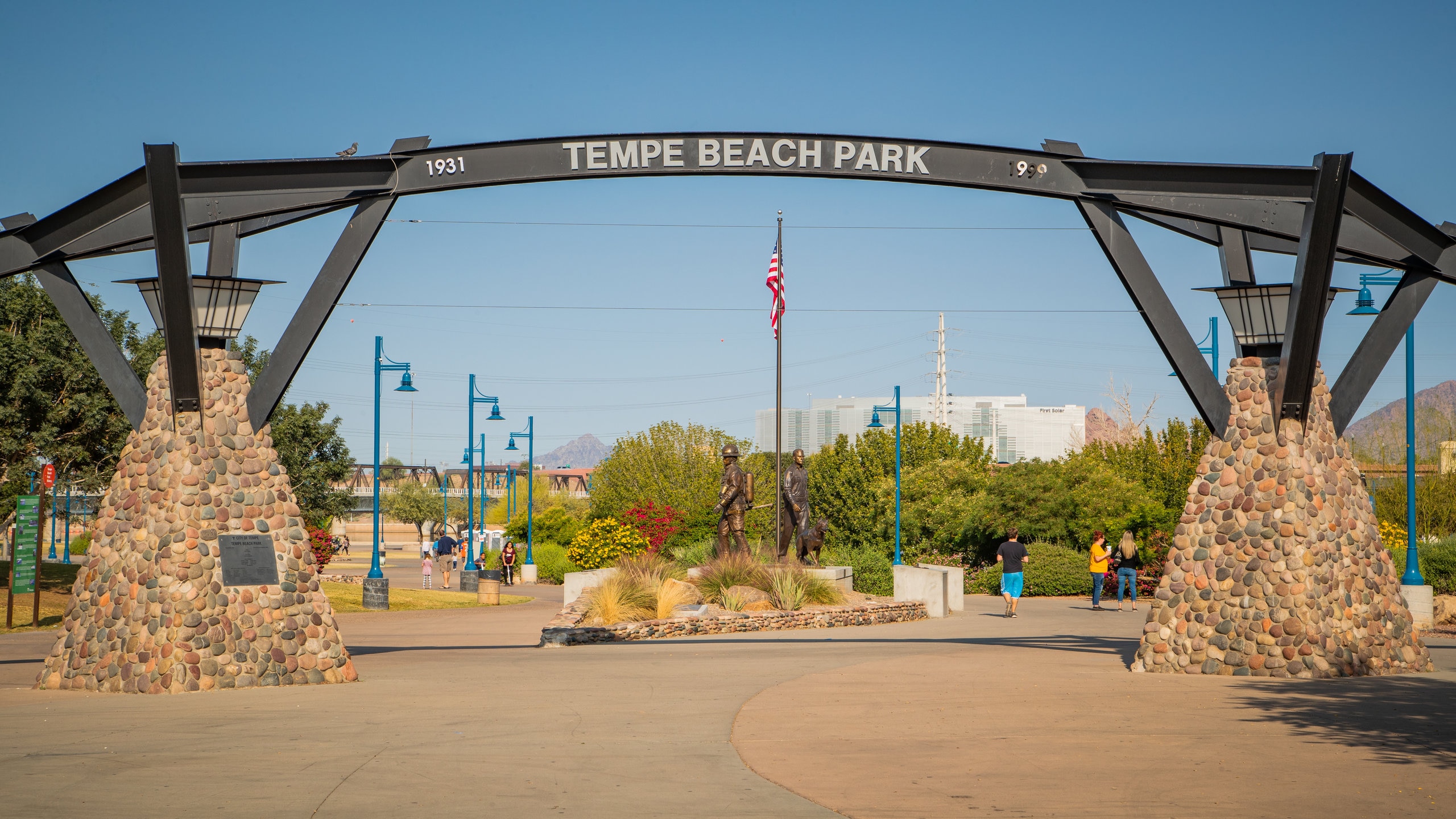 This is the closest beach to Phoenix, only a 15-minute drive from the city.
The park stretches over 25 acres and includes hiking paths, biking paths, a splash playground for children, and volleyball courts. You can also take part in water sports on Tempe Town Lake. You'll be able to paddleboard, kayak, and rent a boat.
There are also grills, picnic tables, ramadas, and restrooms. And with water fountains available in the park, it's easy to beat the heat!
2. Buckskin Mountain State Park Beach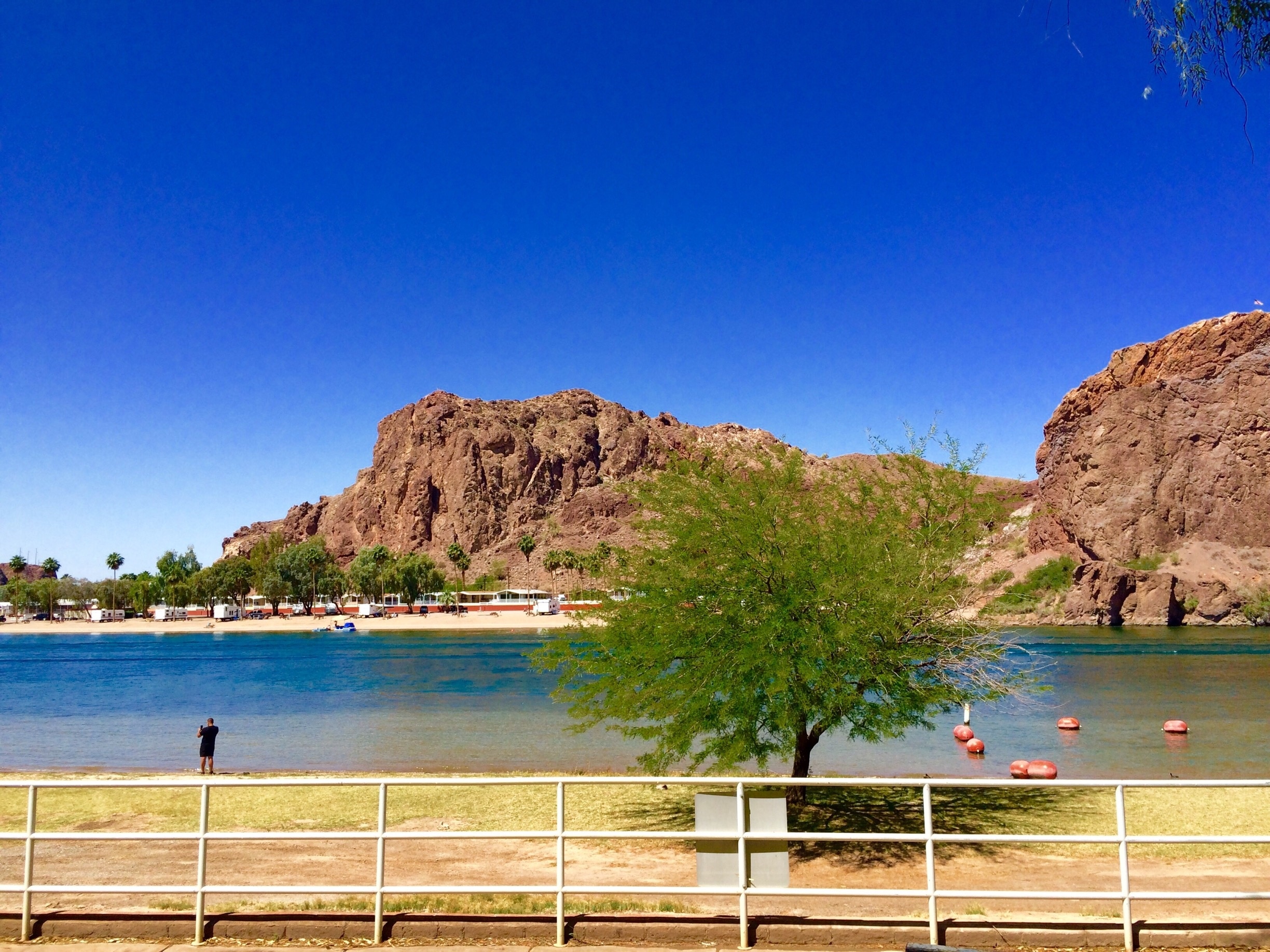 This state park is just under a 3-hour drive away from Phoenix, so it's ideal for a day trip or overnight stay. This park is open 24 hours, year-round, and has an entrance fee of $10 per car.
Activities-wise, there's a swimming area along the shoreline, but there are no lifeguards. Or why not go boating and fish for catfish, bass, and sunfish? There's also a lot of wildlife to view in the park, as well as exhibits about the surrounding flora and fauna.
Enjoy outdoor dining at the picnic areas situated under shady trees. This area overlooks the Colorado River and is also equipped with two barbecue grills and parking.
This state park also offers 80 campsites for tents and RVs. The campsites are located near showers and restrooms. They also have electric hookups, with 15 of them having sewer availability. Each campsite comes with a barbecue grill and picnic table.
3. River Island State Park Beach
The River Island State Park Beach is located 2 hours and 45 minutes away from Phoenix by car.
Lying on the Colorado River banks, there is a designated swimming area, but there are no lifeguards on duty. You can also kayak along the river or take your boat out. You'll be able to spot catfish, smallmouth bass, largemouth bass, and panfish.
Make the most of the hiking trails in the park that connect with the trails in Buckskin Mountain Park. And after an energetic hike, you can make use of the two shower and restroom buildings that have accessibility features. There are also picnic areas that have water, lights, and a 20-amp outlet.
There are also 8 beachfront campsites overlooking the breathtaking Colorado River. Each site comes with water and a 20-amp service. They're best suited for tents and small campers, but there are sites that are ideal for RVs and tent campers. They all come with water and a 20, 30, or 50-amp service.
4. Pebble Beach
Pebble Beach is located 2 hours and 40 minutes away from Phoenix. It's considered one of the best beaches for swimming in Arizona because no motorised boats are allowed.
Visitors to this popular spot love to spend a lazy afternoon tubing down the Salt River. This is also a great site for birding and camping. With many ramadas and picnic areas, you can enjoy chilling out at this beach spot. This is also a popular area to kayak and go fishing.
5. Windsor Beach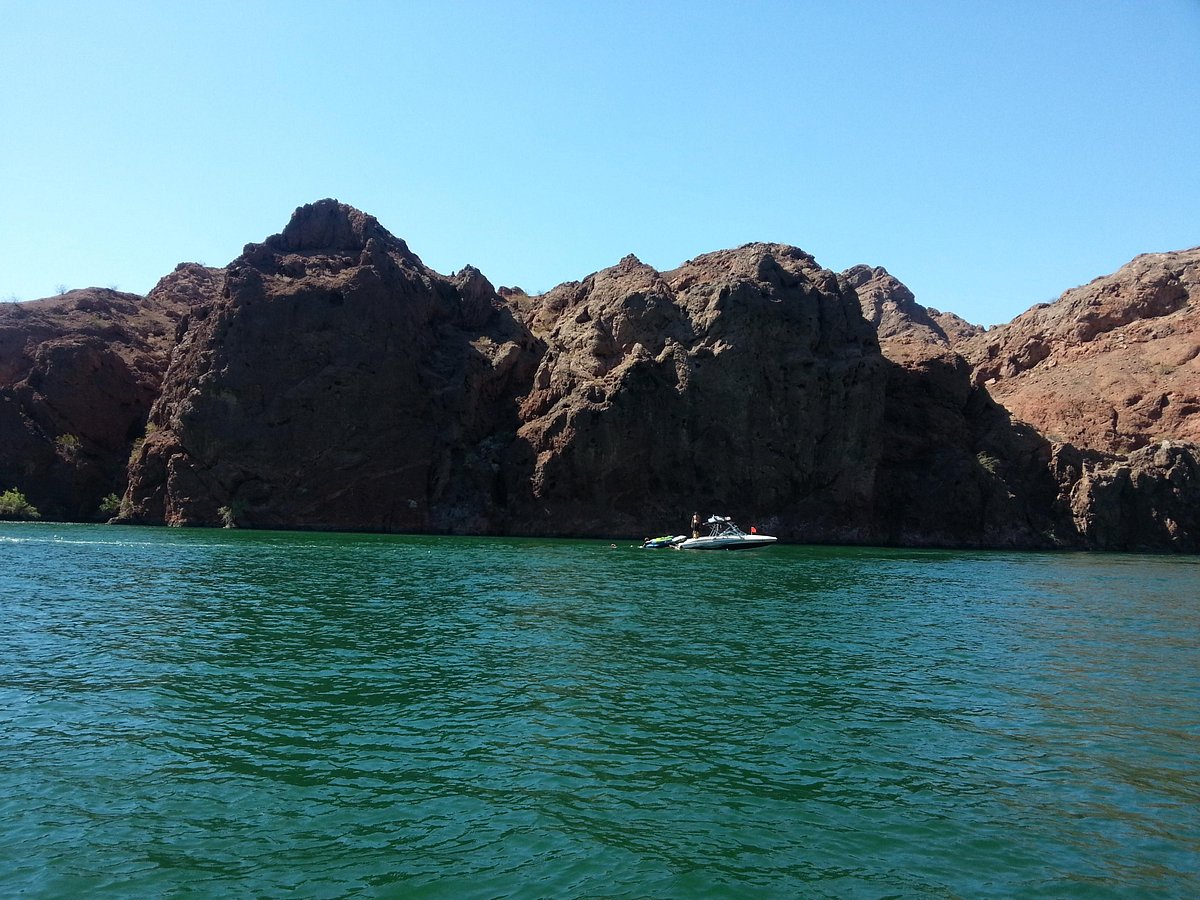 This long stretch of fine white sand is located on Lake Havasu in Arizona. That's about 3 hours away from Phoenix.
There are a lot of water sports for everyone to take part in, like jet skiing, swimming, fishing, and boating. There are, however, no lifeguards on duty there.
You can always sunbathe and enjoy the gorgeous mountain vistas if getting in the water doesn't interest you. You can also stay overnight by camping on the beachfront or staying in your RV.
6. Cattail Cove State Park Beach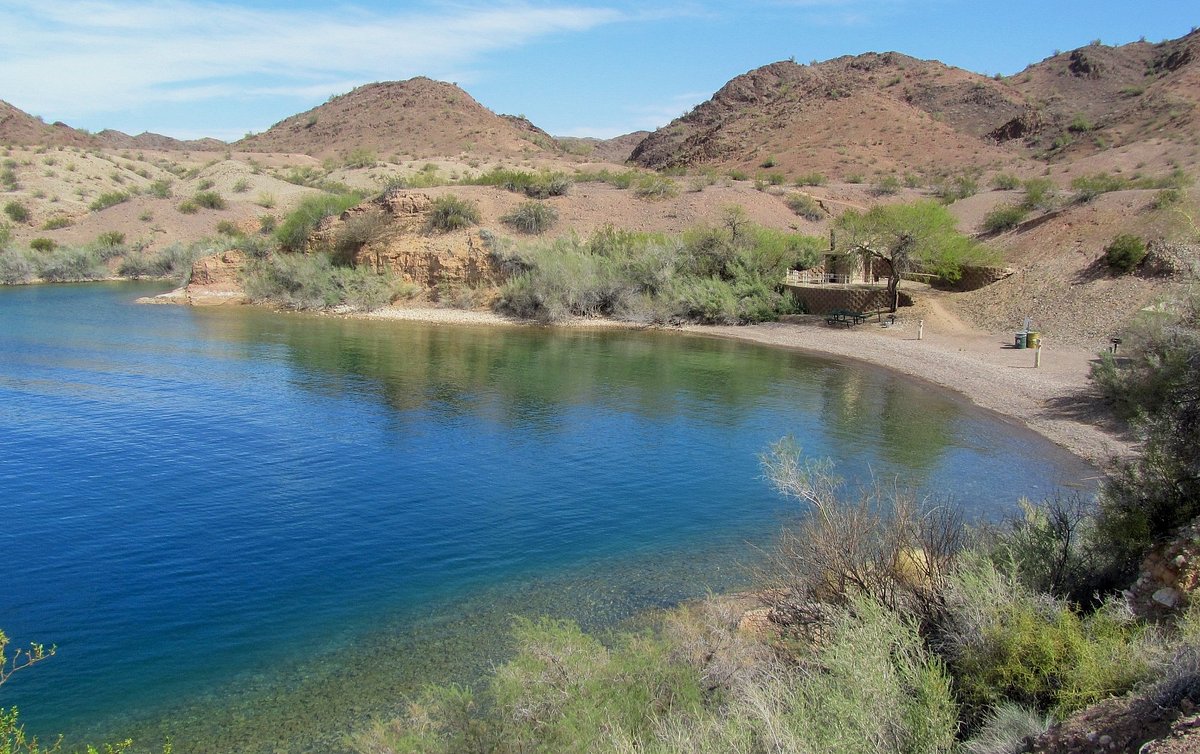 The Cattail Cove State Park Beach is a 3-hour drive from Phoenix. This beach is also located on Lake Havasu, which is connected to the Colorado River.
There is a great range of water sports to take part in, as well as spectacular fishing. You can catch crappie, bluegill, striped bass, largemouth bass, flathead catfish, and channel catfish.
The designated swimming area is next to a long stretch of white sandy beach, but you may also swim along the shoreline. You can rent kayaks and paddleboards at the beach or make use of the boat ramp. There are hiking trails of various difficulties, including one that starts on the shores of Lake Havasu.
There are basic boat-in campsites that come with barbecue grills, picnic tables, and pit toilets. There are also 61 RV and camping sites that have water and electricity available. They also have picnic tables and fire pits or barbecues.
7. Patagonia Lake State Park Beach
The Patagonia Lake State Park Beach is located 3 hours away from Phoenix. The park is picturesquely located in south-eastern Arizona's rolling hills.
Popular activities at the park include swimming, fishing, water skiing, camping, hiking, and picnicking. The most common fish in the lake are catfish, bluegill, crappie, trout, and bass. Swimming is permitted in any part of the lake except boat launch areas. There are no lifeguards on duty, though.
The picnic areas near the beach area are the perfect spot for refueling during a day at the beach. There are also two shower and restrooms buildings available with accessibility features.
The trails are perfect for bird-watching while on a hike. You can spot Inca doves and black vultures, among other birds.
There are 105 campsites or RVs and tents that also have a picnic table, parking for two cars, and a fire ring or grill. The sites have 20, 30, or 50-amp service. There are also 12 boat-in campsites. Some of the sites have a restroom, and they all have a picnic table and a fire ring.
There are also fully furnished cabins that can also be rented for camping. Each cabin has its own picnic table, barbecue, and fire ring.
8. Centennial Beach
Centennial Beach is located about 3 hours away if you're driving. It's located in Yuma, Arizona, and is a fairly recent addition to the city's waterfront.
There are picnic areas and restrooms near the beach. There are also small lakes you can explore. Swimming is permitted on this beach.
9. Rotary Beach
Rotary Beach is located 3 hours and 15 minutes away by car. The beach is found in the Rotary Community Park in Lake Havasu City. It's also near the famous Bridgewater channel.
Although a bit further from Phoenix, the entrance to the park is free! There is a buoyed swimming area and three different playgrounds for children. One of the playgrounds is for children with special needs.
There are 6 volleyball beach courts and two bocce ball courts. There is also a skate park and covered picnic areas that have barbecues and picnic tables. With so many kid-oriented activities, this is a great destination for families.
10. London Bridge Beach
London Bridge Beach can be found along the Bridgewater Channel, and it's about 3 hours and 15 minutes away. This beach boasts two playgrounds, a community stage, sand volleyball courts, a fully enclosed dog park, and a buoyed swimming area.
There's a park nearby too, as well as picnic areas and barbecue areas. Enjoy some water sports with the watercraft rentals available for paddleboarding and kayaking. There are also some Lake Havasu restaurants nearby.
11. Body Beach
Body Beach is located a 3-hour and 15-minute drive away from Phoenix. The beach is a stretch of half a mile along the east side of Lake Havasu.
This is one of the most popular beaches in Arizona for jet skiing. In fact, the jet ski World Championships have been held in Lake Havasu for over 30 years. It's not uncommon to see professional skiers practicing on the buoy course on Lake Havasu at Body Beach.
FAQs
What is the closest ocean beach to Phoenix?
The closest ocean beach to Phoenix is across the border in Puerto Penasco, Mexico. The beach is called Playa Bonita Beach, and it's about 4 hours away from Phoenix. As you're crossing the border, you'll have to bring your passports and factor this time into your day.
If you're not excited about crossing a border, the next closest ocean beaches are in San Diego. San Diego is over 5 hours away by car.
Which is the closest California Beach to Phoenix?
Southern California is the closest if you're willing to drive to California in search of the best ocean beaches. Specifically Newport Beach. There are several great beaches to choose from in Newport Beach, and it's quite a family-friendly town.
More about our TFVG Author