Arizona can be your go-to place if you are looking for a perfect destination to vacation with your kids in the southwestern part of the United States. The state is home to popular locations like the Grand Canyon, San Francisco Peaks, Scottsdale, etc., each of which has great attractions and fun activities that are worth the time with your kids.
While the state is excellent for family vacations, finding the best places to vacation in Arizona with kids can feel like an overwhelming task. To help you out, we have pulled together this helpful guide on the best places to vacation in Arizona with kids. 
The 9 Best Places to Vacation in Arizona with Kids
We based our selection on locations offering the best outdoor recreation, breathtaking landscapes, social amenities, and opportunities to learn about the local art and culture.
We have also recommended the best hotels and resorts, where you can eat and stay with your kids during the vacation. Read on!
Sedona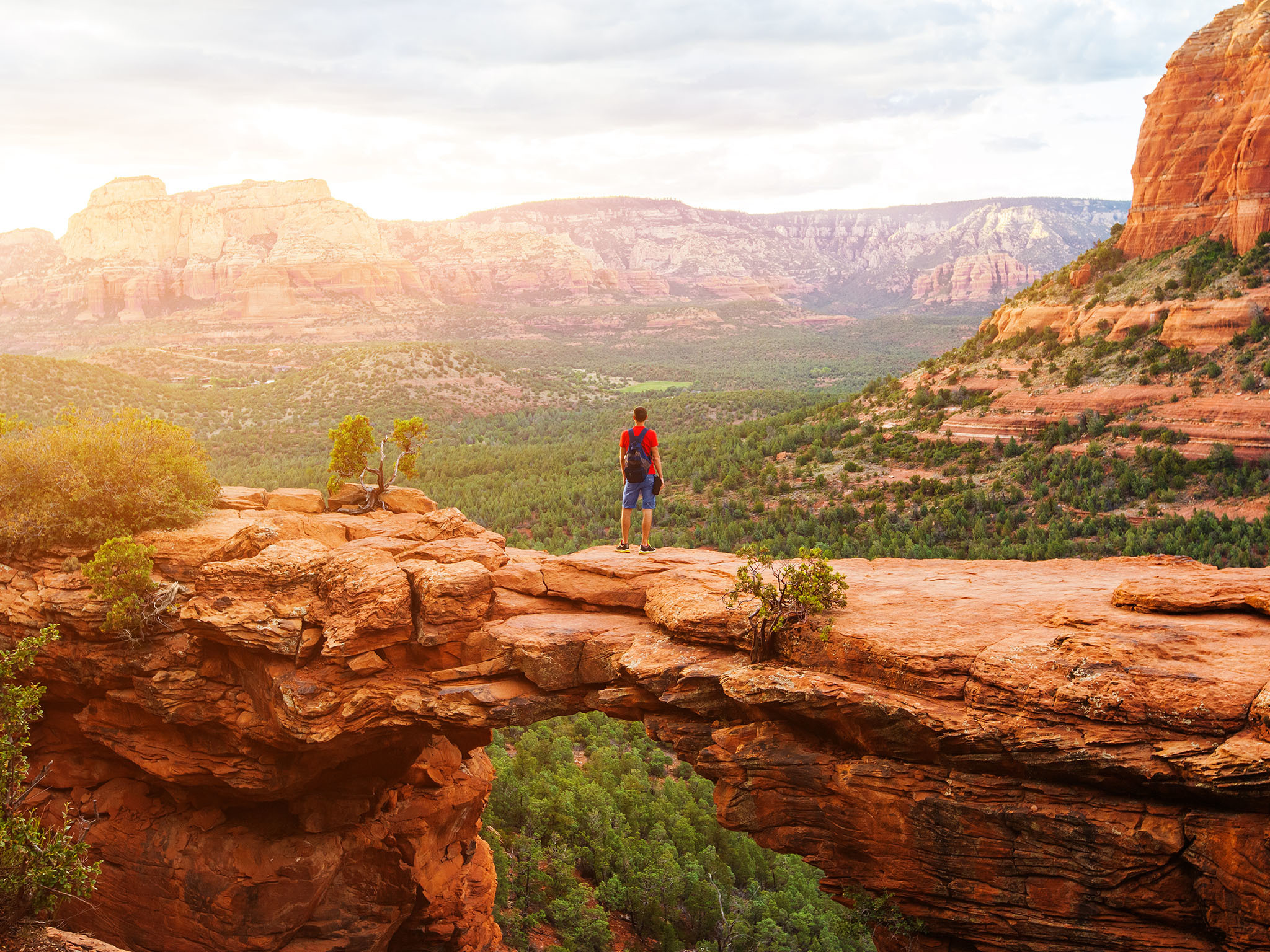 Sedona lies between the Yavapai and Coconino counties in the Northern Verde region of Arizona, United States. The city gets its name from Sedona Arabella Miller Schnebly, a renowned town pioneer (1877-1950).
If you are interested in learning about the state's past, you can visit the Sedona Heritage Museum to learn more about the pioneering of the town. The museum is open daily throughout the week from 11:00 a.m. to 3:00 p.m.
After learning about the city's history, you can take your kids to one of Sedona's four main natural hotspots or vortexes. A vortex in this context refers to a landmass that releases energy into the atmosphere.
You can find the city's main vortexes at the Cathedral Rock, Airport Mesa, Boynton, and Bell Rock. Though each vortex radiates its unique energy, hiking to any of them will allow your kids to experience the energetic vibes from the red rocks.
Suppose your kids feel heated up while on the red rocks. In that case, you can take them for a swim at the Grasshopper Point Swimming and Picnic Area, Desert Quail Inn Sedona Bellrock, Sedona Athletic Club, or any other nearby swimming facility where they can cool themselves down and enjoy various water sports.
Do not leave the city without taking your kids for a wildlife exploration safari through the Red Rock State Park. Here, your kids will enjoy spotting fascinating wildlife like mule deer, coyotes, bobcats, javelin, and other wildlife in Sedona's local wildlife preserve. Additionally, you will get a chance to view the breathtaking views of the red rocks.
Also, do not end your trip without picking a take-home art from the Tlaquepaque Arts and Shopping Village for your kids. After all, you will need something memorable to mark your vacation at Sedona. If the kids don't love the local art, you can get them a take-home piece at Garland's Indian Jewelry.
After spending your day exploring new places, your kids must be ravenously hungry. You can take them for a refill at Mesa Grill or the Golden Goose American Grill, where they can enjoy both local and international cuisines.
During the visit, you can stay at Los Abrigados Resort & Spa. Besides accommodation, you will enjoy quality food and body massage offered at the resort.
Flagstaff
The next family escape destination on our list is the city of Flagstaff, located in Coconino County, Northern Arizona. Flagstaff is a frequent place for college students who are on the lookout for the services and products offered at the boutiques, book stores, and breweries located at the heart of the city.
However, that does not exclude kids from visiting, and it's definitely on our list as one of the best places to vacation in Arizona with kids since Flagstaff has something for persons of all ages. For instance, you can take your kids for an exploration drive through the Coconino National Forest, where they will enjoy the scenic views of the cathedral rock and the devil's bridge.
The kids will also enjoy the breathtaking views of the Oak Creek Canyon and the forest wildlife like elk, coyotes, pronghorn, horned toads, bald eagles, prairie dogs, blue herons, mountain lions, and black bears, among others.
Alternatively, you can take your kids for a ski lift to the San Francisco Peaks, where they can enjoy the bird-eye view of the beautiful landscape below. Besides the scenic views, the kids can also enjoy skiing and snowboarding on the ski networks that run down the mountain. You can also join your kids for an exploration walk down the hill.
If you are tired of climbing the mountains, take your kids for a thrilling flagstaff extreme at Fort Tuthill County Park along Fort Tuthill Loop Road. The Flagstaff extreme offers zip-linings, through which the kids can enjoy the beautiful scenery of the Coconino National Forest as they accelerate down the zip linings.
Apart from the zip-linings, there are also rope courses, where your kids can climb, fly and swing as you keep an eye on them. However, your kids can only use the rope if they are aged seven and above.
You can dine and stay at one of the Flagstaff Hotels and Lodgings during the vacation, including Mormon Lake Lodge, Hilton Sedona At Bell Rock, and Pinnacle Pines.
Phoenix
Phoenix is your go-to place if you are looking for a getaway destination with plenty of amusements for persons of all ages. You'll find Phoenix in the Maricopa County of the south-central portion of Arizona, United States.
Once you land at the heart of the town, you qualify for a chance to explore the Desert Botanical Gardens at 1201 North Galvin Parkway with your kids. Here, your kids will enjoy hiking along the trails that run through different species of trees, flowers, and cacti that extend throughout the garden. You can ask the garden attendants for a take-home bouquet for each of your kids.
The garden's botanicals also offer a great focal point for family photos and videos. After all, you will need something memorable to mark your vacation in Phoenix's botanical gardens.
Besides the botanical views, your kids can also enjoy the culinary demonstrations and other live concerts offered in the lush botanical garden.
From the Desert Botanical Gardens, you can take your kids for a hike at Camelback Mountain, at 5700 North Echo Canyon Parkway. Here, your kids will enjoy the aerial view of Scottsdale and the Phoenix towns.
You can reach the mountain summit via the 1.5 hiking trail that is moderately steep to give your kids an easy climbing experience. There are also other beginner trails to allow your way to the summit.
If your kids don't love botany, perhaps viewing wildlife would touch their hearts. Take them to Phoenix Zoo at 455 North Galvin Parkway, where they will delight in seeing various wildlife, including Sumatran tigers, Galapagos tortoises, Asian elephants, baboons, komodo dragons, and Galapagos tortoises, among others.
If tired of walking, you can take the young chaps for the narrated 25-minute train safari, which will give the kids a good orientation of the zoo.
Alternatively, you can take your kids to the Musical Instrument Museum at 4725 East Mayo Blvd. Here, they will enjoy experimenting with over 6,000 musical instruments under the guidance of an expert. There are also a ton of live concerts you can enjoy viewing with your kids.
You can stay and dine at Four Points by Sheraton Phoenix South Mountain or any other affordable hotel in the locality during the trip.
Scottsdale
Scottsdale is another top destination on our picks for the best places to vacation in Arizona with kids. It is in the eastern region of Maricopa County, Arizona. The city's popularity is also largely due to the beautiful scenery and outdoor recreation for persons of all ages and world-class resorts full of childrens' programs.
Scottsdale also boasts outstanding museums where you and your kids can enjoy viewing the beautiful art and learning the Native American culture.
For instance, you can take your kids to Tolmachoff Farms, located 20 minutes from Phoenix and Scottsdale cities. The farm offers a petting zoo, where your kids can enjoy nurturing and playing with their favorite pets.
The other amenities that your kids can enjoy at the Tolmachoff farms include a jumping pillow, a bounce house, spider web, and pedal carts, among others.
You can set out for a hike with your kids from the farms at the pinnacle peak park, where they will enjoy the breathtaking scenery as they head to the mountain peak.
You don't have to halt the day's activities if your kids are tired of long walks. Instead, you can drive them to the wildlife world zoo and aquarium at Litchfield Park, 85340, along 16501 W. Northern Avenue, Arizona.
There, your kids will enjoy viewing baboons, lions, ostriches, monkeys, cheetahs while riding on a tram. The safari train will also take you to the plains, where you will enjoy watching other animals like giraffes, antelopes, and gazelles, among others.
Alternatively, you can head straight to McDonald's ranch, where you can enjoy horseback riding with your kids. If you've never ridden a horse before, there's no need to worry. The staff at the ranch will train you on the basics of riding on a horse and then take you to the scenic desert landscape, where they will introduce you to the wildlife, plants, and the history of the place.
You can book food and accommodation at the Four Seasons Resort, Sheraton Grand at Wild Horse Pass, or any other resort and hotel in the area during the visit.
Tucson
Tucson is the second-largest city in Arizona, after Phoenix, U.S. It is home to numerous attractions and amusement activities for persons of all ages. Once you arrive at the heart of the city, you can take your kids for an exploration hike along the trails in the Saguaro National Park.
Apart from the scenic views during the hike, the kids can also participate in the Junior Ranger Program, a fantastic initiative within the park to spark an interest in nature conservation from a young age.
If you still have some more time to explore the city, you can drive your kids to the white stallion ranch, where you will enjoy riding on horseback along with the ranch's trail networks.
If your kids do not love horse riding, then you can take a tour to The Funtasticks Family Fun Park at Route 221 along Wetmore Road. There, your kids can engage in go-kart racing, laser-tag games, mini-golfing, and floating on water with bumper boats.
If your kid is too young to engage in mini-golfing or go-kart racing, they can enjoy cruising on a roller coaster or playing on the bouncy castles offered at the park.
Do not close your day without having a view of the golden sunset of Arizona from the Tucson Mountain Park, located at 8451 West McCain Loop, Tucson. Besides the beautiful sunsets, visiting the park will allow your kids to enjoy the bird-eye view of scenic landscapes, hiking trails, ski trails, and the local wildlife from afar.
Towards the end of the vacation, you would need something special to give your loved ones back at home. For this reason, you should take your kids to Tucson Botanical Gardens, where they can pick a unique bouquet for their special persons.
Besides picking the flowers, visiting the garden will give them an opportunity to chase after the colorful tropical butterflies that flood the garden. Do not leave the garden without tasting the local cuisines offered at the onsite café.
During your visit to Tucson, you can stay at Comfort Suites at Sabino Canyon or any other hotel and lodgings in the locality.
Cottonwood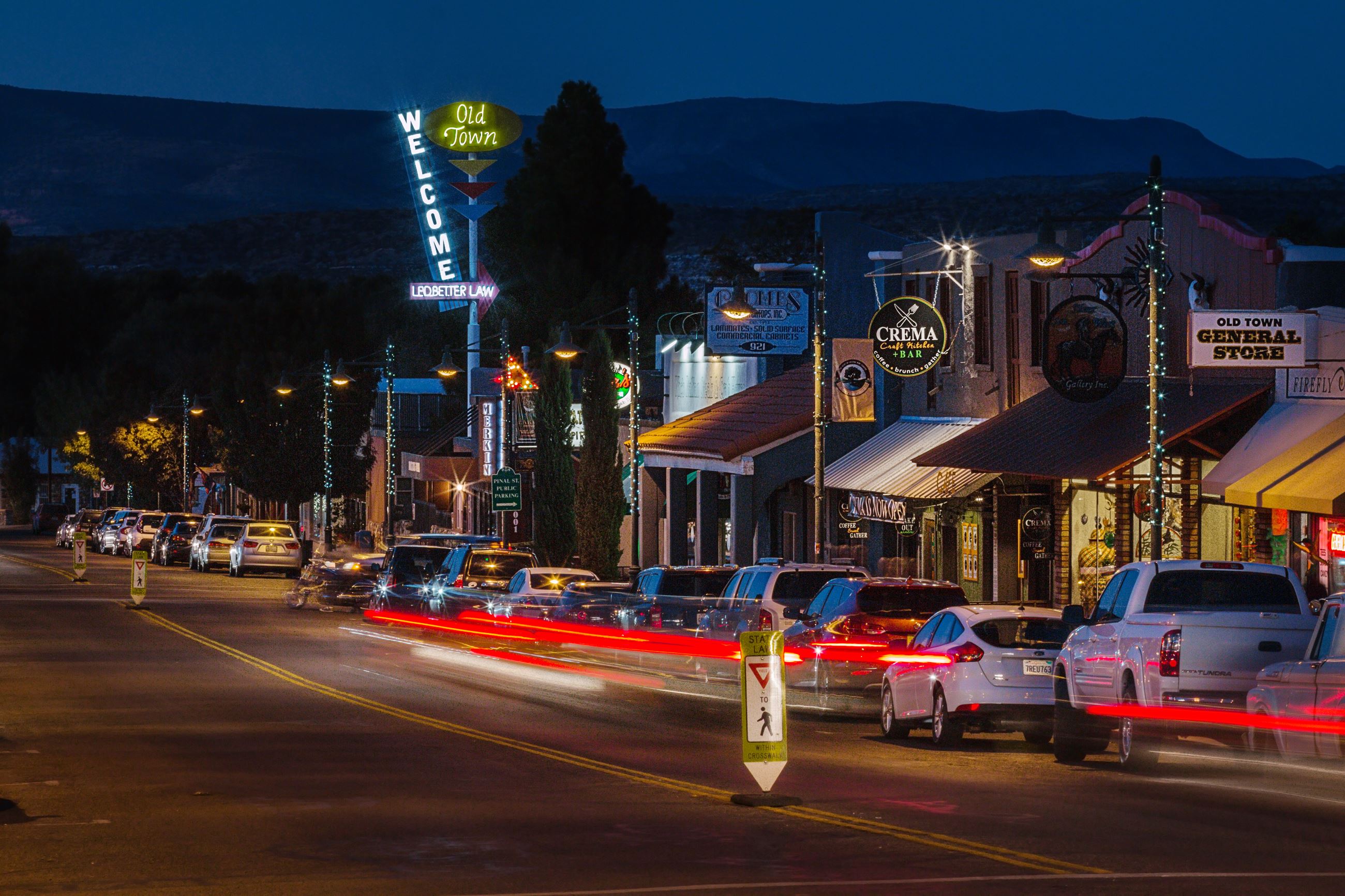 Cottonwood is a small charming town in Yavapai County in Arizona, and the city is a popular destination for visitors from all corners of the Globe. Its popularity is mainly due to its numerous attractions and amusement activities for persons of all ages.
If you take a walk with your kids to the north of the cottonwood town, you will find the Dead Horse Ranch State Park eagerly waiting for your exploration. Here, you can enjoy the park's beautiful landscape and watch the local wild animals Like Javelin, Cottontail Rabbits, Grey Fox, Coyotes, and JackRabbits that stroll all over the park.
It would be a terrible mistake to leave the park without taking a snap with one or two friendly animals in the park.
Besides the animal and landscape views, the park offers recreation activities like kayaking, fishing, mountain biking, horseback riding, fishing, and boating. You can watch your kids participate in these activities or join them in on-water activities like kayaking and boating.
From the park, you can take your kids to the Clemenceau heritage museum, where they can learn about the past of the Verde Valley, view the photographs of the early settlers in the valley, and the artifacts used for farming, ranching, and mining during that period.
Do not leave the museum when you have not picked your kids a cottonwood souvenir for taking home.
If the kids are not the historic type, then you can set out to the old town center for arts, located in the historic old town, Cottonwood, 20 miles from Sedona. There, your kids will delight in watching live performances of music, comedy, theater, and performing arts.
If you still have some more days in the town, do not leave without taking your kids to the riverfront park, Cottonwood. Being the largest park in Cottonwood, the Riverfront Park offers numerous amenities for family fun. Examples of amenities you can find in the park include:
A grassy area which you can use for family field sports
An 18-tee golf course for golfing enthusiasts
Two sandy volleyball courts
Baseball compounds,
Five gazebos fitted with picnic tables, etc
In a nutshell, the park offers almost all amenities geared towards family amusement. Just take your kids for exploration, and you will have a story to tell.
During the visit, you can stay at Lux Verde Hotel or Iron Horse Inn if you are low on budget or Tavern Hotel if you need a residence with a touch of class.
Globe
Globe is a famous city in the Gila County of the Arizona State of the U.S. The state's popularity stems from the spectacular mountain views, quality restaurants, antique shops, and countless attractions and activities for kids.
Upon landing in the heart of the town, you can take your kids along the Salt River Canyon Drive. As you cruise along the trails, the kids will enjoy the scenic view of the area's mountainous landscape, which is evergreen due to the presence of juniper and other plant species.
While cruising, you will also come across three mining sites, including Globe, Claypool, and Miami, before reaching the Salt River Canyon. You can request your driver to halt your jeep for a minute or two so that the kids can have a brief view of what mining entails.
Remember to stop at the river canyon viewpoint where the kids can have an aerial view of the river's natural flow.
After the scenic drive, you can head straight to Cobre Valley Center for arts, located at 101 N. Broad St, Globe. Here, your kids will enjoy watching live performances from artists from all corners of Arizona.
Alternatively, you can head up to the round mountain park at South St. from Highway 60, Globe, where you can engage in a hiking excursion with your kids. The park offers five different loops to accommodate hikers of all experience levels.
So you can be sure to leave the park feeling worked, whether you want to engage in leisurely family walks, jogs, or wish to engage in a rocky hiking competition with your kids.
During the vacation, you can dine and stay in the Best Western Copper Hills Inn, Chrysocolla Inn, or any other affordable accommodation in Globe.
Jerome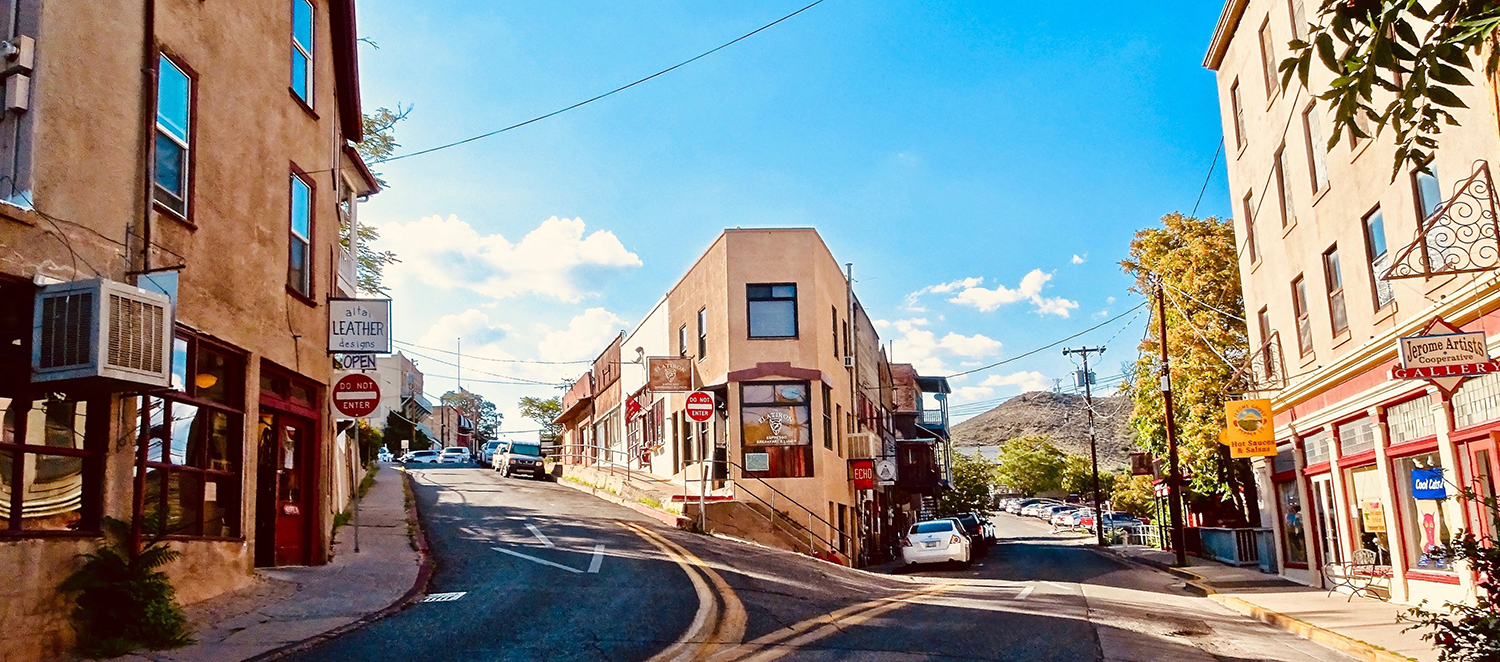 Jerome is another location in Arizona that is worth your exploration with kids. It rests peacefully in the black hills of Yavapai County, Arizona, and 100 miles to the north of Phoenix.
Once you set foot at the center of the town, you can head straight to Douglas Mansion, located along route 89A in Jerome, where your kids will learn about the city's mining history.
In addition to the mining history, your kids would also get to see exhibits, video presentations, and some artifacts from the mines. The beautiful scenery of the Verde valley landscape will also leave you in awe.
If your kids are movie buffs, you can take them on a ride to Liberty Theater at route 110 Jerome Ave, Jerome. Your kids will encounter the vintage equipment used to make some of the earliest movies and learn how movies were created and played in the past decades.
That is not all; you will also find statues of the world's most famous artists from the area. Do not forget to pick some souvenirs to keep memories of your trip or gift your friends back home.
If you don't like the souvenirs at the liberty theater, do not hesitate to visit Raku Gallery at route 250 along Hull Avenue, Jerome, where you will find beautiful souvenirs to take home.
Raku Gallery offers various art products, including statues of famous artists from the area and the surrounding, wall art, paintings, glass sculptures, ceramic pottery, jewelry, and metal products.
In other words, it is hard to lack something impressive to take to your special someone when you get back home. Visit the store during your vacation to Jerome and learn why the gallery is named the 'Candy Store For Art.'
Do not let the kids go hungry during the trip. During the vacation, you can dine and stay at Jerome Grand Hotel, Connor Hotel of Jerome, or any other preferred place in the locality.
Lake Havasu
Lake Havasu is your go-to place if you are looking for a getaway destination that offers various water sports, hiking trails, and world-class resorts, which are full of amusement activities for kids.
If you take route 7200 of the Dub Campbell Parkway, Lake Havasu, you will end up in SARA Park in Lake Havasu, which has something to offer to persons of all ages. There are plenty of beautiful hiking trails to explore the park on foot.
You don't have to worry if your kids don't feel like walking along the trails. You can hire bikes for your kids so that they can explore the park on two wheels on the biking networks that extend throughout the park.
If neither hiking nor biking works for your kids, then you can let them ride through the park on a motocross track or an RC plane. The park also offers archery and shooting games that your kids can participate in should they be unwilling to engage in the abovementioned activities.
From Sara Park, you can set out to Lake Havasu City Aquatic Center, located along route 100 along Park Avenue. There you will encounter giant pools, where you can join your kids in swimming, kayaking, and performing other water activities. There are also hot water pools for kids who cannot stand swimming in cold pools.
Alternatively, you can take the kids to Lake Havasu State Park, located at route 669 along the London Bridge Road. Lake Havasu State Park features nature trails where you can engage in exploration hikes with your kids.
There are also boat ramps to allow safe entry and exit from the water body. There are also several beautiful beaches where you can bask in the sun or have outdoor fun as a family.
The numerous amenities in the park give you the option to engage in water sports, play on the sandy beaches or take a nature walk to view local birds like road runner, gambrel quail, redtail hawk, hummingbird, and American kestrel.
During the walk, you will also find local animals like bobcats, kangaroo rats, coyotes, ground squirrels, and desert cottontail.
During the visit, you can reside in one of the available resorts and lodgings, including Nautical Beachfront Resort, London Bridge Resort, and Lake Place Inn.
Explore These Best Places to Vacation in Arizona with Kids
Now that you know the various destinations you can tour with your kids in Arizona, it's time to pick your favorite getaway location(s). Though all the destinations we have reviewed above can give your kids a great vacation experience, we recommend taking your kids to Flagstaff, which offers plenty of amusement activities for kids.
In whichever destination you choose to take your kids, make sure you familiarize yourself with the local weather so that you can dress yourself and the kids appropriately. Also, research the hotels and restaurants available at your destinations and the kind of cuisines they offer.
Before heading to any of these best places to vacation in Arizona with kids, it's important to take note of the most recent Covid-19 regulations.
More about our TFVG Author
A seasoned traveller, Dad, and avid sports tourist, James foundered The Family Vacation Guide to share his expert vacation experiences- especially when it comes to being a travelling family man.
Featured in Travel articles such as Travel + Leisure, TripSavvy and SFGate, you know you're reading some of the best vacation tips online.