There's a reason that Arkansas calls itself "The Natural State." It's a beautiful place to enjoy forests, hills, mountains, lakes, streams, and even plains in their untouched states.
While some of the larger cities suffer from light pollution, you can still see more stars than in most cities in the U.S. Traveling into less-populated areas can provide you with even more unparalleled stargazing opportunities.
If you're in Arkansas, you don't have to travel far to get an excellent night sky view. It might be as simple as walking out into your backyard and looking up at the night sky on a clear night. However, if you want to see the Milky Way in all its glory, there are plenty of places that you can go for that experience, too. 
Don't forget that Arkansas is on the "path of totality" for the Great North American Solar Eclipse happening on April 8, 2024. So if you come for the eclipse that day, why not choose a place where you can sleep under the stars that night?
Whether you're looking for a starry place to camp, a star-studded Arkansas vacation destination, or just want to go out for a night of stargazing with a thermos of hot chocolate, Arkansas has plenty of stargazing destinations to take your kids.
Best Stargazing Spots in Arkansas for Kids
The Arkansas Natural Sky Association (ANSA) rates the following locations as the darkest areas in Arkansas for personal stargazing, stargazing events, and stargazing with camping and lodging options.
You can also watch for astronomy events on the Arkansas State Parks calendar.
1. Buffalo National River
In 2019, the International Dark-Sky Association (IDA) named the Buffalo National River an International Dark Sky Park. It was able to gain this status by changing the way it does its outdoor lighting to protect naturally-dark skies.
The State Park offers a variety of night sky programs, so keep a watch on their events calendar year-round for stargazing events and dark sky parties. It also provides drive-in and backcountry camping options to give your family the opportunity to sleep under the stars.
Buffalo National River covers a distance of 135 miles across Arkansas. As such, it offers several dark-rated observation points, camping, and lodging sites in various areas along it, including:
2. Scrubgrass Campground
The Scrubgrass Campground is in Snow Lake, AR, near the White River National Wildlife Refuge and the Trusten Holder State Wildlife Management Area.
It takes a bit of effort to get to the campsite, but the unbelievably gorgeous bayou surroundings make it worth the trouble. You won't even find a proper website for this area, which gives you an even bigger chance of stargazing in solitude for your family.
3. Withrow Springs State Park
Withrow Springs State Park in Huntsville, AR, is one of the darkest places to view the stars in northwest Arkansas. For the best stargazing views, try the upper pavilion area.
Withrow Springs is among the parks in Arkansas that occasionally hosts star parties, so check their events to see the next time you can catch one. The park has places to camp, and there are also several vacation rental cabins nearby.
4. Mulberry Mountain
In Ozark, AR, Mulberry Mountain offers breathtaking stargazing opportunities in the heart of Arkansas's Ozark National Forest.
Mulberry Mountain hosts various music and overlanding festivals throughout the year, which gives you even more of an excuse to go there for stargazing. For stargazing opportunities with your kids with fewer people around, try renting a lodge or staying in the campground.
5. Richland Creek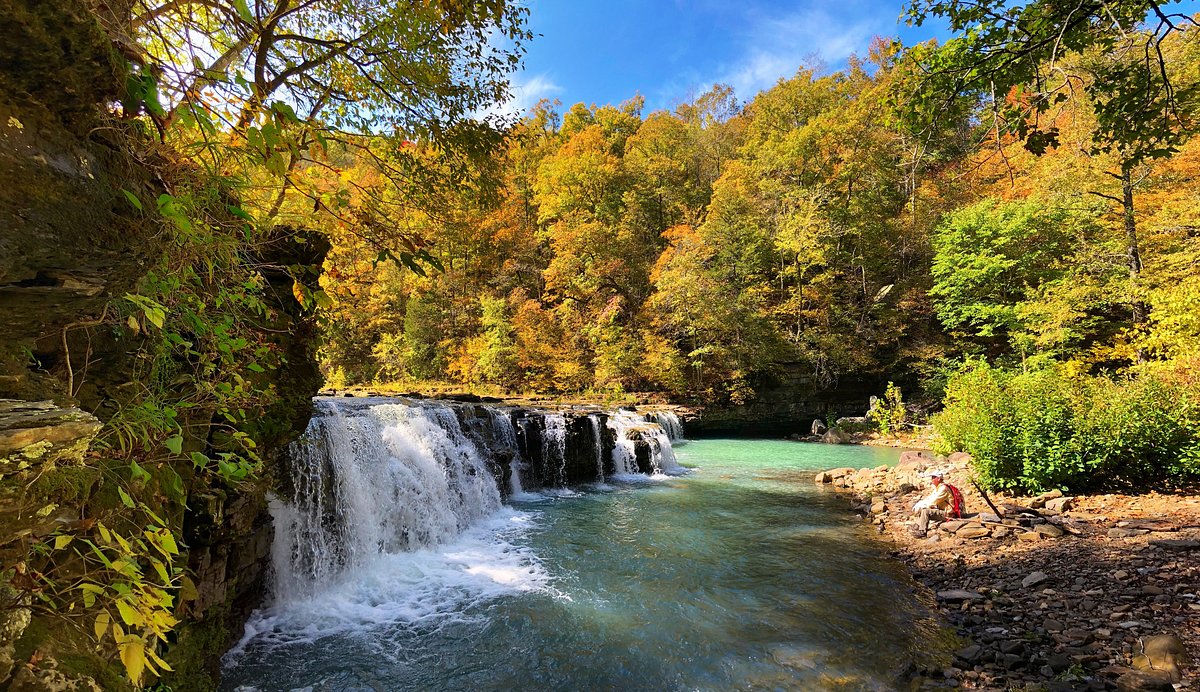 Richland Creek is another extra-dark star observation site deep in the Ozark National Forest. It's a primitive camping site miles from civilization or any paved roads. The campground borders the Richland Creek Wilderness Area, a rugged 11,800-acre area of the Boston Mountains.
If your family likes chasing waterfalls and stargazing, you'll be delighted to discover several natural waterfalls here. The area is home to the Twin Falls of Richland, Richland Falls, Hamilton Falls, and Falling Waterfalls.
6. Magazine State Park
At 2753 feet above sea level, Mount Magazine's peak rates as the highest point in Arkansas. So, if you want to go to a place that feels like you're touching the stars, this is it.
One of the best things about stargazing on the top of Mt. Magazine is that you can drive up to the top, so there's no hiking involved to get there. This feature makes it an excellent option for little kids.
Many people come here for the beautiful display of autumn leaves in the fall, so why not stay for the stars? You can stay in one of the guest rooms at the Lodge at Mount Magazine, rent a cabin, or camp out under the stars.
7. Shady Lake Recreation Area
Shady Lake is a 25-acre lake in a remote mountain area in Mena, AR. During the summer, your kids will love swimming in the beach area and then waiting for the stars to come out in some of the darkest Arkansas skies.
You can also stay and camp for the night in one of their tent or RV campsites.
The Tall Peak Fire Tower is also nearby, providing a breathtaking observation point far above the trees. However, be prepared for a 2-mile uphill walk along a dirt road to get there.
8. Brock Creek Lake Recreation Area
Brock Creek Lake is located in Jerusalem, AR, in the heart of the Ozarks. The area features picturesque rock bluffs and wooded hillsides and contains many excellent areas to enjoy the stars.
In addition, their trails allow off-highway vehicle access, providing unique opportunities to pick an ideal spot for nighttime viewing.
The area also has primitive campgrounds, but there are no reservations available. So, get there early to snag a spot if you want to stay for the night.
9. Hickory Nut Mountain Vista
The Hickory Nut Mountain Vista offers spectacular views of the area around Lake Ouachita and Arkansas nighttime skies. This vista and recreation area is in the heart of the Ouachita National Forest.
Come to bird watch by day, and then stay for star watching at night. The area includes a campground if you want to make a whole night of it.
Are You Ready To Try the Best Stargazing Spots in Arkansas To Take Your Kids?
There are plenty of places in Arkansas to see the stars. All you have to do is to look upward. However, for the best stargazing experience for kids, choose a dark sky location where you can see the Milky Way in all its glory.
No matter where you are in Arkansas, an excellent stargazing place isn't too far away. Our list includes the nine best places in Arkansas to take your kids stargazing. You can go for the evening or make a whole camping excursion out of it.
Even if you don't know a lot about astronomy, you can make the night educational using a star-identification app or by checking out what's happening in the sky this week.
And if you're not a big camping fan, you can still make stargazing a part of your kid-friendly Arkansas vacation plans by staying in a family-friendly resort instead.
More about our TFVG Author