While Arkansas may not be the first destination that comes to mind when you think of an ideal vacation with your family, don't knock this scenic state off your list quite yet. The key to a great trip is to plan your destinations correctly. 
Not only can a family vacation guide help guarantee every member of the family a fun trip, but it can help your family dive deeper into the hidden gems located in each state.
The ideal vacation destination should be safe, affordable, and, most importantly: appeal to every member of the family. With kids, it's even more vital that you choose wisely in order to make sure everybody stays happy for the majority of the trip.
Here are some of the best destinations to visit in Arkansas with kids.
Bentonville
Bentonville is a new town packed to the brim with bustling small-town charm and culture. Located in the northwest corner of Arkansas, Bentonville is known for its artisanal shops, cafés, and local food.
This town is also a great hub for art, with the Crystal Bridges Museum of American Art nestled within the urban spread. The city also hosts several public art tours of over 100 pieces of local art, perfect for days with good weather.
Bentonville offers several quaint bed and breakfasts and chain hotels to guarantee your comfort during your stay when it comes to lodging.
If you've got an artist in the family, Bentonville is a must.
Petit Jean State Park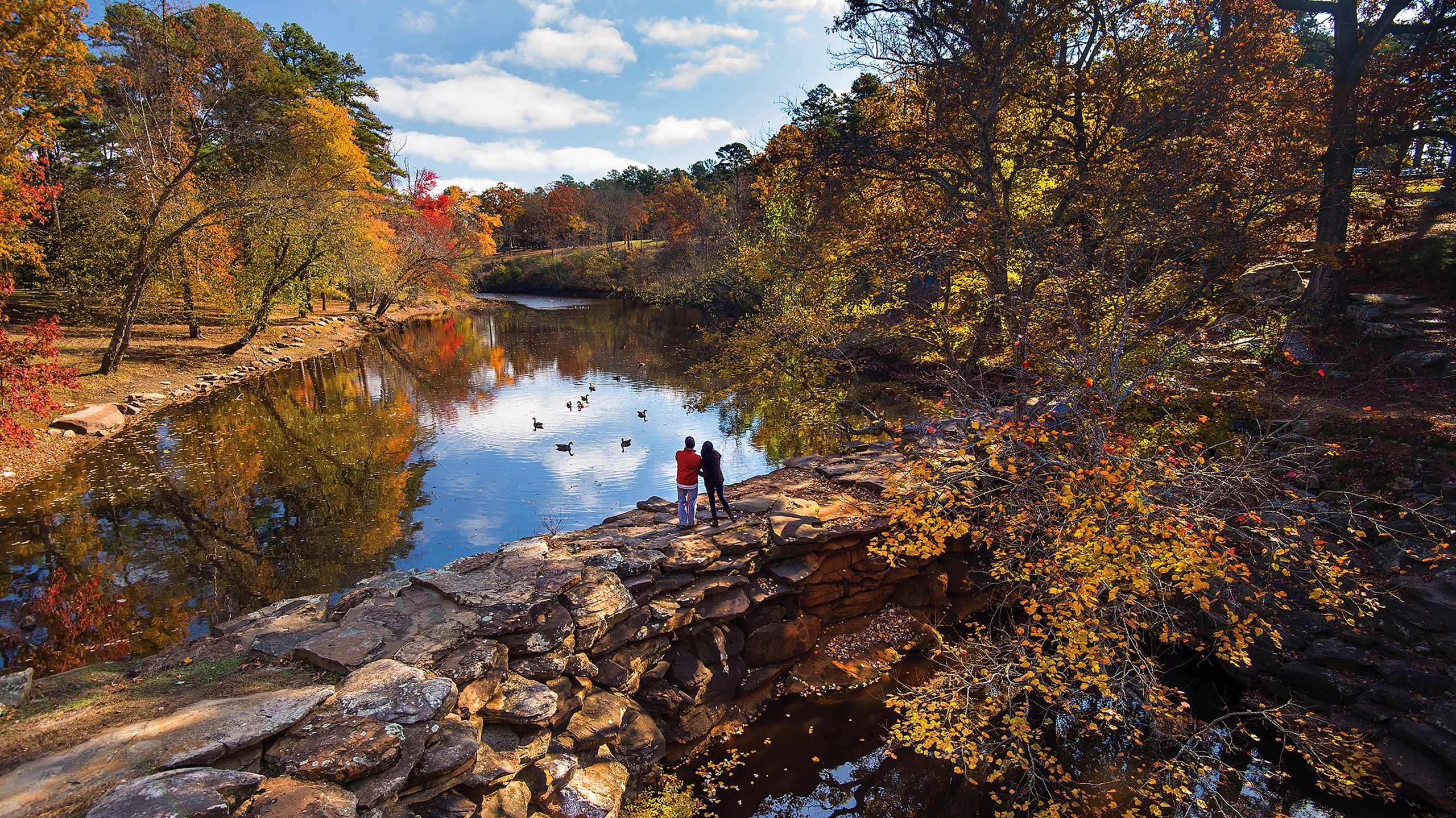 Arkansas is full of beautiful parks. Petit Jean State Park is one of the oldest and most well-known parks within the state.
With over 125 campsites and 33 on-site cabins with modern amenities, outdoor-oriented families will find a haven in this park.
Suppose the waterfalls, caves, and breathtaking views don't suit the younger members of your family. In that case, there are two swimming pools, several pavilions, tennis and basketball courts, and an amphitheater located on-site.
There are often presentations and other fun events held in the amphitheater, so keep an eye out for showtimes!
In the summertime, the boathouse opens. This is a standout feature of the park that allows you to kayak, fish, and pedalboat on 100-acre Lake Bailey.
Mount Magazine State Park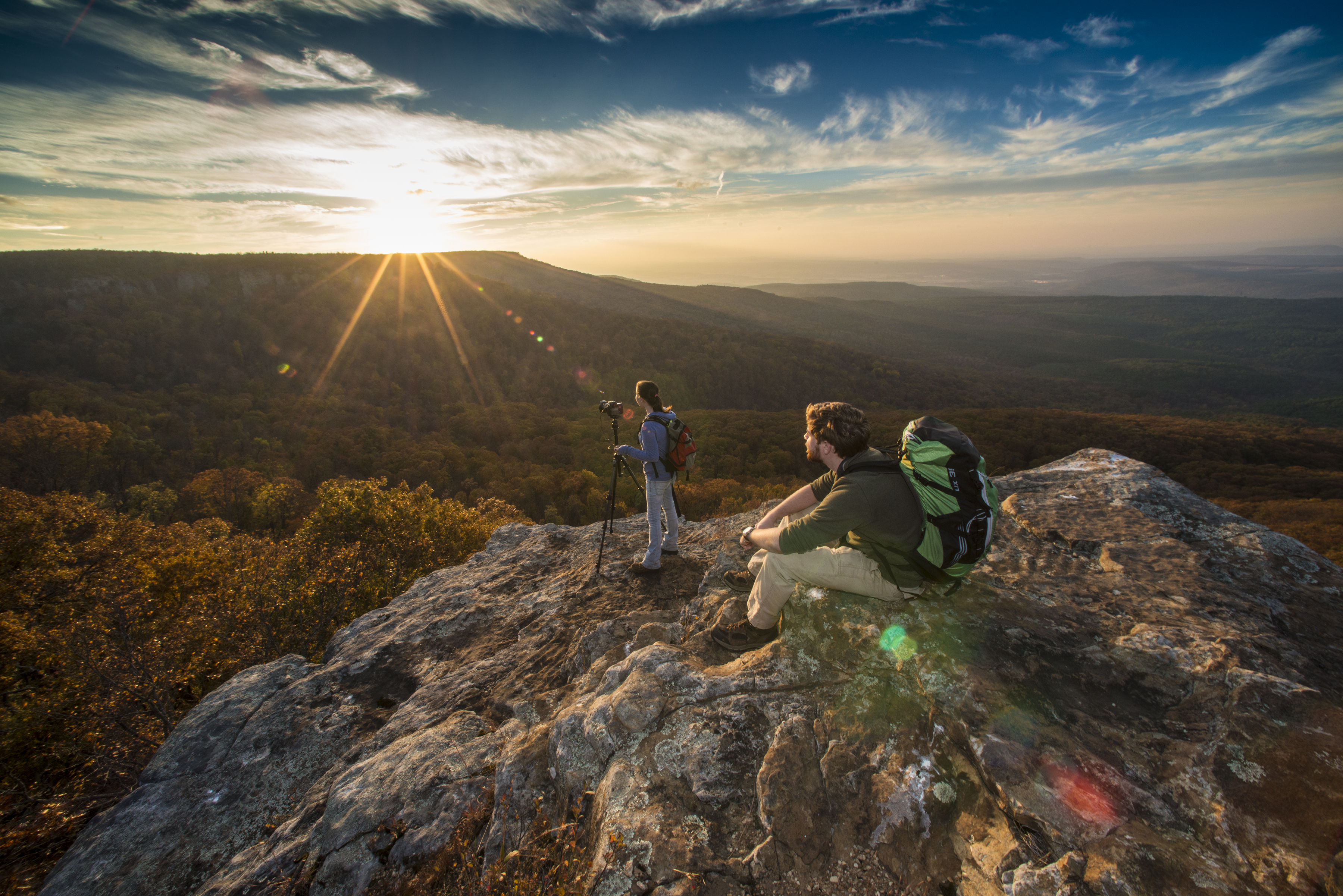 Located within the Ozark St.Francis National Forest, this park is perfect for families with older kids. Especially older kids who crave an adrenaline rush.
With its highest point at 2,753 feet, Mount Magazine State Park contains the highest point in Arkansas. The park is perfect for ATV riding, mountain biking, horseback riding, backpacking, and hang-gliding.
With a 60 room lodge located on-site, there are plenty of activities to do within the lodge when the weather isn't favorable. The fitness center, indoor pool, and game room will keep everybody busy until the sun comes back out.
There are also 13 cabins and 18 campsites a little further into the park for those looking for more peace and quiet.
Crater of Diamonds State Park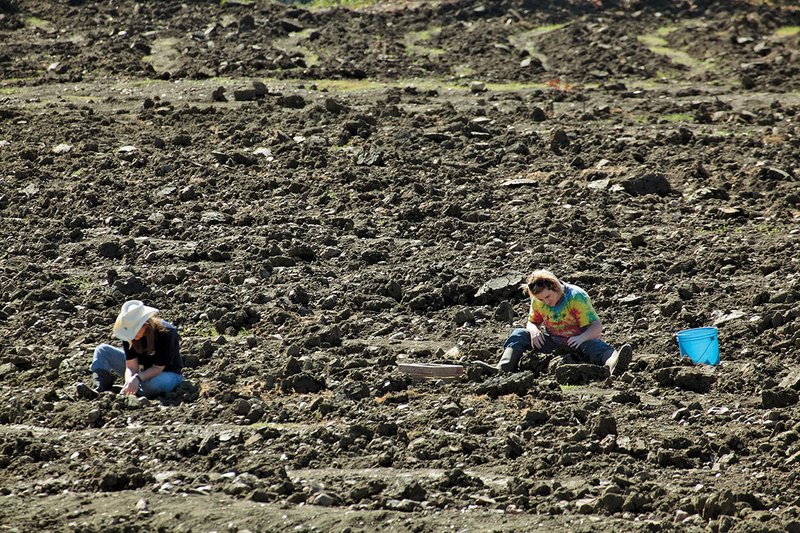 Crater of Diamonds State Park offers a truly unique experience for the whole family. This park is one of the only parks in the world where you can search for diamonds within their original source.
The park allows you to keep whatever they find and offers tools for those who couldn't bring their own mining methods.
The rest of the park contains 47 campsites and several walking trails to walk when you're not mining for diamonds.
Diamond Springs Waterpark is open seasonally for the youngest members of the family, too young to hold a shovel.
Another great aspect about Crater of Diamonds State Park is its close proximity to Murfreesboro, in case you need to reenter the real world for any emergencies.
Fayetteville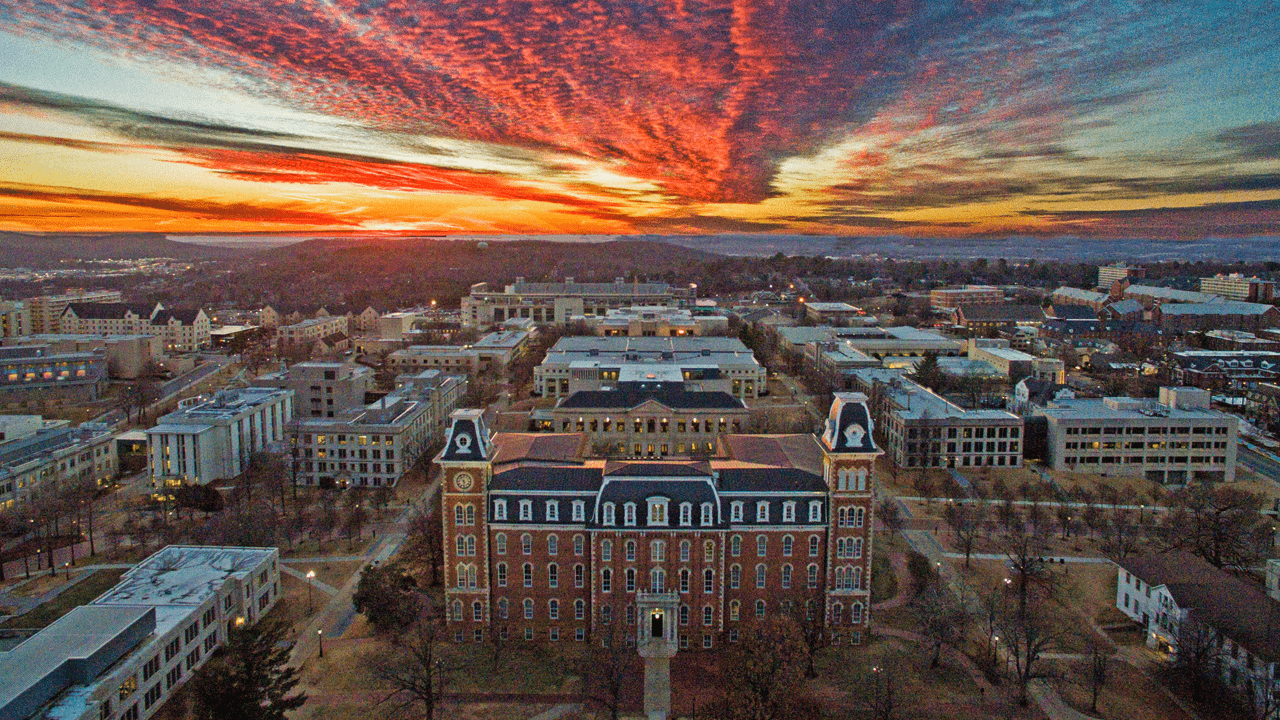 Home to the University of Arkansas, Fayetteville contains plenty of entertainment for both adults and kids.
While there are plenty of bars and restaurants to enjoy within the town, the fundamental standout feature of Fayetteville is the number of physical activities it hosts.
Your family can enjoy running local 5Ks, watching the cyclocross world championships, or seeing a college sports game.
If the bustling college town feel becomes too much, you can also enjoy some of the mountain biking trails or visit the weekly farmer's market to enjoy some homegrown produce.
Additionally, historic buildings around the town offer an enlightening experience for those wanting a quiet and educational day in Fayetteville.
Eureka Springs
With a spot on the National Register of Historic Places, this small town initially started as a resort town due to its cold water springs.
Well-preserved Victorian-style cottages line the bluffs of this town, offering a beautiful architectural experience for those interested in seeing historical architecture.
Don't let the historical nature of Eureka Springs fool you; with several music festivals, opera shows, and car showings, this town is very much still alive with plenty of things to do.
Being right next to the Ozarks also has its perks. You can choose to stay in either historic cottages and hotels or a little further from the town in a scenic cabin.
Hot Springs
Founded for the same reasons Eureka Springs grew famous, Hot Springs offers a historical, educational experience for those looking to enjoy the vintage bathhouses and spas that once drew visitors from all over due to the hot springs' rumored healing properties.
This town also offers a plethora of activities for the kids to do.
The Magic Springs Water and Theme Park, Mid-America Science Museum, Joseph Tussaud Wax Museum, and Arkansas Alligator Farm and Petting Zoo are only a few of the attractions located in Hot Springs.
You can choose to stay in a cabin in nearby Lake Catherine State Park or stay in a fully accommodating hotel in the heart of Hot Springs.
You'll always find something to do in Hot Springs between the town and the nearby state parks.
Little Rock
As the state capital, Little Rock certainly lives up to expectations with the sheer number of things to do within this essential cultural and economic city.
Bring your wallet because Little Rock is home to the only outlet mall in Arkansas and plenty of other unique boutiques. The local restaurants are also worth bringing out your wallets for, as they will not disappoint.
Little Rock also features many exciting sights. Watch a baseball game at Dickey-Stephens Park or see a light show at one of Little Rock's bridges.
In this town, even where you stay will impress you.
Within the Quapaw Quarter Historic District, you will find the award-winning Empress of Little Rock Bed and Breakfast, guaranteed to make you feel right at home.
Jacksonville
Jacksonville offers the perfect balance between containing many outdoor endeavors while still holding many local activities.
Nearby Pinnacle Mountain State Park contains several great trails and educational programs geared to teach kids the importance of conservation and respect for the outdoors.
The Splash Zone Water Park and Rail and Sprue Hobbies will keep the kids busy, while adults can look forward to spending some time in nature at any of the local parks and recreational green spaces within the city.
History buffs will be pleased to visit the Jacksonville Museum of Military History or stroll at historical Reed's Bridge Battlefield.
Jacksonville certainly is an underrated town worth the effort of visiting.
Mountain Home 
Located in the Ozark Mountains in north-central Arkansas, Mountain Home is the perfect family retreat destination.
Mountain Home is surrounded by the Buffalo National River, White River, and Norfolk River. The scenery is breathtaking even to those accustomed to mountain views.
The large amount of water surrounding the town allows for some fantastic water sports. You can enjoy an entire day of water skiing, tubing, and boating along the nearby lakes.
Another point of pride for Mountain Home is the sense of community they try to implement in every aspect of their town. It is sure to be a good experience for those looking to have a mental refresher.
Conway 
As one of the five fastest-growing towns in Arkansas, Conway doesn't hold back on fun. 
This college town features many live cultural arts performances in places such as the Arkansas Shakespeare Theatre and Reynolds Performance Hall.
Kids can enjoy a paintball game at Jack's Ultra Sports Paintball and Lasertag or go Bowling at Conway Family Bowl.
Adults can enjoy some delicious BBQ or enjoy modern art at the Baum Gallery of Fine Art.
Due to Conway being a college town, there is no shortage of hotels to choose from. You'll be guaranteed to find a great price at one of the many options available.
Fort Smith
Fort Smith is another excellent destination for history lovers. Established in 1817, Fort Smith began as a military post and has grown into one of the most exciting cities in Arkansas.
History lovers can enjoy visiting the Fort Smith National Historic Site, the Belle Grove Historic District, or the Fort Smith Museum of History.
Other attractions include hitching a ride on the 1926 electric streetcar or visiting the Trolley Museum.
Just outside of Fort Smith lies Devil's Den State Park, where you can choose to stay in one of 133 cabins in the park or stay at a Bed and Breakfast within the city.
Once your family has seen everything in Fort Smith, taking a couple of hours to see the several hiking trails in Devil's Den State Park can be an excellent way to end the trip.
Hope 
Hope is not only the largest producer of watermelons within the country but is also the birthplace of President Clinton. 
Keep these fun facts in mind while enjoying the other activities the city of Hope has to offer.
Music fanatics might enjoy a visit to the Paul W. Klipsch Museum of Audio History, while older family members can enjoy visiting the Clinton Home National Birthplace Historic Site.
One of the best aspects of Hope is the laid-back entertainment it provides. Local farmer's markets are available most weekends, and the local food is often praised for its outstanding quality.
Buffalo National River Park
Located in the Ozark Mountains, this 135-mile long river is an excellent destination for families that love to camp, kayak, and enjoy the outdoors.
The park is separated into three sections which each offer different housing options. No matter what section you're in, make sure you get a good view of the sky. Stargazing is a popular activity for many campers there.
Buffalo National River Park also values the safety of its guests. Whitewater kayaking can be an enjoyable but dangerous activity. The park offers several ways for visitors to keep safe during their visit, including river level checks and other information geared to help you have a safe trip.
Lake Ouachita State Park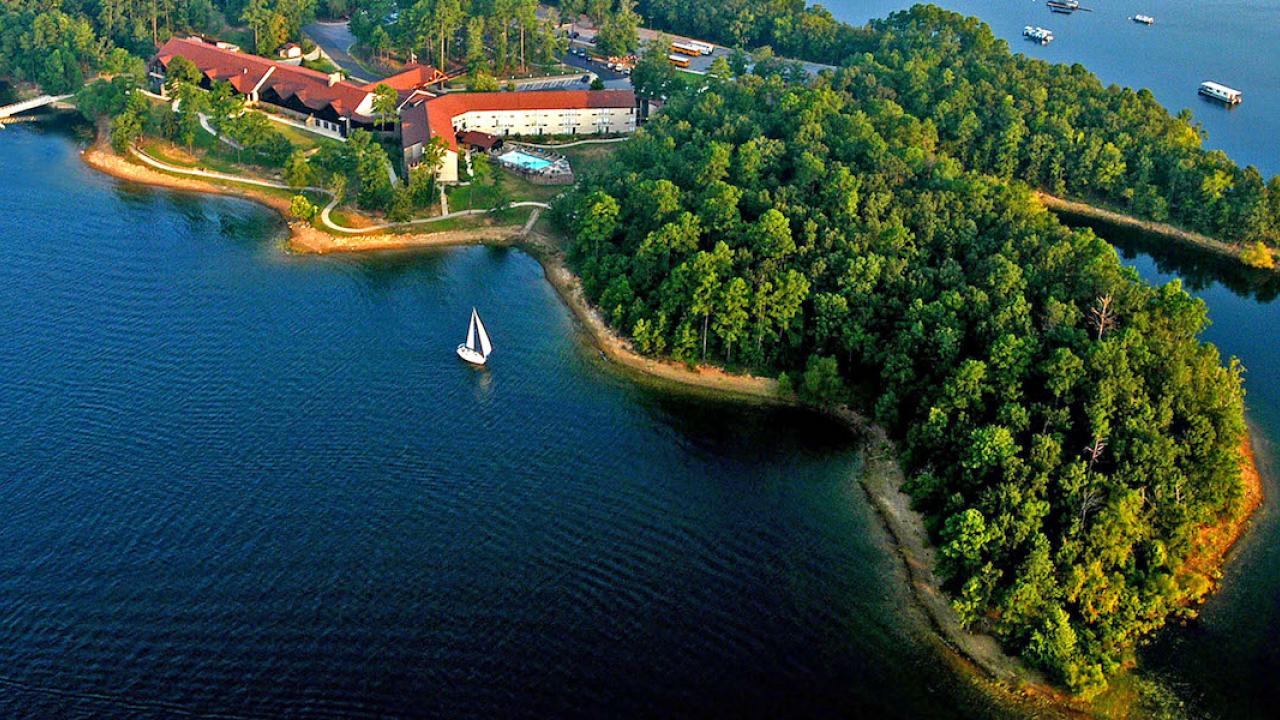 With 93 campsites spread across its enormous forest, your family can enjoy a quiet weekend away from the distractions of everyday life at Lake Ouachita State Park.
The main attraction of this state park is the 40,000-acre lake, Lake Ouachita. This beautiful lake allows visitors to enjoy plenty of fishing, swimming, water sports, boating, and scuba diving.
Not far from the campsites is a marina complete with everything you need to have a great day on the lake, including boat rentals, bait, and other fishing supplies.
There are also educational tours and programs offered to remind visitors to value and keep our lakes healthy.
Ozark Folk Center State Park
Ozark Folk Center State Park will bring you back in time. This park is dedicated to preserving the cultures and arts of the people of the Ozarks.
In the Craft Village, you will be able to watch over 20 artists craft traditional art pieces geared to mimic the original methods of the craft as accurately as possible.
Another must-see within the park is the Heritage Herb Garden. Medicinal and edible herbs are grown in this beautiful garden.
Music is also a big part of the Ozark Folk Center State Park experience. You'll be able to find live music on the Blacksmith Stage multiple times a day.
Cabins are available within the park for those who want to immerse themselves in this Ozark experience fully.
Blanchard Springs Caverns
The Blanchard Springs Caverns is an all-year-round attraction located near the Ozark St.Francis National Forest. These caves offer wheel-chair accessible breathtaking views.
Guided tours are offered for those wanting to see the underground river and the world's largest flowstone. For those feeling extra daring, guided spelunking tours are also available.
Plenty of cabins with direct access to several hiking and cycling trails are available outside of the caverns. The caverns are not an experience you'd want to miss on your trip to Arkansas.
Elm Springs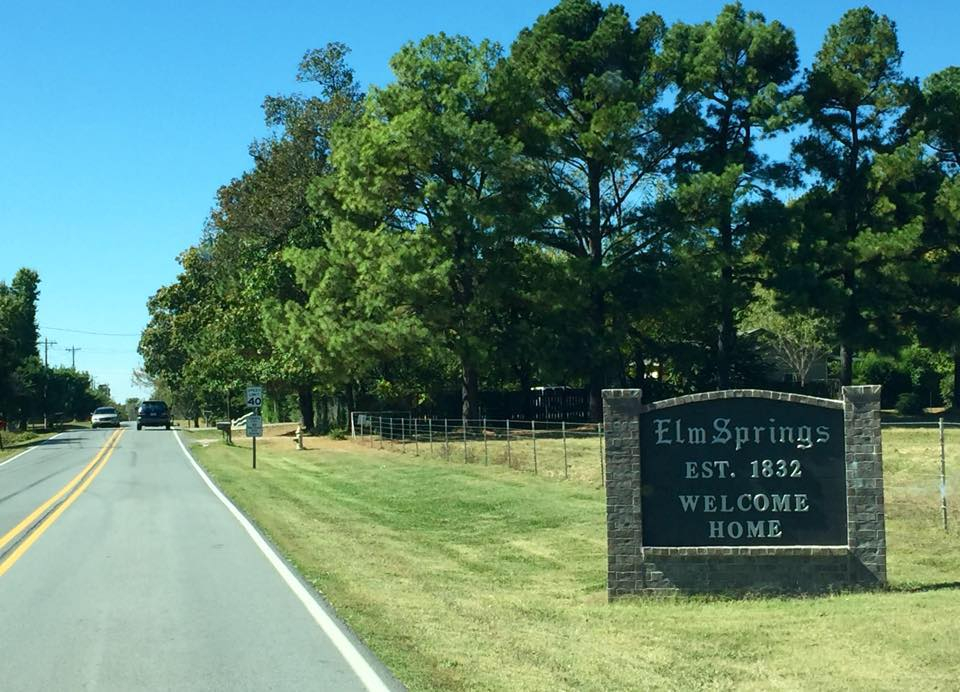 This small town is one of the oldest cities in Arkansas. Despite its small size, Elm Springs still manages to pack quite the historical punch.
History buffs can enjoy the pioneer festivals held here. These festivals provide visitors with the experience of traditional vendors, farming exhibits, and actors portraying themselves as pioneers.
One of the main benefits of this town is affordability. There is plenty of historical knowledge and experience to gain here without spending a pretty penny.
Mountainburg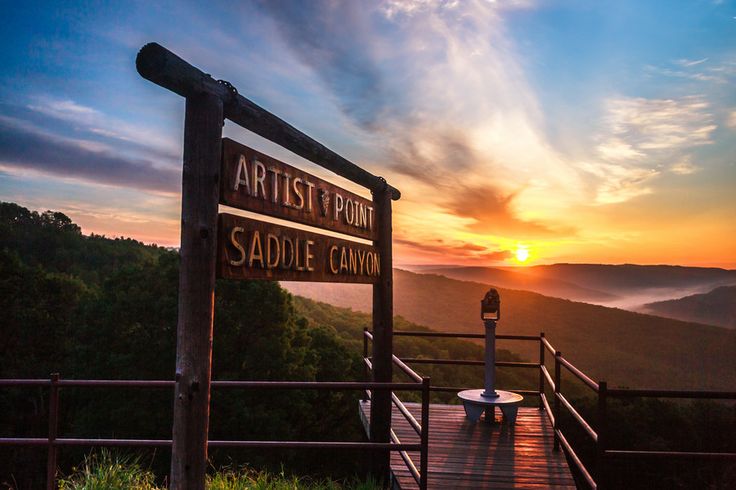 Nestled within the Boston Mountains, Mountainburg is known for its rugged terrain and beautiful views.
Your family can enjoy a day at Stetson's Resort or enjoy a fun stay at the Best Western Inn of the Ozarks while exploring the outdoors near Mountainburg.
While this location makes for a beautiful drive as it is right along the Boston Mountains scenic loop, don't forget to make a stop at the city park.
Younger family members might enjoy the dinosaur sculptures set up within the park. These sights make for a fun sightseeing experience for the entire family!
Heber Springs 
This historic town is known for its excellent fishing and water sports opportunities. Nature lovers and city dwellers alike will enjoy seeing the several beautiful parks within this city, including Eagle Bank Park and Bridal Veil Falls.
You can also enjoy annual cardboard boat races, and a fireworks show at Sandy Beach. Festivals like Springfest and the Maker's Market allow locals to showcase their sense of culture and community.
Heber Springs is an adorable town that will steal your heart. 
Final Thoughts
When taking a trip to Arkansas, don't worry that your kids will have nothing to do.
Although Arkansas is primarily a scenic and small-town state, bringing your kids into the outdoors at a young age can help instill a deep appreciation and respect for nature that they'll keep into their adult years.
Taking a vacation to Arkansas is perfect not only to educate your children on keeping our planet healthy but to remember our roots, where we came from, and where we want to go in our future.
More about our TFVG Author
A seasoned traveller, Dad, and avid sports tourist, James foundered The Family Vacation Guide to share his expert vacation experiences- especially when it comes to being a travelling family man.
Featured in Travel articles such as Travel + Leisure, TripSavvy and SFGate, you know you're reading some of the best vacation tips online.